Cards' Murray struggles with snap issues, flags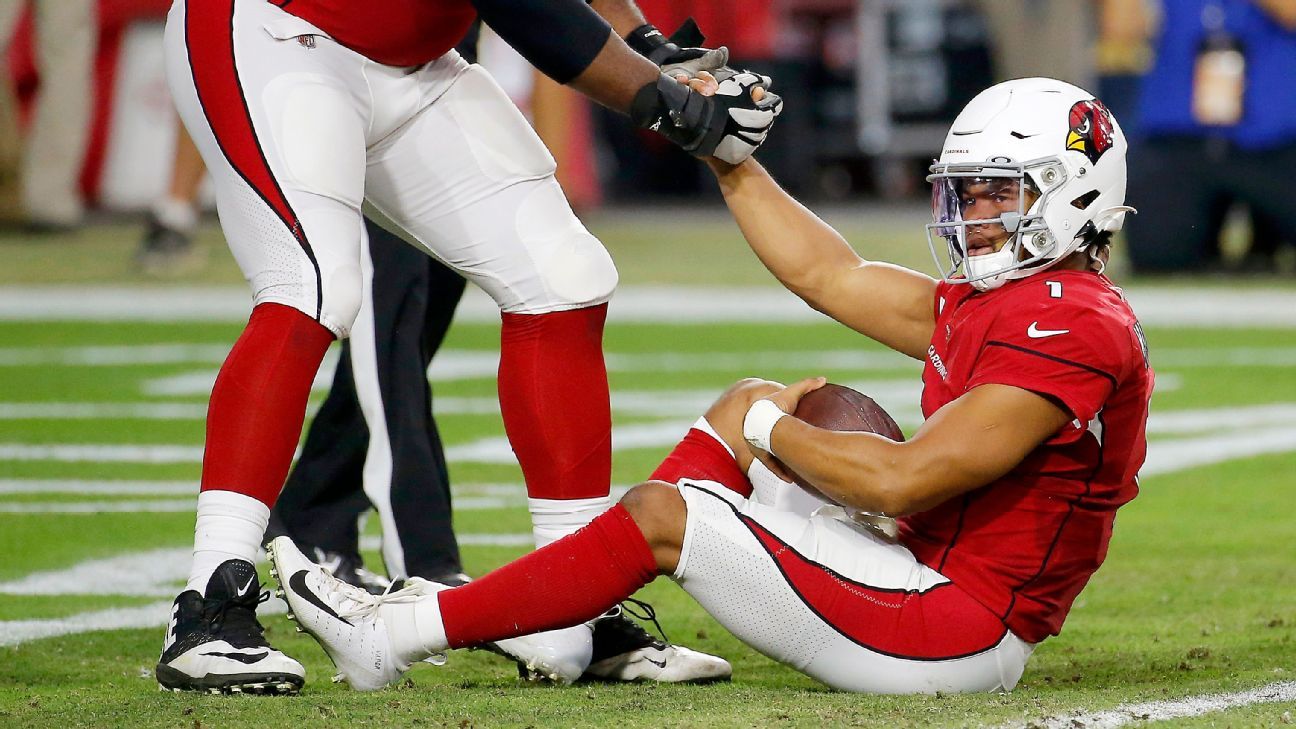 GLENDALE, Ariz. — Thursday night was another example of how the NFL is trying to figure out Arizona Cardinals rookie quarterback Kyler Murray.
Murray was twice flagged for false starts in the first quarter of Thursday night's preseason game against the Oakland Raiders because of his cadence, in which Murray claps for the snap. Officials told him he was "too abrupt" in his clap and "not smooth enough as far as bringing my hands together," Murray said.
The two penalties cost the Cardinals 10 yards, but head coach Kliff Kingsbury said he doesn't plan on changing Murray's cadence to a verbal call.
"I think it's the first time for certain officials to see it, and we've been in contact with the league and had a great conversation on it," Kingsbury said. "We're going to work through that and make sure everybody's on the same page. We want to be on the same page as them and make sure we're doing things that they deem legal."
Kingsbury called the conversations with the league and officials "ongoing."
Last season, there were eight false-start penalties by quarterbacks, and none had more than one in a game, according to ESPN Stats & Information research. The most recent time a quarterback was called for two false-start penalties in a regular-season game was the Saints' Drew Brees on Oct. 27, 2013, against the Bills.
Murray, who finished his second preseason game 3-of-8 passing for 12 yards with a run for 4 yards, said his hard count won't be affected if any changes to his cadence are made.
"To me, it's like any other hard count," Murray said. "It's the defense's job to watch the ball, so it really doesn't make sense to me. I think we're trying to fix things right now."
Murray's outing, which lasted four possessions and into the second quarter, wasn't as efficient or productive as his showing in Week 1.
On top of his inefficient stat line and the two false-start penalties, Murray was also flagged for a delay-of-game penalty and was sacked for a safety. Murray disagreed with the delay-of-game flag.
"I don't think they reset the clock," Murray said. "But it being preseason, I don't think they cared to really check it out because there was no way that the clock ran down for 24 seconds."
On the sack, which happened in the second quarter and ended up being his final play of the game, Murray said he thought he landed on the 1-yard line. After that play, Murray thought it was time to get out of the game.
"It didn't really matter," he said.
That was Murray's approach to Thursday night overall. However, Murray said he understood the need to clean up the snap issues as well as the 14 penalties for 108 yards.
"I mean, it's football," Murray said. "We didn't look as good as we would've liked to look, but it's the preseason. This is why it's the preseason. It's just tough because we're not playing a whole game, and it's … I don't wanna say it's not real, but it's not the regular season. We're not doing everything we're gonna do. It gets frustrating, but at the same time, it's preseason."
Kingsbury supported Murray's approach to the preseason, adding that the vanilla offensive approach makes the exhibition games a bit more difficult. But Murray believes the Cardinals will look different in Week 1, when they unveil their offense in its entirety and game plan for the Detroit Lions.
"I think it'll be very different, just because we'll scheme them up, just like they'll scheme us up," Murray said. "But we'll be going full force and we'll see."
Kingsbury was pleased with some of the decisions Murray made but added the first-overall pick missed some close throws. Murray had four overthrows in the first quarter, according to ESPN Stats & Information. He had at least four overthrows in just two games throughout his entire college career.
On Thursday night, Murray averaged 1.5 yards per attempt after averaging 6.3 yards per attempt last week against the Chargers. Last season at Oklahoma, he averaged 11.6 yards per attempt and his lowest average in a single game was 8.3 against Alabama in the CFP Semifinal. Murray said he just one pass got away from him — a throw across the middle to Christian Kirk — but added that he felt confident on every throw.
"He understands what it is," Kingsbury said. "He understands what we are trying to accomplish and where we are at and what we are doing offensively right now, so he is very confident."
Patriots cut ties with Antonio Brown
Antonio Brown's brief stint with the Patriots is over, as the team released him Friday.
"The New England Patriots are releasing Antonio Brown," the team said in a statement. "We appreciate the hard work of many people over the past 11 days, but we feel that it is best to move in a different direction at this time."
Niners put WR Taylor on IR, add Young to aid OL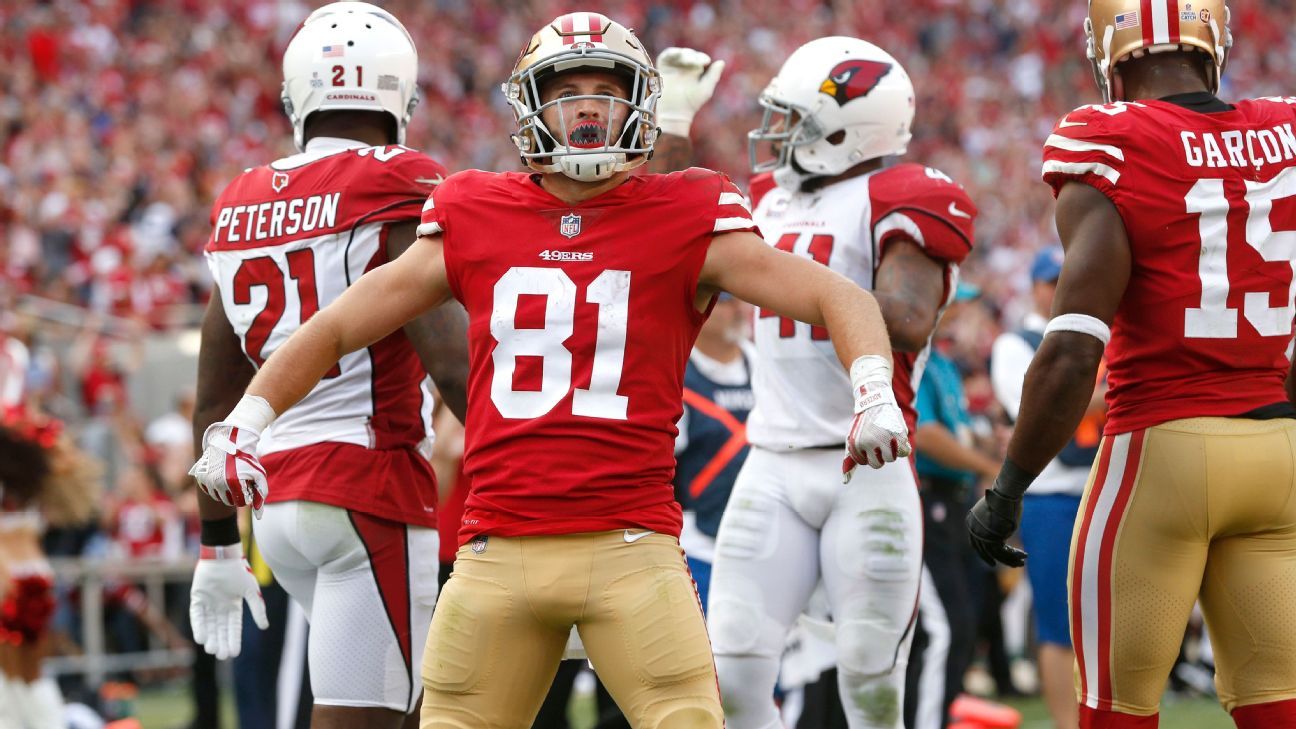 SANTA CLARA, Calif. — With left tackle Joe Staley out for six to eight weeks because of a broken fibula, the San Francisco 49ers added some offensive line depth Friday, signing veteran Sam Young to a one-year deal.
Adding Young came at the surprising expense of wide receiver Trent Taylor, who was placed on the injured reserve list to create a roster spot for Young.
Taylor has been recovering from a Jones fracture, which is a break between the base and the middle part of the fifth metatarsal of the foot that results in pain near the midportion of the outside of the foot, in his right foot since suffering the injury on Aug. 8. He had surgery two days later.
That Taylor has landed on injured reserve comes as a bit of a surprise considering that the team initially expected his recovery to take four to six weeks and as recently as last week coach Kyle Shanahan said that the team was hoping to get Taylor back after next week's bye.
Because he's on injured reserve, Taylor must now miss at least the next eight weeks. Should Taylor be able to recover in that time, he could become one of the team's two players designated to return from injured reserve, though it's not yet clear what his new recovery timetable is. Per league rules, the 49ers do not have to designate Taylor to return now and can monitor his progress over the next couple of months before making a decision.
The loss of Taylor for extended time is a blow for a Niners' offense that was expecting him to play a big role from the slot receiver position. Taylor has 69 catches for 645 yards and three touchdowns in 29 games, though he was limited by a back injury in 2018.
Young, meanwhile, returns to the 49ers after they released him on Aug. 31. He's expected to serve as the backup to rookie Justin Skule, the 2019 sixth-round pick out of Vanderbilt, who is expected to make his first NFL start Sunday against the Pittsburgh Steelers.
In Young, the Niners get some experienced depth behind Skule. Young has played in 88 games with 21 starts in his nine-year career.
Ex-Chargers owner, AFL co-founder Hilton dies
Barron Hilton, the heir to a hotel fortune who was one of the founders of the American Football League, died Thursday in Los Angeles. He was 91.
Hilton was the original owner of the Los Angeles Chargers and went on to become president of the AFL. In 1965, he helped negotiate the merger of the AFL and NFL and the inception of the Super Bowl.
"The happiest days of my life were the days I was involved with the Chargers," Hilton told the Los Angeles Times in 2009.
The AFL was the brainchild of Texas oilmen Lamar Hunt and Bud Adams, who had been spurned in their attempts to get NFL expansion franchises. They decided to start a rival league, contacted other wealthy entrepreneurs and asked them to join in. Hilton was invited to join the "Foolish Club," as the owners called themselves, and put his Chargers in Los Angeles in 1959 before moving them to San Diego in 1961.
Hilton owned the team — originally coached by the Sid Gillman and quarterbacked by Jack Kemp — for six seasons, during which they won the league's Western Division five times and the AFL championship in 1963.
"Simply put, the modern NFL would not be what it is today without the vision of Barron Hilton," Chargers owner Dean Spanos said in a statement. "A founding father and charter member of the upstart AFL's sarcastically dubbed 'Foolish Club,' Barron was a pioneering leader, risk-taking entrepreneur, prolific philanthropist, devoted family man and, of course, anything but foolish.
"… It seems fitting that we celebrate a life extraordinarily well-lived the same year as we recognize the Chargers' 60th anniversary season since without Barron, there would be no Chargers."