Cards' Murray struggles with snap issues, flags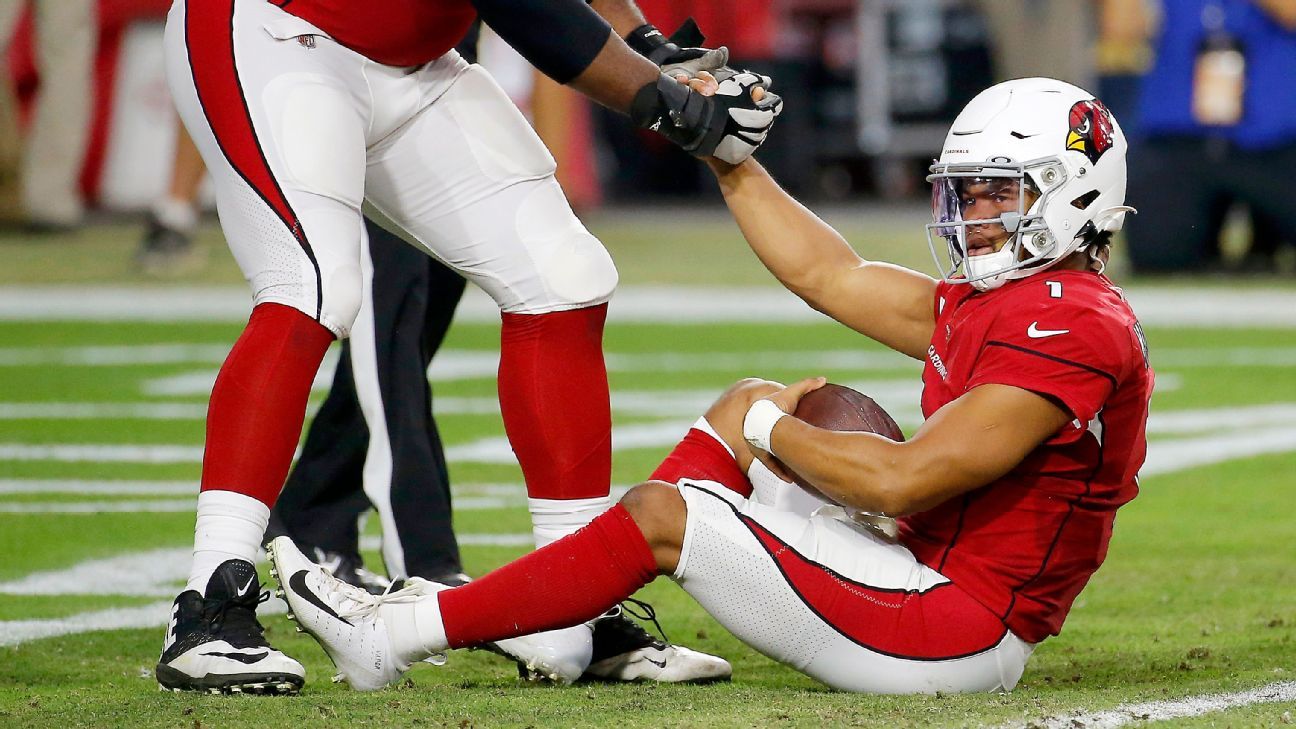 GLENDALE, Ariz. — Thursday night was another example of how the NFL is trying to figure out Arizona Cardinals rookie quarterback Kyler Murray.
Murray was twice flagged for false starts in the first quarter of Thursday night's preseason game against the Oakland Raiders because of his cadence, in which Murray claps for the snap. Officials told him he was "too abrupt" in his clap and "not smooth enough as far as bringing my hands together," Murray said.
The two penalties cost the Cardinals 10 yards, but head coach Kliff Kingsbury said he doesn't plan on changing Murray's cadence to a verbal call.
"I think it's the first time for certain officials to see it, and we've been in contact with the league and had a great conversation on it," Kingsbury said. "We're going to work through that and make sure everybody's on the same page. We want to be on the same page as them and make sure we're doing things that they deem legal."
Kingsbury called the conversations with the league and officials "ongoing."
Last season, there were eight false-start penalties by quarterbacks, and none had more than one in a game, according to ESPN Stats & Information research. The most recent time a quarterback was called for two false-start penalties in a regular-season game was the Saints' Drew Brees on Oct. 27, 2013, against the Bills.
Murray, who finished his second preseason game 3-of-8 passing for 12 yards with a run for 4 yards, said his hard count won't be affected if any changes to his cadence are made.
"To me, it's like any other hard count," Murray said. "It's the defense's job to watch the ball, so it really doesn't make sense to me. I think we're trying to fix things right now."
Murray's outing, which lasted four possessions and into the second quarter, wasn't as efficient or productive as his showing in Week 1.
On top of his inefficient stat line and the two false-start penalties, Murray was also flagged for a delay-of-game penalty and was sacked for a safety. Murray disagreed with the delay-of-game flag.
"I don't think they reset the clock," Murray said. "But it being preseason, I don't think they cared to really check it out because there was no way that the clock ran down for 24 seconds."
On the sack, which happened in the second quarter and ended up being his final play of the game, Murray said he thought he landed on the 1-yard line. After that play, Murray thought it was time to get out of the game.
"It didn't really matter," he said.
That was Murray's approach to Thursday night overall. However, Murray said he understood the need to clean up the snap issues as well as the 14 penalties for 108 yards.
"I mean, it's football," Murray said. "We didn't look as good as we would've liked to look, but it's the preseason. This is why it's the preseason. It's just tough because we're not playing a whole game, and it's … I don't wanna say it's not real, but it's not the regular season. We're not doing everything we're gonna do. It gets frustrating, but at the same time, it's preseason."
Kingsbury supported Murray's approach to the preseason, adding that the vanilla offensive approach makes the exhibition games a bit more difficult. But Murray believes the Cardinals will look different in Week 1, when they unveil their offense in its entirety and game plan for the Detroit Lions.
"I think it'll be very different, just because we'll scheme them up, just like they'll scheme us up," Murray said. "But we'll be going full force and we'll see."
Kingsbury was pleased with some of the decisions Murray made but added the first-overall pick missed some close throws. Murray had four overthrows in the first quarter, according to ESPN Stats & Information. He had at least four overthrows in just two games throughout his entire college career.
On Thursday night, Murray averaged 1.5 yards per attempt after averaging 6.3 yards per attempt last week against the Chargers. Last season at Oklahoma, he averaged 11.6 yards per attempt and his lowest average in a single game was 8.3 against Alabama in the CFP Semifinal. Murray said he just one pass got away from him — a throw across the middle to Christian Kirk — but added that he felt confident on every throw.
"He understands what it is," Kingsbury said. "He understands what we are trying to accomplish and where we are at and what we are doing offensively right now, so he is very confident."
Browns expect Jarvis Landry to be ready for season after hip surgery
Cleveland Browns wide receiver Jarvis Landry underwent surgery earlier this month to repair a nagging hip injury that hampered him throughout the 2019 season.
Landry had the surgery Feb. 4. A team source said Landry is expected to return at some point during training camp. The team said he is expected to make a full recovery for the 2020 season.
Dr. Chris Larson performed the surgery in Minnesota.
Landry, who was selected to his fifth Pro Bowl, caught 83 passes for 1,174 yards and 6 touchdowns in 2019. He didn't miss a game, but was limited in practice on the injury report for most of the season.
Landry said in a video he posted on Instagram that going into the Pro Bowl, he thought he could work with doctors to "formulate a plan to manage me again throughout the year" without the surgery.
He changed his mind after the Pro Bowl.
"I realized how much pain I was in," he said. "… I was kind of happy I went to Pro Bowl, because that was more of an indication that I needed the surgery."
How the Bengals can set up Joe Burrow to succeed as a rookie – Cincinnati Bengals Blog
CINCINNATI — What happens with the first overall pick in the NFL draft should be cut and dry.
Since the Cincinnati Bengals secured the top slot, everything has pointed toward the selection of LSU quarterback Joe Burrow, the Heisman Trophy winner who led the Tigers to a national title and posted one of the best passing seasons in college football history.
In an interview with "The Dan Patrick Show" before the Super Bowl, Burrow said he wants to play for a franchise committed to pursuing championships. Cincinnati hasn't won a playoff game since 1991 despite a stretch of five straight postseason appearances from 2011-15.
Here are four things the Bengals can do to set Burrow up for success in his first season and beyond.
Secure a big-play wide receiver
• Most recent mock: Kiper » | McShay »
• Kiper's Big Board » | McShay's Top 32 »
• First Draft podcast » | Draft order »
• Full class rankings from Scouts Inc. »
More NFL draft coverage »
A.J. Green's franchise tag designation is almost a foregone conclusion at this point. Green has repeatedly said he'll begrudgingly play on the tag, worth around $18.4 million, and the Bengals are unwilling to part with him in 2020. Green makes a massive difference. During quarterback Andy Dalton's nine seasons in Cincinnati, he lost 20 of his 26 starts without Green, with 13 of those coming last season. With Green on the field, Dalton was 64-41-2. When Green is healthy, he's still, even at 32 by the start of next season, one of the best offensive weapons in the league.
If the situation with Green somehow falls through, the Bengals could target the Cowboys' Amari Cooper, who is set to become a free agent. After he was traded from the Raiders to Dallas in 2018, Cooper helped Dallas make the playoffs. Last season, Cooper, who will be 26 by the start of the season, was eighth in the league in receiving yards (1,189).
Of course, if the Cowboys don't tag Cooper and let him walk, there will be several teams interested in him. But the Bengals need another dynamic receiver to pair with Tyler Boyd to help Burrow's transition to the NFL.
Make a big free agency push in the trenches
This could answer two of the biggest criticisms surrounding the franchise. The Bengals rarely spend big money on free agents from other teams. Cincinnati also struggled on both sides of the line of scrimmage last season.
New England Patriots left guard Joe Thuney could change both of those trends. In 2019, Thuney was ranked second in Pass Block Win Rate, an ESPN metric powered by NFL Next Gen Stats. To put that in perspective, rookie left guard Michael Jordan was the highest-ranked Bengal at No. 31. But after Thuney, there's a considerable drop-off in pass-blocking interior lineman who will be available on the open market.
Then there's the other side of the line of scrimmage. Although the Bengals' pass rush was resurgent at the end of the season, they need to give defensive coordinator Lou Anarumo and defensive line coach Nick Eason more with which to work.
The Steelers' Bud Dupree and the Ravens' Matthew Judon, two edge rushers who would be good fits in Anarumo's 3-4 scheme, could warrant long-term investments. Even if Cincinnati doesn't land a big name, making a push for a quality player is a good sign for the franchise.
Be proactive with roster moves
Cincinnati needs to maximize its expendable resources before the draft. That means shedding offensive tackle Cordy Glenn's contract and ending an untenable relationship for both sides by cutting or trading Dalton. Being proactive not only provides a little clarity during a pivotal offseason, but it also shows Cincinnati is willing to make changes to end a four-year playoff drought. That also means giving running back Joe Mixon a contract extension before the season and avoiding the drama that surrounded Green last season. If Cincinnati wants to shift the national perception, those three moves are a good place to start.
Build an indoor practice facility
This offseason is all about proving the Bengals will be more dynamic about how they operate. One simple way to make it happen: develop a plan to build an indoor practice facility, which is increasingly common at every level of football. Last year, weather forced the Bengals to practice inside Paul Brown Stadium on multiple occasions. Meanwhile, the University of Cincinnati, which doesn't operate with the budget of a Power Five program, has a bubble for their fields in Clifton, Ohio.
In college sports, upgrading facilities shows coaches and recruits a commitment to pursuing a winning program. That same philosophy applies to the Bengals, who were recently called out by their former quarterback Carson Palmer as an organization that didn't want to win at the highest level. Costs may vary depending on the specifics surrounding the construction of a facility in downtown Cincinnati, where the stadium and team facility sits, but it shouldn't be an issue for an NFL franchise.
How Ravens' tag decision on Matthew Judon shapes their offseason – Baltimore Ravens Blog
OWINGS MILLS, Md. — Can the Baltimore Ravens truly afford to lose Matthew Judon?
Can they truly afford, financially, to keep their Pro Bowl outside linebacker?
That's the dilemma facing a Baltimore team that lacks pass-rushers and salary-cap space. The window to use the franchise tag is from Feb. 25 to March 10, and the Ravens' decision on whether to apply it on Judon will affect their free-agency game plan like no other.
If Baltimore puts the tag on Judon, over half of its projected $33 million in cap space is gone. That would severely limit the Ravens' ability to add another pass-rusher, a proven interior offensive lineman and a playmaking wide receiver in free agency, all of which is needed for Baltimore to overtake the defending Super Bowl champion Kansas City Chiefs.
Looking ahead to the offseason:
• Ranking the top 50 free agents »
• Biggest looming free-agent decisions »
• Top offseason needs for all 32 teams »
• Free agency coverage » More NFL »
If the Ravens don't use the tag, Judon is likely gone in free agency and the defense is left with its biggest void at pass-rusher since the franchise's inaugural season. This puts extreme pressure on Baltimore to sign a premier edge rusher because the remaining players — Tyus Bowser and Jaylon Ferguson — have a combined 10.5 career sacks.
At the end of the season, coach John Harbaugh was asked how much he wanted Judon back and how hard it would be to keep him. His response: "Very much and pretty hard."
Here are the Ravens' options with Judon:
Tag him: This is the expected move. The next question is how much will it cost. The Ravens will want to tag him as an outside linebacker, which is projected to be $16.3 million, according to OverTheCap. Judon will want to get tagged as a defensive end, which is projected to be $19.3 million. Baltimore faced this same situation with Terrell Suggs in 2008, and he eventually was designated as a defensive end-outside linebacker and received the difference between the two tags. If that's the case with Judon, the price will be $17.8 million. That would leave Baltimore with roughly $15 million in cap room, and only nine teams currently have less. This would hinder the spending power for a team that could use a proven wide receiver like A.J. Green or Emmanuel Sanders and a pass-rusher like Arik Armstead, Calais Campbell (if cut) or Ryan Kerrigan (if traded).
Don't use the tag: It would be a surprise if Baltimore lets Judon hit the open market after last offseason, when Za'Darius Smith left for the Green Bay Packers in free agency and recorded a career-high 13.5 sacks. Allowing another young pass-rusher in his prime to walk a year later would be a tough sell to fans, especially after the Ravens finished No. 21 in the league with 37 sacks. But an argument can be made there is more value in Baltimore not tagging Judon and using that $17.8 million in cap space on getting a couple of top-notch pass-rushers who can help on the interior and on the edge. If the Ravens go this route, they need to have a better backup plan than last year. After losing Smith, Baltimore signed Pernell McPhee (three sacks before getting injured after seven games) and Shane Ray (cut before regular season) in free agency and drafted Ferguson (2.5 sacks as a rookie) in the third round.
Sign him to a long-term deal: The Ravens have traditionally used the tag to buy time to get a long-term deal done. The last five players franchised by Baltimore — cornerback Chris McAlister (2003 and 2004), Suggs (2008 and 2009), defensive tackle Haloti Ngata (2011), running back Ray Rice (2012) and kicker Justin Tucker (2016) — eventually got contracts that made them among the highest paid at their positions. Those who believe Judon has earned a big-money contract say he's already a great pass-rusher who has yet to reach his peak at age 27. His 33 quarterback hits last season ranked fourth in the NFL, and he's one of 16 players to record at least seven sacks in each of the past three seasons. Others contend Judon isn't in that same class of Chandler Jones, J.J. Watt and Cameron Jordan, all of whom average between $16 million and $17 million per season. Judon has failed to produce double-digit sacks in a single season and he didn't make a sack as part of a four-man rush last season (all 9.5 sacks came off Baltimore blitzes). His current market value is $16.3 million per season, according to Spotrac.
Tag Judon and then trade him: This scenario was first reported by ESPN's Adam Schefter last month, and it makes a lot of sense if Baltimore can find an interested team. The Ravens can get an immediate, upgraded return for Judon (unlike a third-round compensatory pick next year if he signs elsewhere in free agency) and they don't have to invest a huge chunk of their cap space in one player. Last offseason provided the template for the tag-and-trade of pass-rushers. The Chiefs got a second-round pick from the San Francisco 49ers for Dee Ford, and the Seattle Seahawks got three picks (first- and third-round picks in 2019 plus a second-round pick in 2020) from the Chiefs in exchange for Frank Clark and a 2019 third-round pick.
If Baltimore can pry a second-round pick from a pass-rush needy team such as Seattle or Atlanta, it would represent another win for general manager Eric DeCosta. He has excelled in the trade market from dealing quarterback Joe Flacco for a fourth-round pick and kicker Kaare Vedvik for a fifth-rounder to acquiring Pro Bowl cornerback Marcus Peters for a fifth-round pick and linebacker Kenny Young. With an additional pick and more cap space, the Ravens have the resources to rebuild their front seven to make another championship run.