Did the helmet rule actually work in 2018? And how will it change in 2019?
Nearly every week between August and February, the NFL picks a handful of officiating calls to highlight in an online media video. The first installment, distributed last Friday, led off not with the much-talked-about pass interference reviews, but rather with two examples of the helmet rule in action during the Aug. 1 Hall of Fame game.
The first instance went uncalled by officials on the field. The second, according to senior vice president of officiating Al Riveron, was flagged incorrectly.
With public attention focused on the recent addition of pass interference to replay review, the NFL is still trying to figure out how to administer it after last year's officiating debacle. The helmet rule — prohibiting players from lowering their helmets to initiate contact with an opponent — is one of two points of emphasis for 2019, meaning officials have been asked to pay special attention to it. There is an expectation that it will be enforced more tightly on the field, but the difficulty involved with fulfilling that task makes the helmet rule one of the most enigmatic NFL edicts in recent memory.
"There's an adjustment period involved, and everyone knows it," said competition committee chairman Rich McKay. "These players didn't play with this rule for a long time, meaning their entire career. There's an adjustment period for on-field officials. We're confident that … they are going to get better at it as they look for it more. But at the same time, we're confident that we're going to see less of these fouls because players are going to be more comfortable with it."
The NFL wrote off traditional enforcement of the rule in its 2018 debut, an unprecedented decision that led to only 19 flags in 256 games. The league did, however, issue 28 fines and 139 warning letters to players who had in most cases committed fouls that went uncalled. That discrepancy, while preferable to a flood of penalties, called into question the integrity of the game and prompted fair questions about whether the rule was simply unenforceable lip service to the league's health and safety apparatus.
The 2019 season should answer those concerns, one way or the other. Officials were given an offseason study guide to help them identify violations "to better recognize when players initiate helmet contact," referee Adrian Hill said. Players and coaches, meanwhile, have heard the mantra now for 15 months.
In this week's video, Al Riveron explains Use of the Helmet (UOH) – a foul that occurs if a player lowers his head to initiate and make contact with his helmet against an opponent. For the full explanation, visit: https://t.co/2C6En79afN. pic.twitter.com/bUJmXfBrTv

— NFL Officiating (@NFLOfficiating) August 9, 2019
"It's a violent game," said Chicago Bears coach Matt Nagy, "but we as coaches have to be able to teach tackling the right way, and that's keeping your head and helmet up."
But the annual flood of young players into the league demands constant vigilance and reiteration; the helmet rule is different from anything at any other level of football. Players have always been coached to hit with their heads up but were never penalized if they didn't and thus had little on-field incentive to avoid lowering the helmet.
When the rule was announced, many players predicted there would be instances when lowering the helmet was unavoidable. The NFL initiated a universal rules alignment initiative last season, designed to introduce similar rules from Pop Warner through high school and college, but it will be years before those efforts manifest in players entering the NFL.
In the meantime, we could continue to see plays such as those highlighted in last week's NFL video. In the first, Denver Broncos safety Will Parks lowered his helmet and hit Atlanta Falcons running back Brian Hill in the hip with his helmet. The contact, which took place in the middle of the line and was clearly visible only from an end zone view, went unpenalized.
The second instance was more obvious but still went incorrectly adjudicated. Referee Walt Anderson's crew flagged Hill for lowering his helmet to hit Broncos safety Dymonte Thomas after a run down the right sideline. Riveron said the call on Hill was correct, but demonstrated that Thomas also had lowered his head to initiate contact and should have been penalized as well.
There was a total of five flags thrown for violations of the helmet rule in the first 17 games of the preseason — a much slower pace than the chaotic 2018 preseason, but more than the average of 1.1 per week during the regular season. The continued focus, however, is not simply a means to align enforcement with behavior. The NFL also believes that the mere introduction of the rule changed behavior in 2018.
According to league data, concussions involving a player who lowered his head to initiate contact decreased by 20% in 2018 compared to 2017. A player lowering his head was still involved in about 50% of all concussions from helmet-to-helmet contact, and overall, 40% of all concussions still involved some kind of helmet-to-helmet contact in 2018.
"That is one data point and it is one year," said Jeff Miller, the NFL's executive vice president of health and safety initiatives. "That is not a lot of information. [But] helmet-to-helmet contact causing concussions, that number is 20% lower than it was a year ago. So that is positive thing. There's obviously a lot more to do in that space. That is something that was very interesting to the competition committee as they continue to push and make an emphasis on this point. So that is a teaching point, a player-adoption point, a culture-change point, and a good one."
The NFL's efforts in this space have tested its ability to leverage a legitimate safety initiative against behavior that is genuinely difficult to change with a rule that is objectively hard to officiate. The league essentially punted on the first season and is taking a long-term approach. But how many years will it take to get there? Progress in 2019, defined by more appropriate officiating, is essential to getting there.
Raiders, Pack play on 80-yard field due to holes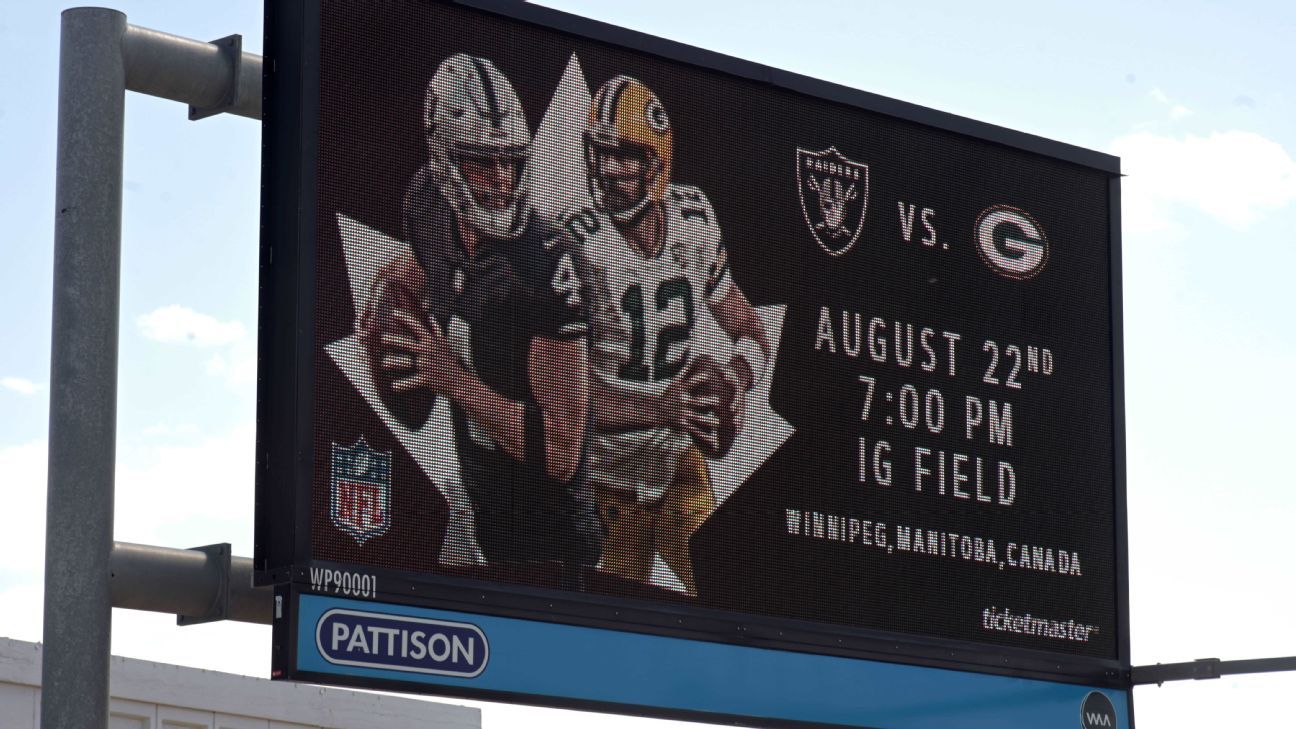 WINNIPEG, Manitoba — Due to "holes" in the end zones of IG Field, where goalposts for the Canadian Football League's bigger field are usually planted, the Oakland Raiders and Green Bay Packers played on a shorter field Thursday night.
Lengthy conversations between NFL, Green Bay and Oakland officials ended with the decision that the players should not be in such unsafe conditions, so the playing field was reduced to 80 yards, with each 10-yard line serving as the goal line.
Up until about 20 minutes before kickoff, field workers were trying to tamp down a square of artificial turf in each end zone, to no avail. It would not stay put.
NFL, #Packers and game officials check out the "hole" in the end zone before #Raiders game. pic.twitter.com/N8JBhBAYx2

— Paul Gutierrez (@PGutierrezESPN) August 22, 2019
A statement from the NFL was released shortly after kickoff:
"Tonight's game is being played on a reconfigured field. The field met the mandatory practices for the maintenance of surfaces for NFL games based on an inspection yesterday. Concerns arose today surrounding the area where the Blue Bombers' goal posts were previously located. The 10-yard line will function as the goal line at this game. In lieu of kickoffs, the ball will be placed at the 15-yard line."
The Raiders were technically the home team for the exhibition, which raised the question as to why the team would give up a game in Oakland to travel to the middle of a foreign country. Per a league source, the Raiders did not yet have a lease with the Oakland Coliseum when the NFL scheduled its preseason and gave the Raiders a Week 3 home game, be it in San Francisco, Santa Clara, Reno, Las Vegas or Oakland.
But with MLB's Oakland Athletics home this week, the Raiders had to hit the road to play host, hence the team having talks with Canadian cities Regina and Edmonton and even Honolulu, Hawaii, before signing up with Winnipeg for the first NFL game of any kind played in Western Canada.
And while the Packers, who had planned on playing some front-line players, made a statement by sitting 33 players, it was hard to tell if the Raiders reacted similarly since they did not plan on playing many, if any, starters against Green Bay. Aaron Rodgers, who was questionable to play due to a sore back, was one of the 33 players the Packers sat.
There was at least one other game in NFL history played on a field shorter than 100 yards. In 1932, the Chicago Bears and Portsmouth Spartans played the league's first ever playoff game indoors at Chicago Stadium on a modified 80-yard field due to poor weather.
Broncos rookie QB Lock could open season on IR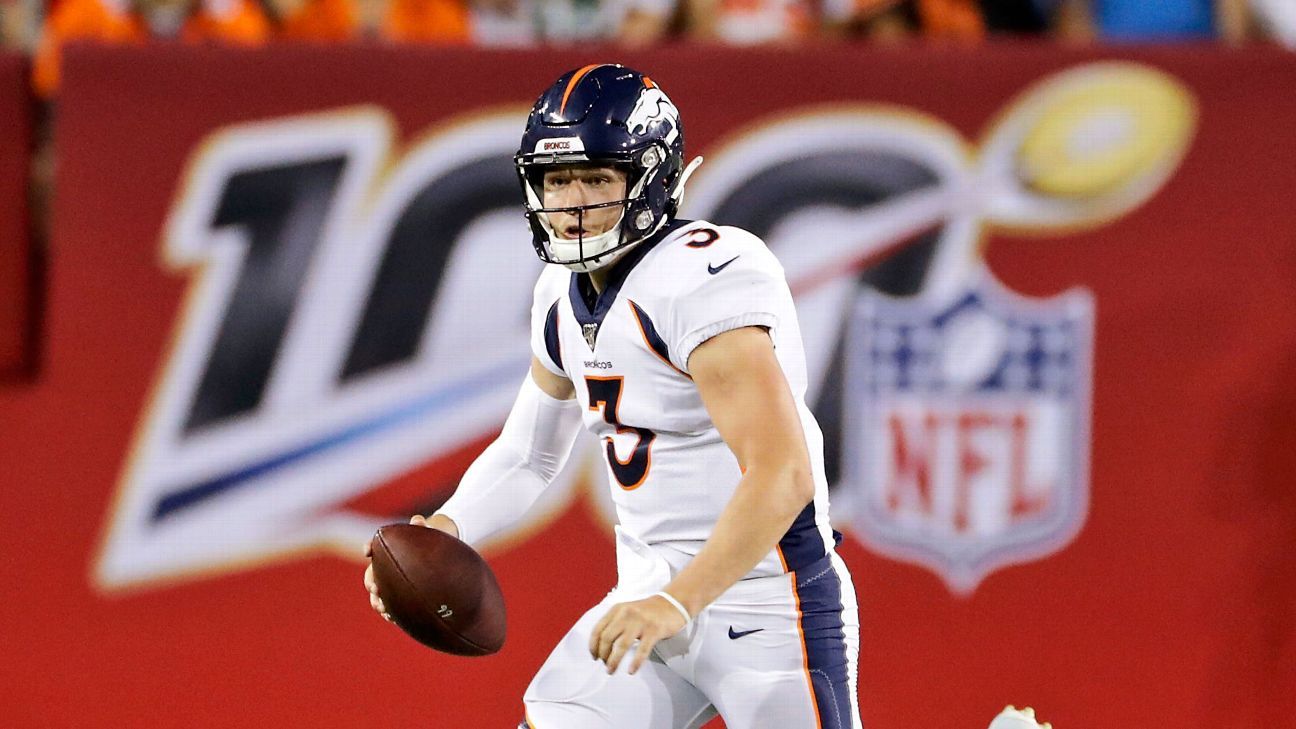 ENGLEWOOD, Colo. — Denver Broncos rookie quarterback Drew Lock said Thursday he's not sure when he will be able to throw a football again, and coach Vic Fangio said it's possible Lock could at least open the season on injured reserve.
Lock suffered a severely sprained right thumb — on his throwing hand — early in the third quarter of Monday night's preseason loss to the visiting San Francisco 49ers. He underwent an MRI exam Tuesday and a sprain was confirmed.
X-rays taken at the stadium Monday night were negative.
Lock will neither play nor practice for the remainder of the preseason and will be limited to conditioning work only.
"Obviously because it's his throwing hand and a thumb, that's a pretty serious injury for a quarterback," Fangio said. "It will be some time before we know exactly where he's at and how much time he would miss."
"[I'm] trusting the [training] staff in there to get me back as soon as possible," Lock said. "Whenever that is, we'll decide on whenever I'm 100% ready to go."
Lock, who was selected in the second round (42nd overall) of April's draft, was in a battle to be the team's backup quarterback behind Joe Flacco. Asked Thursday if putting Lock on injured reserve was now a possibility if his recovery time was slated to include part of the regular season, Fangio said: "Yeah, it could be if we don't think he can play for a while. The bad thing about it is because of the injury he can't do much."
If Lock were to be placed on injured reserve with a designation to return, he would have to be on the Broncos' roster in Week 1, taking the spot of a healthy player at that time — and he would have to miss half the season.
If he were to be placed simply on injured reserve, he would miss the entire season.
In the meantime, as the Broncos try to decide what to do based on his progress in healing, Lock has been in the quarterback meetings as well as on the practice field with the team. Because he cannot participate in drills, he said using the team's virtual reality system is going to be an important part of his recovery.
Lock said he will have to do "two times" more classroom work since he will not be practicing, and "the VR stuff upstairs is going to be heavily used. … It helps a lot, being able to see what Joe [Flacco] does, kind of from his angle and things … being able to see every single rep, being able to see what the defense does, being able to see it in a ton of different looks."
He said he used VR in his sophomore and junior years at Missouri as well.
Lock played 30 snaps against the 49ers as he finished 7-of-12 passing with 40 yards to go with the sack he was injured on. Lock played just one more snap after that sack and left the game with just over 13 minutes remaining in the third quarter.
After opening training camp as the No. 3 quarterback behind Flacco and Kevin Hogan, Lock had been moved up to the No. 2 spot in practices and was the second quarterback into the game against the Seattle Seahawks and 49ers.
For the preseason, Lock has completed 60.8% of his passes with a touchdown and an interception.
Garoppolo aims to bounce back at site of injury
SANTA CLARA, Calif. — After a rough stretch in which he threw five interceptions in a practice and posted a 0.0 passer rating in a preseason game five days later, San Francisco 49ers quarterback Jimmy Garoppolo is aiming to move on in the same stadium where he suffered a season-ending injury in 2018.
On Thursday, Garoppolo said he was "very hard" on himself when he watched the film of his 1-of-6 for 0 yards with one interception performance against the Denver Broncos on Monday night, and again when he re-watched it on Tuesday.
But Garoppolo, who said he's sure he's had a similar week before in his career, also reminded himself he doesn't have time to think about it any more as he prepares for the regular season opener on Sept. 8.
"At some point you have to move on," Garoppolo said. "You're still trying to correct those mistakes and not make the same mistakes twice, but if you just dwell on the past and dwell on that one game, you're going to get stuck there and have no success going forward. I think it's good to be hard on yourself, but at some point you have got to move forward."
Moving forward this week for Garoppolo means a trip on Saturday to Arrowhead Stadium in Kansas City, the same venue in which Garoppolo tore the anterior cruciate ligament in his left knee on Sept. 23 of last season.
In the days after that game, Garoppolo admitted to replaying the injury in his head, pondering what he'd have done differently and everything that led up to the injury. On the play, Garoppolo scrambled down the left sideline before attempting to plant his left leg and turn upfield. The left leg buckled as he threw himself into Chiefs defensive back Steven Nelson.
That injury cost Garoppolo the remaining 13 games of the season and set him on a lengthy rehabilitation that is still ongoing as he gets re-acclimated to playing in live games again.
"It will be a good steppingstone," Garoppolo said of his return to Arrowhead Stadium. "Definitely, it will be a little weird getting back there but (I'm) just trying to treat it like a normal game."
That's a task that likely would have been made easier had it not been for Garoppolo's recent struggles. Monday's game in Denver was his first live action in 330 days and the rust was readily apparent.
It was also the first time Garoppolo could be tackled since the injury, and it resulted in some discomfort in the pocket.
Niners coach Kyle Shanahan, who has cautioned against making too much of preseason struggles, suggested Thursday that getting back in game action was another in a line of mental hurdles for Garoppolo to clear as he comes back from injury.
"I know anytime you come back from injury, there's a bunch of mental hurdles you have got to get over even when you are healthy and feel good," Shanahan said. "I'm sure there's some stuff with it just being eerie going back to that same place."
Although Shanahan said he felt it would have been "a matter of time" before Garoppolo got going against Denver, he opted to take him out after just 10 snaps with an eye toward Saturday night in Kansas City.
Garoppolo should have ample opportunity to get back on track against the Chiefs. Much like last preseason, Shanahan said Garoppolo and the starting offense will likely play the entire first half, depending on how many snaps they get and how it's going.
Shanahan didn't rule out the possibility of some snaps in the third quarter if the offense doesn't get the needed work in the first half.
"It will be good," Garoppolo said. "Hopefully we get to string some plays together, get some good drives and everything and get the offense moving. It's taking it from the practice field and bringing it over to the game field and making it happen."
In the meantime, Garoppolo said he has done his best this week to block out the outside criticism of his performance in Denver and focus on fixing the mistakes of last week.
At the top of that list was the interception he threw in the first quarter that came as a result of poor communication on an offensive line protection. Garoppolo and Shanahan went over the play with Shanahan emphasizing the importance of making sure everyone gets any changes up front.
Those are the type of errors that can be corrected and should go away as Garoppolo gets more opportunities. As Shanahan is quick to point out, many of Garoppolo's growing pains should have already happened.
Alas, the knee injury.
"That's all Jimmy needs is just to play football," Shanahan said. "Whether he was coming back from injury or not. We thought we were going to get that last year and unfortunately we didn't and that was out of everyone's control. So now we're back to that plus he's coming off an injury with it. So I want Jimmy to play as much as possible in the preseason and into the regular season, but that's a fine line, too. You don't want to put your quarterback in there against a starting defensive line when you don't have your starting O-line in there. So trying to balance that out."
Garoppolo, who still has just 10 NFL starts to his name, said Thursday his knee is holding up well and he intends to bounce back against the Chiefs.
"It's one of those things that you can react two ways to it: You can crumple up and kind of go into a fetal position and surrender, or you can go out and fight," Garoppolo said. "We have got a locker room full of guys who want to fight, myself included. Every day you have to come in and earn your spot. It's never going to be given to you so you have got to come earn it."