Redskins running back Derrius Guice on hardest year of his life – Washington Redskins Blog
RICHMOND, Va. — The gunfire rang out too close to home — like right outside — prompting a panicked phone message from a young Derrius Guice. Ninth grade had just ended; football workouts started the next day. But he had to let his coach know he might not arrive on time, if at all.
He left a message on Catholic High School coach Dale Weiner's voicemail.
"Grandma's coming to pick me up because they're shooting in our house!" Weiner recalled Guice saying in the message. "They're shooting in our house, coach!"
That is just a snippet of what the Washington Redskins running back overcame in Baton Rouge, Louisiana, to reach the NFL. His dad, who was killed when Guice was 5, was part of that reality. Guice's neighborhood, known as "The Bottom," was not an easy place to grow up.
"His junior year, I picked him up at his house, and three different times when he got in the car, he was talking about someone who got shot last night that lived down the street," Weiner said. "One of them, the crime tape was across the street. [It was] one of his friends who went to another school."
Given all that Guice has lived through, his words on the first day of training camp were striking. He said last season was his toughest ever, and it showed him that he is mentally strong. He was upset that his character came into question before, during and after the draft. Then he tore the ACL in his left knee during the Redskins' first preseason game. Nobody created more buzz early in camp last season than Guice; it vanished in an instant.
"I got to this stage, and I felt like I'd seen it all. I felt like I'd beaten everything that came toward me," Guice said. "When this happened, when the love of my life was taken away, that was the most critical thing I had to go through and overcome. Football was never taken away from me ever in 15 years of playing. This ain't no wimp injury. This is one of the most detrimental injuries out there — period. When it happened, I didn't know what to do with myself."
Football, Guice said, has been his salvation. After missing the 2018 season, he's a full participant in training camp, and his workload continues to increase in full-team drills. Last week, the Washington coaches were excited to see him catch a route down the sideline and run 80 yards to complete the play. On the next play, he ran an outside zone for 50 yards and then picked up a blitz in protection.
"I've been impressed with him," Redskins coach Jay Gruden said.
It was the full Guice package, the one that led the Redskins to believe he would have an excellent rookie season — until the ACL injury. After the initial surgery, Guice had three procedures to help prevent an infection. Because of this, for two months, he needed an IV three times a day for three hours at a time.
"God works in mysterious ways," Guice said. "Sometimes he tells you that you need to slow down. I felt that was the message to me: Slow down, and let him do his work."
Playing for his dad
For Guice, this season is about returning to his passion. It began because of his dad.
"He told me I was going to be the football man of the house," Guice said. "He told me that when I was 5 years old, and then a few months later he got murdered. That's what got me into it, and I never left. I wanted to honor football for him because that's what he told me I was going to do."
Guice started playing at age 6 with kids three and four years older. He was a fast, straight-line runner at that age, and he needed to learn how to cut.
"But there was no fear, definitely no fear," said Terry Boyd, Guice's youth coach. "That's one thing he never had."
A year later, playing against kids his own age and having learned how to cut, Guice emerged. Boyd challenged him, proclaiming another player was pushing him for the job. Guice responded by doing things such as running extra laps in full gear. In his second season, Boyd said Guice scored about 50 touchdowns.
"Untouchable," Boyd said.
As a ninth grader, Guice enrolled at Catholic, hoping to follow in the footsteps of its football alumni: former NFL running backs Warrick Dunn, Travis Minor and Jeremy Stewart.
Guice's high school experience helped him grow, but that growth was accompanied by pain.
"It really brought the man out of me," Guice said last year before his injury. "Me coming from a poverty-stricken area to an all-white private school, I had to grow up quick. I was around all these kids that carried themselves like grown-ass men. I'm still over there trying to get used to what's going on. It was hard. I wasn't used to being around the opposite color and being around them [all] day, talking s— all day. I'm not as smart as them. I'm only there for football. In my neighborhood, your first reaction was to fight. I already knew at a school like that I'm getting put out [for fighting], so a lot of s— I had to swallow and take in and use as motivation."
That motivation showed itself on the field, where, as Weiner said, when Guice ran the ball, he was a "ball of butcher knives. … He would not go down. He was as tenacious a runner as I've ever been around."
Guice persevered and used Catholic to help him stay out of trouble.
"Why would I want to be surrounded by people that could put me in jail?" Guice said of his neighborhood. "Football was what I always wanted to do. So any option to get me away from [that environment], I was taking it. That could be meetings, it could be practice or going to Catholic for extra tutoring."
Guice made good friends and remains tight with his high school coaches and other faculty members. The only trouble he got into was a brief suspension from the team for a minor offense, Weiner said. Guice also occasionally butted heads with his position coach, Gabe Fertitta, who is now the head coach.
"I grew as a coach because here's a kid who was really smart, who knew what was happening on the field," Fertitta said. "I would say, 'Would you rather run the play this way or that way?' Often times his answer was, 'I want to run that way because …' and his answer was pretty darn good. This wasn't a one-way street with Derrius. He helped me grow."
Another inspiration
As Guice was recovering from his injury, he suffered another loss. In June, his 3-year-old cousin, Radyn Terrell, found a gun in his home and accidentally shot himself. Guice immediately headed to Houston, where the boy was hospitalized. Two days later, Radyn died.
Guice said he has a Fat Head of his cousin in his locker. When asked about him, Guice was silent for seven seconds before responding.
"It reminded me on how precious life is and how short it can be," he said. "That's why every day I'm out here, I take it to the fullest. I don't take days off. I don't take reps off. Life isn't promised. Hell, football isn't promised. There's a lot of people that wish they were in our shoes. Nothing is promised, and to see my little man … That s— hurts, man.
"I look at him every morning. It's always going to be a sadness because I wish I could see him physically and touch him and love him, but I know I'll see him again. Football isn't always going to be there, but family always will be there. I'll never turn my back on family. Never."
Football has helped Guice survive the tough moments in life. Then it was taken away. Now football is back. That's why Redskins running backs coach Randy Jordan got a little choked up talking about Guice's return.
"I know what he's been through in his life," Jordan said. "That's a lot to overcome, but he has some resiliency. That's why I get emotional. I know where he comes from, and I know where he's trying to head."
Guice's journey didn't break him.
"It was the hardest thing I ever had to go through in life," he said. "I'm really a strong son of a gun."
Raiders, Pack play on 80-yard field due to holes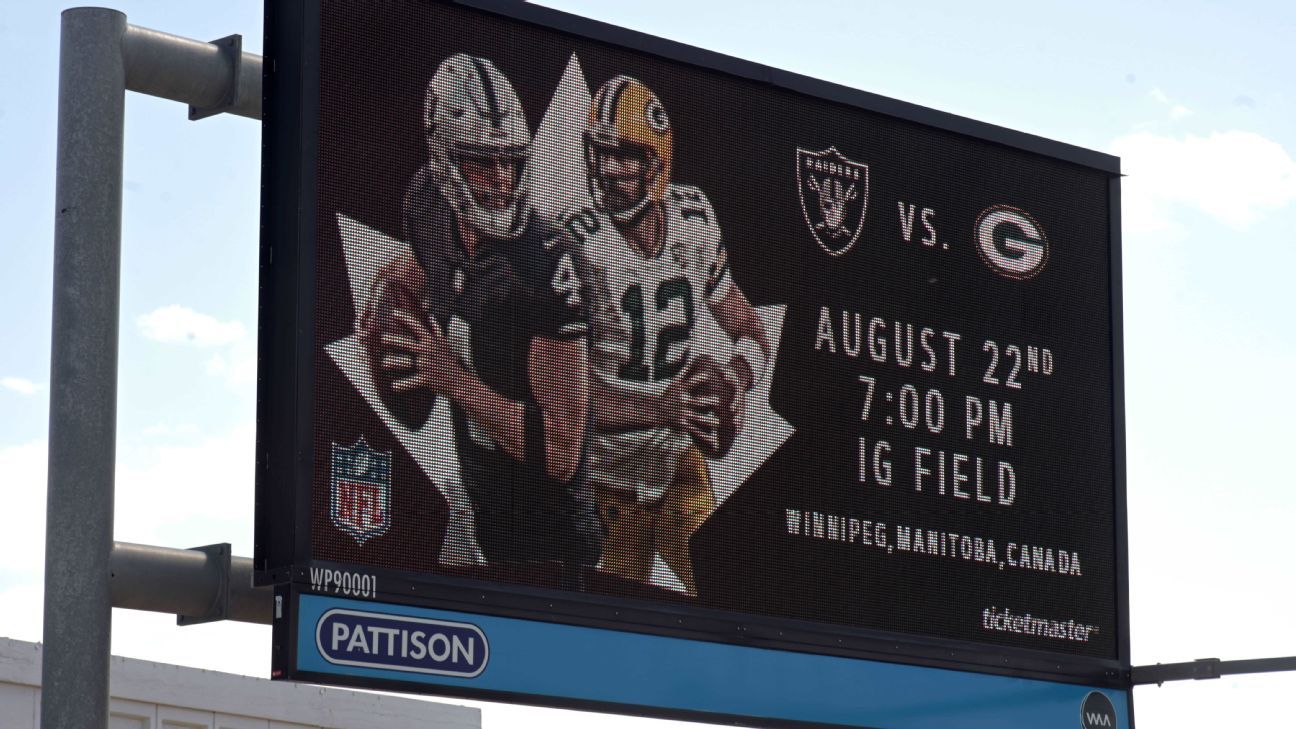 WINNIPEG, Manitoba — Due to "holes" in the end zones of IG Field, where goalposts for the Canadian Football League's bigger field are usually planted, the Oakland Raiders and Green Bay Packers played on a shorter field Thursday night.
Lengthy conversations between NFL, Green Bay and Oakland officials ended with the decision that the players should not be in such unsafe conditions, so the playing field was reduced to 80 yards, with each 10-yard line serving as the goal line.
Up until about 20 minutes before kickoff, field workers were trying to tamp down a square of artificial turf in each end zone, to no avail. It would not stay put.
NFL, #Packers and game officials check out the "hole" in the end zone before #Raiders game. pic.twitter.com/N8JBhBAYx2

— Paul Gutierrez (@PGutierrezESPN) August 22, 2019
A statement from the NFL was released shortly after kickoff:
"Tonight's game is being played on a reconfigured field. The field met the mandatory practices for the maintenance of surfaces for NFL games based on an inspection yesterday. Concerns arose today surrounding the area where the Blue Bombers' goal posts were previously located. The 10-yard line will function as the goal line at this game. In lieu of kickoffs, the ball will be placed at the 15-yard line."
The Raiders were technically the home team for the exhibition, which raised the question as to why the team would give up a game in Oakland to travel to the middle of a foreign country. Per a league source, the Raiders did not yet have a lease with the Oakland Coliseum when the NFL scheduled its preseason and gave the Raiders a Week 3 home game, be it in San Francisco, Santa Clara, Reno, Las Vegas or Oakland.
But with MLB's Oakland Athletics home this week, the Raiders had to hit the road to play host, hence the team having talks with Canadian cities Regina and Edmonton and even Honolulu, Hawaii, before signing up with Winnipeg for the first NFL game of any kind played in Western Canada.
And while the Packers, who had planned on playing some front-line players, made a statement by sitting 33 players, it was hard to tell if the Raiders reacted similarly since they did not plan on playing many, if any, starters against Green Bay. Aaron Rodgers, who was questionable to play due to a sore back, was one of the 33 players the Packers sat.
There was at least one other game in NFL history played on a field shorter than 100 yards. In 1932, the Chicago Bears and Portsmouth Spartans played the league's first ever playoff game indoors at Chicago Stadium on a modified 80-yard field due to poor weather.
Broncos rookie QB Lock could open season on IR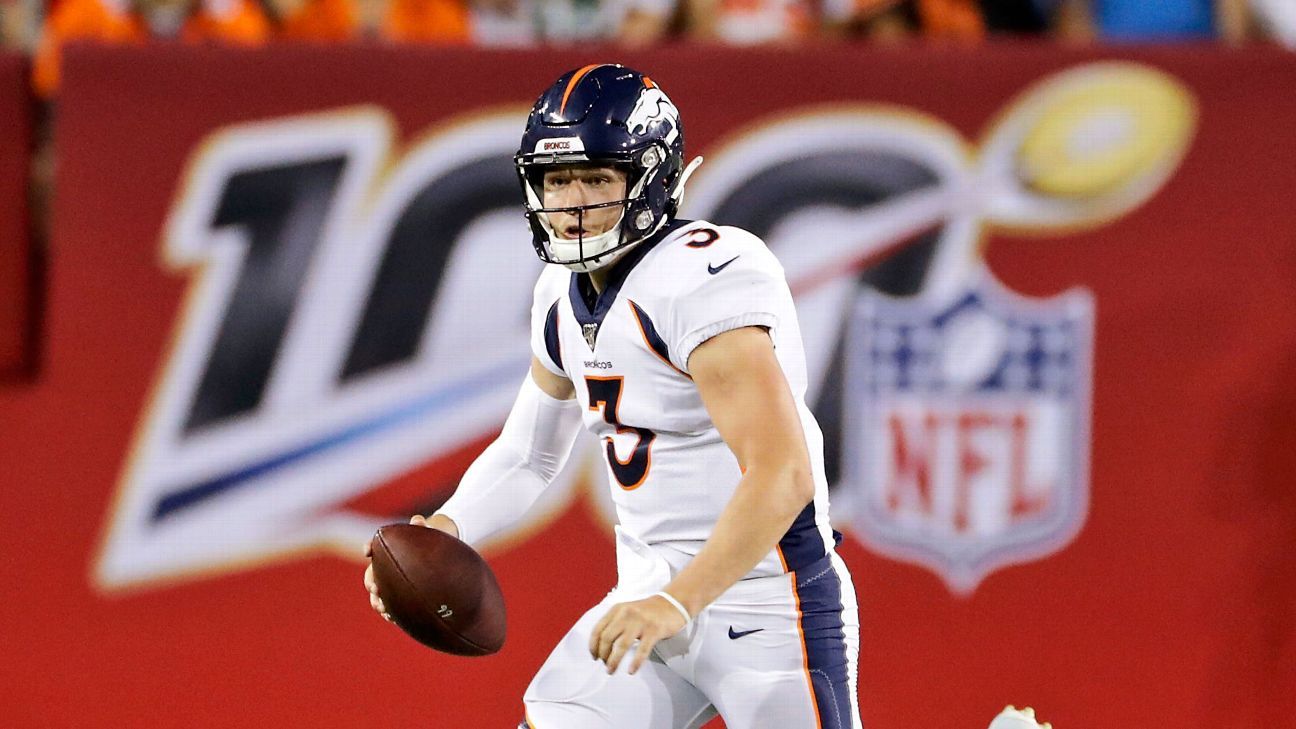 ENGLEWOOD, Colo. — Denver Broncos rookie quarterback Drew Lock said Thursday he's not sure when he will be able to throw a football again, and coach Vic Fangio said it's possible Lock could at least open the season on injured reserve.
Lock suffered a severely sprained right thumb — on his throwing hand — early in the third quarter of Monday night's preseason loss to the visiting San Francisco 49ers. He underwent an MRI exam Tuesday and a sprain was confirmed.
X-rays taken at the stadium Monday night were negative.
Lock will neither play nor practice for the remainder of the preseason and will be limited to conditioning work only.
"Obviously because it's his throwing hand and a thumb, that's a pretty serious injury for a quarterback," Fangio said. "It will be some time before we know exactly where he's at and how much time he would miss."
"[I'm] trusting the [training] staff in there to get me back as soon as possible," Lock said. "Whenever that is, we'll decide on whenever I'm 100% ready to go."
Lock, who was selected in the second round (42nd overall) of April's draft, was in a battle to be the team's backup quarterback behind Joe Flacco. Asked Thursday if putting Lock on injured reserve was now a possibility if his recovery time was slated to include part of the regular season, Fangio said: "Yeah, it could be if we don't think he can play for a while. The bad thing about it is because of the injury he can't do much."
If Lock were to be placed on injured reserve with a designation to return, he would have to be on the Broncos' roster in Week 1, taking the spot of a healthy player at that time — and he would have to miss half the season.
If he were to be placed simply on injured reserve, he would miss the entire season.
In the meantime, as the Broncos try to decide what to do based on his progress in healing, Lock has been in the quarterback meetings as well as on the practice field with the team. Because he cannot participate in drills, he said using the team's virtual reality system is going to be an important part of his recovery.
Lock said he will have to do "two times" more classroom work since he will not be practicing, and "the VR stuff upstairs is going to be heavily used. … It helps a lot, being able to see what Joe [Flacco] does, kind of from his angle and things … being able to see every single rep, being able to see what the defense does, being able to see it in a ton of different looks."
He said he used VR in his sophomore and junior years at Missouri as well.
Lock played 30 snaps against the 49ers as he finished 7-of-12 passing with 40 yards to go with the sack he was injured on. Lock played just one more snap after that sack and left the game with just over 13 minutes remaining in the third quarter.
After opening training camp as the No. 3 quarterback behind Flacco and Kevin Hogan, Lock had been moved up to the No. 2 spot in practices and was the second quarterback into the game against the Seattle Seahawks and 49ers.
For the preseason, Lock has completed 60.8% of his passes with a touchdown and an interception.
Garoppolo aims to bounce back at site of injury
SANTA CLARA, Calif. — After a rough stretch in which he threw five interceptions in a practice and posted a 0.0 passer rating in a preseason game five days later, San Francisco 49ers quarterback Jimmy Garoppolo is aiming to move on in the same stadium where he suffered a season-ending injury in 2018.
On Thursday, Garoppolo said he was "very hard" on himself when he watched the film of his 1-of-6 for 0 yards with one interception performance against the Denver Broncos on Monday night, and again when he re-watched it on Tuesday.
But Garoppolo, who said he's sure he's had a similar week before in his career, also reminded himself he doesn't have time to think about it any more as he prepares for the regular season opener on Sept. 8.
"At some point you have to move on," Garoppolo said. "You're still trying to correct those mistakes and not make the same mistakes twice, but if you just dwell on the past and dwell on that one game, you're going to get stuck there and have no success going forward. I think it's good to be hard on yourself, but at some point you have got to move forward."
Moving forward this week for Garoppolo means a trip on Saturday to Arrowhead Stadium in Kansas City, the same venue in which Garoppolo tore the anterior cruciate ligament in his left knee on Sept. 23 of last season.
In the days after that game, Garoppolo admitted to replaying the injury in his head, pondering what he'd have done differently and everything that led up to the injury. On the play, Garoppolo scrambled down the left sideline before attempting to plant his left leg and turn upfield. The left leg buckled as he threw himself into Chiefs defensive back Steven Nelson.
That injury cost Garoppolo the remaining 13 games of the season and set him on a lengthy rehabilitation that is still ongoing as he gets re-acclimated to playing in live games again.
"It will be a good steppingstone," Garoppolo said of his return to Arrowhead Stadium. "Definitely, it will be a little weird getting back there but (I'm) just trying to treat it like a normal game."
That's a task that likely would have been made easier had it not been for Garoppolo's recent struggles. Monday's game in Denver was his first live action in 330 days and the rust was readily apparent.
It was also the first time Garoppolo could be tackled since the injury, and it resulted in some discomfort in the pocket.
Niners coach Kyle Shanahan, who has cautioned against making too much of preseason struggles, suggested Thursday that getting back in game action was another in a line of mental hurdles for Garoppolo to clear as he comes back from injury.
"I know anytime you come back from injury, there's a bunch of mental hurdles you have got to get over even when you are healthy and feel good," Shanahan said. "I'm sure there's some stuff with it just being eerie going back to that same place."
Although Shanahan said he felt it would have been "a matter of time" before Garoppolo got going against Denver, he opted to take him out after just 10 snaps with an eye toward Saturday night in Kansas City.
Garoppolo should have ample opportunity to get back on track against the Chiefs. Much like last preseason, Shanahan said Garoppolo and the starting offense will likely play the entire first half, depending on how many snaps they get and how it's going.
Shanahan didn't rule out the possibility of some snaps in the third quarter if the offense doesn't get the needed work in the first half.
"It will be good," Garoppolo said. "Hopefully we get to string some plays together, get some good drives and everything and get the offense moving. It's taking it from the practice field and bringing it over to the game field and making it happen."
In the meantime, Garoppolo said he has done his best this week to block out the outside criticism of his performance in Denver and focus on fixing the mistakes of last week.
At the top of that list was the interception he threw in the first quarter that came as a result of poor communication on an offensive line protection. Garoppolo and Shanahan went over the play with Shanahan emphasizing the importance of making sure everyone gets any changes up front.
Those are the type of errors that can be corrected and should go away as Garoppolo gets more opportunities. As Shanahan is quick to point out, many of Garoppolo's growing pains should have already happened.
Alas, the knee injury.
"That's all Jimmy needs is just to play football," Shanahan said. "Whether he was coming back from injury or not. We thought we were going to get that last year and unfortunately we didn't and that was out of everyone's control. So now we're back to that plus he's coming off an injury with it. So I want Jimmy to play as much as possible in the preseason and into the regular season, but that's a fine line, too. You don't want to put your quarterback in there against a starting defensive line when you don't have your starting O-line in there. So trying to balance that out."
Garoppolo, who still has just 10 NFL starts to his name, said Thursday his knee is holding up well and he intends to bounce back against the Chiefs.
"It's one of those things that you can react two ways to it: You can crumple up and kind of go into a fetal position and surrender, or you can go out and fight," Garoppolo said. "We have got a locker room full of guys who want to fight, myself included. Every day you have to come in and earn your spot. It's never going to be given to you so you have got to come earn it."