Gordon tells Chargers he's holding out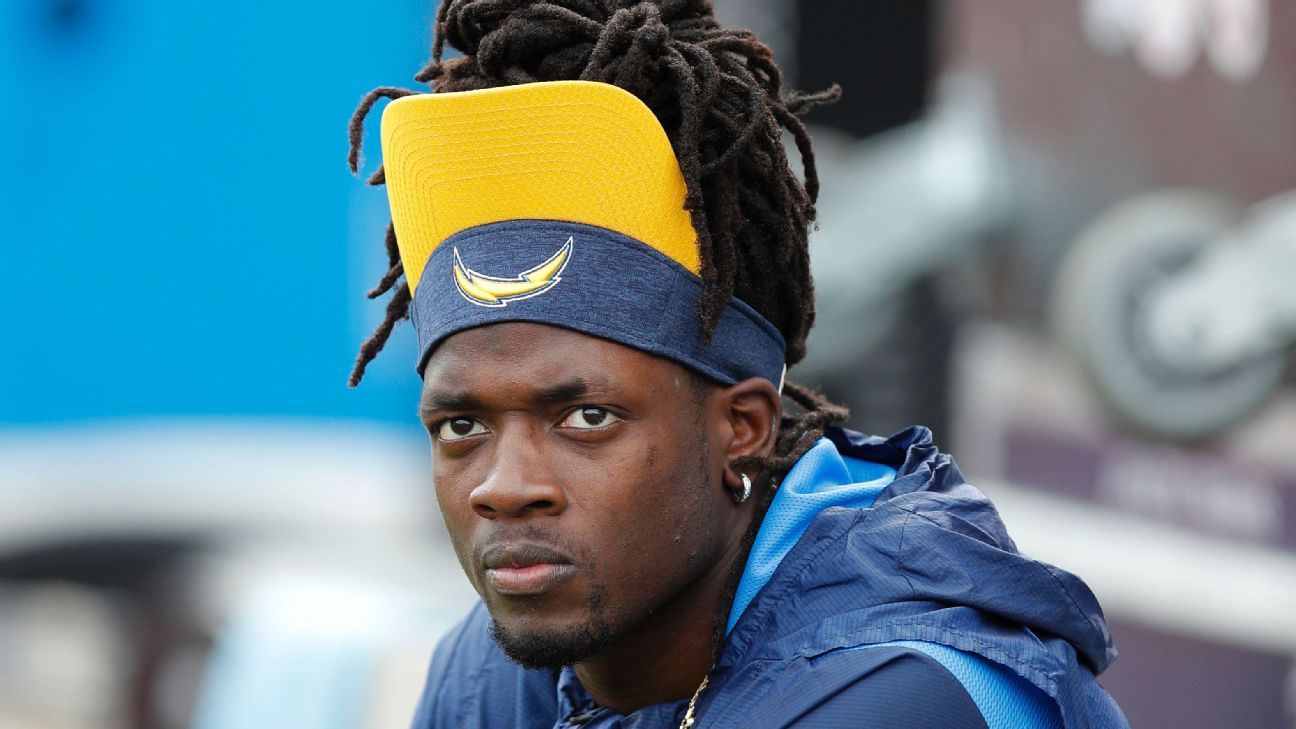 Running back Melvin Gordon has informed the Los Angeles Chargers that he will not report to training camp Wednesday when the rest of the team reports, a source familiar with those talks told ESPN's Adam Schefter.
Gordon, who is scheduled to make $5.6 million this season, wants a new contract. Sources told Schefter that the sides are not close to a new deal.
Gordon, 26, has discussed his position multiple times since agent Fletcher Smith told Schefter on July 11 that the running back would not be at training camp without a new contract.
On July 13, he said he viewed the Chargers as "home" but added "it's an opportunity right now where I know I need to take advantage of it. You know, I want to get paid."
Gordon also told ESPN's Sam Alipour last week that he had given some teammates a heads-up that he would threaten to hold out and that they had supported his decision.
A two-time Pro Bowl selection, Gordon rushed for 5.1 yards per carry and had 14 total touchdowns in 2018. He also averaged 114.6 scrimmage yards per game last season, the best by any Chargers player since LaDainian Tomlinson (121.8 in 2007), according to ESPN Stats & Information.
Cowboys hoping to reach deal with Dak Prescott, avoid franchise tag
INDIANAPOLIS — Time might be running out, but Dallas Cowboys executive vice president Stephen Jones remains confident a long-term deal can be worked out with quarterback Dak Prescott before the organization will need to use the franchise tag.
Jones said there are no talks scheduled with Prescott's agent, Todd France, but the team intends to meet with him at some point this week during the NFL scouting combine in Indianapolis.
Jones said there is no scenario in which the Cowboys would move on from Prescott in 2020.
"I mean, Dak's our quarterback. He's our quarterback for the future and we have nothing but the greatest respect for him," Jones said. "He's a competitor. He's won a lot of football games for us. Obviously, he, like us, we all want to take that next step and get into a championship game and get to the big game and ultimately win a championship. So there's no thoughts like that."
Jones acknowledged the sides have not spoken since September when the Cowboys thought they were closing in on an agreement that would have made Prescott among the top-five paid quarterbacks in the NFL.
"It just kind of stopped. We kind of left it where it was," Jones said. "I wouldn't say there was anything acrimonious. They felt they were done where they were. We felt like we were kind of where we were and we never really got going again."
Despite the inactivity, Jones believes a deal can be consummated before March 12, the final date in which the club can use the franchise tag. That is two days later than the original deadline because of the ongoing discussions with the NFL and the NFL Players Association on a new collective bargaining agreement. Jones said there are "a lot of moving parts," that go into negotiations when it is the final year of the CBA. With a new CBA, the Cowboys would lose the chance to use the franchise and transition tags but it would ease up some of the issues in getting a long-term deal completed.
Jones would not get into whether the Cowboys would use the nonexclusive franchise tag, which would cost $27 million but allow Prescott to shop the market, or exclusive tag, which would cost $33 million and prevent teams from signing him.
"I just don't think we've had our hands around what the next steps are," Jones said. "Obviously we didn't end up getting it done because they were pretty entrenched with their thoughts and we were pretty entrenched with our thoughts. I think really that's the facts of the world we work. Certainly we've done a lot of thinking about it and looking at it and we'll see where it ends up."
Prescott is not the only high-profile free agent the Cowboys want to re-sign. Wide receiver Amari Cooper, cornerback Byron Jones and defensive end Robert Quinn are also set to be free agents. Without a CBA extension, the Cowboys could theoretically use the franchise tag on Prescott and transition tag on Cooper. If there's a new CBA, then they would only be able to use one tag, thus making it more likely Cooper, Jones or Quinn could hit the market.
"We haven't gone into any details with players since the end of the season. We are really wanting to see where the CBA is," Jones said. "The way I look at these contracts, the two we are talking about [Prescott and Cooper], when things get momentum they can happen in 24 hours. It's just a matter of can you get some traction and [be] headed in the right direction."
Chattanooga State asst. Volonte Bell killed in accident
Volonte Bell, an assistant men's basketball coach at Chattanooga State and the older brother of New Orleans Saints safety Vonn Bell, was killed in a traffic accident Sunday night, the school confirmed.
The Chattanooga State family is deeply saddened by the passing of Volonte Bell. Volonte was killed in a tragic car accident last night. He has been a valued member of our men's basketball coaching staff for the last three seasons and will be greatly missed.

— Chattanooga State Community College (@ChattStateCC) February 24, 2020
Thanks to everyone for all the love and support to my family and I during this time..we're grieving right now, this one hits different.

— Vonn Bell (@Vonn) February 24, 2020
Hurt my soul man 💔 lost for words foreal we have memories since college visits man just watch over me I will always remember your energy and your smile you kept on your face wish we could flick it up just one more time. 😢 https://t.co/1z4NySlkJJ

— Michael Thomas (@Cantguardmike) February 24, 2020
Chattanooga State head coach Jay Price spoke glowingly to the Chattanooga Times Free Press about Volonte Bell, who was in his third year with the team.
"I spoke with his mother this morning and she was trying to be strong, but this is just a very sad day for all of us who knew him," Price said. "Volonte was just a positive, energetic guy who was always upbeat. Anybody who met him will tell you the first thing you always noticed was his smile and that's the thing a lot of us will remember him for.
"This was probably his last year to coach with us because he was too good at such a young age not to be moving up. His personality made him a perfect fit for the coaching world because he never met a stranger, he could talk to anybody and didn't mind working hard. He had such a bright future ahead of him. It's just hard to believe."
The Chattanooga police department would not confirm the names of anyone involved in the accident. But according to police, the 29-year-old male later identified as Bell was pronounced dead on the scene shortly before 10 p.m.
According to police, he was driving a Honda Civic and failed to slow down before striking a trailer that was being towed by a Volvo truck in front of him in the middle lane of traffic.
Ex-Browns DE Chris Smith eyes NFL comeback after girlfriend's death
Former Cleveland Browns defensive end Chris Smith, whose girlfriend was killed in a traffic accident last September, is making a comeback and is looking to sign with an NFL team, a source told ESPN's Adam Schefter.
Smith is feeling better and ready to resume his career, the source said.
Smith's girlfriend, Petara Cordero, was struck and killed by a driver on Interstate 90 in Cleveland. She had been a passenger in Smith's 2019 Lamborghini and exited the vehicle when it had a tire malfunction and hit the median.
The couple had just had a daughter together the month before.
Smith started two games for the Browns in 2018, but compiled only one tackle in eight games following Cordero's death.
The Browns released Smith on Dec. 3.