Gordon tells Chargers he's holding out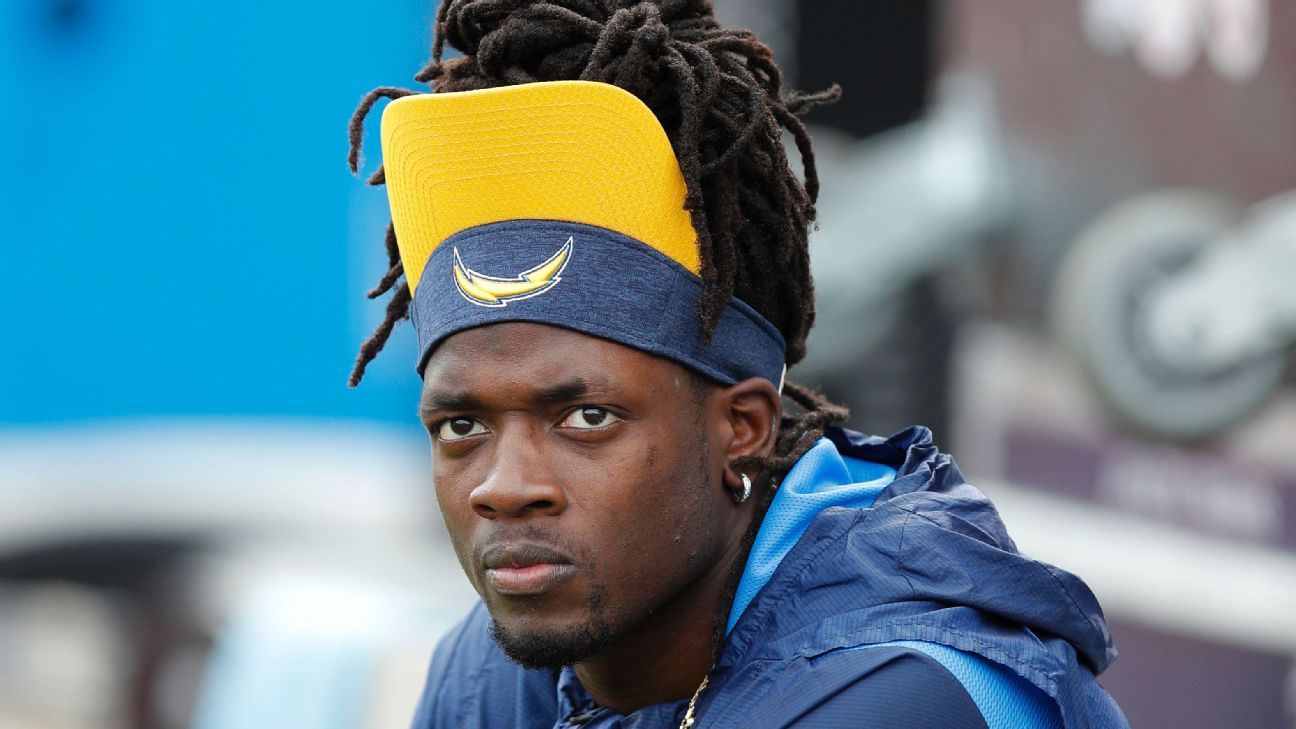 Running back Melvin Gordon has informed the Los Angeles Chargers that he will not report to training camp Wednesday when the rest of the team reports, a source familiar with those talks told ESPN's Adam Schefter.
Gordon, who is scheduled to make $5.6 million this season, wants a new contract. Sources told Schefter that the sides are not close to a new deal.
Gordon, 26, has discussed his position multiple times since agent Fletcher Smith told Schefter on July 11 that the running back would not be at training camp without a new contract.
On July 13, he said he viewed the Chargers as "home" but added "it's an opportunity right now where I know I need to take advantage of it. You know, I want to get paid."
Gordon also told ESPN's Sam Alipour last week that he had given some teammates a heads-up that he would threaten to hold out and that they had supported his decision.
A two-time Pro Bowl selection, Gordon rushed for 5.1 yards per carry and had 14 total touchdowns in 2018. He also averaged 114.6 scrimmage yards per game last season, the best by any Chargers player since LaDainian Tomlinson (121.8 in 2007), according to ESPN Stats & Information.
Bears kicker Pineiro questionable with knee injury
LAKE FOREST, Ill. — The Chicago Bears thought their kicking problems had finally ended when Eddy Pineiro made a 53-yard field goal to beat Denver last week.
No such luck.
Pineiro will go into Monday night's game in Washington questionable on the injury report because of right knee trouble.
Pineiro was hurt Friday, with coach Matt Nagy saying it happened during weightlifting. Pineiro didn't practice Friday, but did kick on a limited basis at Saturday's practice.
"Especially after what just happened with us and what we've been through (with kickers), and what he just did this past weekend, it's like we're on a roll here and then all of a sudden something crazy like this happens," Nagy said. "But I try to stay positive with it, and I think we'll be OK. We've just got to see how it goes the next couple days."
The Bears had one other player who was a surprise on the injury report. Safety Eddie Jackson came up with a knee injury in Friday's practice and was able to go Saturday only on a limited basis. He also is questionable.
The Bears conducted a massive offseason kicking search after Cody Parkey double-doinked a 43-yard field goal miss to end the 16-15 playoff loss to Philadelphia. Parkey was waived.
Chicago brought in nine kickers at one point in the spring, traded a seventh-round draft pick for Pineiro, and then he beat out Elliott Fry to win the kicking job. Pineiro is 4 for 4, including last week's winner and another 52-yarder against Denver.
"I'm going to be on the cautious side with him, and we'll just kind of feel out the pain part and if it's something that's going to affect him, then we'll have a decision to make," Nagy said.
Pineiro didn't think it was serious at first, according to Nagy.
"Just thought that it was something that was minor, and I think as the time has gone by and then going out there today he just felt it a little bit," Nagy said. "So we're just going to pull back and see where it's at and be optimistic and try to do everything we can to make sure that we're taking care of it, the pain."
And if Pineiro can't kick?
"That's a good question," Nagy said. "We've got to work through that. I know [punter] Pat O'Donnell has some experience. But we'll see how this thing goes. I don't want to rush to judgment yet. That's not where we're at."
At least the Bears know a lot about some of the potential emergency kickers available.
"There are a lot of different scenarios that could happen, but I'm not going down that route," Nagy said. "I feel good that things will be OK. If they're not, then we just have to have a contingency plan when that time comes, and if that's something that we've got to do something different, then we'll do that."
Jackson's injury is different than the one he had earlier in the week to go on the injury report. He had a shoulder problem then, but went through a full practice on Friday and then suffered knee soreness afterward. He practiced only on a limited basis Saturday.
Defensive end Bilal Nichols is out for the game due to the broken hand suffered last week.
Also questionable for Monday are guard Kyle Long (hip) and tight end Trey Burton (groin). Long was held out of Saturday's practice and Burton participated on a limited basis.
Pats activate first International Pathway player
FOXBOROUGH, Mass. — Fullback Jakob Johnson became the first player to enter the NFL through the International Pathway Program to make a 53-man roster when he was promoted from the New England Patriots practice squad on Saturday.
The International Player Pathway Program was instituted in 2017 and aims to provide international athletes the opportunity to compete at the NFL level, improve their skills, and ultimately earn a spot on an NFL roster.
Johnson was born in Stuttgart, Germany and played in 47 games at the University of Tennessee, initially as a linebacker before switching to tight end. In 2018, he appeared in 12 games for the Stuttgart Scorpions of the German Football League.
The Patriots were assigned Johnson as part of the International Pathway Program on April 8. The three other teams in the AFC East were also assigned players as part of a random draw, and none of them counted against the 90-man roster limit.
In 2018, Efe Obada became the first player from the International Pathway Program to make a 53-man roster with the Carolina Panthers, but he didn't initially enter the NFL through the program. He had signed as a free agent with the Cowboys in 2015 after playing only five games of amateur football with the London Warriors, then was on the Cowboys practice squad before spending time in the 2016 offseason with the Chiefs and Falcons. In 2017, Obada was part of the first class of players in the International Pathway Program, which gave him additional time to develop with the Panthers.
During the season, teams can carry an International Pathway Program player as an extra 11th member of the practice squad, but because of the roster exemption, the clubs could not promote the player to the active roster during the season. In the case of Johnson, the Patriots elected to forgo that option and make him a regular member of their 10-man practice squad, which gave them the option of promoting him.
"Jak came in with a great attitude this offseason," offensive coordinator Josh McDaniels said a few weeks ago. "He really put his head down and worked hard through our offseason program, and then continued to do that in OTAs and into training camp — good attitude, he's been out there every day, toughness, willing to do the things that you need to do to play that position on offense, smart kid, studies hard, prepares well, knows what to do and is ready to go. And he's competitive, so I think there's nothing more you can ask of each player than to give your best and be ready to go when your number's called."
The 6-foot-3, 255-pound Johnson steps in for injured starter James Develin, who has already been ruled out for Sunday's game against the New York Jets with a neck injury.
The Patriots are one of the few teams in the NFL that still features the fullback, as Develin has played 41.5 percent of the offensive snaps through the first two weeks of the season. Develin also has an important role on the team's punt coverage unit, which Johnson could also fill.
Browns' Garrett fined $42K for two Siemian hits
Cleveland Browns defensive end Myles Garrett has been fined a total of $42,112 for a pair of hits on New York Jets quarterback Trevor Siemian.
The Browns pass rusher was penalized four times on Monday night, which included two roughing the passer calls. The second resulted in a season-ending ankle injury to Siemian.
"You do not want to put anybody out for the season," Garrett said earlier this week. "That is their job. That is something that you do not do unless you love it, and you do not want to take that away from anybody. I hope [Siemian] comes back faster and stronger than he ever has. I wish the best for him."
First of all, I want to wish @TrevorSiemian a speedy recovery. We put our bodies on the line every single snap, and I wouldn't wish an injury on anyone.
Other than that, great team win but we still have a lot of work to do. So much love to all the fans, onto next week🤟🏾

— Myles "Flash" Garrett ⚡️ (@MylesLGarrett) September 17, 2019
Garrett was also fined $10,527 in Week 1 for hitting Tennessee Titans tight end Delanie Walker in the facemask.
Garrett currently leads the NFL with five sacks.