Falcons GM optimistic about Julio contract talks
FLOWERY BRANCH, Ga. — Atlanta Falcons general manager Thomas Dimitroff continued to express optimism about the progress of contract talks with Julio Jones, without putting a timetable on reaching a new deal with the star wide receiver.
Jones reported to training camp Monday without a new contract. The six-time Pro Bowler said in the offseason he trusted team owner Arthur Blank's word when Blank said a deal would be completed in a matter of time.
Jones spent the first two days of training camp primarily rehabbing on the side following a minor offseason foot procedure [bunion removal]. Coach Dan Quinn emphasized that Jones not being a full participant in practice has to do with rehabbing, not the contract talks.
"We have the utmost faith that Julio is coming here and he's taking care of his business while he's here, and we'll keep plugging away with [Jones' agent] Jimmy [Sexton]," Dimitroff told ESPN on Tuesday. "We have a very good working relationship and respect for Jimmy Sexton and CAA, and I'm confident [the deal] will get done."
Jones has two years and $21 million left on his contract. The Falcons renegotiated his current deal last year, netting Jones an extra $2.9 million for 2018. He signed the renegotiated deal on July 27.
Dimitroff addressed the possibility of Jones' camp waiting to see what happens with contracts for other top wide receivers, such as Michael Thomas from the New Orleans Saints. The market could soar up to $20 million per year, which would make it logical for Jones to want to wait and see. Cleveland's Odell Beckham Jr. currently leads the way at $18 million per year, while Jones stands 12th at $14.25 million.
"I understand that, from a business standpoint," Dimitroff said of waiting for the market to be set. "Do I agree with it necessarily? That's not for me to argue about."
Dimitroff also acknowledged language in the collective bargaining agreement which states how a player's contract cannot be renegotiated to increase the salary from the original terms for a period of 12 months after the most recent renegotiation. A source explained to ESPN that such would apply in Jones' case (from July 27) if his aggregate cap number over the next two years in a new deal exceeds the current aggregate cap number of $26,359,334 for 2019, 2020.
However, Dimitroff was cautious not to point to the CBA rule as the holdup in contract talks.
"It would make it more free-flowing to negotiate outside of the year with the guidelines," Dimitroff said. "That's not to say that's why we're not getting something done right at this moment. I'm saying logically stated that, of course, [the rule] can play into it. But I do not want to answer for Jimmy Sexton."
Sexton could not be reached for comment regarding the status of negotiations.
Overall, Dimitroff feels confident about how talks have progressed and how Jones has handled the matter with professionalism.
"Julio's been nothing but great with us over the years," Dimitroff said. "Even last year, when it got a little bit dusty during that time, we were able to sit down and work through it. I thought we worked through it cleanly.
"We understand being the highest-paid receiver in the NFL. And the fact that Julio is approaching it the way he is is appreciated. That said, we expect nothing less from Julio Jones, one of our main leaders on this team."
The Falcons reached pre-training camp deals with defensive tackle Grady Jarrett and linebacker Deion Jones. Jarrett, who received the franchise tag, signed a four-year, $68 million deal with $42.5 million guaranteed. Deion Jones signed a four-year, $57 million deal with $34 million guaranteed.
Broncos rookie QB Lock could open season on IR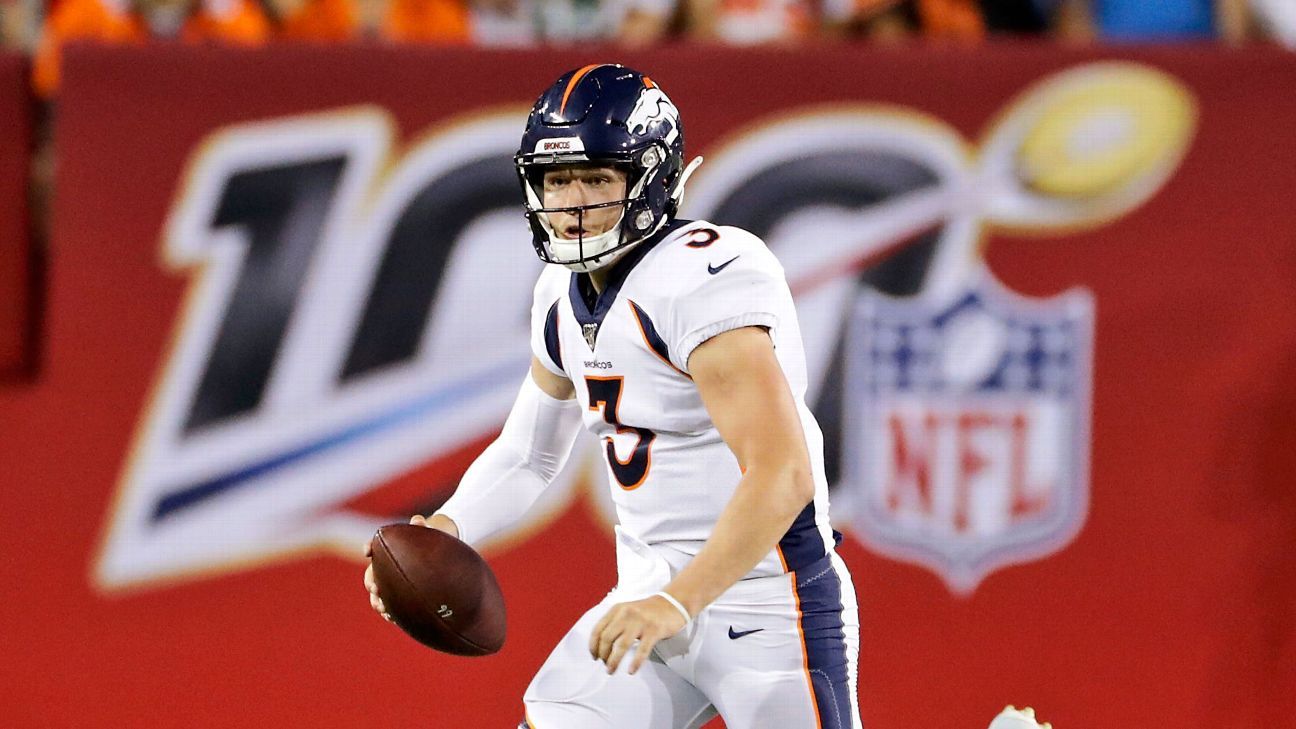 ENGLEWOOD, Colo. — Denver Broncos rookie quarterback Drew Lock said Thursday he's not sure when he will be able to throw a football again, and coach Vic Fangio said it's possible Lock could at least open the season on injured reserve.
Lock suffered a severely sprained right thumb — on his throwing hand — early in the third quarter of Monday night's preseason loss to the visiting San Francisco 49ers. He underwent an MRI exam Tuesday and a sprain was confirmed.
X-rays taken at the stadium Monday night were negative.
Lock will neither play nor practice for the remainder of the preseason and will be limited to conditioning work only.
"Obviously because it's his throwing hand and a thumb, that's a pretty serious injury for a quarterback," Fangio said. "It will be some time before we know exactly where he's at and how much time he would miss."
"[I'm] trusting the [training] staff in there to get me back as soon as possible," Lock said. "Whenever that is, we'll decide on whenever I'm 100% ready to go."
Lock, who was selected in the second round (42nd overall) of April's draft, was in a battle to be the team's backup quarterback behind Joe Flacco. Asked Thursday if putting Lock on injured reserve was now a possibility if his recovery time was slated to include part of the regular season, Fangio said: "Yeah, it could be if we don't think he can play for a while. The bad thing about it is because of the injury he can't do much."
If Lock were to be placed on injured reserve with a designation to return, he would have to be on the Broncos' roster in Week 1, taking the spot of a healthy player at that time — and he would have to miss half the season.
If he were to be placed simply on injured reserve, he would miss the entire season.
In the meantime, as the Broncos try to decide what to do based on his progress in healing, Lock has been in the quarterback meetings as well as on the practice field with the team. Because he cannot participate in drills, he said using the team's virtual reality system is going to be an important part of his recovery.
Lock said he will have to do "two times" more classroom work since he will not be practicing, and "the VR stuff upstairs is going to be heavily used. … It helps a lot, being able to see what Joe [Flacco] does, kind of from his angle and things … being able to see every single rep, being able to see what the defense does, being able to see it in a ton of different looks."
He said he used VR in his sophomore and junior years at Missouri as well.
Lock played 30 snaps against the 49ers as he finished 7-of-12 passing with 40 yards to go with the sack he was injured on. Lock played just one more snap after that sack and left the game with just over 13 minutes remaining in the third quarter.
After opening training camp as the No. 3 quarterback behind Flacco and Kevin Hogan, Lock had been moved up to the No. 2 spot in practices and was the second quarterback into the game against the Seattle Seahawks and 49ers.
For the preseason, Lock has completed 60.8% of his passes with a touchdown and an interception.
Garoppolo aims to bounce back at site of injury
SANTA CLARA, Calif. — After a rough stretch in which he threw five interceptions in a practice and posted a 0.0 passer rating in a preseason game five days later, San Francisco 49ers quarterback Jimmy Garoppolo is aiming to move on in the same stadium where he suffered a season-ending injury in 2018.
On Thursday, Garoppolo said he was "very hard" on himself when he watched the film of his 1-of-6 for 0 yards with one interception performance against the Denver Broncos on Monday night, and again when he re-watched it on Tuesday.
But Garoppolo, who said he's sure he's had a similar week before in his career, also reminded himself he doesn't have time to think about it any more as he prepares for the regular season opener on Sept. 8.
"At some point you have to move on," Garoppolo said. "You're still trying to correct those mistakes and not make the same mistakes twice, but if you just dwell on the past and dwell on that one game, you're going to get stuck there and have no success going forward. I think it's good to be hard on yourself, but at some point you have got to move forward."
Moving forward this week for Garoppolo means a trip on Saturday to Arrowhead Stadium in Kansas City, the same venue in which Garoppolo tore the anterior cruciate ligament in his left knee on Sept. 23 of last season.
In the days after that game, Garoppolo admitted to replaying the injury in his head, pondering what he'd have done differently and everything that led up to the injury. On the play, Garoppolo scrambled down the left sideline before attempting to plant his left leg and turn upfield. The left leg buckled as he threw himself into Chiefs defensive back Steven Nelson.
That injury cost Garoppolo the remaining 13 games of the season and set him on a lengthy rehabilitation that is still ongoing as he gets re-acclimated to playing in live games again.
"It will be a good steppingstone," Garoppolo said of his return to Arrowhead Stadium. "Definitely, it will be a little weird getting back there but (I'm) just trying to treat it like a normal game."
That's a task that likely would have been made easier had it not been for Garoppolo's recent struggles. Monday's game in Denver was his first live action in 330 days and the rust was readily apparent.
It was also the first time Garoppolo could be tackled since the injury, and it resulted in some discomfort in the pocket.
Niners coach Kyle Shanahan, who has cautioned against making too much of preseason struggles, suggested Thursday that getting back in game action was another in a line of mental hurdles for Garoppolo to clear as he comes back from injury.
"I know anytime you come back from injury, there's a bunch of mental hurdles you have got to get over even when you are healthy and feel good," Shanahan said. "I'm sure there's some stuff with it just being eerie going back to that same place."
Although Shanahan said he felt it would have been "a matter of time" before Garoppolo got going against Denver, he opted to take him out after just 10 snaps with an eye toward Saturday night in Kansas City.
Garoppolo should have ample opportunity to get back on track against the Chiefs. Much like last preseason, Shanahan said Garoppolo and the starting offense will likely play the entire first half, depending on how many snaps they get and how it's going.
Shanahan didn't rule out the possibility of some snaps in the third quarter if the offense doesn't get the needed work in the first half.
"It will be good," Garoppolo said. "Hopefully we get to string some plays together, get some good drives and everything and get the offense moving. It's taking it from the practice field and bringing it over to the game field and making it happen."
In the meantime, Garoppolo said he has done his best this week to block out the outside criticism of his performance in Denver and focus on fixing the mistakes of last week.
At the top of that list was the interception he threw in the first quarter that came as a result of poor communication on an offensive line protection. Garoppolo and Shanahan went over the play with Shanahan emphasizing the importance of making sure everyone gets any changes up front.
Those are the type of errors that can be corrected and should go away as Garoppolo gets more opportunities. As Shanahan is quick to point out, many of Garoppolo's growing pains should have already happened.
Alas, the knee injury.
"That's all Jimmy needs is just to play football," Shanahan said. "Whether he was coming back from injury or not. We thought we were going to get that last year and unfortunately we didn't and that was out of everyone's control. So now we're back to that plus he's coming off an injury with it. So I want Jimmy to play as much as possible in the preseason and into the regular season, but that's a fine line, too. You don't want to put your quarterback in there against a starting defensive line when you don't have your starting O-line in there. So trying to balance that out."
Garoppolo, who still has just 10 NFL starts to his name, said Thursday his knee is holding up well and he intends to bounce back against the Chiefs.
"It's one of those things that you can react two ways to it: You can crumple up and kind of go into a fetal position and surrender, or you can go out and fight," Garoppolo said. "We have got a locker room full of guys who want to fight, myself included. Every day you have to come in and earn your spot. It's never going to be given to you so you have got to come earn it."
Terrence Brooks could be key piece in Patrick Chung fallout – New England Patriots Blog
FOXBOROUGH, Mass. — With starting safety Patrick Chung scheduled to be arraigned next Wednesday on a charge of cocaine possession, the New England Patriots have to be prepared with contingency plans if they are without Chung for any period of time.
Chung is one of the key cogs of the defense, having played 85% of the defensive snaps in 2018, with linebacker Kyle Van Noy affectionately referring to him as a "beast" and "one of the most underrated" players in the NFL last year.
• Why the Broncos turned to Joe Flacco
• Vikings look for Cousins to run more
• Nick Chubb primed for big Year 2
• Matt Gay embracing Bucs' pressure
• Lions have real-life fantasy sleeper in Ty Johnson
Chung's ability to match up with opposing tight ends is a significant part of his value to the Patriots. His physicality and tackling also is critical for a defense that plays about 90% of its snaps with five or six defensive backs on the field, which means they are a lighter unit and need their safeties to fill a linebacker-type role at times. The 5-foot-11, 215-pound Chung does that exceptionally well.
There probably isn't one player on the roster who can fill that type of role, but a possible silver lining for the Patriots is that defensive back is one of the deeper positions on their roster — especially when factoring in some cornerbacks who can flex into a safety role in certain packages, such as Jason McCourty, Jonathan Jones and Duke Dawson.
Six-year veteran Terrence Brooks (5-11, 205 pounds) is probably the Patriots' closest facsimile to Chung in terms of a pure safety. He entered the NFL as a third-round draft choice of the Baltimore Ravens in 2014, and has only one career start on his résumé, with his primary niche coming on special teams in stints with Baltimore (2014-2015), Philadelphia (2016) and the New York Jets (2017-2018).
He has opened some eyes this preseason, but asking him to fill a potential Chung void might be too much, even though the Patriots obviously liked him enough to give him a two-year, $4 million contract in the offseason.
"Terrence is a smart kid, works hard, has a lot of versatility," Bill Belichick said on Aug. 12. "We've asked him to do a number of different things. He's handled that well."
One of the points Belichick made was how important communication is among players in the secondary, and given Chung's experience in the team's system, Brooks obviously has some ground to make up in that area. That would be a big part of what the Patriots potentially miss without Chung.
Devin McCourty is locked in at one starting safety spot, with his range and speed top assets. Seven-year veteran Duron Harmon is a top backup, with core special-teamer Nate Ebner an emergency option.
Chung and Brooks are top options at the other safety spot, with undrafted Malik Gant (Marshall) also in the mix.