Voit thought 'broken jaw' when hit by Bettis pitch
NEW YORK — When first hit by a pitch from Colorado's Chad Bettis, Yankees slugger Luke Voit was scared. He remembered when Giancarlo Stanton's jaw was broken by Milwaukee's Mike Fiers five years ago.
"I thought broken jaw. My teeth were going to be all scattered everywhere," Voit said Sunday. "I grabbed my face. So I was like, `Oh, oh.' … But then, it wasn't as bad as I thought. Just a scary thing."
Voit was back in the New York Yankees' lineup at first base for Sunday's series finale against Colorado. His jaw was "super sore" when he awoke, but after icing there was only a little swelling. He said it felt as if he had been punched, and there was a slight cut on his chin. Concussion tests were negative.
Part of the force of the 91 mph pitch was absorbed when the ball grazed Voit's shoulder. He also was able to turn his face slightly.
"I dodged a bullet, got lucky," said Voit, who planned to try a protective chin strap on his helmet before the game.
Left fielder Brett Gardner was scratched from the lineup because of a knee that was "barking," according to manager Aaron Boone, and he replaced by Mike Tauchman. Boone said he expects Gardner will be available for Monday night's trip opener at Minnesota.
Stanton, limited to nine games this season, is not close to returning from his latest injury. He strained his left biceps on March 31 in his third game, strained a shoulder and calf during his rehabilitation and returned June 18. In his sixth game back, he strained the posterior cruciate ligament in his right knee during an awkward headfirst slide into third base against Toronto on June 25.
"Better, but still slow. Not baseball activities yet," Boone said. "He feels like he is making some progress, where I think the first couple of weeks was a little frustrating in that it was slow moving."
Stanton is hitting .290 with one home run and seven RBI, pretty much a non-factor in the Yankees' season.
Outfielder Cameron Maybin, sidelined since straining his left calf on June 21, is to start a minor league injury rehabilitation assignment with Triple-A Scranton/Wilkes Barre on Tuesday.
Ace Luis Severino and setup man Dellin Betances, both sidelined since spring training by lat injuries, started throwing on flat ground last Monday but are not yet ready to begin bullpen sessions, making returns before late August unlikely.
"I would say sometime in early part of next month they should be on the mound if everything continues to go well," Boone said.
Under oath — Judge delivers on home run promise
Aaron Judge is a man of his word.
The New York Yankees outfielder, while catching up with bullpen catching coach Jason Brown's father, John, on the field prior to Sunday's series finale at Dodger Stadium, told the elder Brown, "I'll hit one for you tonight," as he walked away.
A man of the people @TheJudge44 pic.twitter.com/8uDeuD3lBs

— R2C2 is UNINTERRUPTED (@R2C2) August 25, 2019
Judge delivered on that pledge in his second at-bat, crushing a 1-1 curveball from Los Angeles Dodgers ace Clayton Kershaw to deep center field in the top of the third inning.
"That's Aaron Judge, yeah, that's who he is," Jason Brown said of the Yankee star's exchange with his father, who lives in Southern California.
Judge described the encounter to ESPN after New York's 5-1 win.
"I've seen [John Brown] all over the place, and I missed seeing him when we played in Anaheim this year, so I went over there and just said hello to him and said I'd get one for him, and I was able to do that today," Judge explained. "Wind was blowing out, though, so that helped."
Asked if he has ever promised a home run to a fan before and then delivered, Judge replied, "I think once or twice, but it doesn't happen too often."
Judge later joked that he needs John Brown, whom he has known for a couple of years, to come to "every single game," calling his presence a "lucky charm."
The promised homer was Judge's 16th of the season and gave the Yankees a 2-1 lead. Judge also homered in the first two games against the Dodgers this weekend.
Gregorius exits in 3rd after HBP; X-rays negative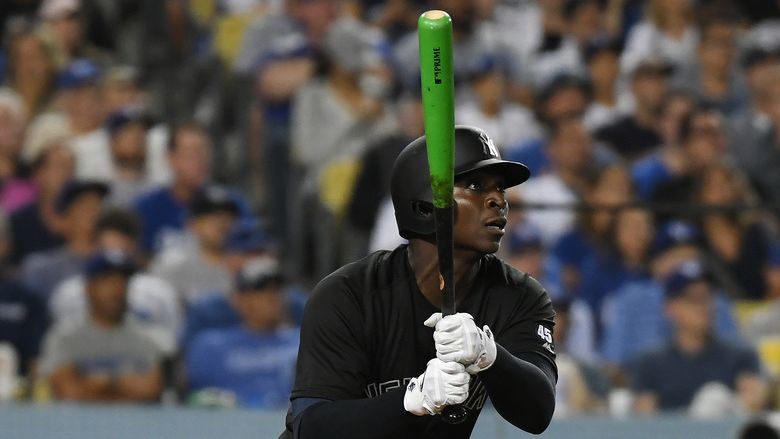 X-rays on Didi Gregorius' right shoulder were negative, and the New York Yankees shortstop's status is day to day.
Gregorius left New York's 5-1 victory at Dodger Stadium after being hit by a pitch from Los Angeles Dodgers starter Clayton Kershaw.
Gregorius suffered a right shoulder contusion after being drilled in the first inning Sunday night. He left in the third and was replaced by pinch hitter Mike Ford, who stayed in the game at first base.
Gregorius said after the game the shoulder was sore, and that he expects the soreness to go away, sooner than later.
"Pain is still pain. I mean at the end of the day, maybe I think in a couple of days it will be alright," he said. "Or one day…see how it wakes up tomorrow."
Gregorius hit a grand slam in New York's 10-2 victory over the Dodgers on Friday.
He is hitting .263 this season with 13 home runs and 44 RBIs in 58 games. His season started late as he recovered from Tommy John surgery.
The Associated Press contributed to this report.
Ortiz enlists ex-police commish to probe shooting
Former Red Sox slugger David Ortiz has hired a firm headed by ex-Boston police commissioner Ed Davis to look into the details surrounding the June shooting of Ortiz in the Dominican Republic.
Davis was hired a few weeks after Ortiz returned to Boston, Joe Baerlein, a spokesperson for Ortiz and principal owner of The Edward Davis Co., told ABC News.
Baerlein said his company is "monitoring and analyzing information from various sources in the Dominican Republic around the motives for the shooting of Ortiz on June 9th," as well as providing personal security to Ortiz and his family.
"He's damn interested in finding out what really happened," Baerlein told The Boston Globe.
Ortiz, 43, was shot in the back by a gunman while sitting and talking with a friend at a nightclub in Santo Domingo the night of June 9. He was flown back to Boston aboard a jet sent by the Red Sox the next day and spent seven weeks in a hospital, undergoing three surgeries for life-threatening injuries.
Ortiz has not spoken to Dominican authorities since the night of the incident, Baerlein told the Globe, and also has not spoken with any U.S. authorities about the shooting.
Dominican authorities initially said that Ortiz had been the target of a hit. But almost three weeks later, police held a news conference to say their investigation led them to believe Ortiz was not the intended target and that it was a case of mistaken identity. More than a dozen people have been arrested in connection with the case.
"David has been carefully monitoring the government and police investigation," Baerlein told the Globe. "He had no basis for a long time to challenge their theory of mistaken identity. However, as new facts continue to come up, it lends some optimism that there may be some other conclusions that are drawn before it's over about why David was shot."
Ortiz, who was released from the hospital at the end of July, posted to Instagram on Sunday a photo of himself and daughter Alex as he dropped her off at college.