Reynolds wrap — Rockies drop slugger from roster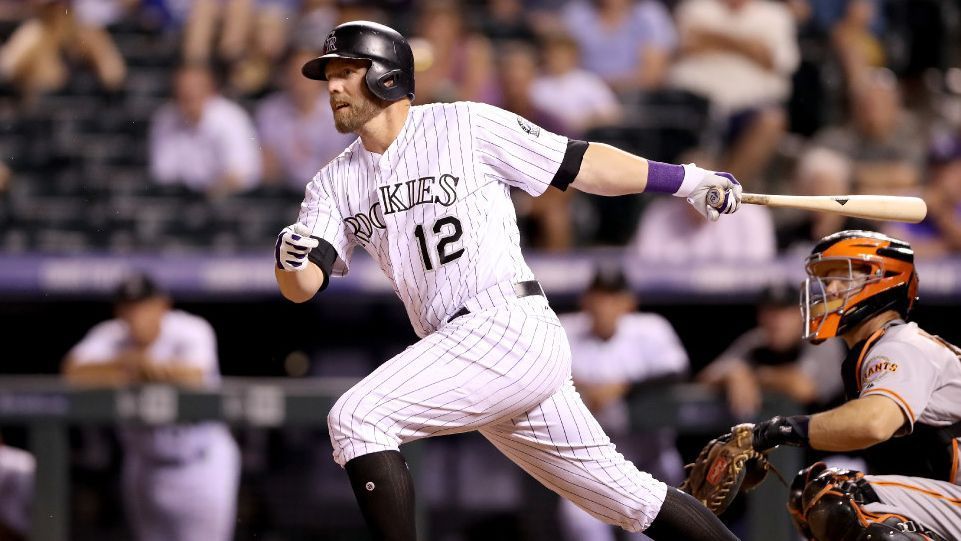 NEW YORK — Mark Reynolds was cut by the Colorado Rockies two home runs shy of 300 after hitting .170 with four homers and 20 RBI in limited at-bats.
The 35-year-old infielder returned for his second stint with the Rockies in March, agreeing to a $1 million, one-year deal. He had just 135 at-bats in 78 games and was designated for assignment on Sunday in a flurry of roster moves by Colorado, which had lost 13 of its previous 15 games.
"Kind of a punch in the gut," Reynolds said. "It's tough to be consistent when you don't get consistent at-bats. I knew the role I signed up for; I knew what my role was on this team. It was just one of those things where I could never get going."
A 13-year veteran, Reynolds said he will return home to assess whether or not he'd attempt to continue his playing career. He was a key member of Colorado's 2017 wild-card team, hitting 30 homers with 97 RBI to guide the Rockies to the first postseason appearance in eight seasons.
"Mark never really got on track, especially the last couple of months," manager Bud Black said. "He's been a great pro. He's had a great career."
"We're going to miss Mark," Black added. "Change in this game is inevitable, and we had to make these moves for the present."
Colorado recalled right-hander Jeff Hoffman from Albuquerque, selected the contract of left-hander Sam Howard from the Triple-A farm team and optioned Antonio Senzatela to the Isotopes, a day after the right-hander allowed six runs and lasted just 1 1/3 innings in an 11-5 loss to the New York Yankees. Senzatela allowed 21 earned runs with six walks and six strikeouts in his past three outings.
Hoffman, 26, begins his third stint with the team and has allowed 25 earned runs over seven starts with the Rockies. He was 6-5 with a 7.32 ERA with Albuquerque, and Black said Hoffman will pitch in relief.
Howard was dropped from Colorado's 40-man roster during the offseason and the 26-year-old was 2-1 with a 3.83 ERA over 36 appearances with the Isotopes.
"We needed some reinforcements for our bullpen," Black said. "The pitching has been taxed over the last few weeks, and especially late, especially the last couple of days."
In its first nine games since the All-Star break, Colorado's bullpen allowed 36 earned runs in 39 1/3 innings for an 8.24 ERA.
Ex-Reds infielder Jose Peraza agrees to join Red Sox
The Red Sox have agreed to a one-year deal with free-agent infielder Jose Peraza, according to a report Thursday by Robert Murray.
Peraza likely will fill a utility spot for a Boston team that isn't expected to bring back free agent Brock Holt.
The 25-year-old Peraza spent the past four seasons with the Reds. Known for his good eye at the plate, he hit .288 with 85 runs scored, 14 home runs and 23 steals in 2018, but those numbers dipped some this past season, when he posted a .239-37-6-7 line.
He was nontendered by the Reds earlier this month.
Peraza will bring versatility to the Red Sox's defense. Since breaking into the big leagues in 2015, he's played at least five games at every non-pitching position but first base, right field and catcher.
MLB Network reported that the deal is close to $3 million plus incentives.
Nomar Mazara, Tanner Roark get fresh starts
Catching up on a few leftover moves from this week's winter meetings as I fly home …
• The Rangers finally tired of waiting for Nomar Mazara, to whom they gave $5 million when they signed him as a 16-year-old in 2011, to convert his promise into production, trading him to the Chicago White Sox for fringe prospect Steele Walker. Mazara has a .261/.320/.435 line across four full years in the majors, making him well below average for a corner outfielder in both OBP and power, with an execrable .231/.272/.361 career line against lefties. He doesn't swing and miss often, but he also swings at too many pitches outside or around the perimeter of the strike zone, pitches he can foul off or put in play but can't hit hard — and he really doesn't make enough hard contact for a corner outfielder who's a below-average defender. I thought Mazara would be a better hitter than this, but after four years there's been zero improvement in his approach at the plate; perhaps the change of scenery and coaching staffs will help.
Corey Knebel, Brewers agree to same $5.1M salary
SAN DIEGO — The Milwaukee Brewers agreed to a one-year contract for $5,125,000 with pitcher Corey Knebel, who is returning from Tommy John surgery.
A 28-year-old right-hander, Knebel hurt his elbow during spring training and had surgery April 3. He had been eligible for salary arbitration and will have the same salary as in 2019.
His deal includes a $50,000 bonus for comeback player of the year along with other award bonuses.
Knebel had 39 saves in 2017, when he was an All-Star, and 16 the following season.
His deal was announced Tuesday.