Rays place Kiermaier on IL with sprained thumb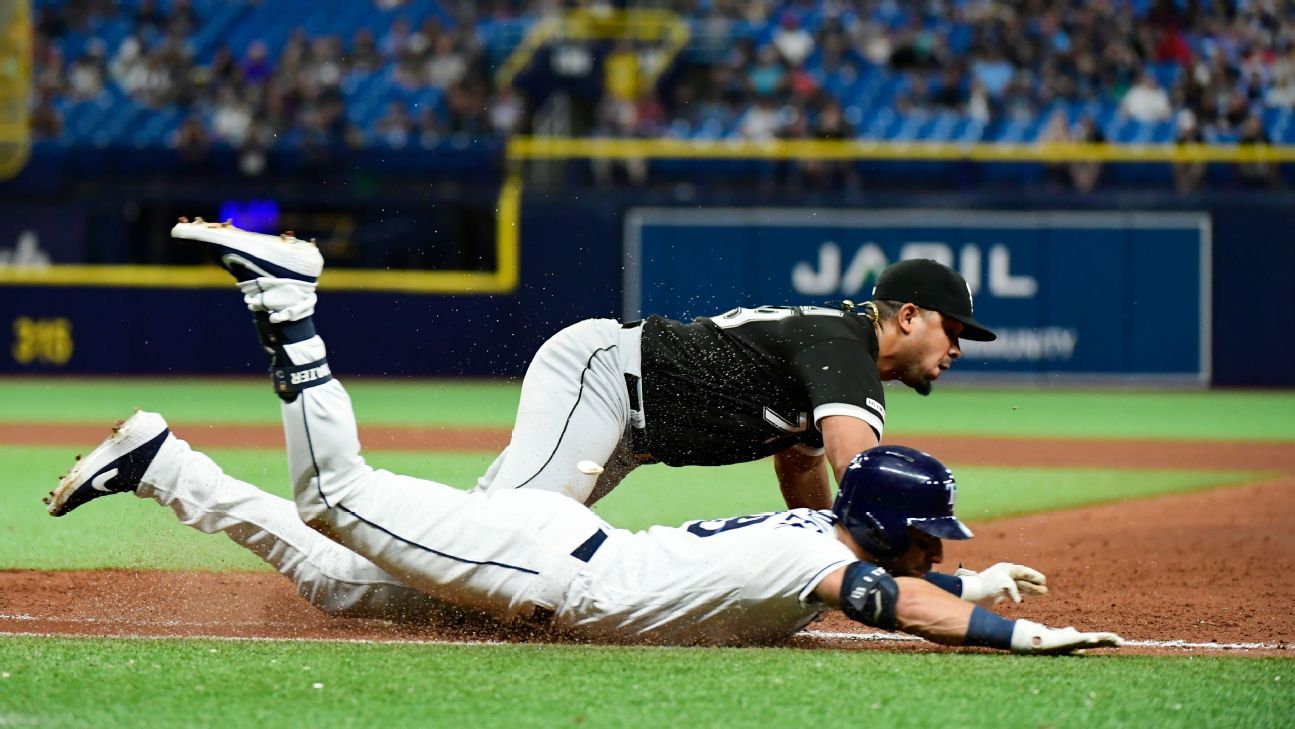 The Tampa Bay Rays have placed center fielder Kevin Kiermaier on the 10-day injured list with a left thumb sprain.
The Rays announced the roster move Sunday, saying that Kiermaier will not need surgery. Outfielder Guillermo Heredia was recalled from Triple-A Durham in a corresponding move.
Kiermaier suffered the injury in Tampa Bay's loss to the Chicago White Sox on Saturday, when his thumb got caught on a headfirst slide into first base.
The Rays said Sunday that an MRI revealed Kiermaier did not suffer ligament damage to the thumb.
Kiermaier, 29, is batting .248 with 10 home runs and 17 stolen bases this season. The two-time Gold Glove winner has missed time in each of the past three seasons due to a variety of physical issues, including right hip, left wrist and right thumb injuries.
What risk? With Gerrit Cole, the Yankees are now THE team to beat
The most straightforward way to consider the Yankees' landmark signing of free-agent ace Gerrit Cole is this: New York now has baseball's best pitcher and the Houston Astros do not.
When you consider that the Yankees' inability to translate regular-season dominance into a pennant over the past three years is largely a product of running into the Astros in October, that simple observation tells you why Brian Cashman and the Steinbrenners were willing to go all-in on Cole with a nine-year, $324 million contract that is the richest ever given to a pitcher.
Of course there is risk. Even for the Yankees, in a luxury-tax world, one that will change when the next collective bargaining agreement is eventually figured out, $324 million is a hell of a lot of money. And Cole is a pitcher, a word that by itself almost serves as a cautionary tale. But in this case, the risk was worth taking.
Yankees get their man in Gerrit Cole — but 9 years is a looong time
SAN DIEGO — Gerrit Cole was the top free-agent starter this winter, and was courted by multiple large-market contenders, but I don't think anyone forecasted a record-setting, nine-year, $324 million deal, the longest deal and the highest average annual value (AAV) ever given to a pitcher. Cole is a clear No. 1 starter for anyone, and the New York Yankees don't have an incumbent in that role, so he fits them perfectly, making them stronger favorites to win the AL East in 2020 and marginally improving their odds of playoff success as well … but, whoa boy, did you hear about the nine years?
Rangers trade OF Nomar Mazara to White Sox for prospect
SAN DIEGO — The Chicago White Sox acquired right fielder Nomar Mazara from the Texas Rangers for minor league outfielder Steele Walker on Tuesday night.
The clubs announced the deal at baseball's annual winter meetings.
Mazara, 24, has tantalizing power but produced mixed results over his first four big league seasons. The 6-foot-4 slugger batted .268 with 19 home runs, 66 RBIs and a .786 OPS this year.
"He looks like he's 7 foot every time I see him in the box," White Sox manager Rick Renteria said earlier Tuesday. "Runs extremely well for a big guy. Can defend. Good arm. Brings a lot of qualities to the plate. Can pop one in the seats as quickly as anybody."
Mazara projects to make about $5.5 million in arbitration and is eligible for free agency after the 2021 season.
Walker was a second-round draft pick out of the University of Oklahoma in 2018. He batted .284 with 10 homers and 62 RBIs across two Class A teams in his first full pro season.
"He is a really good hitter, with both power and an advanced approach, and has an aggressive, winning on-field makeup," said Jon Daniels, Texas' president of baseball operations.