How players reacted to Madden NFL 20 ratings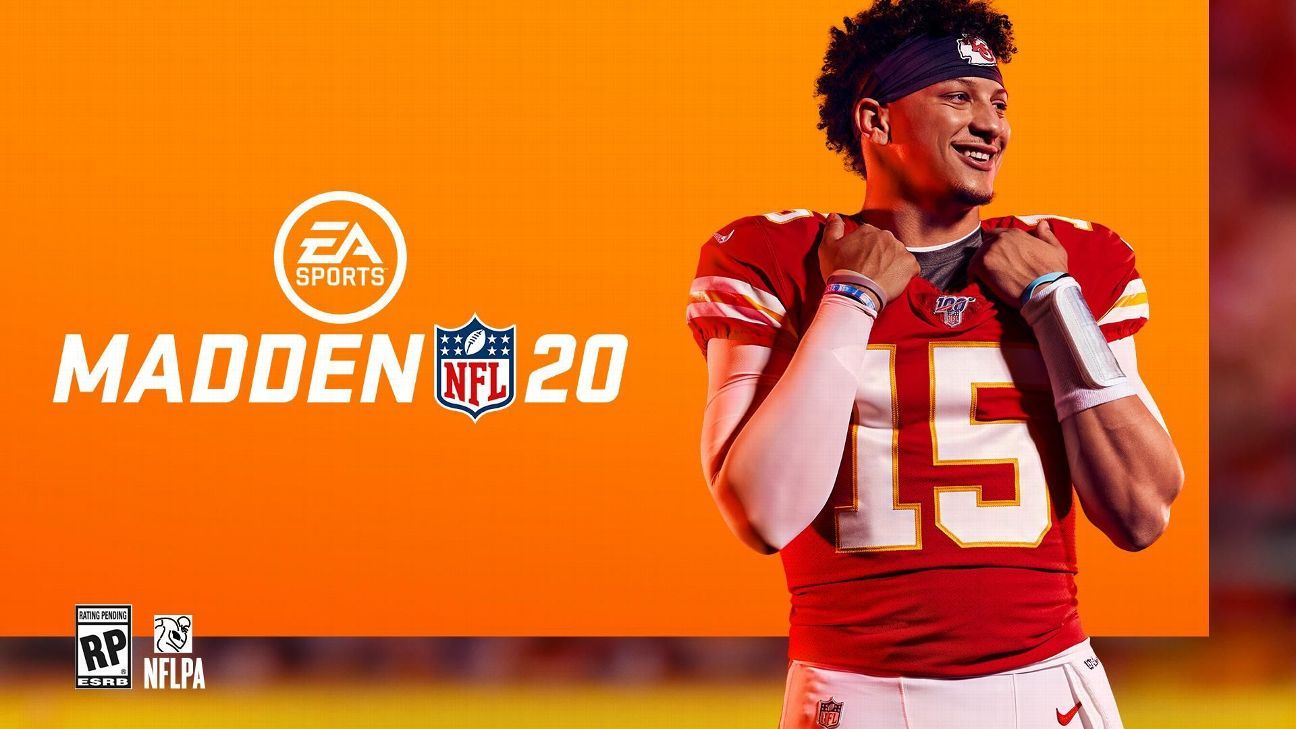 NFL players will report to training camp in mere days, but some of their minds aren't on the practice field just yet. They are reacting to how EA Sports employees rated them in the upcoming video game Madden NFL 20, which will be released on Aug. 2.
The player ratings were released on Monday by EA, and didn't take long to evoke some strong reactions:
Chips on their shoulders
You don't make it to the NFL without having an ego, and that was on full display for some players who believed that they were being disrespected.
Among them is the Cowboys' DeMarcus Lawrence, who signed a five-year, $105 million contract this offseason but wasn't among the five defensive ends worthy of a 90 rating.
He's an 89, and called for a boycott of the game in protest.
HOLD UP @EAMaddenNFL you not just going to disrespeck me like that with an 89 and get away with it….PUT. SOME. RESPECK. ON. https://t.co/ndDkGvo7gx.

UNTIL THEN COWBOYS NATION IS ON MADDEN STRIKE! RT @dallascowboys Nation show em we ain't playin bih. pic.twitter.com/okVXyooI3l

— DeMarcus Lawrence (@TankLawrence) July 15, 2019
Chargers receiver Keenan Allen had similar thoughts.
Keenan Allen says he isn't going to play Madden 20 after seeing his ratings 😂

(via @Chargers)pic.twitter.com/TjklX3HuSJ

— SportsCenter (@SportsCenter) July 15, 2019
Bears backup quarterback Chase Daniel broke down the numbers for some of his Chicago teammates.
Rightfully so, the Bears are not happy about their Madden 20 ratings pic.twitter.com/uZj3IMGbo1

— Red Line Radio (@RedLineRadio) July 15, 2019
And others had a bone to pick with the raters as well.
😂😂😂 y'all don't watch film I see @EAMaddenNFL hopefully one day y'all will get it right https://t.co/a09zuQWGik

— Mike Evans (@MikeEvans13_) July 15, 2019
89 speed 😂😂😂 that will def go up when the season comes lol https://t.co/NyeOZifhsF

— Emmanuel Sanders (@ESanders_10) July 15, 2019
Madden must've forgot I'm averaging 9 yards a carry. Crazy

— Michael Dickson (@mdcksn) July 15, 2019
What's a brotha gotta do to get his strength up in madden?? I mean i had 100 plus tackles last year in only 14 games hahaha @EAMaddenNFL

— Budda Baker (@buddabaker32) July 15, 2019
78.. @EAMaddenNFL
Lol I can't be that weak 😂

— Takkarist McKinley (@Takk) July 15, 2019
Second-guessed by 'Honey Badger'
Kansas City Chiefs safety Tyrann Mathieu didn't complain about his rating — an 87, by the way — but did chime in on other players he thought were slighted.
Shoutout madden 99 club but how in the hell isnt Tom Brady & Pat Mahomes not a 99.

— Tyrann Mathieu (@Mathieu_Era) July 13, 2019
Drew Brees should neve be under 95 EVER! EVER! EVER!

— Tyrann Mathieu (@Mathieu_Era) July 15, 2019
Ain't no way Deshaun Watson a 82.
No wonder kids are playing fornite now.

— Tyrann Mathieu (@Mathieu_Era) July 15, 2019
Desmond king & Chris Harris should neve be under 93. Period. Ever seen them play ?

— Tyrann Mathieu (@Mathieu_Era) July 15, 2019
All in fun
Patriots quarterback Tom Brady has been in the game since the Playstation 2 and original Xbox days, and while his accuracy makes him among the best in the real world and the virtual one, he's never going to outrun anybody. And he had fun with his tortoise-like 60 speed rating.
Submitting new evidence to be considered for my @MaddenNFL speed rating. You can't photoshop a video. pic.twitter.com/6h02i6oRqR

— Tom Brady (@TomBrady) July 15, 2019
EA had some fun with Brady, too.
Madden getting too realistic 😂

(via @thecheckdown) pic.twitter.com/KxehTX7Q2j

— NFL on ESPN (@ESPNNFL) July 16, 2019
Garbage in, garbage out
Ravens safety Tony Jefferson probably summed up the feelings of most players after the ratings reveal.
Damn since I got the 84 madden rating I just purchased this shirt so fresh pic.twitter.com/pBmfnKz3ni

— Tony Jefferson (@_tonyjefferson) July 15, 2019
Mike Ditka, Rob Gronkowski and Gene Upshaw make NFL's All-Time Team
Hall of Fame tight ends Mike Ditka, Kellen Winslow, John Mackey and Tony Gonzalez have been selected to the NFL's All-Time Team.
Joining them on the squad is recent retiree Rob Gronkowski.
The league revealed the tight ends and offensive linemen for the squad on Friday night. A 26-member panel is making the selections as part of the NFL's celebration of its centennial season.
Tackles on the team are Hall of Famers Anthony Munoz, Forrest Gregg, Art Shell, Roosevelt Brown, Jonathan Ogden, Cal Hubbard and Walter Jones.
The guards are Jim Parker, John Hannah, Larry Allen, Gene Upshaw, Dan Fortmann, Randall McDaniel and Bruce Matthews. Again, all are enshrined in Canton, Ohio.
At center, players chosen include Mike Webster, Dwight Stephenson, Jim Otto and Mel Hein, all Hall of Famers.
Indeed, Gronk, who won't be eligible for another four years, is the only non-Hall of Famer selected.
Seahawks rule out Jadeveon Clowney vs. Panthers
RENTON, Wash. — The Seattle Seahawks have ruled out defensive end Jadeveon Clowney for Sunday's game against the Carolina Panthers.
Already dealing with a core-muscle injury since Week 10, Clowney missed practice Wednesday and Thursday with an illness and returned Friday as a limited participant. The team initially listed him as questionable before downgrading him to out.
The Seahawks (10-3) could be down a pair of pass-rushers against the Panthers (5-8). Ezekiel Ansah, who missed the Seahawks' Sunday night loss to the Rams with a neck injury, is questionable to play at Carolina and will be a game-time decision.
Cornerback Shaquill Griffin (hamstring) and tight end Luke Willson (hamstring) are also questionable and will be game-time decisions.
With Mychal Kendricks (hamstring) out again, rookie third-round pick Cody Barton will make his second straight start at strongside linebacker.
Prior to Clowney being ruled out, coach Pete Carroll said the defensive end had been "pretty sick" this week but sounded hopeful he'd be OK by Sunday. Several Seahawks players have gotten sick since the week of Thanksgiving.
Clowney is tied for the team lead with three sacks this season and ranks fifth in the NFL in ESPN's pass rush win rate at 25.1%. He missed the team's win over Philadelphia in Week 12 because of his core-muscle injury, which is something he said he'll have to manage for the remainder of the season after deciding to put off surgery.
Wide receiver Tyler Lockett (shin) was listed as a full participant Wednesday and Thursday.
Dolphins sign WR DeVante Parker to 4-year contract extension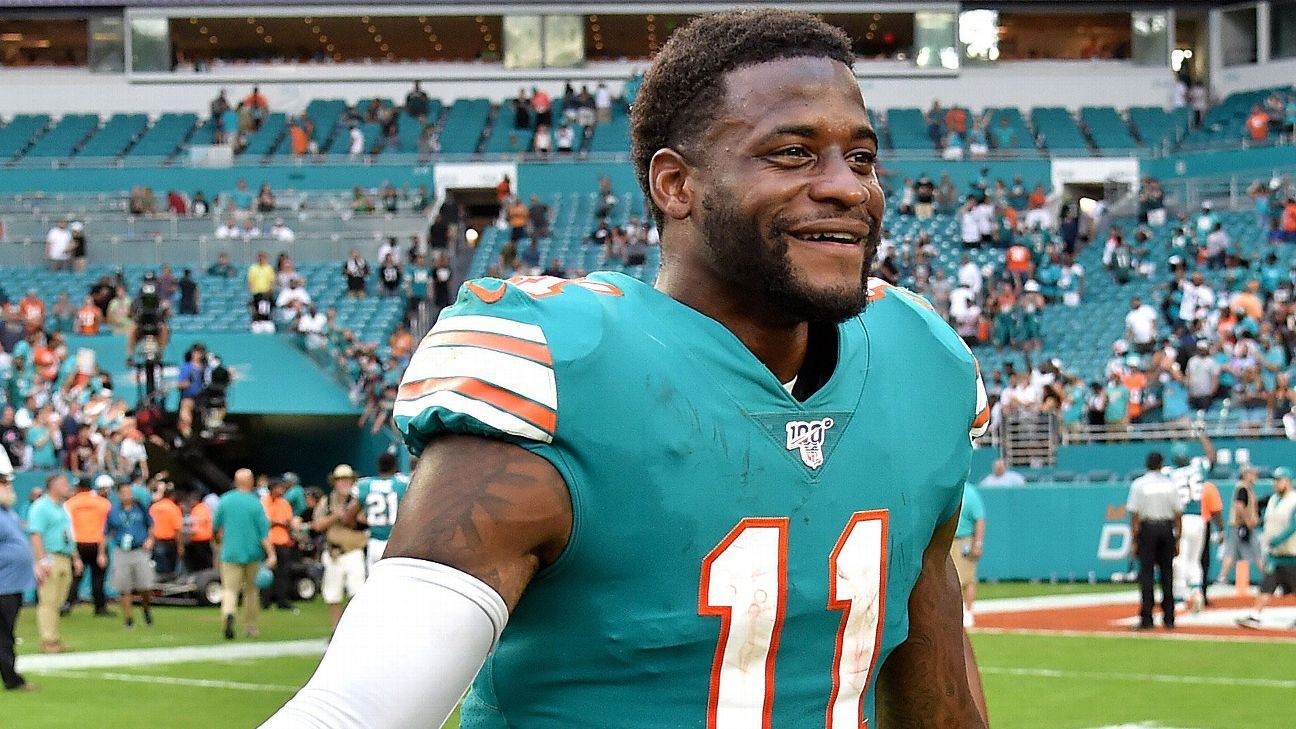 DAVIE, Fla. — The Miami Dolphins have signed receiver DeVante Parker to a four-year extension through the 2023 season, the team announced Friday evening.
Parker's four-extension is worth up to $40 million with an $8 million signing bonus and more than $20 million guaranteed, according to a source.
In his fifth year in the league, Parker is in the midst of his breakout season. He has a career-high 882 receiving yards and six touchdowns this season, and maybe most importantly he hasn't missed a game yet for the first time in his NFL career.
"My desire was to have DeVante remain a member of the Dolphin family and we are excited for the future in Miami," agent Jimmy Gould said in a statement.
The Dolphins' offense has centered around Parker since Preston Williams went on injured reserve in early November. Parker has established a strong connection with quarterback Ryan Fitzpatrick, who has called him the "most consistent part of our offense."
Playing 16 games and reaching 1,000 receiving yards were two of Parker's individual goals this season. Parker is 118 receiving yards shy of his first 1,000-yard season, something that is important to him.
"It would be amazing to get it. I've never had it since high school," Parker said. "The team is No. 1, but everybody has goals, and that definitely is one of mine."
In March, Parker signed a new two-year deal with a team option for 2020. It was essentially a prove-it deal coming off the worst season of his career in 2018. He responded by taking care of his body with better eating and hydration, acupuncture and weekly massages.
The Dolphins' coaching staff, led by Brian Flores, gave Parker a clean slate. Receivers coach Karl Dorrell told him stories of his experience with Pro Bowl receiver Brandon Marshall and challenged Parker to be the player he was coming out of Louisville.
Parker did that, and he's felt more comfortable than ever in the Dolphins' new scheme.
"Staying healthy was my top goal," Parker told ESPN last week. "That has helped change everything. These coaches believed in me. They gave me a second chance when they didn't have to. I hope I can be here a long time."
Parker, Miami's first-round pick in 2015 (14th overall), is rewriting his narrative after four seasons full of injuries and inconsistency. He's finally showing the potential that made him so tantalizing and the Dolphins rewarded him for it.