Duke Johnson hires agent Rosenhaus
Cleveland Browns running back Duke Johnson Jr. signed Thursday with agent Drew Rosenhaus, a source told ESPN's Adam Schefter.
Johnson still is expected to seek a trade from Cleveland.
Rosenhaus this offseason helped facilitate a trade from the Browns for client Emmanuel Ogbah, and also got Breshad Perriman out of his deal in Cleveland.
Earlier this week, agent Kristin Campbell confirmed to Cleveland.com that she no longer was representing Johnson.
Johnson, who has attended mandatory Browns workouts during the offseason, said last month that there was nothing the team can do to change his mind about wanting a trade.
In June 2018, Johnson signed a three-year, $15.6 million extension with the Browns. He is under contract through the 2021 season.
A third-round draft choice of the Browns in 2015, Johnson has rushed for 1,286 yards over four seasons. He fell behind rookie Nick Chubb on the depth chart last season, and the team signed Kareem Hunt, who will miss the first eight games of 2019 for violating the NFL's personal conduct policy.
ESPN's Jake Trotter contributed to this report.
Saints rule out starting LBs A.J Klein (knee), Kiko Alonso (thigh) vs. 49ers
METAIRIE, La. — The New Orleans Saints have ruled out two of their starting linebackers before Sunday's critical NFC showdown vs. the San Francisco 49ers.
Strongside linebacker A.J Klein (knee) and middle linebacker Kiko Alonso (thigh) were both injured during last Thursday's win at Atlanta. The timing is especially unfortunate because the 49ers have the NFL's No. 2-ranked rushing offense at 148.0 yards per game.
And because both teams are 10-2, Sunday's game could wind up determining the NFC's top seed and home-field advantage.
The Saints' run defense, meanwhile, ranks No. 3 in the league, allowing just 88.6 yards per game. They will likely count on veteran backup Craig Robertson as one replacement starter. Backups Stephone Anthony and newly signed Manti Te'o could also help fill the void.
On a positive injury note, the Saints' standout left tackle Terron Armstead is listed as questionable after he returned to practice on a limited basis all week with his ankle injury. Even if he is not ready to return yet Sunday, it's a good sign that he will be back soon.
Giants expect Golden Tate, Evan Engram to face Eagles
EAST RUTHERFORD, N.J. — New York Giants wide receiver Golden Tate was cleared from the concussion protocol and will play Monday night against the Philadelphia Eagles.
Tate, who is second on the Giants with four receiving touchdowns, missed last week's loss to the Green Bay Packers. He is set to play his first game with quarterback Eli Manning after missing the first four weeks of the season for violating the league's policy on performance-enhancing substances.
Manning is expected to return to the starting lineup for the first time since Week 2 in place of an injured Daniel Jones, who has a high ankle sprain.
Manning should have a full complement of weapons at his disposal. Tight end Evan Engram is also expected to return after missing three games with a foot injury.
It would mark the first time this season that all the Giants' pass-catching weapons (Tate, Engram, running back Saquon Barkley and wide receiver Sterling Shepard) are on the field together. The Giants (2-10) are trying to snap an eight-game skid.
Tate returns just in time to face his former team. He was traded from the Detroit Lions to the Philadelphia Eagles midway through last season. He signed with the Giants this offseason as a free agent after catching the game-winning touchdown in a playoff win for the Eagles earlier this year.
The veteran receiver has been productive in his seven games with the Giants. Tate has 36 catches for 450 yards and four touchdowns.
But he was injured late in a loss to the Chicago Bears. He was diagnosed with a concussion the day after that game, in which he took several big hits. The Giants say the concussion occurred when his head slammed into the ground while making a touchdown grab late in the fourth quarter. He remained in the game for the final drive.
Engram leads the Giants with 44 receptions. He also has 467 yards and three touchdown grabs in eight games.
But Engram hasn't played since hurting his foot late in a Week 9 loss to the Dallas Cowboys. He recently said it was a two-to-four week injury.
Engram has missed three games and had the bye week to recover. He's been a limited participant in practice this week, but told ESPN he's done way more than the past few weeks.
"All indications are he'll be ready to go," coach Pat Shurmur said earlier Friday.
The same can't be said for Jones. He didn't practice Friday even though he ditched the walking boot on his right foot. He spent most of his time on the sideline working with a trainer. Shurmur considered it "very unlikely" the rookie quarterback would play despite all the Giants' weapons finally being together.
Colts to be without Adam Vinatieri, T.Y. Hilton vs. Bucs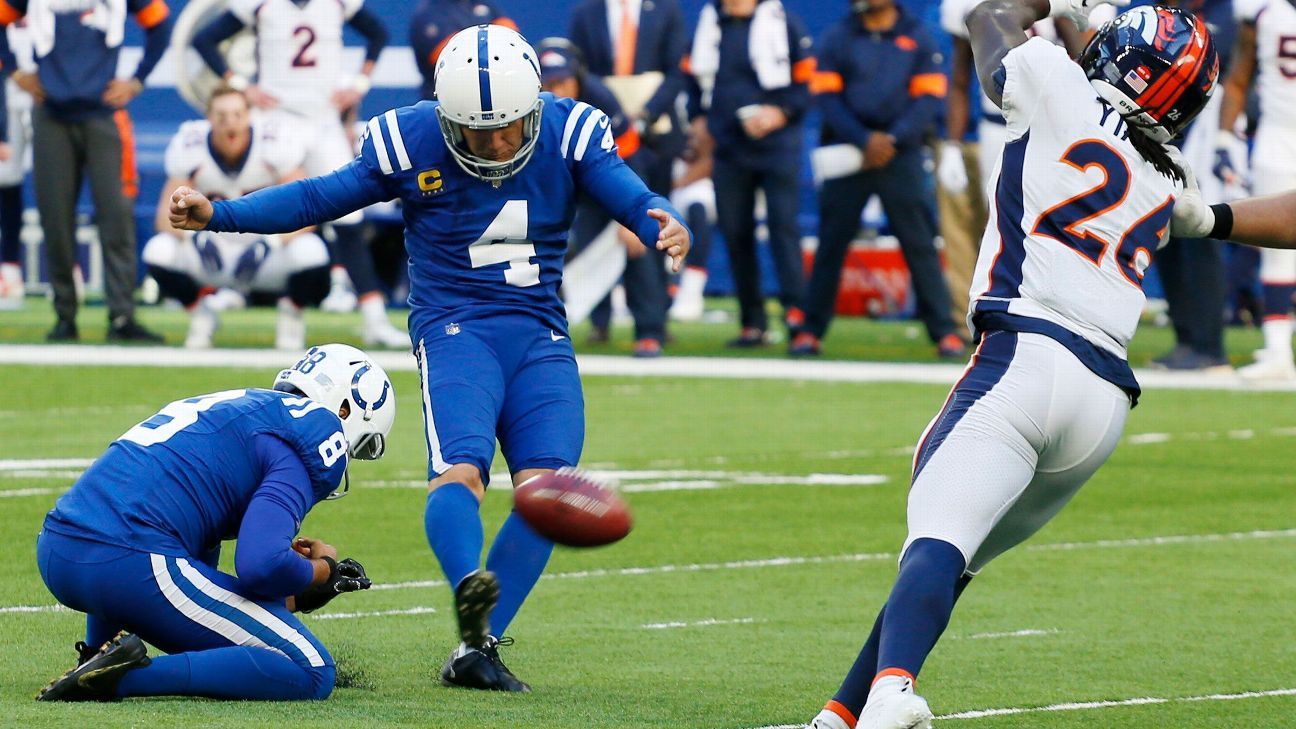 INDIANAPOLIS — Colts kicker Adam Vinatieri has been ruled out for Sunday's game at Tampa Bay because of a left knee injury, coach Frank Reich said Friday.
Vinatieri, who said he started feeling pain in his knee last week, did not practice Thursday or Friday after being a limited participant Wednesday. It will be the first game he has missed due to injury since 2009.
Reich said they have not talked about putting Vinatieri on the season-ending injured reserve list, instead classifying the kicker as being "week to week" with four games left in the regular season.
Vinatieri, 46, dealt with a similar knee problem during training camp.
He has made a career-low 68% of his field goal attempts this season and missed 14 kicks — eight field goals and six extra points. Two of Vinatieri's misses — against the Chargers and Steelers — cost the Colts games.
Chase McLaughlin, who the Colts claimed off waivers Wednesday, will handle the kicking duties. McLaughlin has played in seven games this season, four with the Chargers and three with the San Francisco 49ers. He was 13-for-17 on field goals and made all 15 of his extra point attempts.
The Colts, who are on a two-game losing streak, also ruled out receiver T.Y. Hilton (calf) and cornerback Kenny Moore (ankle) for Sunday's game.
The Colts will get some help on offense, as running back Marlon Mack (hand), who has rushed for a team-high 862 yards, and rookie receiver Parris Campbell (hand) are expected to return, barring any setback after missing two and four games, respectively.