Brees 'passes torch' to Zion with signed jersey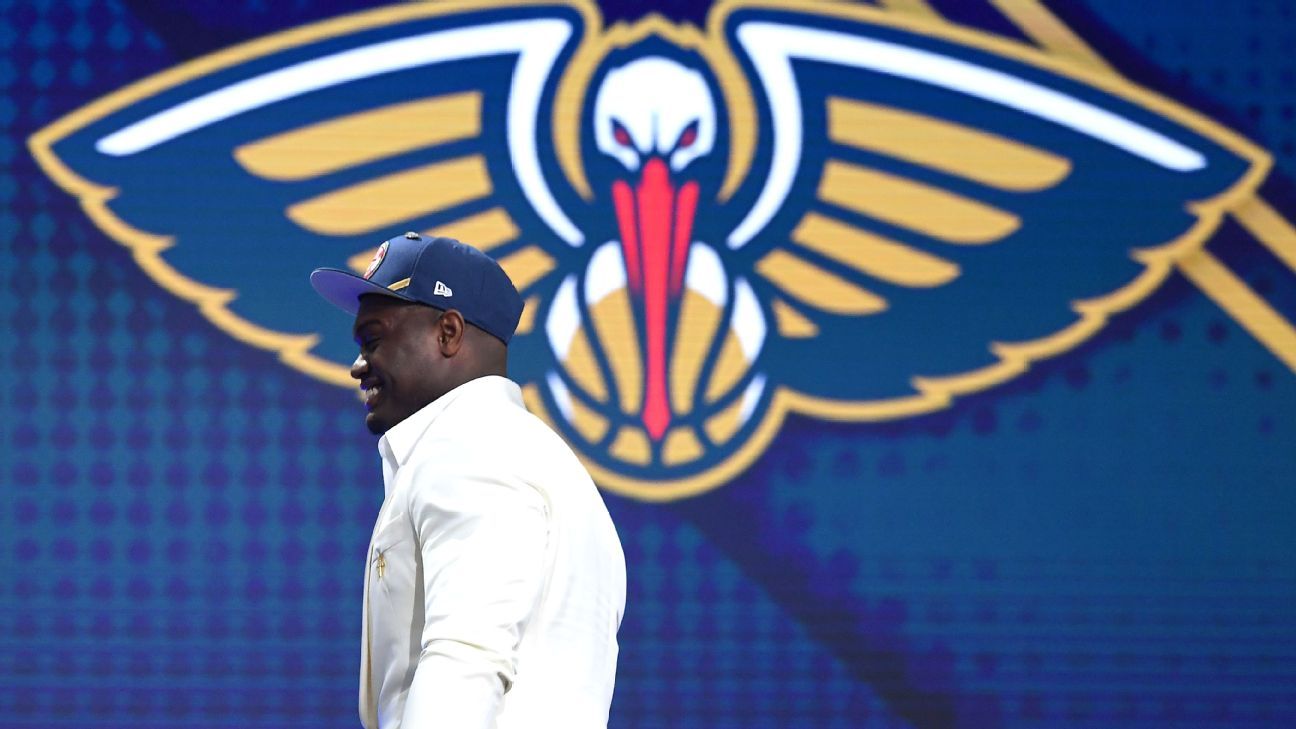 Drew Brees welcomed Zion Williamson to New Orleans with a framed jersey from the quarterback on which he wrote, "Passing the torch to you!"
The New Orleans Pelicans on Tuesday tweeted video of Williamson's reaction to receiving the gift that was waiting for him when he arrived in New Orleans.
After arriving in New Orleans, @ZionWilliamson received a gift from @DrewBrees 🔥#LetsDance @Saints pic.twitter.com/qR5yqcdCNb

— New Orleans Pelicans (@PelicansNBA) June 25, 2019
"Wow, passing the torch. Am I ready to take that on? The city of New Orleans," Williamson says in the video.
The jersey was accompanied by a card that read, "Zion, welcome to the family. Let's dance."
Williamson, who was selected No. 1 overall by the Pelicans in last week's draft, says with excitement that it was the first jersey he had ever received from a professional athlete.
Williamson had previously posted a picture on his Instagram Story of himself in the room with the jersey, but video wasn't released until Tuesday.
The 2019 season will be Brees' 14th with the Saints. He is the NFL's all-time passing yards leader with 74,437 yards and led New Orleans to its only Super Bowl win in the 2009 season.
'Need' teammates to hit me in practice
FLORHAM PARK, N.J. — Before practice each day, New York Jets running back Le'Veon Bell tells his defensive teammates, "Give me a little something."
Bell, who is being held out of the preseason games as a precaution, wants to get his body acclimated to contact before making his Jets debut in Week 1 against the Buffalo Bills. So, in a very un-running-back-like move, he's asking to be tackled.
"Go for the ball, things like that, just so I can get prepared," Bell said Wednesday.
The Jets' prized free-agent addition will sit out Saturday night against the New Orleans Saints, just as he did the first two games. The starters aren't expected to play the preseason finale. Bell said he's on board with coach Adam Gase's decision to keep him out of live action, confident he can get his regular-season prep on the practice field.
Because of his contract dispute last season with the Pittsburgh Steelers, Bell hasn't played a game in 19 months.
"I know once I get to the game it's going to be a little different, but that's something I'll adjust to," he said. "I've been playing football my whole life."
Bell doesn't want his teammates to deliver punishing hits, but he believes some upper-body contact will do him some good. If they shy away, he'll try to get under their skin by initiating contact.
"I try to do that intentionally, just so I can feel it," he said. "A lot of times you'll start seeing guys get a little frustrated and they'll try to hit me back — and that's what I need. They won't take me to the ground and they won't go for my legs. Hitting me up top, things like that, I need all that."
Gase has increased Bell's practice reps, giving him approximately 15 "touches" per day — a lot for a running back. Gase said he felt it wasn't worth the risk to expose Bell in the preseason, so he opted to keep his No. 1 offensive weapon on the sideline.
"I don't think getting me four plays in the preseason is going to help me in Week 1," Bell said.
To stay involved, Bell dressed for the first two games and participated in the pregame warmups. Quarterback Sam Darnold couldn't resist the opportunity to razz his new teammate.
"He's out there in the pre-game with the pads on, dancing around," Darnold said. "He's like, 'Let's go, guys, get fired up.' I'm like, 'Bro, you're not even playing. Once you start playing, you can start doing that stuff.'"
Gase, who reportedly wasn't thrilled with the decision to give a $27 million guarantee to a running back, said he's eager to see Bell in a game setting.
"I can't wait to see what he does on a Sunday," he said. "With him practicing, that's fun enough. You can tell the guy is a special, special player."
Lions extend DT Harrison through 2021
The Detroit Lions have agreed to a one-year extension worth $11 million with defensive tackle Damon "Snacks" Harrison, a source told ESPN Insider Adam Schefter.
The deal brings Harrison's guaranteed money to $12 million between the 2019 and 2020 seasons, according to Schefter. Harrison had been under contract through 2020 — initially making $6.75 million in 2019 and $9 million in 2020.
Now his deal runs through 2021, although it is still unclear how the money will break down between those three years.
Harrison had been seeking a contract extension from the organization, which acquired him in a midseason trade last year with the New York Giants for a fifth-round pick. Harrison sat out all of spring workouts — including mandatory minicamp — this offseason, at least in part over his contract status.
The 30-year-old Harrison was then placed on the Non-Football Injury list to start training camp before starting to practice last week in Houston. He has yet to speak to the media this preseason.
Harrison is a key part of Detroit's defensive line as one of the top run-stoppers in the league. He's played in 102 games, starting 95 of them — including playing in 17 games last season. He has nine sacks and four forced fumbles in his career, but the 350-pound tackle is dominant against the run. Pro Football Focus graded him as the No. 3 interior defender in the NFL last season and said he had the best run-stop percentage in the NFL (16 percent) last year.
A first-team All-Pro in 2016, Harrison went undrafted in 2012 out of William Penn in Iowa and then spent four years with the New York Jets and two-and-a-half years with the Giants before being traded to Detroit.
Cardinals release ex-Bears 1st-round WR White
TEMPE, Ariz. — Kevin White's attempt to put his disappointing career behind him hit a speed bump Wednesday when the Arizona Cardinals released the fifth-year wide receiver.
White had recovered from a hamstring injury that forced him to miss about a week of training camp before he was cut. He was signed to a one-year contract in March with hopes that he'd stay healthy enough to showcase his ability, something he was unable to do in four seasons with the Chicago Bears.
White fractured his left leg in both 2015 and 2016, and his shoulder in 2017.
He described the past four seasons as "very frustrating" but looked at the Cardinals' opportunity as a "fresh start" to "show what I got."
Cardinals coach Kliff Kingsbury, who coached against White in college and is close with the receiver's college coach, Dana Holgorsen, was optimistic that he could overcome his injury history and was pleased with his work ethic during training camp. But the constant with White was the uncertainty that he'd stay healthy.
"He had some unfortunate injuries there in Chicago and trying to kind of re-establish himself, really kind of like his rookie year," Kingsbury said earlier this year.
White was unable to do that.
White played in just 14 games in four seasons with the Bears, the third fewest by any player drafted in the top 10 from 1970 to 2015, White's draft year, according to Elias Sports Bureau research. White's production in his first four seasons was the worst among wide receivers, tight ends and running backs drafted in the top 10 from 2001 through 2015, according to ESPN Stats & Information research.
His 14 career games, 25 career catches and 285 career receiving yards were the fewest among those categories over that stretch. His zero receiving touchdowns tied with the late Cedric Benson and Cadillac Williams.