Frazier 'surprised' to be sent down by Yankees
CHICAGO — Minutes after he was optioned back to Triple-A on Sunday afternoon, New York Yankees outfielder Clint Frazier admitted he was "pretty surprised" to find out he was being sent down.
"It's a tough pill to swallow, yeah," he said. "It's never fun, especially with how much I felt like I've contributed to this team this year."
The 24-year-old Frazier heads back to the minor leagues as Edwin Encarnacion, the one of the majors' more prolific active home run hitters, gets added to the Yankees' 25-man roster following the Saturday trade that brought him to the Bronx Bombers from Seattle.
Yankees manager Aaron Boone said Sunday's demotion was the product of needing to open a roster spot for Encarnacion, the American League's home run leader with 21.
The timing of the move was particularly surprising to Frazier because of the remaining subtractions that will happen in the coming days with outfielders Giancarlo Stanton and Aaron Judge wrapping up minor league rehab assignments for their injuries. Frazier intimated he figured he'd be sent down once that happened in the coming days, but not quite now.
"Not because of Encarnacion," Frazier said, "but maybe because of Judge or Stanton."
Stanton is expected to be activated Tuesday when the Yankees meet division foe Tampa Bay in the second game of an important midseason three-game series. Judge likely will play a few more games at Triple-A Scranton/Wilkes-Barre before he becomes an option for the Yankees. Frazier, who was originally called up April 1 in the wake of Stanton's first injury, has had a big impact on the Yankees' offense.
Through 53 games, Frazier hit .283 with 22 extra-base hits. His 11 home runs are tied for fourth-most on the big-league roster. He also has been one of the leagues' best hitters with runners in scoring position, carrying a .375 batting average into such scenarios entering Sunday's series finale at the Chicago White Sox.
"He's played a big role on a winning team, and that doesn't necessarily stop now, but this is where we're at with the roster situation," Boone said. "So obviously tough news to deliver, but hopefully he can make the most of it and continue to get better at his craft and know that he's going to play a role for us again."
"With a guy like Clint we want him playing all the time," Boone added. "He's got a chance to be a great player in this league, and he's already shown that."
Fellow Yankees outfielder Brett Gardner, a 35-year-old veteran and longtime Yankee who could get caught in the pending roster crunch as Stanton and Judge get healthy, had a message of encouragement for Frazier.
"Sometimes when decisions are made, you don't always agree with them, but you've just got to keep your head down and keep moving forward," Gardner said. "He's a guy that has a ton of talent. He's going to play this game for a long time."
There has been a belief that with so many powerful position players now being added to the Yankees' lineup, perhaps Frazier will become an important piece the Yankees to dangle in trade talks. He had been assured in past years that despite the previous rampant speculation about his role with the organization, he wasn't on the trading block.
But now, with the Yankees in such desperate need for starting pitching, that might not be the case.
"I've been traded once, so who knows?" Frazier said. "I can't control that, I just try to play as good as I can to put myself in a good position."
As strong as his offense has been, Frazier's defense has come under intense scrutiny in recent weeks. The attention was at its highest two weeks ago, when he committed three errors during a loss to the Boston Red Sox that was aired nationally on ESPN's "Sunday Night Baseball."
Following that poor performance in the field, Frazier declined to speak to reporters in the postgame scrum in the clubhouse. He later spoke that night to ESPN, expressing remorse for the way he played in such an important ballgame.
Frazier's personality also has been on full display this season, as he's spent the past two months capitalizing on his status as a member of the iconic New York-based franchise. Heightened in large part because of where he was playing and who he was playing for, Frazier's profile rose throughout the spring as he was recognized for the way he took high-end sneakers and added cleats to the bottoms of them. He drawn praise from world-renown sneaker designers and ire for the way he's gone about playing in the non-traditional cleats.
Nats' Turner hits for another cycle against Rockies
WASHINGTON — The Rockies bring out the best in Trea Turner.
On Tuesday night, the Nationals shortstop hit for the cycle during Washington's 11-1 win over Colorado, the second time in his career that he's accomplished the feat versus the Rockies. According to the Elias Sports Bureau, he's just the third player in MLB history to hit for the cycle multiple times against the same team. Fred Clarke of the Pittsburgh Pirates had two cycles against the Reds (1901, 1903), and Christian Yelich did it twice last year, also against Cincinnati.
Turner led off the bottom of the first with a solo home run against Colorado starter Peter Lambert. In the second inning, he grounded a single off Lambert for a single. Facing Lambert again in the fifth, Turner hit a liner down the right field line that glanced off Charlie Blackmon's glove and rolled into the corner for a triple. After grounding into an inning-ending double play against lefty reliever Sam Howard in the sixth, Turner came up in the seventh against righty Jairo Diaz and laced an RBI double to the gap in right-centerfield.
Turner is the 26th player in major-league history to hit for multiple cycles in his career. He previously did it on April 25, 2017 at Coors Field. In 18 career games against Colorado, the 26-year old speedster is now batting .386 with 16 extra-base hits.
Of the 10 cycles that the Rockies have now allowed in their history, Turner's is the first one to be accomplished away from Coors Field.
Earlier this season, Turner missed six weeks due to a fractured right index finger that he suffered as the result a hit-by-pitch. In 60 games with Washington this year, he's hitting .286 with eight home runs and 20 stolen bases.
Padres vs. Mets – Game Recap – July 23, 2019
NEW YORK — Robinson Cano hit three home runs, breaking loose from a season-long slump in a huge way and leading Jason Vargas and the New York Mets over the San Diego Padres 5-2 Tuesday night.
The 36-year-old Cano drove in all five runs and went 4 for 4. Vargas pitched one-hit ball for six shutout innings, possibly enhancing his trade value.
Cano began the day batting just .243 with six homers in his first season with the Mets. Yet before the game, manager Mickey Callaway expressed confidence that Cano would produce, putting him in the category of "Hall of Fame hitters."
Cano homered three times in a game for the first time in his career. It was just the third three-homer game ever by a Mets player at home — Lucas Duda and Kirk Nieuwenhuis both did it in July 2015.
After singling in the first, Cano made it 1-0 in the fourth with his first home run at Citi Field since early April.
Cano hit a two-run homer off Chris Paddack (6-5) in the sixth and a two-run shot in the seventh off Logan Allen — both drives sailed into the second deck.
Of Cano's nine homers this year, five have come since the All-Star break. This was his 23rd career multihomer game and first since 2017 with Seattle.
Yoenis Cespedes was the previous Mets player to hit three homers, doing it in 2017. The feat has been accomplished by 13th different Mets players, with Cespedes doing it twice.
Vargas (5-5) put on a pitching clinic, getting the San Diego hitters to consistently flail away.
The 36-year-old lefty permitted only a single by Eric Hosmer in the fifth, struck out eight and walked three. Rookie Fernando Tatis Jr. struck out three times and Manny Machado swung at a strike three that bounced.
Several scouts were at Citi Field, and no doubt the performance Vargas piqued their interest as the July 31 trade deadline approaches.
Vargas' hardest fastball was clocked at 84.6 mph — Paddack's slowest changeup came in a tick faster 84.7.
The anticipated showdown between rookie stars Pete Alonso and Paddack didn't amount to much — the slugging Alonso walked twice and grounded out against the young fireballer.
Edwin Diaz relieved with two on in the ninth and got his 22nd save in 26 chances, allowing an RBI double to Tatis before retiring Manuel Margot on a game-ending lineout with two on.
TRAINER'S ROOM
Padres: LHP Adrian Morejon "should be available" to pitch in relief during this three-game series, manager Andy Green said. The 20-year-old Cuban made his major league debut Sunday at Wrigley Field, allowing one run and three hits in 2 1/3 innings. Green said the Padres will consider using him as an opener over the weekend at home vs. the Giants.
Mets: Major league batting leader Jeff McNeil was hit in the right elbow by a Paddack pitch in the fifth. McNeil was checked by a trainer and stayed in. … RHP Zack Wheeler (shoulder impingement) threw batting practice on the field and could be activated Friday to pitch against the Pirates. "I'm 100 percent. Ready to go," he said. Callaway said Wheeler, who last started on July 7, will be on a pitch count of 75-85 pitches. Wheeler (6-6, 4.69 ERA) has been the subject of trade rumors leading up to the July 31 deadline. "Last year was the same way," he said.
UP NEXT
Padres: RHP Dinelson Lamet (0-2, 5.14 ERA) makes his fourth start of the season. He won his major league debut in 2017 at Citi Field and went 7-8 overall, then missed last year after Tommy John surgery.
Mets: RHP Noah Syndergaard (7-4, 4.36) is 4-0 in his last nine starts.
Nationals' Scherzer on track for Thursday return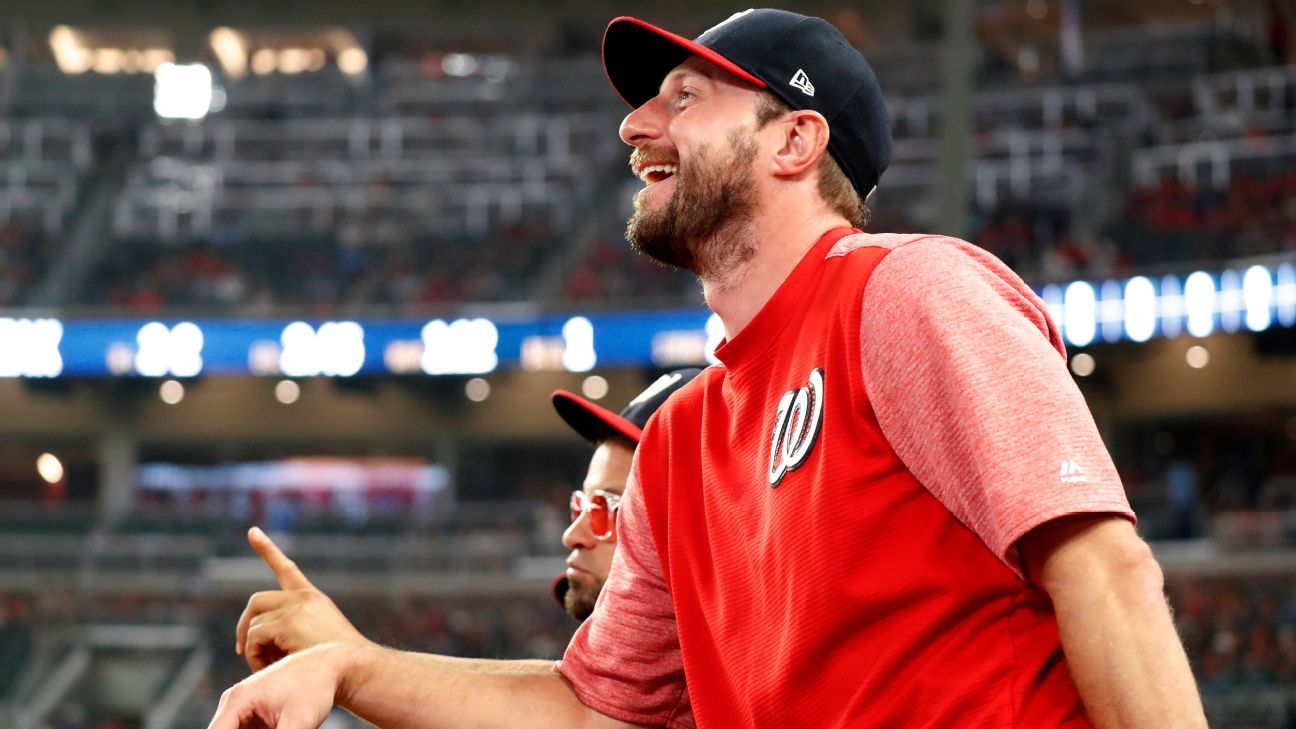 WASHINGTON — Nationals ace Max Scherzer is expected to return from the injured list Thursday.
"He felt good today," manager Davey Martinez said of Scherzer, who threw a bullpen session Monday prior to the opener of a four-game series between the Nationals and Rockies getting rained out. That contest has been rescheduled as part of a doubleheader on Wednesday, with the finale coming Thursday afternoon.
Assuming Scherzer doesn't suffer any setbacks between now and then, he would take the hill in the finale.
Scherzer has been dealing with an inflamed bursa sac below his right shoulder and has not pitched since July 6, when he tallied 11 strikeouts over seven scoreless innings against the Kansas City Royals. One week later, the Nats placed him on the injured list, retroactive to July 10.
On Tuesday, Martinez said the Nationals considered the calendar for the remainder of the regular-season schedule, as well as the postseason, before landing on Thursday as the likely return date for Scherzer.
"We actually sat down and looked at the schedule, and that's basically how we came up with Thursday," said the Nats' second-year skipper. "I went all the way 'til the wild-card game. I'm hoping that we're not the wild-card team. But we sat down and mapped everything out from that day."
Washington began the day 6.5 games behind the first-place Atlanta Braves in the National League East, and in possession of the top wild-card spot in the NL. If Scherzer is able to go on Thursday, he would then line up to start in all three of his team's remaining series against the Braves, as well as in Washington's lone remaining series against the third-place Phillies. He'd also be in position to take the mound in a potential NL wild-card game.
A three-time Cy Young winner, Scherzer has been one of the game's most durable hurlers, having made at least 30 starts in all 10 of his full seasons since debuting in 2008. Since signing a seven-year, $210 million contract with the Nationals prior to the 2015 season, the 34-year-old righty had made only one other trip to the injured list, in August of 2017.
This season, Scherzer is 9-5 with a 2.30 ERA. In 129.1 innings, he has recorded 181 strikeouts, most in the National League. In June, prior to hitting the shelf, he went 6-0 with a 1.00 ERA and was named the NL Pitcher of the Month.