Finding Justin Tucker: How Ravens landed 'best in history of the game' – Baltimore Ravens Blog
OWINGS MILLS, Md. — After the Baltimore Ravens signed Justin Tucker to a record-setting deal for an NFL kicker a couple of months ago, the conversation soon steered to the first time coach John Harbaugh took notice of him.
Originally a tryout player, Tucker hit a 55-yard field goal during the first day of rookie minicamp.
"It was like, 'Wow, he's pretty good! Where'd we find this guy?'" Harbaugh recalled.
Tucker responded, "I was hiding at the University of Texas."
• Surprise offseason standout for all 32 teams
• Haskins 'deserves a shot' to start
• Gurley remains biggest question for Rams
• Lamar Jackson: 'A star in the making'
• Daniel Jones impresses, Eli still No. 1
Despite playing for one of the most visible programs in college football, Tucker was invisible in the kicking landscape seven years ago. A kicker and a punter for the Longhorns, Tucker wasn't named to the All-Big 12 first team or second team and wasn't even an honorable mention. He didn't receive an invitation to the scouting combine. Tucker wasn't one of the four kickers drafted in 2012 and instead watched Randy Bullock, Greg Zuerlein, Blair Walsh and John Potter get selected.
Tucker has since become the most accurate kicker in NFL history, making 90.1 percent of his field goals. Setting a new standard for the position, he is the first player to produce six seasons with 30-plus field goals and became the fastest pure kicker to reach the 900-point milestone. All of this earned him a four-year, $20.45 million extension in April.
How the Ravens unearthed Tucker is a story about some pre-draft subterfuge, a gutsy snub of a division rival, the best veto of Harbaugh's career and a lot of Tex-Mex food.
Tucker's journey to Baltimore began with, of all things, a miss — one of the biggest failed field goals in NFL postseason history — and a spot-on prediction: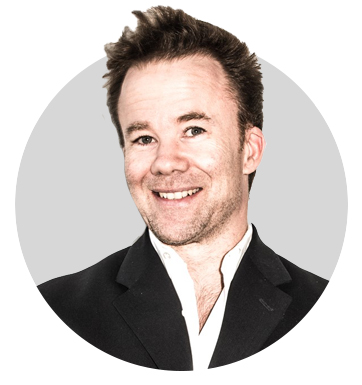 Rob Roche, Tucker's agent: "I remember watching the Ravens' AFC Championship Game [on Jan. 23, 2012] against New England with my two boys. I saw Billy Cundiff miss that 35-yarder wide left. I said to my kids, 'Justin Tucker is going to be with the Ravens next year.' You know why? Justin had that mental makeup to hit clutch field goals."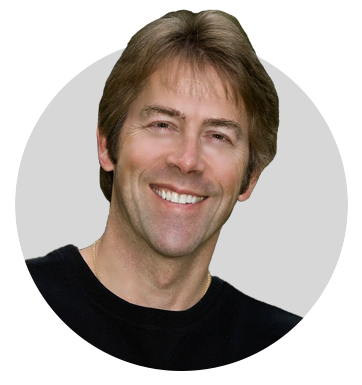 Paul Tucker, Justin's father: "I was watching that game, and I got a text from a good friend of mine: 'Did you just see that? They need Justin.' I'm like, 'Yeah, great. But for now, no one is banging on the doors for Justin.'"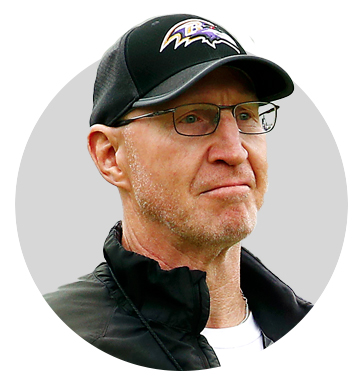 Jerry Rosburg, retired Ravens special-teams coordinator: "Like I do every year, I gleaned through all of the kicking possibilities. I'm going to go through the stats in the NCAA, and I'm going to find every draft-eligible kicker that has decent numbers. Justin Tucker had that, and I put the tape on. His talent jumped off the tape at me."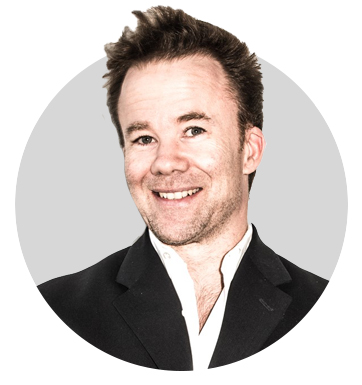 Roche: "Jerry called and said, 'We're interested in him. I'm going to work him out, but I don't want you to say anything to anybody. We'll let you know when we're going to work him out.' I didn't say a word [to any other team] because I knew the Ravens were a great spot for Justin to be able to compete for a job. Chicago and Dallas both worked out Justin. Chicago wanted him to be a punter. Dallas thought he could be a good combo guy [kicker and punter] for camp."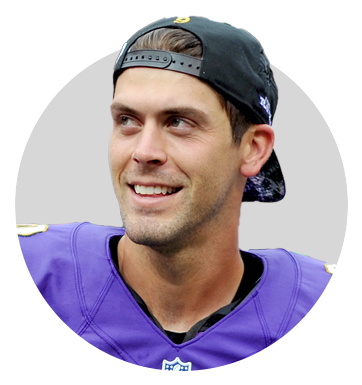 Justin Tucker: "Coach Rosburg waited until two days before the draft to come to Austin to work me out. I think he probably had a good idea that they wanted to bring me in. They didn't want to tip their hand and have somebody else get excited that, 'Oh, Coach Rosburg, who we respect, is working this kid out. We need to take another look at him.' So, he waited until nobody could work me out, which, looking back, is really smart."
The workout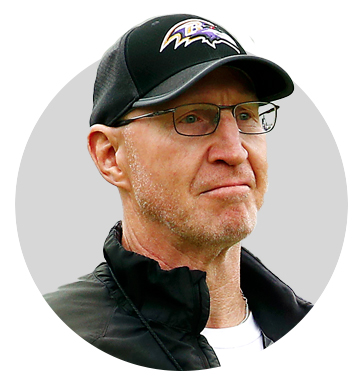 Rosburg: "It was one of my favorite days in football, it turns out. I went down to Austin. We met for breakfast early in a nice, little, Tex-Mex place just off campus. He explained to me how he got into the fine arts and the music. All of that, the package was really interesting to me. I saw him as a performer. That kick he made against Texas A&M [a 40-yarder as time expired in a 27-25 win on Thanksgiving 2011] was a huge game and a huge win. There's an essence there. He loved that moment."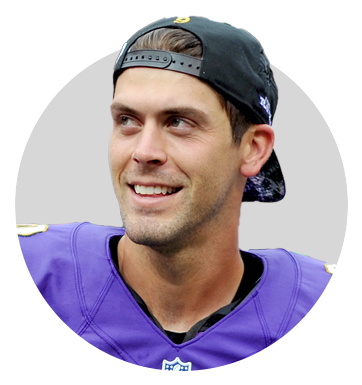 Justin Tucker: "We talked about general football and life stuff. I probably spilled the beans too much by referencing my burgeoning career as a rap artist over migas and Kerbey Lane Cafe queso. I'd been making beats and performing at a couple of functions here and there. At the end of the day, it didn't totally scare him away. So that's good."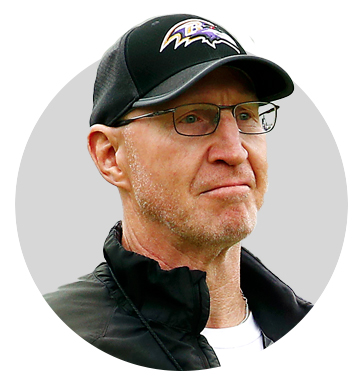 Rosburg: "The workout was fabulous. I pretty much put all my eggs in that basket, real honestly. Without going through the list of kickers that were available that year, I had Justin at the top. He had no other interest. What the other people see, let them see. I'm going to believe in what I see. I think it was Napoleon who said, 'If your opponents are making mistakes, don't interrupt them.' So I was pretty confident that we were in a pretty good place with Justin. The workout reinforced what I already believed in him: He was a talented guy who I thought we could help become an NFL kicker."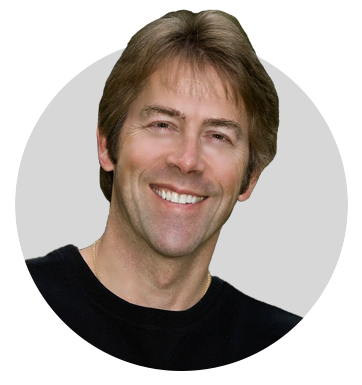 Paul Tucker: "I think Justin really thought he would be picked. It wasn't a big draft party. It was me, Justin, his mother and Joe Taylor, who does the play-by-play for Westlake [High School] football. We were eating tacos at a Tex-Mex place here. Justin hadn't been picked, so he was disappointed. Right then, he got a call and went around the corner. Joe Taylor was talking to someone on the phone and goes, 'I think it's down to the Cowboys or the Ravens. I think it's going to be the Cowboys.'"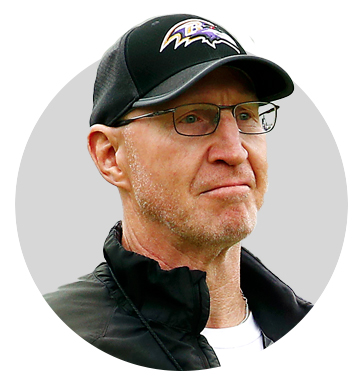 Rosburg: "I was on the phone when the last pick was being made. So, as soon as the pick is in, we can make the deal."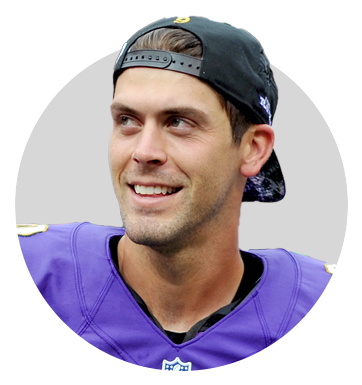 Justin Tucker: "Coach Rosburg basically asked me what I was thinking. I told him, 'I want to come to Baltimore.'"
Turning down a rival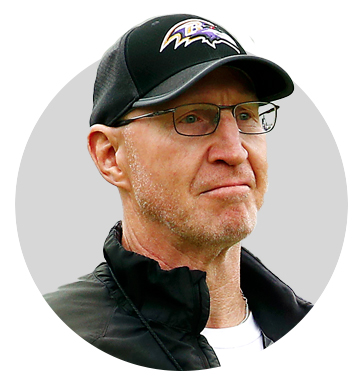 Rosburg: "He had an outstanding rookie minicamp [in May 2012]. It was exactly what I hoped it to be. If you're at that practice and know anything about kicking, you're saying, 'This guy can kick.' We had every intention of signing him. It didn't get done when he came."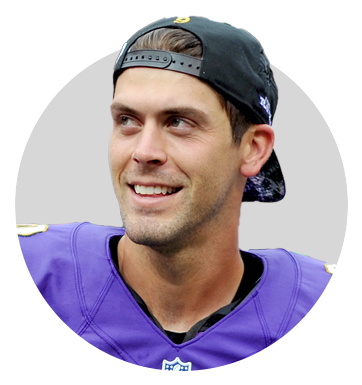 Justin Tucker: "I was basically at the mercy of the docs to fully clear me going forward [the Ravens' medical staff initially failed Tucker on his physical because of a back issue]. I thought it was going to be a couple of days. It ended up being a couple of weeks."
Rosburg: "It was a very nervous two weeks."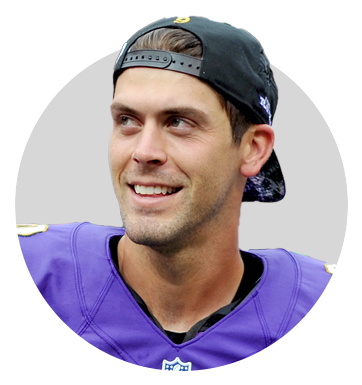 Justin Tucker: "In the meantime, I got a couple of phone calls from other teams because they heard I had done pretty well at Ravens rookie minicamp. The one team that called with something substantive was the Pittsburgh Steelers. They wanted to bring me in for a workout with the intention of signing me and having me compete. They wanted to book me on a flight. I don't know why, I told the guy on the phone, 'I appreciate the offer to come up and work out, but I am currently waiting on another opportunity. Can you give me a little bit of time and I will certainly call you back to let you know?' He said, 'You have 48 hours.' So, 48 hours go by, and I don't hear anything from anybody. I'm thinking I totally ended my own NFL career before it even got started."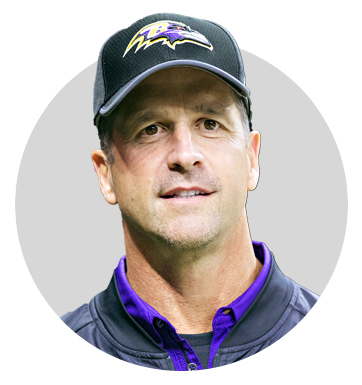 John Harbaugh, Ravens coach: "I'm not throwing our doctors under the bus, because they know it's true. They failed his physical at first because he had a little back issue. It's like, he's a kicker. He's just been kicking four years for Texas with whatever he's got. We're going to fail him on the physical? I put on my doctor's hat and overruled the doctors. I think it turned out pretty well."
Near-miraculous change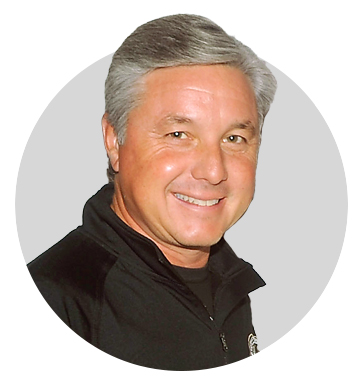 Randy Brown, Ravens assistant special-teams coach: "It wasn't until that first day of training camp when I physically laid eyes on Justin Tucker. My first impression was he's a young David Akers. The reason I say that: A young David Akers kicked the ball a mile but had no idea where the ball was going."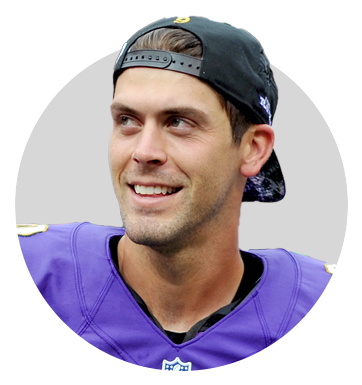 Justin Tucker: "On the second day of training camp, they sat me down in Jerry's office for 2½ hours and explained to me while watching film of the previous day: You can play in the league doing that, but you're not going to play very long. Any other specialist that I had ever been around, you get a little bit stubborn with your technique. That's your own piece of art, and you don't want others critiquing it. I was at that pivotal point where I had to consciously decide: Am I going to be stubborn, or am I going to be coachable and listen to someone who knows better than I do?"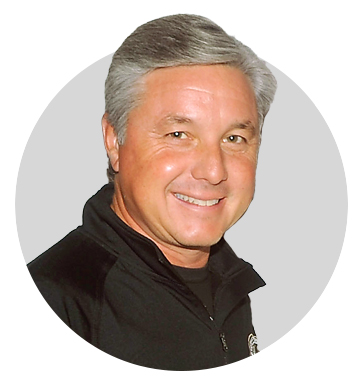 Brown: "When you take your three steps back and two steps over [to line up for a kick], always start in the same spot. He wasn't always starting in the same spot. Then, approach the ball from the same angle. Third, the plant. When you have a guy who is a home run-hitter like him, and he swings from his shoes, you have to have him plant from the same spot each time. That was the key."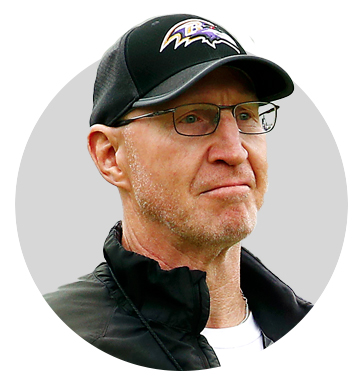 Rosburg: "That, to me, was one of the most incredible things about the whole story, is how quickly he was able to pick up on what was brought to him. You can imagine changing a golf swing in the middle of the U.S. Open qualifier. That's what happened."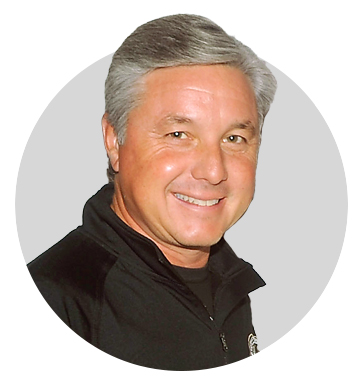 Brown: "It's beyond unusual. It's close to miraculous. That next day — and I remember that day like it was yesterday — after a few warm-up balls, we got to the same spot and the same plant. He didn't miss a kick that day. I knew right then and there that we have somebody special."
Winning the job
The challenge for Tucker, an undrafted rookie, was to beat out Cundiff, who was a Pro Bowl kicker two years earlier and was still considered the favorite to remain the Ravens' kicker.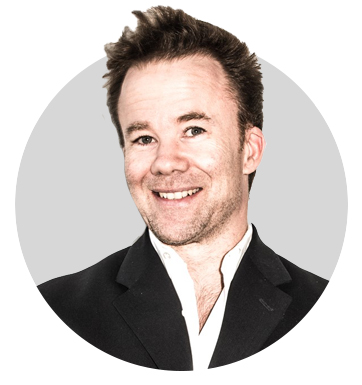 Roche: "In talking with Justin during camp, he was competing. He was really competing. When they had a competition in field goals, he would actually move the ball 5 yards back and make it. It was a challenge to Billy."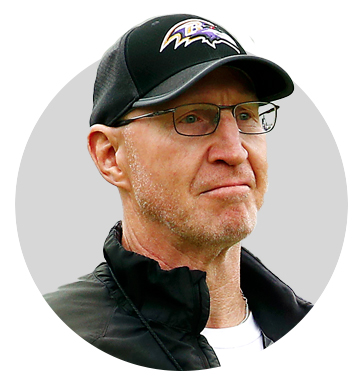 Rosburg: "We had a moment leading up to the third preseason game. I took the two guys inside [the field house], and we had a kickoff competition. Billy was phenomenal, if you remember. He was great at kickoffs. Justin won that competition, hands down. We gave Justin the entire third preseason game."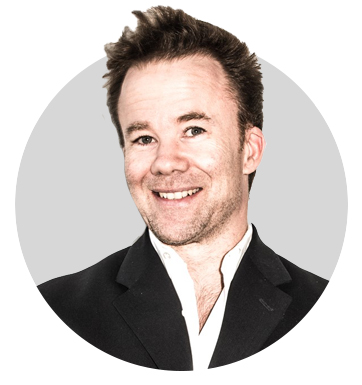 Roche: "I was at the game and thought this was going to be a good opportunity for Justin to really show what he could do and possibly win the job. He hit a 53-yard field goal in that game. I said, 'This should be interesting.'"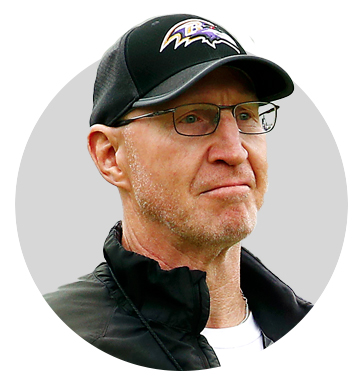 Rosburg: "My mom was in ill health at the time, and she suffered from Alzheimer's. It had been a long, painful journey. After that game, I got in an airplane and flew back to Minnesota to be with my mom. John asked me before I left, 'Is this our guy?' I said, 'Yes, this is our kicker.' When I was gone, that's when the decision was made. It's amazing how these things work. When I think of Justin, I still think of my mother. I missed her by 20 minutes. She passed away 20 minutes before I got there."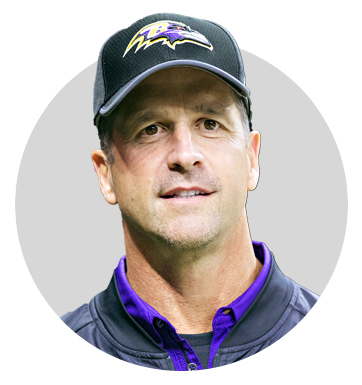 Harbaugh: "I remember going around the table of the coaches and asking every coach who they thought should be the kicker: Billy or the new kid. It was pretty much Billy. It wasn't overwhelming, but it was pretty solidly toward Billy. Then, I said, 'There's really only one vote that counts anyway, so Tucker is going to be the kicker.'"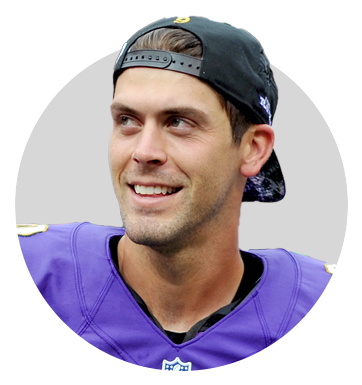 Justin Tucker: "The food [at the Ravens' facility] is great. But I needed a little changeup and [to] reward myself. I hadn't made any money. I didn't have a signing bonus. However, because I knew I was going to at least get a chance to play in one regular-season NFL game, I knew I had a couple of bucks going my way. I went to Chipotle, and I got the same burrito I always get, but I got chips and guac. I didn't even blink ,and I didn't even think twice about spending the extra $3 for the chips or guac."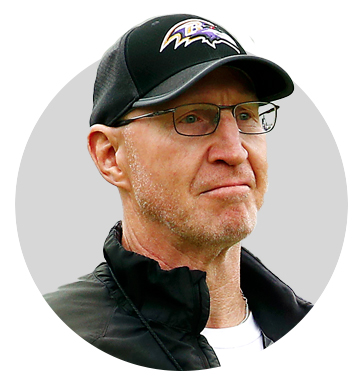 Rosburg: "He's been a blessing to my life. I love him. Justin made a comment: His life wouldn't be the same without me finding him. I feel the same way about Justin. My life wouldn't be the same without Justin."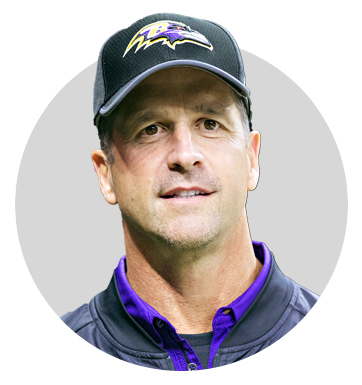 Harbaugh: "I think he's the best in the history of the game."
Winningest coach-athlete duos in sports history
Tim Duncan spent his entire 19-year career with the San Antonio Spurs — and this week, he came out of retirement to join the team's coaching staff as an assistant coach.
"It is only fitting, that after I served loyally for 19 years as Tim Duncan's assistant, that he returns the favor," said Spurs head coach Gregg Popovich.
Popovich joined the Spurs organization in 1996, then Duncan was drafted by San Antonio as the first overall pick of the 1997 NBA draft.
The player-coach duo went on to win five NBA championships together, in 1999, 2003, 2005, 2007 and 2014. Duncan, now 43, retired after the conclusion of the 2015-16 season. Popovich is 70 years old and still going strong.
So that got us thinking: What other duos have dominated sports? And it got us thinking even further: With Popovich and Duncan on an already stacked coaching staff that includes Becky Hammon, is this officially the start of a new dominating era for Spurs basketball?
---
Long-term winningest player and coach duos (10-plus seasons)
Ryan Giggs and Alex Ferguson (21 seasons and 13 Premier League titles): If you've been knighted by the Queen of England, you're clearly a sports legend. Sir Alex Ferguson racked up one heck of a résumé throughout his 26-year tenure with Manchester United, winning a total of 38 trophies — including 13 Premier League titles, five FA Cups and two Champions League titles. During those 26 years, Ferguson had star midfielder Giggs on his squad, who spent his entire professional career in sheer dominance with the Red Devils (1990-2014).

Tom Brady and Bill Belichick (19 seasons and six Super Bowls): Do we even need to remind you of these two? They've spent 19 seasons together and won six Super Bowls — including the most recent one in February. Fans of the New England Patriots hope that Brady (41 years old) and Belichick (67) never say goodbye to football.

Derek Jeter, Mariano Rivera and Joe Torre (12 seasons and four World Series): Arguably one of the best MLB managers of all time, Torre led the New York Yankees to glory, winning four World Series in five seasons: 1996, 1998, 1999 and 2000. Having Jeter — aka "Mr. Clutch" — at shortstop and Rivera, the greatest closer in baseball history who was just inducted into the Baseball Hall of Fame, didn't hurt either.

Franco Harris and Chuck Noll (12 seasons and four Super Bowls): The Steelers brought glory to Pittsburgh in the 1970s, and running back Harris was a huge part of that, winning four Super Bowls in six years (1975, 1976, 1979 and 1980). The late Noll spent his entire head-coaching career — 23 years — at the helm of the Steelers, and his four Super Bowl victories rank second behind Belichick's six for most by an NFL head coach.

Terry Bradshaw and Chuck Noll (14 seasons and four Super Bowls): Noll also was lucky to have an all-time great quarterback on his team during the Steelers' run. In his 14 seasons with Pittsburgh, Bradshaw helped the team win four Super Bowl titles.

Kobe Bryant and Phil Jackson (11 seasons and five NBA championships): The face of the Los Angeles Lakers franchise — still — is undoubtedly Kobe Bryant. He spent all 20 years of his basketball career with L.A. and helped the Lakers to win five NBA championships. The last NBA team to three-peat? The Lakers, in 2000, 2001 and 2002. Bryant, still with head coach Jackson, also won again in 2009 and 2010.

Joe Montana and Bill Walsh (10 seasons and three Super Bowls): "Joe Cool" set quite a few records during his 14 seasons with the San Francisco 49ers. With Walsh as the head coach for 10 of them, Montana won four Super Bowls (1982, 1985, 1989 and 1990) and was named Super Bowl MVP three times. After Super Bowl XIX in 1985, in which Montana defeated Dan Marino and the Miami Dolphins, Walsh (rightly so) declared: "Joe Montana is the greatest quarterback today, maybe the greatest quarterback of all time."

Otto Graham and Paul Brown (10 seasons and seven NFL championships): Brown not only founded the Cleveland Browns, but he had a coaching career that spanned 25 seasons with them. Before the Browns joined the NFL in 1950, the team won four All-America Football Conference championships. Then, Brown and Graham won three NFL championships together, in 1950, 1954 and 1955.

Bill Russell and Red Auerbach (10 seasons and nine NBA championships): The paring of Russell and Auerbach helped create what could be called professional sports' greatest dynasty, combining to win nine NBA titles with the Boston Celtics, first in 1957 and then every year from 1959 to 1966. Russell — who also won two titles as a player-coach after Auerbach retired — was so dominant that the NBA renamed the NBA Finals MVP trophy after him in 2009.
---
Short-term winningest player and coach duos (Five or fewer seasons)
---
Duos too good to leave out but didn't fit in either category
Wayne Gretzky and Glen Sather (nine seasons and four Stanley Cups): Sather brought Gretzky to the Edmonton Oilers in the 1980s, and a glorious hockey dynasty was born. "The Great One" and Sather helped lead the Oilers to four Stanley Cup championships (1984, 1985, 1987 and 1988) and forever changed the face of hockey.




Bart Starr and Vince Lombardi (nine seasons, six NFL championships and two Super Bowls): If the trophy you get when you win a Super Bowl is named after you, there is a clear reason why. Lombardi led the Green Bay Packers to six NFL Championships (1956, 1961, 1962, 1965, 1966 and 1967). The team also won the first two Super Bowls ever, in 1967 and 1968, with Starr at the helm. Starr was not selected by the Packers until the 17th round of the 1956 NFL draft, but he clearly was a success with the team, playing with them until he retired after the 1971 season.

Michael Jordan and Phil Jackson (eight seasons and six NBA Championships): How can you talk about greatness without referencing MJ and Phil? With Jackson as head coach, the Chicago Bulls made the playoffs every season from 1987 to 1998, winning the NBA championship with Jordan six times (1991, 1992, 1993, 1996, 1997 and 1998). Jordan, perhaps the greatest basketball player ever, also won the NBA Finals MVP every year the Bulls won it all.

Joe DiMaggio and Joe McCarthy (eight seasons and five World Series): As general manager, McCarthy led DiMaggio and the "Bronx Bombers" to seven World Series championships (1932, 1936, 1937, 1938, 1939, 1941 and 1943). And for someone who spent his entire 13-year career with the same team, center fielder DiMaggio is sure glad he did so with the Yankees. DiMaggio ended up winning nine World Series (1936, 1937, 1938, 1939, 1941, 1947, 1949, 1950 and 1951) with the Yankees, but he served in World War II, causing him to miss the 1943, 1944 and 1945 seasons.
Eagles' Jenkins talks mental health at summit
The topic was mental health. Michelle Obama, addressing a crowd of more than 50 first-generation college-bound students at her annual Beating the Odds Summit at Howard University on Tuesday, looked over at Philadelphia Eagles safety Malcolm Jenkins as she finished her point and signaled for him to take the floor.
"I know for me, mental health wasn't anything we talked about when I was in school. But … I am in therapy once a week at this point in my life because I recognize that I'm somebody who's responsible for a lot of things and I put a lot of pressure on myself, and so with that comes stress and a little anxiety," he said.
"A lot of you, if you're a first-generation college student, you're the first one to do it, you feel like your family is counting on you, depending on you, you have these outside pressures that are on top of being a college student, you have to find ways to recognize that and deal with that in a healthy manner."
This is how Jenkins spent his final day before the start of the Eagles' training camp: A chair over from the former First Lady, speaking to a group that had overcome everything from homelessness to special needs to be in a position to receive a post-secondary education. Tuesday's workshop was designed to equip the students with strategies to ensure they see things through, and Jenkins was called on to help in that messaging.
"For me, that was an easy yes," Jenkins said.
The Players Coalition, co-founded by Jenkins, has supported Obama's Reach Higher Initiative before. In May, coalition members including Anquan Boldin, Demario Davis and Josh Norman traveled to California for its college signing event.
A first-generation student herself, Obama started the Reach Higher Initiative during her time in the White House. According to stats provided by Obama's camp, students from the bottom income quartile have a nine percent six-year college graduation rate, compared to a 73 percent graduation rate for students from the upper-income quartile. In some communities, as many as 40 percent of students who are accepted to college never make it there, for reasons that include financial burden and fear of leaving home.
"Every single one of you here had to get over some deep, dark obstacle, whether it was in your own mind or something that was real that was going on in your lives and that has given you the strength to do what you have to do next," Obama said. "So I just want you to know: You can do this. You belong here. This was not a mistake."
The Players Coalition has three main areas of focus: Criminal justice reform, community and police relations and education and economical advancement. Much of the effort since the coalition's inception in 2017 has gone towards criminal justice reform. They are beginning to ramp up the other two pillars of the operation.
"We've already shifted some of that [focus] already. … We've started to roll out a little bit more in that area and will also be rolling out some campaigns around policing this fall," Jenkins said. "We're still growing in the development of all of these focus areas."
The focus on the educational side was on display Tuesday, as Jenkins offered some advice to the students that Obama's event had gathered.
"Allow yourself to grow. Allow yourself to grow into whoever it is you're going to become. College is not the end goal, it is just a process," he said. "So there is going to be plenty of times when you fail. You might meet some confusion. You may change majors. Whatever it is, you might take some time to figure out what you really want to do. Your beliefs may change as your experiences change. But treat college as just that: An opportunity to learn and grow as an individual and really find your own purpose."
Christian McCaffrey does it all
Inside a Denver recording studio not far from his offseason home, Carolina Panthers All-Pro Christian McCaffrey, one of the most versatile gridders in a league full of elite hybrids, reveals the off-field obsession that could one day add a few new hyphenates to his job title: RB-pianist-songwriter-music producer.
As McCaffrey, 23, tickles the ivories, his pals Nick Shanholtz and Rob Abisi, better known as DJ duo Lost Kings, tackle the drums and bass guitar, respectively — while Levi Waddell, aka rapper Levi Todd, pens lyrics on the fly. What begins to emerge from this 90-minute recording session is a pop/hip-hop track that defies genre, much like the third-year pass-catching ball carrier who's doing much of the quarterbacking here.
Eventually, the group gathers in the control room to assess the unfinished product. "I think it's missing a layer," McCaffrey says before sticking me on the cowbell because, as he says, he has "a fever, and the only prescription is … more cowbell!" When the laughter subsides, the versatile star adds a layer of his own via the harmonica, which he taught himself to play back at Stanford when he wasn't busy trying to win the Heisman Trophy. I get the feeling we'll be sitting here into the early morning hours laughing, fist-bumping and "adding layers" if I don't play party pooper and pull McCaffrey aside for an interview.
ESPN: Why are we in a recording studio?
Christian McCaffrey: One of my big passions in the offseason, or just when I get time off in general, is playing music, and I've been fortunate to be around people who are a lot more talented than I am. I met Rob and Nick a long time ago, and every time I go to LA, I'll hit them up and we'll just jam in different genres. And Levi is one of my best buds from high school. First time we all jammed, it was a come-to-Jesus moment where we were like, "We should do something with this."
What sparked your interest in performing?
My childhood neighbor played piano, and he told me we'd get all the girls if I learned how to play-and I was probably in eighth grade, going into high school, so I said, "Sign me up." There was a talent show with a cash bonus, so we learned a little song together [Pachelbel's "Canon in D"] and ended up winning it, took home one of those big checks, like in Happy Gilmore.
Who are your musical influences?
There's a guy right now who's probably my favorite: Tyler Childers, a country artist. I love his sound. I love Mac Miller. I'm a big Drake fan. I love Bob Dylan, Johnny Cash, Bob Marley. I probably have the most versatile playlist in the world, from country to rap to classic rock to classical.
What's the most embarrassing thing you listen to?
I'm proud of everything I have in my library.
I'll give you one if you give me one: I like Taylor Swift.
I love Taylor Swift. I'm not ashamed of that. Why are you embarrassed by that?
You're right: I love Taylor Swift.
There you go.
Could we hear an album one day?
[Laughs] That'd be really cool. We'll see where it goes. I'm still learning. I've always played by watching somebody's fingers and listening, but these last two weeks I told myself that I was gonna commit to learning how to read actual sheet music and trying to, like, classically train myself. It's funny, I'm back at "Ants Go Marching."
Can you write lyrics or sing?
I've written lyrics, but it's not for me. And the downfall of my music career might be singing. [Laughs] I kind of have a vision of how somebody should perform a certain song.
You do seem to know exactly how it all fits together, like a producer.
That's a fair description. Being able to produce music and grow a song from nothing is a lot of fun. With technology nowadays, I have a keyboard where I can play any instrument and do it all myself on the computer. And the beauty of it is, every once in a while you make something you like. Ed Sheeran said songs are weird — they come and go and you never know when they'll show up.
Cam Newton has said you have "swagger through the roof." What in the world could zap your swagger, besides a microphone?
[Laughs] That's an honor coming from the Drip God, as he calls himself. But to answer your question: spiders. I'm not a fan of spiders. Not at all. I could do without insects.
So, if a spider dropped on your lap right now?
I'd freak out. Yeah, that'd be no good.
If you could do a collab with any teammate, who'd you have on your album?
I'd have Greg Olsen on the mic. He's an electric singer. Anytime there's a song on, he's the first one belting it. Pregame, he'll be belting out Adele, and it's the best thing ever.
This offseason, we discovered another thing you're good at: being ripped. What's it like to go viral for a photo of your muscles?
[Laughs] The internet's a crazy place. When I came into the league, I was 20, so naturally I'm getting bigger, faster, stronger. But I'm only about a pound or two heavier than last year. I like playing at around 207, and that's what I'm at right now. But I'm definitely stronger. This is one of the first times that I've been able to train for a full offseason because I came out of the season healthy. That makes a huge difference.
Coming into the league, some doubted that you could be an every-down back — in part, let's be real, because of the color of your skin. How did that make you feel at the time?
I just kinda let that pass, know what I mean? I get it, there's not a whole lot of white running backs out there. [Laughs] It's just the way it is. But every single NFL player has doubters. I've always fought the criticism that I can't run between the tackles, but I feel like I've kind of put that to rest. [McCaffrey ranked first last year in yards per carry between the tackles among backs with 150-plus attempts.]
Because of your versatility and the versatility you afford an offense, The Ringer declared: "Christian McCaffrey is the future of football." Do you think that's true for you and guys like you?
Yeah, I do. The league is shifting. It's becoming a smaller league, way more speed-dominant. So you're seeing more backs like me who can run between the tackles, pass-protect, catch and become matchup nightmares. You also have more receivers who are getting jet sweeps, doing different things with the ball in their hands. A lot of it stems from college offenses. There's very few pro-style college offenses nowadays, so you see NFL coaches adapting to the players that are coming in. That's why [Panthers offensive coordinator] Norv Turner has been huge for me. He's a guy who's been in the league so long, but you constantly see him adapting.
He's also a guy who's coached some of the greats at your position.
Yeah, I've seen more LaDainian Tomlinson and Darren Sproles clips than anybody out there, and I hear stories all the time about those guys — Adrian Peterson, LT, all the guys I watched growing up. Knowing that their coach believes in me is something I really appreciate.
Last year you ran, caught or threw for 14 touchdowns. Where's one place on the field that I can't pay you to line up at?
[Laughs] You could pay me to line up anywhere if the money's good.
Where would you like to line up and haven't yet?
Oh man, I'd love to play safety. I played it when I was a kid, back when I was watching guys like Brian Dawkins and John Lynch come down full speed and hit someone. Or rush end! I always got a ball in my hand, so being able to let loose would be really fun. But Coach [Ron] Rivera would probably shut that down quick.
You're a fantasy superstar. Have fantasy owners been showing their appreciation?
Every time I'm in public, somebody's like, "Yo, thank you so much for my fantasy points last year." I've had multiple waiters and waitresses give me free meals for helping them win their league. Hopefully I do it again this year, otherwise the tabs might go up.
Last season was a forgettable one for the Panthers. Give your fans reason for hope. Why will this year be different?
This is a team that's a few years removed from the Super Bowl with a lot of the same guys from that team. We got great leaders with Luke Kuechly, Cam, Greg Olsen, and we just added Gerald McCoy, Chris Hogan, guys who've won in this league and know what it takes. We have the talent. It's just a matter of staying healthy, executing on Sundays.
How would you assess your own leadership skills right now?
I've had more of a vocal presence this year. We've got a young running back room — so I'm able to verbalize things that I see for them. Other than that, I'm just working as hard as I can, showing guys what it takes. I'm lucky to have come into a team with guys like Luke Kuechly, Thomas Davis and Greg Olsen, who set the standard.
Your dad, Ed, won three Super Bowls, two here in Denver when you were a child. Do you have any memories of those wins?
My only memory is a picture on our wall from SI where I'm running on the field with confetti and a big ol' blond 'fro. I was [not quite] 2 and 3 when he won those. I don't know if I've ever seen his rings. He keeps them locked up.
He's afraid you're gonna steal them?
[Laughs] No, he's just a humble man. I want my own rings. One for every year that I play. That's the goal.
What other goals have you set for yourself?
I got a lot of goals that I keep to myself, but one goal is definitely the 1K/1K club [1,000 yards rushing and receiving]. I almost did it last year and it was a bummer not getting it. Two guys have done it — Marshall Faulk and Roger Craig — and there's a race to be the third. There's a lot of backs in the league who can get there.
Yeah, in a time when backs are being devalued, there are a heck of a lot of good ones out there.
Especially in the NFC. I think Saquon [Barkley] is a great back. Todd Gurley. Zeke [Ezekiel Elliott]. David Johnson. Melvin Gordon. Phillip Lindsay, a hometown guy in Colorado. Alvin Kamara is a guy I'm watching constantly.
If you had to pick, which one do you want more: Football Hall of Fame or the rock 'n' roll one?
[Laughs] Both would be great. That might be a first. I'd never considered that one. There ya go, that's another goal. Perfect.