Packers weighing options with safety Josh Jones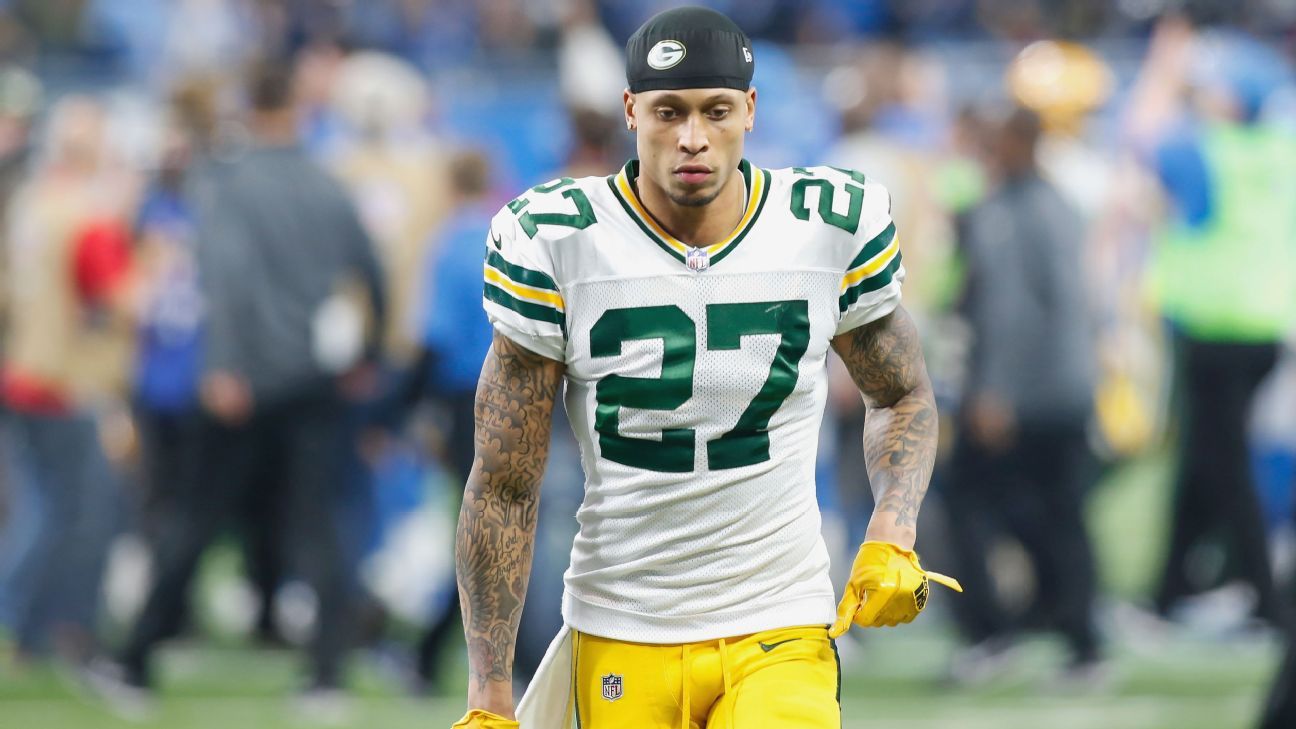 GREEN BAY, Wis. — If the Green Bay Packers trade or release safety Josh Jones, it won't be because that's what the former second-round pick wants. That's how general manager Brian Gutekunst is playing it.
"I think it's more about what our team desire is, and right now we're kind of working through that," Gutekunst said Tuesday. "But he's a very talented player. He's shown that on the field at the times. We'll go along and see where it goes."
Jones reported for the start of the Packers' mandatory minicamp, which opened Tuesday, but did not practice. Gutekunst said he was held out because of a hamstring injury, but it's possible the Packers don't want to put Jones on the field because if he were to get hurt, they would have trouble trading him or cutting him.
A source told ESPN last month that Jones wanted the Packers to trade him or let him go, and that's why he left the team during the middle of the voluntary offseason program.
The Packers could have fined Jones had he not reported for this week's minicamp. When asked Tuesday where things stand, Jones told ESPN: "I have no idea. All of those conversations are left up to my agent and Brian."
Added Gutekunst: "Obviously Josh wasn't here in the voluntary session. He got back yesterday. It was good to see him, get him in the building. Dealing with a little bit of a hamstring. But there's been constant communication with us and Drew [Rosenhaus], his agent, so we're kind of going from there."
Jones, the 61st overall pick in the 2017 draft, has not found a consistent role for the Packers. The safety has been used at times as an inside linebacker in the dime defensive package. He has started 12 games in his two years but didn't become a starter last season until late in the year.
The Packers opened last season with former undrafted rookie Kentrell Brice and Ha Ha Clinton-Dix at safety. Even after Clinton-Dix was traded midway through last season, Jones was bypassed for a starting job when the Packers moved Tramon Williams from cornerback to safety. It wasn't until after Brice sustained an ankle injury in Week 10 that Jones finally got his first start of the season in Week 11.
Since then, the Packers signed former Chicago Bears safety Adrian Amos to a four-year, $36 million contract in free agency and drafted safety Darnell Savage Jr. at No. 21 overall.
"We've been in constant communication," Packers coach Matt LaFleur said. "I think we're on the same page in terms of what the expectations are and where [Jones] fits with us. We certainly want him a part of what we're doing moving forward.
"I think he's a versatile guy. He can fill a lot of roles, especially in [coordinator Mike] Pettine's defense where we're going to play multiple defensive backs and put these guys all over the place. I think he's a talented young player that I think can help us."
Jones said he reported for minicamp because it's mandatory. "I'm also a part of the Green Bay Packers," he said, "so that's why I came."
It's unclear what role Jones would play if the Packers kept him on the roster this season.
"I've been here the past two years, but that's not up to me," Jones said.
When asked whether he thinks his best opportunity would be with another team, Jones said: "I don't know. I really don't know. I don't know what the good Lord has planned for me. I don't know what path he's going to lead me down. Whether that's here or there or anywhere, I know that I'm going to thrive."
Cowboys LB March-Lillard will revert to March
Dallas Cowboys linebacker Justin March-Lillard is changing the name on the back of his uniform to read simply "March."
The sixth-year pro wrote about the change on Twitter on Sunday, saying that March is his legal name and that of his wife and children.
I wore "March-Lillard" on my jersey. to honor my father who Fought through 3 different cancers and multiple heart surgeries in his life. Beating the first 2 and passing from Pancreatic Cancer in 2016. He never missed a game. Even when he was going through chemo. pic.twitter.com/O6E1oRq4Ts

— Jay March (@Bubba_March) August 25, 2019
And now I am back to wearing my legal name, my children and wife's last name "March". It is time I lead for my family as my father did for his. This was a hard decision to make but the look I get from my son reminds me of how I looked at my father. Like the Greatest Super Hero.💙 pic.twitter.com/h1pPkPVY7t

— Jay March (@Bubba_March) August 25, 2019
March wore jerseys with both "March" and "March-Lillard" on the back while in college at Akron. And after initially wearing "March" in the first weeks of his NFL career with the Kansas City Chiefs in 2015, he switched to "March-Lillard" in 2016.
Steelers vs. Titans – Game Summary – August 25, 2019
Down:3rd & 9
Ball on:PIT 41
Drive:2 plays, 1 yard2 plays, 1 yard, 0:06
(8:52) (Shotgun) J.Samuels left guard to PIT 41 for 1 yard (L.Sims).
| NBC | 1 | 2 | 3 | 4 | T |
| --- | --- | --- | --- | --- | --- |
| Steelers | 15 | 0 | | | 15 |
| Titans | 0 | 3 | | | 3 |
first Quarter
PIT
TEN

SF

9:18

Marcus Mariota Sacked by Stephon Tuitt For 4 Yrd Loss for Safety

2 plays, -4 yards, 0:12

2
0

TD

4:31

JuJu Smith-Schuster Pass From Ben Roethlisberger for 17 Yrds, Two-Point Conversion Pass Attempt Fail.

9 plays, 58 yards, 4:41

8
0

TD

1:52

James Washington Pass From Mason Rudolph for 41 Yrds, C.Boswell extra point is GOOD, Center-K.Canaday, Holder-J.Berry.

2 plays, 52 yards, 0:45

15
0
second Quarter
PIT
TEN

FG

13:31

Ryan Succop Made 24 Yrd Field Goal

7 plays, 43 yards, 3:25

15
3
Data is currently unavailable.
Dolphins cut McDonald in wake of position switch
DAVIE, Fla. — The Miami Dolphins released veteran safety T.J. McDonald on Sunday night.
The move comes as a bit of a surprise as McDonald has been one of the Dolphins' defensive leaders, who seemed to embrace a role switch becoming a hybrid safety-linebacker in Miami's new scheme.
McDonald, a starting Dolphins safety over the last two seasons, was due a $5 million salary in 2019. He was already guaranteed $3.6 million of that sum.
The Dolphins haven't hidden the fact that 2019 will be a rebuilding season for them and they will part will several veteran players to make room for younger players to shine. McDonald is the latest in a busy offseason of departures.
Veteran safety Reshad Jones was rumored to be on the trade block this summer, but he said Sunday that he got assurances from the Dolphins that he would remain in Miami for the 2019 season. Instead, it seems McDonald was the veteran safety the Dolphins decided to move on from before the season began.
The Dolphins are expected to start Bobby McCain at free safety and Reshad Jones at strong safety while promising second-year defensive back Minkah Fitzpatrick is expected to play both nickel cornerback and safety.
McDonald, 28, signed with the Dolphins in 2017 after spending the first four years of his career starting for the Rams.
The Dolphins offseason departures include quarterback Ryan Tannehill and defensive end Robert Quinn via trade, receiver Danny Amendola, defensive end Andre Branch, guard Josh Sitton via release. More veteran departures could be coming before cutdown day.
McDonald had three interceptions and 86 tackles in 14 games (all starts) last season. He won the 2018 Good Guy award voted upon by the South Florida media that cover the Dolphins on a regular basis.