Josh Norman's offseason: Blue Angels, Rio Grande, helping others – Washington Redskins Blog
ASHBURN, Va. — The spring adventures ended late last month with Josh Norman losing consciousness in a flight with the Blue Angels. Norman tried to fight it, but it played out just like the pilot had predicted.
Here's what the Washington Redskins cornerback recalls: boasting to the pilot he wouldn't vomit; reaching a G-force of 7, and then …
"My neck started to get tight, my hands started to grip and I couldn't tell him to stop. We got to go through it, whatever it is," Norman said.
The pilot asked if he was OK. Norman mumbled something, only to have the pilot ask, "Are you sure?"
The easy answer was: No.
"Then I'm slowly losing consciousness, my hand started to go and I was like, 'Oh my gosh,'" Norman said. "Next thing I know, pssssssssh, I'm asleep. Like two, three seconds, he's going, 'You OK, buddy?'"
The need for speed💨 has always compelled me.. What a honor to fly with the angels on a ride so few can stomach. Thank you #7 for the BLAST🚀 #LiveFreeintheSky @BlueAngels pic.twitter.com/rxKxPuB6PQ

— *Joshua R. Norman (@J_No24) May 24, 2019
Norman was fine because he was doing what he wanted — and needed — in the offseason. His travels took him to Flint, Michigan, to hand out bottled water; and to Rio Grande Valley in Texas to hand out supplies to immigrants.
He did not attend the Redskins' voluntary workouts. Last year, he participated in "Dancing With the Stars," though he also still participated in the Redskins' workouts.
"When it's time to come back to work, that's what we do," Norman said. "We don't miss a beat. Athletes like myself, we have a different mindset about this. I love the game, I really do, but I respect the game. When I come back I treat it as I did as I was a young kid. I love it and I always will, but there's other priorities that take place as well. My purpose in life is to help others as well."
Norman certainly looked like he was in shape and also showed his competitive side during practice Thursday. Norman wanted to face rookie quarterback Dwayne Haskins. Norman did what the Redskins hope they see more of this season: He made a diving interception for a pick in the end zone, then bounced up and sprinted to the other end zone.
As Norman was running downfield, coach Jay Gruden told an official: "Throw a flag; I want to f— with him."
"He's a great competitor, that's what makes him great," Gruden said. "He may not have the speed you might want at corner. But the one thing that sets him apart from everybody else is competitiveness. He tends to have better games when he's on better people and he feels challenged. He's got to understand every player is a challenge in the NFL. He's got to step up his game at all times, but he's an excellent player and, I think, very underrated in people's eyes."
Norman, who will count $14.5 million vs. the cap, will start opposite Quinton Dunbar. Norman has been outspoken at times, but the Redskins are good with him.
"I'm great with Josh. He makes our football team better," Gruden said. "That's all I care about, really. We're going to have some issues from time to time where we don't see eye-to-eye, but he's got to understand I am the head coach and what I say goes. Not everybody believes that all the time but that's usually the case. Especially him, but I like Josh. I like where he's at. Wish he was here for OTAs but those are voluntary. But, he was here the last couple days and we see what type of difference he makes. [He] had two picks in two days. We need Josh, we like Josh a lot."
But Norman, entering his eighth season and fourth with Washington, wants to be about more than just football. In March, Norman and New Orleans Saints linebacker Demario Davis went to Flint.
"It's been neglected," Norman said. "I see they needed help, so why not? I'm in a position where I can and I do. That's the difference between people. Whether it's something you can do about it or not, some don't. Others do. And I'm one of those people that are others."
In April, the two players went to Rio Grande Valley together as well. They had also traveled to the border with supplies last offseason.
"You just see how they're living, they want freedom," Norman said. "They're doing it the right way, some people are not. Those are the ones you got to be concerned about, which I understand that. But the ones who are, let's cut them a break. They come and try to get away from something. A lot of people, we have the common decency, we have the necessities. Water, a bed, food, go to sleep at night, we get back up, put on our shoes and go to work. Some people, they don't have that all, they don't even have a cot to sleep on. So, just be mindful of that and understand that there's a lot of people out there that are worse off than us."
Norman said in July, he's going to Afghanistan (he was photographed this offseason at their embassy in Washington D.C.). He's also going to his hometown of Greenwood, South Carolina, to help open a teen center. Then, Norman said, he'll go on a fun trip later in July. And he'll continue to show more sides of himself.
"A lot of people what they say is, 'He's a controversial guy. He's always in it with someone,'" Norman said, "But … you really don't know me. You really don't. And the thing is, once you see all the stuff that I do and I post it and I put up and I go out and serve others, that's who I really am. I can't hide or try to run from that. Either you are or you aren't. I'll be doing more stuff. It's going to be pretty big. … This offseason is going to be really fun for us."
Bowlen, longtime Broncos owner, dies at age 75
Pat Bowlen, the longtime owner of the Denver Broncos, died late Thursday night at his home in Denver, his family announced. He was 75.
Bowlen had been suffering from Alzheimer's disease.
"We are saddened to inform everyone that our beloved husband and father, Pat Bowlen, passed on to the next chapter of his life late Thursday night peacefully at home surrounded by family," his family said in a statement that was released through the team. "His soul will live on through the Broncos, the city of Denver and all of our fans."
Bowlen purchased the Broncos in 1984, and the team went on to reach the Super Bowl seven times under his ownership, winning the title in 1997, 1998 and 2015.
Bowlen stepped away from the Broncos' day-to-day operations in 2014. He will be inducted into the Pro Football Hall of Fame in August.
Strong side 'good spot' for LB Griffin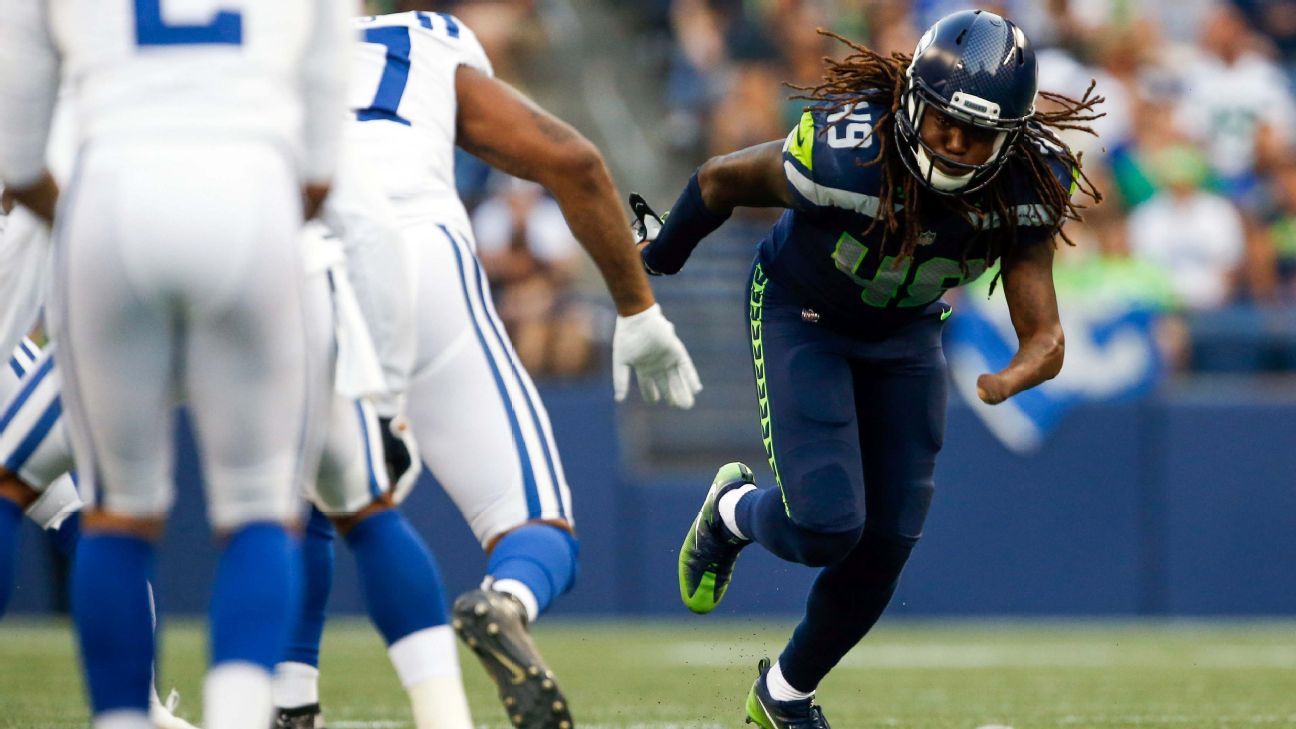 RENTON, Wash. — Second-year linebacker Shaquem Griffin is back at his natural position as he tries to improve upon an up-and-down rookie season and stick with the Seattle Seahawks.
They're playing him on the edge as a strong-side linebacker, the same role he had at Central Florida, and the huge smile on his face told you everything you need to know about what he thinks of the switch.
"It's exactly the same thing," Griffin said of his current role compared to what he did in college. "It's no change. I'm rushing, I'm dropping, I'm going man-to-man in coverage, I'm setting the edge. I had so much time, and I remember so much from college on how I need to set the edge and what's best for me and how I need to do it, it just snapped right back as soon as they put me there and I was like, 'I'm having so much fun again.' It's just such a big difference because I feel so comfortable there."
The Seahawks used Griffin as a weak-side linebacker last season after choosing him in the fifth round, which made him the first one-handed player to be drafted in the NFL's modern era. They initially felt that Griffin and his 4.38-second speed over 40 yards would be best suited for the weak side, the position in coach Pete Carroll's 4-3 defense that plays behind the line of scrimmage and is thus more often in space. But he struggled while making a spot start for K.J. Wright in the opener and barely played on defense the remainder of the season.
The Seahawks ask their strong-side linebackers to play on the ball and set the edge. Barkevious Mingo started there last season, but Carroll revealed after the Seahawks' final minicamp practice Thursday that the plan is for Mingo to be used as more of as an edge rusher in 2019. That's a need area for the Seahawks with Frank Clark gone and his replacement, Ezekiel Ansah, coming off shoulder surgery that is expected to sideline him past the start of training camp and maybe into the regular season.
That will leave some open snaps at strong-side linebacker. Griffin has been working there in base defense and at the weak-side spot in nickel packages. Carroll has said this could be the best group of linebackers he's had in Seattle, which means the battle for roster spots behind All-Pro Bobby Wagner, Wright, Mychal Kendricks and third-round pick Cody Barton will be competitive. Seattle also drafted Ben Burr-Kirven in the fifth round.
"It's been really a good deal for him," Carroll said of Griffin's switch. "We see how much background he has on the edge. He's played safety and outside linebacker for the most part in his career. He's just more comfortable out there. That doesn't mean that he can't play behind the line of scrimmage. He's gained a lot there, but you can see him on the edge, in space and coming off the edge and pressures and stuff like that, that it's a good spot for him. So he's had a very, very good offseason with us."
The biggest adjustment Griffin said he faced in moving to the weak side last season was staying patient and not reflexively flying to the ball, which would cause him to abandon his run gap. He described the reads as easier at the strong-side position.
"The line blocks down, you're taking off," he said. "The line blocks to you, you're setting the edge. That's two things. When it comes to being behind the ball, you've got pullers, you've got to stunt the line one way or you've got to make sure you adjust the line before the play starts if they motion over. There's just so much more into it that now if you put me on the edge, it's like boom, let's play ball."
Griffin suffered from a congenital birth defect called amniotic band syndrome and had his left hand amputated at age 4. His backstory and the fact he was being reunited with his twin brother, Shaquill, Seattle's starting left cornerback, made him the darling of last year's draft. With that came so much attention that the Griffin family fielded interview requests from China and Italy.
This offseason was "definitely" easier with less hoopla, he said.
"Don't have to worry about all the extra, everybody trying to hype your head up and get you big-headed and stuff like that and tell you what you can and cannot do," he said. "More so for me it was like, take time for yourself, find out who you are and find out what you want to do, find out your goals and what you want to get out of the next season and just go after it. Working out every single day, making sure I was getting my body right, making sure I was eating right and let's focus on my stuff instead of letting everyone focus on me."
The twins hired a personal chef this offseason at the suggestion of Shaquill, who dropped 12 pounds. Shaquem said he's moving around better after cutting out fried foods, fast food and pork.
And they've been working on sack dances in the event Shaquem records one.
"We're gonna have a few," Shaquem said. "We're gonna have a whole little dance routine. Don't worry about that."
Cardinals release CB Amerson in surprise move
The Arizona Cardinals released veteran cornerback David Amerson on Thursday, a surprise move as the team wrapped up its offseason workouts.
Amerson, 27, had been considered a favorite to start at one of the team's outside cornerback spots with Patrick Peterson suspended for the first six games of the season for a violation of the PED policy. Robert Alford, who signed a three-year contract with the Cardinals earlier this offseason, is expected to start at the other outside cornerback spot.
The Cardinals also have rookie cornerback Byron Murphy, who they selected with the first pick of the second round of the 2019 draft, and veteran Tramaine Brock on their depth chart.
Amerson signed with the team last November and appeared in six games, including five starts.
The six-year veteran has appeared in 74 games (61 starts) for three teams in his NFL career.
He has nine interceptions, 65 passes defensed, two forced fumbles and 273 tackles since the Redskins selected him in the second round (51st overall) of the 2013 draft.