Prosecutors granted more time in Kraft case
Any hopes Robert Kraft might have that his solicitation of prostitution case will be resolved before the NFL season begins took a hit Tuesday, when a Florida judge granted prosecutors' request to extend the time they have to bring Kraft to a speedy trial.
It's a small victory for the Palm Beach County State Attorney's office after Judge Leonard Hanser handed them a major defeat earlier this month, ruling that video surveillance of Kraft — the only evidence known to implicate him — could not be used as evidence in the case.
Prosecutors announced their intention to appeal that decision Friday, and it won't be heard until Sept. 4 at the earliest. Without knowing the result of that appeal, prosecutors argued they can't prepare for a trial and thus need extra time to bring a case to court. Hanser granted the request, although he did not set a specific timetable.
Kraft was charged in February with two misdemeanor counts of solicitation after police said he was videoed paying for, and receiving, sexual services at the Orchids of Asia Day Spa in Jupiter, Florida, in January. Kraft has pleaded not guilty.
Jaguars fine LB Smith $88K for missing camp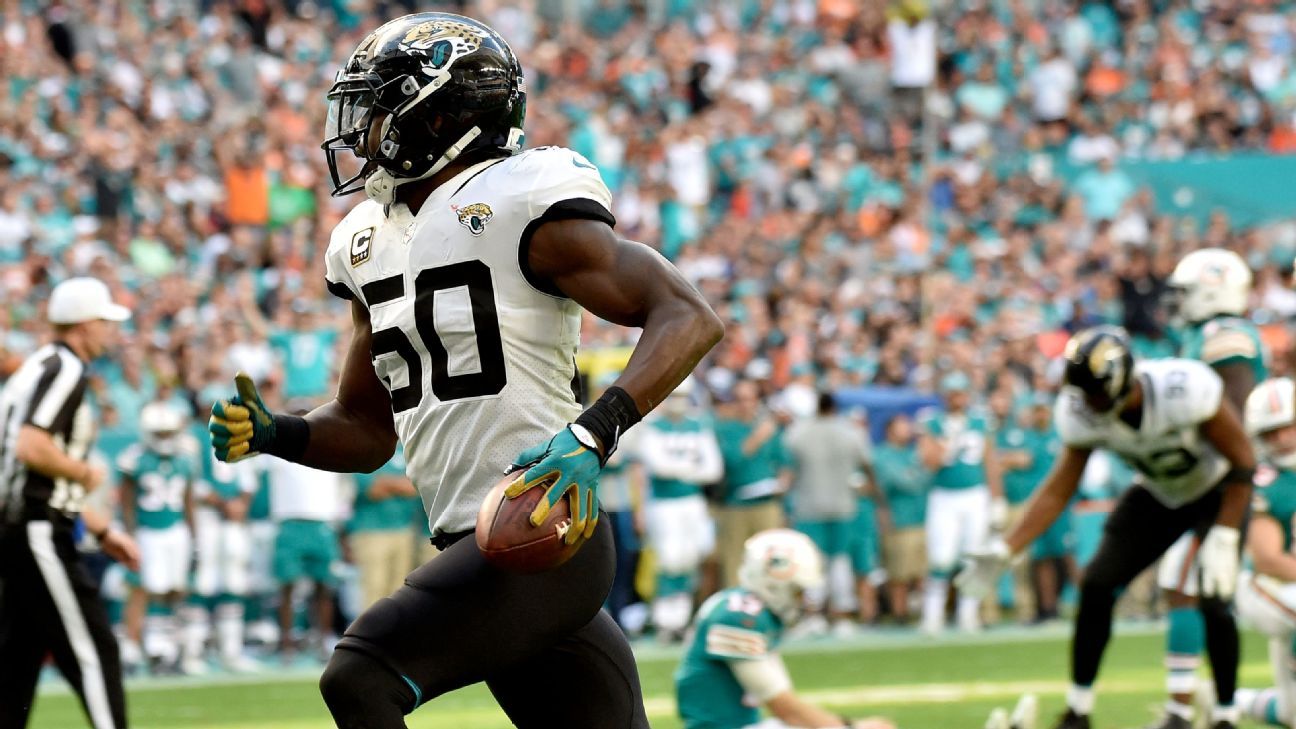 JACKSONVILLE, Fla. — Absent linebacker Telvin Smith says the Jacksonville Jaguars fined him $88,650 for missing the team's mandatory, three-day minicamp this week.
Smith posted a picture of the fine letter on his Instagram story Saturday, adding, "it's still love!!" The letter shows the Jaguars fined him $14,775 for missing the first day, $29,550 for the second and $44,325 for the third. The letter says the fines are required by the 2011 collective bargaining agreement.
Defensive end Yannick Ngakoue, who wants a new contract, also skipped the camp and was expected to get fined equally.
Smith announced last month that he's stepping away from football to "get my world in order."
A Pro Bowl selection in 2017 and the team's top tackler the past two seasons, Smith can avoid future fines by filing retirement paperwork with the NFL. The Jaguars would then be able to place him on the league's reserve/retired list, which would pause his contract and free up a roster spot, as well as $9.75 million in salary-cap space. It also would protect Smith from fines and NFL testing policies.
Smith has three years remaining on his current deal, which averages $10 million annually in base salary.
Jaguars coach Doug Marrone insists the team has moved on and plans to be without Smith in 2019, but his locker remained intact during the minicamp.
O.J. joins Twitter — 'I got a little gettin' even to do'
LOS ANGELES — O.J. Simpson launched a Twitter account with a video post in which the former football star said he's got a "little gettin' even to do."
Simpson confirmed the new account to The Associated Press on Saturday, saying in a phone interview while on a Las Vegas golf course that it "will be a lot of fun."
"I've got some things to straighten out," he said.
Coming Soon!!! pic.twitter.com/R1tXOuuLgO

— O.J. Simpson (@TheRealOJ32) June 15, 2019
He did not elaborate before he said he had to go and ended the call.
Simpson has generally kept a low profile since his release from prison in October 2017 for robbery and kidnapping over an attempt to steal back some of his sports memorabilia from a Las Vegas hotel room.
In the Twitter video, Simpson said his followers would get to read all his thoughts and opinions on "just about everything."
"Now, there's a lot of fake O.J. accounts out there," he said, adding that this one would be official. He appeared to record the message himself and ended it with a grin.
The 71-year-old recently told AP that he was happy and healthy living in Las Vegas 25 years after the killings of his ex-wife and her friend. Nicole Brown Simpson and Ronald Goldman were stabbed to death on the night of June 12, 1994.
Simpson was ultimately acquitted of the crime after a televised trial that riveted the nation and raised thorny issues of racism, police misconduct, celebrity and domestic violence.
Relatives of the two victims have expressed disgust that Simpson is able to live the way he does. Simpson was ordered to pay $33.5 million for the wrongful deaths of the two victims, but most of the judgment has not been paid.
Simpson has continued to declare his innocence in the two slayings. The murder case is officially listed as unsolved.
In his recent interview, Simpson told AP that neither he nor his children want to talk about the killings ever again.
"My family and I have moved on to what we call the 'no negative zone.' We focus on the positives," he said.
Inside the NFL contract that two Steelers won't sign – Pittsburgh Steelers Blog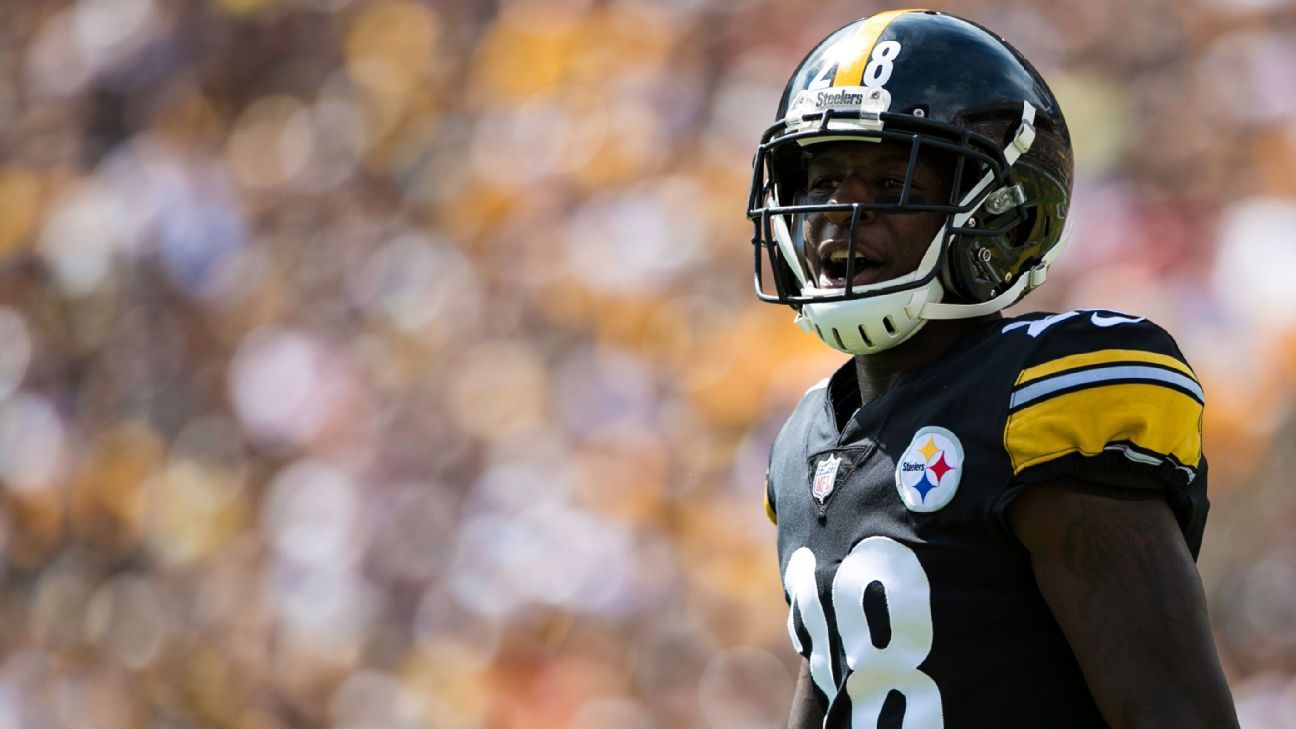 PITTSBURGH — Alejandro Villanueva considered walking away from football in 2017. He was 28 years old and beginning business school at Carnegie Mellon. His exclusive-rights free-agent status kept him on league-minimum money despite two years as a starter at left tackle.
So in 2017, Villanueva worked out with the Pittsburgh Steelers but didn't sign his exclusive-rights tender. Hours before the training camp reporting window expired, the Steelers signed him to a four-year, $24 million deal.
• Surprise offseason standout for all 32 teams
• Haskins 'deserves a shot' to start
• Gurley remains biggest question for Rams
• Lamar Jackson: 'A star in the making'
• Daniel Jones impresses, Eli still No. 1
"I can't say if it's better to sign now or later," said Villanueva during this week's minicamp, entering his third year on that deal. "But betting on yourself, in this business, usually works."
Intentionally or not, Villanueva set a precedent in the Steelers locker room that at least one player is following.
Steelers cornerback Mike Hilton finds himself in a similar situation, an exclusive rights free agent (ERFA) who refuses to sign the tender, at least for now.
The two have discussed the matter, Hilton said, and though Hilton isn't divulging the nature of those talks, he calls Villanueva "a guy I can go to with questions."
These are shared experiences of a tapped market.
ERFAs are players with expired contracts and two years or fewer of accrued NFL seasons. Teams can retain them on a one-year tender at a low number (around $645,000) with no negotiation and no chance for the player to shop his services. Right tackle Matt Feiler, who started 10 games last season, signed his tender this offseason.
Restricted free agents have three years of experience, and players get a bigger amount for that experience (guard B.J. Finney is set to make $3.095 million on a second-round tender).
This is a way for owners to keep good undrafted players before they can cash out. Hilton wants out of that scenario after two productive years as a slot corner for Pittsburgh.
But what Villanueva pulled off is "very rare," said former NFL agent Brodie Waters, a consultant who runs ESPN's Roster Management System. He estimates fewer than 10 players under the current collective bargaining agreement have landed new deals during their ERFA year.
"The player has zero leverage other than retiring," Waters said. "It would be extremely rare for the Steelers to do anything unless they identify they really want him, and he's willing to take a below-market deal. If he's played two years, they've got him for two more years. There's not a lot of incentive to do something."
Hilton's situation is complicated. He tackles well and ranks highly by Pro Football Focus for his play. He also suffered a few late-season struggles that included scout-team work in Week 15.
Villanueva's premium position and no viable options behind him likely helped his cause. And perhaps the Steelers knew signing him two years later would cost twice the amount. Villanueva, a Pro Bowler, considered that possibility before signing his deal.
Hilton has thought about that, too, but he knows where he wants to be.
"It's too early to see what's gonna happen, but I want to show the team I want to be here and want to be a part of this organization," said Hilton, who doesn't have plans to retire. "I wouldn't say it's a real tough situation because at the end of the day, it's still a nice opportunity. As players, you feel like of course you want to earn more. Either way it works out, I'm excited. Hopefully things work out in the long run, but if not, I'll do my best to go out there and help this team win."
Still, Villanueva feels for Hilton. He knows firsthand uncertainty over a contract is "not fun." Plus, as a former practice squad player, he knows Hilton didn't get an accrued season toward free agency for his 2016 work on multiple practice squads.
Villanueva believes the Steelers know that's a tough predicament for good players.
"You don't want to have a guy in the locker room who's not happy with his contract, especially when he has the backing of his teammates," Villanueva said. "He's been about it the right way. He's shown up every single day, not making it a big deal. For that, he gets a lot of respect from all of us."
The Steelers will soon show if Villanueva's deal was an anomaly or a new precedent. Hilton is prepared for anything.
"It's just part of the business," Hilton said. "There are always steps to the business. Sometimes you have to fall in line with how it's going and eventually things will work out in your favor."