Seahawks add DT Woods to revamped D-line
The Seattle Seahawks have made another late addition to their defensive line, agreeing to terms with veteran defensive tackle Al Woods.
Woods' agency, SportsTrust Advisors, announced the move Friday, a few hours after the Seahawks' one-year deal with pass-rusher Ezekiel Ansah became official.
Woods, 32, was among several defensive tackles who visited the Seahawks, according to ESPN's Field Yates, as they looked to add a run-stuffing presence after letting 2018 starter Shamar Stephen leave in free agency. At the owners meetings in March, coach Pete Carroll called that a "clear-cut" area of need, and the only notable addition Seattle made at that position since then was drafting Demarcus Christmas in the sixth round.
Woods, who is listed at 6-foot-4 and 330 pounds, will be the leading candidate to play nose tackle in Seattle's base defense alongside Jarran Reed. The Seahawks' other interior defensive linemen are Quinton Jefferson (who also plays end), Poona Ford, Jamie Meder and undrafted rookies Bryan Mone and Jay-Tee Tiuli.
Woods has made 43 starts and appeared in 111 games since entering the league as a fourth-round pick out of LSU in 2010. He made eight starts last season for the Colts and has played for four other teams, including a two-game stint with Seattle in 2011.
The Seahawks have been busy since Tuesday, the date after which free-agent additions no longer count against the formula for compensatory picks. In addition to Ansah and Woods, they've also signed cornerback Jamar Taylor, fullback Nick Bellore and guard Marcus Martin. The Seahawks are projected to receive the maximum of four 2020 compensatory picks and did not want to lose any of those by signing Ansah or Woods before the May 7 cutoff point.
Vikings' Kyle Rudolph at crossroads: Chances of deal, trade options, more – Minnesota Vikings Blog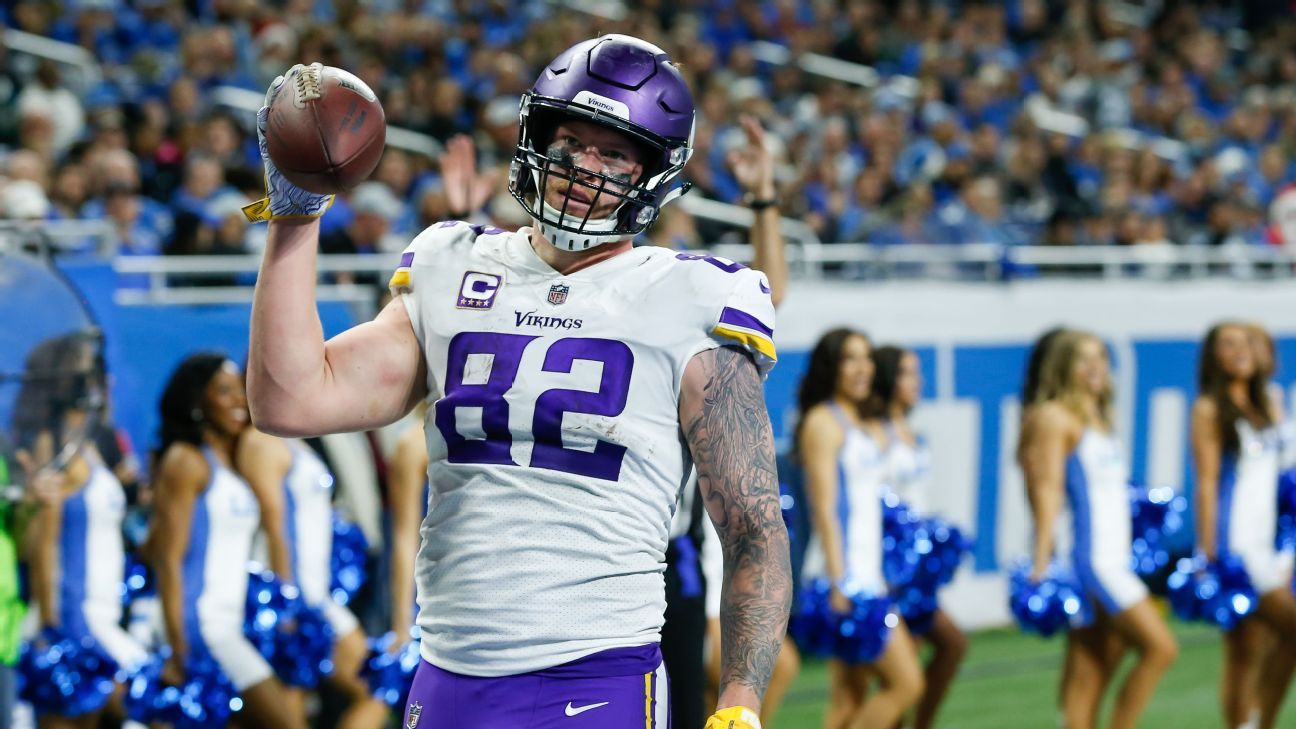 EAGAN, Minn. — Things have played out in a very public manner between veteran tight end Kyle Rudolph and the Minnesota Vikings amid an impasse over contract renegotiations.
The $7.625 million cap hit Rudolph carries in 2019 is an issue. Minnesota has less than $1.3 million in cap space and can't afford to pay him at that price while accounting for other areas of need on the roster.
The Vikings drafted tight end Irv Smith Jr., which further put Rudolph's future in question, and tabled and then subsequently resumed talks over working out an extension.
Catch up on the draft:
• Pick-by-pick analysis »
• Kiper's grades » | McShay's best picks »
• Team-by-team analysis » | Takeaways »
Catch up on free agency:
• Biggest impact moves for all 32 teams »
• Winners and losers of free agency »
• Barnwell: Grades » | Lessons from FA »
More on the draft » | More on FA »
Rudolph, 29, has said he's "too young" to take a pay cut, and it doesn't appear the Vikings have asked. During the first week of voluntary OTAs, which Rudolph is attending, he confirmed a report by Pro Football Talk that claimed the Vikings offered him a five-year extension. The report said the deal would give Rudolph "a new-money average among the highest-paid tight ends in the league" and is expected to lower his cap hit this season.
"That's what they're working at," Rudolph said on Wednesday. "We're in a tough situation. Everybody knows that. That's why we have the best salary-cap guy in the NFL and I believe I have one of the best agents. They're working really hard."
Many questions have to be answered on the way to the Vikings deciding Rudolph's future. Let's begin with the basics.
How did we get to this point?
Rudolph signed a five-year extension in 2014 with $18.5 million in guaranteed money. His yearly cap hits did not become an issue until 2019, when he accounts for just under 4 percent ($7.625 million) of the Vikings' salary cap in the final year of his deal.
The Vikings have just $1,255,486 in cap space, and a major reason for their financial conundrum is the three-year, $84 million fully guaranteed contract quarterback Kirk Cousins signed in March 2018. Cousins' $29 million cap charge makes things difficult for the Vikings' front office, which cut offensive lineman Mike Remmers ($2.7 million in savings), declined safety Andrew Sendejo's option ($5.5 million) and restructured defensive end Everson Griffen ($4.3 million) and linebacker Eric Kendricks ($1.72 million) to create space to pursue free agents and sign their draft class.
Why do they have to reduce Rudolph's cap charge?
After Kendricks' contract was restructured, which allowed the Vikings to sign first-rounder Garrett Bradbury last week, it seemed like things might work out. The Vikings can technically afford to keep Rudolph at his current salary because they're under the cap.
But that would make things extremely tight. At the end of the preseason, Minnesota will need to allocate anywhere from $1.5 million to $2 million for its practice squad. Having little to no spending money is a dangerous situation during the regular season when injuries force teams into trades or to sign players on the open market.
Minnesota also needs to plan for the next few years, particularly 2020 when it is projected to be $8 million over the estimated $200 million cap. If the Vikings and Rudolph agreed to an extension that awarded him new money and more years, his cap hit could be reduced considerably for 2019 and any additional space could be rolled over to the following season.
When does this need to get resolved?
Rudolph would like to know as soon as possible where he's going to be playing next season but said during OTAs that he doesn't anticipate talks lingering into training camp.
"It's not a bad situation to be in," Rudolph said. "I get to come out every day and practice with my teammates. A bad situation would have been getting cut back in March and trying to find a job. I have a job. So that's the good thing. I get to come out here each and every day and practice with my teammates, and whatever happens, happens."
Rudolph wants to finish his career in Minnesota. The Vikings could save $7.625 million against the cap if they cut Rudolph at any time (all they would owe him is $100,000 for a workout bonus), but it doesn't make sense to do that just yet.
The Vikings aren't up against a stringent timeline. If they're eyeing a trade for Rudolph, finding a partner and the right compensation could take weeks to months depending on what happens during OTAs and mandatory minicamps (i.e. injuries, other teams needing to find better fits among their personnel, etc.).
What if they can't agree on a deal?
Rudolph has said that he's not going to take a pay cut, and the Vikings don't want to pay him what he's set to earn. The only likely option of him staying in Minnesota is with an extension.
It's critical to figure out Rudolph's market now and in the future. He has been consistent, ranking in the top 10 among tight ends in receptions and yards and was in the top 15 in touchdowns last season, but finding the appropriate price range could get tricky. For the sake of this argument, slating Rudolph in the Dwayne Allen ($3.25 million per year) to Tyler Eifert range ($4 million per year) seems like a safe bet.
If Rudolph's base salary was reduced somewhere in that range over the reported five-year deal, along with more guarantees in the form of a sizable signing bonus, both parties would make out well. Rudolph gets what he believes he's earned and the Vikings get to keep a top offensive asset and earn back cap space. Given what PFT reported about that five-year deal containing "a new-money average among the highest-paid tight ends in the league," Rudolph could make even more than that.
The Vikings could cut or trade Rudolph if neither side agrees to the restructured terms.
Why don't the Vikings restructure other deals?
Kendricks converted $2.15 million of his base salary into a signing bonus to create $1.72 million to sign Bradbury last week. He did not have a choice in restructuring because it was the team's decision.
A handful of players — Cousins, Kendricks, Griffen, Danielle Hunter, Xavier Rhodes, Stefon Diggs, Anthony Barr — have "automatic conversions" clauses written into their deals, per a source with knowledge of the language of the contracts.
That is a mechanism teams use to get some salary-cap space for the current year. Teams don't always evoke this action because it pushes more cap pressure to the following year, so it's not a method for long-term planning. If teams don't have it do it, there's no reason to. This measure is usually used in a pinch because it's usually better to absorb more of a player's cap hit in the current year than pushing it down the line. If teams start doing this with multiple players (like the New Orleans Saints), there will be a day of reckoning when the prorated money adds up and the players' values don't equate. That forces teams to either pay much higher cap hits or release the player.
What will it mean if they part with Rudolph?
Rudolph and Smith are two different types of tight ends, both of whom are necessary for this offense to be successful.
But rookie tight ends typically aren't plug-and-play pieces on offense. According to Pro Football Focus, only eight rookie tight ends in 2018 saw more than 20 targets, while some of the worst blocking grades belonged to first-year tight ends.
Rudolph's scoring efficiency, particularly in the red zone, declined in his first year with Cousins, but he was also used heavily as a blocker with mixed results. Without Rudolph, the Vikings' tight end depth chart looks pretty thin with Smith, David Morgan and Tyler Conklin.
Being able to utilize two-tight end sets is critical for this offense to achieve some of its goals.
"It's something, an element that we've never had here in my nine years being here," Rudolph said. "It forces defenses to play with three linebackers, and that allows us to control the game. When we go out there in three-wide sets. People always talk about creating mismatches, well, now they have five DBs on the field and, yeah, there's still mismatches, there's size mismatches, but now we can kind of control and do things how we want to do them."
How does this end?
Best-case scenario: Rudolph and the Vikings agree to a multiyear contract extension that will allow him to remain in Minnesota for the rest of his career.
If that doesn't happen, the chances of Rudolph being on the roster for Week 1 are slim.
Minnesota has time to sort this out. If the Vikings can find a trade partner and garner proper compensation (sources told ESPN the idea of a third-round pick for Rudolph has been shopped), they can get needed salary-cap relief. Then the Vikings could look to sign a cheaper veteran tight end and Rudolph can start the next phase of his career in a place where he'll get his money and the chance to hit free agency in 2020 or lock up a long-term deal before then.
JuJu — Chemistry in Steelers' WR room 'on point'
JuJu Smith-Schuster likes what he sees in his first official week as the Pittsburgh Steelers' No. 1 receiver.
"The chemistry is on point," Smith-Schuster told reporters after Wednesday's organized team activities session. "Everyone is on the same page. Everyone is communicating. There's really no — how do you say? — drama in our locker room."
The Steelers took the field with excitement about Smith-Schuster, who replaces Antonio Brown as the top option in the passing game. Quarterback and co-captain Ben Roethlisberger said he believes Smith-Schuster is ready for the "awesome challenge." Co-captain Cameron Heyward said Smith-Schuster, 22, is a "great kid" who only wants to improve.
But the comparisons to Brown, now an Oakland Raider after a messy divorce with the Steelers, will be hard to ignore. Whether intended or not, Smith-Schuster is already setting a different tone than Brown when it comes to media access. Brown was known to conduct one interview a week during the regular season — every Friday at his Steelers locker — and the sessions were more of a spectacle than serious work.
Smith-Schuster also had begun a once-a-week trend, but apparently that's changing.
"When you guys see Ben tomorrow, tell him I came out here and did an interview," Smith-Schuster told reporters, according to the Pittsburgh Post-Gazette. "He said I was trending to that one-day-[a-week] interview guy. I'm definitely not doing that. You guys can talk to me any time of the day. I promise you I'm not going to be an a–hole."
Roethlisberger is the team's marquee player but does one-on-one interviews outside of his normal Wednesday morning session with a group.
Brown and Smith-Schuster comprised one of the league's most fearsome duos last year but feuded after Brown was traded to Oakland. In April, Brown used social media to criticize Smith-Schuster's fumbling in response to a post about Smith-Schuster's team MVP award. "Crazy how big that ego got to be to take shots at people who show you love! Smh," responded Smith-Schuster, who led the team in catches (111) and yards (1,426) last season.
Smith-Schuster has moved past that spat and doesn't plan to chase stats this season.
"I'm looking at my own team and how we do and how we win," Smith-Schuster said. "I would take five catches for 30 yards and win the game than have 10 catches and two touchdowns. It's not really about myself at the end of the day. It's about getting a Super Bowl."
Smith-Schuster said the Steelers' locker room is full of veterans who know their role. That won't stop him from providing a youthful bite.
"Being a young guy in a room, being 22, I feel like a French bulldog, you know, just barking at everybody," he told reporters. "At the same time, they've got dogs, too, so they can bark. I like that role."
Skins sign LB Bostic, officially put Foster on IR
The Washington Redskins signed veteran linebacker Jon Bostic to boost a unit weakened by the loss of Reuben Foster.
Foster tore his ACL in practice Monday. He has not yet had surgery, and doctors fear there could be more damage but won't know until they operate, a source said.
He was officially placed on injured reserve on Wednesday.
Bostic started 14 games for Pittsburgh last season, but the Steelers drafted Devin Bush in the first round. They cut Bostic a day later. Bostic is now with his fifth franchise in as many years — and sixth overall — after spending his first three seasons with Chicago, where he was a second-round pick in 2013.
He has made 28 starts the past two years combined, including 14 in 2017 with Indianapolis. He missed 2016 with a foot injury while playing for Detroit. Chicago traded Bostic to New England in 2015 where he made one start and appeared in 11 games.
Foster was going to start inside in the Redskins' base 3-4 defense, providing Washington with a young, fast and athletic linebacker. Without him, they have veteran Mason Foster, second-year Shaun Dion Hamilton and rookie fifth-round pick Cole Holcomb. They also have Josh Harvey-Clemons as a nickel linebacker.