Super Bowl LIII was greatest defensive performance in history
At the end of a dour Super Bowl in Atlanta only a mother could love, it really shouldn't have been a surprise that Bill Belichick was the one standing triumphant.
Last year, Tom Brady produced what was arguably the greatest single performance in Super Bowl history, only for Belichick's defense to get run over by Eagles backup Nick Foles. On Sunday, with Brady struggling en route to his worst passing performance in a title game, Belichick's defense saved the day. The Patriots delivered Belichick's masterpiece in their 13-3 win over the Rams.
What we saw from the Patriots on Sunday night was the best defensive performance we have ever seen in a Super Bowl.
I don't say that as hyperbole. To start, the only other time a team has allowed just three points in the Super Bowl was when the Cowboys defeated the Dolphins 24-3 in 1971. Those Dolphins scored 22.5 points per game during the regular season, while Sean McVay's Rams were up at 32.9 points per contest. The Pats allowed the Rams just 9.1 percent of their scoring average, the best mark in Super Bowl history:
You might argue that we're rewarding the Patriots for not allowing a late garbage-time score, as was the case when the 1985 Pats scored a touchdown in the fourth quarter to shorten Chicago's lead to 44-10 in Super Bowl XX. That's true. The other side of the coin, though, is that the Patriots' defense couldn't simply pin its ears back and rush the quarterback all game. They weren't up against Steve Grogan.
They had to come up with stops drive after drive to win against the Rams, who were the second-best offense in the second-highest scoring season in NFL history. Scoring 13 points against the Rams, as the Patriots did Sunday, would have earned a team a 1-17 record against the Rams in the 2018 season. The only time Los Angeles failed to hit 13 points was when the Bears held them to six in Week 14, but Chicago was the much-celebrated best defense in football. The Patriots ranked 16th in defensive DVOA and had just allowed 31 points in the second half to the Chiefs in the AFC Championship Game.
McVay, who admitted after the game that he "simply got outcoached," never found a solution. His offense slowly suffocated throughout the game. The same Rams team that bragged about its physicality after running all over the Cowboys in the divisional round produced just two first downs on 18 rushing attempts. Jared Goff and the Los Angeles passing attack averaged just 4.7 yards per dropback, with an unsung Patriots pass rush sacking Goff four times and knocking him down on 12 occasions. An offense that made it to the red zone a league-high 80 times during the regular season failed to make it inside the Patriots' 20-yard line even once Sunday.
To me, it topped the two most famous Belichick game plans of all time. The 2001 Greatest Show on Turf Rams managed to score 17 points and rack up 26 first downs on the Patriots, who won Super Bowl XXXVI thanks to big plays. Ty Law took an errant Kurt Warner throw to the house for a pick-six. The Pats recovered a Ricky Proehl fumble at midfield and scored their lone offensive touchdown before halftime. Jeff Wilkins missed a 52-yard field goal in the first half, and the Rams had five drives that went to or past the 50-yard line that resulted in zero points. This defensive performance was more consistently dominant.
Belichick's game plan as the Giants' defensive coordinator against the Bills in Super Bowl XXV resides in the Hall of Fame, but again, this showing should join it. Belichick sacrificed his run defense to stifle Jim Kelly, and Thurman Thomas subsequently ran for 135 yards and a touchdown. The Bills still managed to get into position for a 47-yard field goal that would have won the game, only for Scott Norwood to push his kick wide in a 20-19 nailbiter.
Those performances were legendary, but the win in Super Bowl LIII surpasses them in the pantheon of brilliant defensive game plans from Belichick, with credit also going to defensive coordinator and future Dolphins coach Brian Flores. So, how did the Patriots pull it off?
Jump to a section:
Inside the Pats' game plan
How Edelman kept getting open
The play that won the game
---
How Belichick, Flores and Patricia stopped the Rams
You might note that one of the coaches in that subhead isn't on the Patriots' payroll anymore. "We had to put together something that would neutralize the running game and their big play-action passes on early downs," Bill Belichick said to ESPN's Steve Young after the game. "We felt like if we could make them drive it and earn it, similar to what the Lions did to them," he added, "… we would have a chance to get them off the field on third down."
What Belichick said shouldn't be a surprise. If you read my preview on the game, I suggested that the Patriots were going to focus on stopping the outside zone and taking away play-action, just as Lions head coach (and former Patriots defensive coordinator) Matt Patricia emphasized in Week 13 against the Rams. Goff finished 5-of-9 for 68 yards on play-action passes, with Belichick forcing him to try to win the Super Bowl as a conventional dropback passer.
Where I was surprised, though, was with how the Patriots built their coverages. The Lions played more zone against the Rams than they had in their prior games, particularly by using more quarters (or Cover 4) shells. I figured that the Patriots, who have much better cornerbacks than Detroit, would still rely heavily on man coverage to try to stop the Rams and their endless series of stacks and bunches.
I was wrong. As McVay noted after the game, the Patriots played plenty of zone coverage throughout the game, including quarters looks on early downs. Quarters helped the Patriots keep the intentions and depths of their safeties disguised before the snaps, while simultaneously allowing New England to flood the box with defenders to stop the run. The Pats used what amounted to a 5-1 over front with Patrick Chung as a strongside linebacker to try to penetrate into the backfield against outside zone.
Things got more complicated when Chung went down with an arm injury in the third quarter, which cost the Patriots both a veteran communicator and a versatile starting safety. Duron Harmon took Chung's place, and the Patriots subsequently were forced to play more conservative coverage concepts. When they did play man, the Pats again surprised by generally sticking Stephon Gilmore one-on-one against Brandin Cooks, with Robert Woods doubled by Jonathan Jones and a safety.
On third down, the Patriots tormented Goff and McVay with stunts and twists to throw off their pass blocking while preventing Goff, McVay and center John Sullivan from diagnosing where pressure was going to come from before the snap. Teams that load up on twists often struggle to keep contain or leave an obvious running lane open for the opposing quarterback, but the Patriots did an excellent job of getting pressure against the interior of the Rams' line (particularly guard Austin Blythe) while simultaneously closing down Goff when he bootlegged out of the pocket. Goff was 2-of-3 passing for 2 yards and two sacks when he waggled to the sidelines.
Overall, the Patriots were wildly productive when they threw extra defensive backs on the field. According to the NFL's Next Gen Stats, the Pats posted a 45 percent success rate on defense with four or five defensive backs on the field. Their dime package, though, had a dominant game. On 20 snaps, the Pats racked up three sacks and held Goff to a dismal line: 6-of-16 for 60 yards and an interception. Fifteen of those 20 snaps were regarded as successful plays for the Patriots' defense in terms of keeping the Rams from getting on schedule, good for a 75 percent success rate.
McVay took the blame after the loss for not adapting or adjusting his playcalling, and you can certainly wonder whether the Rams should have tried different things. It seems like they could have used late motion before the snap to try to take advantage of a static Patriots defense and thrown bubble screens to try to gain a numbers advantage and/or force the Pats out of quarters. The Falcons, who shared some similarities under Kyle Shanahan to these Rams in terms of their outside zone emphasis, had success running the crack toss against the Patriots in the Super Bowl, and the Rams could have used that to set up screens.
At some point, the Rams might have been better off force-feeding Todd Gurley II; they ran the ball just once on 20 snaps against the Pats' dime personnel grouping, which New England was comfortable running on first-and-10 and third-and-2. The Rams went with 11 personnel on more than 78 percent of their dropbacks, but for the second week in a row, they were more effective getting a second tight end on the field with 12 personnel. The Rams posted a 40 percent success rate with their traditional three-wideout set, but that jumped to 54 percent with Gerald Everett and Tyler Higbee on the field.
The Rams eventually got some offense going in the third quarter. Goff made two great throws, including a picture-perfect 18-yard pass to Woods on third-and-7, to get into field goal range. The Rams got their one big chance of the game when the Patriots badly blew a coverage and left Cooks wide open running up the seam on a Yankee concept, only for Goff to belatedly recognize his good fortune and give Jason McCourty, who played every snap on Sunday, enough time to find work and knock away the pass.
A beautiful Pats pass rush subsequently limited the Rams to a field goal when Hightower got inside Blythe for a sack. It was a critical play, given that Goff wasn't able to find a wide-open C.J. Anderson for a checkdown that would have moved the chains:
Hightower bringing the heat.@zeus30hightower | #EverythingWeGot pic.twitter.com/42geiLjzjk

— New England Patriots (@Patriots) February 4, 2019
The Rams had to punt on their next drive after a questionable holding call on Sullivan wiped out a 13-yard Gurley run, but after the Patriots scored a touchdown, the Rams drove down the field with a screen to Cooks and a pick play that freed up Reynolds to convert third-and-9 over the middle. On the next play, Goff dropped a perfect ball over Gilmore for what could have been a touchdown pass to Cooks, only for Harmon to jar the ball loose with a hit.
On the next play, Flores dared Goff to do it again by sending a six-man blitz against six Rams blockers with Hightower as an underneath robber and the four defensive backs in quarters behind. A panicked Goff rushed his dropback and made another throw toward Cooks, but while Goff's pass needed to be deep and toward the sideline to give Cooks a chance, his throw was badly short and amounted to a fair catch for Gilmore.
WOW.@BumpNrunGilm0re PICKS OFF Jared Goff with 4:17 left in the game. @Patriots leading 10-3.

📺: #SBLIII on CBS pic.twitter.com/Yv2KXuTkaP

— NFL (@NFL) February 4, 2019
It's worth noting that Belichick and Flores didn't pull this off with a bunch of superstars in their prime outside of Gilmore, who had an inconsistent game before his interception. Hightower, Trey Flowers and Devin McCourty are homegrown talents, but Belichick the executive has also found useful talent on the cheap. Jason McCourty was acquired for a swap of sixth- and seventh-round picks when the Browns were about to cut him. Kyle Van Noy, who had a monster game with a sack and three knockdowns, was the product of a nearly identical swap with the Lions. Jones and J.C. Jackson were undrafted free agents. There was no Lawrence Taylor or Ty Law on the field for the Pats. No matter. This was the signature defensive performance from the greatest defensive coach in the history of football.
Of course, the guy on the opposite sideline nearly had his own signature performance. Rams defensive coordinator Wade Phillips dialed up a brilliant game plan, as Aaron Donald & Co. flummoxed Brady for most of the game. The nonexistent folks who supposedly were counting out Brady throughout the season nearly got to raise their straw hands in the air and celebrate their victory, only for the Rams' pass rush to finally tire just as Josh McDaniels found a way to unlock the defense.
As Tony Romo described on the CBS broadcast, Phillips did an excellent job of building his coverages to show man coverage to Brady before the snap before playing like zone afterward, or vice versa. It's difficult to confuse Brady at age 41, but he was absolutely flummoxed on a number of snaps. One trick came on the interception that ended the opening drive, when Brady read man coverage before the snap, then found out just as he threw that the Rams were in zone and playing a form of trap coverage, with Aqib Talib over the top and Nickell Robey-Coleman underneath. The slot corner broke outside on the throw to Chris Hogan and tipped away the ball, with Cory Littleton catching the tip for an interception.
During the first half, Brady simply didn't look comfortable with the pressure or looks he saw, especially on third downs. The Pats ran the ball on third-and-8 to set up Stephen Gostkowski's missed field goal. Brady threw away a third-and-5 pass under pressure from Donald. Early checkdowns to Gronkowski and James White didn't give those receivers much of a chance of turning upfield for a first down. Cordarrelle Patterson came up a yard short of the sticks on third-and-10, and when the Pats went for it on fourth-and-1, excellent coverage from the Rams forced Brady to try to hit an impossible window to a diving Gronk.
The one thing the Patriots did have working in the first half was Julian Edelman. My preview identified covering the slot as the biggest point of weakness for the Rams before the game, and for much of this contest, it ended up as their only point of weakness. The Rams surprisingly started the game with Talib traveling across the formation and into the slot to cover Edelman, but Edelman eventually just went over to Talib's side of the field and tortured him out of a reduced split. In the first half, Brady was 7-of-8 for 93 yards on throws to Edelman (with the one incompletion essentially an uncatchable throwaway) and 8-of-17 for 67 yards throwing to everyone else.
The Rams eventually started moving Marcus Peters around the formation to try to cover Edelman, and while he got away with a couple of holding or illegal contact calls, it was a better solution than Talib. The Pats tried to target Peters' propensity for jumping routes with fades and his struggles tackling by isolating him in space, but the former Chiefs star generally held his own on deeper throws. With Donald & Co. getting steady pressure on Brady, the Patriots had six drives in the first half break into Los Angeles' side of the field with only three points to show for it.
The play that won the Super Bowl … three times in a row
The eventual breakthrough for the Patriots came with another concept I wrote about extensively in my preview: using James Develin to dictate mismatches in the slot against Los Angeles' base defense. The Pats came out in their 21 personnel (2 RBs, 2 WRs, 1 TE) with Edelman in the slot on the first play of the game and got a 13-yard run out of Sony Michel for a first down, but the run defense that swallowed up the Cowboys and Saints showed up and bullied the Patriots at the line of scrimmage for most of this one.
The game-winning drive, though, required McDaniels to get even heavier. He dialed up a creative play-action look to start the drive out of 21 personnel, with Gronkowski blocking for a moment before turning upfield on a wheel route past a leveraged Samson Ebukam for a first down.
The Pats then brought in Dwayne Allen and ran three consecutive plays out of 22 personnel, with two backs and two tight ends on the field. On each of the plays, they split out wide Develin and a halfback (either Michel or Rex Burkhead), where they were covered by Peters and Talib, L.A.'s two best cover corners. That left Gronkowski, Allen and Edelman matched up on the interior against linebackers and safeties and allowed the Patriots to run one of their favorite plays.
Hoss Y-Juke has been a staple of the Patriots going back through the early days of this dynasty, so it's not exactly a secret that Phillips wouldn't have been prepared to see. You can see a breakdown of Hoss Y-Juke here, but it's remarkably simple. The "Hoss" call means you're getting hitch routes from the outside receivers, while the slot receivers run seam routes. Y-Juke calls for the third receiver from the outside, who is almost always Edelman, to run an option route against an overmatched linebacker.
The Patriots ran Hoss Y-Juke three times in a row. The Rams stayed in their base defense all three times, and the Patriots ripped them apart. On the first of the three plays, with Edelman matched up in the slot against Littleton, he ran the juke route for 13 yards and a first down.
Brady to Edelman, 13 yards pic.twitter.com/cdO6Fw1KGA

— SIXtriots (@ftbeard_17) February 4, 2019
The Patriots came back to the line and motioned out Burkhead before throwing him a hitch against Peters for 7 yards. On the third snap, the Rams must have known what was coming, but it didn't matter. They tried to disguise where their five-man pressure was coming from by sending Littleton toward Gronk in coverage at the snap, but Brady lofted in a perfect pass for a 29-yard catch. One play later, Michel plunged in for the only touchdown of the game.
It takes a unique set of circumstances for Hoss Y-Juke to thrive, but it's the perfect play for the Patriots. You need running backs who are viable threats to catch the ball. You need tight ends with the athleticism to stretch the field vertically and make plays out of the slot. You also need a quarterback capable of making a smart decision quickly out of an empty backfield.
I'm surprised the Patriots didn't motion Develin out wide more frequently. One first-half snap with him split out yielded a rep for Edelman in the slot against Ebukam and an easy completion, although two other short throws were quickly closed down or dropped. The Patriots did rack up 67 yards on 15 rushing attempts out of 21 personnel before the fourth quarter, so the running game with Develin in had been competent. It's possible that the Patriots didn't think Brady would have enough time to make his reads and get the ball out in an empty set before the Rams' pass rush tired, and indeed, Donald & Co. didn't deter the Pats from running Hoss Y-Juke three times in a row.
After the Gilmore interception, the Pats took over with 4:17 left and a chance to seal the game. The Rams had a reputation during the season for indiscipline within their run defense in an attempt to make plays, and while they were structurally sound for the vast majority of the Super Bowl, they finally cracked.
On the second play, Ndamukong Suh fired across the face of a guard to make a play but ran himself out of the action. The Pats briefly doubled Donald, moved him off the ball, and ran right into his gap, with a pulling Joe Thuney kicking out Mark Barron. Marcus Cannon essentially helped block three Rams, as he chipped Donald, blocked Littleton at the second level, and shielded an overly aggressive John Johnson in the process. Michel rode this beautiful blocking for a 26-yard gain.
Three plays later, it was Develin's turn. The Pats brought in Burkhead and ran directly at Dante Fowler Jr., who tried to stunt inside and was subsequently helped into the trash by Trent Brown. Lamarcus Joyner came down from safety and got into a three-point stance before blitzing into the backfield at the snap, but a motioning Gronkowski dispatched him with ease. The Rams scraped Barron over the top to try to seal the edge, but Develin laid him out at the point of attack. Talib was the unblocked defender, but Burkhead's cutback and the aftermath of Develin's ferocious block took the cornerback totally out of the play. The former Bengals backup cut upfield and outran Robey-Coleman before Peters made a touchdown-saving tackle. The 26-yard run put the Patriots in field goal range, and while they failed to convert a subsequent third-and-1, Gostkowski hit a 41-yarder to start the celebrations for a sixth time in New England.
Brew-haha — Yelich, Rodgers chug at Bucks game
Green Bay Packers lineman David Bakhtiari was back to his beer-chugging ways courtside at the Milwaukee Bucks' NBA playoff game Thursday night — and this time he got a pair of local MVPs to join in.
Neither Packers quarterback Aaron Rodgers nor Milwaukee Brewers outfielder Christian Yelich could down a beer quite as quickly as Bakhtiari, though they tried their best.
While being shown on the video screens at the Fiserv Forum, Bakhtiari put back two beers in a matter of seconds then pointed toward Rodgers.
The two-time NFL MVP couldn't get through his entire beer in one go, and Bakhtiari, who has slammed beers during other games in the Bucks' playoff run this season, proceeded to show him how it's done with a third cold one.
🍻 @DavidBakhtiari and @AaronRodgers12 go head-to-head in a beer chugging competition!! #GoPackGo | #FearTheDeer pic.twitter.com/etedPaiJ9G

— Milwaukee Bucks (@Bucks) May 24, 2019
Rodgers did offer somewhat of an explanation, implying in a tweet that he would prefer a different libation.
Make it scotch next time @DavidBakhtiari #bucks

— Aaron Rodgers (@AaronRodgers12) May 24, 2019
Later in the game, a fan wearing a Bakhtiari jersey was shown downing a beer on the big screen, prompting the lineman to empty a can into his own mouth.
HE'S NOT DONE!! 🍻

This time @DavidBakhtiari has a chugging competition with a fan!! 😂 pic.twitter.com/GfxFMnfpHX

— Milwaukee Bucks (@Bucks) May 24, 2019
Soon after, Yelich — the reigning National League MVP who was seated next to Bakhtiari — got in on the fun by finishing his own beer, much to the delight of the crowd.
Yelich was a bit faster than Rodgers, but the quarterback wasn't impressed and indicated that Yelich's cup had been slightly less than full.
In Wisconsin MVP's crush beers. @ChristianYelich | #FearTheDeer pic.twitter.com/qTnMl4K3eN

— Milwaukee Bucks (@Bucks) May 24, 2019
Their antics couldn't inspire the Bucks to a win, however, as the Toronto Raptors prevailed 105-99 to take a 3-2 lead in the Eastern Conference finals.
Predicting the next NFL players who could force contract standoffs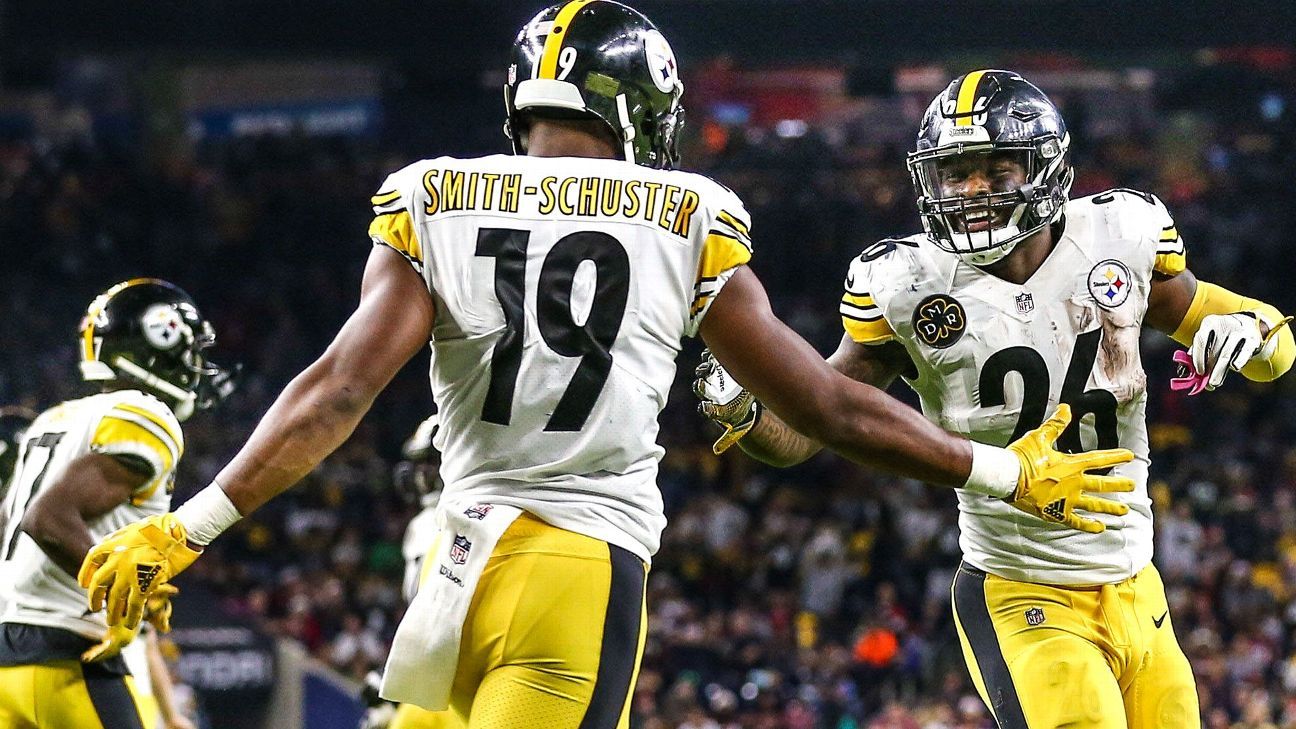 What Le'Veon Bell did in 2018 was historic. And when someone does something historic, it's natural to wonder who will be the next to try it.
Sitting out an entire NFL season to make sure he reached free agency healthy and scored the kind of contract Bell believed he deserved was a gambit few saw coming, and it challenged many of the commonly held perceptions of an NFL player's individual power in the marketplace. In an economic structure that allows teams to delay long-term contracts well beyond the point at which players have earned them, Bell exerted the leverage he had (the withholding of services) to deny the Pittsburgh Steelers what they wanted.
This was a win for other players, if they were paying attention, because it proved to them (and to their teams) that it's possible for a player to make good on a threat to sit out if he doesn't get what he wants. The next time a player or his agent suggests that he might skip the season, we'll only have to go back to 2018 to find an example of one who did just that.
With that in mind, Pittsburgh could have a similar problem on its hands in a couple of years with another star second-round pick. Standout wide receiver JuJu Smith-Schuster is entering his third NFL season and is vastly underpaid. He can't make an issue of it this year or next, because unless a player has put in four years' worth of service time, he has to report within 30 days of the start of the season or lose a year of credit toward free agency. But the Steelers and their fans certainly hope Smith-Schuster continues to play at a level that keeps his contract looking like a steal.
Now, every circumstance is different, and many players likely wouldn't want to subject themselves to the public heat Bell absorbed. We don't know this far out whether Smith-Schuster is the kind of guy who would make a major issue out of his rookie contract in its final years or chafe against a franchise tag as Bell did. Just Wednesday, Smith-Schuster made a point of announcing he didn't plan to make trouble. As one person I interviewed while researching this story pointed out, being a lifelong Steeler carries post-career financial benefits that Bell won't get to enjoy the way guys like Franco Harris do.
All of that said, the NFL's economic structure remains one in which great young players often are playing for far less than what the market would say they're worth. And as long as that's the case, some players and agents are going to try to see what they can do to get around it. We took a look at some players who could, over the next few years, be the next Le'Veon Bell and force a team's hand by sitting out. This is a partial list.
Jump to a player:
Clowney | Gordon | Byron Jones | Michael Thomas
Ngakoue | Smith-Schuster | Kamara
---
Pick: No. 1 in 2014
For the most part, first-round picks don't fit into this category because they get paid so much up front. Clowney already has pocketed more than $34.5 million from his fully guaranteed four-year rookie contract and its fifth-year team option. This is his sixth season, and the Texans have elected to franchise him at the cost of $15.967 million. Assuming he has saved well and invested wisely, Clowney never has to work another day in his life.
Unlike a lot of the other guys on this list, he can afford to sit out the season if he doesn't want to play on the franchise tag. The problem is, Houston could franchise him again next year (an option that wasn't financially realistic for the Steelers with Bell, since they already had franchised him twice). So if he doesn't like the tag, Clowney's best hope is that the Texans do for him what the Kansas City Chiefs did for Dee Ford and the Seattle Seahawks did for Frank Clark: Trade him to a team that will give him the contract he wants. Clowney is really the only star player from the 2014 draft who hasn't yet scored a long-term deal, so we put him in here because his situation is front and center and could be an issue this summer.
---
Pick: No. 15 in 2015
Gordon falls into the "underpaid" category because of his position. He has averaged $2.67 million a year on his four-year rookie deal and is scheduled to play this season on a $5.605 million team option. (The rookie wage scale doesn't do any favors for running backs or safeties picked outside of the top 10.) Gordon has averaged 1,457 scrimmage yards and 13 touchdowns a season over the past three years, and he obviously would have made much more than $5.6 million had he hit the free-agent market this offseason.
---
Pick: No. 27 in 2015
Jones' case is an odd one. He is playing cornerback for the Cowboys now, but his fifth-year-option salary for this season is the safety number of $6.26 million, as opposed to the corner number of $9.07 million. This is because Jones played the bulk of his third-season snaps at safety, and that's how they decide your position for purposes of the fifth-year option. (Cleveland's Damarious Randall, a safety who used to play cornerback, is in the opposite position, which helps his leverage in contract talks with the Browns.)
The Cowboys would like to extend Jones, and they likely will, after they address the Dak Prescott and Amari Cooper situations. But it hurts Jones that the starting point for negotiations (that is, his current salary) is lower than it would be if it reflected the position he currently plays.
---
Pick: No. 47 in 2016
First-rounders from 2016 such as Joey Bosa, Ezekiel Elliott and Jalen Ramsey could create contract-related messes for their teams in the coming years, but let's leave those guys out for now because they were picked very high and already have made a bunch of money.
Thomas is in a group with a real gripe. Unlike the first three guys on this list, he was not a first-round pick, but rather a second-rounder in 2016. This means the Saints don't get a fifth-year option on him, and Thomas has only one year left on his rookie deal. No player in NFL history has caught more passes in his first three seasons than Thomas.
Julio Jones, Antonio Brown, DeAndre Hopkins and Mike Evans are the only players who have caught more passes than Thomas over the past three seasons.
Those guys make an average of $16 million per year. Thomas is scheduled to earn $1.148 million this year, and it's not even guaranteed. What would you do if you knew you were worth 14 times more than you're making? I'm guessing "show up for voluntary offseason workouts" isn't part of the answer, though Thomas has been doing just that. It would be a major shock if New Orleans didn't make Thomas a lucrative extension offer this summer. The question is whether that offer will be good enough to convince Thomas to take the bird in the hand or whether he wants to bet on himself, wait it out and try free agency.
Atlanta Falcons linebacker Deion Jones ($1.07 million) and Chicago Bears center Cody Whitehair ($1.026 million) are two other 2016 second-rounders whose salaries fail to reflect their roles and production levels.
---
Pick: No. 69 in 2016
Ngakoue has 29.5 sacks in his three NFL seasons. Only nine players have more, and their average annual salary is $17.14 million per year. Ngakoue is scheduled to earn $2.025 million this year, which actually is more than his original rookie contract called for. Players picked in the third round or later who participate in at least 35 percent of their team's offensive or defensive snaps in two of their first three seasons get performance-based salary escalators in their fourth seasons, and Ngakoue fell into that category. (Note: Second-round picks do not get the escalators, providing yet another gripe for those in the Thomas/Jones/Whitehair group discussed above.) But even with the bump, Ngakoue is earning maybe one-ninth of his market value this year, unless the Jags extend him.
Other third-through-seventh-round picks from 2016 who fall into Ngakoue's category include (but are not limited to) Tennessee Titans safety Kevin Byard, Baltimore Ravens linebacker Matthew Judon, New England Patriots offensive lineman Joe Thuney and, of course, Cowboys quarterback Dak Prescott. And don't forget about Indianapolis Colts backup quarterback Jacoby Brissett, who is a fascinating case unto himself. Franchising him isn't going to be an option as he sits behind Andrew Luck. What kind of deal could he get from the Colts if he really wanted to force their hands?
---

Pick: No. 62 in 2017
We mentioned Smith-Schuster earlier, but the year in which he could "pull a Le'Veon" would be 2022. This assumes he continues his high-level production and that the Steelers franchise him in 2021 and again in 2022, mirroring Bell's path. Smith-Schuster is in line to be the Steelers' No. 1 wide receiver with Antonio Brown gone. Even with Brown on the team last season, Smith-Schuster finished fifth in the league in receiving yards. He is scheduled to make nearly $850,000 this year and $1.04 million in 2020. And remember, as a second-rounder, he is not eligible for performance-based escalators. Another 1,400-yard season would make Smith-Schuster the league's best bargain. Except for maybe this next guy.
---
Pick: No. 67 in 2017
It's a weird quirk of the system that Kamara, the third pick of the 2017 third round, will end up making more on his rookie deal than Smith-Schuster, the 30th pick of that year's second round. Once the performance-based escalator kicks in, Kamara's 2020 salary will jump from $977,500 to more than $2 million. A nice bump, but nowhere close to the salaries of Todd Gurley II, Ezekiel Elliott or Julio Jones, the only players with more yards from scrimmage than Kamara over the past two seasons. (Gurley is the only player who has scored more touchdowns.) Even with Elliott on his rookie deal, that trio averages $11.6 million a year. Kamara will average maybe $1.5 million over the next two years. Just like Smith-Schuster and anyone else drafted in 2017, Kamara has to wait until after this season to negotiate a new contract. If the Saints can't get him extended next offseason, you wonder if Kamara decides to create a problem.
Other third-through-seventh-round picks from 2017 who could fall into Kamara's category include Steelers running back James Conner, Bears safety Eddie Jackson, Bears running back Tarik Cohen and San Francisco 49ers tight end George Kittle. You could even add Denver Broncos running back Phillip Lindsay to this particular list of names to watch, as he was undrafted in 2018 and rushed for more than 1,000 yards as a rookie. Undrafted players only sign three-year deals, so Lindsay's contract runs out at the same time as those picked after the first round in 2017. If he goes over 1,000 again in Year 2 … who knows?
Randall Cobb might feel 'lost' with Cowboys, but he doesn't look it – Dallas Cowboys Blog
FRISCO, Texas — Tuesday was strange for Dallas Cowboys wide receiver Randall Cobb.
"I felt like a little kid, lost," he said.
For eight seasons, Cobb was a member of the Green Bay Packers. He had the same coach, the same quarterback, the same everything. Down to the minute, he knew where he had to be and for how long when it came to any offseason activities.
Cobb, 28, has been a member of the Cowboys for a little more than two months, and Tuesday was the team's first organized team activity this offseason.
"I didn't know where to go after each drill, each station," Cobb said. "So I'm just looking around, seeing where the other receivers are and finding my way around."
• Why Raiders took a chance on Burfict
• Steelers' plan: Addition by subtraction
• Hurst seeks help finding 'one that got away'
• What 15 ex-players add to Dallas staff
• Jags hope Foles can buck free-agent QB trend
He is still finding his way around the Cowboys' offense, too.
Cobb knew coach Mike McCarthy's offense so well in Green Bay and understood what quarterback Aaron Rodgers wanted so much that very little threw him off. With the Cowboys, he is learning coordinator Kellen Moore's offense and starting to understand what quarterback Dak Prescott wants.
"Since I've been here, we're going through the installations, and I'm having a little bit of a mental challenge as far as so many of the same plays being different calls," Cobb said. "Just trying to get more acclimated to the playcalling here, and making sure I'm using the right terminology so I'm on the same page with everybody."
It's not like the Cowboys did not know Cobb before signing him to a one-year deal. Jason Garrett coached him at the Pro Bowl. In five games against the Cowboys (three in the regular season and two in the playoffs), Cobb caught 34 passes for 341 yards and a touchdown. He had the game-clinching reception off a deflected pass in the 2014 divisional-round game.
"We've seen him do a lot of stuff, and that's one of the things we liked about him was his versatility and how they used him a lot of different ways and a lot of spots, just doing different things," Garrett said. "That's one of the things that drew us to him, but there's no question that being around a guy on a practice field and seeing him in real life up close gives you an added benefit. And a lot of those things, those perceptions that we [to] had get reaffirmed, 'He actually can do that. This is the quickness that he has getting out of a break, or his ability to run certain routes.' Those are all really positive things. You see them on tape, you get them reaffirmed when you see him in real life."
After missing seven games last season because of a concussion and hamstring strain, Cobb knew his time with the Packers was coming to an end. He caught just 38 passes for 383 yards and two touchdowns, his lowest production since 2013, when he played in only six games.
He did not know the Cowboys could be a potential destination until Cole Beasley left for the Buffalo Bills.
Though before that happened, Cobb planted a seed in Prescott's ear at the NFL Honors program the night before the Super Bowl, telling the quarterback to "come get me."
"Now a couple of practices in with him, [Cobb is an] incredibly smart guy," Prescott said. "I think that's going to be the best thing that helps. Just picking everything up and get going to be a big-time player in this offense."
If Cobb feels out of place at times learning the offense, Prescott has not seen it.
Their discussions are detailed. Cobb wants to know where he is in the quarterback's progressions on certain plays so he can time up his footwork better. Prescott wants to know where Cobb likes the ball if a defender is on his inside or outside shoulder; whereas, with younger receivers, the conversations start with the depth of each route.
That type of chemistry took time with Rodgers, but Cobb has come away impressed with Prescott.
"He's very passionate. He's a hard worker. He definitely puts the time in," Cobb said. "I mean he's a physical specimen. You look at him, he's strong. He's big. He's fast. He can make the throws. He can make the plays, provide a threat in the running game. He extends plays well. … I'm hoping to get on the same page with him and be able to make some plays for him."
The Cowboys have six more OTAs, a three-day minicamp and a summerlong training camp and preseason to work out the final details.
During Wednesday's OTA that was open to the media, Cobb certainly did not look like a receiver finding his way. He showed quickness in the slot, catching a quick slant from Prescott. He worked through traffic after a catch. He even went through special-teams drills as a gunner, which is somewhat surprising for a receiver entering his ninth season.
"Let him do everything," Prescott said. "I mean, honestly, put him in the backfield, put him outside, put him inside, ask him to block, ask him to take a jet sweep. I mean, he's got film doing all those things and doing all those things really well. I think if we're not utilizing all of his athleticism and just his versatility, then we're cheating him as a player and we're not getting everything we want as an offense."