JC Ramirez, Nick Tropeano agree to deals with Los Angeles Angels
LOS ANGELES — The Angels agreed to one-year contracts with right-handers JC Ramirez and Nick Tropeano that avoided salary arbitration.
Ramirez agreed at $1,901,000 on Thursday, a raise of $1,000. Tropeano's deal is for $1,075,000, up from $552,500 in his first year of arbitration eligibility.
After breaking through as a big-league starter in 2017, Ramirez made two starts last season and had Tommy John surgery. He could be ready to return late this season.
Tropeano was 5-6 with a 4.74 ERA in 14 starts. The 28-year-old right-hander returned from Tommy John surgery but had shoulder problems. He has 12 big-league wins in four major league seasons that began with Houston in 2014.
Six Los Angeles players remain eligible to exchange proposed arbitration salaries Friday: right-handers Cam Bedrosian, Luis Garcia and Hansel Robles; left-handers Andrew Heaney and Tyler Skaggs; and second baseman Tommy La Stella.
—
More AP MLB: https://apnews.com/tag/MLB and https://twitter.com/AP-Sports
How social media is negatively impacting Hall of Fame voting
Bill Ballou has covered baseball for the Telegram and Gazette for more than three decades, and in December, he explained why he was not voting for Yankees closer Mariano Rivera — or anybody else, out of respect for Rivera.
Ballou believes that the value of closers doesn't match that of other positions, which is hardly an outrageous argument to make. There are 30 front offices that agree with him, apparently, based on the lesser compensation they annually apply to relief roles relative to what starting pitchers are paid. Because of that perspective, he decided that he couldn't vote for Rivera. But he acknowledged in his column that he knows his opinion is in the minority.
"I could be wrong about all of this," he wrote, "and everyone I have the debate with says, 'I see your point, but Rivera is different.' Maybe he is and I'm just missing something. Rivera could be the first Hall of Famer elected unanimously. I think I'm right about closers, but not so much that I would deny Rivera a chance to be the first unanimous Hall of Famer."
Following that reasonable rationale, he decided to not submit a ballot, rather than hurt Rivera's percentage in the voting. And yet through the blitzkrieg of social media, Ballou was lambasted. Just before Christmas, Ballou mentioned the outpouring of response to his column in this tweet.
The reaction was a rabid overreaction, played out on Twitter, Instagram and other social-media avenues, now standard within any element of the Hall of Fame voting –whether it's a discussion about the candidates linked to performance-enhancing drugs, Pete Rose's status, or the veterans' committee decisions.
Yadier Molina of St. Louis Cardinals takes exception to comments by Kris Bryant, Ryan Dempster
CHICAGO — The Chicago Cubs and St. Louis Cardinals won't see each other until early May, but the heat has already been turned up on one of baseball's best rivalries.
Cubs third baseman Kris Bryant called St. Louis "boring" during a comedic moment at the team's annual fan convention this weekend. When he heard about the comment, Cardinals star catcher Yadier Molina responded by saying "only stupid players and losers" make fun of other cities.
Bryant was being interviewed on a stage by former pitcher Ryan Dempster on Friday night when the two joked about the possibility of playing for the Cardinals.
"Who would want to play in St. Louis?" Bryant asked. "Boring. So boring. I always get asked, 'Where would you like to play? Where would you not like to play?' St. Louis is on the list of places I don't like to play. It's rough."
Dempster piled on, adding that at one point in his career there was a chance he was going to be traded to St. Louis.
"I'm like, 'Zero chance in hell,'" Dempster said. "No way. Won't even go there as a free agent. Not happening."
Cardinals outfielder Marcell Ozuna, commenting on Molina's post, also took exception to the comments.
"From outside they speak and talk like tiger but at the end they gonna be like little cat .. #cerorespectforthisstupidplayers #quevivastlouis #LOVESTL," Ozuna said on Molina's post.
The teams first square off next season on May 3-5 in Chicago. Bryant and the Cubs don't make their first appearance in St. Louis until May 31.
Kris Bryant of Chicago Cubs frustrated for unsigned Bryce Harper, Manny Machado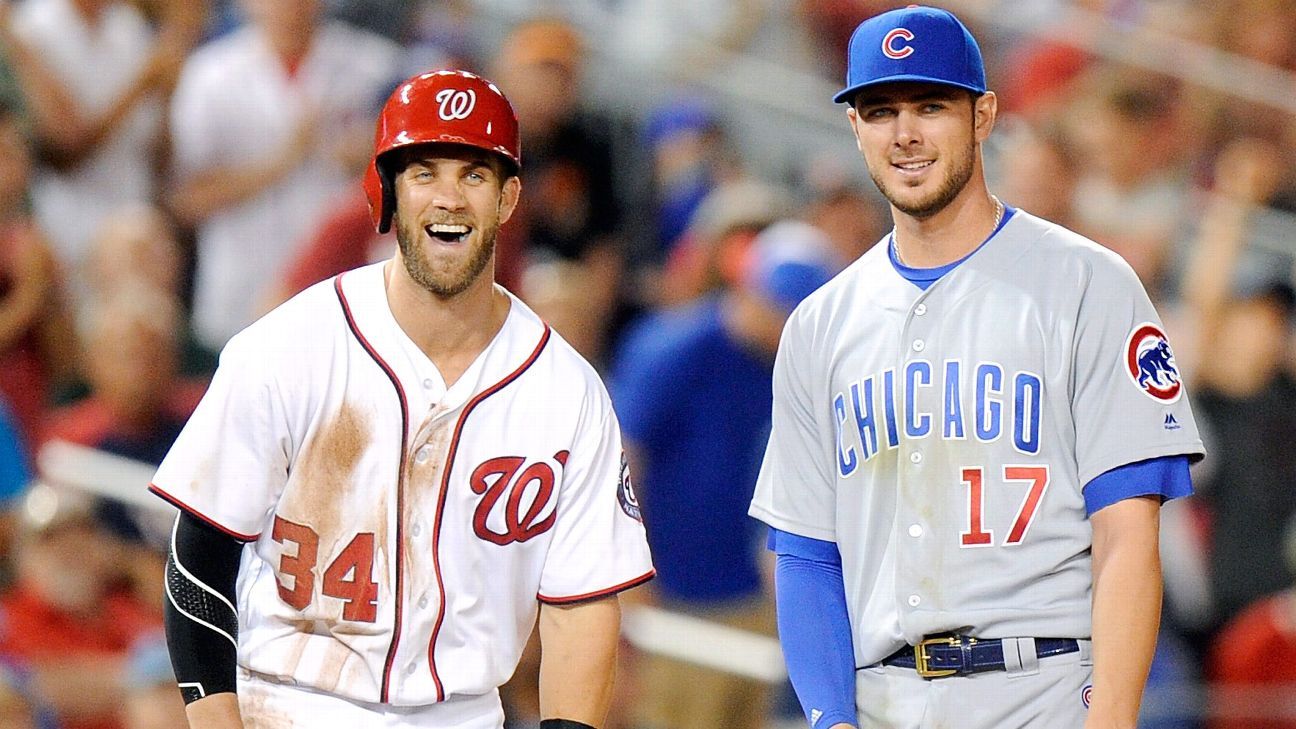 CHICAGO — Cubs star Kris Bryant expressed frustration for free agents Bryce Harper and Manny Machado, who remain unsigned with less than a month to go before spring training begins.
Harper and Machado, along with many other free agents, still are looking for jobs as February nears, marking the second consecutive winter in which free-agent signings have ground to a halt.
"It's really weird," Bryant said Friday from the Cubs' annual winter fan convention. "Two of the best players in the game, and they have very little interest in them, from just what I hear. It's not good. It's something that will have to change. I know a lot of the other players are pretty upset about it."
It's not just veteran free agents ages 30 and up who still are looking for fair contracts. Now it's the younger stars of the game.
On his Instagram account, San Francisco Giants third baseman Evan Longoria also expressed his dismay over the situation and urged the players to "stand strong for what we believe we are worth."
Cubs outfielder Albert Almora Jr., who is a friend of Machado's, called the free-agency situation "unfortunate."
"Right now we have to sit and wait," Almora said. "It's unfortunate, arguably, the best two guys in the league are taking this long to sign. The game is changing right before our eyes. It's a conversation we have to have with our player rep. A lot of us are eager to have those conversations."
Bryant said he is certain Harper won't be signing with the Cubs, who have squashed any talk of adding a high-priced player.
The Cubs have a payroll north of $200 million even without Harper, but that won't be the case for most teams.
Bryant was asked why he thinks free agency has slowed over the past two winters. He said he was unsure of the reason, but threw out the possibility it might be because "not enough teams [are] trying to be competitive."
"There's a lot of teams out there that have the money to spend, but they're not doing it," Bryant said. "It's very confusing to me. If I was an owner, president or GM, I'd love to have Bryce Harper or Manny Machado on my team."
Bryant and Almora indicated they hadn't spoken in-depth with Harper or Machado about where the free agents might sign; they said the timing of Harper's and Machado's availability in January is a good indication of where things stand.
"You work for that moment in your career," Bryant said. "You feel like every team should want you. For them to not have that, it could be disheartening for them. … It's not about the greed. They've put in the work to warrant contracts that are worthy of it."