Andrew Luck's masterpiece: Comeback vs. Chiefs in '13 playoffs – Indianapolis Colts Blog
INDIANAPOLIS — Quarterback Andrew Luck's seven-year NFL résumé features 21 come-from-behind victories when trailing in the fourth quarter and overtime.
But there's one come-from-behind victory that most refer to when it comes to Luck.
It happened Jan. 4, 2014, at Lucas Oil Stadium.
• Division MVP, rookies, award winners
• Colts' Marlon Mack delivers 'body blows'
• How will Matt LaFleur coach Aaron Rodgers?
• Amari Cooper, the Cowboys' anti-diva WR
• Drew Brees turns 40: Untold stories
• Playoffs schedule, Super Bowl LIII coverage
Indianapolis Colts vs. Kansas City Chiefs in the AFC wild-card playoffs.
The Colts fell behind 38-10 some 76 seconds into the third quarter before Luck did the near-impossible: He led them to a 45-44 victory — the NFL's second-largest postseason comeback victory — by throwing for 443 yards and four touchdowns.
As the Colts prepped for Saturday's game in Kansas City (4:35 p.m. ET, NBC) in the AFC divisional playoffs, Luck was asked about the rally.
"There are some really good memories from that game," he said this week. "There are also some not-so-good memories from that game. We dug ourselves quite the hole."
That's just Luck being Luck, not wanting to praise himself. What he did that Saturday night more than five years ago, was, as long-snapper Matt Overton said at the time, "an ESPN Instant Classic."
There are two poster-sized Sports Illustrated covers of Luck diving in for a touchdown hanging on the wall in the office of the team's media-relations department.
"The quarterback played his tail off," former Colts coach Chuck Pagano told ESPN this week. "You always have faith and belief, and Andrew gives you hope. Any time you trot him out there, your team has hope. I know it was an entire team deal, but he gives you hope."
From bad to worse
Pagano, according to tight end Dwayne Allen, tried to get his players motivated by yelling and cursing at them at halftime, when the Colts were trailing 31-10.
It didn't work.
The Colts got the ball to open the second half, but their very first play of the third quarter was Luck's second of three interceptions. The Chiefs scored three plays later to take the 38-10 lead.
"I gave one of those 'win one for the Gipper' speeches and then go out and do that," Pagano said. "Throw in the interception, and then the next thing you know we're down 28 points. Amazing.
"I remember telling the guys there's not a play you can score 28 points on. It's impossible. One play at a time, same mantra. We just needed to catch a break here or there, and we did."
Getting some momentum
The Colts got something going when they responded to Kansas City's score with a 10-yard Donald Brown touchdown. But things started to change in their favor when Colts pass-rusher Robert Mathis had one of his patented strip-sacks on Chiefs quarterback Alex Smith. It gave the Colts the ball at their own 46-yard line.
"You always remember Robert Mathis' strip-sacks because you grew up hearing about them, and then you get to see them live and it helps you," Luck said. "I remember that being pretty cool."
The Colts made it a 38-24 game five plays later on another Brown touchdown.
They knew it
It was like it was meant to be for the Colts when Brown fumbled early in the fourth quarter, the ball bounced off center Samson Satele's helmet and Luck grabbed it and dove into the end zone from 5 yards out to cut the Chiefs' lead to 41-38.
"I remember turning around and seeing the ball on the ground and going 'Oh s—!' and Andrew grabs it and dives in," left tackle Anthony Castonzo said.
Momentum was in the Colts' favor then.
"Hop, skip and jump into the end zone and he scores," Pagano said about Luck. "Just crazy. Once that starts to happen and that momentum switches, anything can happen. I think that's where we finally caught a break and made a couple of plays. The strip-sack, that momentum and all that stuff, you just feel it on the sideline, and you're like, 'This is going to happen, we're going to get this thing done.'"
Just run deep
The Colts were in the huddle, down 44-38, when Luck told T.Y. Hilton, who had 13 catches for 224 yards, to just "run."
And that's what Hilton did, as he got behind Kansas City's defense for 64-yard touchdown pass with 4:21 remaining that ended up being the winning score.
"He launched it and I went and got it," Hilton said. "It was fun. It was special. We just never gave up, never gave in. It was a tough game. It was pretty much down the whole game and then towards the end, we just found a way to get a dub."
Pagano couldn't breathe easy until Smith's final pass attempt to receiver Dwayne Bowe, who had eight catches for 150 yards, fell incomplete on fourth down.
"You couldn't relax, especially with the game Bowe had," Pagano said. "I just remember that feeling when it was out of bounds, incomplete and it was over. Everybody was spent. Emotionally, physically."
After the game
There wasn't much to be excited about in Kansas City's locker room.
"A lot of disappointment and shock," Chiefs defensive lineman Allen Bailey said. "We had a 20-something-point lead. People were upset, angry, what happened. How it happened."
Not surprisingly, the Colts' locker room was a madhouse after the game. Players ran around celebrating, and some mocked the media for thinking the game was over when they fell behind 38-10 early in the third quarter.
"As individuals you can do amazing things, but as a team you can make miracles happen," Pagano said. "We made a miracle that day with the second-largest comeback in the history of the National Football League. It's really what we based our whole culture and foundation [on] was that process. It just solidified everything we were about and just again, you love those moments. Spending that time together after an amazing comeback like that."
ESPN Kansas City Chiefs reporter Adam Teicher contributed.
Chiefs' Hill meets with NFL investigators
Kansas City Chiefs wide receiver Tyreek Hill met with NFL investigators Wednesday for eight hours, a source told ESPN's Adam Schefter.
It was a "very thorough interview," according to the source.
Hill has been banned from the team's training facility amid an investigation by the Kansas Department of Children and Families into possible child abuse, battery or neglect. The investigation began after officers in Overland Park, Kansas, were called to Hill's home twice in March when Hill's 3-year-old son suffered a broken arm.
Hill, a three-time Pro Bowler, remains subject to a suspension under the NFL's personal conduct policy.
There is currently no criminal investigation, according to Johnson County District Attorney Stephen M. Howe.
Ex-RB Wood, woman indicted in child death case
LAS VEGAS — A former pro football player and his girlfriend have been indicted on murder and 20 felony child abuse charges in the death of the woman's 5-year-old daughter, court officials said Tuesday.
Former NFL and Canadian Football League running back Cierre Marcelle Wood, 28, and Amy Taylor, 26, are accused of killing Taylor's daughter, La'Rayah Davis, who was found lifeless on April 9 in Wood's apartment.
Taylor and her daughter had moved in with Wood and his young daughter less than two weeks earlier.
A judge who heard evidence last month against Wood said it was clear that La'Rayah suffered before she died and that Wood and Taylor were responsible for her death.
The judge cited photos of numerous external bruises from what were described as finger-pokes to the girl's abdomen, back, arms and legs. Autopsy findings showed La'Rayah had 20 newly broken ribs, internal bleeding, a lacerated liver and bruises to her heart, diaphragm and connective tissue.
Taylor told police she sat on the girl while disciplining her about a week before her death, according to court documents.
Wood told police he used exercise as discipline, and had La'Rayah do physical activities including running sprints in the apartment. On the day she died, La'Rayah fell backward while doing sit-ups and hit her head on the carpeted floor, he said.
Taylor told police she was at a grocery store at the time.
A scheduled bail hearing for Wood was called off after the indictment, filed June 14, moved the case to state court for trial with Taylor on charges that could get each of them life in prison if they're convicted.
Wood plans to plead not guilty at his arraignment July 2, his lawyer Thomas Ericsson said.
Taylor's public defender, Sarah Hawkins, declined to comment.
Wood played for the University of Notre Dame before NFL stints with Houston, New England and Buffalo.
He was released last year by the Montreal Alouettes in Canada. Ericsson said Wood worked in Las Vegas as a health care associate.
Cam Newton's $1,500 plane offer shows it's hard to stay under radar – Carolina Panthers Blog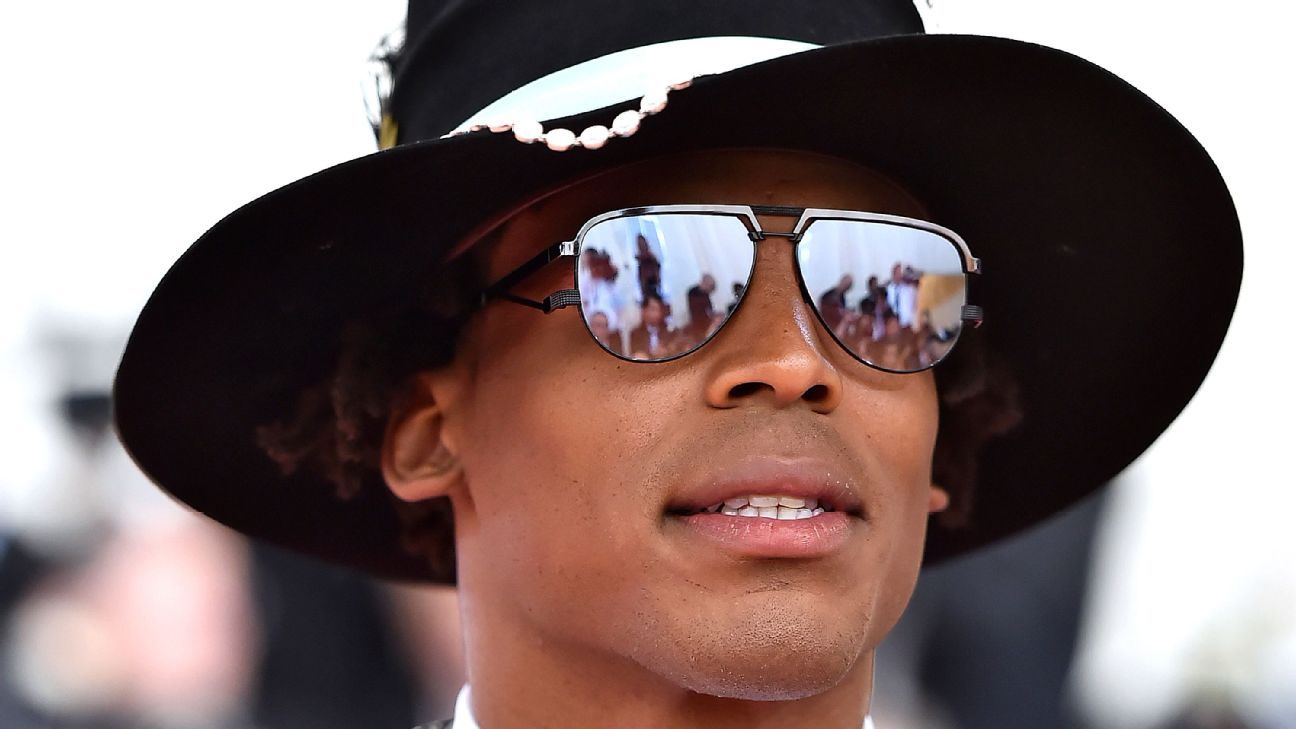 If Cam Newton wanted to have a quiet offseason, he's not succeeding.
The Carolina Panthers quarterback has caused quite a social-media stir. He was photographed all over Paris at Men's Fashion Week, then was caught on video making a $1,500 offer to switch seats on the flight home (and denied).
The latter in particular drew attention — 4.5 million views on the video posted to Eli Edwards' Twitter account as of Wednesday morning.
"Man, I don't know," Edwards told ESPN.com. "I'm not big on Twitter. I just posted the video on Twitter because I didn't get the response on Instagram I expected. The Twitter one went viral."
So this happened… @CameronNewton offered a man $1500 cash for extra leg room on a 10hr flight and the man said "No??" #GiveFranceTheNFL pic.twitter.com/xQohV9Ngef

— Eli Edwards (@ElisaraEdwards) June 22, 2019
Edwards, 28, was headed home after proposing to his girlfriend at the Women's World Cup. Newton was headed back to Charlotte to attend his annual 7-on-7 high school football tournament in Rock Hill, South Carolina.
Edwards, a former Colorado State defensive end, initially ran into the former Auburn star at the ticket counter and recognized him.
When Newton missed his initial flight, as Edwards later discovered, the 2015 NFL MVP had to fly home in economy with a connection through Dallas. The 10-hour flight is tough enough on an average-sized person, but when you're 6-foot-5, leg room is a premium.
So Newton offered $1,500 to a passenger in what appeared to be an exit-row seat.
And was turned down.
Twice. The first offer was for $1,000.
Edwards initially thought it was joke that Newton was flying in economy. He's almost positive the passenger who turned down the offer didn't have a clue who Newton was.
"No one did, honestly," Edwards said. "I felt no one knew the situation except me."
The video got arguably as much or more attention as when Newton, coming off his second offseason shoulder surgery in three offseasons, threw for the first time in practice during a three-day minicamp on June 11-13.
For comparison, Edwards said his proposal video that was posted internationally got only about 7,000 views.
Newton, known for his big smile, gave a sheepish grin after being denied and walked to his seat. He suffered through the flight and made it back in time for his tournament.
"To me, it didn't look like he was mad," Edwards said of Newton. "It looked like he slept about seven hours, so he couldn't have been that uncomfortable."
Meanwhile, social media was abuzz wanting to know everything from why the passenger turned down the money to why Newton was in economy.
"The guy asked Cam how tall he was," Edwards said. "Cam said he was 6-6. The guy said he was 6-4. He was with the three other gentlemen. It was like asking a couple to move because they were all together."
Newton also caused a stir with his unusual style in Paris.
Newton considers himself the "King of Swag,'' at least in the NFL. From his signature designer hats, to loafers and no socks, to outlandish color combinations, the first pick of the 2011 draft was among a star-studded cast of athletes in Paris that included NBA star Russell Westbrook and Kansas City Chiefs tight end Travis Kelce.
Here Newton is with Westbrook:
In an interview with ESPN.com in May, Newton mentioned Kelce as one of the few NFL players who might challenge him in style.
"Man, it's a lot of [NFL] guys who take fashion extremely serious," he said. "They dare to be different. Travis Kelce is one of them. Odell [Beckham] easily one of them. How can you forget about Antonio Brown?"
Brown caused arguably the biggest offseason stir before players broke for the final time before the start of training camp when he was traded from the New York Giants to the Cleveland Browns.
However, Newton owns bragging rights for the past two weeks thanks to an unusual encounter captured by Edwards.
"I feel like he was trying to be incognito," Edwards said of Newton. "But with Cam's appearance, you can spot him right away."