Jed Lowrie agrees to two-year, $20M deal with New York Mets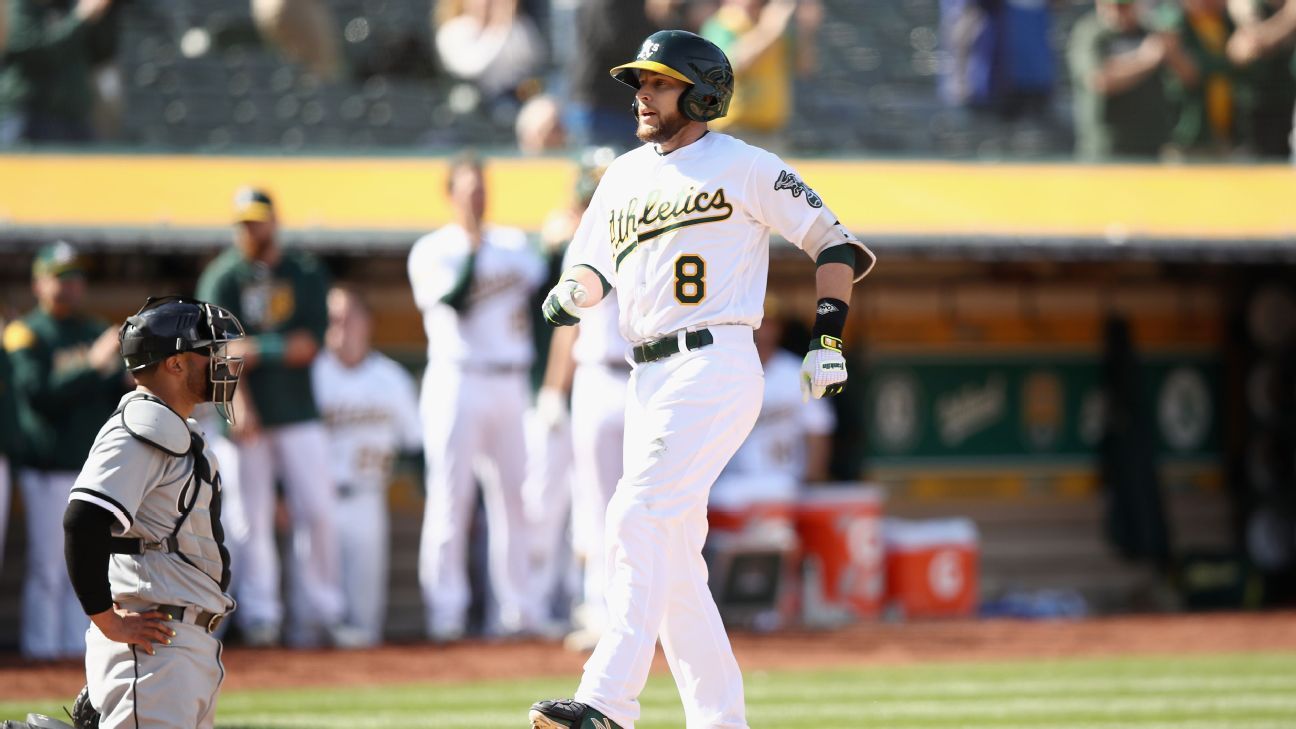 The New York Mets have reached a two-year, $20 million deal with free-agent infielder Jed Lowrie, league sources told ESPN on Thursday, adding a versatile veteran to an overhauled team that hopes to compete in the loaded National League East this season.
The 34-year-old Lowrie is coming off the best year of his career, setting highs with 23 home runs, 99 RBIs and 78 walks as the surprising Oakland A's made the postseason.
He'll join an infield that already includes the newly acquired Robinson Cano at second base, Todd Frazier at third base and Jeff McNeil in a utility role — the same sort of move-around-the-diamond spot Lowrie will likewise fill, according to sources.
The deal reconnects Lowrie with Brodie Van Wagenen, his former agent who was hired this winter as Mets general manager and has made a number of splashes in hopes of reinvigorating the moribund Mets. The trade for Cano and closer Edwin Diaz, which cost the Mets prospects Jarred Kelenic and Justin Dunn, was the biggest.
New York also has signed reliever Jeurys Familia, catcher Wilson Ramos and traded for center fielder Keon Broxton and utilityman J.D. Davis.
Before he played 157 games last season, Lowrie reached 100-plus games just twice — in 2013 and 2014 with the A's — in his 10-year career. In 2018, Lowrie, who has settled in as a second baseman the past three years, again went into spring training free of any injuries after coming off one of his best seasons in 2017, and he delivered in having a durable, consistent campaign.
How the Mets fit in Lowrie and spread plate appearances with a crowded infield will be part of the challenge manager Mickey Callaway faces following a 77-85 season. Lowrie's patient approach and ability to switch hit make him a likely part of the Mets' everyday lineup.
Lowrie helped the A's make the playoffs three times in his tenure, hitting .271/.341/.413 with 60 homers and 320 RBIs in 687 games. His career line is .262/.335/.414 with 104 homers and 509 RBIs in 1,109 games.
MillerCoors losing stadium naming rights for Milwaukee Brewers in 2021
MILWAUKEE — The home of the Milwaukee Brewers will be renamed when MillerCoors' naming rights expire following the 2020 season.
MillerCoors said in a statement Tuesday that the rights to Miller Park will go to American Family Insurance beginning in 2021. MillerCoors said American Family proactively pitched the Brewers "an incredibly rich offer" for future naming rights to the ballpark.
Miller Park, with its convertible roof, opened in 2001 and replaced Milwaukee County Stadium.
Texas Rangers reach deal with infielder Asdrubal Cabrera
Free agent infielder Asdrubal Cabrera and the Texas Rangers are in agreement on a one-year, $3.5 million deal, pending a physical, league sources tell ESPN.
Cabrera can play all around the diamond and slot into a utility role if necessary, but the Rangers' plan is to slot him at third base, the sources said.
The Athletic first reported news of the agreement.
The switch-hitting Cabrera batted .262 with 23 home runs and 75 RBIs in 147 games last season with the New York Mets and Philadelphia Phillies. He hit .228 with five homers for Philadelphia after being acquired on July 28 to give the team some infield flexibility and pop for their playoff push.
Cabrera has spent most of his career at shortstop but started only at second for the Mets last season and split his time at second, third base and shortstop with the Phillies after the trade, so he provides a lot of versatility.
Cabrera has a career batting average of .269. His best offensive season was 2011 when he was easily the Cleveland Indians' most valuable player that year, batting .273 and posting career-highs with 25 homers and 92 RBIs — power numbers few saw coming. Before that season, the 33-year-old had hit just 18 career homers. Cabrera led AL shortstops in RBIs, was tied for first in hits (165) and was second in doubles (32) and runs (87).
Beyond that, he made dazzling defensive plays that saved runs, turned games and earned him an almost nightly spot on TV highlight packages.
Cleveland acquired Cabrera from Seattle in 2006 in a trade for first baseman Eduardo Perez. After he was called up from Triple-A in 2007, Cabrera provided an immediate spark, helping push the Indians to an AL Central title and within one win of the World Series.
Cabrera followed with seven-plus productive years in which he emerged as one of the game's best all-around middle infielders before he was traded to the Nationals in July 2014. He then played one season with the Tampa Bay Rays before signing with the Mets in 2016.
ESPN's Jeff Passan contributed to this report.
Bryce Harper to Rangers? Well, if Tony Romo says it's so …
Bryce Harper is headed to Texas. At least if you believe Tony Romo.
Romo, the CBS NFL analyst — and former Dallas Cowboys quarterback — put on an epic performance prognosticating the New England Patriots' plays during their overtime victory in the AFC Championship Game on Sunday against the Kansas City Chiefs, sparking buzz on social media.
The praise for Romo's Nostradamus act wasn't lost on Harper, MLB's most high-profile free-agent superstar.
First, with tongue firmly in cheek, Harper took to Twitter that night to "confirm" he'd asked Romo to predict which team's outfield he'll be roaming in this season.
Confirmed: Just called Tony Romo to see where I'm going to play next year. #YoureAWizardTony

— Bryce Harper (@Bharper3407) January 21, 2019
A day later, Romo responded — and his choice was, well, predictable.
Well… looks like you'll be playing for the Texas @Rangers opening day 😉 https://t.co/xVw1LDnm18

— Tony Romo (@tonyromo) January 22, 2019
A little home cooking or not, it was enough to make the Texas Rangers happy.
Your check is in the mail, @tonyromo. https://t.co/9bc1OembyN

— Texas Rangers (@Rangers) January 22, 2019
We're pretty sure the Rangers didn't send any dough to Romo, but if they have any intention of making his call come true and luring Harper to Texas, well, they'll need to write out a pretty big check indeed.