Jed Lowrie agrees to two-year, $20M deal with New York Mets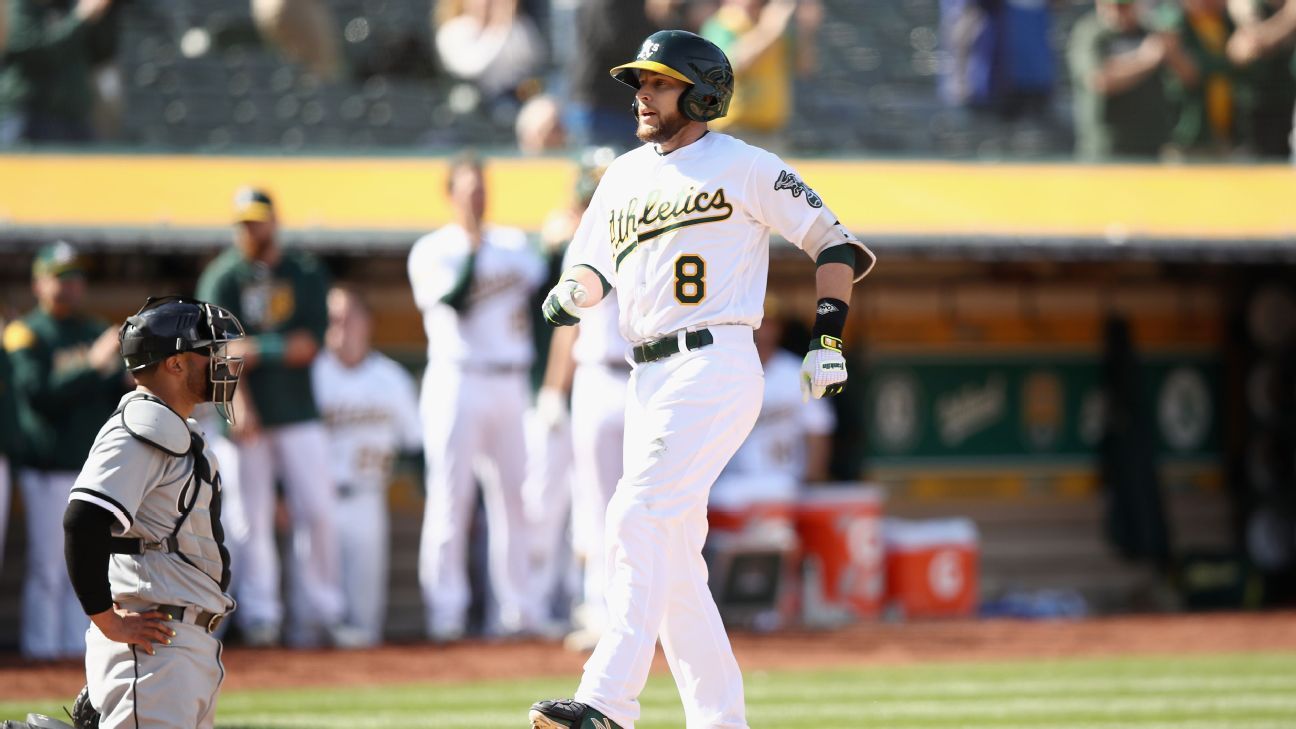 The New York Mets have reached a two-year, $20 million deal with free-agent infielder Jed Lowrie, league sources told ESPN on Thursday, adding a versatile veteran to an overhauled team that hopes to compete in the loaded National League East this season.
The 34-year-old Lowrie is coming off the best year of his career, setting highs with 23 home runs, 99 RBIs and 78 walks as the surprising Oakland A's made the postseason.
He'll join an infield that already includes the newly acquired Robinson Cano at second base, Todd Frazier at third base and Jeff McNeil in a utility role — the same sort of move-around-the-diamond spot Lowrie will likewise fill, according to sources.
The deal reconnects Lowrie with Brodie Van Wagenen, his former agent who was hired this winter as Mets general manager and has made a number of splashes in hopes of reinvigorating the moribund Mets. The trade for Cano and closer Edwin Diaz, which cost the Mets prospects Jarred Kelenic and Justin Dunn, was the biggest.
New York also has signed reliever Jeurys Familia, catcher Wilson Ramos and traded for center fielder Keon Broxton and utilityman J.D. Davis.
Before he played 157 games last season, Lowrie reached 100-plus games just twice — in 2013 and 2014 with the A's — in his 10-year career. In 2018, Lowrie, who has settled in as a second baseman the past three years, again went into spring training free of any injuries after coming off one of his best seasons in 2017, and he delivered in having a durable, consistent campaign.
How the Mets fit in Lowrie and spread plate appearances with a crowded infield will be part of the challenge manager Mickey Callaway faces following a 77-85 season. Lowrie's patient approach and ability to switch hit make him a likely part of the Mets' everyday lineup.
Lowrie helped the A's make the playoffs three times in his tenure, hitting .271/.341/.413 with 60 homers and 320 RBIs in 687 games. His career line is .262/.335/.414 with 104 homers and 509 RBIs in 1,109 games.
Chacin to start Brewers' opener against Cards
PHOENIX — Jhoulys Chacin has been picked to start the Milwaukee Brewers' opener against St. Louis on March 28.
A 31-year-old right-hander, Chacin was 15-8 with a 3.50 ERA in 35 starts last season. He also started openers for Colorado in 2013 and San Diego in 2017.
"Jhoulys earned the honor from what he did last year and he deserves it for sure," Brewers manager Craig Counsell said Thursday.
Chacin allowed one run and one hit over 5 2/3 innings in the NL Central tiebreaker game against the Chicago Cubs and pitched five shutout innings in a Division Series start against Colorado. He went 1-1 with a 2.45 ERA in two starts against the Los Angeles Dodgers in the National League Championship Series.
Life after Harper? Juan Soto can be what Bryce was … and more
WEST PALM BEACH, Fla. — If you think Juan Soto is feeling pressure, think again.
Last May, Soto exploded onto the scene as a 19-year-old outfielder with the Washington Nationals. Due to injuries in D.C., he was rushed to the majors after just eight games above Class A. Over the next four and a half months, he wrecked big league pitching and developed a habit of doing things few, if any, teenagers before him had accomplished. But that was then, and this is now.
Following a freshman campaign that, were it not for Atlanta's Ronald Acuna Jr., would have made him the runaway Rookie of the Year, Soto isn't sneaking up on anyone. What's more, now that a certain superstar and his big bat have moved just up the road to Philly, Soto is being counted on to do even more. Suddenly, he's the face of the outfield — and the heart of the lineup — on a Nationals team trying to conquer a stacked NL East and prove that there is, in fact, life after Bryce Harper.
"I don't feel any pressure," the 20-year-old said while standing in front of his spring training locker at the Nats complex.
A year ago, Soto wasn't in big league camp. He was the No. 2 prospect in the Nats organization, and the most recent work experience on his résumé was 23 games in Class A to finish the 2017 season. But he mashed to open 2018 and, after veteran Howie Kendrick suffered an Achilles injury in mid-May, he was called up directly from Double-A. Nine months later, he was cordially invited to West Palm for his first spring training. Waiting there for him was a locker with a name plate — and, of course, expectations.
"If you play well, people expect good things out of you," said Nationals shortstop Trea Turner, who hit .342 as a rookie in 2016, when he finished second in the ROY balloting. "That's what you want. Mike Trout, Bryce Harper, all these unbelievable players are expected to be that good, each and every year. He's in that category of expecting great things from him."
If you're scoring at home, yes, Turner just compared his young teammate — who cracked the top 50 in ESPN's MLB Rank after just one season, finishing 35th, ahead of established stars such as George Springer and Anthony Rizzo — to two of the game's best players. He isn't the only one who has mentioned Soto's name in proximity to the Millville Meteor.
"I played with another guy that was just like that, and his name was Mike Trout," said Kendrick, who spent four years playing alongside Trout on the Angels. "I see a lot of those same similarities in Juan coming in every day, playing the game, plays it at a high level. Not quite as speedy as Mike Trout, but he does a lot of similar things that Mike does. Hopefully [he'll] continue his success into the season and show us what type of player he's really going to continue to be."
The type of player Soto wants to be is the kind who gets noticed for his leather as much as his lumber. "Win a Gold Glove," he said, when asked his individual goals. It's a lofty objective for a guy who has always been known for his stick. A guy who isn't blessed with great wheels and whose minor league teammates nicknamed him "El Gamba" (Spanish for bowlegged). A guy who, prior to last season, had never played left field (he played exclusively right in the minors) and who accounted for minus-5 defensive runs saved as a rookie (among qualified left fielders, only Rhys Hoskins ranked lower).
Not surprisingly, defense and speed were points of emphasis this offseason for Soto, who spent most of the winter in his hometown of Santo Domingo, where he worked out with Mariners outfielder Domingo Santana and top Nats prospect Victor Robles. But that's not what people talk about when they talk about Soto's offseason. Instead, they home in on the ball he demolished in Japan. It looked like it was going to travel 500 feet but instead hit the roof of the Tokyo Dome and was called a ground-rule double.
"It's one of the hardest I've hit," said Soto, who grazed the roof not once but twice while playing an All-Star exhibition series in Japan in November. "I crush[ed] it."
That isn't the only thing Soto crushed last year. In 116 games with the Nationals, the powerful lefty hit 22 homers. He finished the season with a .923 OPS that would've ranked third in the National League — behind two guys named Yelich and Arenado — except he was eight plate appearances shy of qualifying. But what stuck out most to those who watched Soto on a regular basis was his plate discipline.
"What everyone strives for is to swing at good pitches and take bad ones. He can do it already," Turner said of Soto, whose 79 walks last season ranked 10th in the NL and were the most ever by a teenager. "So I think he'll be fine."
That isn't to say Soto is a finished product at the plate. He's well aware of how opposing pitchers adjusted to him over the course of the season — more fastballs up in the zone, more breaking balls down in the dirt — and expects that to continue.
"Pitchers [will] keep doing the same thing," said Soto, who hit .229 on curves and sliders, 13 points below the league average against breaking stuff. "Try to get me in the same spot."
Regardless of whether they get him, Soto isn't concerned. He knows that, Bryce or no Bryce, the Nationals lineup — an attack that features Turner, Anthony Rendon and Adam Eaton, as well as new additions Brian Dozier, Kurt Suzuki and Yan Gomes — is deep and balanced. Plus, the rotation fronted by Max Scherzer, Stephen Strasburg and newcomer Patrick Corbin is among the best in baseball.
"We're not just one player," he said. "We are a team, so we're going to keep working as a team. I don't feel any pressure. I'm Juan Soto, but I'm part of the team."
Is Estevan Florial 'a young Bernie Williams' or a future bust?
TAMPA, Fla. — When the prospect rankers began unveiling their annual lists of baseball's best up-and-comers, a common theme emerged regarding one of the New York Yankees' prized players.
Estevan Florial, long considered among the top talents in the Yankees' farm system, had fallen in the eyes of national prognosticators. Rated by some to be a top-50 prospect in 2018, Florial found himself below that entering 2019.
ESPN's Keith Law, troubled only in part by the more than two-month injury from a broken hamate bone Florial endured last year, again had him just outside of his top 100.
All of which raises the questions: Is the 21-year-old center fielder still a rising star? Has the flame around the Bombers' former No. 1 prospect burned out?
The Yankees, for their part, say Florial is shining brighter than ever.
"He's got as high a ceiling as just about anyone in that clubhouse," manager Aaron Boone said earlier this spring. "Nothing's changed there."
Added veteran outfielder Brett Gardner: "As talented as he is, it's not going to be long before we see him put it all together.
"He's got a bright career ahead of him for sure."
The proof of that, the Yankees believe, rests with how Florial has performed both this spring and last.
A year ago, the outfielder showcased his best asset — his speed — by racing around the bases to the tune of three triples in 21 spring training games. His range in the field caught attention, as did the work he put in behind the scenes.
Fast-forward to this spring, and the Yankees say they believe there's even more reason for optimism.
Entering play this week, Florial had a .333 batting average with a .926 OPS, a home run, four RBIs and four stolen bases through only 10 spring training games. Although he still had seven strikeouts and only two walks, his pitch recognition — one area where he has struggled in the past — has generally improved.
"[I'm] trying to get more control of the strike zone," Florial said at the start of the spring.
A prime example of that came on one swing Florial had last Thursday in a game against the Phillies in nearby Clearwater. With two on in the top of the sixth, he made a midswing adjustment to a pitch riding middle-in, and stroked a hard liner over the wall in left-center.
The three-run, opposite-field shot had the visitors dugout buzzing about the lefty's sweet swing.
"I mean, wow. There is a short list of people who can hit a ball hard like that," Boone said to reporters after that game. "I told that to Reggie Jackson on the bench."
Jackson, according to Boone, turned to the manager and said he knew that list was short — because the Hall of Famer was on the list.
Another Yankees legend, former infielder Willie Randolph, has been similarly moved by what he has seen from Florial this spring. Randolph went so far as to describe Florial as a "young Bernie Williams" to the New York Post last week. Considering Williams had his No. 51 jersey retired four years ago, that's not a bad comparison for the youngster to draw.
"The way he goes about his business, his work ethic, just his desire and his willingness to listen and to learn and get better, I don't see many 20-, 21-year-old kids come through here that are that mature," Gardner said.
That maturity manifests itself in the patience Florial exhibits. Days after the Yankees re-signed center fielder Aaron Hicks to a seven-year, $70 million extension, Florial was asked if he was nervous he might be considered a trade chip now. After all, the long-term investment in Hicks had to mean the Yankees saw little future for Florial, right?
"We love Hicks here. Who wouldn't like to have Hicks on their ballclub?" Florial said. "For me, I'm blessed to have him next to me, so I can learn from him."
A lower back injury has kept Hicks out much of the past two weeks, giving Florial more chances.
General manager Brian Cashman has been pondering whether Florial's year should begin at Single-A Tampa (where he hit .255 with three homers, three triples, 27 RBIs and was 11-for-21 in stolen bases in an injury-shortened 75 games last year) or Double-A Trenton. If he begins at Double-A, it would be the highest level Florial has played in the Yankees' organization.
Signed out of the Dominican Republic in 2015, Florial has spent the past two springs as a non-roster invitee. In addition to showing off his power in this one, Florial has been let loose on the basepaths.
In a game last week against Atlanta, Florial led off the bottom of the seventh inning by beating out an infield single. Two batters and two outs later, the wheels came out again.
After stealing second base, the speedster advanced to third on a passed ball. Then he scored on a wild pitch. Florial had manufactured a run in a way the powerful Yankees (who set a single-season home run record last season with 267) don't often do.
These anecdotes — the three-run home run and the blistering baserunning speed leading to a score — are prime examples of why the Yankees remain high on Florial, even if others are lukewarm.
"He doesn't recognize pitches well enough to get to his tools. Florial has bat speed, power, running speed, athleticism, quick twitch and all the tools that glitter, but his ability to pick up pitch types is not good enough to put him into the top 100," Law wrote in January. Meanwhile, MLB.com's prospect rankings saw Florial fall a dozen spots this year, from No. 45 to No. 57, and, after being ranked No. 38 last year by Baseball America, he slipped off their top 100 entirely.
Still, Boone likes what he sees: "His ceiling, it's why he's probably always considered the [Yankees'] No. 1 prospect. It's [a] good reason. I remember first seeing him last year and one of the things that grabs you is just how physical he is. He's good to look at. He looks the part. He's tall, he's built. Still obviously a very young man.
"I don't know if it's necessarily changed in my eyes, because I remember being really impressed with the way he looks on a baseball field."