Jed Lowrie agrees to two-year, $20M deal with New York Mets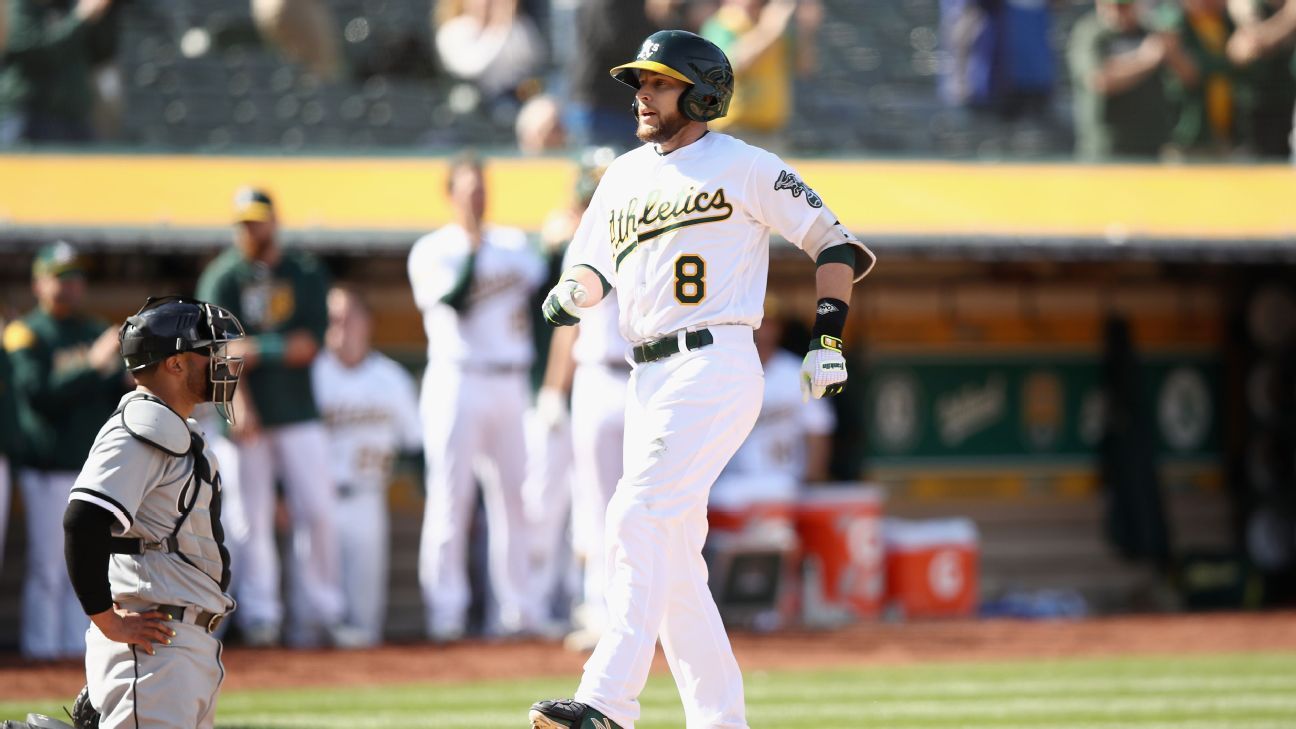 The New York Mets have reached a two-year, $20 million deal with free-agent infielder Jed Lowrie, league sources told ESPN on Thursday, adding a versatile veteran to an overhauled team that hopes to compete in the loaded National League East this season.
The 34-year-old Lowrie is coming off the best year of his career, setting highs with 23 home runs, 99 RBIs and 78 walks as the surprising Oakland A's made the postseason.
He'll join an infield that already includes the newly acquired Robinson Cano at second base, Todd Frazier at third base and Jeff McNeil in a utility role — the same sort of move-around-the-diamond spot Lowrie will likewise fill, according to sources.
The deal reconnects Lowrie with Brodie Van Wagenen, his former agent who was hired this winter as Mets general manager and has made a number of splashes in hopes of reinvigorating the moribund Mets. The trade for Cano and closer Edwin Diaz, which cost the Mets prospects Jarred Kelenic and Justin Dunn, was the biggest.
New York also has signed reliever Jeurys Familia, catcher Wilson Ramos and traded for center fielder Keon Broxton and utilityman J.D. Davis.
Before he played 157 games last season, Lowrie reached 100-plus games just twice — in 2013 and 2014 with the A's — in his 10-year career. In 2018, Lowrie, who has settled in as a second baseman the past three years, again went into spring training free of any injuries after coming off one of his best seasons in 2017, and he delivered in having a durable, consistent campaign.
How the Mets fit in Lowrie and spread plate appearances with a crowded infield will be part of the challenge manager Mickey Callaway faces following a 77-85 season. Lowrie's patient approach and ability to switch hit make him a likely part of the Mets' everyday lineup.
Lowrie helped the A's make the playoffs three times in his tenure, hitting .271/.341/.413 with 60 homers and 320 RBIs in 687 games. His career line is .262/.335/.414 with 104 homers and 509 RBIs in 1,109 games.
Cubs to add reliever Kimbrel to roster Thursday
CHICAGO — Craig Kimbrel will be added to the Chicago Cubs' roster Thursday before their series finale against Atlanta at Wrigley Field.
The team made the announcement following Wednesday night's 5-3 loss to the Braves.
Kimbrel, a seven-time All-Star closer, completed his minor league assignment Tuesday and traveled to Chicago on Wednesday. He pitched in four games for Triple-A Iowa, allowing one run and two hits in 3⅔ innings. The right-hander worked a clean ninth with two strikeouts Tuesday in Iowa's 5-1 victory over Omaha, throwing 16 pitches.
Kimbrel and the Cubs finalized a $43 million, three-year contract on June 7. The 31-year-old reliever has 333 career saves, including 42 last season for World Series champion Boston.
To make room on the 25-man roster, right-hander Tony Barnette was optioned to Iowa.
'All the info isn't out there'
New York Mets lefty Jason Vargas started — and answered questions — for the first time since being fined for an expletive-filled confrontation with a reporter, and he said he doesn't think all the information is out there.
Vargas had to be restrained from going after a Newsday beat writer in the team's clubhouse following a loss at Wrigley Field on Sunday. He called it "an unfortunate distraction" on Monday.
On Wednesday, after the Mets' 5-4 loss in 10 innings to the host Philadelphia Phillies, the 36-year-old was asked for an explanation of the incident.
"It was an unfortunate confrontation," Vargas said. "I don't think all the information is really out there. I don't think this is a time to get into that. But I think that anybody that knows me, anybody that has played with me, there's never been a situation like that. So to think it happened out of the blue, it's foolish."
Vargas declined to explain what he meant.
"It's over," he said. "Our organization made a statement. We put an end to it. But I think it's pretty obvious all the info isn't out there."
Mets manager Mickey Callaway also was fined for his involvement in the verbal confrontation. He apologized Monday.
The incident Sunday followed a tense postgame news conference, during which reporters asked Callaway repeatedly about his decision to stick with reliever Seth Lugo during the eighth inning instead of going to closer Edwin Diaz. Lugo allowed a go-ahead three-run homer to Javier Baez.
After the news conference, Callaway walked past the Newsday reporter, Tim Healey, and other reporters in the clubhouse. Healey said to Callaway, "See you tomorrow," and Callaway responded by calling Healey a "m—–f—–." Callaway walked away and then returned, cursing at Healey again and telling him to leave the clubhouse.
"I thought he was leaving for the day, so I said, 'See you tomorrow, Mickey,'" Healey said. "And then he said, 'Don't be a smart-ass.'
"I tried to tell him I didn't mean anything by it," Healey added. "I was just saying, 'I'll see you tomorrow.' And then he said, 'Get this guy out of here,' and that got the attention of Jason Vargas."
Vargas stared down Healey and shouted at him, including saying, "I'll knock you the f— out, bro," according to a Yahoo Sports account. He eventually tried to move toward Healey but was held back by teammates, including Carlos Gomez and Noah Syndergaard.
The Associated Press contributed to this report.
Dodgers C Martin records K in scoreless inning
Catcher Russell Martin took the mound for the Los Angeles Dodgers for the second time this season and pitched a scoreless eighth inning — with one strikeout — in an 8-2 loss to the Arizona Diamondbacks on Wednesday.
Martin came in with the visiting Dodgers trailing 8-2.
"I felt like six runs was just … you know, we're still in striking distance, so I was going to make them earn it," Martin said. "I gave them my best stuff."
Martin hit 90 mph on the radar gun. When asked by reporters if he knew he could throw that hard, Martin said, "Did I know? Um, I think I can squeeze an extra another mile or two if I really need it. I think I've been clocked throwing to second base 87, 88. So I figured that I could probably touch 90."
Martin, 36, pitched a scoreless ninth against Arizona in an 18-5 rout at Dodger Stadium on March 30, needing only 10 pitches to close out the Diamondbacks.
He estimated then that it had been nearly 20 years since he'd most recently pitched.