Sabermetrics in Sin City? Don't expect old-school gamblers at winter meetings
It is, in theory, the perfect intersection of glitz, glamor, gambling and greed: Major League Baseball, with its massive assembly of platinum free agents and its compelling trade pieces, will meet for four days for the winter meetings in Las Vegas, the entertainment capital of the world, the gambling mecca, Sin City. What happens here, stays here. It's an ideal collision. Place your bets right here, folks, and let the roulette wheel spin.
And yes, there will be tremendous movement and excitement at the Mandalay Bay Resort and Casino. Free agents Bryce Harper and Manny Machado will get paid an enormous amount of money, Patrick Corbin has already been paid, and to a lesser degree, so will Nathan Eovaldi and Craig Kimbrel. Maybe Madison Bumgarner, Corey Kluber, Noah Syndergaard and Zack Greinke will be traded. But the game has changed, and so have those who run it, which might make Vegas the least appropriate site for baseball's winter meetings. This might be more like Wayne Newton vs. Sir Issac Newton.
Today's baseball executives, mostly the general managers, are logical. They aren't gamblers, and building a team is no longer a game of chance. Today's leaders are young, brilliant, remorseless, bloodless guys from business and mathematical backgrounds, from the Ivy League, not the International League or the Pacific Coast League. At the general managers' meetings last month in Carlsbad, California, one executive estimated that of the 90 people in one meeting room, three per team, only 14 played pro ball. An executive who was there said that when a baseball question came up, about the actual playing of the game, "no one in the room knew who to look to for an answer."
Our new execs might not have played the game at its highest level, but they know how to play the game.
"The market has been flooded with very intelligent people over the last 10 years," said Brian Cashman, the Yankees' GM the past 21 years. "Maybe they have more discipline and patience. The light has been shined on making objective decisions, not subjective decisions. Teams are still spending lots and lots of money. But with all the information we have now, the decisions on how and where to spend are safer and more sound. We are investing in the right places. It's like Michael Corleone: It's not personal, it's just business."
One of the new general managers, former agent Brodie Van Wagenen of the New York Mets went rogue by taking on $83 million in salary in a risky trade to acquire second baseman (and former client) Robinson Cano, age 36, and closer Edwin Diaz from the Seattle Mariners. But for the most part, these guys, as we saw last year during free agency, are not going to give a 32-year-old with declining skills a four-year deal because they had a good "feeling" about the player. There isn't much feeling any longer, gut or otherwise. There isn't much human element involved. The players are numbers, imminently replaceable, as important to the game as beer vendors, according to Bill James. This is about math and science now. Physics is undefeated. This is not about riding a hot hand at the blackjack table or blowing on dice in a game of craps. This is about counting cards. This is MIT against Vegas, which, we have learned, is Vegas' worst nightmare. This is about exit velocity, launch angle and spin rate. Two years ago, an American League team hired a rocket scientist to study exit velocity, and among his findings was that Tony Gwynn was a not a great hitter. He was a lucky hitter because his exit velocity wasn't as high as that of other great hitters. He must have gotten lucky 3,141 times.
"There's no substitute for the experience of people who have marinated themselves in scouting and player development," Royals GM Dayton Moore said. "But there's a lot of wisdom in the game. With advanced metrics, we rely less and less on instinct and more on facts and information. We're in the most over-evaluated period of players in baseball ever, but the information is so precise, we are much more strategic and focused on things that make sense. We know teams' plans, who non-tenders will be, two to three years in advance."
The old days of evaluating players and assigning value are over, as are the old days of the winter meetings. At the 1975 meetings in Hollywood, Florida, White Sox GM Roland Hemond posted a sign in the hotel lobby that read: "Open For Business." "By midnight that night," he said proudly, "we'd made four deals." Back then, the GM with the biggest bar made the most trades. Back then, Phillies GM Paul Owens, at the hotel bar at 1:30 a.m., took off his sport coat, and demonstrated the proper way to execute a hook slide. He also, one morning at 2:30, called the beat guys who covered the team to announce that the Phillies had acquired Sutter — but it wasn't closer Bruce Sutter. It was a minor leaguer named Burke Sutter.
Our GMs today don't laugh much. And they don't call writers at 2:30 a.m. or make trades after 12 gin and tonics. In fact, you rarely see them in the hotel bar or in the hotel lobby at the winter meetings. They are all gathered in their suites with their computers, their smartphones and their battalion of sabermetric minds, all looking for the perfect deal. This is how it works now: A smart, young GM surrounds himself with a bunch of other smart people, and they don't leave the room until they get exactly what they want. Much like in our society, there are fewer handshake deals, and there is far less personal communication, especially face to face. The winter meetings are, as they have been for several years, the image of Scott Boras texting Barry Zito with the final contract details in nine characters: 7 for 126.
"We are able to make more efficient decisions now, less emotional decisions," Cashman said. "The guy at the blackjack table isn't as willing to gamble. Now, it's the house rules. Now the guy sitting at the poker table might stay and fold rather than make an emotional decision and just go all-in. And he might sit at the table until spring training if he has to."
Maybe it is the right way to go. Maybe our new execs have developed a new system, a better system, to build a team and save money. The owners think so. But if they are right, then the meetings in Vegas don't represent the perfect intersection of free agents and free enterprise. They represent the irresistible force against the immovable object and could take place in Iowa or anywhere. The meetings will have movement, excitement and their own fascination, but at the Mandalay Bay Resort and Casino, sadly, there will be no hook slides.
Nick Cafardo, longtime Boston Globe baseball writer, dies at 62
FORT MYERS, Fla. — Longtime Boston Globe baseball writer Nick Cafardo has died after collapsing at the team's spring training ballpark.
The newspaper said Cafardo had an embolism Thursday and Red Sox medical staff was unable to revive him.
He was 62.
Nick Cafardo, our widely respected baseball columnist, died Thursday in Fort Myers, Fla. He was 62.

We will miss him dearly.https://t.co/vHTFm5cq0W pic.twitter.com/FjhYvm3Mrf

— Boston Globe Sports (@BGlobeSports) February 21, 2019
Cafardo joined the Globe in 1989 and covered the Red Sox before switching to the New England Patriots in time for the team's first NFL championship in 2001. He returned to baseball and has covered the Red Sox and the major leagues for the past 15 years.
He was covering spring training on Thursday when he collapsed on a sidewalk outside the Red Sox clubhouse. The paper said it was his day off but "Cafardo's love of baseball and commitment to his craft compelled him to report to JetBlue Park."
"Nick was one of the best people to ever walk through our doors — generous with his time and insights, immensely knowledgeable, deeply devoted to the Globe," Globe editor Brian McGrory said. "He had a view of the Red Sox and the game on a national scale that is virtually unrivaled.
"For those reasons, he was one of our most read writers, constantly attracting followers near and far, his weekly baseball notes column being destination reading for tens of thousands of people."
The Associated Press contributed to this report.
Nolan Arenado of Colorado Rockies says state of free-agent market is 'sad'
SCOTTSDALE, Ariz. — The sluggish free-agent market the past two years has not scared Colorado Rockies third baseman Nolan Arenado, who could be among the prizes in the 2020 pool.
"I'm not afraid of it at all," Arenado said. "It doesn't have an effect on me. I think free agency is something you earn. You've been in the big leagues this long, you get there and you earn it. I don't know how it is going to work out; I can't speak on that. But you definitely earn it."
Arenado would be among the biggest names in the position-player pool next winter if he and the Rockies do not reach an agreement during current negotiations on a long-term contract. Paul Goldschmidt, Josh Donaldson and Khris Davis also can become free agents next winter.
Arenado signed a $26 million, one-year contract to avoid arbitration over the winter, the largest one-year salary for an arbitration-eligible player in league history. No deadline has been set on the current talks.
"I think it always worries you, but at the same time I have bigger things to worry about," Arenado said. "I'm trying to do my job at a high level and that's it. Everything else can take care of itself.
"It's definitely a little worry, in a way, when you think about it for a long period of time. But I try not to think about that. I'm in a great situation right now. Just play baseball now. If it comes to that in the offseason, I'll deal with it then."
Arenado called the current state of the free-agent market "sad."
Manny Machado agreed this week to a pending $300 million, 10-year contract with the San Diego Padres. Bryce Harper has yet to sign with anyone and the overall market has been slow.
"There are some really good baseball players out there, and it is crazy to think some of these teams don't need them. They need them. There is no question that they do," Arenado said. "They are just deciding not to, I guess.
"It's disappointing. I think it just shows that there are teams that are not trying to win. I just believe that the guys that are out there can really rebuild a team, get it jump-started, and help it win a championship."
Arenado, meanwhile, seems at home in Colorado, which took him in the second round of the 2009 draft and has made the playoffs the past two seasons, a franchise first. Free agent Daniel Murphy was added and David Dahl is projected to take another step up after the losses of free agents Carlos Gonzalez, Gerardo Parra and Adam Ottavino.
Arenado has led the National League in homers three times, RBIs twice and doubles once while averaging 31 homers and 103 RBIs in his six seasons. He has won six Gold Gloves.
"We feel very comfortable with each other," Arenado said. "We know what we are going to get out of each other. We're very comfortable communicating with each other. It just feels right. It is a very comfortable setting."
Dodgers to honor Don Newcombe with uniform patch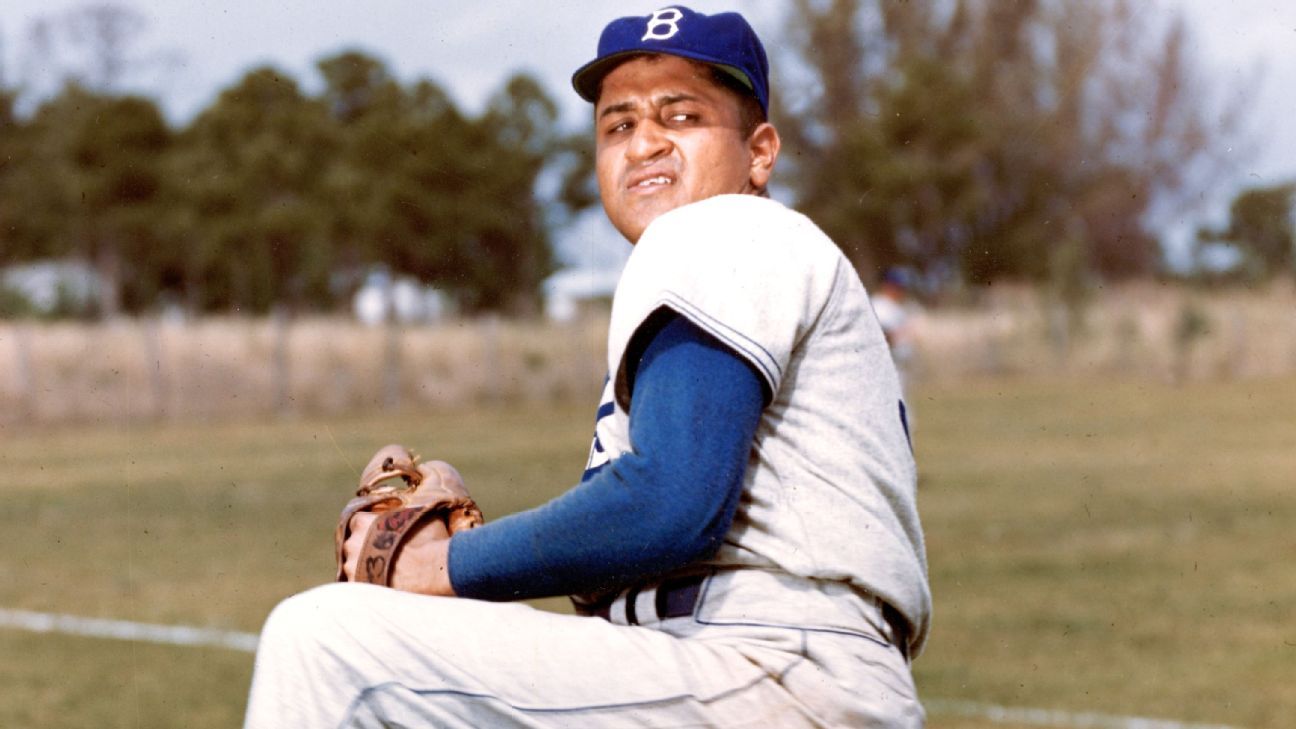 LOS ANGELES — The Los Angeles Dodgers will honor pitching great Don Newcombe by adding a commemorative No. 36 patch to their uniforms this season.
Newcombe died Tuesday at 92.
The team said Thursday that Newcombe will be saluted in pregame ceremonies on April 27, when he is inducted into the Legends of Dodger Baseball. He will also have a commemorative bobblehead.
Newcombe, along with Jackie Robinson and Roy Campanella, helped pave the way for blacks to play in the major leagues. He won the Cy Young and National League Most Valuable Player awards in 1956 with the Dodgers. He was 27-7 with a 3.06 ERA that season.