Playoff hero Nathan Eovaldi agrees to deal with Boston Red Sox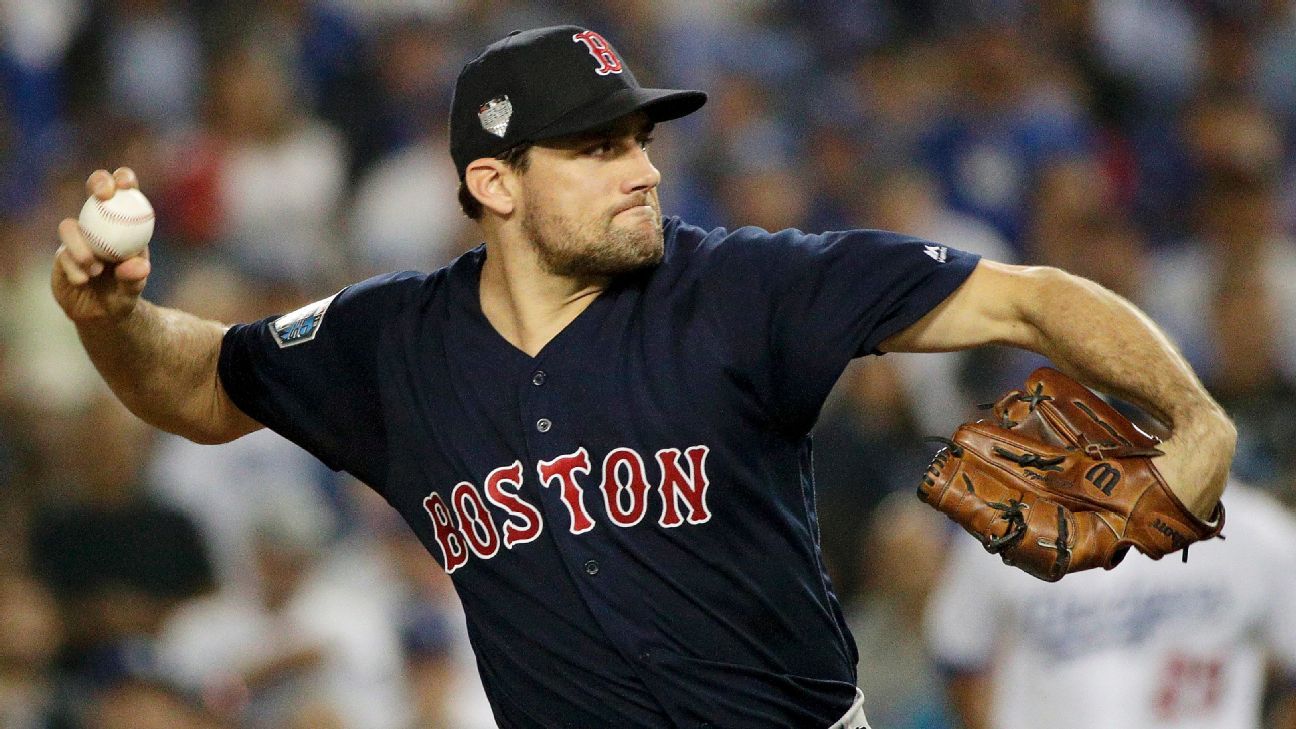 Nathan Eovaldi is returning to the Boston Red Sox after agreeing to re-sign with the team, according to multiple reports.
The deal is pending a physical, as The Athletic first reported. Eovaldi has had two Tommy John surgeries, most recently in 2016.
Eovaldi, 28, emerged as a star in the postseason, dominating both as a starter and late-inning reliever.
After being acquired from the Tampa Bay Rays on July 25, Eovaldi went 3-3 with a 3.33 ERA in 11 starts and one long-relief appearance. He found his groove in September, with a 1.35 ERA in five appearances that gave a hint of what was to come in the postseason.
In 22 1/3 postseason innings, Eovaldi allowed only four earned runs, throwing 100 mph fastballs that were unhittable.
"He made himself a lot of money," Red Sox president Dave Dombrowski said after the World Series win.
The right-hander handcuffed the New York Yankees in Game 3 of the American League Division Series, allowing one run in seven innings of a rout at Yankee Stadium. He stifled the Houston Astros in Game 3 of the ALCS, going six innings and getting the win. He also made three eighth-inning relief appearances that required him to record 10 outs against the Astros and Los Angeles Dodgers.
Eovaldi became a folk hero in Boston with a sixth-inning stint in the 18-inning loss in Game 3 of the World Series in Los Angeles. Coming on in the 12th inning, Eovaldi threw 97 pitches in relief. Though he got the loss, teammates and coaches called the outing inspirational, citing his stamina and willingness to give his all.
"One of the best performances in the history of the World Series," Red Sox manager Alex Cora said. "… What Nate did, that was amazing."
He was released by the Yankees in 2017 and signed a one-year, $2 million with the Rays for 2018. He made his return from surgery on May 30 and made 10 starts for Tampa Bay, going 3-4 with a 4.26 ERA.
Eovaldi has a 44-53 record and 4.18 ERA in stints with the Dodgers and Miami Marlins as well as the Yankees, Rays and Red Sox.
Nick Cafardo, longtime Boston Globe baseball writer, dies at 62
FORT MYERS, Fla. — Longtime Boston Globe baseball writer Nick Cafardo has died after collapsing at the team's spring training ballpark.
The newspaper said Cafardo had an embolism Thursday and Red Sox medical staff was unable to revive him.
He was 62.
Nick Cafardo, our widely respected baseball columnist, died Thursday in Fort Myers, Fla. He was 62.

We will miss him dearly.https://t.co/vHTFm5cq0W pic.twitter.com/FjhYvm3Mrf

— Boston Globe Sports (@BGlobeSports) February 21, 2019
Cafardo joined the Globe in 1989 and covered the Red Sox before switching to the New England Patriots in time for the team's first NFL championship in 2001. He returned to baseball and has covered the Red Sox and the major leagues for the past 15 years.
He was covering spring training on Thursday when he collapsed on a sidewalk outside the Red Sox clubhouse. The paper said it was his day off but "Cafardo's love of baseball and commitment to his craft compelled him to report to JetBlue Park."
"Nick was one of the best people to ever walk through our doors — generous with his time and insights, immensely knowledgeable, deeply devoted to the Globe," Globe editor Brian McGrory said. "He had a view of the Red Sox and the game on a national scale that is virtually unrivaled.
"For those reasons, he was one of our most read writers, constantly attracting followers near and far, his weekly baseball notes column being destination reading for tens of thousands of people."
The Associated Press contributed to this report.
Nolan Arenado of Colorado Rockies says state of free-agent market is 'sad'
SCOTTSDALE, Ariz. — The sluggish free-agent market the past two years has not scared Colorado Rockies third baseman Nolan Arenado, who could be among the prizes in the 2020 pool.
"I'm not afraid of it at all," Arenado said. "It doesn't have an effect on me. I think free agency is something you earn. You've been in the big leagues this long, you get there and you earn it. I don't know how it is going to work out; I can't speak on that. But you definitely earn it."
Arenado would be among the biggest names in the position-player pool next winter if he and the Rockies do not reach an agreement during current negotiations on a long-term contract. Paul Goldschmidt, Josh Donaldson and Khris Davis also can become free agents next winter.
Arenado signed a $26 million, one-year contract to avoid arbitration over the winter, the largest one-year salary for an arbitration-eligible player in league history. No deadline has been set on the current talks.
"I think it always worries you, but at the same time I have bigger things to worry about," Arenado said. "I'm trying to do my job at a high level and that's it. Everything else can take care of itself.
"It's definitely a little worry, in a way, when you think about it for a long period of time. But I try not to think about that. I'm in a great situation right now. Just play baseball now. If it comes to that in the offseason, I'll deal with it then."
Arenado called the current state of the free-agent market "sad."
Manny Machado agreed this week to a pending $300 million, 10-year contract with the San Diego Padres. Bryce Harper has yet to sign with anyone and the overall market has been slow.
"There are some really good baseball players out there, and it is crazy to think some of these teams don't need them. They need them. There is no question that they do," Arenado said. "They are just deciding not to, I guess.
"It's disappointing. I think it just shows that there are teams that are not trying to win. I just believe that the guys that are out there can really rebuild a team, get it jump-started, and help it win a championship."
Arenado, meanwhile, seems at home in Colorado, which took him in the second round of the 2009 draft and has made the playoffs the past two seasons, a franchise first. Free agent Daniel Murphy was added and David Dahl is projected to take another step up after the losses of free agents Carlos Gonzalez, Gerardo Parra and Adam Ottavino.
Arenado has led the National League in homers three times, RBIs twice and doubles once while averaging 31 homers and 103 RBIs in his six seasons. He has won six Gold Gloves.
"We feel very comfortable with each other," Arenado said. "We know what we are going to get out of each other. We're very comfortable communicating with each other. It just feels right. It is a very comfortable setting."
Dodgers to honor Don Newcombe with uniform patch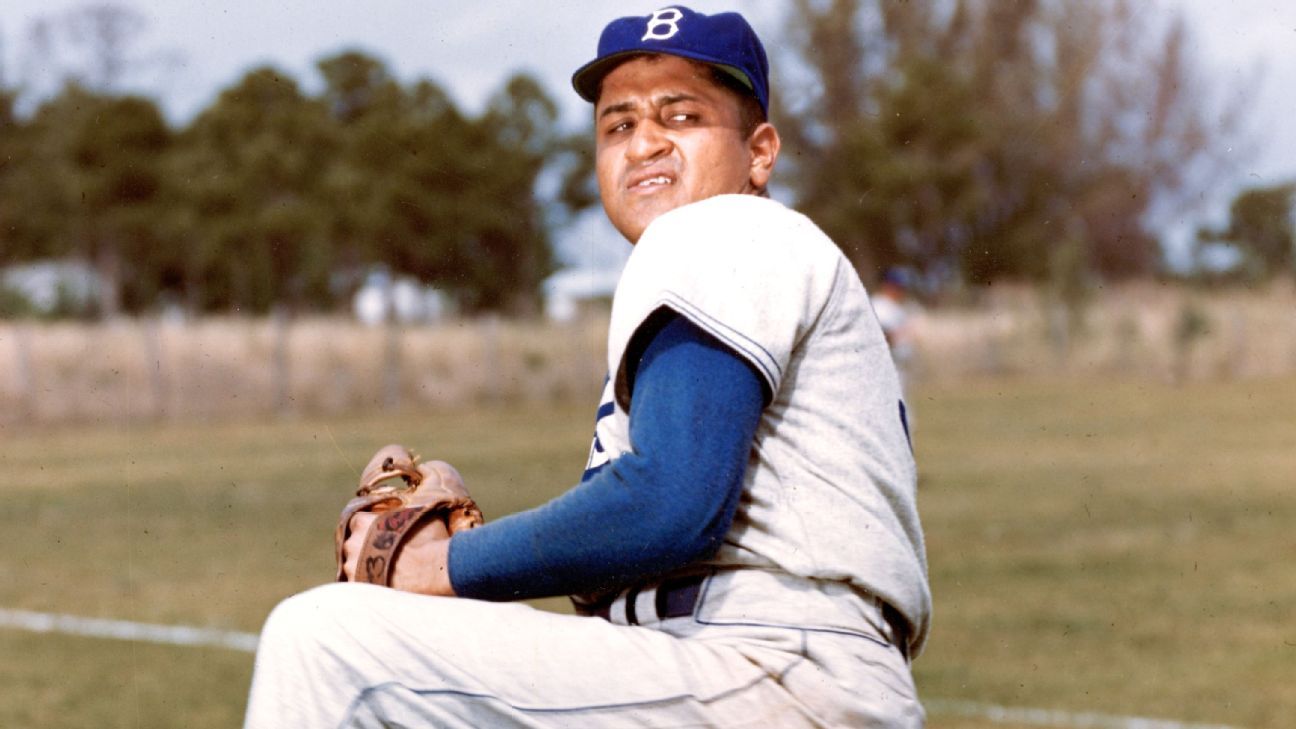 LOS ANGELES — The Los Angeles Dodgers will honor pitching great Don Newcombe by adding a commemorative No. 36 patch to their uniforms this season.
Newcombe died Tuesday at 92.
The team said Thursday that Newcombe will be saluted in pregame ceremonies on April 27, when he is inducted into the Legends of Dodger Baseball. He will also have a commemorative bobblehead.
Newcombe, along with Jackie Robinson and Roy Campanella, helped pave the way for blacks to play in the major leagues. He won the Cy Young and National League Most Valuable Player awards in 1956 with the Dodgers. He was 27-7 with a 3.06 ERA that season.