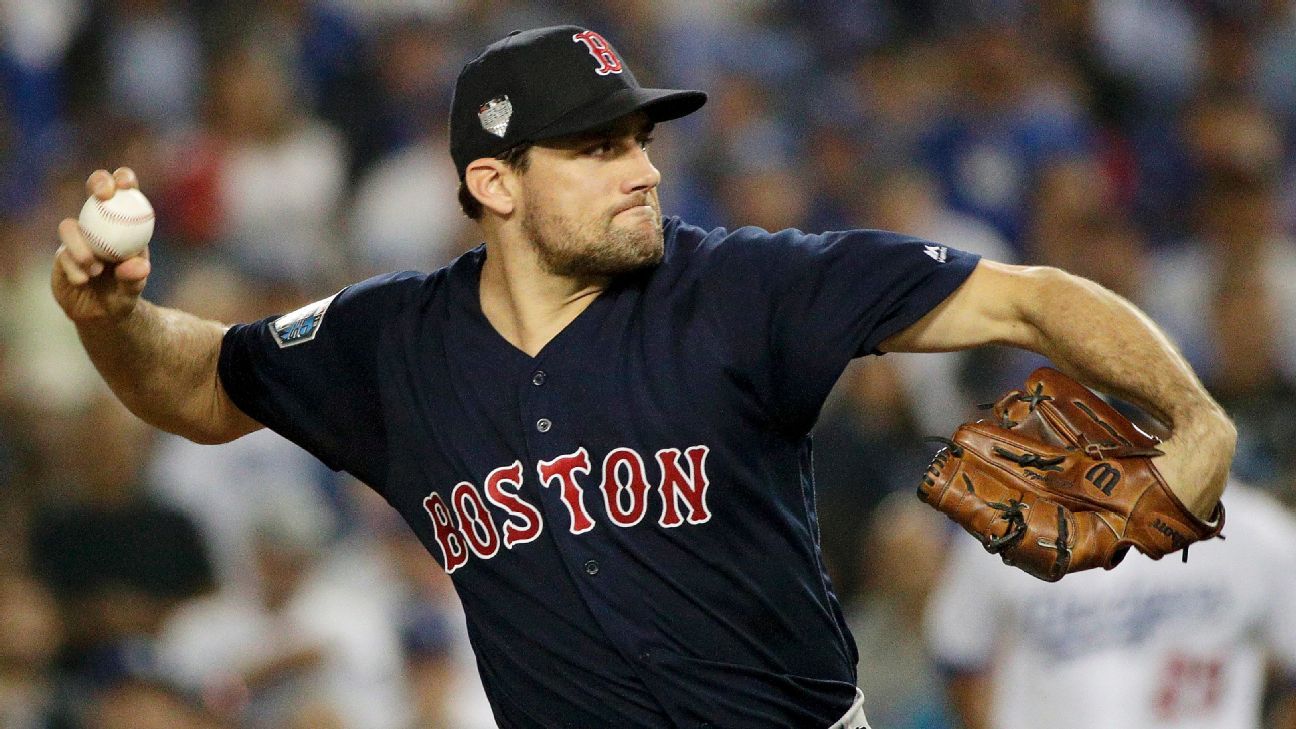 Nathan Eovaldi is returning to the Boston Red Sox after agreeing to re-sign with the team, according to multiple reports.
The deal is pending a physical, as The Athletic first reported. Eovaldi has had two Tommy John surgeries, most recently in 2016.
Eovaldi, 28, emerged as a star in the postseason, dominating both as a starter and late-inning reliever.
After being acquired from the Tampa Bay Rays on July 25, Eovaldi went 3-3 with a 3.33 ERA in 11 starts and one long-relief appearance. He found his groove in September, with a 1.35 ERA in five appearances that gave a hint of what was to come in the postseason.
In 22 1/3 postseason innings, Eovaldi allowed only four earned runs, throwing 100 mph fastballs that were unhittable.
"He made himself a lot of money," Red Sox president Dave Dombrowski said after the World Series win.
The right-hander handcuffed the New York Yankees in Game 3 of the American League Division Series, allowing one run in seven innings of a rout at Yankee Stadium. He stifled the Houston Astros in Game 3 of the ALCS, going six innings and getting the win. He also made three eighth-inning relief appearances that required him to record 10 outs against the Astros and Los Angeles Dodgers.
Eovaldi became a folk hero in Boston with a sixth-inning stint in the 18-inning loss in Game 3 of the World Series in Los Angeles. Coming on in the 12th inning, Eovaldi threw 97 pitches in relief. Though he got the loss, teammates and coaches called the outing inspirational, citing his stamina and willingness to give his all.
"One of the best performances in the history of the World Series," Red Sox manager Alex Cora said. "… What Nate did, that was amazing."
He was released by the Yankees in 2017 and signed a one-year, $2 million with the Rays for 2018. He made his return from surgery on May 30 and made 10 starts for Tampa Bay, going 3-4 with a 4.26 ERA.
Eovaldi has a 44-53 record and 4.18 ERA in stints with the Dodgers and Miami Marlins as well as the Yankees, Rays and Red Sox.
Texas Rangers claim infielder Carlos Asuaje off waivers from San Diego Padres
LAS VEGAS — The Texas Rangers have claimed infielder Carlos Asuaje off waivers from San Diego.
Asuaje was designated for assignment Friday after spending parts of the past three seasons with the Padres, hitting .240 in 175 games. He also played at Triple-A El Paso last season, hitting .314 in 47 games.
The 27-year-old Asuaje has played mostly second base in the major leagues, but has seen time at third base and left field as a pro. He has a .289 career batting average in the minors.
Asuaje was an 11th-round pick by Boston in 2013 and was traded to San Diego two years later in the deal involving closer Craig Kimbrel.
Brian Cashman doesn't see Bryce Harper as need for Yankees, says Manny Machado talks active
LAS VEGAS — New York Yankees general manager Brian Cashman downplayed Monday any chatter involving his team and Bryce Harper, the hard-swinging right fielder who has been the headliner of this year's free-agency period.
The way Cashman sees it, a crammed-full outfield and other, more pressing offseason personnel concerns leave the Yankees no place to put the widely-coveted slugger.
"No time at all all winter have I said I'm looking for an outfielder," Cashman said. "The Harper stuff … I'm surprised you're still asking."
When he was first asked about Harper during a session with Yankees beat reporters on the first full day of this year's Winter Meetings, Cashman rattled off the names of his current six outfielders (Aaron Hicks, Aaron Judge, Giancarlo Stanton, Brett Gardner, Jacoby Ellsbury and Clint Frazier) as reasons he isn't looking for a seventh.
So, then, would the Yankees sign Harper — who could command a total deal with $300 million or more — and get him to exchange his outfielder's glove for a first-base mitt?
"I'm sure it's potentially a possibility, but it's not something that we would play on at that level with that type of money, to play somebody like that at first base," Cashman said.
Weary as Cashman has grown of them, the questions about Harper being linked to the Yankees have persisted in earnest since New York was beaten by the eventual World Series champion Boston Red Sox back in October.
A player whose longtime Yankees fandom has been well-documented, Harper's violent, left-handed swing seems to suit Yankee Stadium's short right-field dimensions.
But Cashman, speaking to Yankees beat reporters on the first full day of this year's Winter Meetings, indicated that signing Harper would not top his still extensive to-do list between now and spring training. He reiterated that his primary focuses since the end of the season have revolved around bolstering New York's starting pitching and looking for ways to manage the loss of shortstop Didi Gregorius, who underwent Tommy John surgery on his throwing arm earlier this offseason.
Cashman said Monday he still had no specific timeline for Gregorius' return, but did mention it might not occur until July or August.
While the Yankees may be out in the Harper sweepstakes, Gregorius' injury has them still very much in the conversation for fellow star free agent, infielder Manny Machado.
"We were definitely focused in the marketplace on those areas of need [shortstop], and he obviously is available and solves that area of need," Cashman said. "So not going to deny we've had a conversation, or two."
Cashman said he and Machado's agent, Dan Lozano, spoke before the Winter Meetings. Machado is reportedly planning on soon visiting the teams that are courting him in free agency.
In terms of the hole the Yankees still have in their starting rotation, free-agent J.A. Happ remains a serious option. The lefty was added during the trade deadline to bolster the flailing staff heading into the postseason. In 11 starts across the final two months of the regular season, Happ looked like the Yankees' ace, going 7-0 with a 2.69 ERA.
"We'll see if we all match up," Cashman said of the talks he's had with Happ's representatives about a possible contract.
The focus on Happ has increased after the Yankees added James Paxton to the mix in a trade last month with Seattle, and following Patrick Corbin's signing with the Washington Nationals last week.
Along with Happ, expect the Yankees to be involved in the race for Japanese pitcher Yusei Kikuchi, the 27-year-old one-way player who could be even better on the mound than Shohei Ohtani. Teams have until Jan. 2 to negotiate with the lefty who had a 3.08 ERA and struck out 153 batters in 23 starts for the Seibu Lions of the Nippon Professional Baseball Organization this season.
"He's somebody worth talking about. Someone that's worth having conversations about potentially landing. Someone that would make our or other rotations better here in major league baseball," Cashman said of the pitcher his club has scouted extensively.
Gabe Kapler, Philadelphia Phillies manager, publicly critical of players
LAS VEGAS — Phillies manager Gabe Kapler intends to be more publicly critical of his players in his second season following his team's late fade.
Philadelphia led the NL East in early August, then went 16-33 and wound up with its sixth straight losing record at 80-82.
"One thing that I can do immediately that I think will really resonate well with our fans in Philadelphia is … as much as I illuminate some of the things we're doing very well, I can be a little more assertive in illuminating the things that we need to work on," he said Monday at the winter meetings. "I do think that our fans demand that we hold them accountable. I think that I've shared and demonstrated to our fans that I do that behind closed doors. And I think that many of them would like to see me create that really high bar publicly. And I'm committed to doing that."
Phillies president of baseball operations Andy MacPhail reinforced that message during an offseason dinner.
"Andy did say that he thinks that holding players, staff members and the entire organization to a very high bar publicly is something that he thinks will work well," Kapler said. "I agree with him. I think it's an easy adjustment for me to make and it doesn't have to be anything dramatic or forced. I think it's just a small adjustment. It's the turning up of the volume of just kind of raising the bar, holding the club and the organization to a high standard."
Philadelphia has notoriously demanding fans — Eagles supporters booed Santa Claus and threw snowballs at him in 1968 at Franklin Field as the NFL team finished a poor season. That aggressive insistence on effort might cause tumult for free agent infielder Manny Machado if he signs with the Phillies.
"I think the Philadelphia fan base is an incredibly passionate and devoted one, and they demand that their players play hard," Kapler said. "They set an incredibly high bar and are disappointed when players don't meet that bar."
He praised Machado, who along with Bryce Harper is among the top two players on the free-agent market.
"I think Manny has done a tremendous job in his career of establishing a reputation of being one of the top young players in baseball," Kapler said. "And I think he's in an incredible position to be able to choose from a wide variety of suitors at this point. And I think wherever he goes, somebody's going to get an incredible baseball player."
Philadelphia's poor finish has the team adjusting its preparations and expectations for 2019. Kapler wants players to play hard through seven months.
"The way you prepare for it to happen is by building emotional armor, physical armor, in the offseason, and kind of the mental preparation that this is going to happen," he said. "I'm not sure that everybody was 100 percent prepared for that outcome. And when we're sitting in the middle of July and we are in first place, and we are a very good baseball team, I think … we could have prepared for that moment a little bit better, mentally, physically, and emotionally."
He hinted at additional rules.
"I continue to trust in our players to police the clubhouse, to raise the bar for one another, and to support each other," he said. "That doesn't mean that we won't have a few more boundaries in place to help guide that outcome."
Kapler's offseason was disrupted by the loss of his home in Malibu, California, due to the wild fires.
"We lost a physical thing that we can rebuild. I think that my family shares that sentiment," he said. "Look, we're disappointed. We're human beings. You lose a home, and that's tough. But we used it and we continue to use it as an opportunity to shine light on people who don't have the resources that we have and who aren't able to rebuild as quickly as we are."