Philadelphia Eagles linebacker Kamu Grugier-Hill offers first attack in trash-talking war vs. the Cowboys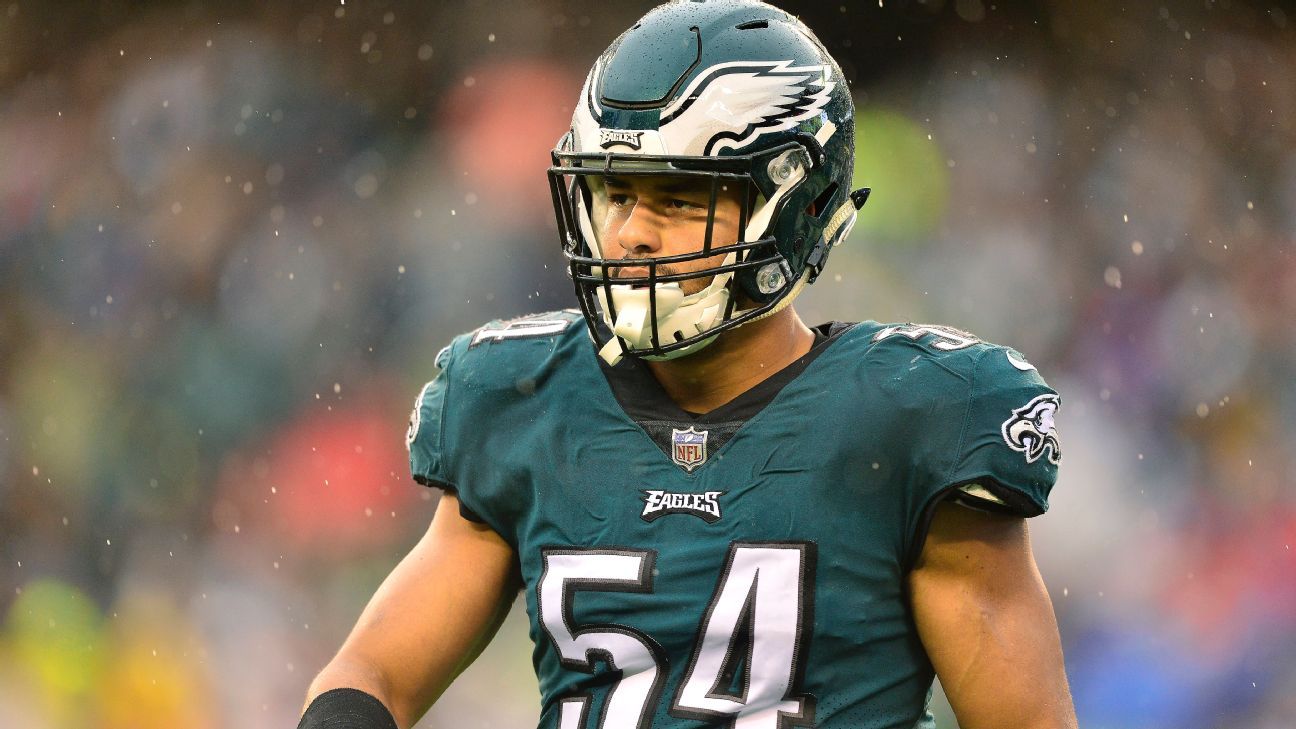 PHILADELPHIA – Eagles linebacker Kamu Grugier-Hill got the trash-talking started in earnest in front of Sunday's pivotal game against the Dallas Cowboys, with comments that are sure to make their way onto Dallas' bulletin board.
"I mean, you look at Dallas' history, they always choke," Grugier-Hill said, via NBC Philadelphia, "so we'll go down there and make them choke."
The defending champs are starting to regain some swagger after winning two in a row to get to 6-6. With a win over the 7-5 Cowboys, they'll pull into first place in the division.
But it's no gimme.
The Eagles lost their first matchup to Dallas, 27-20, at Lincoln Financial Field on November 11. That kick-started a four-game win streak for the Cowboys, who are coming off an upset win over the New Orleans Saints. While Dallas has been resting since that Thursday night game, the Eagles have a quick turnaround after hosting the Washington Redskins Monday night.
The Cowboys are listed as 3.5 home favorites.
The Eagles are 2-3 against Dallas under coach Doug Pederson, but do own bragging rights when it comes to big moments in the rivalry of late, including a 24-22 win in Dallas in the 2013 regular-season finale to claim the NFC East championship.
The Cowboys have an 80 percent chance to win the NFC East, according to ESPN FPI, while the Eagles have just a 14 percent chance. If Dallas can't close the deal, Grugier-Hill's words would have some extra weight to them.
Sunday will go a long way in deciding both teams' fate.
Giants coach Lou Anarumo named Bengals DC
The Cincinnati Bengals have hired New York Giants defensive backs coach Lou Anarumo as their defensive coordinator.
Before working for New York last season, he was defensive backs coach for the Dolphins from 2012-17.
Anarumo was also the Dolphin's interim defensive coordinator in 2015 due to midseason firings. Bengals coach Zac Taylor and Anarumo worked on the Dolphins staff together from 2012-15.
"I've always had great respect for Lou, and I know he is a tremendous defensive coach," Taylor said in a news release. "He's a great fit for what we want to build here in Cincinnati. Lou is an excellent communicator who the players will have great respect for, and he will get the best out of them."
The move comes after a series of failed attempts to put together the final piece in Taylor's coaching staff. Taylor was not officially hired until Feb. 4 due to a rule that coaches with team's still in the playoffs cannot officially be hired. Taylor was previously quarterbacks coach for the Rams, who made it to Super Bowl LIII, where they lost to the Patriots 13-3.
The Bengals went after Saints defensive coordinator Dennis Allen, who chose to renew his contract with New Orleans instead of moving. They were also unable to get Florida defensive coordinator Todd Grantham, who chose to stay in the college ranks. Other notable names such as Jack Del Rio and Dom Capers didn't work out for various reasons.
Taylor has maintained that getting the right staff in place was more important than the timetable, although he did admit a few weeks ago that the clock was ticking with the NFL scouting combine coming up soon.
"We need to make sure the right people are here coaching these players. There's a lot of really good coaches out there, so we're going to find the right people," Taylor said on Feb. 5. "We're urgent in assembling the right people, but we're going to take our time and make sure that everyone is a perfect fit for this place. We'll take our time with the process, but I have no concerns that we're going to get the right people in this building."
Anarumo is the Bengals first official defensive coordinator since Nov. 12, 2018, when Teryl Austin was fired midseason. Then-Bengals coach Marvin Lewis took on the responsibilities of defensive coordinator, and while the Bengals showed improvement, they still finished last in total defense and passing defense. They were 29th in rushing defense and 30th in scoring defense.
The Giants finished 23rd in passing defense in 2018.
Anarumo will be the third defensive coordinator for Cincinnati in three seasons, as longtime defensive coordinator Paul Guenther left after the 2017 season to join the Raiders coaching staff.
Behind-the-scenes game-day jobs you never knew existed
When we go to games as fans, we're focused on what happens for the 2-3 hours on the court or the field. But there's so much more to what happens on game day than what the public sees.
We take you behind the scenes and share the stories of four figures central to making these games that we see happen — a 93-year-old San Antonio Spurs media relations official, the Tampa Bay Lightning ice crew, the Buffalo Bills groundskeeper and the Kentucky cheerleading coach.
Spurs lifer | Tampa ice crew | Bills groundskeeper | Kentucky cheer
---
The 93-year-old Spurs media relations official
SAN ANTONIO — Through the arches of AT&T Center's metal detectors, stationed near the back entrance, lies a dimly lit dungeon — also known as Security Office 3A11.
Here, the brightest star nobody knows outside of the San Antonio Spurs organization toils in glee.
"Petey is like a father, grandfather, son, brother, to whomever it may be generationally, to all of us here," Spurs head coach Gregg Popovich says to ESPN. "He's always got a smile. He's always positive."
"Petey" is Pete Anton, one of just four individuals in the NBA able to stake claim to having worked for their respective franchises since Day 1 of their inception. At 93 and in his 46th season with the Spurs, Anton is the NBA's oldest basketball employee; outlasting 13 head coaches, while watching more than 300 players circulate through a storied program that has captured five championships.
Pete Anton is the NBA's oldest employee at 93 years old. He's an original Spur. He's been here since 1973 and has outlasted 12 head coaches and seen more than 300 players come through the franchise.
"You doing a story on this guy?" asks Spurs radio play-by-play man Bill Schoening. "Well, there's a lot more to him than the man that hands out the passes."
Anton received his start with the Spurs in 1973 as a media services assistant, when the franchise moved to San Antonio from Dallas as a member of the American Basketball Association, and played its games in HemisFair Arena. His first night on the job came during a 121-106 Spurs loss to the San Diego Conquistadors. Coincidentally, years prior, Anton met his wife Angie at a convention in Minneapolis, Minnesota, where George Mikan — the first commissioner of the ABA — was scheduled to speak but never showed.
Anton started working the team's media gate on an invitation from next-door neighbor Pinky Whitney, who spent 12 years in Major League Baseball as a third baseman and played in the 1936 All-Star Game. Whitney was working for the San Antonio Missions minor league baseball team at the time.
"Pinky said that if they wanted him, they had to take me too," Anton says, letting out a hearty laugh.
What wasn't nearly as funny was the prospect of Anton's Spurs tenure possibly ending before the start of this season.
Unable to drive at night after undergoing eye surgery in September, Anton informed the team of his predicament when it contacted him about coming back for his 46th season.
"They said, 'Don't worry about it. We'll pick you up and take you home. We need you here,'" Anton says as he pulls out a flip phone to check the time.
So now, Spurs staffer David Mandujano picks up Anton at his home off San Pedro Ave. near Trinity University, and he arrives at the arena four hours before tipoff on most nights. Garrett Bragg drops him off after the games. Spurs basketball communications coordinator Jordan Howenstine calls Mandujano and Bragg "our game-night saviors" for transporting one of the team's most valuable assets.
In the past, at HemisFair Arena and the Alamodome, where the Spurs played from 1993 to 2002, Anton worked the check-in gate for both players and members of the media, and often escorted executives and players' families to suites or the family room. But when the team moved to the AT&T Center, the new building layout left Anton checking in only members of the media.
As Vidak Lazarevic of Kos Magazin slides Anton a Slovenian ID to receive a media pass for San Antonio's Jan. 20 matchup against the Los Angeles Clippers, Anton laughs thinking about how much the times have changed. The NBA has morphed into a league that generates worldwide appeal, which naturally leads to an influx of foreign reporters covering games.
When Anton first started back in 1973, he didn't need to peruse the three lists sitting in front of him or sort through five separate stacks of credentials to do his job.
"Back then, you just knew everybody's faces," Anton says, laughing.
What's undeniable at the AT&T Center now, though, is the fact that nearly everybody knows Anton's face. On a 10-minute walk through the concourse before tipoff, at least four AT&T Center employees stop Anton for handshakes, hugs and brief conversations.
Once Anton makes it down to the media room for a fried chicken, corn, and macaroni and cheese lunch, he poses for a picture with an usher working the door of a luxury suite before taking more photos with the team's media relations interns. Finally seated for lunch, Anton and several Spurs employees recall Sean Elliott's Memorial Day Miracle shot at the Alamodome in Game 2 of the 1999 Western Conference Finals against the Portland Trail Blazers.
Anton says he was standing 10 feet behind Elliott when he drilled the game-winning 3-pointer.
Anton can tell stories all day about the hundreds of Spurs coaches and players he's become friends with over the years, a list that includes George Gervin, Dennis Rodman, James Silas and David Robinson, whom he describes as "a gentleman."
Every time the Spurs have switched arenas, Anton has gone with the team, too. He can tell you about the early days at HemisFair, when the franchise had to raise the roof to increase seating capacity to gain entrance into the NBA, which led to what he called "obstructed view tickets" that cost just $5.
"People were buying up those tickets, and it was always packed in there," Anton says.
Over the years, fans have offered Anton bribes to get into sold-out games, and even told him they were family members of different players. He's even been propositioned by female fans, and shyly blushes behind black-framed Nautica glasses when describing it all.
"They'll say anything," he says.
Yet Anton doesn't mind. He understands the dynamic being an avid Spurs fan. He's one, too.
"Sure, he'd like the Spurs to win every game," Popovich says. "But his deal is just being good to people and helping to create an environment that we all like being around. And that's really his thing. He's just one of those fine human beings that when you're around him, you're like, 'He's a better person than me.' You just know it when you're with him, and that's who Petey is."
Anton also owns four championship rings and a watch he received after the franchise's first title.
Quietly, the Spurs say Anton will always have a job with the team, as long as he wants it.
"The people that come here, they're all friendly, and that's what I enjoy the most," Anton said. "But really, it's the whole thing.
They'd have a lot of guys retire, and when they come back, they'd look for me, and I can't even remember all of their names. I just know whatever the Spurs say, I'm here for them. I love the team and the people, and I love basketball."
— Michael C. Wright
---
The Lightning Zamboni drivers and ice crew
TAMPA, Fla. — Patrick Jesso remembers driving the Zamboni for the first time during a Tampa Bay Lightning game. Or, more to the point, attempting not to crash it.
"It's very nerve-wracking, because you have 20,000 fans looking at you. And if you mess up, you still have 20,000 fans looking at you. You just want to make sure that you're doing everything right," he said.
Jesso has been an ice operations assistant since 2011 but has been running the team's 15-person ice crew since last August, when operations manager Tom Miracle began treatment for a brain tumor. Inside Amalie Arena, Jesso's office is adorned with highlights from his mentor's decades-long career, from a poster that refers to him as "The Real Miracle on Ice" to children's drawings of him driving a Zamboni.
"It's been really tough, I'm not gonna lie," said Jesso. "I know he's very worried about us, although he doesn't realize that he left us in good hands. He's taught everybody what they need to do to get the game ready."
That readiness begins the moment a concert ends at Amalie Arena in Tampa. A "conversion crew," a separate entity from the ice crew, transforms the floor back to a rink.
Jesso's crew begins arriving at 7 a.m. on a game day, using two ice-resurfacing machines — one sponsored by Chick-Fil-A, the other with an anti-drunk driving PSA on it — to clean that ice. They use large "bug spray" bottles to spot clean any stains. On this January day, when the Lightning are hosting the Toronto Maple Leafs, the morning drivers are Andrew Whatley and Alison Murdock. According to the NHL, Murdock is currently the league's only female Zamboni driver.
"There was a family that was getting a tour of the building. And they said to me, 'We thought Zamboni drivers are all 60- or 70-year-old men.' And I was like, 'They kind of mostly are,'" said Murdock, 26, who was hired by Miracle around four years ago after attending a Lightning fantasy hockey camp as a fan.
The process of preparing the rink for a game is a combination of trifling details and pinpoint timing. The ice crew is responsible for cleaning the glass around the rink, both the outside, where nacho-covered hands have slammed against it, and the inside, using a "puck remover" substance to eliminate rubber scuff marks. They ensure the benches are secure after the rink conversion.
Then they have to make sure the ice meets NHL specifications: About an inch and a quarter thick. To get there, the crew uses the Zambonis to "cut" the ice, shaving it down. The surface temperature needs to be between 20 and 24 degrees Fahrenheit during the game, maintained by glycol lines under the ice and the arena's air-cooling system.
Therein lies the biggest challenge for the Lightning ice crew: playing games in Tampa.
"It's warmer. It's the humidity. It's tough to have really good ice down here, but they work really hard," said Lightning captain Steven Stamkos. "It's always a work in progress around playoff time. In May and June, we're talking about 100 degrees outside. It's tough. A completely different situation. People don't realize how hard it is to maintain good ice, especially when you combine with the weather, with the number of events we have in this arena."
The toughest stretches for the Lightning crew are the early part of the season as summer temperatures wane, and then from April on, when they bring in massive HVAC dehumidifiers and attach them to the building in order to battle the dank climate outside the walls.
"Obviously, living down in Florida, that's a big issue for us. We try to keep everything inside and don't let any of the outside air in. But when you're dealing with 20,000 fans, that's going to be a challenge," said Jesso. "But we've got it down to a science now."
On a game night, the ice crew sits in a circle just inside the Zamboni entrance, with a partial view of the ice and a great view of the Jumbotron screen. To spend time with them is to spend time with a raucous, diverse family: men and women, of a variety of ages, doing this on a part-time basis. They have their own Facebook and Twitter feeds, highlighting their goofy charms.
"We're a family. We're all going to work together here. You don't make a lot of money doing this, so we should have fun."

Eric Gibson, ice crew member
The Lightning and Leafs head off the ice after warm-ups. The crew watches Tampa star Nikita Kucherov leave last for the dressing room. Eric Gibson, a deputy sheriff in Pinellas County by day and an ice-crew member by night, yells, "Door, door, door!" and a dozen crew members skate out en masse. They patch holes with little buckets of slush. They push the nets around the ice to ensure they're cold enough, so they won't stick in the crease, and then wet-vac the water out of the peg holes before placing them.
Jesso and Murdock drive the Zambonis to clean, cut and finish off the work that their crew is doing. She admits to still getting some butterflies. "I'm not quite as nervous now, but I still get nervous every time I go out there," said Murdock, pointing at the Zamboni's length. "You sit back here, and you have all of that in front of you. You can't really see well. You just have to have a feel for it."
The crew resembles a NASCAR pit in their efficiency and expediency. That extends into the game itself. The ice crew attempts to work on the ice three times a period, if they can.
Against the Leafs, they come out at 12:13, 7:51 and 5:39 of the first period, grabbing shovels and sprinting out to make the most of their two to three minutes. They have about nine minutes during intermission to prep the ice.
This schedule leaves plenty of downtime for the crew, which is filled with talk and laughter and a few hijinks. For example, when the Lightning score, Gibson interrupts the crew's high-fives by dumping snow on them like celebratory confetti.
"I've given them the speech: We're a family. We're all going to work together here," said Gibson. "You don't make a lot of money doing this, so we should have fun."
The game ends in disappointment, as the Maple Leafs double up the Lightning, 4-2. After the game, there are no complaints about the ice from the players, which is nice, because Jesso tends to take that personally.
When the postgame ice maintenance is done — cleaning and patching — the ice crew closes shop around 11 p.m. If the arena needs to be flipped for another event, the conversion crew then works through the night, sometimes till 10 a.m. the next morning.
The hours are long. Jesso says it's worth it. "This is not a job where you're going to get a lot of money, but we love the game and love this franchise," he said. "We take pride in our work."
It's also about making the patriarch of this family, Tom Miracle, proud during his recovery.
Last November, Miracle was asked to drop the ceremonial first puck before a Lightning game. It was his birthday, and it also happened to be Hockey Fights Cancer Night at the rink. The crew joined Miracle for that moment on ice they had prepped together.
"He's taught everybody what they need to do to get ready for a game and what we need to do on and off the ice," said Jesso, who added that a recent MRI showed no regrowth of Miracle's cancer. "We're keeping him in our thoughts and prayers."
— Greg Wyshynski
---
The Buffalo Bills groundskeeper
ORCHARD PARK, N.Y. — About four hours before sunrise on Dec. 30, Buffalo Bills head groundskeeper Aaron Ramella arrived at New Era Field and began readying it to host the Miami Dolphins on the final Sunday afternoon of the regular season.
A typical Sunday contest at 1 p.m. involves Ramella and his staff coming to the stadium by about 6 a.m. to set up player benches, heating or cooling devices, athletic training gear and communications equipment on the sidelines. But overnight snow before the Bills' finale required Ramella to solicit help from local landscaping contractors and start around 4 a.m., clearing the tarp that covered the playing surface.
Unpredictable weather in Buffalo is part of what makes Ramella's job unique among his counterparts across professional sports. The city sits on the eastern edge of Lake Erie and is susceptible to high winds, bitter temperatures and concentrated bands of lake-effect snow late in NFL seasons.
They care for all 200,000 square feet of grass.
Prepare New Era Field for game day.
And are EXPERTS at snow removal. pic.twitter.com/24tOMeoisG

— Buffalo Bills (@buffalobills) December 13, 2018
No game forced Ramella out of his routine more than when the Bills hosted the Indianapolis Colts on Dec. 10, 2017. Weather reports early that Sunday suggested lake-effect snow would not begin until late in the afternoon, which Ramella relayed to referee Brad Allen in his customary meeting with officials 100 minutes prior to kickoff.
When Ramella exited the meeting before pregame warmups, intense snow had already started, obscuring his view out of the tunnel and across the field.
"We were hoping it would stop," he said. "Instead, it just kind of sat on us."
Allen told Ramella that as long as field markings on the Bills' artificial turf surface could be kept clear, the game would be played. That meant a crew that included some high-ranking team executives had to use shovels and leaf blowers to constantly clean yard markers, sidelines and goal lines while an estimated eight inches of snow fell during the game, which the Bills won in overtime.
"People told me there's never been that much snow during a game [in Buffalo]," said Ramella.
Ramella joined the Bills before the 2016 season after 13 years as an assistant groundskeeper for the Pittsburgh Steelers. He graduated from Penn State in 2000 with degrees in turf grass science and landscape contracting.
During summers in college, Ramella dabbled in golf course maintenance but realized there were pressures involved in keeping up hundreds of acres of grass and tending to the meticulous details of greens.
"There could be potential for more money in golf," he said. "But those are high-end jobs. If some guy stinks, it's your fault. It's pretty volatile."
Baseball proved more enjoyable for Ramella, who became the head groundskeeper for the Washington Wild Things of the independent Frontier League in 2002. He loved the sport, but the night-after-night schedule of baseball was tedious. Ramella transitioned to football and joined the Steelers in 2003.
With help from a connected college professor and a recommendation from then-Bills general manager and former Steelers scout Doug Whaley, Ramella interviewed and accepted the Bills' head groundskeeper position. His day-to-day responsibilities include managing the Bills' natural grass practice fields, which were reconstructed before the 2017 season to add a second 100-yard surface.
Although Buffalo's harsh winters can make his job difficult, life is easier during Buffalo's relatively milder and less humid summers, when Ramella said the grass benefits from less heat-related stress.
Ramella also maintains the artificial turf inside the Bills' practice facility, which Bills head coach Sean McDermott said is frequently combed by the groundskeeping staff to ensure glass or other debris left from events do not injure players.
"Our grounds are phenomenal, and Aaron does a phenomenal job with his staff," McDermott said. "There's a lot of money both into and on those fields. The money that stands on those fields is a big investment from the organization's standpoint, and it's important that the footing is good, solid ground that we can make cuts on."
When Ramella left Pittsburgh after the 2015 season, he no longer had to deal with the issues presented by wear and tear on Heinz Field's natural grass surface. However, the artificial turf at New Era Field comes with its own set of concerns. It has to be groomed as well as tested to conform to league standards for hardness and infield depth. "You have to work on it pretty good," he said. "Especially an old one like we have."
The turf is backfilled with rubber pellets that became problematic during halftime of a Dec. 11, 2016, game against the Pittsburgh Steelers. Tractor-powered brushes used to clear light snow kicked up a large amount of the pellets and piles of rubber covered markings on the field, delaying the start of the second half.
Otherwise, Ramella and his staff stay mostly behind the scenes when the stadium hosts two preseason and eight regular-season Bills games each season. He watches each game with his staff before breaking down the sideline equipment after the final whistle.
"It's four of five hours of work after the game," he said.
— Mike Rodak
---
The Kentucky cheerleading coach
LEXINGTON, Ky. — Hours before Kentucky faced Kansas in the Big 12/SEC Challenge, Jomo Thompson sat at a dais and talked about his team's run to its fourth consecutive national title in Orlando last month.
Thompson, Kentucky's cheerleading coach, is the Nick Saban of his sport. Few cheerleading coaches could generate enough buzz to demand a press conference, but Thompson spoke to a dozen reporters about his latest feat. He is a legend who has won 18 national cheerleading titles: three as a cheerleader at Kentucky, three as an assistant coach and 12 as the head coach.
"I try to find the best recruits," Thompson said. "I really go out and try to get the best."
But Thompson and his team had to navigate some unlikely drama prior to its most recent title run. A week before the national championships, Thompson got a troubling phone call on a snowy Saturday in Lexington, where the Wildcats cheerleaders were set to perform their award-winning routine at a local high school event before repeating the sequence at the Kentucky-Vanderbilt later that night.
One of Thompson's elite cheerleaders, he'd learned, had gotten injured the previous night. The phone call seemed to threaten everything his team had worked for that season.
"In our sport, you only get one shot," he said.
Thompson canceled the performance at the high school event and the Kentucky basketball game.
"You can't just replace him," Thompson said of the injured cheerleader, who participated in the national championships a week later.
As a result of the injury, Thompson instructed assistant Ben Head to lead the white team that night while the blue team, the school's top squad, rested and prepared for the following week's event in Orlando.
"The good news is he'll be OK," Thompson said. "But it's unfortunate we can't perform at Rupp Arena in front of 24,000 people. Kinda sad we're missing out on it."
With the uncertainty surrounding the upcoming national championships, Thompson never seemed settled as the white team warmed up prior to the Kentucky-Vanderbilt men's basketball game.
"Let's go," Head told the white team as it ran onto the court before tipoff. Head, a former Kentucky cheerleader, has followed a path that's comparable to Thompson's. And his white team is stacked with blossoming athletes, too.
Through his camps, he recruits cheerleaders when they're young. A young woman who attended one of his clinics when she was in middle school is set to join the team soon. He also scours YouTube for top talent. You can't even try out for Kentucky cheerleading without an invite.
They're clearly the best.
The white team's relentless energy was necessary as Vanderbilt took an early 16-4 lead that seemed to stun the crowd at Rupp Arena.
"C-A-T-S … Cats! Cats! Cats!" the white team yells. "C-A-T-S … Cats! Cats! Cats!"
At one point in the first half, Head seemed confused as he looked at the game operations sheet that controls every component of the day. Head wasn't sure if it was his team's time to perform.
"Yeah, there was just some confusion," Head said. The blip is unnoticeable to an observer, but Thompson and Head scrutinize every element of their performances, which is why they're the best in the country.
After a cheerleader swayed a bit as he caught a cheerleader he'd just tossed into the air, the entire team had to repeat the entire sequence five times after the game. If anyone would have been dropped, it would have been 10 times.
The culture of cheerleading at Kentucky is unrivaled because of its success, which is enhanced by the high expectations.
At halftime of Kentucky's matchup against Vanderbilt, Thompson told his cheerleaders to cheer with more energy. It's easy to see that cheerleaders in this building, and others, are the pulse of every game.
Even when the crowd takes a break, they can't.
And that's what Thompson conveyed at the break.
"We have to get the place loud," he said. "It doesn't matter if we're winning by 30 or we're down. They can't see you down."
The white team came out in the second half with even more fire as the Wildcats pulled ahead and won.
Thompson said he wanted to stay out of Head's way and give him space to work during Kentucky's win over Vanderbilt. Thompson, who has an MBA and owns a local arcade, wants Head to grow as a coach just like he did as an assistant.
Thompson speaks about his athletes like Mark Stoops talks about the players on his nationally ranked football team. A lot of the men and women on the team have athletic backgrounds.
Josh Marsh, who played football in high school, went viral when he flipped all over the field at the Citrus Bowl.
After posting some of his athletic achievements — he has a 41-inch vertical and he can bench 225 pounds 20 times — he joked about getting invited to the NFL combine. Some people thought he was serious.
Thompson joined the cheerleading team at Florida after a couple of cheerleaders dared him to try out.
Thompson, a diver in high school, said he became "obsessed" with the sport after noticing the athleticism it demanded.
Now he's here, guiding another championship cheerleading effort at Kentucky, where nothing seemed guaranteed a few weeks ago.
"We want to be able to entertain," Thompson said. "We want to make sure we add to the atmosphere." No cheerleading team in America is better at doing just that.
— Myron Medcalf
Should the Tampa Bay Buccaneers trade, keep or cut Gerald McCoy? – Tampa Bay Buccaneers Blog
TAMPA, Fla. — The Tampa Bay Buccaneers face tough decisions as they install a 3-4 scheme under new defensive coordinator Todd Bowles. They have $17.97 million in salary-cap space, and that's after cutting defensive end Vinny Curry, which essentially freed up the $9.28 million needed to pay their draft picks. More moves will need to be made, and the biggest decision revolves around defensive tackle Gerald McCoy.
The six-time Pro Bowler turns 31 next week. While still productive, his play as of late (12.0 sacks over the past two seasons) hasn't justified the $13 million that he's owed in 2019, especially when left tackle Donovan Smith and linebacker Kwon Alexander remain unsigned and a new deal looms for quarterback Jameis Winston.
With three years and $38.43 million remaining (none guaranteed) on his contract, McCoy accounts for nearly 18 percent of the cap space the Bucs are using on defense — second only to defensive end Jason Pierre-Paul at 20 percent. Only three 3-4 defensive ends (which is what McCoy would be in the new scheme) make more per year: Aaron Donald ($22.5 million), J.J. Watt ($16.67 million) and Jurrell Casey ($15.1 million).
So what are the Bucs' options with McCoy?
Trade him
Arguably the best thing Tampa Bay could do is trade McCoy while he still has value. Last year, Pierre-Paul was acquired by swapping a third-round draft pick and getting a fourth from the New York Giants. In McCoy's case, the Bucs might be able to land a fifth-round draft pick, possibly a fourth.
The problem with a trade is that it's already a strong free-agent class with Grady Jarrett, Ndamukong Suh, Sheldon Richardson and Muhammad Wilkerson, to name several. Why lose valuable draft capital if you can sign a free agent?
It's also a strong draft class at the position, which works to the Bucs' advantage, including Houston's Ed Oliver, Alabama's Quinnen Williams and Clemson's Christian Wilkins.
Cut him
If the Bucs can't find a trade partner, the next step would be to cut McCoy, which is less than ideal because a roster filled with holes — cornerback, left tackle, interior offensive line, running back and linebacker — suddenly will have one more with no additional resources to allocate toward filling them.
In cutting McCoy, the Bucs wouldn't face any financial implications because there is no guaranteed money remaining on his deal. It would free up $13 million in cap space for 2019, $12.5 million in 2020 and $12.93 million in 2021.
Renegotiate with him
Could they convince McCoy to take a pay cut by including more guaranteed money, as Bill Barnwell suggested? It'd be easier to restructure McCoy's contract if he had a longer career ahead of him, but he already has nine seasons under his belt, so a pay cut makes more sense.
Teddy, Earl and Le'Veon will be available. Here's everything to know on the class.
• Key offseason dates and priorities »
•

Experts predict: Answering top questions »
•

Ranking the top 50 NFL free agents »
•

Meet the offseason quarterback market »
• Top free-agent decisions for all 32 teams »
• Biggest offseason needs for every team »
•

Predicting QB Nick Foles' future »
More NFL coverage »
The deal could be for $10 million annually, with incentives that would push it to $13 million, so the cap charge would be $10 million instead of $13 million. Other moves would be needed, though (see below), but it would allow them to keep a player whose 54.5 sacks rank fourth among active defensive tackles.
He's also been one of the most visible players in the Tampa Bay community with his Patricia Diane Foundation, which assists single parents. Would he be willing to stay with Tampa Bay by taking less, if it means his family — including five children — can stay in one spot while he finishes his career?
Keep the status quo
Perhaps McCoy's play isn't declining, and a scheme change under new coaches will give him a shot of life.
If the Bucs don't touch McCoy's contract, they could free up cap space by trading or cutting wide receiver DeSean Jackson ($10 million), at the very least, and they'd have $27.97 million — about enough to sign Smith to a new contract.
They could create more space by extending Winston to drop his cap figure from $20.9 million to, say, $10 million. They also could cut defensive end William Gholston ($3.75 million), defensive tackle Beau Allen ($5 million, although they'd have to eat a $1.5 million roster bonus) and defensive tackle Mitch Unrein, although Unrein had a concussion last season, so he'd likely get $1 million if he can't pass a physical, but it still would save $2.75 million.