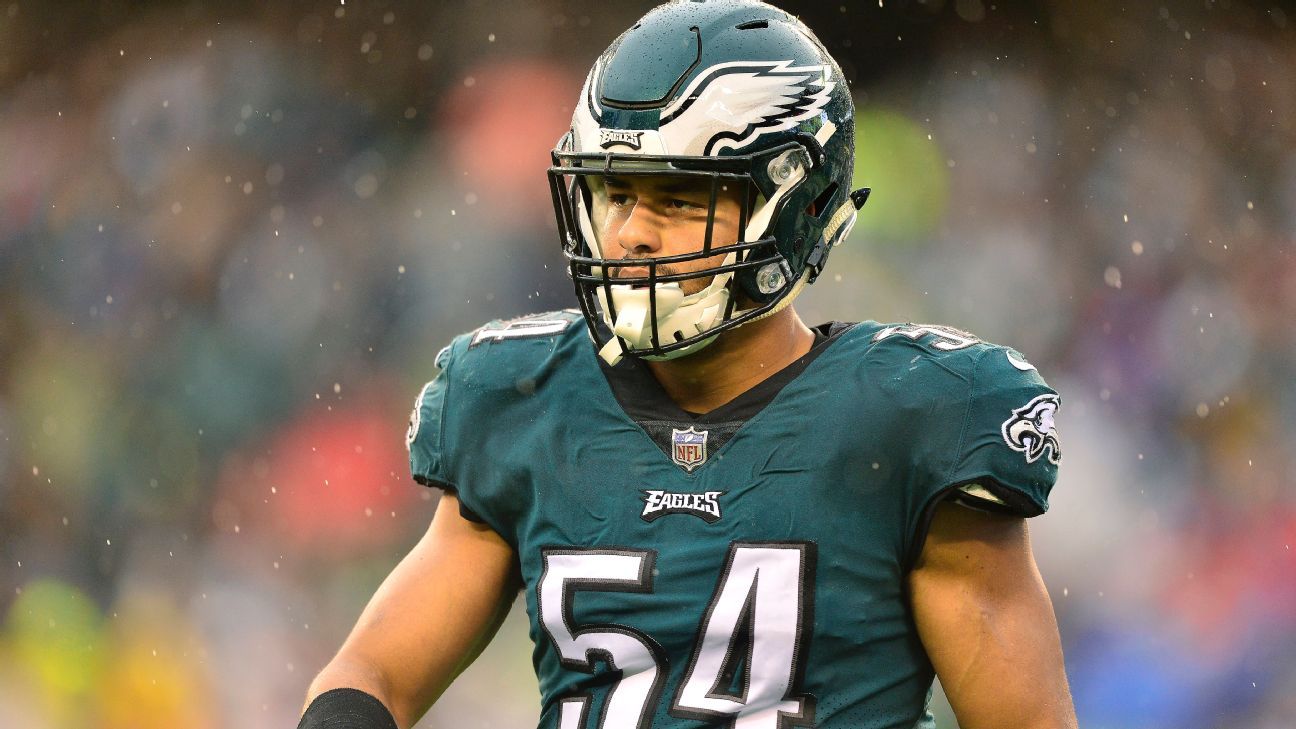 PHILADELPHIA – Eagles linebacker Kamu Grugier-Hill got the trash-talking started in earnest in front of Sunday's pivotal game against the Dallas Cowboys, with comments that are sure to make their way onto Dallas' bulletin board.
"I mean, you look at Dallas' history, they always choke," Grugier-Hill said, via NBC Philadelphia, "so we'll go down there and make them choke."
The defending champs are starting to regain some swagger after winning two in a row to get to 6-6. With a win over the 7-5 Cowboys, they'll pull into first place in the division.
But it's no gimme.
The Eagles lost their first matchup to Dallas, 27-20, at Lincoln Financial Field on November 11. That kick-started a four-game win streak for the Cowboys, who are coming off an upset win over the New Orleans Saints. While Dallas has been resting since that Thursday night game, the Eagles have a quick turnaround after hosting the Washington Redskins Monday night.
The Cowboys are listed as 3.5 home favorites.
The Eagles are 2-3 against Dallas under coach Doug Pederson, but do own bragging rights when it comes to big moments in the rivalry of late, including a 24-22 win in Dallas in the 2013 regular-season finale to claim the NFC East championship.
The Cowboys have an 80 percent chance to win the NFC East, according to ESPN FPI, while the Eagles have just a 14 percent chance. If Dallas can't close the deal, Grugier-Hill's words would have some extra weight to them.
Sunday will go a long way in deciding both teams' fate.
Follow live: Playoff implications on the line as Seattle hosts Minnesota

Russell Wilson looks to extend the Seattle's three-game winning streak and move the team closer to locking up a wild-card spot.

Source link
Pierre Garcon of San Francisco 49ers to undergo season-ending knee surgery
For the second time in as many seasons with the San Francisco 49ers, receiver Pierre Garcon will end his season on injured reserve after appearing in just eight games.
Niners coach Kyle Shanahan said Monday that Garcon is set to have arthroscopic knee surgery on Tuesday and the team will place him on season-ending IR later this week.
Garcon has not played for the Niners since the Week 9 win against the Oakland Raiders because of lingering knee issues that first flared up the week in Week 6.
While Garcon has practiced in the time since and has been hoping to get back on the field, he ultimately realized he needed to do something about it.
"We waited on Pierre for a bit," Shanahan said. "It was going very positive for a while, that's why I felt real good about it. But we came back from that bye week and it had gotten worse. We tried out hardest last week. He went out and went full go Wednesday, it swelled up on him, caused him a lot of pain and after having that same thing through almost most of the year, especially it was the week before the Green Bay game that it really started coming, it was just lingering too long where P knew he had to get something done. So we had to shut him down now."
In eight games this season, Garcon had 24 receptions for 286 yards and a touchdown. Those numbers come after a 2017 season in which Garcon appeared in the first eight games before suffering a season-ending neck injury against the Philadelphia Eagles. He had 40 catches for 500 yards in that season before the injury.
While Garcon can now get his knee taken care of, he will head into the offseason with some uncertainty about his future.
Garcon signed a five-year, $47.5 million deal with the Niners on March 9, 2017. Although the Niners are responsible for the $7.2 million that's left of his prorated $12 million signing bonus, the rest of his contract is comprised of a series of option years and the Niners could get out without any additional financial penalty.
The 49ers have until the end of the 2018 league year in March of 2019 to exercise that option. Shanahan indicated no decision will be made right away on Garcon's future with the team but did say Garcon, 32, plans to continue playing.
"I saw P in training camp when his knee wasn't bothering him," Shanahan said. "He was playing at a high level. It's very hard to do that when you're not healthy, especially the age these guys are at. Hopefully they can get healthy this offseason and then you've got to make decisions. You don't just get rid of people to get rid of people. They're all good players, good people, people we love here but you're always trying to improve and get better. That's what we see. What's the competition you can create? What are the options out there?"
As for the short-term, Shanahan said a decision also hasn't been made on who will take Garcon's spot on the roster, though he acknowledged there are multiple options.
Gambling recap – Miami Dolphins, Oakland Raiders help sportsbooks to another winning weekend
Notable bets is a regular Monday roundup of wagers — some sharper than others — made recently at sportsbooks across the nation.
Sunday went to the underdogs and left bettors battered and bruised, especially the unfortunate souls who put big money on the New England Patriots to beat the Miami Dolphins.
Underdogs went 9-5 against the spread on Sunday, with seven outright upsets, and sportsbooks across the nation reaped the benefits.
Here are the notable bets:
---
NFL
• Nevada sportsbook operator CG Technology took a $20,500 money-line bet on the Patriots beating the Dolphins straight up at -410 odds. The Patriots were leading 33-28 with 16 seconds to play, before the Dolphins converted a 69-yard multi-lateral play for the winning touchdown as time expired. The $20,500 bet would have produced a $5,000 net win.
• The largest money-line bet on the Dolphins that CG Technology took was $10,000 at +340 odds. The bettor won $34,000.
• A bettor at the Golden Nugget sportsbook in New Jersey placed a $20 money-line parlay on the Dolphins, Indianapolis Colts, Oakland Raiders and San Francisco 49ers. The parlay paid $2,633.
• Amari Cooper's touchdown catch off a tipped pass in the Dallas Cowboys' 29-23 overtime win over the Philadelphia Eagles completed a $1,000, five-team parlay at PlaySugarHouse.com, an online sportsbook in New Jersey, that paid $26,351. The bettor took the Dolphins +7.5, Colts +4.5, Browns +1.5, Ravens +6.5 and Cowboys -3.5.
• CG Technology took a $40,000 money-line parlay on the Buffalo Bills (-225) and Los Angeles Chargers (-1,400). The Chargers held on to defeat the Cincinnati Bengals, but the Bills squandered a 17-6 lead, surrendering a touchdown to the New York Jets with 1:17 to play, and lost 27-23. The bet would have won just under $22,000.
• CG Technology also took a $50,000 bet on the Bills -3.5.
• The most lucrative game Sunday for MGM sportsbooks was the Baltimore Ravens covering as 6.5-point underdogs in a 27-24 overtime loss to the Kansas City Chiefs.
• Caesars Entertainment director of specialty gaming Bill Sattler said the book took a few five-figure money-line parlays Sunday, each including the Patriots and/or the Steelers. Pittsburgh lost as 10-point road favorites to the Oakland Raiders 24-21.
• The lucrative game Sunday for Caesars sportsbooks was the underdog 49ers' 20-14 upset of the Denver Broncos.
• A bettor at the sportsbook at Hollywood Casino at Charles Town Races in West Virginia placed an $8,000 bet on the Washington Redskins to win the NFC last week at 350-1 odds. The bet would pay $2.8 million. Washington lost to the New York Giants 40-16 Sunday.
• After the early games ended Sunday, CG Technology sportsbooks were in an enviable position. "The Ravens and Dolphins covering killed so many parlays that we had no chance of losing the rest of the day no matter what happened," CG Technology vice president Jason Simbal said.
• The Chicago Bears' 15-6 upset of the Los Angeles Rams produced the biggest win of the day for FanDuel's sportsbook, which reported that 80 percent of the point-spread bets were on the favored Rams.
• Multiple Las Vegas sportsbooks mentioned that handle was light over the weekend, something common for December. Still, there were few complaints on what was another profitable weekend. "Sunday was very good," John Murray, director of The SuperBook at Westgate Las Vegas, told ESPN. "The kind of results we wish we could get earlier in the season when the handle is higher."
• Notable Week 15 opening lines via SuperBook:
Chargers at Chiefs -3.5 (Thursday)
Cowboys at Colts -3
Packers at Bears -5.5
Patriots at Steelers NL
Eagles at Rams -7.5
Saints -7 at Panthers
---
College football
• More money was bet on the Army-Navy game at CG Technology sportsbooks than was bet on the Thursday night game between the Jacksonville Jaguars and Tennessee Titans.
• West Virginia star senior QB Will Grier has elected to sit out the Mountaineers' bowl game against Syracuse to prepare for the NFL draft. West Virginia opened as 7-point favorites over the Orange at most books. The line began dropping last week and was down to -5 before the Grier news was made official Saturday. Redshirt sophomore Jack Allison is expected to start in place of Grier. The Mountaineers were 1.5-point favorites at most sportsbooks Monday. Syracuse and West Virginia will play in the Camping World Bowl on Dec. 28 in Orlando, Florida.
• Oklahoma QB Kyler Murray opened at 25-1 to win the Heisman Trophy. He captured the award Saturday, becoming the second straight Sooner quarterback to win the award, following Baker Mayfield. A Caesars Palace sportsbook manager told ESPN that the house won five times as much money with Murray winning as it would have lost if Alabama QB Tua Tagovailoa had won.
• The early betting action on the College Football Playoff semifinal games was on both favorites, Alabama and Clemson. As of last Thursday at William Hill's sportsbooks in Nevada and New Jersey, 86 percent of the money that had been wagered on the Orange Bowl point spread was on the Crimson Tide, who remained 14-point favorites over Oklahoma.
The Cotton Bowl between Clemson and Notre Dame had been more evenly bet, with the Tigers receiving 57 percent of the money wagered on the point spread. Clemson was an 11-point favorite at most sportsbooks.
• On Nov. 21, a bettor at a William Hill sportsbook in New Jersey placed a $100,000 bet on Notre Dame to win the national championship at 7-1 odds. The bet would win a net $700,000.
• On Aug. 10, a bettor at a William Hill sportsbook in Nevada placed a $10,000 bet on Clemson to win the national championship at 5-1 odds. The bet would win a net $50,000.
---
Odds and ends
• Boxing: A bettor at the Flamingo sportsbook in Las Vegas placed a $1,000 bet on heavily favored Vasiliy Lomachenko to defeat Jose Pedraza in their lightweight title fight Saturday. The bettor laid -7,000 odds and won a net $14.30 when Lomachenko was awarded a unanimous decision.
• Soccer: Team USA opened as the favorite to win the 2019 FIFA Women's World Cup this summer in France. The SuperBook at Westgate Las Vegas installed the U.S. as the favorite at 2-1, followed by France (7-2) and Germany (5-1). Japan, England and the Netherlands are each 10-1.
• Parlay: A bettor at the MGM sportsbook at GoldStrike Casino in Tunica, Mississippi hit a $40, 13-team parlay that paid $103,581 on Saturday. The bettor parlayed 12 college basketball games with Army on the moneyline (-340) against Navy in college football.
The 12 basketball winners: Toledo +2, South Alabama -2, Hofstra -2.5, Central Michigan -8.5, Penn -5.5, Georgetown +10.5, Villanova -10.5, Oklahoma -6.5, Pittsburgh +10.5, South Carolina +17.5, Oakland +10 and Maryland -9.5.