Is third base passing first base as baseball's power position?
Here's a trivia question you can bring to your cool holiday parties, where the appetite for baseball trivia is no doubt out of control: Which American League first baseman finished highest in MVP voting this year?
It's a trick question, of course. No player who played primarily first base was named on a single ballot. Of the 18 hitters who got AL MVP votes, only one spent any time at first: Whit Merrifield, a speedy utility player who played all of 44 innings at the cold corner for Kansas City. That's less time than he spent at second base, center field, right field or designated hitter. But the answer is, somehow, Whit Merrifield. Grab me another drink?
Meanwhile, the top of the ballot was filled with AL third basemen of varied skill sets: Matt Chapman, Alex Bregman and Jose Ramirez all finished in the top seven. The National League had first basemen in contention, but even Freddie Freeman and Paul Goldschmidt finished behind Rockies third baseman Nolan Arenado and Cubs sometimes-third baseman Javier Baez.
These are just anecdotes, names to make the top of this article pop. But the stats suggest something less anecdotal, and perhaps more permanent. An interesting thing might be happening at the corners.
---
For as long as baseball has been played, defensive position has been offensive destiny. The harder the position, the fewer living human beings who can play it. The smaller that pool of humans, the lower the chance that there will be a bunch of elite hitters among them. And the less important the position, the more a team is willing to live with bad defense in pursuit of more offense.
Here's a messy chart showing offense (as measured by OPS+) by position by year, going back to 1925:
Messy as it is, you can tell that those nine lines run mostly alongside each other, rather than crisscrossing with each other. Right fielders always outhit center fielders. DHs always outhit catchers. Left fielders always outhit shortstops. Defensive position is offensive destiny.
Very, very occasionally, though, baseball will start to realign itself, and if you unmess that chart, you can see those moments. In the late 1960s, for instance, baseball changed what it thought of the middle infield. Second base and shortstop had long been offensive equals, but teams discovered second base (with fewer plays and a shorter throw than shortstop) was a position where they could stash a bigger, slower, but better-hitting human:
And, for the next 50 years, shortstops didn't outhit second basemen again. There are blips in the messy chart — every so often center fielders outhit left fielders, or second basemen match third basemen — but the realignments are rare.
So what is happening at the corners, a blip or a realignment? Last year, third basemen hit better (relative to the rest of the league) than they had since 1970. First basemen hit worse than they had since 1951. On Aug. 31, just one point of OPS separated the league's third and first basemen. Third basemen then had a miserable September, but for the season they still nearly closed the extremely reliable gap between first and third base:
There is, of course, context to this movement. Just a few years ago, baseball writers were in a panic over the disappearing first basemen, who were worse in 2012 than they'd been in years and were nearly absent from top prospect lists. First basemen recovered — 13 got MVP votes in 2015, if we include the DHs who also played first — and the panic looked to have been just one of those fluky aberrations. But here we are again. First basemen are mostly bad. The ones who are good are mostly old. No first baseman this year got a Rookie of the Year vote. And (with some caveats) there are no likely first basemen among at least the top 50 or 60 prospects in the game.
We could list any number of hypotheses — about the role that shifts and strikeouts play in teams' defensive decisions, about whether easy homers have made slugging first basemen less special, about the impact of super-utility players on each team's defensive decisions, about the value of athleticism across all levels of the game — but here are two that are accompanied by what I think are interesting data:
1. It's about bullpens. Yes, bullpens. As starters throw fewer innings and relievers slot into specialized, limited roles, every team carries 12 pitchers and some carry 13. That leaves fewer roster spots for extra hitters and makes versatility almost a requirement for any non-star. The slugging bench bat who offers no defensive versatility is gone; players who can move up and down the defensive spectrum easily fill benches.
Two consequences follow: One is that, when a starting first baseman gets hurt, doesn't hit or simply needs a day off, there is less likely to be a major league caliber backup ready to take his spot. A marginal first-base prospect might also get fewer chances, and a marginal first-base draft candidate might get passed over, shrinking the pool of future first basemen and future breakout candidates.
The other consequence is that, because there are so few position players available, there's a very good chance that every utility infielder (or utility outfielder or flexible starter, e.g., Whit Merrifield) is going to end up playing some first base. A record 189 players appeared at first base last year, the fifth year in a row that the league set that record. (Records were also set at second base, third base, center field, right field and catcher. They were nearly set at short, left and DH.) So first basemen move closer and closer to league-average offense because more first-baseman plate appearances are going to whatever average guy happens to be standing around with a glove.
This isn't only about first basemen. Look at that first chart, and you'll see almost all positions moving toward the average. Good fielders are forced to play positions at which the offensive standard has traditionally been higher, and good hitters are forced to play positions they were previously considered unqualified to defend. Offense in left field reached all-time lows in 2016 and 2017; right field had its all-time low in 2016 and DH had its all-time low in 2017, as many teams have decided they can't employ a full-time DH if they're carrying only 12 hitters. Over the past three years, meanwhile, second basemen and shortstops have been around league-average hitters, the highest they've been since the 1940s.
The bottom line is this: Differences among the nine non-pitching positions (as measured by standard deviation) have shrunk this decade to the lowest in history. In the 1970s, batters at "offensive" positions (first base, third base, left field, right field and DH) had an OPS 68 points higher than those at "defensive" positions (catcher, second base, shortstop, center field). Last decade, the difference was 59 points. This decade, the difference is just 39 points.
2. It's about age. The roster crunch helps explain why first basemen don't collectively hit as well as they used to — fewer are given chances to break out, and more of the plate appearances are going to non-first basemen — but it doesn't explain why third basemen are simultaneously having their best seasons in a half-century. Earlier this week, though, we wrote about something that might offer an explanation: Young players are reaching their offensive peaks much earlier.
Nearly every player moves down the defensive spectrum as they age: Shortstops at 23 become second basemen at 29. Second basemen become third basemen. Third basemen become first basemen. And first basemen become DHs as they get thicker, slower, diminished by injury and so on. In any given year, then, the third basemen are going to be collectively younger than the first basemen. Last year, the 30 third basemen who played the most innings were almost two years younger than the 30 first basemen who played the most.
But while defense peaks early and declines almost immediately, the trade-off traditionally has been that the older players become better hitters. As we wrote earlier this week, that trend has reversed. Players are peaking at younger ages, not just in their defense or running skills, but in power hitting, plate discipline and overall offense. Last year's young players, 25 and under, were better than any young hitters in decades and better than the rest of the league, which is a rarity.
The consequence of that is that third basemen are no longer young defenders waiting for their power to develop at the plate. They're young defenders who are already developed, who are ready to hit major league pitching.
---
A third possibility is that this is, in fact, just a blip. Maybe there's just a bunch of good third basemen right now and a dearth of good first basemen, because sometimes that happens. Just eight years ago, third basemen were as bad as they've been in decades, outhit even by second basemen. Just eight years ago, first basemen were dominant, with a collective OPS almost 100 points higher than that of third basemen.
But there's something about this chart that makes me think it's probably not a blip:
For most of history — at least since the DH was added to the American League — first basemen, third basemen and DHs tracked each other pretty closely. Sometimes they were a little up, sometimes they were a little down, but they were usually up or down together. This makes sense: The positions overlap a lot, with DHs who often play first base, and first basemen who had just moved over from third base, and first basemen who sometimes play third. If there were a lot of good first basemen, the spillover would benefit third basemen and DHs too. They were a family, and they fluctuated like a family.
Last year, though, they didn't move like a family. First basemen were as bad as they'd ever been, but the scarcity didn't affect either of the 1B-adjacent positions. DHs hit better. Third basemen hit better.
It suggests that we could be seeing a realignment around first base. There will always be a handful of walloping sluggers who can only play first base. Some will hit 45 homers and win MVP awards. But the way the game is played today, there might not be room for 30 of that type around the league. We might be seeing first base being pulled into the versatility era. We might see third basemen outhit first basemen in 2019. At least it's something to watch.
Historical stats via the Play Index at Baseball-Reference.
MLB Weekend Watch — Picks, analysis on the top matchups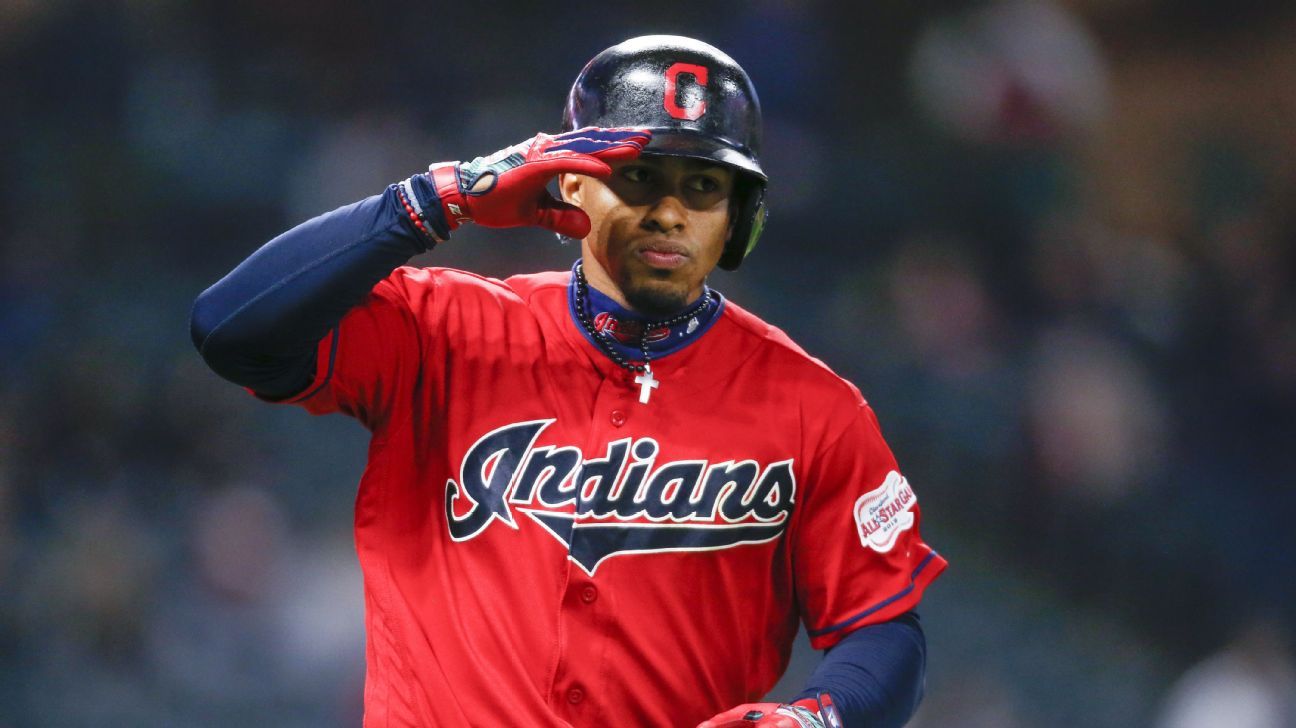 The Orioles are giving up home runs at a historic rate, the Braves and Cardinals will be squaring off in a premium matchup between potential playoff teams, and the latest Dodger with a scoreless inning streak will put his chance to make history on the line.
Here's how we see those matchups and what else we're looking forward to:
Sunday Night Baseball (ESPN, 7 p.m. ET) features a pair of playoff contenders with the Atlanta Braves facing the St. Louis Cardinals. Which of those teams is more likely to make the postseason?
Eddie Matz: I'm nowhere near as smart as the folks who run sites like FanGraphs, Baseball Prospectus and Baseball Reference. Averaging out the playoffs odds on all three sites, the Braves have a 63 percent chance of making the postseason. The Cards are at 48 percent. I'll side with the wise guys and take Atlanta.
Sam Miller: I will admit that I have, like most baseball fans, occasionally overrated the benefits of youth over experience. But this has been a young players' league for the past couple of years, and the Braves — with the National League's youngest pitching staff, and tied for second-youngest lineup — fit the moment better than the veteran Cardinals, some of the most veteran of whom are struggling under the weight of age. Anyway, somebody's got to pick up the playoff odds that the listing Nationals and Mets have been bailing out.
David Schoenfield: The Braves still have 13 games remaining against the Marlins. The Cardinals do not. More importantly, the Cardinals' rotation has really struggled and the team has allowed the second-most home runs in the National League. Meanwhile, the Braves have received strong performances so far from Mike Soroka and Max Fried. With the Nationals playing poorly and the Mets scuffling along, the Braves can take advantage of a mediocre NL East.
Speaking of playoff contenders, the Cleveland Indians host the Tampa Bay Rays this weekend. Will the Tribe, which haven't won more than two straight in nearly a month, get their act together and make the playoffs?
Matz: The Twins are legit, so winning the Central seems like a long shot for Cleveland. Snagging a wild card won't be easy, either, as the Indians likely would need to finish ahead of either the Yankees, Red Sox or Rays. Francisco Lindor has finally found his groove, but Jose Ramirez hasn't. So … can the Tribe make the playoffs? Absolutely. But it sure would help if Ramirez starts producing like his top-five-finish-in-MVP-voting self.
Miller: Probably not, and the front office might figure it's not even worth fighting that hard for a wild-card spot. I'm not all the way convinced Lindor really has found his groove, either. He's so good he could be an All-Star (if not an MVP candidate) at three-quarters speed; the problem is, according to Statcast's sprint speeds, that isn't that far off.
Schoenfield: The Twins absolutely look like the real deal and have indicated they have payroll room to add something at the trade deadline as needed. You think the Indians will make a big move? Unlikely. Yes, they'll get Mike Clevinger and Corey Kluber back at some point, but right now I'd pick the Twins to win the division and the Indians to battle — and fall short — of a wild-card spot.
The season's two most highly touted rookies — the Toronto Blue Jays' Vladimir Guerrero Jr. and the San Diego Padres' Fernando Tatis Jr. — are in Toronto this weekend. Beyond that pair, there have been numerous impact rookies this year. Who has impressed you the most?
Matz: Pete Alonso is on pace to hit 54 homers, which is pretty dang impressive for anyone, much less a rookie. But I'm reasonably certain that in MLB's current offensive climate, my fourth-grade son could hit 54 bombs. I'm infinitely more impressed by pitching prowess these days. What Mike Soroka has done — he has surrendered just one homer and hasn't allowed more than one earned run in any of his seven starts — is just plain crazy.
Miller: I'll take it on faith that David, who said last week he was going to rename his dogs — Rename! Give them new names! — after Chris Paddack, will take care of that response next. I've been in awe of Tampa Bay rookie Brandon Lowe's swing. He's not big, doesn't look imposing, but he hunts for early-count strikes and has a knack for pulling and elevating anything in the zone. That's not the right approach for every hitter, but it's working for Lowe.
Schoenfield: Of course, I have to mention Soroka and Paddack here, two keys to my current first-place fantasy team. What, you don't want to hear about that? Sorry. Oh, Yusei Kikuchi is on my team as well and he's been a solid rookie starter, although obviously he isn't a rookie in the traditional sense. Maybe the most surprising-slash-impressive rookie performer has been Michael Chavis of the Red Sox. We knew he had big-time power potential, but he also had an 80-game PED (performance-enhancing drug) suspension last season and a high strikeout rate. We also didn't expect to see much of him, as he was buried behind Rafael Devers on the depth chart at third base. He has kept his strikeouts relatively intact, but most impressively he has played a solid second base after playing mostly third base in the minors.
You guys aren't rookies, but you're certainly impressive. What's on top of your weekend must-see list?
Matz: In the past 100 years, there have been six players who have had at least 50 steals and 100 RBIs in the same season (Barry Bonds did it most recently, in 1990). Adalberto Mondesi is on pace for 56 and 132. With seven triples already, he's also on pace for 23 of The Most Exciting Play In Baseball. There has only been one guy in MLB history to ever record 20 triples, 50 steals and 100 RBIs in a single season. (Hint: his name rhymes with Schmy Schmobb.) All of which is to say, I'm going to pay a little extra attention to the Royals.
Miller: Domingo German is going for his 10th win, and it's still May. Wins aren't my stat, but my inner 8-year-old still loves to see a ludicrous win-loss record now and again, so I'll be watching Sunday to see if German can improve to 10-1 and stay on pace for an extremely unlikely 30-win season. (Heck, I'd take 29.)
Schoenfield: I'm developing a disturbing fascination with all the home runs the Orioles are allowing. Entering Thursday's game against the Yankees, they've allowed 105 home runs in 49 games, a season pace of 347. That's almost incomprehensible. It would be like Bob Beamon long jumping 29 feet, 2½ inches at the 1968 Olympics, completely destroying the previous record. And this weekend? The Orioles play in Denver. Protect the kids.
---
PICK 'EM TIME
Dodgers lefty Hyun-Jin Ryu brings a streak of 31 consecutive scoreless innings into Pittsburgh. Closest to the pin: How long will Ryu's streak last?
Matz: Four of the 10 longest streaks in the live ball era belong to Dodgers: Hershiser, Drysdale, Greinke, Kershaw. Ryu needs 10 more innings to break into that top 10 and become the fifth Dodger. He'll get eight against the Pirates, seven against the Mets after that, and then lose it in the first inning at Arizona. So let's call it 45⅓ innings, tying him with Carl Hubbell for fifth longest.
Miller: I've been debating with a friend about how many innings it takes for a scoreless streak to become must-watch. I say 32 — since then he's only, theoretically, three outings away from Hershiser — but my friend insists it's at least 35, since nobody goes nine innings anymore. Anyway, enough stalling: The Pirates have been the fourth-worst offense in baseball against lefties this year, so I'll be optimistic and say he goes six scoreless and gives me and my friend the right to get hyped.
Schoenfield: I say Josh Bell goes yard and ends the streak at 36 innings.
The Orioles are giving up home runs at a record pace (and then some). This weekend they're in the thin air at Coors Field, a potentially volatile combination. Over/under for home runs allowed by the Orioles this weekend at Coors: 6.5
Matz: (Total number of times the O's have allowed more than six homers in a road series this year) + (Total number of time the Rockies have hit more than six homers in a home series this year) = One. I'll take the under.
Miller: I reject Eddie's implied home/road distinction for the Orioles' prodigious dinger-allowing rate. I believe in their ability to allow homers in any park, and certainly in Coors. The Orioles have allowed five or more homers in a game seven times this year, and I really only need one of those to nearly guarantee the over. So I'll take the over.
Schoenfield: Over.
Who wins Sunday night — Braves or Cardinals?
Matz: Both starters (Jack Flaherty and Julio Teheran) have been much better at home this season. In related news, this game will take place in The Lou. Dame los Cardenales, por favor.
Miller: I like Flaherty so much that I refuse to ever look at his stats. He's a star. I know it. I don't need "proof" or even "supporting evidence." I bet his ERA is, like, 1.60. I'll take the Cardinals.
Schoenfield: Flaherty is the scheduled starter for St. Louis and I keep waiting for him to roll out three or four dominant starts in a row, but he hasn't found a consistent groove yet and walked five Braves two starts ago. Teheran, meanwhile, has allowed just two runs over his past four outings. I'll go with the hot hand and pick the Braves.
---
TWO TRUE OUTCOMES
Each week, we ask our panelists to choose one hitter they think will hit the most home runs and one pitcher they think will record the most strikeouts in the coming weekend. Panelists can pick a player only once for the season. We'll keep a running tally — and invite you to play along at home.
Home run hitters
Matz: Charlie Blackmon
Miller: Nolan Arenado
Schoenfield: Dang, I already used Trevor Story, and Eddie and Sam beat me to Blackmon and Arenado. We're all on the same page here. I guess that leaves me with … Ian Desmond? (And, yes, I might pick against the Orioles the rest of the season.)
Strikeout pitchers
Matz: Caleb Smith
Miller: Chris Paddack
Schoenfield: Noah Syndergaard
B-team Bombers? Hardly. Backups bid to equal 2018 Yankees' historic HR pace
BALTIMORE — As he angrily picked himself up off his belly in the ninth inning Thursday, Aaron Hicks put a scowl on his face and took his mind to one place: over the fence.
"I wanted to get up and hit a homer," the New York Yankees center fielder said.
About 100 feet away in his dugout, other Bronx Bombers shared that mindset, hoping after the 94-mph brushback fastball that miraculously missed hitting him — thanks to some last-second, body-bending bailing — Hicks might crush a ball into oblivion.
They were all looking for him to hit yet another Yankees big fly. What many of them might not have known was that a grand slam there would be the team's 81st homer of the year, putting it practically homer-for-homer on the same pace of their torrid record-setting campaign of a year ago.
Remember the 267 home runs the Yankees hit in 2018, with the likes of Aaron Judge, a healthy Giancarlo Stanton, Didi Gregorius, Miguel Andujar and Hicks? Believe it or not, this year's B-team Bombers are not far off that pace.
If this year's team — which will eventually get Judge, Stanton and Gregorius back from stints on an injured list currently populated by 14 Yankees — keeps homering at this current clip, it will go yard 264 times by season's end. That would put the 2019 Yankees in a tie for second on the all-time single-season team homer list with the 1997 Seattle Mariners. Only last year's Yankees have hit more.
"It's crazy how guys come up [from Triple-A], hit a lot of homers. It's crazy, man," said outfielder Clint Frazier, who has nine home runs in an injury-shortened season, including his fifth-inning drive to left Thursday. "I don't think the league has really adjusted to some of the players yet, so you've got a ton of guys with a lot of talent, and they are making adjustments if they were pitched different than they were before.
"And, dude, we're good."
When it comes to the long ball so far this season, the Yankees certainly are. They currently have only three fewer homers than they did at this exact point last season. If they homer three times at Kansas City on Friday, they'll be step-for-step with last year's Bombers.
Four teams are currently outpacing the Yankees' 80 homers, including Minnesota, which is leading the way with 98. Still, New York this year has made it a habit of hammering pitches.
"We just put our concentration and our focus to do damage, like we did [against Baltimore]," shortstop Gleyber Torres said.
With their injured list now overflowing with pitchers, including CC Sabathia's addition early Thursday, the Yankees could stand to get several more offensive explosions. Until Sabathia returns from an anticipated week and a half of rest to let a cortisone shot settle, the Yankees will be bullpenning possibly their next two times through the rotation. All of that could heavily tax their pitching staff.
So, it will be up to the position players to pick up the slack, which is exactly what they did these past four days.
All week, Camden Yards was a veritable Yankees launching pad. In all, 13 home runs left Bombers bats in the four-game series. Had three more been struck off Orioles pitching, New York would have set a record for home runs hit in a single series in franchise history. At home against the White Sox in 2007, the Yankees hit 15 bombs in a three-game set.
Still, this marked just the fifth time in Yankees history that they hit at least 13 homers in a road series.
All of this week's homers versus the O's led the Yankees to a key early-season sweep as they tried to stretch out their recently acquired division lead. Since returning home from a three-city West Coast road trip at the start of this month, the Yankees have won 15 of 19 and overtaken the Tampa Bay Rays for first place in the American League East.
"These guys, the focus each and every day is on the game and playing winning baseball, and everyone kind of pulling their weight, and the mantra of come in and do your job," Yankees manager Aaron Boone said. "They've really taken to that, and a lot of them really well."
The star of the past week was Torres, who had multi-homer games Monday and Wednesday before being kept out of the starting lineup Thursday. He didn't have much of a rest day, though. With two outs in the ninth, Torres and fellow O's killer Gary Sanchez, came up to pinch hit.
Orioles reliever Mychal Givens kept both in the ballpark this time, though, allowing Torres to draw a clutch tie-game walk before giving up a single to Sanchez. By the time Hicks came up two batters later with a chance to blow the game wide open, Torres and Sanchez were in scoring position after starting a two-out bases-loaded rally.
"You always like when they're in the lineup, but to have them sitting over there in that spot was nice," Boone said of both young hitters. "And the fact that they were ready. It's not always easy for guys that are regulars like that that have been sitting over there all day."
"It's crazy how guys come up [from Triple-A], hit a lot of homers. It's crazy, man. I don't think the league has really adjusted to some of the players yet, so you've got a ton of guys with a lot of talent, and they are making adjustments if they were pitched different than they were before. And, dude, we're good."

Clint Frazier
Combined, Torres and Sanchez have hit 19 home runs off the Orioles this season. That's only 11 fewer than the entire Miami Marlins team has hit against every opponent it has faced this year. Of the 12 homers Torres has hit this season, 10 have come against the Orioles. Of those 10, five came in the three games he started this week in Baltimore.
After hitting his 12th homer of the season Thursday, first baseman Luke Voit joked about Torres being given an off day, saying: "Gleyber's letting us hit — or maybe Aaron's letting the rest of us hit home runs."
While Sanchez's 15 homers in an IL-affected season leads the team, Torres and Voit each have 12. Frazier has nine and Brett Gardner — who had 12 homers all of last season — is next on the list with seven. DJ LeMahieu and Mike Tauchman have four homers apiece. Thairo Estrada and Gio Urshela, two players who began the season at Triple-A, have three and two homers, respectively.
"I'm happy for all these guys that are getting these chances, because sometimes, a lot of these guys don't get chances," Voit said.
Voit was one of those unknown players who was looking for a break last season. After a brief stay in the minors following his trade-deadline arrival in the Bronx last summer, Voit went on to homer 14 times in the final month and a half last season. Only Milwaukee's Christian Yelich had more home runs (15) within that stretch.
When spring training started, it wasn't a given that Voit would be the Yankees' Opening Day starter at first base. But he earned the job after a competition with Greg Bird, who later got sidelined with a bout of plantar fasciitis.
Before the wave of injuries set in, LeMahieu was viewed as a complementary piece, playing a rover type role to help give some of his fellow infielders occasional relief. Like Estrada and Urshela, Frazier began the year in the minors.
"Even though we have some guys that aren't the main starters, they're still able to come up here and do damage, too," Hicks said. "The guys that we have are the same as the starters we're missing; guys that hit homers. They like to drive the ball a lot.
"It also helps to have guys that are extremely hot."
With the two hottest hitters on the team on second and third, Hicks' ninth-inning plate appearance continued after that far-inside pitch. Still hunting his chance to hit a homer, he fouled off a pitch and took another two balls. That final ball led to a bases-loaded walk that brought in Torres from third with what later proved to be the game-winning run. It's the league-leading eighth bases-loaded walk he has drawn since the start of 2017. While that wasn't the ending Hicks had hoped for, it was one he welcomed.
Perhaps that play helps explain why it has seemed so hard to fathom this team being as competitive with the long ball as it was last year. Small ball, drawing walks and using speed to succeed has been the 2019 Yankees' most recognized calling card.
"That's what's making this great," Voit said. "I don't want to say it was like that last year, but we kind of relied on the three-run homer all the time. And now we're getting walks, we're moving guys over when they need to be, hitting sac flies and playing really good defense.
"It's just stepping up and doing your job and not being a selfish player."
The legend of Laureano's laser — How the A's outfielder went viral
Last summer, just eight days into his big league career, Ramon Laureano went viral.
His spectacular outfield assist — the one in which he caught a Justin Upton drive on the run at the warning track in left-center, then turned and fired a strike to first base to double up Eric Young — was the kind of play legends are made of. And the kind of video that ends up everywhere.
On April 22, the Oakland Athletics center fielder one-upped himself by robbing Teoscar Hernandez of a homer, then unleashing a missile to first base that resulted in a double play. The throw, which traveled nearly 400 feet according to some estimates, actually sailed past first and into foul territory, but that doesn't matter. What matters is Laureano has made a habit of doing physics-defying things with his right arm.
In his very first MLB game last summer, he stopped the Detroit Tigers' Jose Iglesias, who was trying to stretch a double into a triple. The very next day, he got Mike Gerber. Earlier this season, he recorded an outfield assist in all three games of a series against the Boston Red Sox (Xander Bogaerts was a victim twice).
Since making his debut on Aug. 3, 2018, Laureano's 14 assists are more than any outfielder in the majors and almost twice as many as the next-closest guy. It's no fluke, either — in 380 minor league games, he tallied a jaw-dropping 50 assists.
"I've been doing that since high school and Little League," says Laureano, a native of the Dominican Republic who moved to upstate New York as a teenager. Recruited as a pitcher/outfielder, he landed at Northeast Oklahoma A&M, where he played one year before the Houston Astros selected him in the 16th round of the 2014 draft. Five years later, he's patrolling center field in Oakland and challenging Draymond Green for the Bay Area's biggest assist monger.
So just how lethal is Laureano's laser? To find out, we spoke with those who've seen it in person.
Upper Room Christian School head coach Tony Passalacqua: His arm was just ridiculous. He would hit 94 on the radar gun off the mound, but he would always say, "Coach, I don't like to pitch." Nobody could really run on him at the high school level. There were many times when he'd throw someone out, and you'd sit there and say, "That's just not right for a high school player to do that."
Northeast Oklahoma A&M head coach Roger Ward: The arm strength was a no-doubter, but he didn't pitch because we were worried about how many people he would hurt. It was 93, but it was everywhere, and he had a hard time throwing strikes. It ran arm-side on him, hard. If it ran 2 or 3 feet at the plate, it would run 10 feet from the outfield. He definitely corrected that issue and has gotten incredibly accurate with it.
Baltimore Orioles GM Mike Elias, formerly Astros scouting director: In scouting, we use a 20-to-80 scale, where 80 is as good an arm as you can have. I probably would have called it a 60 or 65. We didn't say, "Oh, my gosh, this is the best arm on the planet." But it was obvious he had a plus arm.
Philadelphia Phillies farm director Josh Bonifay, formerly Greenville Astros (rookie ball) manager: It was our opening minicamp for the Greenville Astros. It's in June, right after the draft. We're taking outfield and infield, and the first time I hit him a ground ball, he throws it to second base, and I'm like, "Oof, that's a hose." So then he throws it to third, and it was nowhere near the third baseman. I think it ended up more in the dugout than anything. And then you hit him to home, and he throws it halfway up the screen. We knew then he had an absolute bazooka. We just had to harness it.
Red Sox coach Ramon Vasquez, formerly Lancaster JetHawks (Class-A) manager: They didn't really run much on him because the whole league kind of knew from the beginning of the season. I actually had a little bit of an argument with him during that season about keeping the ball low. His throws were in line most of the time, but as strong as his arm was, he overshot the cutoff man, and bases. The accuracy was going to come.
Tampa Bay Rays third base coach Rodney Linares, formerly Corpus Christi Hooks (Double-A) manager: Nobody ran on him. They learned in the minor leagues. He should have had 25 assists. There were times when it was a solid single to center field, and the guy should have scored but they just stopped. They stopped running on him halfway through the year. His arm is the stuff fairy tales are made of.
Fran Riordan, Las Vegas Aviators (Triple-A) manager: We were playing in Nashville last year. He was playing in right field, and there was nobody out. Deep fly ball into the right-field corner, where the visitors' bullpen is. He goes really deep into the corner and makes an unbelievable catch going full sprint. The runner at first base tagged up, not thinking there was going to be a play. Ramon calmly unleashes a line-drive missile all the way to second base and the runner doesn't even slide, thinking there's going to be no play. He was out by 5 feet.
Vasquez: We talked about him. We know he's a plus arm, a 70 arm. We told our guys. But when you look at those plays, they had to happen. Sometimes you gotta challenge the guy. He actually made three perfect throws. All three plays, if you look at those plays, if that throw would've been a step to the left, a step to the right, maybe a little bit higher, we would have been safe. He executed those perfectly.
"His arm is the stuff fairy tales are made of."

Rodney Linares, Ramon Laureano's former Double-A manager, now the Tampa Bay Rays' third base coach
Riordan: If you look at what he's done in the big leagues on a very short sample size, and I saw what he did last year in Triple-A, these aren't good throws. These are throws that have to be perfect in order to get the out. He's not just making good throws — he's making perfect throws from impossible places on the field at all bases. I've been managing in the minors for 20 years. There's a lot of strong arms in professional baseball, and there's a lot of accurate arms in professional baseball. In my opinion, there's no combination of arm strength and accuracy like Ramon's.
Linares: I don't know why people keep running on him. With Ramon, you gotta be careful. [In Tampa Bay] we pride ourselves on being really aggressive, but when we play Oakland, I know when to stop the guys.
Orioles shortstop Richie Martin (thrown out at home by Laureano on April 9): I mean, shoot, he's one of the best outfielders in the league right now. He just made a good play. It was kind of laid up for him, a one-hop ball to throw me out. But I thought with my jump that I got right off the bat — I knew it was going to be close — but I thought I was going to beat it. But he had me by like 3 or 4 feet. It was a perfect throw. He's legit.
Orioles OF/1B Trey Mancini (on deck when Martin was thrown out): In our meeting, they'll run through the arms of everyone on their team. So we knew that he had a great arm — it's no secret. Richie's really fast, but he made a perfect throw and got him with a few steps to spare. Leonys Martin's got a really good arm, but I think Laureano's got the best arm I've ever seen. Unfortunately, we learned the hard way that you don't run on him.
Bogaerts (multiple-time Laureano victim): He has a good arm and his accuracy, I remember, I got a double at [Fenway Park]. I thought about stretching it to three again and I rounded second and I stopped because I remembered what he did to me. Once, it's OK. The second time, I risked it again, but then it's like, nah. He has the arm and the accuracy, so I just shut it down. I just don't understand how he throws it good like that. He throws it right there, man. Chapman. Boom. And it's right there.
ESPN's Joon Lee contributed to this story.