Here's a trivia question you can bring to your cool holiday parties, where the appetite for baseball trivia is no doubt out of control: Which American League first baseman finished highest in MVP voting this year?
It's a trick question, of course. No player who played primarily first base was named on a single ballot. Of the 18 hitters who got AL MVP votes, only one spent any time at first: Whit Merrifield, a speedy utility player who played all of 44 innings at the cold corner for Kansas City. That's less time than he spent at second base, center field, right field or designated hitter. But the answer is, somehow, Whit Merrifield. Grab me another drink?
Meanwhile, the top of the ballot was filled with AL third basemen of varied skill sets: Matt Chapman, Alex Bregman and Jose Ramirez all finished in the top seven. The National League had first basemen in contention, but even Freddie Freeman and Paul Goldschmidt finished behind Rockies third baseman Nolan Arenado and Cubs sometimes-third baseman Javier Baez.
These are just anecdotes, names to make the top of this article pop. But the stats suggest something less anecdotal, and perhaps more permanent. An interesting thing might be happening at the corners.
---
For as long as baseball has been played, defensive position has been offensive destiny. The harder the position, the fewer living human beings who can play it. The smaller that pool of humans, the lower the chance that there will be a bunch of elite hitters among them. And the less important the position, the more a team is willing to live with bad defense in pursuit of more offense.
Here's a messy chart showing offense (as measured by OPS+) by position by year, going back to 1925:
Messy as it is, you can tell that those nine lines run mostly alongside each other, rather than crisscrossing with each other. Right fielders always outhit center fielders. DHs always outhit catchers. Left fielders always outhit shortstops. Defensive position is offensive destiny.
Very, very occasionally, though, baseball will start to realign itself, and if you unmess that chart, you can see those moments. In the late 1960s, for instance, baseball changed what it thought of the middle infield. Second base and shortstop had long been offensive equals, but teams discovered second base (with fewer plays and a shorter throw than shortstop) was a position where they could stash a bigger, slower, but better-hitting human:
And, for the next 50 years, shortstops didn't outhit second basemen again. There are blips in the messy chart — every so often center fielders outhit left fielders, or second basemen match third basemen — but the realignments are rare.
So what is happening at the corners, a blip or a realignment? Last year, third basemen hit better (relative to the rest of the league) than they had since 1970. First basemen hit worse than they had since 1951. On Aug. 31, just one point of OPS separated the league's third and first basemen. Third basemen then had a miserable September, but for the season they still nearly closed the extremely reliable gap between first and third base:
There is, of course, context to this movement. Just a few years ago, baseball writers were in a panic over the disappearing first basemen, who were worse in 2012 than they'd been in years and were nearly absent from top prospect lists. First basemen recovered — 13 got MVP votes in 2015, if we include the DHs who also played first — and the panic looked to have been just one of those fluky aberrations. But here we are again. First basemen are mostly bad. The ones who are good are mostly old. No first baseman this year got a Rookie of the Year vote. And (with some caveats) there are no likely first basemen among at least the top 50 or 60 prospects in the game.
We could list any number of hypotheses — about the role that shifts and strikeouts play in teams' defensive decisions, about whether easy homers have made slugging first basemen less special, about the impact of super-utility players on each team's defensive decisions, about the value of athleticism across all levels of the game — but here are two that are accompanied by what I think are interesting data:
1. It's about bullpens. Yes, bullpens. As starters throw fewer innings and relievers slot into specialized, limited roles, every team carries 12 pitchers and some carry 13. That leaves fewer roster spots for extra hitters and makes versatility almost a requirement for any non-star. The slugging bench bat who offers no defensive versatility is gone; players who can move up and down the defensive spectrum easily fill benches.
Two consequences follow: One is that, when a starting first baseman gets hurt, doesn't hit or simply needs a day off, there is less likely to be a major league caliber backup ready to take his spot. A marginal first-base prospect might also get fewer chances, and a marginal first-base draft candidate might get passed over, shrinking the pool of future first basemen and future breakout candidates.
The other consequence is that, because there are so few position players available, there's a very good chance that every utility infielder (or utility outfielder or flexible starter, e.g., Whit Merrifield) is going to end up playing some first base. A record 189 players appeared at first base last year, the fifth year in a row that the league set that record. (Records were also set at second base, third base, center field, right field and catcher. They were nearly set at short, left and DH.) So first basemen move closer and closer to league-average offense because more first-baseman plate appearances are going to whatever average guy happens to be standing around with a glove.
This isn't only about first basemen. Look at that first chart, and you'll see almost all positions moving toward the average. Good fielders are forced to play positions at which the offensive standard has traditionally been higher, and good hitters are forced to play positions they were previously considered unqualified to defend. Offense in left field reached all-time lows in 2016 and 2017; right field had its all-time low in 2016 and DH had its all-time low in 2017, as many teams have decided they can't employ a full-time DH if they're carrying only 12 hitters. Over the past three years, meanwhile, second basemen and shortstops have been around league-average hitters, the highest they've been since the 1940s.
The bottom line is this: Differences among the nine non-pitching positions (as measured by standard deviation) have shrunk this decade to the lowest in history. In the 1970s, batters at "offensive" positions (first base, third base, left field, right field and DH) had an OPS 68 points higher than those at "defensive" positions (catcher, second base, shortstop, center field). Last decade, the difference was 59 points. This decade, the difference is just 39 points.
2. It's about age. The roster crunch helps explain why first basemen don't collectively hit as well as they used to — fewer are given chances to break out, and more of the plate appearances are going to non-first basemen — but it doesn't explain why third basemen are simultaneously having their best seasons in a half-century. Earlier this week, though, we wrote about something that might offer an explanation: Young players are reaching their offensive peaks much earlier.
Nearly every player moves down the defensive spectrum as they age: Shortstops at 23 become second basemen at 29. Second basemen become third basemen. Third basemen become first basemen. And first basemen become DHs as they get thicker, slower, diminished by injury and so on. In any given year, then, the third basemen are going to be collectively younger than the first basemen. Last year, the 30 third basemen who played the most innings were almost two years younger than the 30 first basemen who played the most.
But while defense peaks early and declines almost immediately, the trade-off traditionally has been that the older players become better hitters. As we wrote earlier this week, that trend has reversed. Players are peaking at younger ages, not just in their defense or running skills, but in power hitting, plate discipline and overall offense. Last year's young players, 25 and under, were better than any young hitters in decades and better than the rest of the league, which is a rarity.
The consequence of that is that third basemen are no longer young defenders waiting for their power to develop at the plate. They're young defenders who are already developed, who are ready to hit major league pitching.
---
A third possibility is that this is, in fact, just a blip. Maybe there's just a bunch of good third basemen right now and a dearth of good first basemen, because sometimes that happens. Just eight years ago, third basemen were as bad as they've been in decades, outhit even by second basemen. Just eight years ago, first basemen were dominant, with a collective OPS almost 100 points higher than that of third basemen.
But there's something about this chart that makes me think it's probably not a blip:
For most of history — at least since the DH was added to the American League — first basemen, third basemen and DHs tracked each other pretty closely. Sometimes they were a little up, sometimes they were a little down, but they were usually up or down together. This makes sense: The positions overlap a lot, with DHs who often play first base, and first basemen who had just moved over from third base, and first basemen who sometimes play third. If there were a lot of good first basemen, the spillover would benefit third basemen and DHs too. They were a family, and they fluctuated like a family.
Last year, though, they didn't move like a family. First basemen were as bad as they'd ever been, but the scarcity didn't affect either of the 1B-adjacent positions. DHs hit better. Third basemen hit better.
It suggests that we could be seeing a realignment around first base. There will always be a handful of walloping sluggers who can only play first base. Some will hit 45 homers and win MVP awards. But the way the game is played today, there might not be room for 30 of that type around the league. We might be seeing first base being pulled into the versatility era. We might see third basemen outhit first basemen in 2019. At least it's something to watch.
Historical stats via the Play Index at Baseball-Reference.
Biggest contender holes after run of major trades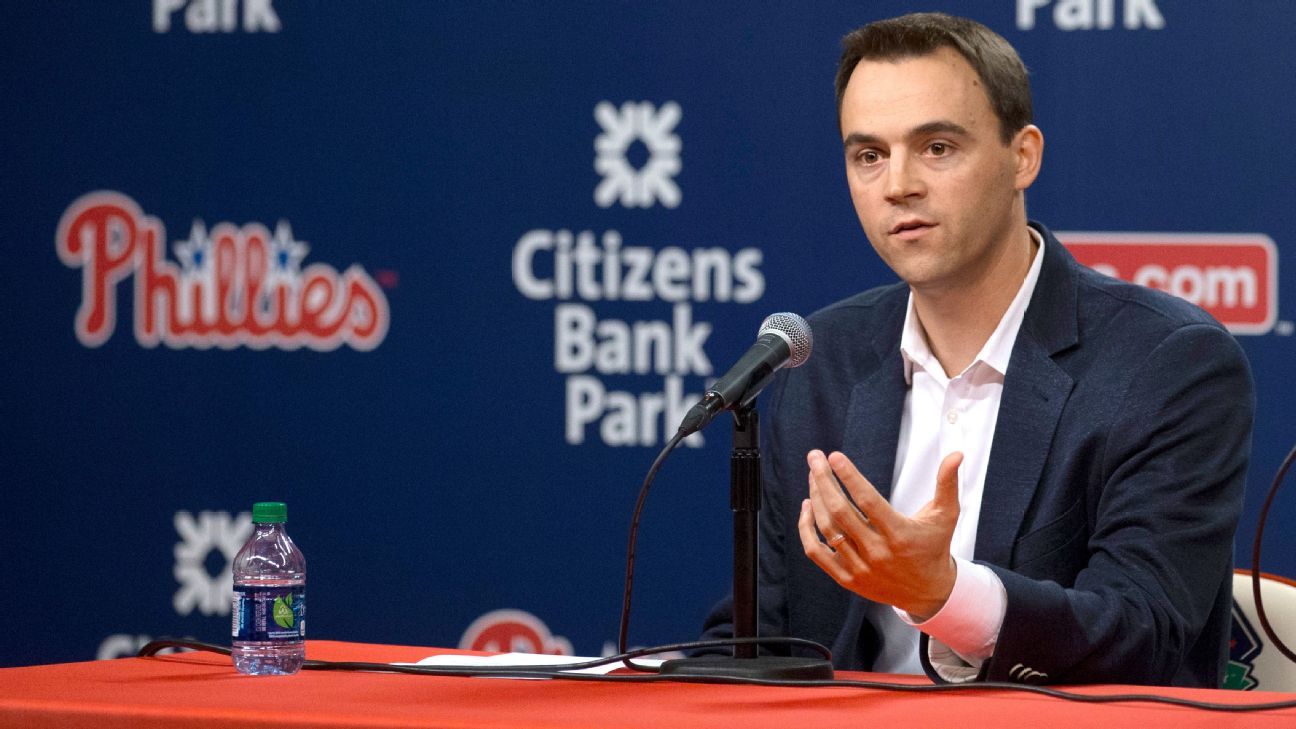 Agents and executives have noted a trend — a concerning trend, for the veteran players — that will soon manifest for the middle class of the free-agent market: Teams are filling some of their big needs through trades.
The St. Louis Cardinals just landed Paul Goldschmidt to play first base in a deal with the Arizona Diamondbacks. The New York Yankees filled their primary rotation hole by trading for the Mariners' James Paxton. The New York Mets traded for Robinson Cano to anchor their infield, and for Edwin Diaz to be their closer. The Philadelphia Phillies snagged Jean Segura to play shortstop or second base. The Chicago White Sox upgraded their bullpen by dealing for Alex Colome. The Washington Nationals filled their catching spot by trading for the Indians' Yan Gomes.
Patrick Corbin killed it in free agency with his six-year deal. Nathan Eovaldi appears poised to get a big deal, and Manny Machado and Bryce Harper will do really, really well. But there are close to 200 free agents right now, a group increased in volume last week through the contract tender decisions by clubs, and inevitably, a bunch of players are going to get left behind, scrambling for dollars or even jobs, in the way that Mark Reynolds and Matt Holliday did last winter.
And unless there is a significant adjustment negotiated soon, this ensures that the same problem could exist or grow next winter, after so many players have to take one-year offers this year and go back into the market next fall. An ugly situation is getting worse.
But it's still relatively early in the offseason, and contenders are working right now to improve their rosters for next year. The biggest holes yet to be filled by contenders:
1. Phillies: middle-of-the-order bat. Does that mean Harper? Does that mean Machado? Or both? The Phillies already have been aggressive this offseason, and there's more to come.
Cubs might have to get creative without budget for a winter meetings splash
CHICAGO — What happens when you don't have the money to fix something that's broken? Sometimes the answer is to find a creative solution instead. That's seemingly what the Chicago Cubs' front office is facing this winter as it attempts to improve its club without spending gobs of money on free agents.
As is, its payroll commitments for 2019 buck right up against the luxury-tax threshold, so the notion of spending on Bryce Harper — a name Cubs fans have been salivating over since the day they realized he and third baseman Kris Bryant were friendly — seems far-fetched. It wouldn't be if the team was willing to blow past the tax thresholds and commit to having one of the top two or three payrolls in baseball. That doesn't sound like a possibility right now.
"We're not ruling anybody out, but it's important to have some perspective too," president of baseball operations Theo Epstein said last month. "Like every other team, we're going to have our budgets, not set artificially at all, but set as a result of looking at revenues and looking at expenses and doing everything we can to put a winning team on the field for the fans."
Epstein sounds like he's trying to balance his household budget and might have to cut back on the gourmet coffee. Agents who have spoken with the Cubs confirm their reluctance to spend big, which means the team might have an offseason that is more creative than impactful. To Epstein's credit, he puts the blame squarely on his own shoulders because he's right about one thing: A $200 million-plus payroll should be more than enough to win.
"We've had a top-six payroll each of the last three seasons," he said. "We certainly expect to have another top-six payroll this season. And going forward. That investment by the club, by ownership, has been everything we could ask for. It's been enough to win more games than any other team the last four years. It's more than enough money to win.
"Some offseasons are more challenging than others. If that means anything, it means I need to do my job better. And that we need to do our job better as a baseball operation to continue to put a top-level team on the field and feel secure in that for years to come."
There's little to argue with there, but the fact is the Cubs are in their window for winning now. Frankly, the team won the World Series in 2016 with a less-than-bulky payroll considering almost the entire position-player base was made up of pre-arbitration-eligible players. Now it's the opposite. It's called the cost of winning.
"And on top of that [increased payroll] this is an ownership group that's poured in $750 million of private investment to fix Wrigley Field," Epstein continued. "I appreciate and understand the desire for more every winter. That's part of the fun of the hot stove, and we should do everything we can to make this team better and there are some great names out there."
Of course, he means everything they can do short of outspending everyone else in the game. Cubs ownership didn't respond to an email about the team's payroll, but the question still stands: Why can't a team worth nearly $3 billion have the highest payroll in the game, if not for just a season or two?
"When you look at the Ricketts [family] track record with their investment in the club, the top-six payrolls, their investment in Wrigley Field, I think we should all feel great with the ownership group that we have," Epstein said.
Of course, Chicago should feel good about ownership. It brought the city a World Series winner after a 108-year drought. Time has moved on and the Cubs have the talent to compete for another one, but are also in an ultra-competitive NL Central that just got even tougher with the Cardinals pulling off a blockbuster deal to land Paul Goldschmidt. Now Cubs fans are hungry for a move or two that could put their own team over the top.
Could lack of funds be a blessing?
The theme of the Cubs' offseason heading into next week's winter meetings is fixing an offense that seemingly "broke" in the second half of the season.
"If you look back at the first half of the season, we led the league in runs scored, we led the league in OPS, we led the league in virtually every significant offensive category," Epstein said. "We were cruising. We felt really good offensively. And then in the second half, things were dramatically different, culminating in what happened down the stretch. … We stopped walking, we stopped hitting home runs, we stopped hitting the ball in the air and we stopped being productive."
Former hitting coach Chili Davis was the scapegoat for those second-half woes, as he lost his job one year after the Cubs hired him to replace John Mallee. Those coaching decisions underline the confusion the team is facing with its young core of hitters who already have won a World Series.
In fact, what happened in the latter months of 2018 doesn't make much sense. Davis didn't mesh well with Cubs hitters from the start, yet the team performed well in April, May and June. Perhaps the more his message sunk in, the less the Cubs produced, but imagine if the results were reversed. What if the Cubs stunk at the plate in the first half and were great in the second half? How different would their game plan look right now?
Baseball can be fluky and there are crazier things in the game than an entire team slumping at the plate for one half of one season. Turning over an entire roster isn't realistic, and perhaps in this case, it's not necessary. The team admits it was trying to make a few tweaks it hoped would be finishing touches on some hitters, but now it may get back to emphasizing its core beliefs. It's hard to find a perfect offense in the National League — the Cubs will take a competent one right now. Maybe they can have one with their current players, combined with a renewed focus after an embarrassing end to last season.
Where do they go from here?
Industry sources say the Cubs haven't exactly given up on free agency, but their moves so far have been more of the cost-cutting nature. They saved a few dollars in trading pinch hitter Tommy La Stella to the Angels and perhaps saved a few more when they couldn't come to terms with recently acquired infielder Ronald Torreyes. The Cubs also didn't re-sign valuable reliever Jesse Chavez, saving money there as well. They did spend on keeping their own, most notably pitcher Cole Hamels. And they have checked in on some free-agent relievers, such as lefty Zach Britton.
But what was once thought could be an offseason with big moves is now likely to be marked by creativity more than anything else. The creativity would come via the trade market, as the team is ready to break up its major league core — if the right deal comes along.
"We have a lot of moving parts, we have an open mind and we have a desire to get better, so I'm not ruling anything in or anything out," Epstein said.
But so far, the Cubs have been on the outside looking in as other teams have made significant deals. The 2016 world champs didn't take advantage of the Seattle Mariners' fire sale, though infielder Jean Segura could have fit in nicely while allowing them to move on from suspended shortstop Addison Russell. If the cost of picking up Segura's contract wasn't what prevented the Cubs from being in the mix, then it was the state of their farm system.
In any case, the Cubs would be more likely to strike a deal with a club willing to take on major league contracts, such as those of Kyle Schwarber, Ian Happ, Albert Almora Jr., Willson Contreras, Victor Caratini and, yes, perhaps even Bryant, whose name has come up with other teams. The catching market is flooded right now, so a deal there seems remote, and one involving Bryant would make much more sense as he gets closer to free agency in a couple of seasons. But not exploring every avenue to get better on offense would be negligent on the Cubs' part. It's all in an effort to find that rhythm again, the one that took the team to three straight NL Championship Series.
And if some of the cost-cutting moves lead to signing a second-tier free agent, then former Cub DJ LeMahieu would make sense despite some down numbers in 2018. He routinely makes contact, which is what the Cubs need instead of attempting to change the fundamentals of their sluggers. One thing is for sure, Epstein & Co. won't stand for another finish like the one they just experienced. That's something everyone can agree on.
"I've never been part of this offensively and I never want to be again," Epstein said after the season. "We have to be an offensive force. We should be with the talent on our roster."
Playoff hero Nathan Eovaldi agrees to deal with Boston Red Sox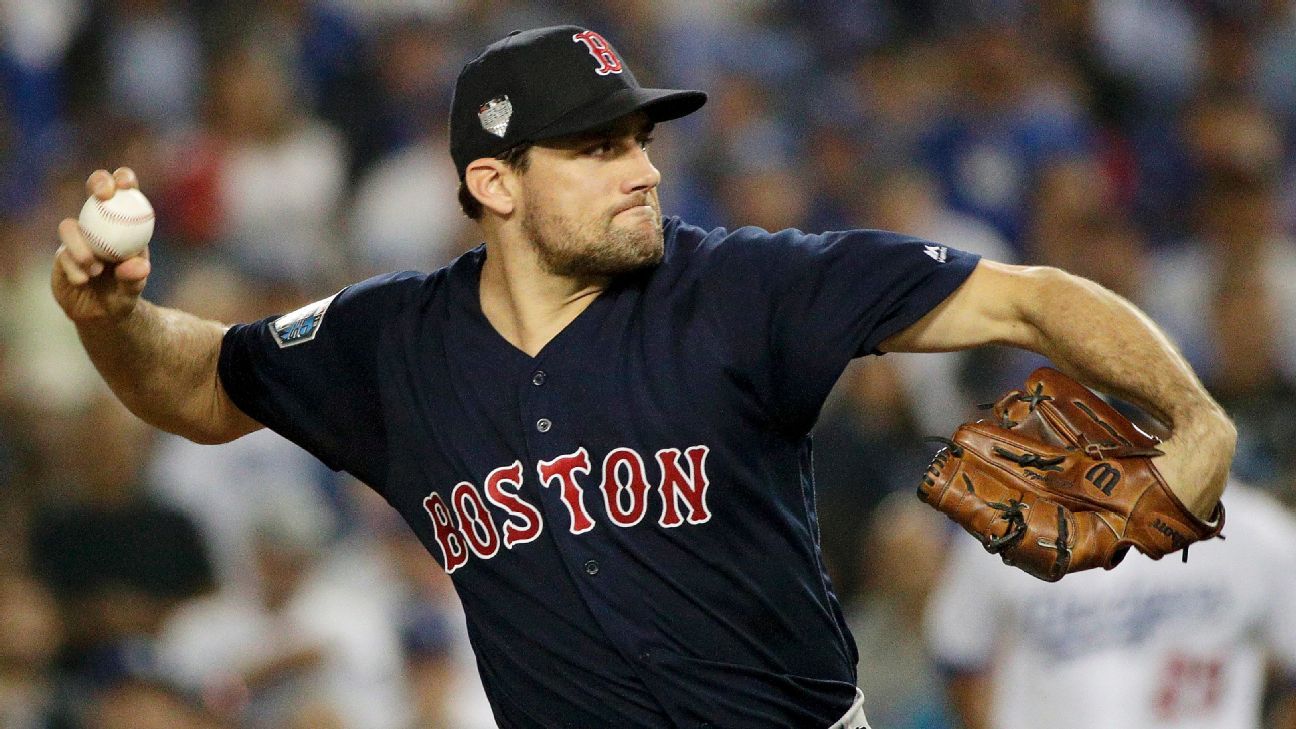 Nathan Eovaldi is returning to the Boston Red Sox after agreeing to re-sign with the team, according to multiple reports.
The deal is pending a physical, as The Athletic first reported. Eovaldi has had two Tommy John surgeries, most recently in 2016.
Eovaldi, 28, emerged as a star in the postseason, dominating both as a starter and late-inning reliever.
After being acquired from the Tampa Bay Rays on July 25, Eovaldi went 3-3 with a 3.33 ERA in 11 starts and one long-relief appearance. He found his groove in September, with a 1.35 ERA in five appearances that gave a hint of what was to come in the postseason.
In 22 1/3 postseason innings, Eovaldi allowed only four earned runs, throwing 100 mph fastballs that were unhittable.
"He made himself a lot of money," Red Sox president Dave Dombrowski said after the World Series win.
The right-hander handcuffed the New York Yankees in Game 3 of the American League Division Series, allowing one run in seven innings of a rout at Yankee Stadium. He stifled the Houston Astros in Game 3 of the ALCS, going six innings and getting the win. He also made three eighth-inning relief appearances that required him to record 10 outs against the Astros and Los Angeles Dodgers.
Eovaldi became a folk hero in Boston with a sixth-inning stint in the 18-inning loss in Game 3 of the World Series in Los Angeles. Coming on in the 12th inning, Eovaldi threw 97 pitches in relief. Though he got the loss, teammates and coaches called the outing inspirational, citing his stamina and willingness to give his all.
"One of the best performances in the history of the World Series," Red Sox manager Alex Cora said. "… What Nate did, that was amazing."
He was released by the Yankees in 2017 and signed a one-year, $2 million with the Rays for 2018. He made his return from surgery on May 30 and made 10 starts for Tampa Bay, going 3-4 with a 4.26 ERA.
Eovaldi has a 44-53 record and 4.18 ERA in stints with the Dodgers and Miami Marlins as well as the Yankees, Rays and Red Sox.