MLB — Cleveland Indians' Francisco Lindor having MVP-worthy season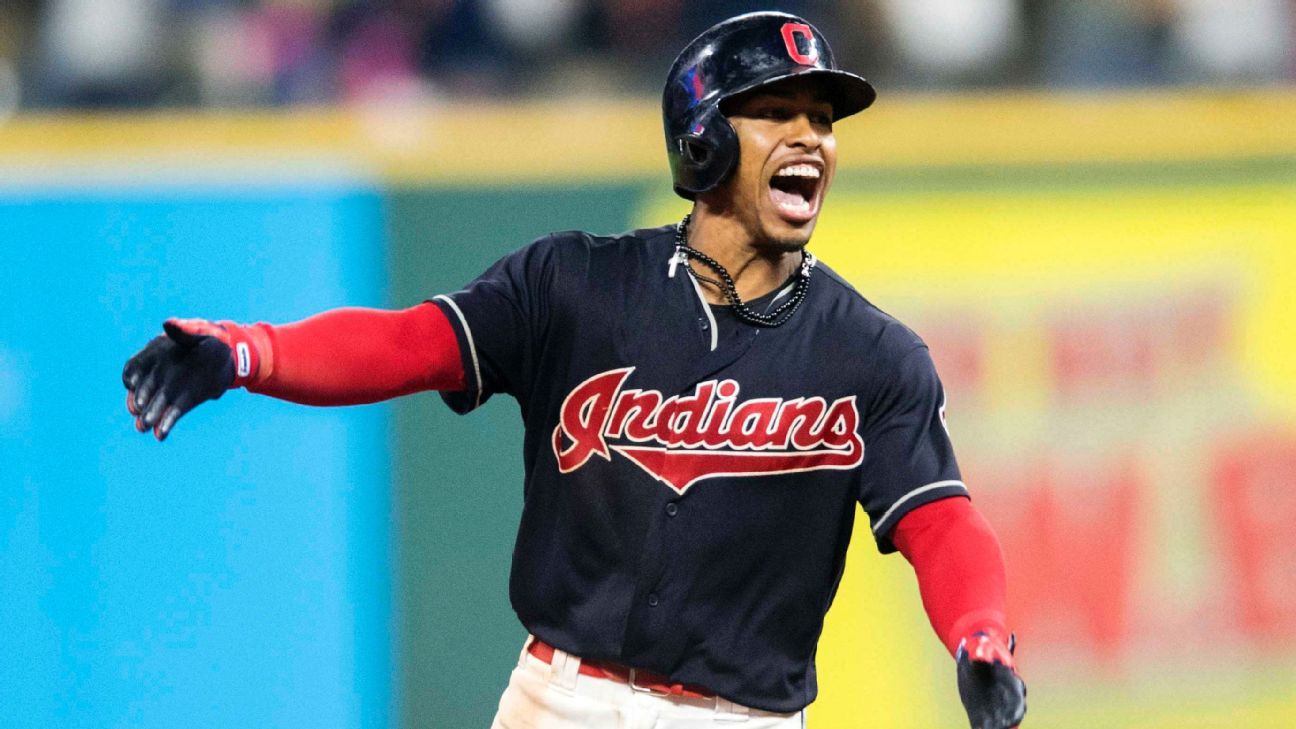 The Cleveland Indians clearly benefit from being the big dog in a kennel full of runts. That doesn't mean Cleveland can't break baseball's longest championship drought.
The Indians' uneven season seems to be picking up momentum lately. You'll get that feeling after a game like Wednesday's, when franchise face Francisco Lindor popped a three-run homer in the bottom of the ninth to give Cleveland a 5-2 win over Minnesota.
Wax on. Walk-off. Frankie-san.#RallyTogether pic.twitter.com/VNu5P76gpu

— Cleveland Indians (@Indians) August 9, 2018
It was the second game-ending home run of Lindor's career. This one came with two outs, setting off one of those boilerplate celebrations at Progressive Field. You know the scene: The hero hits a home run. He celebrates around the bases, becoming more euphoric with each step. He might or might not throw his batting helmet. (Lindor chose the former option.) He leaps onto home plate, then he and his teammates do the pogo-stick dance. It's a formula so ancient that if he were still around, Joseph Campbell would write a book about it.
Anyway, in any normal season, Lindor would be a leading MVP candidate. Entering the day, he was on pace to put up 8.7 WAR, per FanGraphs. That's fourth in all of baseball. Unfortunately, the three players ahead of Lindor — teammate Jose Ramirez, Angels star Mike Trout and Boston's Mookie Betts — all reside in the junior circuit and all are threatening to break double digits in WAR. Meanwhile, the top position player in the National League — St. Louis' Matt Carpenter — is on pace for 6.9 WAR.
As I wrote Tuesday, Cleveland has feasted on the weak competition within the AL Central. With Wednesday's win, the Indians are 34-16 within the division and 29-34 against everyone else. The Indians have faced baseball's easiest schedule so far this season, and they face the easiest schedule going down the stretch. The win gave the Indians a 10-game bulge over the Twins for the division lead. It's over.
So it's important to focus on the quality of Cleveland's play, within context, as opposed to its actual record. There won't be many chances for the Indians to prove their mettle against quality opponents before October. They have two series left against the Red Sox, but the rest of their matchups are against the Central and a few other second-division opponents from other divisions.
Luckily, Cleveland's quality of play has been on the uptick of late. After Wednesday, the Indians are on pace to finish with a plus-161 run differential, a pace that is at its highest level since early April. Cleveland is likely to finish the regular season out of the spotlight, if only because of the lack of stakes at play in their games. But this is a team that is very much rounding into form.
Lindor's heroics came exactly a year since the last two-out, bottom-of-the-ninth homer to win a game for Cleveland. That one was by catcher Yan Gomes. That dinger turned out to be at the vanguard of a historic sprint to the finish for last year's Tribe. Beginning with the Gomes game, Cleveland went on to finish the season with a 43-10 run.
Could Lindor's blast on Wednesday herald a similar breakout?
DeGrom gets back in win column: Mets righty Jacob deGrom earned the win Wednesday, tossing six scoreless innings with 10 strikeouts. It has been a rough season for the sub-.500 deGrom, who is 6-7 on the campaign. See what I did there?
JaKKKKKKKKKKe! pic.twitter.com/QJcNU7vJ0o

— New York Mets (@Mets) August 8, 2018
By now, we mostly all realize how misleading a pitcher's win-loss record can be in any given season. Still, few hurlers have ever have had a wider disconnect between the win column and the ERA column than deGrom does this season.
DeGrom lowered his ERA to 1.77, over a half-run better than Washington's Max Scherzer atop the National League leaderboard. Coming into the day, deGrom ranked second in the NL to Scherzer in WAR at FanGraphs, and third behind Scherzer and Philadelphia's Aaron Nola at Baseball-Reference.com. He's tied for second with Arizona's Patrick Corbin in the league with 183 strikeouts and has given up only eight home runs all season.
That is to say, in every category except wins, deGrom rates as a leading Cy Young contender. His candidacy will be complicated for voters. A lack of wins is something we have been able to overlook in recent years, at least when a candidate resides on his own tier, performance-wise. But is there a threshold where it just feels wrong to vote for a guy? Especially when you consider the terrific seasons put up by Scherzer and Nola.
If deGrom loses the award because of the Mets' failings around him, it'll be because he wasn't able to separate himself from other very good candidates, and where the separation exists, it'll be in the win column. It's not fair but, then again, when filling out the ballot for an award, it's worth considering what a player contributed to, at least as a tiebreaker. That's my philosophy, anyway.
Wednesday's win was deGrom's first since June 18. According to ESPN Stats & Information, during the "drought" he posted a 2.47 ERA — 11th in baseball — despite a record of 0-5. Here's another note from our great stats group: The two worst qualifying ERAs in baseball this season belong to Chicago's Lucas Giolito and Seattle's Felix Hernandez. Both have won more games than deGrom.
Here's another example: Texas' Yovani Gallardo improved to 7-1 with a win against Seattle on Wednesday. His ERA for the season is 6.11. The Rangers are averaging more than 10 runs per game with Gallardo on the mound.
If deGrom maintains the sub-2.00 ERA and does not win the Cy Young Award, he would join some rare company:
Lowest ERA in a season without winning Cy Young
1.60 — Luis Tiant, 1968
1.66 — Zack Greinke, 2015
1.69 — Nolan Ryan, 1981
1.74 — Sandy Koufax, 1964
1.76 — Tom Seaver, 1971
Tiant's epic ERA came in what we now know as the Year of the Pitcher. Tiant not only didn't win the Cy Young that season, he didn't get a single vote. Detroit's Denny McLain won 31 games and was a unanimous pick for the trophy.
Ivy, lights and soaps: Ask any longtime Cubs fan, and they can tell you at the drop of a blue hat. When was the first night game at Wrigley Field? Eight-eight-eighty-eight is the immediate response. As in Aug. 8, 1988, when they turned on the lights at the Friendly Confines for the first time.
The 30th anniversary of that historic date was Wednesday. A Cubs fan can tell you that there was no winner on eight-eight-eighty-eight. The game was rained out before it went official.
The first official night game was the next day, a win over the Mets that featured RBI singles from Ryne Sandberg, Mark Grace and Andre Dawson. Thus, Thursday marks the anniversary of that game. Eight-nine-eighty-eight. Doesn't have the same ring, does it?
Alas, the Cubs weren't around to celebrate the anniversary of either date. They were getting gobsmacked in Kansas City, at beautiful Kauffman Stadium, where night games have always been a thing. The Cubs' next home game is Friday afternoon against Washington.
The White Sox did play in Chicago on Wednesday, though, taking on the New York Yankees. It was under the lights, which, as it happens, I can see over my right shoulder if I turn to look out the window of my home office. Yep. There they are. Game is still going. I also know when the Sox hit a home run even if I'm not at the park because they set off fireworks.
Since we all know the date of the first night game at Wrigley, how about this: When was the first night game at old Comiskey Park, which would have been the first big league night game in Chicago? Seems like that should be a historic date, too, no?
Thanks to my good friend Google, I can tell you that the first White Sox home game under the lights took place on Aug. 14, 1939. Chicago beat the St. Louis Browns that night 5-2 behind a complete-game performance from Johnny Rigney.
Chicago, August 11, 1939 – Trial run at Comiskey Park turns night into day for first time with the help of 768 flood lights mounted on 8 towers. Three nights later on August 14th, the White Sox would top the St Louis Browns 5-2 in Comiskey's first night game in front of 30,000 pic.twitter.com/4rfT3bSrEA

— Old-Time Baseball Photos (@OTBaseballPhoto) June 13, 2018
Two notes from that linked story, which originally ran in the Chicago Tribune:
"The major complaint of players is that a ground ball makes a shadow as it skips across the turf, thus increasing the hazard of fielding."
And …
"Even though it was a hot, steamy night, the park was almost completely free from insects."
By the way, a note for my mother: The leadoff hitter for the Browns that night was Johnny Berardino, a middling second baseman from that era. Berardino went on the become an actor and, for decades, he played Dr. Steve Hardy on "General Hospital."
So now you know.
Not how you draw it up: Errors aren't that common in baseball these days. Fielders have continually improved over the course of history, with each generation proving to be more sure-handed than the one before it, albeit with better equipment and playing conditions.
Thus it's startling when you see a team make five errors in a game. Though, if you were going to guess which team would do it, you might well guess the Baltimore Orioles. However, you might not guess that if the Orioles committed five errors in a game, they would win the game anyway.
That's what happened against the Rays on Wednesday. The Orioles committed a quintet of miscues and beat Tampa Bay 5-4 on Trey Mancini's two-run double in the ninth. Tim Beckham and Caleb Joseph each made two errors, and Jonathan Villar committed the other.
Baltimore had not won a game while committing five errors since June 9, 1983, when the Orioles beat Milwaukee 10-7 despite making six errors. That Orioles team went on to win the World Series. This one will not.
Bits and pieces: The Angels' Albert Pujols hit his 18th homer Wednesday, giving him 632 for his career. He's still 28 shy of matching Willie Mays for No. 5 on the all-time list. However, it was Pujols' 999th hit since he joined the Angels. With one more, he will become the ninth player to record 1,000 hits in both leagues. The others: Dave Winfield, Frank Robinson, Vladimir Guerrero, Fred McGriff, Carlos Lee, Alfonso Soriano, Carlos Beltran and Orlando Cabrera … Boston won again, giving the Red Sox 81 wins in 115 games. In other words, the Red Sox could lose their last 47 games and still finish .500. They are the seventh AL team to win at least 81 of its first 115 games … The Brewers clubbed back-to-back-to-back homers in the first inning of an 8-4 win over San Diego. It had been more than seven years since Milwaukee did that in the first inning of a game. The first of the homer burst was hit by Jesus Aguilar, giving him 28 to go with a team-high 82 RBIs. Aguilar's three-run blast came with two strikes. He has 50 two-strike RBIs this season. That's the most in the majors. His next one will break the franchise record, which he currently shares with Prince Fielder (2009).
Lou DiBella trying to find positives in a world without fights or baseball
Lou DiBella has a small list. He keeps it close because he's never quite sure when a name will pop into his head. It could be when he's lying down to sleep or when he wakes up in the morning. Or perhaps when something reminds him of an old friend or business partner from whom the passage of time has separated him.
When the name comes up, he writes it down and finds time in his day to make a call. DiBella is a phone person, craving the connection the extrovert has recently lost in his day-to-day interactions as a storyteller in the bar, a boxing promoter and minor league baseball owner, always glad-handing and engaging with everyone.
"I make a little bit more of an effort because I do have a lot of people that were really kind to me when I was coming up in the business," DiBella says. "I've had mentors and people in my life that were very helpful to me, and a lot of them now, even if I lost touch with them, they are in their late 70s and 80s.
"You think about people, but … I think maybe as a country now that this whole thing has made people — has frightened people — into making [them] think more about how fleeting this whole thing is and our mortality and our own vulnerabilities."
It's one of the ways DiBella has worked through his own anxiety during the worldwide coronavirus pandemic.
He'll pick up the phone and call someone he hasn't spoken to in years. In decades. Maybe a friend from Regis High in New York or a reporter or renowned boxing commentator Jim Lampley on his birthday. Reaching out to people who made a difference to him started with a call he received from someone influential in his life: 89-year-old legendary boxing commentator Larry Merchant.
"We had a very, very long conversation," DiBella says. "Philosophical stuff and remembrances and looking back, and he said to me, when he started to call, he said, 'I'm calling people that have been important in my life that I realize I don't speak to enough, and this whole thing that's going on right now made me much more conscious of reaching out to these people.'"
The talk sparked the idea for DiBella to do something similar. He has also done this with his fighters, even before his conversation with Merchant, checking in when he can. This gave the 60-year-old DiBella people to commiserate with in an otherwise difficult time for him and so many other Americans trying to figure out their own futures without any predictable knowledge of what's to come.
"When somebody calls you and tells you, 'I want you to know I'm only a phone call away,' he wouldn't say it unless he meant it, right?" says Heather Hardy, one of DiBella's fighters. "And that's just — it's not like everybody I know called me and said that.
"Lou did, though."
---
"My professional life has come to a screeching halt," DiBella says. "I've had to spend a lot of time working [on the logistics surrounding my businesses], but none of it has been productive or pleasant."
That is not, DiBella makes clear, a complaint. He would much rather be putting together boxing cards or promoting Wine Up Wednesdays for the Richmond Flying Squirrels or Triple Play Tuesdays for the Montgomery Biscuits. None of that is possible.
DiBella's role is in sports entertainment, and the two sports his company handles are in flux. After trying to avoid it in the first weeks of the pandemic, DiBella had to furlough half of his employees to make sure his business stayed afloat.
Boxing promotion, other than Top Rank, Matchroom Boxing, Golden Boy Promotions and Premier Boxing Champions, often relies on live gates to help fund operations. No one is sure when fans will be able to return. Many of DiBella's 62 fighters have second jobs, and only a few of those, including Mikkel LesPierre, who works full-time in data collection at Mt. Sinai Hospital in New York, still have steady income from their non-boxing gigs.
Minor league baseball has its own issues separate from the COVID-19 pandemic. Minor league baseball is potentially contracting and, perhaps more than boxing, relies on fans in the stands to pay bills. DiBella knows getting people to care about the possible future of minor league baseball in a time when American unemployment rates are at the highest levels since the Great Depression is probably unrealistic.
But these are still jobs — and teams — that will be lost. In boxing, DiBella had to cancel two cards due to the pandemic, and 13 of his fighters who were on cards not promoted by him also had their bouts scratched. He had to furlough 50% of his minor league baseball staff along with part of his boxing staff, although he's hopeful to bring some of his furloughed boxing employees back soon.
He also doesn't know the future of his minor league baseball clubs. He believes they won't be part of a contraction, but he hasn't been told that with certainty.
"I worked in boxing the last 30 years. The minor league baseball business, for me, in the last 16 years, 17 years I've been involved in it, has been like my happy place, like a respite," DiBella says. "And now, facing, looking at no season, facing that in two different cities because I run two different teams, and then at the same time having these issues unsettled between Major League Baseball and minor league baseball, it's just, it's like an overdose of uncertainty, an overdose of anxiety, and that's not healthy.
"It's not healthy when you're not in a pandemic. But it's certainly not healthy when you are."
---
To try to alleviate the stress of the unknown, DiBella gets in his car and drives the half-mile from his Long Island home to the Long Island Sound. He opens up his newspaper or listens to Howard Stern on the radio or a copy of a Grateful Dead concert he received on CD in the mail — part of being an "old school guy."
It's his escape, an environment change in a time when he can't see friends or socialize. It gives him a break from the business stress and from binge watching "The Wire," "Ozark" and "Marvel's Luke Cage."
He has rediscovered a love of cooking, using garlic, onions and tomatoes to make "some mean pasta sauces." On Easter, he made racks of lamb and delivered them to his mother and sister's homes, leaving them on porches and saying hello from a distance.
He does it to pass the time because there's not much he can do in his business. To help his fighters, he has offered interest-free loans against future purses if they need help in the pandemic. He started those calls almost as soon as New York started to shut down.
"He called me and said, 'I know it's just you and Annie, you know, I know you're a single mom," Hardy says. "If you need anything, call me and I'll wire you money, no questions asked."
The call came unprompted, and Hardy said while she didn't take DiBella up on his offer, the two have been in contact every week, often with her texting him, "Checking in. Are you alive?"
DiBella said while he's willing to help, he knows he is somewhat limited because he has no revenue coming in, either. DiBella says his fighters understand the situation. He knows they all want to fight as soon as possible, but they aren't haranguing him on particulars. Hardy said she hasn't asked him about potentially fighting because she understands the situation he and other promoters are in.
Since Top Rank announced boxing would return in June on ESPN, DiBella has gotten a handful of his fighters on potential upcoming cards. He tells his fighters now if they are offered a fight on another promoter's card, and it makes sense, to take it, because he doesn't know how long it'll be before another contract comes along. So far, DiBella said five of his six fighters who have been offered fights have accepted.
"They get it," DiBella says. "… Now they understand the marketplace. They understand the situation, and they are able to make a reasoned decision. Believe me, if a guy turns down a fight now, I'm saying to them, 'OK, just understand you have to take care of yourself and you may not be able to fight for a considerable period of time if you don't take this particular fight.'
"I think people, what I've been gathering so far, is people are doing their best to understand the reality."
A lot of fighters, across promotions and promoters, do want to fight. So it's part of the reason DiBella is offering this advice. Plus, many of the fights his fighters are being offered are challenging ones, where if they win it could advance their careers.
He hasn't been able to plan his own cards yet, but he said once things settle down he is going to continue to be creative to try to find ways to put on a card of his own.
"I'm planning, when things settle down a little bit, I'm going to contact the people at MSG and MSG Network, Sportsnet New York where I've done my series in the past," DiBella says. "Contact some of the local New York television affiliates and see if we can get, maybe, a local grassroots New York show involving all New York fighters here.
"But in all likelihood I don't think that would happen until August, September at the earliest. At least in the New York area right now, they are a little bit premature."
When another promoter calls to check in or DiBella has a conversation with someone on his list in boxing, it has been largely conceptual discussions except for a handful of talks during which he has been able to land fighters on cards. In New York, at least, it's still too soon to really plan. About when they think — when they hope — it'll get back to some semblance of normal. How it might work. Concrete plans aren't helpful. Everything is fluid.
Thinking about it too much — about the futures of his fighters, baseball employees and even himself — is added anxiety he doesn't want because he can't change any of it. DiBella just turned 60. He has lost friends to the pandemic, and he has had a lot of time on his hands to reflect. It has made him realize what he appreciates. There's his family. His health. And his profession, which he's hoping to get back to.
"You realize at a time like then when you work in sports how much of our lives, personally, professionally, in every way circles around our love for sports," DiBella says. "Take away sports, take away your ability to go to a restaurant or a bar and hang out with your friends and hang out and tell stories, and what do you have left?"
Tampa Bay Rays open Tropicana Field for limited workouts
The Tampa Bay Rays opened Tropicana Field to limited workouts on Monday, with 14 players, including outfielder Austin Meadows and shortstop Willy Adames, taking part.
"It was good to see some smiling faces," Rays manager Kevin Cash said on a video conference call with reporters after the workouts.
Those in attendance played catch, took part in conditioning exercises and worked out in a makeshift weight room on the field, Cash said. He said everyone at the facility was wearing a mask, but the players were allowed to take them off while they were working out.
Among other players in attendance were first baseman Jose Martinez, catcher Michael Perez center fielder Manuel Margot and pitchers Diego Castillo and Yonny Chirinos.
"It was good to see new faces," Meadows told reporters on the call. "It's been a while since we've got to see each other and hang out and be on a routine. So today was good to have that little change of scenery."
Cash said everyone taking part — players and staff — had their temperatures taken and were asked medical questions before being approved to enter the facility.
"Obviously the main priority is being safe and stuff like that," Meadows said. "We'll take anything that we need to do, any precaution we need to take just to get out there and play again. I think a lot of guys can say the same thing. … I trust MLB, I trust the union just to gather a plan together to keep us safe."
The Houston Astros also announced that they would allow players access to Minute Maid Park and their spring training facility in West Palm Beach, Florida, beginning Monday.
"Our top priority remains the safety of our players, staff, and their families. That will never change," Astros general manager James Click said in a statement. "It's exciting and a very positive step for our players to return to our facilities, even on a limited basis. This will give our players the benefit of receiving individual attention from our staff, who can provide professionalism and expertise. That is significant."
The Astros said in their announcement that all personnel entering the facilities would be screened and cleared by medical professionals and that no more than four players could be in the facility at one time.
Additionally, each pitcher will be provided with his own set of baseballs for bullpen sessions. Players must wear masks when not working out, and coaches and staff must wear personal protective equipment at all times.
Neither the Rays nor the Astros will open the workouts to the media or to spectators.
The Associated Press contributed to this report.
Ex-Pirates infielder Jung Ho Kang suspended one year by KBO for past DUIs
Former Pittsburgh Pirates infielder Jung Ho Kang was suspended for one year by the Korea Baseball Organization on Monday for multiple drunken driving offenses.
Kang, 33, also was ordered to complete 300 hours of community service during Monday's hearing, which he did not attend because he is in the United States. Attorney Kim Sun-woong represented Kang, telling the Yonhap News Agency that his client is "extremely sorry to have caused trouble and that he would keep giving back to the community."
His suspension will begin once he signs with a KBO team. The Kiwoom Heroes, for whom he played during his last season in the league in 2014 when they were the Nexen Heroes, still own his rights. A team official told the Yonhap News Agency that it was "premature" to discuss Kang's future, indicating that Kang had not yet contacted the club. Kiwoom would have to give Kang permission to sign with another team in the league.
Kang, who was released by the Pirates last year after four seasons with the team, applied for reinstatement to the KBO from the league's voluntary retired list last week. He issued an apology through the Leeco Sports Agency, which represents him, following the KBO's ruling Monday.
"Over time, I came to realize just how important baseball is to me," Kang said, according to the Yonhap News Agency. "I took putting on a uniform and getting on the field for granted, and I was a fool not to see how precious that was. I know I don't deserve to be saying this, but I would love one final opportunity to play baseball."
In 2016, while with the Pirates, Kang was arrested for DUI for the third time in South Korea. He received an eight-month suspended prison sentence in March 2017 after he left the scene of an accident in Seoul on Dec. 2, 2016.
The Pirates said in 2016 that they were unaware of his previous DUI offenses in 2009 and 2011 before signing him in 2015. In 2017 he entered a voluntary treatment program. He missed the 2017 season after being unable to receive a work visa to return to the United States.
Kang played in the KBO from 2006 through '14, hitting .298 with 139 home runs and 545 RBIs. He hit .254 with 46 homers and 144 RBIs with the Pirates.