Seattle Seahawks' pick of Shaquem Griffin makes for an emotional day – Seattle Seahawks Blog
RENTON, Wash. — Shaquill Griffin wasn't going to let his twin brother, Shaquem Griffin, miss the best phone call of his life, even if it meant barging into a bathroom to make sure he didn't.
It was a few minutes before 11 a.m. PT Saturday when Shaquem, watching the NFL draft from a hotel in Dallas along with several family members, got up and exited the room, leaving his phone behind. Shaquill sprang into action when it began to ring, knowing exactly what it meant once he recognized the 425 area code on the screen.
With the Seattle Seahawks calling, the dream they've had since they were 5 years old of playing together in the NFL was coming true.
"When I saw that, I grabbed the phone and jumped over everybody else on the floor and went to the bathroom," said Shaquill, the second-year Seahawks cornerback. "I checked to see if he locked the door; he didn't lock the door. I said, 'You have to grab this!' I said, 'You don't have time for this!' I handed him the phone, and that's how it went."
Said Shaquem: "I looked, and that's when tears just started pouring down."
What a moment, @Shaquemgriffin is officially a Seahawk! #SeahawksDraft pic.twitter.com/7BGA8SPgmt

— Seattle Seahawks (@Seahawks) April 28, 2018
He was hardly alone. The Seahawks' selection of Griffin in the fifth round was a highly emotional moment for all involved.
It was for Shaquem and Shaquill, who will reunite after the former made history as the first player with only one hand to be drafted in the NFL's modern era.
It was for Seahawks fans. There were many who had been clamoring for the team to pair the two in Seattle's defense, wanting it so bad that they almost seemed disappointed when the Seahawks instead addressed much more pressing needs than outside linebacker in the third and fourth rounds.
And it was emotional for the Seahawks organization, including the top two decision-makers, even though they had more time than anyone to brace for it.
GM John Schneider and coach Pete Carroll have now selected 86 players over their nine drafts together in Seattle. None of the congratulatory phone calls to any of the previous draft picks could match this one.
"It was emotional for all the obvious reasons," Carroll said. "We love Shaquill and knowing what could come of this. My partner here was kind of a mess, to tell you the truth, when he handed me the phone."
Schneider didn't dispute that, saying he had to get off the phone quickly.
How could you blame him? The scenario — Shaquem not only overcoming the longest of odds to reach the pros, but also rejoining his twin brother on the same team — is the stuff of Hollywood movie scripts, not NFL reality.
"I had a feeling [it could happen]," Shaquem said, "but the chances are really low."
The brothers spoke with Seattle-area reporters on a conference call while making their way from the hotel room back to the draft at AT&T Stadium. Shaquem said the first thing Shaquill asked him after he got the call from the Seahawks was, "So are you living with me or no?"
"We may have to knock some walls down," Shaquill joked on the conference call, "but we'll figure it out."
To be sure, the Seahawks wouldn't have drafted Griffin if they didn't believe he could help their team, but this almost-too-good-to-be-true story comes at a time when Seattle could really use one.
The Seahawks are coming off their first non-playoff season since 2011, which gave way to an offseason of big-name departures. That included moving on from two of the most important and popular players in franchise history — Richard Sherman and Michael Bennett. Two more (Kam Chancellor, Cliff Avril) may not return from injuries. Losing other starters in free agency (Jimmy Graham, Paul Richardson, Sheldon Richardson), while making only stop-gap additions, has further dampened the hopes of a swift bounce-back.
Schneider was asked if the Seahawks felt any pressure to draft Griffin knowing how many fans wanted it to happen.
"No," he said. "We knew it was a cool story, but no."
What a story it is, and what a day it was.
"It was like I was dreaming," Shaquem said. "Magical stuff started happening. It's unexplainable, the emotions, everything that was going through my mind. It was crazy."
New Orleans Saints rule out Michael Thomas, Marquez Callaway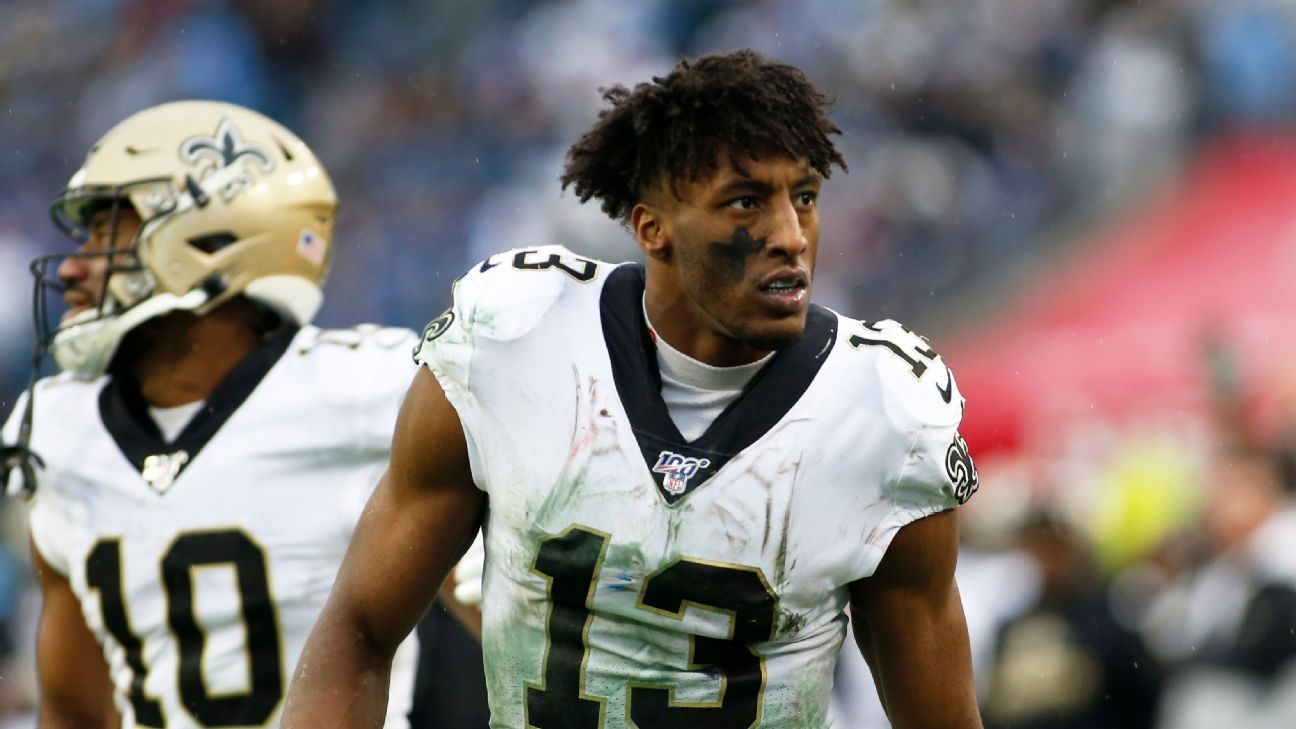 METAIRIE, La. — Michael Thomas and Marquez Callaway have officially been ruled out for Week 8 as the New Orleans Saints' receiving corps continues to get thinner by the week.
Emmanuel Sanders also remains on the reserve-COVID list, meaning New Orleans will be without three of its top four wide receivers Sunday at the Chicago Bears.
All three could be back as early as next weekend's critical showdown with the Tampa Bay Buccaneers on Sunday Night Football, however.
Thomas has been sidelined since Week 1 because of a high ankle sprain, a team disciplinary action and a hamstring injury that he suffered last week. But he returned to practice on a limited basis both Thursday and Friday this week.
Callaway, meanwhile, suffered an ankle injury during his breakout performance last weekend while Thomas and Sanders were out. The undrafted rookie caught eight passes for 75 yards in New Orleans' 27-24 win over the Carolina Panthers. Callaway also practiced on a limited basis Thursday and Friday.
In their absence, the Saints should continue to rely heavily on running back Alvin Kamara, tight end Jared Cook and receivers Tre'Quan Smith and Deonte Harris in the passing game. They could also call up practice squad receivers Austin Carr, Juwan Johnson and/or Tommylee Lewis.
The Saints (4-2) have actually won three straight games despite their depleted WR corps, with Drew Brees and the passing offense finding a better rhythm by the week. They converted 12 of 14 third-down attempts and never punted in last week's win over Carolina.
Source — Minnesota Vikings linebacker Todd Davis tests positive for COVID-19
EAGAN, Minn. — The Minnesota Vikings placed Todd Davis on the reserve/COVID-19 list on Friday after the veteran linebacker tested positive for the coronavirus, a league source told ESPN.
Davis was the second Vikings player this week to go on the reserve/COVID-19 list; the team designated rookie cornerback Cameron Dantzler on Wednesday. It remains unclear whether Dantzler has COVID-19 or came into close contact with someone infected with the virus.
The Vikings are now in intensive league protocols, according to coach Mike Zimmer, who said the team can still have walk-throughs, practices and virtual meetings.
Dantzler did not show up on the final injury report, so his status for Sunday's game in Green Bay is in question. If not positive for COVID-19 or a high-risk contact, the rookie would need two negative test results taken within 24 hours of each other to be eligible to play.
Minnesota is down to Kris Boyd, Mark Fields and rookies Jeff Gladney and Harrison Hand at cornerback for the Green Bay game after Holton Hill (foot) and Mike Hughes (neck) were ruled out for Week 8. The Vikings placed Hughes on injured reserve on Friday; he will be on the list for a minimum of three weeks.
League sources told ESPN this week that Hughes' neck injury, suffered in the first half of the Atlanta game on Oct. 18, might lead to him being shut down for the season. Hughes has been limited to 3½ games in 2020 after an ACL tear his rookie season held him to 20 games from 2018 to 2019.
"It's been difficult," Zimmer said. "He hasn't had much time on the field [with] the knee, the neck. It's been one thing after another with him, unfortunately. He's a good kid, he wants to play. … He's just been hurt."
While running back Dalvin Cook is expected to play in Green Bay after injuring his groin in Week 5, his status was changed to questionable shortly after the Vikings publicly announced the final injury report. Cook, a full participant in Friday's practice, was not initially given an injury designation, and when asked about how the running back performed in practice this week, Zimmer said, "Good. He should be ready to go," while noting Cook would likely have his normal workload.
The Packers already know they won't have running back Aaron Jones and cornerback Kevin King, and they are still not sure who will kick for them on Sunday against the Vikings.
Mason Crosby, who has the longest active streak of consecutive games played among kickers (214 games), has an injury to his left calf (non-kicking leg) and his back. He did not practice Wednesday and Thursday but did some limited work Friday and is listed as questionable.
Rookie Nick Vogel is waiting in the wings if needed. Punter JK Scott also has worked on field goals this week, but he is the regular holder and the Packers don't have a backup listed on their depth chart.
ESPN's Rob Demovsky contributed to this report.
Cleveland Browns' Odell Beckham Jr. says ACL tear 'really tough,' promises to be back soon
In his first comments since suffering a season-ending knee injury, Cleveland Browns star wide receiver Odell Beckham Jr. thanked his fans while admitting the setback was "really f—ing tough."
"I really don't have many words right now definitely not the right ones at least," Beckham posted Friday on his Instagram story.
"I couldn't tell u why this happened, this one doesn't make much sense, it's not for me to question , but I believe God truly has a plan and is using me for it. Ton of emotions flowing.. just taking some ME time, some time to heal. Thank u all for the Luv… be back soon"
Beckham tore the ACL in his left knee on Baker Mayfield's first throw Sunday against Cincinnati. Mayfield's pass was underthrown and picked off. Beckham injured the knee trying to make the tackle.
The Browns placed Beckham on injured reserve this week, officially ending his season.