Yasiel Puig runs into wall, leaves first game of Dodgers' doubleheader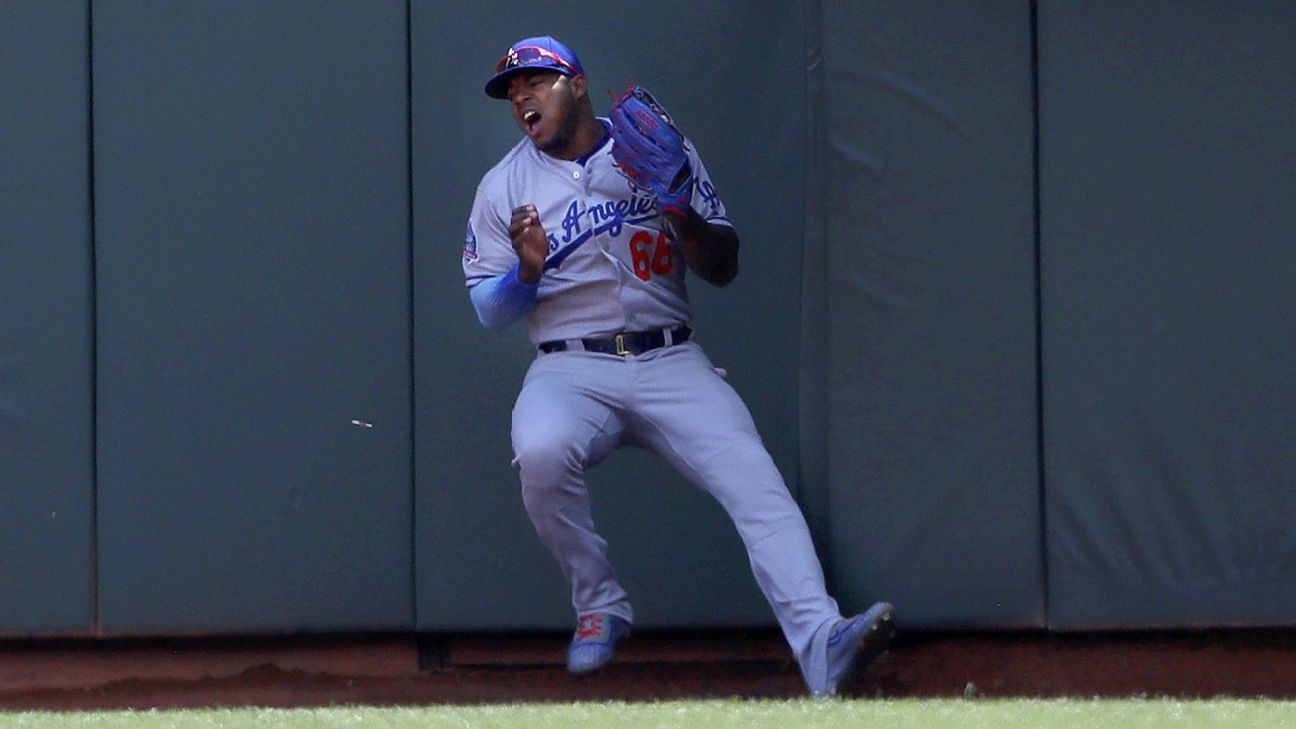 SAN FRANCISO — Los Angeles Dodgers right fielder Yasiel Puig crashed into a wall chasing a foul ball and was taken out of the first game of a doubleheader with the San Francisco Giants with left hip soreness.
Puig made a running one-handed catch and ran into a padded wall in the right corner of AT&T Park while chasing down Nick Hundley's deep foul to end the first inning. Manager Dave Roberts and team trainers rushed out and ran down the right field line as Puig dropped to the turf before getting to one knee.
Puig remained on one knee for several moments then got to his feet and walked slowly into the Dodgers dugout. He came out to bat in the second inning, fouled a ball of his foot, then flied out.
First baseman Cody Bellinger moved to right field after Puig was taken out.
Information from the Associated Press was used in this report.
California will allow fans to attend outdoor professional sporting events in areas at less risk for the coronavirus
SACRAMENTO, Calif. — California will let fans back in outdoor stadiums for pro sporting events in counties with low coronavirus infection rates, the state's top health official said Tuesday.
San Francisco and neighboring Alameda and Santa Clara are the only counties that meet the threshold for pro sports. However, immediately after the announcement, officials in Santa Clara, home to the San Francisco 49ers, issued a statement saying they weren't prepared to allow even a limited number of fans into Levi's Stadium.
As many as 14,000 people could attend Levi's Stadium events under the state's guidance, setting up the chance of devastating "superspreader" events, said Dr. Jeff Smith, Santa Clara County's executive officer.
"It's a matter of reasonable scientific decision-making instead of political decision-making," Smith told reporters. "Putting an audience in a stadium in large groups is just asking for trouble. It's like a petri dish."
Being outdoors isn't enough to guarantee the virus won't spread, he said, because fans would be using the same restrooms and same doors to enter and leave the stadium, while screaming and yelling during the game.
The 49ers said the team welcomed the news from the state but "will continue to collaborate with local public health officials to implement a plan that ensures a plan that protects the health and wellness" of the team, its employees and the public. Many NFL teams in other states have been playing games with fans in the stands.
Under the state rules, pro sports teams could have limited capacity at outdoor stadiums if they are in a county in the lowest two levels of the state's four-tiered model for reopening. Only fans who live within a 120-mile radius may buy tickets.
No county in Southern California has reached those tiers, so fans of the NFL's Los Angeles Rams and Chargers are still on the sidelines.
San Francisco is the first highly populated county to move into the state's lowest tier for infections. All the other counties at that level are rural areas scattered near the Oregon border or in the Sierra Nevada mountain range.
The Associated Press contributed to this report.
Former MLB umpire Derryl Cousins dies at 74
PALM SPRINGS, Calif. — Former major league umpire Derryl Cousins, who worked three World Series during a career that lasted over three decades, has died. He was 74.
Craig Cousins said his brother died at home Monday after a bout with cancer.
Cousins got his spot in the big leagues during the umpires' strike in 1979 and stayed on the job through the 2012 season. He called the World Series in 2005, 1999 and 1988 and also worked seven league championship series, five division series and three All-Star Games.
"Derryl played baseball, then got out of school and had some odd jobs and it just wasn't working for him. He got some money together, decided he'd try to become an umpire and it just clicked for him," his brother said. "He loved everything about being an umpire. He loved the life."
Pitchers enjoyed seeing him, too.
"I just know that as an umpire, they said he was someone who pitchers liked," Craig Cousins said. "When you came to the plate, you better be ready to swing."
Cousins said the family planned to put together a memorial service for next spring.
Follow live: Kershaw, Glasnow face off in Game 1 of World Series