From deGrom's A to Harvey's … not an A: Grading Mets' starters – SweetSpot
It was going to be a dream rotation for the ages: Matt Harvey, Noah Syndergaard, Jacob deGrom, Steven Matz and Zack Wheeler. That group of young starters would do for the New York Mets what Greg Maddux, Tom Glavine, John Smoltz and Steve Avery did for the Atlanta Braves in the 1990s: division titles, multiple playoff appearances, a World Series title — if not two or three.
The Mets group peaked in the 2015 postseason. Wheeler had missed the season with Tommy John surgery, but rookies Syndergaard and Matz joined Harvey and deGrom in the rotation. The foursome started 14 playoff games, posted a 3.20 ERA and struck out 93 batters in 85⅓ innings while allowing just four home runs. The season ended on a down note when Harvey couldn't finish off a 2-0 shutout in the ninth inning of Game 5 of the World Series, but the stage had been set for a dominant future.
The Mets returned to the playoffs as a wild card in 2016, but Wheeler again missed the entire season, Harvey struggled and eventually underwent surgery and the five pitchers combined to make 93 starts.
Everything fell apart in 2017. All five started at various points but never at the same time, and they combined for just 86 starts and a 4.77 ERA. The Mets finished 70-92 and had the second-worst rotation ERA in the National League. This was a dream rotation only if you like nightmares.
It's a new season, however, and for the first time all five guys are in the rotation at the same time, having made two trips through once Wheeler joined the group after some early-season off days. Let's check in how each of the five are performing:
Noah Syndergaard
Stats: 3.29 ERA, .226 BA, 34.8% SO, 4.5% BB
After bulking up last year and eventually landing on the DL, Syndergaard returned a little slimmer this season but still possessing his thundering fastball. His peripheral stats are dominant and the swing-and-miss rate on his fastball — which has been more hittable at times than you'd think — is up to 23.3 percent from 12 percent last year and 19 percent in 2016. In a sense, he's still learning to spot the fastball instead of thinking he can just throw it down the middle and blow batters away.
The one knock is he hasn't gone deep into games yet. Some of that is the Mets being conservative and maybe related to the cold weather (three of his five starts have come at home), but he also hasn't been efficient, throwing 92 pitches in four innings April 4 against the Philadelphia Phillies and 101 pitches in 5⅓ innings April 15 against the Milwaukee Brewers.
Grade: B+
---
Jacob deGrom
Stats: 3.24 ERA, .226 BA, 29.7% SO, 5.9% BB
Is it possible that deGrom is overlooked even though he pitches in New York? He cut his signature long locks, so now you have to pay attention to realize that's him with the short hair. Since his debut in 2014, he ranks ninth among starting pitchers in ERA at 2.98 (minimum 500 innings) and 12th in WAR. Maybe he's not quite a top-10 starter, but he's close.
Old habits die hard. 💇‍♂️ pic.twitter.com/ALzSh912pL

— Steve Gelbs (@SteveGelbs) April 11, 2018
He's off to a great start, with terrific strikeout and walk rates and avoiding the home runs that plagued him last season when he allowed 28. Of course, that could be related to the cold weather, so keep an eye on what happens there. As always, deGrom mixes a plus fastball (average velocity of 94.3 mph) with a complete repertoire of pitches — curveball, change and slider — that he mixes and commands well.
Grade: A-
---
Matt Harvey
Stats: 6.00 ERA, .302 BA, 18.1% SO, 4.3% BB
I've seen three of Harvey's starts and the ERA isn't misleading: It hasn't been pretty. Even when he threw five scoreless innings against the Phillies in his first start, it was clear the stuff wasn't anything special. He has avoided the walk issues that hurt him last season, but the strikeout rate remains well below what it was in 2015 (let alone in 2012 and 2013 before Tommy John surgery). His average fastball velocity through the years:
2012: 94.7
2013: 95.8
2015: 95.8
2016: 94.4
2017: 93.9
2018: 92.6
As he allowed six runs Thursday, Mets broadcaster Ron Darling said, "I won't say it's sad, but you just feel for a guy who had so much and he's trying reinvent himself and he's going through these awful, awful growing pains and how long will he be able to go out there and try and find it." He still throws hard enough that you can't completely write him off, but aside from the diminished velocity, the slider and curveball lack the action they once had (and he's largely junked the curveball so far).
Darling was alluding to the possibility that the Mets could eventually replace Harvey in the rotation. Remember, the Mets signed Jason Vargas and he's just about ready to return from the broken bone in his non-pitching hand suffered in spring training. Mickey Calloway has suggested a six-man rotation is possible and Harvey made it clear he doesn't want to pitch in the bullpen:
"I'm a starting pitcher," a somewhat defiant Matt Harvey said in response to the notion that he may not be long for the Mets' rotation: pic.twitter.com/OzQVHhwDJa

— Anthony DiComo (@AnthonyDiComo) April 20, 2018
Grade: D
Steven Matz
Stats: 4.42 ERA, .203 BA, 30.7% SO, 10.7% BB
Even going back to his minor league days, Matz has rarely remained healthy for extended periods, including pitching through elbow discomfort last season and posting a 6.08 in 13 starts before finally having surgery on his ulnar nerve. He's still throwing 93-plus, however, and as we saw at the end of 2015 and in 2016, he's a quality mid-rotation arm when healthy.
As with Syndergaard, the Mets have been cautious with his pitch counts, as he has reached 90 just once in his four starts and last four innings just twice. He's allowed five home runs in 18⅓ innings, leading to a high FIP of 5.64. Three of those have come against his two-seamer and five against right-handed batters, so he'll have to make adjustments there.
Grade: C
Zack Wheeler
Stats: 2.77 ERA, .196 BA, 17.6% SO, 7.8% BB
Wheeler had a solid first full season in the majors, way back in 2014 — 3.54 ERA, 187 strikeouts in 185 1/3 innings — although that was the season offense was way down, so in context it was super impressive and his WAR was just 0.9. Two missed seasons followed and he wasn't effective last year in 17 starts with a 5.21 ERA and 5.03 FIP while averaging barely five innings an outing.
In other words, he has a lot to prove. He dominated the Miami Marlins in his first start, throwing 83 pitches in seven innings and then allowed three runs in six frames against the Washington Nationals, although with just two strikeouts. He's averaging 94.4 mph with his fastball, touching 97; we'll have to see if the command has improved from where it was last year or even in 2014.
Grade: C+
Angels to bring in at least 7 candidates for GM position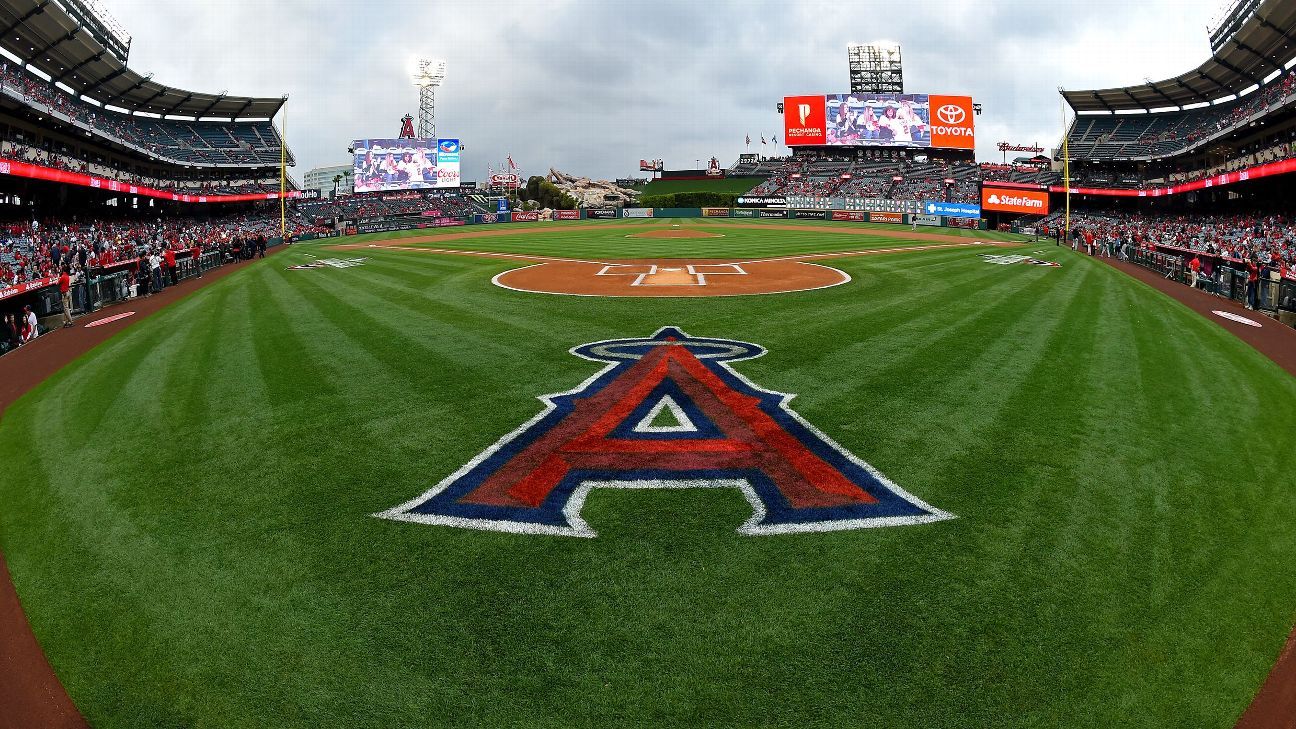 The Los Angeles Angels have interviewed or will interview at least seven executives for their open general manager role.
Sources told ESPN the list includes Athletics assistant general manager/director of player personnel Billy Owens, Padres senior advisor/director of player personnel Logan White, Nationals special assistant to the general manager Dan Jennings, Cubs senior VP for player personnel Jason McLeod, former Marlins president of baseball operations Michael Hill and two Diamondbacks executives with the title senior vice president and assistant GM: Amiel Sawdaye and Jared Porter.
This list is notable because all of the candidates have backgrounds in scouting more so than administration. Most of these candidates are seen as more traditional (leaning more toward scouting in player evaluation) than progressive (leaning more toward analytics). Going back to the early Athletics clubs run by Billy Beane as portrayed in "Moneyball" and to the more recent Astros clubs run by Jeff Luhnow, baseball has been trending toward executives with a more analytical, increasingly corporate approaches, rather than executives with a background in scouting.
In 2013 and 2014, Hill was the Marlins' president of baseball operations while Jennings was the general manager, before Jennings moved into the dugout as interim manager. Hill left the Marlins earlier this month when his contract expired; he spent 18 years with the club in various roles. Three candidates are from the Theo Epstein tree: Porter and McLeod (Red Sox and Cubs) and Sawdaye (Red Sox). Owens and White are both longtime top scouts with input across multiple departments at the highest levels.
The Angels' interview process is still in the first phase, held at least in part over video conference. The Angels' GM job came open when Billy Eppler was fired last month after the club finished 26-34.
Chicago White Sox's Tony La Russa announcement uses AJ Hinch's signature
CHICAGO — A glitch in a graphic file that was emailed to some fans announcing the Chicago White Sox's hiring of new manager Tony La Russa on Thursday contained a signature of AJ Hinch on a picture of La Russa.
The mistake was due to multiple variations of the graphic being prepared for various candidates, according to a team source, although Hinch was never interviewed.
The file ended up in the finished product that was emailed on Thursday as part of the La Russa announcement.
@whitesox email announcement appears to have AJ Hinch Signature. Looks like it was corrected on Twitter. @SoxOn35th @SouthSideSox @SoxMach_pnoles pic.twitter.com/m64LcrshZG

— Gabe (@GabeNotDave) October 29, 2020
Hinch, a rumored candidate for the job, was likely on an initial list of candidates that got folded into the graphic-making process.
Sources told ESPN's Buster Olney on Thursday night that the Detroit Tigers have made progress in finalizing a deal with Hinch to be their next manager, although the agreement is not finalized.
The White Sox later tweeted a corrected version of the picture with La Russa's signature on it.
New York Yankees to exercise option on Zach Britton, reports say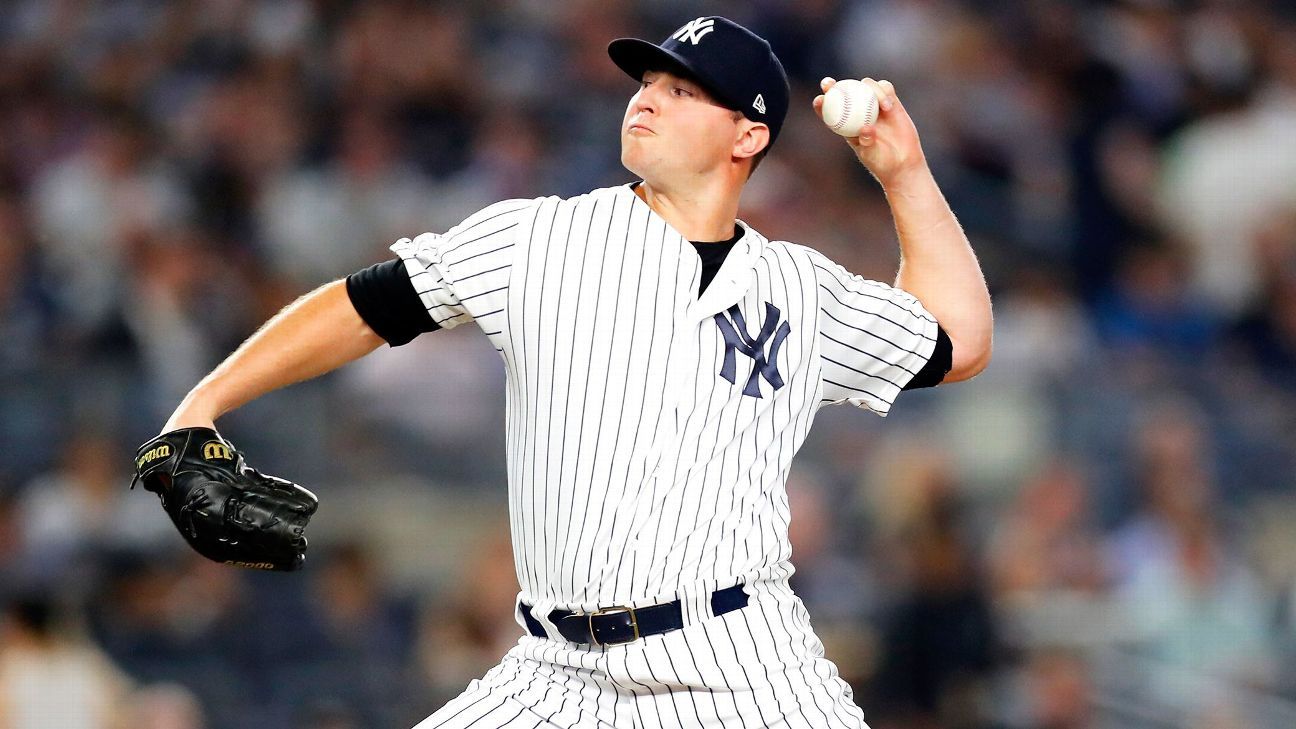 NEW YORK — The Yankees plan to exercise two option years on reliever Zack Britton worth $27 million and to decline options on outfielder Brett Gardner and pitcher J.A. Happ, according to multiple reports.
Gardner and Happ would become eligible for free agency. Gardner would get a $2.5 million buyout rather than a $10 million salary. Happ's deal did not have a buyout.
Britton, a 32-year-old left-hander, was 1-2 with a 1.89 ERA in 20 appearances, getting eight saves and filling the closer role when Aroldis Chapman was sidelined by COVID-19 from the start of the shortened season until Aug. 17.
His deal calls for salaries of $13 million next year and $14 million in 2022. In addition to the team's two-year option, Britton's contract included a $13 million player option for 2021.
Gardner, 37, has been with the Yankees since 2008 and is their last player from the 2009 World Series champions. He hit .223 with five homers and 15 RBIs in the shortened season, down from .251 with career highs of 28 homers and 74 RBIs in 2019. The Yankees agreed to a deal with a $2 million signing bonus and an $8 million salary for 2020, which became $2,962,963 in prorated pay.
He lost playing time in 2020 to Clint Frazier, who hit .267 with eight homers and 26 RBIs.
Happ, a left-hander who turned 38 on Oct. 19, was acquired from Toronto in July 2018, went 7-0 in 11 starts and was rewarded with a $34 million, two-year contract. He went 12-8 in 2019 and struggled at the start of this season, prompting the Yankees to skip his turn.
He got stronger as the season went on and finished with a 2-2 record and 3.47 ERA in nine starts. His $17 million option originally would have become guaranteed with 27 starts or 165 innings, but the threshold was reduced to 10 starts with the shortened season and he fell one short.
Happ gave up two-run homers to Mike Zunino in the second inning and Manuel Margot in the third of the 7-5 loss to Tampa Bay in Division Series Game 2, Happ said he would have been more comfortable starting.
The Associated Press contributed to this report.