Colin Kaepernick honored by Amnesty International for inequality protests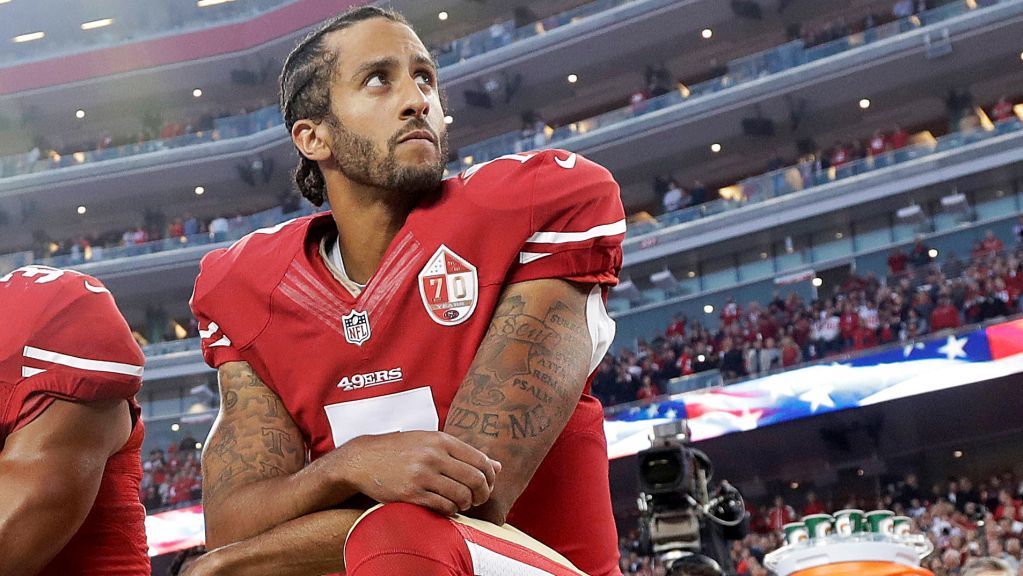 AMSTERDAM — Amnesty International gave former NFL quarterback Colin Kaepernick its Ambassador of Conscience Award on Saturday for his kneeling protest of racial injustice that launched a sports movement and might have cost him his job.
Onetime San Francisco 49ers teammate Eric Reid presented Kaepernick with the award during a ceremony in Amsterdam, the capital of the Netherlands.
In his acceptance speech, the award-winner described police killings of African Americans and Latinos in the United States as "lawful lynchings."
"Racialized oppression and dehumanization is woven into the very fabric of our nation — the effects of which can be seen in the lawful lynching of black and brown people by the police, and the mass incarceration of black and brown lives in the prison industrial complex," Kaepernick said.
Kaepernick first took a knee to protest police brutality during the playing of the national anthem when he was with the 49ers in 2016.
"How can you stand for the national anthem of a nation that preaches and propagates, 'freedom and justice for all,' that is so unjust to so many of the people living there?" he said at Saturday's award ceremony.
Other players joined his protest in the 2016 season, drawing the ire of President Donald Trump, who called for team owners to fire such players.
In response to the player demonstrations, the NFL agreed to commit $90 million over the next seven years to social justice causes in a plan.
Kaepernick wasn't signed for the 2017 season following his release in San Francisco.
Reid, a safety who is now a free agent, continued Kaepernick's protests by kneeling during the anthem last season. Reid has said he will take a different approach in 2018.
Kaepernick paid tribute to his friend for his own role in the protest movement.
"Eric introducing me for this prestigious award brings me great joy," Kaepernick said. "But I am also pained by the fact that his taking a knee, and demonstrating courage to protect the rights of black and brown people in America, has also led to his ostracization from the NFL when he is widely recognized as one of the best competitors in the game and in the prime of his career."
Amnesty hands its award each year to a person or organization, "dedicated to fighting injustice and using their talents to inspire others."
Amnesty International Secretary General Salil Shetty called Kaepernick "an athlete who is now widely recognized for his activism because of his refusal to ignore or accept racial discrimination."
Previous recipients of the award include anti-Apartheid campaigner and South African President Nelson Mandela and Malala Yousafzai, the Pakistani schoolgirl who campaigned for girls' right to education even after surviving being shot by Taliban militants.
"In truth, this is an award that I share with all of the countless people throughout the world combating the human rights violations of police officers, and their uses of oppressive and excessive force," Kaepernick said.
Atlanta Falcons' Julio Jones to play against Detroit Lions despite hamstring
Atlanta Falcons wide receiver Julio Jones, who was limited in practice time this week with a hamstring injury, will play Sunday against the Detroit Lions, a source told ESPN's Adam Schefter.
Jones returned to the lineup last Sunday and had eight catches for 137 yards and two touchdowns in the Falcons' 40-23 win over the Minnesota Vikings.
After sitting out the Falcons' Week 3 loss to the Chicago Bears, he played just 15 snaps in Week 4 and did not play in Week 5 with the same hamstring injury.
Jones sat out practice Wednesday before being a limited participant Thursday and Friday.
He has 23 catches for 350 yards and two touchdowns this season.
Arizona Cardinals' DeAndre Hopkins expected to face Seattle Seahawks
Arizona Cardinals receiver DeAndre Hopkins, listed as questionable for Sunday night's game against the Seattle Seahawks due to an ankle injury, is expected to play, a source tells ESPN's Adam Schefter.
Hopkins was held out of practice this week due to the injury, which has plagued him much of the season. Despite regularly appearing on the injury report, Hopkins hasn't missed a game and leads the NFL with 47 receptions for a league-leading 601 yards and two touchdowns.
Hopkins had two receptions for 73 yards in Monday night's win over Dallas. He's missed just two games due to injury in his eight-year career.
Las Vegas Raiders activate offensive linemen Kolton Miller, Denzelle Good, Rodney Hudson, Gabe Jackson off COVID-19 list
HENDERSON, Nev. — The Las Vegas Raiders on Saturday activated four starting offensive linemen who had close contact with right tackle Trent Brown earlier this week.
Left tackle Kolton Miller, left guard Denzelle Good, center Rodney Hudson and right guard Gabe Jackson came off the COVID-19 list Saturday but must still test negative for the virus on Sunday morning in order to play Sunday against the Tampa Bay Buccaneers.
None of the four players have tested positive since going on the COVID-19 list this week as "high risk" close contacts to right tackle Trent Brown, who did test positive on Wednesday morning.
The four players were with Brown at practice on Monday. According to league protocol, as high risk contacts, they had to test negative for five consecutive days, plus the last day of contact.
Safety Johnathan Abram had contact with Brown on Tuesday, so there is not enough time for him to finish the protocol and play against Tampa Bay.
Brown was not wearing his tracking device, as mandated by NFL protocol, on Monday, so practice film had to be scoured to see who Brown had been close to that day.
Raiders coach Jon Gruden said Friday that Brown, who remains on the COVID-19 list, was feeling better.
With Miller, Good, Hudson and Jackson in self-isolation and joining the Raiders virtually this week to prepare, Las Vegas practiced with an offensive line of Brandon Parker, John Simpson, Andre James, Patrick Omameh and Sam Young. Left guard Richie Incognito remains on injured reserve.