Matt Forte, Devin Hester to sign one-day contracts and then retire as Chicago Bears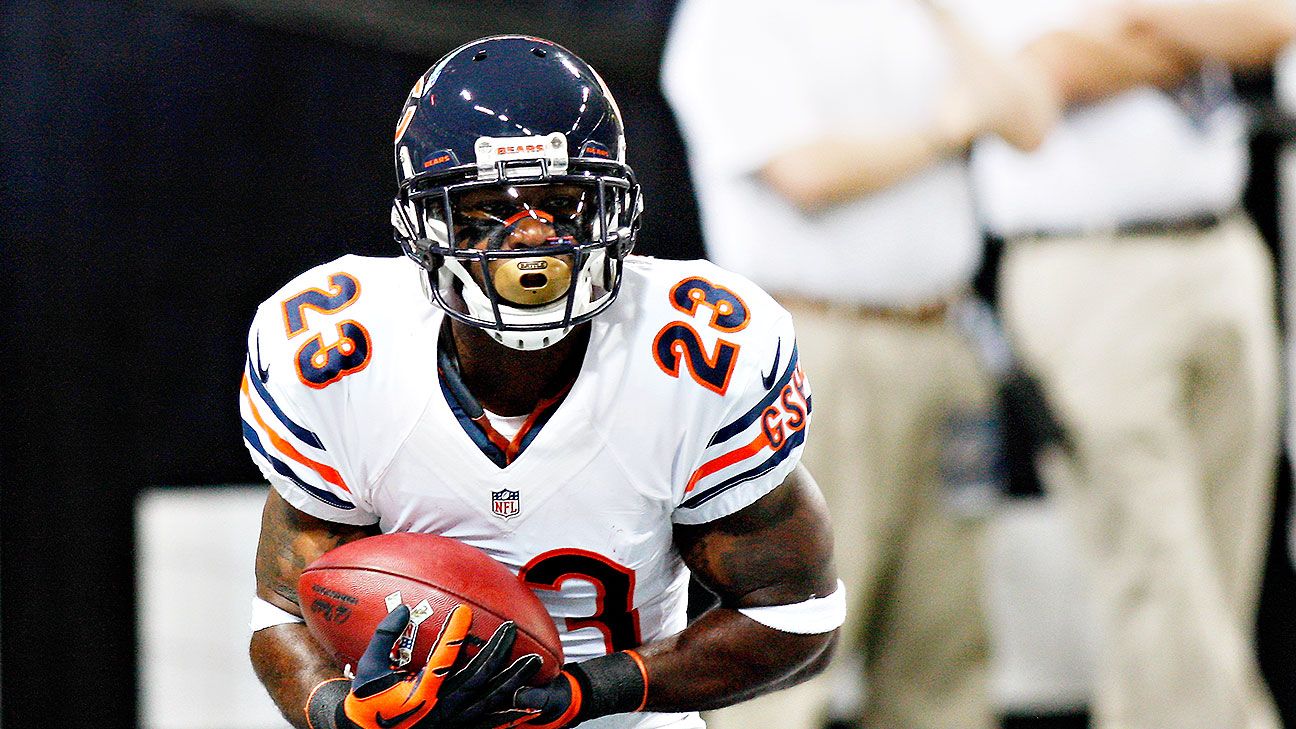 LAKE FOREST, Ill. — Former Chicago Bears greats Matt Forte and Devin Hester will both sign a one-day ceremonial contract on Monday, April 23 in order to retire as members of the organization, the team announced Wednesday.
Forte and Hester each spent their first eight NFL seasons with the Bears.
The greatest return man in league history, Hester, who Chicago drafted in the second round (57th overall) of the 2006 NFL draft, played for the Bears from 2006 to 2013 where he was named First-Team All-Pro three times.
Hester, who was voted to four career Pro Bowls, had a team-record five return touchdowns for the Bears as a rookie, and took back the opening kickoff of Super Bowl XLI against the Indianapolis Colts 92 yards for a touchdown.
The University of Miami product also set franchise highs in punt returns (264), punt return touchdowns (13), single-season punt return touchdowns (four), kickoff returns (222), kickoff return yards (5,504) and single-game kickoff return touchdowns (two).
Hester added 255 receptions for 3,311 yards and 16 touchdowns as a wide receiver.
Hester, who also played for the Atlanta Falcons, Baltimore Ravens and Seattle Seahawks, holds the NFL record with 20 return touchdowns.
He announced his retirement from the NFL on Dec. 12, 2017.
Selected by the Bears in the second-round of the 2008 NFL draft out of Tulane, Forte is the second-most productive running back in Chicago history with 8,602 rushing yards and 4,116 receiving yards.
At the time of his departure from the Bears following the 2015 season, Forte had led the NFL in yards from scrimmage since 2008.
Forte ranks second, behind only Hall of Famer Walter Payton, on the Bears' all-time lists for rushing yards, yards from scrimmage (12,718), receptions (487) and 100-yard games (24). He's third in total touchdowns (64) and sixth in receiving yards. Forte also set a single-season NFL record with 102 receptions as a running back in 2014.
Forte played his final two NFL seasons for the New York Jets.
Atlanta Falcons' Julio Jones to play against Detroit Lions despite hamstring
Atlanta Falcons wide receiver Julio Jones, who was limited in practice time this week with a hamstring injury, will play Sunday against the Detroit Lions, a source told ESPN's Adam Schefter.
Jones returned to the lineup last Sunday and had eight catches for 137 yards and two touchdowns in the Falcons' 40-23 win over the Minnesota Vikings.
After sitting out the Falcons' Week 3 loss to the Chicago Bears, he played just 15 snaps in Week 4 and did not play in Week 5 with the same hamstring injury.
Jones sat out practice Wednesday before being a limited participant Thursday and Friday.
He has 23 catches for 350 yards and two touchdowns this season.
Arizona Cardinals' DeAndre Hopkins expected to face Seattle Seahawks
Arizona Cardinals receiver DeAndre Hopkins, listed as questionable for Sunday night's game against the Seattle Seahawks due to an ankle injury, is expected to play, a source tells ESPN's Adam Schefter.
Hopkins was held out of practice this week due to the injury, which has plagued him much of the season. Despite regularly appearing on the injury report, Hopkins hasn't missed a game and leads the NFL with 47 receptions for a league-leading 601 yards and two touchdowns.
Hopkins had two receptions for 73 yards in Monday night's win over Dallas. He's missed just two games due to injury in his eight-year career.
Las Vegas Raiders activate offensive linemen Kolton Miller, Denzelle Good, Rodney Hudson, Gabe Jackson off COVID-19 list
HENDERSON, Nev. — The Las Vegas Raiders on Saturday activated four starting offensive linemen who had close contact with right tackle Trent Brown earlier this week.
Left tackle Kolton Miller, left guard Denzelle Good, center Rodney Hudson and right guard Gabe Jackson came off the COVID-19 list Saturday but must still test negative for the virus on Sunday morning in order to play Sunday against the Tampa Bay Buccaneers.
None of the four players have tested positive since going on the COVID-19 list this week as "high risk" close contacts to right tackle Trent Brown, who did test positive on Wednesday morning.
The four players were with Brown at practice on Monday. According to league protocol, as high risk contacts, they had to test negative for five consecutive days, plus the last day of contact.
Safety Johnathan Abram had contact with Brown on Tuesday, so there is not enough time for him to finish the protocol and play against Tampa Bay.
Brown was not wearing his tracking device, as mandated by NFL protocol, on Monday, so practice film had to be scoured to see who Brown had been close to that day.
Raiders coach Jon Gruden said Friday that Brown, who remains on the COVID-19 list, was feeling better.
With Miller, Good, Hudson and Jackson in self-isolation and joining the Raiders virtually this week to prepare, Las Vegas practiced with an offensive line of Brandon Parker, John Simpson, Andre James, Patrick Omameh and Sam Young. Left guard Richie Incognito remains on injured reserve.