Joe Flacco not worrying about Ravens drafting a quarterback – Baltimore Ravens Blog
OWINGS MILLS, Md. — Joe Flacco essentially shrugged his shoulders when asked about the talk of the Baltimore Ravens drafting a quarterback, possibly in the first round.
"It is what it is. It's a business," Flacco said Tuesday at the start of Baltimore's offseason workouts. "Eventually, at some point, that's going to have to happen. It's not really for me to worry about."
There has been increased speculation that the Ravens could take a quarterback with their top pick because of Lamar Jackson's pre-draft visit and Flacco's contract status. Baltimore can create $18.5 million in cap space in 2019 by designating Flacco as a post-June 1 cut.
The Ravens haven't downplayed the possibility of selecting a quarterback with the No. 16 overall pick. Earlier this month, assistant general manager Eric DeCosta said the team would pick a quarterback if there's one "really too good to pass up," and general manager Ozzie Newsome hinted the Ravens could "surprise" in the first round.
But drafting a quarterback in the first round would go against Ravens owner Steve Bisciotti's comments in February. Asked if it was time to start looking at life without Flacco, Bisciotti said, "We've got bigger fish to fry."
Flacco, 33, led the Ravens to a Super Bowl title in 2012 but has struggled since hoisting up the Lombardi Trophy, throwing 98 touchdowns and 74 interceptions (82.1 passer rating).
"I come in here and you worry about what's here and now and doing your job, which for me now is getting guys out there working hard and making sure we're moving toward our goal of getting to that championship," Flacco said.
Part of Flacco's problems have been injuries. He hasn't had a completely healthy offseason since 2014.
In November 2015, Flacco suffered a season-ending knee injury. He then missed all of the offseason spring workouts because he was recovering from knee surgery. Last year, Flacco hurt his lower back, which caused him to sit out all of training camp and the preseason.
Flacco indicated that he's past the point where the back injury will be a chronic one.
"I feel really good," Flacco said. "I spent a lot of this offseason working around that and working on that. I feel great about how it went and how I am at this point."
Ravens DC says Chiefs QB Patrick Mahomes 'underpaid' even if $1B
OWINGS MILLS, Md. — Patrick Mahomes signed the richest valued contract in American professional sports in July, when he struck a 10-year, $450 million extension with the Kansas City Chiefs.
Baltimore Ravens defensive coordinator Don "Wink" Martindale, who faces Mahomes on Monday night, considers that a bargain.
"They could've paid him a billion," Martindale said Friday. "I'd still think he's underpaid."
Martindale has a lot of respect for the reigning Super Bowl MVP because Mahomes is the one quarterback who has consistently gotten the better of Baltimore. The Ravens have allowed the third-fewest passing yards in the league (203.7) since Martindale took over as defensive coordinator at the start of the 2018 season.
Baltimore has given up over 350 yards passing only three times during that span — and two have come against Mahomes, who has thrown for five touchdowns and one interception in two victories over the Ravens. Mahomes passed for 377 yards in 2018 — the most against a Martindale defense– and threw for 374 yards last season.
"The mobile-type quarterbacks, you have to defend the first play, the second play and sometimes the third play," Martindale said. "With the way he throws the football, you have to say on your coverage no matter what. He can be on one side of the field and throw all the way across the other."
While the Ravens know they have to account for Mahomes' athleticism and ability to buy time, they also have to figure out a way to outsmart him. Baltimore has only sacked Mahomes four times on 96 dropbacks. Martindale, who is known for his aggressive blitz packages, praised Mahomes for how he can diagnose pre-snap where the pressure is coming from and call the correct protection to negate it.
"He has that football IQ level of [Tom] Brady and [Peyton] Manning," Martindale said.
Atlanta Falcons' Julio Jones to be game-time call with hamstring strain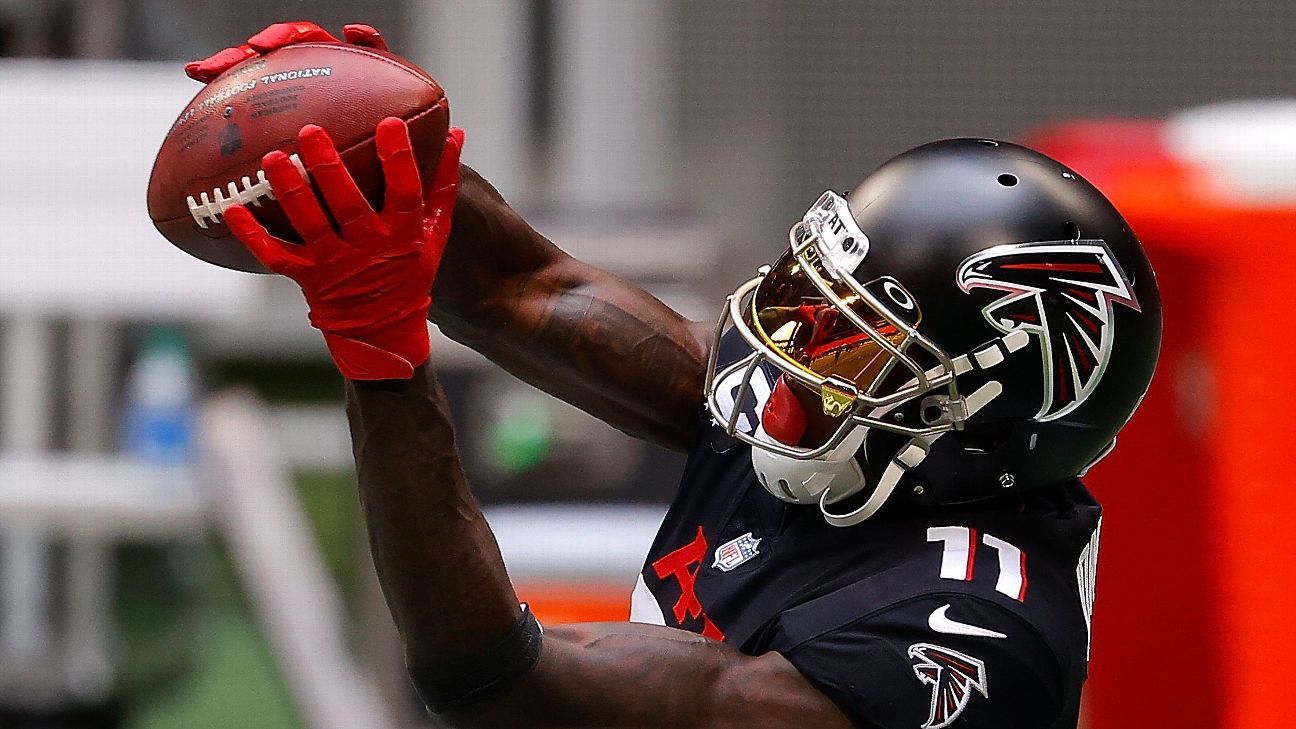 Atlanta Falcons coach Dan Quinn said the team will take it "all the way up until our time on the day of the game" regarding star wide receiver Julio Jones' availability for Sunday's matchup with the Chicago Bears.
Jones, who injured his left hamstring before the season and then strained it again during last Sunday's 40-39 loss at Dallas, was held out of practice Wednesday and Thursday. Quinn said Jones would do work on the side Friday and that he has been involved in the game plan.
Quinn said Jones is one of the rare players who could be available without practicing.
"The only way we'll do it is if he's ready to do his thing," Quinn said. "Take it all the way to the game with him."
With Jones being a game-time decision, the Falcons might have to rely heavily on receivers Calvin Ridley and Russell Gage, as well as tight end Hayden Hurst. When Jones missed a game last season due to a shoulder injury, Christian Blake saw more action next to Ridley and Gage.
Jones had two catches for 24 yards against the Cowboys and said the hamstring affected his ability to run.
Quinn also ruled out safety Ricardo Allen (hyperextended elbow) and cornerback Kendall Sheffield (foot). The Falcons are expected to be without starting right tackle Kaleb McGary, who suffered an MCL injury last week. Matt Gono would replace McGary in the starting lineup.
49ers to start Nick Mullens at QB for injured Jimmy Garoppolo
SANTA CLARA, Calif. — San Francisco 49ers coach Kyle Shanahan confirmed Friday what he's hinted at all week: Nick Mullens will start at quarterback in place of the injured Jimmy Garoppolo on Sunday against the New York Giants.
Shanahan indicated Wednesday that it was "most likely" Mullens would start in place of Garoppolo, who is dealing with a high right ankle sprain, but he made it official Friday on KNBR radio in San Francisco. Shanahan told "The Murph and Mac Show" that Mullens will start for Garoppolo and that Garoppolo will not be active for the game, leaving C.J. Beathard as Mullens' backup.
Mullens will be making his first start since Dec. 30, 2018, which was the final appearance in an eight-game stretch for him as the starter after Garoppolo tore his left ACL in Week 3 of that season. He threw for 2,277 yards with 13 touchdowns and 10 interceptions for a passer rating of 90.8 as the Niners went 3-5 in his starts.
Early in the week, the Niners had expressed some optimism that Garoppolo could play this week but it became apparent by Wednesday that it was unlikely. Garoppolo suffered the ankle injury in the first quarter of last week's win against the New York Jets and played through it before being removed from the game at halftime.
Mullens finished the game, going 8-of-11 for 71 yards with an interception as the 49ers rolled to a 31-13 win.
As the Niners have trained at The Greenbrier Resort in White Sulphur Springs, W.V, this week, Mullens has taken on the role of starter in practice with Beathard as the backup. Garoppolo did not practice Wednesday or Thursday and is not expected to on Friday.
"He's locked in," tight end George Kittle said Thursday. "He's got the game plan down, he's got a rocket for an arm, he's slinging it, he's confident. And I know he's just excited to get the opportunity to play. If he gets to play, I know he's going to take advantage of that situation because that dude loves football. He's going to give it his all, so we're definitely in good hands if Jimmy can't go."
Whether Mullens will have Kittle at his disposal remains up in the air, Shanahan told KNBR. Kittle, who is working his way back from a sprained left knee, has practiced on a limited basis the past two days and Shanahan said Friday's practice would be important in gauging his availability for Sunday. Which means a decision is likely to be made closer to game time.
Like quarterback, the running back situation has crystallized as Shanahan also confirmed that Tevin Coleman and Raheem Mostert would not be available Sunday, as he'd suggested earlier in the week. Coleman and Mostert are each battling sprained knees, though Mostert is expected back before Coleman.
That means Jerick McKinnon is likely to make his first start as a Niner since signing with the team in 2018. He missed the past two seasons with a knee injury.
"I'm very confident in Jet," Shanahan said Wednesday. "He's done a great job in all the reps that he's gotten in these two weeks. Every time he's gotten opportunities, he came through for us. Obviously, with those two guys being out, he should get more opportunities this week and he deserves it. I know he's excited for it and we're excited to see him."
Jeff Wilson Jr. is expected to serve as the backup to McKinnon with undrafted rookie JaMycal Hasty likely to get called up from the practice squad for additional depth.