Former NFL player Aldon Smith transferred to inpatient rehab center
SAN FRANCISCO — Authorities say Aldon Smith is being transferred to an inpatient substance abuse treatment center as he awaits his next court date.
The former Oakland Raiders and San Francisco 49ers linebacker was booked into jail a week ago for violating a condition of his electric monitoring while out on bail. According to court testimony, Smith had a 0.40 blood-alcohol level when he showed up at the sheriff's department.
Alex Bastian, a spokesman for the San Francisco district attorney's office, said Friday that the order for Smith to remain in custody in rehab has no end date. Smith's next court date is May 3.
Smith pleaded not guilty last month to domestic violence and other charges stemming from an incident in early March. A judge issued a protective order prohibiting him from contacting the victim. He later surrendered to police on charges he violated the restraining order.
The Raiders released Smith after his arrest on the domestic violence charges.
Patrick Mahomes: Chiefs' Travis Kelce won't be babysitting – Kansas City Chiefs Blog
KANSAS CITY, Mo. — Patrick Mahomes and his fiancée, Brittany Matthews, only recently learned they will be having a baby and have already started compiling a list of teammates who might, and might not, be allowed to babysit their child.
"I'd say [reserve quarterback] Matt Moore or someone like that who's responsible," Mahomes said regarding who's on the babysitter list. As for who's not, Mahomes said, "I can't let Trav [Travis Kelce] or anybody [babysit]. You never know what would happen."
Mahomes and Matthews revealed on social media Tuesday that she was expecting.
"It's extremely exciting," Mahomes said. "Being able to grow up and having these dreams of having a family and playing in the NFL, those things have started happening and coming into truth and everything like that. I'm just excited that I have a lot of great people around me and I'm in a great organization and I'm able to live out these dreams day to day."
As for football, Mahomes and the 3-0 Kansas City Chiefs will play the 2-1 New England Patriots on Sunday at Arrowhead Stadium (4:25 p.m. ET, CBS). The game is the first meeting between Mahomes and Patriots quarterback Cam Newton.
Mahomes said Wednesday he has long admired Newton's game, ever since Newton played in junior college in Texas, where Mahomes is from.
"I wish I could do some of the things he does as far as how physical he is and the way he's able to make plays happen," Mahomes said. "He's a great football player, and he's in a great spot now and he's playing good football."
Mahomes threw four touchdown passes and rushed for a score in the Chiefs' 34-20 win over the Baltimore Ravens on Monday night. The easier-than-expected victory against an opponent considered their main competitor for the AFC championship led to thoughts by some that the Chiefs could finish the season undefeated. They've won 12 straight games dating back to last year, including the 2019 postseason.
Mahomes said he hasn't had any such thoughts.
"I haven't thought that far ahead," he said. "We're just 3-0 right now. When you start thinking about [records] that is when you lose football games. Look at us last year. We came off a big win against the Ravens [in Week 3] and dropped a few games in October."
Las Vegas Raiders' Derek Carr says players 'felt terrible' about mask issue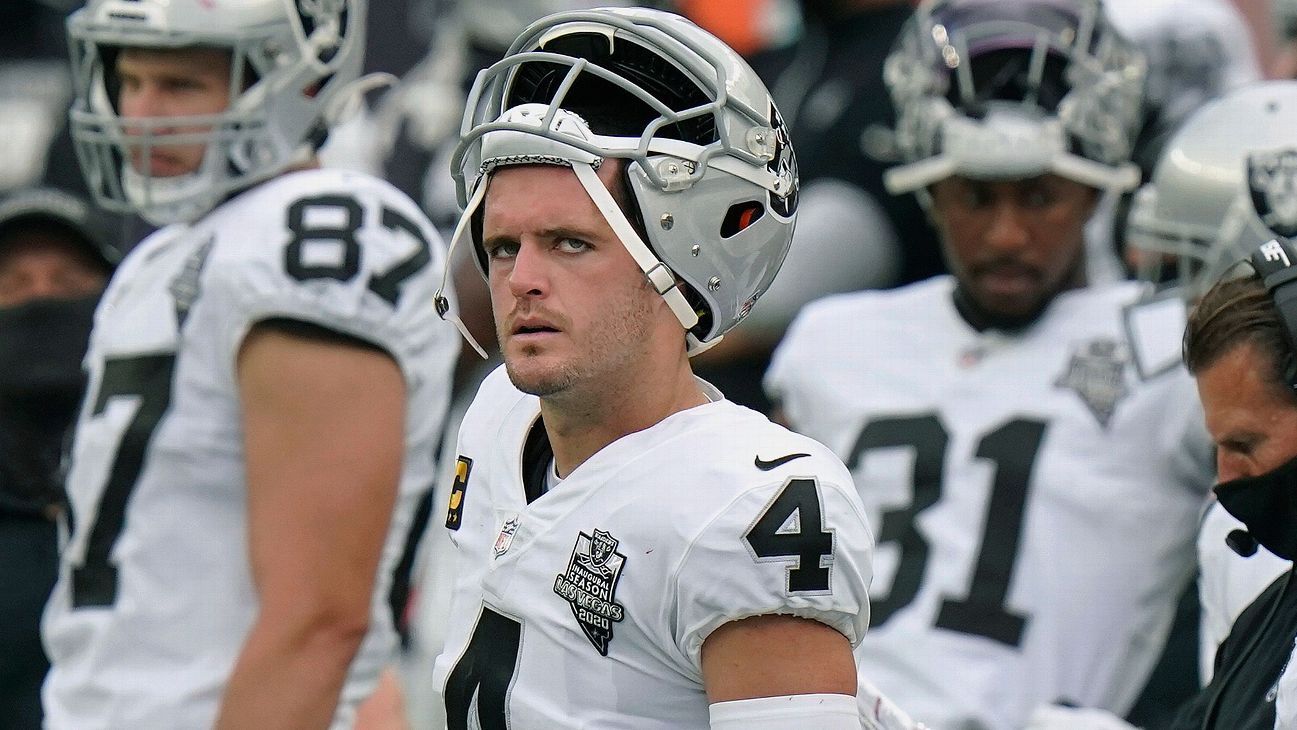 HENDERSON, Nev. — Coach Jon Gruden said Las Vegas Raiders players "let their dauber down a little bit" when they broke COVID-19 protocol by appearing maskless at an indoor charity event Monday night. Quarterback Derek Carr, who attended the event, said the players "had a few moments where we slipped up, took the masks off so people could see our face."
However, both pivoted to the reason the players were at the event in the first place: It was a fundraiser for teammate Darren Waller's foundation to help at-risk youth overcome addiction. Waller, himself, is now three years sober.
"I hate that a few moments without our masks on led to a story about our team and all this kind of stuff, especially after the fines that were brought on a couple of weeks ago," Carr said Wednesday. "So, we felt terrible about that. We addressed it, we talked with Coach and we talked with our trainers about what really went down and all that kind of stuff."
News of the Raiders appearing at the event without masks surfaced one day before the Tennessee Titans reported positive COVID-19 tests from four players and five team personnel members.
Earlier this month, Gruden was fined $100,000 for not wearing his mask properly on the sideline during Las Vegas' win over the New Orleans Saints on Sept. 21. The Raiders were fined $250,000 and also are being investigated by the NFL for allegedly allowing an unauthorized team employee in the locker room after that game.
Meanwhile, the NFL has issued another strong warning to coaches who won't wear masks on the sideline during games, threatening suspensions and forfeiture of draft picks as punishment for failing to comply with COVID-19 game-day protocols, according to a league memo obtained Wednesday by ESPN's Adam Schefter.
"We all understand that this is a terrible, terrible virus," Gruden said. "And we have to do our part; we're all vulnerable. Unfortunately, it sounds like a few people got the virus. I just wish the best for everybody in Tennessee. And it does certainly get yourself awakened to the reality of, it can get anybody, anywhere, at any time."
Gruden, who has said he had the coronavirus in July, has made it a team mission to "crush the virus." During training camp, he had T-shirts made with that slogan along with the Raiders logo on them.
"I'll just say this: We've done a good job, we've done an excellent job," Gruden said. "Last night, it was addressed with our players. They walked in with their masks on; there was an event. Sometimes you go to a restaurant, take your mask off. They're aware of their mistake.
"But we've done an excellent job — using our masks, taking proper care of each other and everybody. I'm really proud of our players. And by the way, that was a great cause no one's talked about. [Waller] raised over $300,000 for a great cause. I appreciate our players being there in support of him."
An NFL spokesperson said in an email to ESPN.com Wednesday afternoon that the league was "looking into the matter," which violated Nevada state regulations for the pandemic and might have broken league regulations.
NFL and National Football League Players Association rules limit what activities players are allowed to engage in when away from team facilities. Players, it is stated, are not allowed to attend any event that "violates local and state restrictions."
The Raiders are slated to host the Buffalo Bills on Sunday. Bills cornerback Tre'Davious White said the issue was "definitely something that guys were mentioning in the locker room" but added that the team mostly was not concerned.
"It raised a lot of antennas. But I feel like if we continue to take the precautions and do all the things we're supposed to do and go in the places we're supposed to go and not be selfish with it, I think we'll be fine," White said.
Added Bills coach Sean McDermott, "What we try to do is control what we can control from our end. Got a lot of respect for Coach Gruden and I'm sure they're on top of it over there."
Joining Carr at Waller's event were backup quarterback Nathan Peterman; tight ends Jason Witten, Foster Moreau and Derek Carrier; wide receivers Zay Jones and Hunter Renfrow; cornerback Nevin Lawson; and center Erik Magnuson.
The event was held indoors at the DragonRidge Country Club, which was fined $2,000 by the city of Henderson for four violations of the Nevada governor's COVID-19 emergency directives, including people not wearing masks and more than 50 people at the event. The club now has 30 days to pay the fine or dispute it.
Raiders owner Mark Davis told ESPN on Tuesday night, "Guys have to be more stringent in fighting the virus. It's still our toughest opponent."
Carr, who posed for pictures with a maskless guest who won his jersey in an auction, said he realized not wearing a mask to the event was a mistake.
"We signed waivers," Carr said. "Hand sanitizer, like crazy. … We weren't perfect, but we weren't trying to be careless or reckless. But at the same time, [Waller] had an event for something that meant a lot to him and they raised so much money that you won't even begin to imagine how much money they raised to help other people that struggle with addiction, to get them in the right place and things like that. My hope and my prayer is that a few moments of us messing up, a few minutes here, where we were seen on camera, not in the private room, in the separate room for an hour, I hope that we don't lose what was really going on. Because Darren had a great idea. He had a great plan. He wants to help people.
"We should have kept the masks on, even if we are coming in and they're introducing us. … I was just there trying to support Waller. That's what me and the guys were trying to do, but that's the end of that."
Information from the Associated Press was used in this report.
New Orleans Saints receiver Michael Thomas returns to practice on limited basis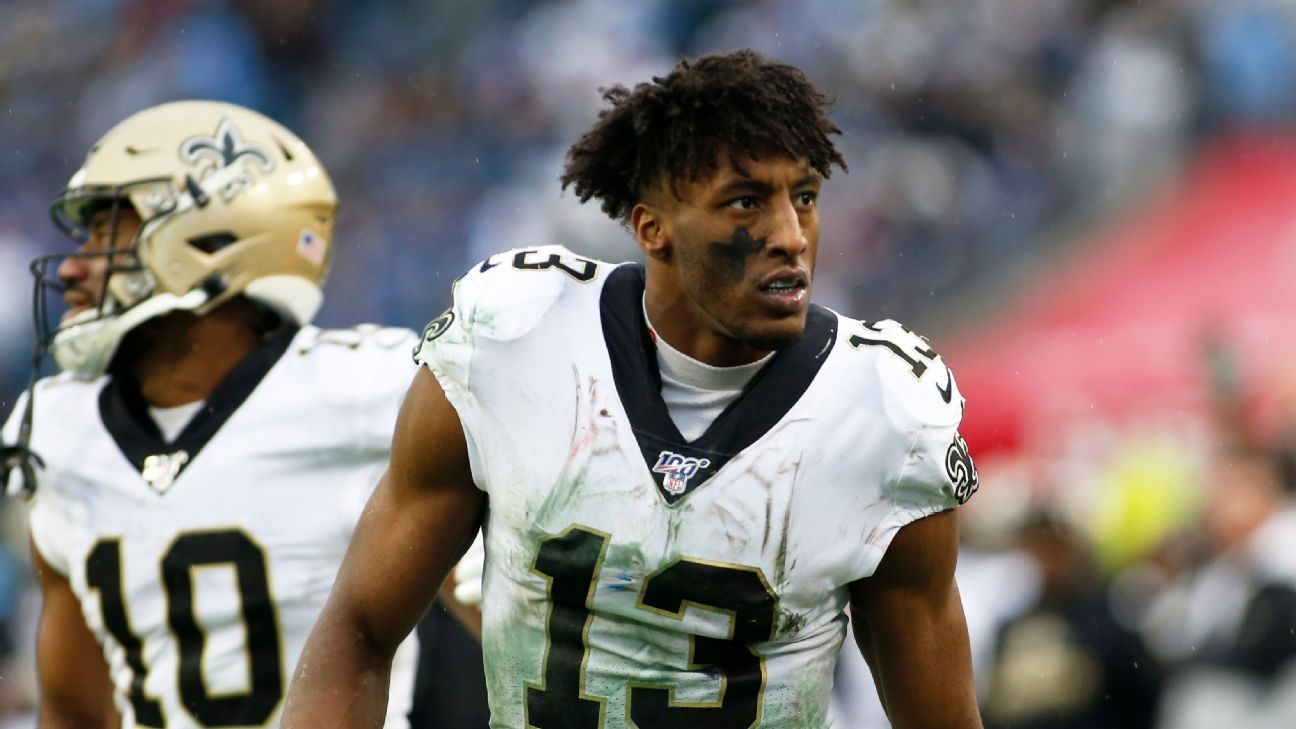 METAIRIE, La. — New Orleans Saints receiver Michael Thomas returned to practice on a limited basis Wednesday after missing the past two games with a high ankle sprain.
It's unclear if Thomas will be able to play Sunday at the Detroit Lions. But the Saints obviously targeted this week as a realistic possibility because they never placed him on injured reserve (which would have required him to miss at least three games).
The Saints (1-2) could certainly use the offensive boost. In Thomas' absence, they have lost two straight games for the first time in three years. And they rank last in the NFL with 283 yards by wide receivers this season, with quarterback Drew Brees being scrutinized for not getting the ball downfield enough.
"He looked good out there, so hopefully he feels ready enough to play," Saints running back Alvin Kamara said of Thomas after Wednesday's practice. "I know he's been itching to play. If it was up to him, he would've tried to play the last two weeks. But obviously when you're dealing with injury, you gotta do what you gotta do to get healthy so you don't set yourself back."
Another of New Orleans' top pass catchers, tight end Jared Cook, is also dealing with an injury. Cook missed practice Wednesday after leaving Sunday night's loss to the Green Bay Packers early with a groin injury.
Thomas was named the NFL's Offensive Player of the Year last season after breaking the NFL record with 149 receptions. He had three catches for 17 yards in a Week 1 victory over the Tampa Bay Buccaneers before being injured in the final minutes of the game when running back Latavius Murray rolled into his leg.
Thomas has missed only one other game due to injury in his five-year career — a foot injury during his rookie year in 2016.