Perfect New England Patriots 2018 NFL draft
After losing several players in free agency, the New England Patriots have needs across their roster. Nate Solder, Malcolm Butler, Dion Lewis, Cameron Fleming and Danny Amendola are among the recent contributors who are now gone. They also have no young backup with potential behind soon-to-be 41-year-old quarterback Tom Brady.
Now, after trading Brandin Cooks for a first-round pick, Bill Belichick & Co. have the draft capital (picks 23, 31, 43, 63 and 95 in the first three rounds) to move into the top 10 of the 2018 draft. But Belichick is known to do the opposite — he likes trading down and acquiring extra picks, not trading up and mortgaging next year's picks. So what will New England do?
We asked a panel of four ESPN NFL Insiders to go inside the mind of The Hoodie and predict how the Patriots will finish April:
---
What's the No. 1 position the Patriots should target in the draft?
Matt Bowen, NFL writer: Drafting a young offensive tackle should be one of the top priorities after Solder signed with the Giants in free agency. And with Belichick now holding the No. 23 pick, Notre Dame's Mike McGlinchey and UCLA's Kolton Miller should both be high on the Patriots' draft board. But don't forget about the Patriots potentially targeting a linebacker with speed and versatility or adding more depth/competition in the secondary. Keep an eye on Alabama's Rashaan Evans here.
Mike Reiss, ESPN Patriots reporter: It's a toss-up between left tackle and off-the-line linebacker, with developmental quarterback slotted right behind those spots. How the team views 2017 third-round pick Antonio Garcia — who missed all of last season after reportedly having blood clots in his lungs — will determine how strongly they view the left-tackle need. In the end, the vote here is for an off-the-line linebacker who projects as a four-down player (think back to the struggles in coverage in Super Bowl LII). Those types of linebackers, of course, are rare.
Aaron Schatz, editor-in-chief of Football Outsiders: Left tackle. Garcia was supposed to be the heir apparent to Solder until last year's blood clot issues. He's expected to make a full recovery, but can he put all the weight back on and return to the field in time to be a starter by September? It's unlikely. LaAdrian Waddle is certainly not a starting-quality left tackle, and then there's the problem of depth: What if Waddle is forced into the lineup and then gets hurt?
Field Yates, NFL Insider: Left tackle. The draft, however, is not the only solution for the Patriots at this position. The reality is that the NFL has endured a near league-wide effect of college offensive linemen transitioning to the NFL, which traces in part to the saturation of spread offenses at the college level in which linemen play a decidedly different style than they will at the pro level. If the Patriots do not draft a left tackle in one of the first two rounds, offensive line coach Dante Scarnecchia is the team's ace in the hole to help ready an in-house candidate, be it recently re-signed Waddle, Garcia or Cole Croston, another second-year player.
A perfect 2018 draft for Belichick would be …
Bowen: If McGlinchey slips to No. 23, I see that as the safe bet for the Patriots in the first round with Belichick flipping the No. 31 pick for more draft capital. And if that's the case, it sets up the Patriots with a realistic shot at four Day 2 picks. That would put New England in line to draft a developmental quarterback, versatility at the linebacker position, secondary help and possibly get a boost at running back with Georgia's Sony Michel or USC's Ronald Jones II.
Reiss: They land a four-down off-the-line linebacker, potential left tackle of the future, and a Jimmy Garoppolo-type developmental quarterback, while also adding more assets to their 2019 draft stock (first-rounder, second-rounder, two projected third-round compensatory picks). It would really be a bonanza if they can find an Alvin Kamara type difference-maker in a deep class at running back (they haven't selected a RB since James White in 2014), and a combination tight end to groom behind Rob Gronkowski, who has been weighing how much longer he wants to play.
Schatz: A left tackle, a developmental quarterback, and a linebacker who can play in pass coverage. I'll also agree with Mike Reiss that there's a need for a young tight end here who can develop for when Gronk departs and be part of two-tight-end sets now. If the Patriots take a running back, it should be later in the draft; no team has done better developing late-round or undrafted running backs, and the Patriots don't really need a James White-type because they have James White for the next three years.
Yates: A left tackle, developmental quarterback and speed at linebacker and running back. That's asking a lot, but to address those needs — in that order — would put the team in another strong position to make a deep run in the 2018 season. More over, having a player like 2017 third-round edge rusher Derek Rivers healthy will only make for another likely contributor on the defensive front.
What's more likely to happen: New England trades into the top 10 to take a QB; New England trades out of the first round and takes a QB in the second round; or New England doesn't take a QB until Day 3 of the draft?
Bowen: Let's go with option "B." Think of Richmond's Kyle Lauletta, Oklahoma State's Mason Rudolph or Washington State's Kyle Falk as possibilities in this spot. This would allow the Patriots to stockpile more picks while adding a quarterback to mold behind Brady. And that would create time to truly develop a young player in offensive coordinator Josh McDaniels' scheme.
Reiss: The Patriots have entered the draft with multiple first-round picks five times in Bill Belichick's 18-year tenure, and in three of those years, they've traded out of the first round with one of the selections. So I'll take scenario "B" here. The Patriots are looking for Jimmy Garoppolo 2.0 and, let's not forget, they found him in the second round in 2014 (62nd overall).
Schatz: Another vote here for the Patriots doing what the Patriots are known for doing: They're more likely to trade down and/or use one of their second-round picks on a quarterback. Our QBASE system would favor Louisville's Lamar Jackson if he falls to the second round, and Rudolph otherwise.
Yates: Option "B." While the need for a developmental quarterback on the roster is apparent, mortgaging multiple picks (perhaps both first-rounders plus a second-rounder) to move into the top 10 would compromise the team's ability to replenish youth across the roster.
Will the Patriots come out of this draft with a first- or second-round pick in the 2019 draft?
Bowen: Yes. With Belichick holding the No. 31 pick, the Patriots are in the ideal spot to field calls from teams looking to jump back in the first round. Picture a situation there with a team moving up to draft Lamar Jackson if he's still on the board or LSU running back Derrius Guice. This would allow the Patriots to add another Day 2 pick this draft and another second-round pick in 2019.
Reiss: Belichick's long-term security, and willingness to be patient, has helped the Patriots take advantage of opportunities like this in the past when other franchises/regimes are operating with more urgency with their jobs on the line. That dynamic remains in play today, with Belichick showing signs he's still in it for the long haul and owner Robert Kraft putting his full support behind him. That increases the odds the Patriots will come out of the draft with a first- or second-round pick in 2019.
Schatz: That seems like a likely scenario if there's a trade down from one of those two first-round picks: Perhaps they flip No. 31 for a high second-round pick this year and a second-round pick in 2019.
Yates: Yes. While the Patriots are in a position right now to maneuver throughout this draft, it does not mean that they will be maneuvering upward (toward pick No. 1). There seems to be a near annual appetite for a team to trade into the back end of the first round to select a quarterback, which would position the Patriots to make a move built along the lines of (with other additional parts involved): a 2018 second- and 2019 second-round pick in exchange for their late 2018 first-round pick.
Bill Belichick cites salary cap for some of New England Patriots depth issues
FOXBOROUGH, Mass. — New England Patriots coach Bill Belichick said that his struggling 2020 team doesn't have the same level of depth as some past clubs, in part because of the salary cap, which has led to younger players being thrust into action.
The 2-4 Patriots, in the midst of their first three-game losing streak since 2002, visit the AFC East-leading Buffalo Bills (5-2) on Sunday.
"We're playing more young players than we've played in the past [for a] combination of reasons. We were pretty heavily invested in our team in the past few years. From a salary-cap standpoint, we didn't have much flexibility at all. I think that was obvious on the Cam Newton contract [one year, $1.05 million base salary]," Belichick told Sirius XM NFL Radio.
"Then we had some opt-outs, so we lost some players there that would normally have been giving us significant amount of playing time. And then like every year, a couple guys are banged up and we've missed some guys here and there in certain games. I think when you combine it all together, there is opportunity there; some of that opportunity has gone to younger players.
"This is kind of the year that we've taken to, I would say, adjust our cap from the spending that we've had in accumulation of prior years. We just haven't been able to have the kind of depth on our roster that we've had in some other years. That's provided more opportunity for younger players. So it's a combination of all the reasons."
The Patriots had an NFL-high eight players opt out of the 2020 season, led by linebacker Dont'a Hightower. As for the salary cap, the team has about $26 million in dead salary-cap space, which accounts for past deals with quarterback Tom Brady, receiver Antonio Brown and kicker Stephen Gostkowski, among others.
That limited their moves in the offseason as they were extremely tight to the cap, although had the Patriots struck an extension for Brady, they could have provided themselves with more relief.
Belichick's comments to Sirius XM NFL Radio, in the interview with former Patriots offensive coordinator Charlie Weis and Bill Lekas, were uncharacteristic for the normally tight-lipped coach. But with the Patriots having scored 10, 12 and six points in the past three games and with Belichick acknowledging early in the interview that talking to media members is a way to communicate with the team's fans, it was a message he seemed motivated to share with one of his former coaches.
Belichick also noted the disruption the team had after a 2-1 start, when Newton tested positive for the coronavirus two days before a road game against the Kansas City Chiefs. That led to a two-week stretch in which the Patriots hardly practiced.
"We had a good training camp. We played pretty well the first three weeks of the season. And then I'd say we regressed over the next two and a half weeks for a combination of reasons. We're trying to make that ground back up and more. We need to keep going forward. So that's what we're doing," he told Sirius XM NFL Radio.
"We're in that kind of space — we're getting better, but we need to get better faster and, like I said, make up for some lost ground where we didn't practice and had multiple players playing different spots on the offensive line. Things like that, where even the experience we got — it was beneficial, but it wasn't as beneficial as it could have been."
Chicago Bears' Allen Robinson clears concussion protocol, expected to play against New Orleans Saints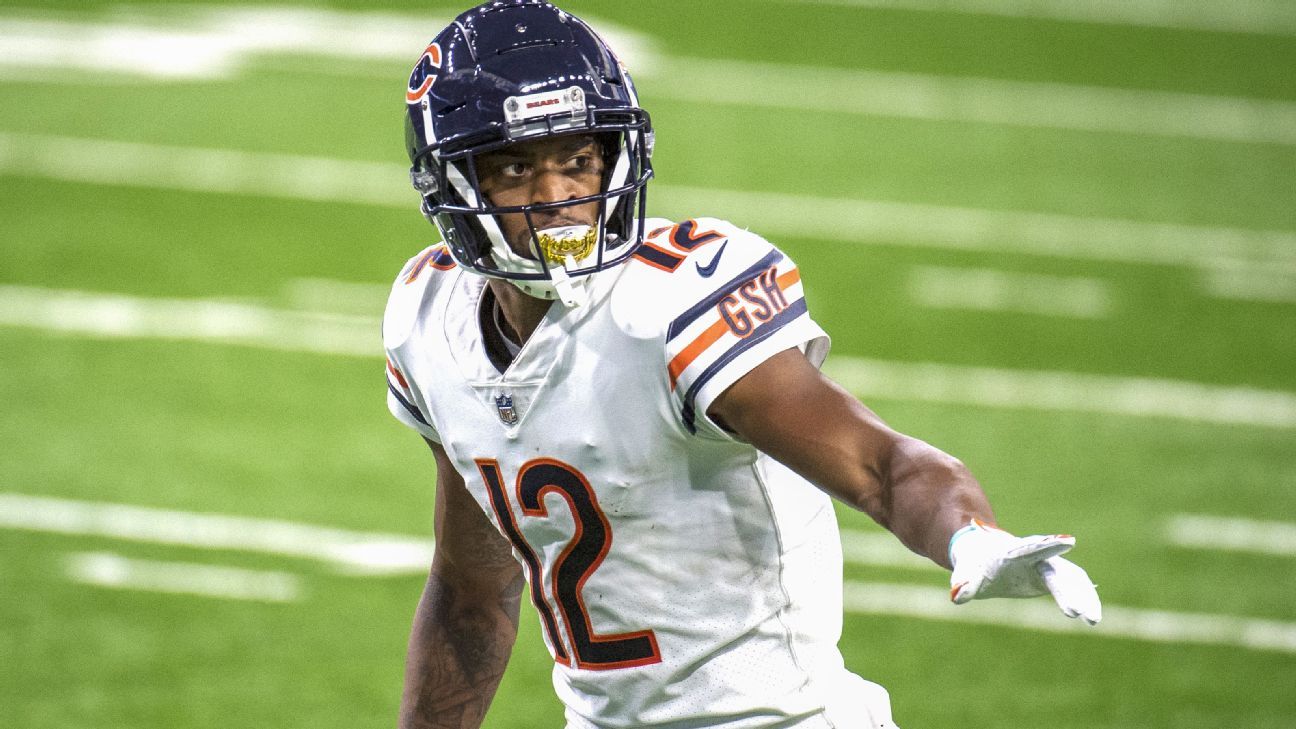 Chicago Bears wide receiver Allen Robinson has cleared the concussion protocol and is expected to play Sunday against the New Orleans Saints, the team announced Saturday.
Robinson was in protocol following a hit he took during the fourth quarter of Monday's loss to the Los Angeles Rams.
Robinson missed practice all week and was initially listed as doubtful.
The seven-year veteran leads Chicago with 44 receptions for 544 yards. Last year, he had a career-high 98 catches for 1,147 yards and seven touchdowns.
Robinson's availability boosts the Bears offense against the Saints, who will be without wide receivers Michael Thomas and Marquez Callaway while Emmanuel Sanders remains on the reserve/COVID-19 list.
Rams DPOY candidate Aaron Donald to welcome Tua Tagavailoa to NFL – Los Angeles Rams Blog
THOUSAND OAKS, Calif. — Aaron Donald knocked over Dallas Cowboys linemen as if they were bowling pins. He sprinted past the Buffalo Bills' line to take down quarterback Josh Allen twice. Then Donald ruined Alex Smith's return to football when he sacked the Washington quarterback three times after taking down Kyle Allen once.
"Aaron Donald is a freak," Rams coach Sean McVay said.
That might be an understatement about the Los Angeles Rams defensive tackle, who continues to wreak havoc in his seventh season and is making a case to win a third NFL Defensive Player of the Year award.
• Steelers vs. Ravens: Defense still dominates
• Surprises, disappointments in NFC North
• Eagles vs. Cowboys: NFC East outlook
• Brady defying Father Time, expectations
• Patriots historically bad during skid
"It's kind of outrageous," outside linebacker Leonard Floyd said of Donald's on-field exploits, particularly his four-sack performance against Washington. "I don't think anybody can top that."
Next up for the 5-2 Rams and Donald? The 3-3 Miami Dolphins and rookie quarterback Tua Tagovailoa, who will make his first career start Sunday.
"You go about it just like every other week," Donald said of facing the rookie quarterback. "They are starting him for a reason, so we're going to go into the game with the mindset that we've just got to go out there and do our job, just like every other week."
That should stoke some fear in Tagovailoa, who will be protected by an offensive line that has the third-worst pass block win rate in the league at 47.5%.
But Donald says getting into the backfield is the only way to make the rookie feel intimidated.
"The only way you can do that is putting pressure on them, getting to him, hitting him, not letting him be comfortable back there," said Donald, who has 5½ sacks in five career games against rookie starting quarterbacks. "So, if we do that up front, not just because he's a rookie quarterback, that's with any quarterback, you get to him."
Donald is tied for the NFL lead, along with Cleveland Browns defensive end Myles Garrett, with 26 pressures. He ranks second behind Garrett with eight sacks (Garrett has nine).
Last Monday in a 24-10 win over the Chicago Bears, Donald had a season-high seven pressures against quarterback Nick Foles, assisting in a 20-pressure effort by the Rams, which is tied for their most in a game over the past two seasons.
But first-year defensive coordinator Brandon Staley points to Donald's other contributions — those that don't show up on the individual stat sheet — as some of his most important.
"He does so much to help us win in the run game, in the pass game, the way we can move him around," Staley said. "He's not a guy that just lines up in one spot, he can line up all over the formation. The thing about a guy like him that I think is unique is he has all the individual production, but then you have to factor in the production that he creates for other players, too."
The Rams' defense ranks among the best in the league through seven games, giving up an average of 313 yards (ranks sixth) and 17.7 points (second) per game. They have 24 sacks (tied for third) and a pass rush win rate of 47.6% (sixth).
Floyd joined the Rams over the offseason on a one-year, $10 million contract after the Bears released him before his fifth year due to a lack of production.
In seven starts, Floyd has four sacks and 19 pressures, putting him on pace for a career-best season, in part because of the attention Donald attracts.
"It's been great playing with him," Floyd said. "He's a force on the inside and he's been making it easier for us on the outside."
Donald said he wasn't worried about winning Defensive Player of the Year: "The only thing I didn't accomplish, I feel like, is a Super Bowl, so that's my only thing, is trying to do everything I can to help this team to win and get back to the Super Bowl and this time win it."
But when asked if he would like to join the elite company of Lawrence Taylor and J.J. Watt as only the third player to earn the honor three times, Donald grinned and then chuckled uncomfortably.
"I'm just going week to week," Donald said. "And I'm just going to play ball and try to win games."