Los Angeles Angels' Shohei Ohtani ups the ante with dominant start – SweetSpot
To recap, this is what Shohei Ohtani accomplished over the past eight days:
Won his major league pitching debut, allowing three runs over six innings.

Homered in his first at-bat in front of the Los Angeles Angels' home fans, a three-run homer in the first inning off Josh Tomlin.

Hit a two-run homer the next night off reigning Cy Young winner Corey Kluber in the fifth inning to tie a game that the Angels eventually won 3-2 in extra innings.

Following an off day, homered for the third straight game, a mammoth 449-foot blast near the waterfall in left-center at Angel Stadium, to jump-start the Angels as they rallied from a 6-0 deficit to the Oakland Athletics.

In his first start at home, took a perfect game into the seventh inning on Sunday against the A's and finished with 12 strikeouts, one hit and one walk over seven frames, while registering 25 swing-and-misses — the most in the majors in 2018.
Maybe aside from some postseason pitching performances, it might have been the most exhilarating individual week and one day in major league history.
You can call that an exaggeration, and maybe you're more impressed by Johnny Vander Meer's back-to-back no-hitters over five days in 1938 or Ken Griffey Jr. matching Don Mattingly and Dale Long with home runs in eight consecutive games in 1993. But Ohtani pitched, he slugged, he dominated and the Angels went 5-0 in the games he played — all in his first full week in the majors.
It was something else.
As my colleague Christina Kahrl tweeted, this is Fernandomania plus Nomomania wrapped around the enthusiasm for the streaks of Griffey and Mattingly. It's all coming from a two-way wunderkind from Japan adapting to a new culture and with an enormous spotlight of hype.
The A's had no chance Sunday. In terms of raw stuff for a starting pitcher, Ohtani was right up there with Noah Syndergaard and Max Scherzer. He had fastball command, starting 15 of 23 batters with first-pitch strikes, hitting the corners or keeping it down in the zone. His slider doesn't have the wicked side-to-side movement like Scherzer's but rather works more like a change-of-pace curveball, spinning in at 80 mph to 82 mph. It was the splitter, however, that made the difference Sunday.
Ohtani threw the splitter 34 times. The A's swung 21 times. They missed 16 times. In his two starts, batters have missed on 26 of 37 swings against the splitter and are 0-for-19 against it. When you have to gear up for an upper-90s fastball and then Ohtani throws an 88 mph splitter that dives down … well, good luck.
The splitter is a popular pitch in Japan. Masahiro Tanaka has a good one, although he'll hang it from time to time and he doesn't throw as hard as Ohtani. Hisashi Iwakuma had a good one, but since his fastball topped out at 90 mph to 91 mph, hitters had a little better chance to adjust between the pitches. As Kahrl pointed out, Ohtani's dominance was reminiscent of Mike Scott in 1986, when Scott combined a good fastball with a splitter (back when few pitchers threw one) to strike out 306 batters and win the Cy Young Award.
Ohtani's best splitter might have been his final pitch of the outing. Marcus Semien had broken up the perfect game when he lined a base hit into left field off a 2-0 fastball. After a walk and groundout, Matt Olson came up with two outs and runners at second and third. Ohtani was tiring and this was pretty clearly his final batter, as the bullpen was getting loose. Olson laid off two splitters to get ahead in the count 3-1. Ohtani then painted the outside corner with a 98 mph fastball. I think everyone knew the splitter was coming, even Olson. He couldn't lay off it this time. Swing, miss, seven shutout innings.
Ohtani pumped his fist and slapped his glove in excitement. Yeah, he plays the game with some emotion, as well.
Welcome to the big leagues, kid. I can't wait to see what happens during your second week.
American League East shenanigans: The Boston Red Sox won 8-7 and the New York Yankees lost 8-7, but the scores barely tell the stories of those games.
Let's start with the Yankees, who blew a 5-0 first-inning lead to the Baltimore Orioles and lost in 12 innings as Jordan Montgomery could only get through four frames. After the Orioles scored in the top of the 12th, the Yankees loaded the bases against Brad Brach with no outs — and Aaron Judge and Giancarlo Stanton coming up. The Yankees' win expectancy at that point was 75 percent. Instead, Judge grounded into the rare 1-2-5 double play, and Stanton struck out — for the fifth time in the game, as he went 0-for-7.
That's already two five-strikeout games for Stanton, and if that seems rare, it is: In the modern era, only two other players have had two five-strikeout games in one season: Deron Johnson in 1964 and Ray Lankford — who had three — in 1998.
Lankford's games all were extra-inning affairs, and he had at least one hit in all three. Stanton is the first guy to have two five-strikeouts games with no hits in a season. All this after not having even a four-strikeout game last season. Through 10 games, Stanton is on pace for 49 home runs, 97 walks … and 324 strikeouts.
Needless to say, Yankees fans booed Stanton once again as he ended the game.
"They're not going to cheer for that," he said. "So what do you expect?"
Meanwhile, the Red Sox rallied with six runs in the eighth inning — after there were two outs and nobody on — to stun the Tampa Bay Rays. It was only the fourth date in MLB history that either the Yankees or Red Sox blew a five-run lead while the other rallied from a five-run deficit (not including games against each other). Mookie Betts tied it with a two-out single, then Andrew Benintendi doubled in Betts. Speaking of win probability, the Rays' odds were at 97.9 percent before the rally started.
— Hanley Ramirez ⚾️ (@HanleyRamirez) April 8, 2018
The Red Sox have started 8-1 for the first time in franchise history. The Rays' disastrous spring training has spilled over into the regular season with a 1-8 start. The Red Sox have opened up a 3.5-game lead on the Yankees, which means almost nothing this early in the season, but it does mean a little something. If the Yankees had a 52 percent chance (to Boston's 48) to win the division on Opening Day, maybe those odds now swing in favor of the Red Sox. FanGraphs has the Red Sox with a 49.7 percent chance to win the division, the Yankees at 43.5 and the Blue Jays at 6.7 (and don't forget the Orioles at 0.1).
Oh, and the Yankees and Red Sox meet on Tuesday at Fenway Park with a duel of aces, Luis Severino versus Chris Sale (ESPN, 7 p.m. ET).
Torey Lovullo has no love for Yadier Molina: Not best friends …
Yadier Molina had to be held back after Diamondbacks manager Torey Lovullo gestured towards him while arguing a call. pic.twitter.com/tGC68gHQBq

— SportsCenter (@SportsCenter) April 8, 2018
After Sunday's game, Lovullo expressed he has the utmost respect for Molina and said he "used a poor choice of words" to which Molina took offense. My guess is it was something like, "That [expletive] is framing pitches."
Anyway, the Arizona Diamondbacks got the last laugh with a 4-1 victory, scoring three runs in the eighth off the St. Louis Cardinals' bullpen, as David Peralta hit a two-run homer off Dominic Leone and AJ Pollock homered off Mike Mayers.
A potential breakout performer: Pittsburgh Pirates righty Jameson Taillon spun a one-hit shutout against the Cincinnati Reds — opposing pitcher Tyler Mahle got the only hit — as the Pirates improved to 7-2. Taillon, the second overall pick in 2010 (one spot ahead of Manny Machado), has seen his career interrupted by Tommy John surgery in the minors and then testicular cancer last season, so he's yet to throw a complete season in the majors. He had a strong first half last season, before posting a 5.96 ERA in the second half. That could have been fatigue, but it seems there was some bad luck with balls in play, as well, as his strikeout-to-walk ratio and home run rate remained consistent.
Special day. Thanks to the fans that braved that cold weather and stayed to the end. Amazing work on defense by everyone, and always love working with my brother @fran_cervelli! Let's win some games on this road trip!

— Jameson Taillon (@JTaillon19) April 8, 2018
The Pirates are 7-2, exactly the kind of start a young team like this needed. Sure, they're a dark horse playoff contender, but they have all the ingredients you look for in a surprise team:
Some young starters who could take off, such as Taillon, Chad Kuhl and Steven Brault or Trevor Williams. Two position players coming off bad seasons, in Starling Marte and Gregory Polanco, who should be much better. Josh Bell, who should have better numbers in his second season. Felipe Rivero should lock down the ninth. If Colin Moran and Corey Dickerson provide some left-handed power, the lineup could be sneaky good.
Milwaukee Brewers turn to Brent Suter for Game 1 start vs. Los Angeles Dodgers
LOS ANGELES — The Milwaukee Brewers, still scrambling after the sudden loss of ace Corbin Burnes, will start left-hander Brent Suter in Game 1 of the team's National League wild-card series against the Los Angeles Dodgers on Wednesday night.
Brewers manager Craig Counsell wouldn't specify parameters for Suter — "The parameters are to get people out," Counsell said — but Suter hasn't recorded more than 12 outs or thrown more than 59 pitches this season. Both of those occurred in Suter's most recent appearance, on Friday, when he threw four scoreless innings in a spot start against the St. Louis Cardinals.
His next appearance will come in the crucial tone-setter of a best-of-three series opposite electric right-hander Walker Buehler (first pitch from Dodger Stadium is 10 p.m. ET on ESPN). The decision leaves Brandon Woodruff, Milwaukee's best healthy starter by a wide margin, to pitch on normal rest in Thursday's Game 2.
Suter throws his fastball in the mid-80s, but he is effective at generating ground balls and was able to strike out 38 batters in 31⅔ innings this season, coupling that with a 3.13 ERA. The Brewers lined it up weeks ago for Burnes to start Game 1 of a potential postseason series, then watched him suffer what could end up being a season-ending oblique strain on Thursday.
"We're on Plan B," Counsell said of Suter, "but it's a good Plan B."
Suter's start, regardless of its effectiveness, will force the Brewers to rely heavily on their relievers from the onset. Devin Williams and Josh Hader provide them with one of the best bullpen duos in the postseason, but those two won't be able to pick up all of the remaining innings in Game 1 without being unable to bounce back to pitch in Game 2. Pitchers such as Eric Yardley, Corey Knebel, Drew Rasmussen and others — potentially starters like Josh Lindblom or Adrian Houser — will have to step up.
"We're gonna need contributions from relievers beyond those two guys," Counsell said. "That's absolutely important. It's obviously more important in a day like tomorrow."
MLB video reviews overturned 42% of checked calls in regular season
NEW YORK — Video reviews overturned 42.4% of calls checked during Major League Baseball's shortened regular season, down slightly from 44% in 2019.
The Boston Red Sox were the most successful team, gaining overturned calls on 10 of 13 challenges for 76.9%. The Chicago White Sox were second, successful on 8 of 11 challenges for 72.7%, followed by the Kansas City Royals at 7 of 10 (70%).
The Pittsburgh Pirates were the least successful at 2 of 11 (18.2%), and the Toronto Blue Jays were 7-for-25 (28%).
The Minnesota Twins had the most challenges with 28 and were successful on nine (32.1%). The New York Yankees and Milwaukee Brewers tied for the fewest with nine each; the Yankees were successful on five (55.6%) and the Brewers three (33.3%).
MLB said Tuesday there were 468 manager challenges and 58 crew chief reviews among 526 total reviews during 898 games. The average time of a review was 1 minute, 25 seconds, up from 1:16 the previous season, when there were 1,186 manager challenges and 170 crew chief reviews among 1,356 reviews during 2,429 games.
This year's replays saw 104 calls confirmed (19.8%), 181 that stood (34.4%) and 223 overturned. An additional 12 calls (2.3%) were for rules checks and six (1.1%) for recording-keeping.
In 2019, there were 277 calls confirmed (12.5%), 463 that stood (34.1%) and 597 overturned. An additional nine calls (0.7%) were for rules checks and 10 (0.7%) for record-keeping.
Expanded video review started in 2014.
Minnesota Twins' torture — Breaking down their record MLB playoffs losing streak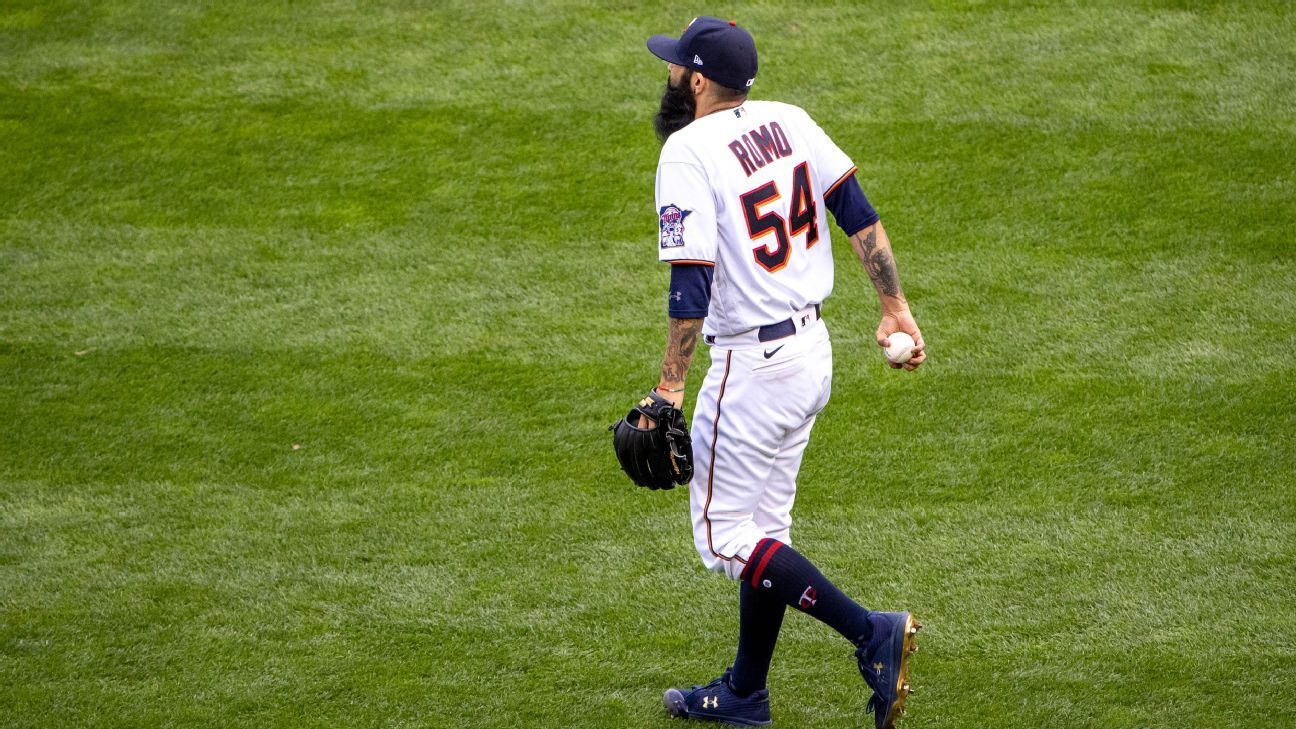 The playoff format changed, but the nightmare continues for Minnesota Twins fans.
After losing their 2020 postseason opener to the Houston Astros in heartbreaking fashion, the Twins extended their MLB playoffs losing streak to a record 17 games (and counting).
Here's a game-by-game walk-through of the Twins' tunnel of misery.
2020 AL Wild Card Series
Game 1 (Sept. 29 at Min.): Astros 4, Twins 1
A new year and another round added to the playoffs just added another dose of misery for the Twins with Sergio Romo walking in the go-ahead run in the ninth inning of a series-opening loss to the Houston Astros. The defeat runs Minnesota's record skid to 17 games with another chance to snap it Wednesday afternoon.
2019 AL Division Series
Game 3 (Oct. 7 at Min.): Yankees 5, Twins 1
The Yankees have been the Twins' particular nemesis during the painful stretch, handing Minnesota 13 of the 17 defeats, including the series-ender in Game 3 at Target Field.
The air was sucked out of Target Field early, as the Twins came up empty on a bases-loaded, nobody-out situation in the bottom of the second while already trailing 1-0 on a Gleyber Torres homer. Eddie Rosario provided a little life with a solo homer in the bottom of the eighth, but given the history, it had to be hard for even Minnesotans to get too excited. Aroldis Chapman kept them — and the Twins — in check.
Game 2 (Oct. 5 at N.Y.): Yankees 8, Twins 2
This one was over early. Didi Gregorius, whose three-run home run in the 2017 wild-card game erased the Twins' first-inning lead, hit a back-breaking grand slam during a seven-run third inning.
Game 1 (Oct. 4 at N.Y.): Yankees 10, Twins 4
The Twins' record-setting loss featured a franchise postseason-best three home runs, but Jose Berrios and a procession of relievers got pummeled by the Yankees. The big hit? A two-run, bases-loaded Gleyber Torres double in the fifth that broke a 3-3 tie.
2017 wild-card game
Oct. 3 at N.Y.: Yankees 8, Twins 4
The Twins carried the baggage of a nine-game postseason losing streak against the Yankees (and 12 games overall) into the Bronx. Things started well enough for Minnesota — three runs in the top of the first off Yankees starter Luis Severino, who recorded just one out — but that didn't last long. New York countered with three runs in the bottom of the first off Ervin Santana, then took the lead for good in the third on Greg Bird's two-out single off Jose Berrios.
2010 AL Division Series
Game 3 (Oct. 9 at N.Y.): Yankees 6, Twins 1
In his only season as an All-Star, New York's Phil Hughes made his first (and best) postseason start, shutting down his future team on four hits over seven innings to complete a three-game sweep. Swept out of the playoffs by the Yankees for the second straight year, the Twins wouldn't return to the postseason for seven years.
Game 2 (Oct. 7 at Min.): Yankees 5, Twins 2
In the eighth straight postseason meeting, the Twins took the lead over the Yankees, only to let it slip away. With the game tied at two in the bottom of the sixth, a tiring Carl Pavano gave up two runs and didn't record another out, as a Lance Berkman double and a Derek Jeter single put the Yankees on top for good. Minnesota went nine up, nine down in the last three innings.
Game 1 (Oct. 6 at Min.): Yankees 6, Twins 4
Coming off one of his best seasons with the Twins, Francisco Liriano cruised through five two-hit innings, then hit a wall, coughing up a 3-0 lead. Minnesota tied the score on a bases-loaded walk in the sixth, but the Yankees regained the lead in the seventh on a two-run homer by Mark Teixeira. The Twins stranded five runners in the last three innings.
2009 AL Division Series
Game 3 (Oct. 11 at Min.): Yankees 4, Twins 1
Andy Pettitte and Pavano were engaged in a solid pitchers' duel before the Twins broke through to take a 1-0 lead in the bottom of the sixth. But as has often been the case in these meetings, the Yankees answered quickly, with Alex Rodriguez and Jorge Posada hitting solo home runs in the seventh. New York tacked on two insurance runs in the ninth before Mariano Rivera sent Minnesota packing.
Game 2 (Oct. 9 at N.Y.): Yankees 4, Twins 3 (11 innings)
This was perhaps the most painful loss of the bunch. After Hughes got two quick outs in the top of the eighth of a 1-1 game, a walk and single set up Nick Punto to give the Twins the lead with a single, and a Denard Span single off Rivera made it 3-1. But in the bottom of the ninth, Twins closer Joe Nathan gave up a leadoff single to Teixeira, and Rodriguez followed with a two-run blast to right-center to tie the game. In the 11th, the Twins loaded the bases with nobody out but squandered the opportunity, then Teixeira put them out of their misery with a laser beam of a walk-off homer off Jose Mijares.
Game 1 (Oct. 7 at N.Y.): Yankees 7, Twins 2
The 103-win Yankees figured to roll over the 87-win Twins, but Minnesota struck first, with two third-inning runs off CC Sabathia. Jeter countered with a two-run homer to tie it in the bottom of the inning, and the Yankees were off and running. The big blow was a two-run homer by Hideki Matsui in the fifth off Liriano.
2006 AL Division Series
Game 3 (Oct. 6 at Oak.): A's 8, Twins 3
Facing elimination, the Twins didn't put up much of a fight, as Brad Radke, in his final big league appearance, gave up four runs — Eric Chavez and Milton Bradley went deep — in the first three innings. Minnesota never recovered.
Game 2 (Oct. 4 at Min.): A's 5, Twins 2
After Twins starter Boof Bonser held Oakland to two runs over six innings, Minnesota tied it on back-to-back homers by Michael Cuddyer and Justin Morneau. With two outs in the top of the seventh, the A's Mark Kotsay hit a sinking liner to center, and the usually reliable Torii Hunter made an ill-advised dive for the ball, which skipped past him and rolled to the wall. Kotsay, bad back and all, circled the bases for a two-run, inside-the-park home run — and that was that.
Game 1 (Oct. 3 at Min.): A's 3, Twins 2
To open the 2006 playoffs, the Twins' Johan Santana, at the height of his powers in his second Cy Young season, faced off against Oakland lefty Barry Zito, no slouch himself. Santana was touched for two runs in the second inning (Frank Thomas hit a solo homer, Marco Scutaro an RBI double), and Zito allowed only a seventh-inning solo shot to the Twins' Rondell White that made it 2-1. Both teams scored in the ninth (the A's on another Thomas homer), but Oakland's Huston Street got White on a fly out to end it.
2004 AL Division Series
Game 4 (Oct. 9 at Min.): Yankees 6, Twins 5 (11 innings)
This one stung. Facing elimination, Minnesota was cruising with a 5-1 lead (and 96% win expectancy) heading into the eighth inning. But things unraveled quickly for the Twins and reliever Juan Rincon. It went like this: single, wild pitch, walk, run-scoring single, strikeout, three-run homer by Ruben Sierra. Tie game. It stayed that way until the top of the 11th, when Rodriguez doubled, stole third and scored on a wild pitch by Kyle Lohse. Meanwhile, Tom Gordon and Rivera combined to retire the last 10 Twins batters in order, and the Yankees celebrated on the Metrodome carpet.
Game 3 (Oct. 8 at Min.): Yankees 8, Twins 4
Minnesota's Jacque Jones jumped on Yankees starter Kevin Brown with a solo homer in the bottom of the first. But New York answered with three in the second, then tacked on four more runs in the sixth to win.
Game 2 (Oct. 6 at N.Y.): Yankees 7, Twins 6 (12 innings)
The loss that started it all was a serious gut punch for the Twins. After a 2-0 win in Game 1 of the series, Minnesota staged a two-run rally in the eighth inning off Rivera to tie Game 2. In the 12th inning, a Torii Hunter homer off Tanyon Sturtze gave the Twins a 6-5 lead. But Joe Nathan, in his third inning of work, ran out of gas, issuing one-out walks to Miguel Cairo and Jeter before a ground-rule double by A-Rod tied it. J.C. Romero replaced Nathan, who threw 53 pitches, and on Romero's first pitch, Hideki Matsui hit a line drive to right that brought Jeter home for the winning run. Instead of leaving New York with a 2-0 series lead, the Twins were on a road to postseason ruin they wouldn't be able to exit for at least 15 years.