Cleveland Indians activate OF Michael Brantley (ankle) before home opener
CLEVELAND — Indians outfielder Michael Brantley has been activated from the disabled list for the team's home opener.
Brantley missed Cleveland's first six games while recovering from offseason ankle surgery, but the two-time All-Star is in the starting lineup and batting fifth Friday as the Indians host the Kansas City Royals.
"I couldn't sleep last night," he said Friday. "I'm nervous right now."
To make room for Brantley, Cleveland optioned Tyler Naquin to Triple-A Columbus.
Brantley has been limited to 101 games over the past two seasons because of injuries. Despite that, the Indians picked up his $12 million contract option for 2018 and are hoping he can stay healthy as they try to defend their AL Central title and end a World Series championship drought dating to 1948.
"I feel great right now, and that is all that matters," Brantley said. "One day at a time. I understand that I've been banged up for the last couple years, but at the same time, I'm as focused as ever. Look to come into the season and go out every day and compete, be a great teammate."
Brantley, 30, batted .299 with nine homers and 52 RBIs in 90 games last season. He was one of baseball's best stories, making a strong comeback and the All-Star team.
Then he hurt his ankle late in August, twice went on the DL and struggled in the postseason, batting .091.
The Indians feel Brantley's impact goes way beyond what he does in the batter's box or field.
"He means so much to what we're doing, and when he's playing, it's a position you don't mess with," Indians manager Terry Francona said. "You wind him up, let him go and that means you can maybe mix and match in other positions or do some other things because that position is solidified. It's really nice to have him back.
"Nobody has a crystal ball and you don't know who is going to get hits, but his being and what he means to everybody will really be helpful."
Brantley said he appreciates the club's loyalty for sticking with him through the injuries.
"Means a lot," Brantley said. "But it also is a testament to what I do in the locker room to be the best teammate that I can. What I do on the field when I'm available, and just try and work as hard as I can, just be there for my teammates, and all the work I've put these years I've been in Cleveland. I greatly appreciate them for it because there is nowhere else I want to be.
"We have unfinished business in this locker room and we look to get it done."
Los Angeles Dodgers-Tampa Bay Rays World Series TV ratings average drops 32% below previous low
ARLINGTON, Texas — The Los Angeles Dodgers' six-game win over the Tampa Bay Rays received an average television rating 32% below the previous World Series low.
The six games on Fox averaged a 5.2 rating, 12 share and 9,785,000 viewers, Nielsen Media Research said Wednesday. The previous low was a 7.6 rating, 12 share and 12,660,000 viewers for the San Francisco Giants' four-game sweep of the Detroit Tigers in 2012.
This year's rating was down 36% from the 8.1 rating, 16 share and average of 14,067,000 viewers for the Washington Nationals' seven-game win over the Houston Astros last year.
Los Angeles' 3-1 win in Game 6 on Tuesday night drew a 6.8 rating, 15 share and an average of 12,627,000 viewers, down from a 9.6 rating, 19 share and average of 16,551,000 viewers for Washington's 7-2 win in Game 6 last year.
Last year's Series average was boosted by Game 7, when the Nationals' 6-2 win drew a 13.1 rating, 25 share and an average of 23,217,000 viewers.
Fox said when Spanish-language coverage on Fox Deportes and streaming platforms were included, Game 6 averaged 13,215,000 viewers.
The audience for the Dodgers' first title clincher since 1988 peaked at 14,351,000, Fox's largest Tuesday night audience since Game 6 last year.
Game 6 drew a 27.5 rating and 48 share in Los Angeles, the highest for the Dodgers in the market since the Game 7 loss to Houston in 2017 drew a 36.7 rating and 56 share. The final game drew an 18.2 rating and 33 share in Tampa, Florida, the highest for the Rays there since the fifth and final game of the 2008 World Series against Philadelphia drew a 29.8 rating and 42 share.
This year's Series averaged a 21.2 rating and 40 share in Los Angeles, and a 15.2 rating and 29 share in Tampa.
The rating is the percentage of television households tuned in to a broadcast. The share is the percentage viewing a telecast among those households with TVs on at the time.
Ratings have been lower for sports this fall, a drop possibly attributable to lower viewership during the coronavirus pandemic and competition from programming related to the presidential election.
Colorado Rockies opt for $6 million buyout to Daniel Murphy
DENVER — The Colorado Rockies declined infielder Daniel Murphy's $12 million option on Wednesday, bringing a close to his two-year stint with the team.
Murphy, 35, will receive a $6 million buyout.
He never really flourished at hitter-friendly Coors Field after signing a $24 million, two-year deal — with a mutual option for '21 — in December 2018. He hit .269 with 16 homers and 94 RBIs in 172 games with the Rockies. He dealt with a finger injury in his first season in Denver.
Colorado brought in Murphy to play first base, but he was replaced this season by Josh Fuentes, who's the cousin of Rockies All-Star third baseman Nolan Arenado. Fuentes batted .306.
Murphy is a three-time All Star and a .296 career hitter with the New York Mets, Washington Nationals, Chicago Cubs and the Rockies.
St. Louis Cardinals not picking up 2021 option on Kolten Wong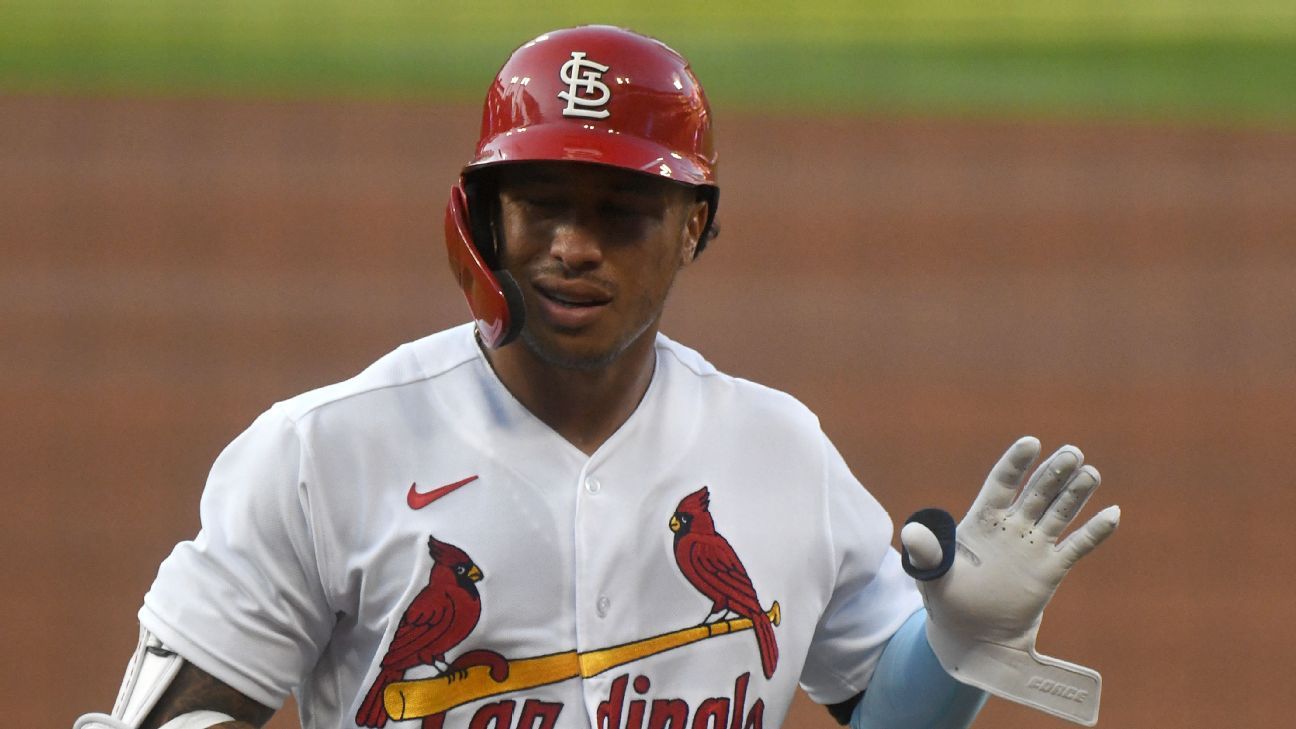 The St. Louis Cardinals on Wednesday declined Kolten Wong's $12.5 million option for the 2021 season, allowing their longtime second baseman to become a free agent.
The Cardinals will pay Wong a $1 million buyout.
"We have both agreed to keep the door open," Cardinals president of baseball operations John Mozeliak told reporters, according to the St. Louis Post-Dispatch.
If the Cardinals do not re-sign Wong, Tommy Edman would be the team's starting second baseman, Mozeliak said.
Wong, 30, hit .265 with a home run and 16 RBIs in 53 games this season. In eight seasons with the Cardinals, he has a .261 average with 53 home runs and 281 RBIs.