Julian Edelman of New England Patriots helps stop potential school shooter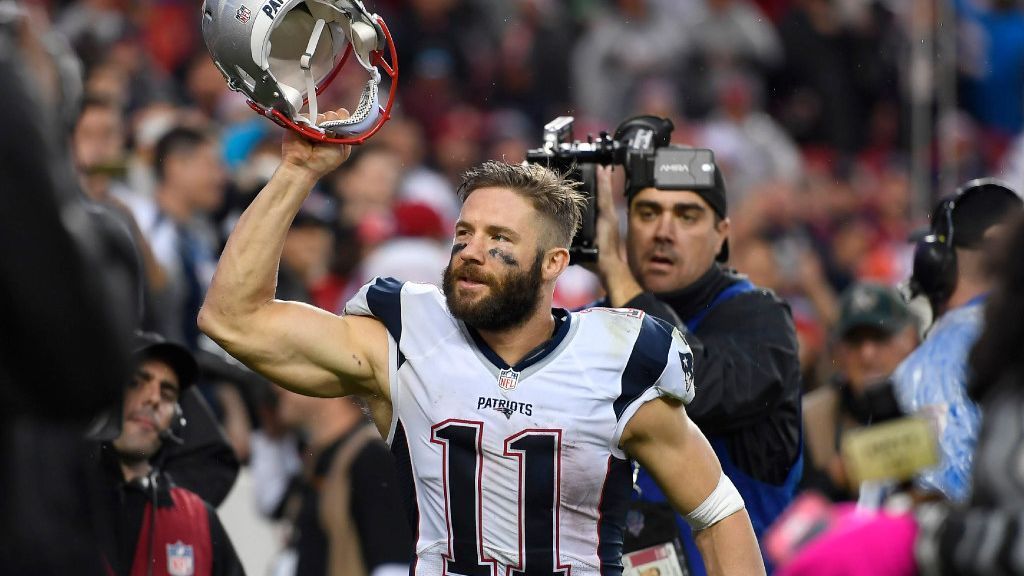 New England Patriots wide receiver Julian Edelman is prolific on his personal Instagram account, and his interaction with those who follow him might have prevented a potential tragedy.
As first reported in The New York Times, Edelman was visiting former teammate Danny Amendola in Texas in late March when he received a direct message on Instagram that read, "Dude, there is a kid in your comment section says he s going to shoot up a school, I think you should alert the authority."
In an interview with the Times, Edelman explained that he notified his assistant in Boston, who found the message that read: "I'm going to shoot my school up watch the news."
Edelman's assistant then called 911, and the message was ultimately traced to a 14-year-old boy in Port Huron, Michigan. When police arrived at the boy's home, according to the Times, he admitted to posting the threat. Authorities also found two rifles that belonged to his mother, a police chief told the Times.
The boy was taken to a juvenile-detention center and remains there after being charged with making a false report of a threat of terrorism.
Edelman plans to send something to the Instagram follower who alerted him about the threat, telling the Times, "He's the real hero."
"It's not good enough anymore to disregard comments like those as offhanded," said Don Yee, who is Edelman's agent. "All of us, including players, are learning together to take these kinds of things very seriously."
Philadelphia Eagles' Doug Pederson sacks questions about Carson Wentz struggles
PHILADELPHIA — Eagles coach Doug Pederson came to quarterback Carson Wentz's defense Wednesday when asked about some of the "lay-up" throws he has missed over the first two weeks of the season.
"Have you played quarterback in the National Football League?" Pederson shot back at the questioner, who said he had not.
"They're not lay-ups. There ain't a throw out here that's a lay-up. And so, some of it is just timing with young guys; some of it is just Carson just being not accurate at that particular time. It could be that there's a defensive guy that flashed a hand where he's gotta change his arm angle at a split-second. There's all kinds of reasons for accuracy, and these are things that we continue to work on and will continue to work on the entire season."
Wentz has struggled early on for the 0-2 Eagles. He is tied for most interceptions (four) through two weeks, ranks 29th in completion percentage (58.8), 32nd in yards per attempt (6.0) and is ahead of only Kirk Cousins in quarterback rating (64.4).
His 40.7% on-target pass rate is currently the lowest of any starter in the NFL, according to Pro Football Focus.
"There's a handful in every game you want back. In losses, we talk about them a little more. It's something that I want to get better at," Wentz said of his bouts of inaccuracy. "Some of it is timing, some of it is just trusting what I'm seeing, trusting myself, and then just physically making the throw.
"I'll be fine. I'm not panicking or pressing on it."
There is some panic in Philadelphia, however, with questions being raised about the play of their franchise quarterback, who is 14-15 as a starter since his magical run in 2017.
Any talk of regression had not made its way to Wentz, though, at least until his session with reporters Wednesday.
"I don't keep hearing that. I don't know what's being said. But what people say or how they feel, everybody is entitled to their own opinion," he said. "And this how I've been my whole career: I don't get worked up about what people say, write, feel. I'm confident in myself, I'm confident in this team."
Wentz and the Eagles have a chance to turn things around Sunday against the Cincinnati Bengals.
Jets S Bradley McDougald, LB Avery Williamson question 'slow' practices amid 0-2 start
Not only are the New York Jets playing poorly on Sundays, but they are not practicing with a sense of urgency, according to two defensive players.
In recent days, safety Bradley McDougald and linebacker Avery Williamson have questioned the team's practice habits. Intentional or not, their comments will be perceived as criticism of coach Adam Gase, who has come under fire after an 0-2 start.
"It all goes back to practice. We've had some slow practices, and it correlates to the game," McDougald told SNY TV after Sunday's 31-13 loss to the San Francisco 49ers. "We need to have a complete, full week of just great practices, and I don't think we've had that yet.
"The sooner we realize that and hone in on how important practice is and coming out and winning at practice, then it will translate to the games on Sunday."
Williamson, in his weekly spot Tuesday on WFAN radio, agreed with McDougald's assessment.
"Sometimes, in practice, guys are missing tackles or we're not doing things right," Williamson said. "We haven't been as crisp as we should be at times. … We don't start fast at practice."
Same for the games.
The Jets have trailed at halftime by the same score, 21-3, in both losses. Against the 49ers, they allowed an 80-yard touchdown run on the first play from scrimmage, the start of another poor performance by the defense.
"Until we dominate at practice on Wednesday, Thursday and Friday, Sunday is going to be a toss-up," said McDougald, acquired in the July trade that sent safety Jamal Adams to the Seattle Seahawks.
Gase said he received a text Tuesday from Williamson, who apparently wanted to clarify his radio remarks. The coach said he wasn't aware of the comments.
"Until [the PR department] tells me, I probably won't know because I don't even open internet browsers right now," Gase joked.
The players' opinions are somewhat surprising because defensive coordinator Gregg Williams is known for his intense practices, and Gase disagreed with their sentiment.
"Nobody said anything during the week," he said. "I felt like we had really good tempo to practice. Sometimes an individual guy, if he wants to change something, we talk about it every week. It's not like it's not an open forum. If somebody doesn't like the way something is going, we can easily speak up."
The Jets travel to the Indianapolis Colts (1-1) on Sunday, looking to avoid their second consecutive 0-3 start. Gase is 7-11 as the Jets' coach, with nine of the losses by at least 10 points.
Gase said if the players are unhappy with the practice intensity, now is the time to change it.
"If that's the feeling they have, we have a chance to ramp it up and make sure we're doing what we need to do in individuals and pick up the tempo," he said. "I haven't necessarily felt that."
Falcons receiver Julio Jones' status for Bears game uncertain after re-injuring hamstring
Atlanta Falcons coach Dan Quinn said star receiver Julio Jones re-injured his left hamstring in last Sunday's 40-39 loss to the Dallas Cowboys, and the team will monitor Jones' status through the week to determined his availability for this week's matchup with the Chicago Bears.
Jones admitted after the Dallas game that his injured hamstring effected his ability to run and even said it factored "a little" when he dropped a pass from fellow wide receiver Russell Gage that could have been a game-changing, 41-yard touchdown in the third quarter. After the play, Jones was on the sideline getting his left leg stretched out.
"He definitely strained it in the game from where he felt from Wednesday and Thursday and Friday of doing reps and going through it," Quinn said. "We'll take it all the way through (the week). This is a guy who really understands his body; knows how to work through it. But in his defense, certainly he was ready to go and battle for it all the way through."
Jones had just two catches for 24 yards on four targets against the Cowboys. Quinn pointed out how Jones still drew double teams and created "assists" for his fellow receivers. Emerging star Calvin Ridley had seven catches for 109 yards and two touchdowns on 10 targets; Russell Gage had six catches for 46 yards and one touchdown on nine targets.
Quinn said last week Jones' hamstring has been bothered him for a few weeks. Jones appeared to first tweak it during a scrimmage at Mercedes Benz-Stadium on Aug. 28. Jones was spotted wearing a compression sleeve on his left leg and rubbing the hamstring during a Sept. 1 practice.
The hamstring didn't appear to hamper Jones in a 38-25 season-opening loss to the Seattle Seahawks as he caught nine passes for 157 yards on 12 targets.
Jones, who has dealt with minor nagging injuries throughout his career, missed one game last season due to a shoulder injury.
The Falcons have a number of players banged up including starting right tackle Kaleb McGary (MCL), safety and captain Ricardo Allen (hyperextended elbow), projected starting cornerback Kendall Sheffield (foot), linebacker Foye Oluokun (hamstring), and defensive lineman Dante Fowler Jr. (ankle), Takk McKinley (groin), Marlon Davidson (knee), and Charles Harris (ankle).