Real or Not: Shohei Ohtani provides a taste of why the hype was legit – SweetSpot
After watching Shohei Ohtani's major league debut on the mound, here's a little piece of advice: Let this play out. Don't rush to any judgments. Appreciate the athlete, applaud his pursuit of something that hasn't been done in 100 years, and sit back and enjoy performances like the one he gave on Sunday.
The hype around Ohtani was tempered a bit after an unimpressive spring training, but with the bright lights of the regular season turned on, Ohtani showed the stuff and the makeup that makes his potential as a pitcher so exciting. He reached 100 mph on the radar gun a couple times, averaged 97.8 mph with his fastball and hit 98 in his final inning of work in the sixth and retired 14 of his final 15 batters. This was the pitcher every team dreamed of signing.
The Los Angeles Angels held off the Oakland Athletics 7-4, with Ohtani earning the win. It wasn't a perfect outing. In the second inning, he hung a slider that Matt Chapman crushed for a three-run home run. His fastball command was shaky at times, and his slider was inconsistent, although it became sharper as the game went on. Most impressive was how he settled down after Chapman's home run, not rattled by one mistake. After a long rest in the top of the sixth, he finished off his outing in quick order, retiring the A's on eight pitches.
The raw stuff was obviously impressive. He induced 18 swing-and-misses — Angels starters beat that just three times in 2017, and only one pitcher (Alex Colome) generated more misses in his first career start over the past 10 seasons. The splitter will definitely be his big strikeout weapon as five of his six strikeouts came on that pitch. He had a tendency to yank his fastball to right-handed batters when trying to hit the outside corner, and the slider at times looked more like a lazy curveball. Based on the Statcast pitch readings, he has a couple different splitters, one that dives down and one that moves more horizontally. He kept bouncing fastballs in the dirt in Arizona, but he had only a couple of those on Sunday, a sign of a more consistent release point.
He worked from the stretch the entire game and I saw just one overt display of emotion, when he pulled a 2-2 fastball to Chapman in the fourth and shook his head in disgust. But he went on to strike him out with a 3-2 splitter. Ohtani's competitiveness has been heralded, and perhaps that was what we saw on Sunday: That spring training is just a way to get ready for the season and Ohtani kept to his routine and kept his best stuff for when it matters. Keep in mind that because of ankle surgery he pitched just 25 innings last season, so some of the problems during spring training may have just been rust. He has to deal with a baseball that is slightly different from the one used in Japan (where the ball is softer and has higher seams) while handling all the culture changes.
And he has to do this under intense scrutiny. The A's issued 240 credentials just to members of the Japanese media. As Ohtani emerged from the dugout to take his pregame warmup, a throng of photographers besieged him, temporarily blocking his way to the bullpen. As Tim Keown wrote, "The magnitude of this moment should not be minimized."
Indeed, Ohtani has become the first player to start a game at pitcher and as a DH or position player in the same season since Rick Rhoden of the Yankees in 1988. Rhoden was a good-hitting pitcher, but it happened just once and was mostly a gimmick by manager Billy Martin. You may remember Brooks Kieschnick, who started seven games in the outfield or at DH with the Brewers in 2003, but all 42 of his pitching appearances came in relief. Rick Ankiel won 11 games as a rookie starter with the Cardinals in 2000 and later made it back to the majors as an outfielder.
Before Rhoden, there was the interesting case of Willie Smith, who reached the majors as a pitcher in 1963. With the Angels in 1964, he made one start and 14 relief appearances through mid-June, posting a 2.84 ERA, but the Angels converted him to an outfielder in midseason — remarkably, batting him cleanup in just his second start in the outfield. Once he started playing the field, however, he stopped pitching. The last player to start at least five games on the mound and five as a position player in the same season was Clint Hartung with the Giants in 1947. So, yes, Ohtani's attempt to play both ways is remarkable in itself.
While Ohtani showed his potential on the mound, there are more questions about him at the plate. Nobody denies his raw power, but will he be able to tap into it? In his start at DH on Opening Day, he pulled four ground balls, one of which went for a hit, and struck out once. On MLB Network Radio the other day, former general manager Jim Bowden suggested he was cheating a bit on inside fastballs — the pitch he had trouble getting around on during spring training — which can cause a batter to roll over on the ball and pound it into the ground.
As a pitcher, Ohtani is ready and we'll see if he's ready to dominate. As a hitter, he could probably use 500 at-bats in the minors. Instead, he'll have to learn at the major league level. The Angels may have to show extraordinary patience, and if he starts twice a week at DH it's going to take a few months before we can get a good read on him as a hitter.
Only one player in major league history has won 10 games and hit 10 home runs in the same season: Babe Ruth. Only one player has done it in Japan: Shohei Ohtani. Let's see what happens.
Los Angeles Dodgers bring Walker Buehler off IL as playoffs approach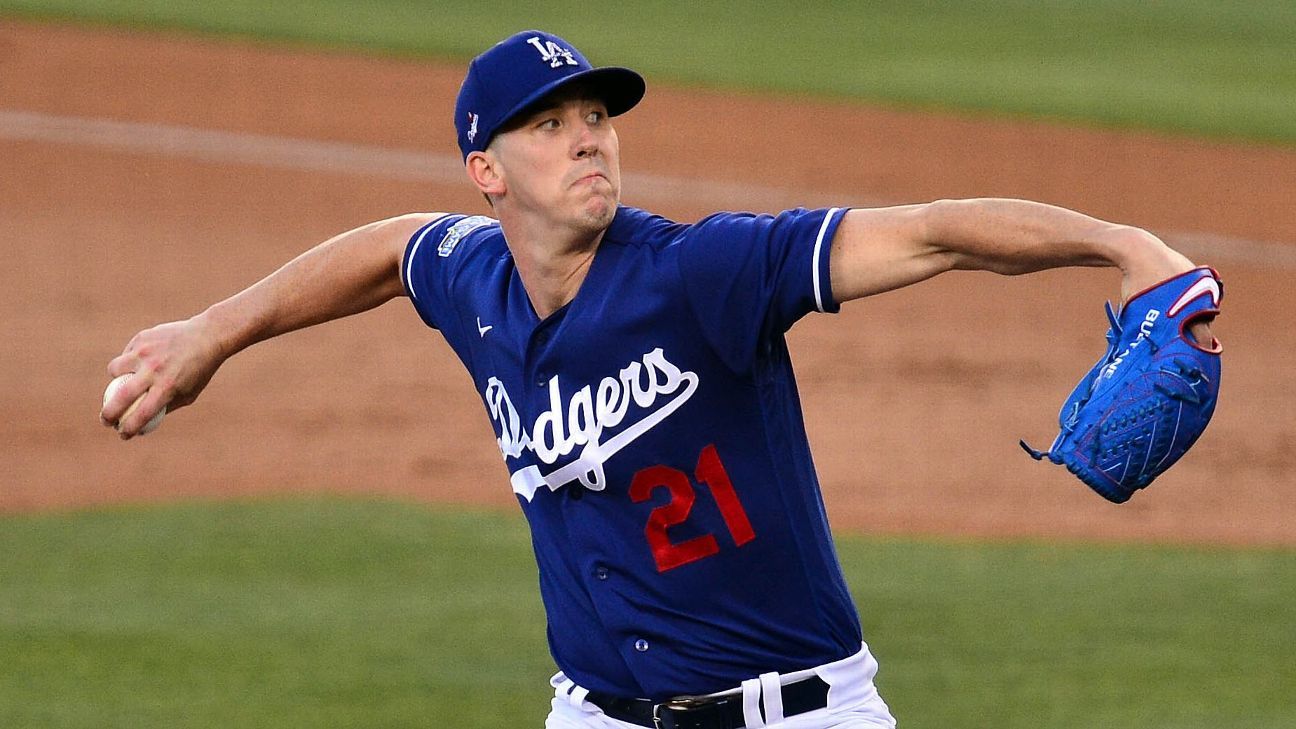 The Los Angeles Dodgers activated Walker Buehler, who has been dealing with a blister on his right index finger for about a month, off the injured list Thursday for one final tuneup start before the postseason.
Buehler, 26, was placed on the IL because of that blister for the second time in two weeks on Sept. 10, but the right-hander threw a six-inning, 90-pitch simulated game at Dodger Stadium on Saturday, throwing the first 75 pitches with his finger uncovered.
Dodgers manager Dave Roberts said he would be monitoring Buehler "pretty closely" in his return against the Oakland Athletics and that the primary objective is to ensure he doesn't suffer a setback. Buehler recently sought advice from former Dodgers starter Rich Hill, who has dealt with blisters throughout his career.
"Walker feels really good, confident, the finger itself in a good place," Roberts said. "It's just up to all of us to make sure we just manage it tonight. He wouldn't be making this start if we didn't feel good as far as him taking on a regular start."
The Dodgers are still ironing out most of their pitching plans for the best-of-three wild-card series that begins at Dodger Stadium on Wednesday, partly because the team might not learn its opponent until the end of the week.
Buehler and Clayton Kershaw are expected to start the first two games, but the Dodgers have yet to determine the order. A potential Game 3 could see the Dodgers deploy an opener, with the traditional No. 3 starter — either Julio Urias, Dustin May or Tony Gonsolin — pitching bulk innings later in the game.
Buehler wasn't properly stretched out when Major League Baseball restarted and has logged only 32⅔ innings heading into his final regular-season start, posting a 3.86 ERA with 36 strikeouts and 10 walks. Most of his recent work has come in controlled environments.
"He's still pitched and understood what's at stake in these sim games, and I expect him to be sharp," Roberts said. "You're one start away from the postseason, so I expect him to be sharp and ready to go."
Chicago Cubs planning for reduced capacity at Wrigley Field to start 2021 MLB season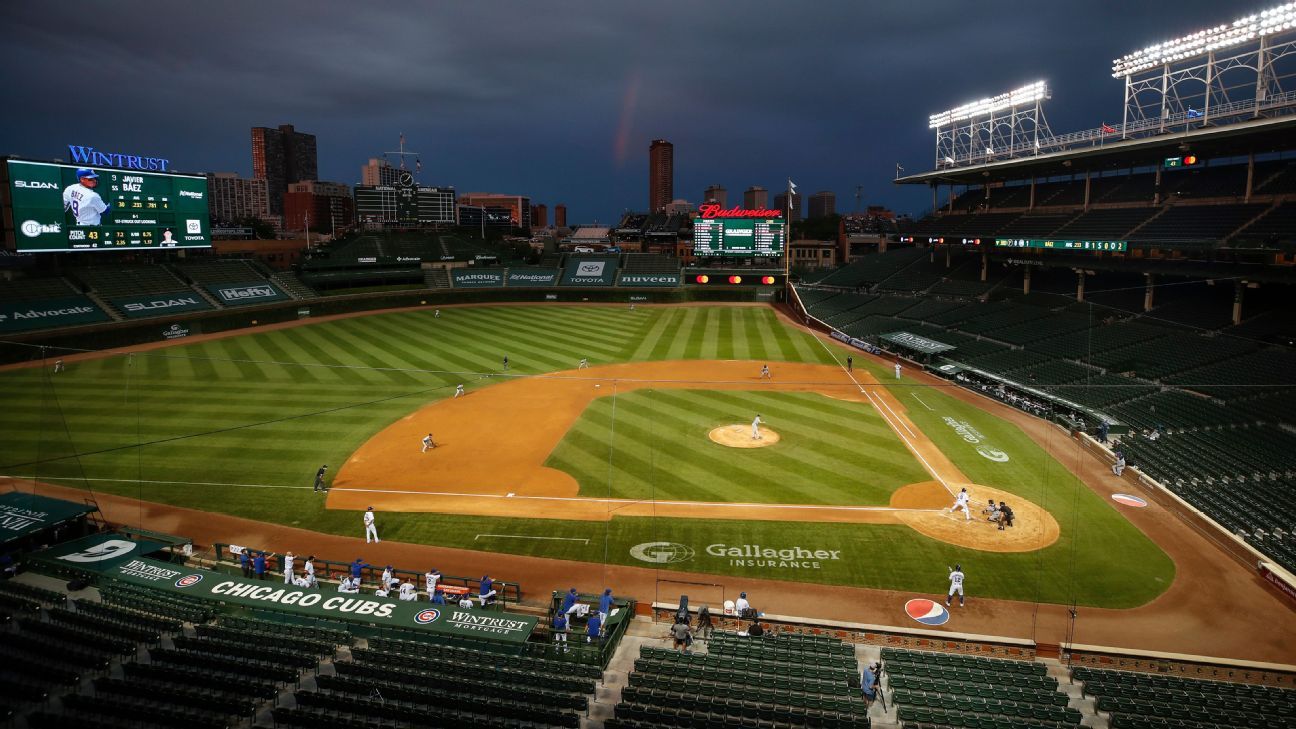 The Chicago Cubs laid off about 25% of their business staff on Thursday because of a loss in revenue and in anticipation of an uncertain 2021, sources familiar with the situation told ESPN.
The move follows a significant round of cuts on the baseball side in August.
Based on advice from medical experts, as well as restrictions because of local ordinances, the Cubs are not expecting full capacity inside Wrigley Field at the beginning of next season.
It's possible only season-ticket holders will be allowed to attend games. They'll get first priority as they make up about 50% of overall ticket holders, which is about the same capacity the team is expecting to allow inside the stadium.
The Cubs expect to miss out on about 75% of their revenue in 2020, according to sources, because of the COVID-19 outbreak that has limited the season to 60 games, without fans in the stands. That could add up to a $125 million to $140 million loss.
Uncertainty in the next collective bargaining agreement between the league and its players also is contributing to the overall financial picture of the Cubs, according to sources.
"This is through no fault of their own and had nothing to do with their performance, talent or contributions," a team source said when asked by ESPN about the lost jobs. "This was a difficult decision but the goal was to restructure the organization based on the current operating environment with losses of more than $100 million anticipated next year. We're no longer a business that welcomes 3.3 million fans and we're not sure when that business will resume."
The team is hopeful to get back to full capacity at Wrigley Field later in the 2021 season, but with no guarantee from medical experts about when there might be a vaccine, the team is preparing for reduced capacity for as long as necessary.
Braves ace Max Fried (ankle) expected back for Game 1 of playoffs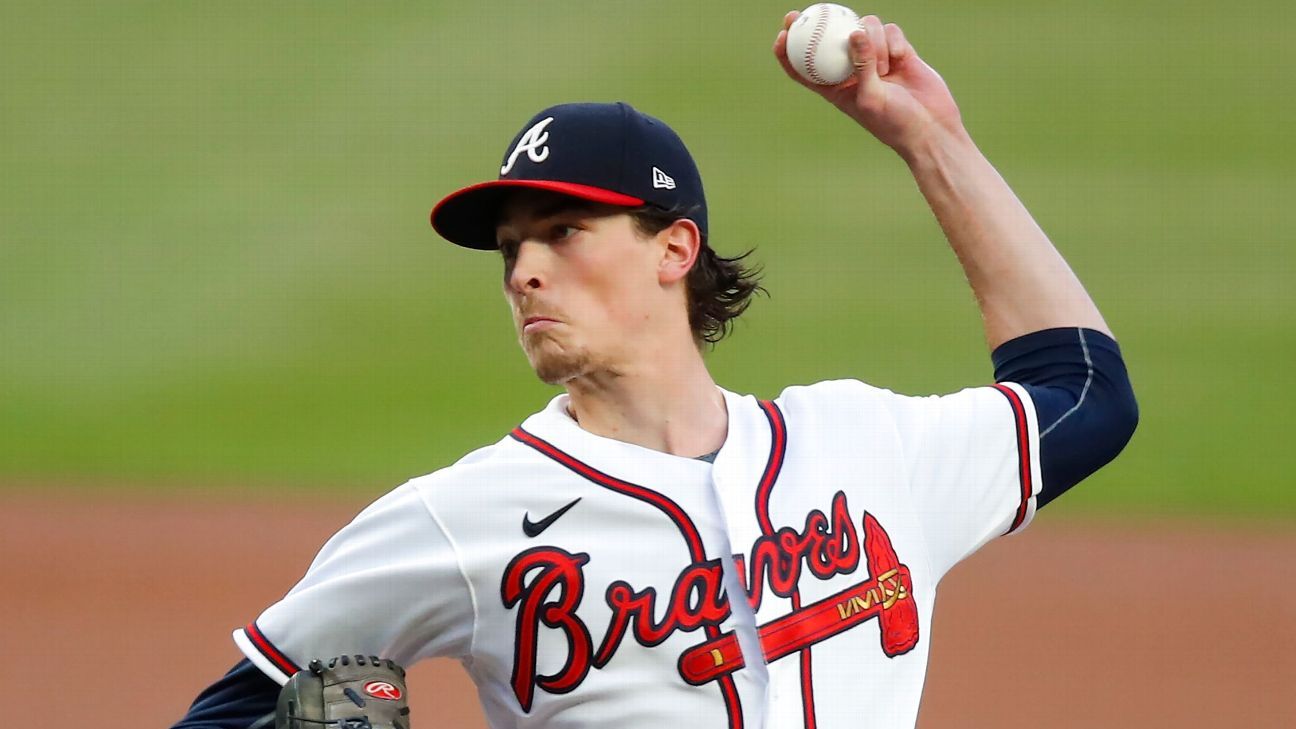 Braves ace Max Fried is expected to be ready for Game 1 of the playoffs after leaving his start Wednesday with an ankle injury.
Braves manager Brian Snitker said Fried is sore but additional tests on the ankle were negative.
Fried was making his final regular-season start for the NL East champions and hoping to boost his Cy Young Award credentials before starting Game 1 of his team's first-round series. He lasted only one inning against the Marlins, tweaking an ankle while fielding a bunt down the third-base line by Starling Marte.
Although Fried didn't appear to be hurt on the bunt, he wasn't the same pitcher after the play.
Having gone the entire season without allowing a homer, covering 55⅔ innings, Fried suddenly gave up two in a row. Jesus Aguilar hit one off the facade of the second deck, Brian Anderson drove one into the empty center-field seats, and Garrett Cooper nearly made it three in a row with a double off the wall.
"Obviously, it bit him a little bit," Snitker said after the game. "I'm sure it was on his mind, too."
The left-hander got the third out, then sat solemnly in the dugout while talking to Snitker and getting an apparent pep talk from teammate Freddie Freeman. Although the decision to remove Fried was described as precautionary, it created more uncertainty for the Braves, who have struggled all season to find three consistent starters to go with Fried.
Atlanta bounced back with three runs in the bottom of the first to beat the Marlins 9-4 and ensure that Fried wouldn't take his first loss. He finished the regular season 7-0 with a 2.25 ERA.
The Associated Press contributed to this report.