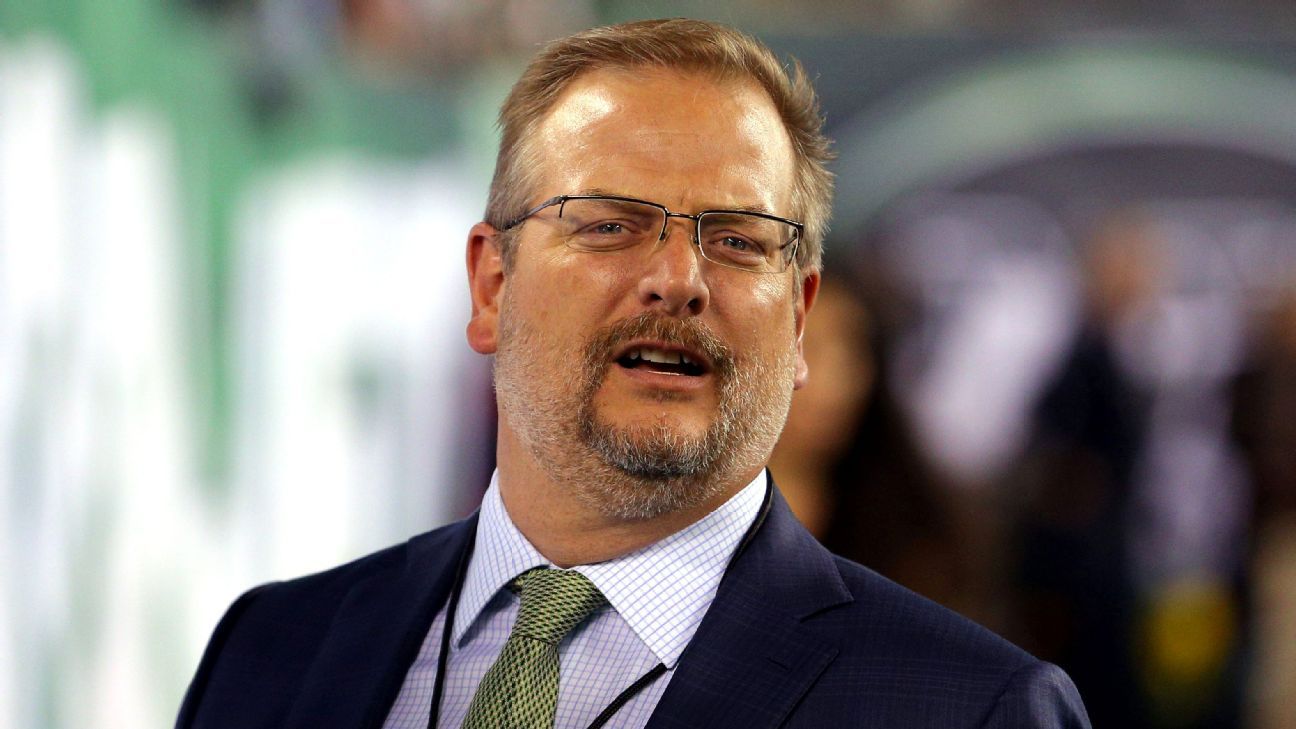 Mike Maccagnan is a cool customer. For a guy who drinks 10 cups of coffee a day (no exaggeration), he never seems jittery or rattled. It takes a lot to get a rise out of him, which is why it's noteworthy he displayed a hint of defiance last week when questioned about his sketchy history of drafting quarterbacks — a hot-button issue in the current landscape.
The New York Jets general manager defended himself by reminding reporters that Bryce Petty was a fourth-round pick (2015) and Christian Hackenberg was a "late" second-rounder (2016). It was his way of saying, "Hey, guys, gimme a break, it's not like I blew a first-round pick." No, he didn't, but Hackenberg was such a colossal miss — he still hasn't played in a game — that some folks are wondering if Maccagnan will get it right on April 26.
"It doesn't faze me," Maccagnan said of the criticism. "It's the college draft. [There are] guys you'll hit on and guys who don't pan out. That's part of the process. We feel pretty confident with this year's group and where we're situated."
The Jets are picking third and, barring the draft upset of the decade, they will select a quarterback from the group of Josh Allen, Sam Darnold, Baker Mayfield and Josh Rosen. It'll be a franchise-altering decision for the Jets and a legacy-defining choice for Maccagnan, a college economics major-turned-scout who found the big chair in 2015. He will attempt to solve The Quarterback Riddle, which has flummoxed this star-crossed franchise for decades.
They've tried everything.
They've rummaged through the recycle bin (Josh McCown and Ryan Fitzpatrick), they've tried their luck in the second round (Hackenberg and Geno Smith) and they've rented a hired gun (Brett Favre). Their last first-round pick was Mark Sanchez in 2009, and that was working for a couple of years — until it wasn't.
After failing to secure the only quick fix in the 2018 market — Kirk Cousins said no — Maccagnan went back to his days as an economics student. He took some of his best assets (three second-round picks, including one in 2019) and sold them off for a chance to score with a potential high-yield investment — easily the boldest move of his tenure.
The blockbuster trade with the Indianapolis Colts, which allowed the Jets to climb three spots in the draft order, carries considerable risk. It's an all-in move that will leave Maccagnan out of a job in a couple of years if it backfires.
"I don't like necessarily giving up the picks, per se, to move up," said Maccagnan, adding he did it because it's a chance to "potentially help yourself in the bigger scheme of things."
ESPN draft analyst Mel Kiper Jr. called it "a hefty price to pay," saying the Jets essentially gave up three potential starters — the draft picks that went to the Colts — to select perhaps the third-best quarterback. In that context, yeah, it doesn't look like a sound move, but no one will remember the compensation if the quarterback develops into a long-term solution.
It's a calculated gamble, but you know what? You can't sit back, passively, and wait for the next Tom Brady in the sixth round. You can't win a Lombardi Trophy by playing it by the book. To quote Tom Cruise in "Risky Business," sometimes you just have to say … well, you know.
"We do think there are some very good quarterback prospects in this class," Maccagnan said. "They all have different strengths and maybe some different areas of concern or weakness. That's one of the reasons why I've been to all these pro days, because there are some real viable guys there that you think may be good additions if they fall to us in the right spot."
The question is, can Maccagnan learn from his past quarterback mistakes?
With Hackenberg, Maccagnan relied too much on projection. The GM saw the big arm and projected what Hackenberg could be, not what he was — an inaccurate passer with questionable instincts.
Will that effect the way he evaluates Allen, who has a tremendous amount of raw, physical talent but is considered boom or bust?
With Petty, Maccagnan bet on a player from a spread system, figuring he'd need a year or two to make the transition to a pro-style offense. It hasn't happened for Petty, who is 1-6 as a starter.
Will Maccagnan downgrade Mayfield because he played in a spread at Oklahoma?
Hey, no one said this will be an easy decision. History says two of the top four quarterbacks will be NFL disappointments. Maccagnan put himself in the batter's box and gets another swing. Maybe the third time will be the charm.
Los Angeles Rams GM also won't speculate on future of QB Jared Goff
THOUSAND OAKS, Calif. — Los Angeles Rams general manager Les Snead on Tuesday echoed coach Sean McVay when it comes to the future of quarterback Jared Goff.
"Jared Goff is a Ram at this moment," Snead said when asked whether Goff would be on the roster in 2021. "It's way too early to speculate the future. That's a beautiful mystery."
McVay on Jan. 17 — one day after the Rams' loss to the Green Bay Packers in the divisional playoff — wouldn't commit to Goff's future with the team.
"Jared Goff, he's a Ram right now," said Snead, who was asked repeatedly about Goff's status moving forward during an hourlong videoconference with reporters Tuesday. "So what's the date? January 26th. That's a fact. That's obvious."
Snead pointed out Goff's win total — 42 — since he partnered with McVay in 2017. That is tied with Seattle Seahawks quarterback Russell Wilson and second only to Tom Brady (47) over that span.
However, Goff, the No. 1 draft pick in 2016, has been plagued by turnover issues the past two seasons as the Rams' offense has faded from a juggernaut in McVay's first two seasons to an average unit.
This season, the Rams finished 10-6 and in second place in the NFC West.
In 15 games, Goff passed for 3,952 yards and 20 touchdowns with 13 interceptions.
Since 2019, Goff ranks second in the NFL with 38 turnovers.
After a run to Super Bowl LIII and before the 2019 season, the Rams signed Goff to a four-year, $134 million contract that included $110 million guaranteed. Four seasons remain on the deal.
The Rams would face significant dead-money charges — $65.2 million — if they were to move on from Goff this offseason. Trading him would result in a $22.2 million dead-money charge, according to OverTheCap.com.
"Moving on from Jared Goff, that's … the money we've invested in him, that's not easy to overcome," said Snead, who added later that "anything can be done" in a cap-based system.
Sean McDermott says 'there is still a gap' between Buffalo Bills, Kansas City Chiefs
BUFFALO, N.Y. — Two days after the Buffalo Bills were knocked out of the postseason by the Kansas City Chiefs, coach Sean McDermott reflected on what work his team has left to do before it's ready to beat the two-time defending AFC champions.
Sunday night's 38-24 loss was the Bills' second loss to Kansas City this season after falling 26-17 in Week 6. The Chiefs controlled a majority of that AFC Championship Game and McDermott admitted after the game that Kansas City will be Buffalo's "measuring stick" heading into the offseason.
"There is still a gap in terms of where we are and where we are. It's not just one answer that solves that problem," McDermott said. "We all have to, starting with me, we all have to continue asking ourselves the hard questions of the what ifs, and the whys and the hows. We as a staff have to get better and improve, we have to improve our roster, we have to improve our operation and what we do."
The Bills went 13-3 and won the AFC East this season for the first time since 1995, and won their first playoff games since the turn of the century, beating the Indianapolis Colts and Baltimore Ravens in the wild card and divisional rounds, respectively.
It was the best of McDermott's four seasons with the Bills, three of which have resulted in playoff berths after the franchise spent 17 straight seasons without one.
But it still didn't match his former mentor, Andy Reid, who led the Chiefs to a 14-2 record in his 8th season with the team.
"They're in year 8 and we're in year 4," McDermott said. "But that's a little bit of a feel for how long they've been building their program and where we are. There's a lot that we've improved on in terms of what's gotten us to where we are."
McDermott said it's too early to pinpoint exactly which areas the Bills need to improve this offseason but that he and his staff are already working on finding them. He did say Buffalo needs to run the ball better after finishing 20th in the NFL in rushing this season, and also that it "absolutely" needs to improve defensively. After finishing the 2018 and 2019 season as the league's second and third-best defense in terms of yards allowed per game, the Bills dipped to 14th in 2020.
There will also likely be an emphasis on adding more overall team speed — especially after witnessing what the Chiefs were able to do Sunday night. Kansas City had plays of 50 and 71 yards against the Bills, which did not go unnoticed by McDermott.
"I think the speed element showed up on the field the other night," he said. "I don't think it takes a coach to realize that. Speed and size, that's what this game is — speed, size and physicality."
One area the Bills won't have to worry much about this offseason is at quarterback, where Josh Allen looks like one of the league's brightest young stars. Allen set single-season franchise records in every major passing category and was selected to his first Pro Bowl this season.
Allen said he believes he's proven that the Bills made the right decision to trade up to select him in the 2018 draft and McDermott said his development is a reflection of the franchise's current standing.
"It's certainly a benchmark or landmark to where we've gotten beyond now, right," he said. "I think that speaks well for the future of this organization moving forward. There's not a lot of teams that can answer that question and say 'yes we have our quarterback' and I can tell you, and you've watched it, Josh Allen is a very good quarterback and one we can win with for years to come."
Aaron Rodgers — Think I'll be back with Green Bay Packers but there are no absolutes in NFL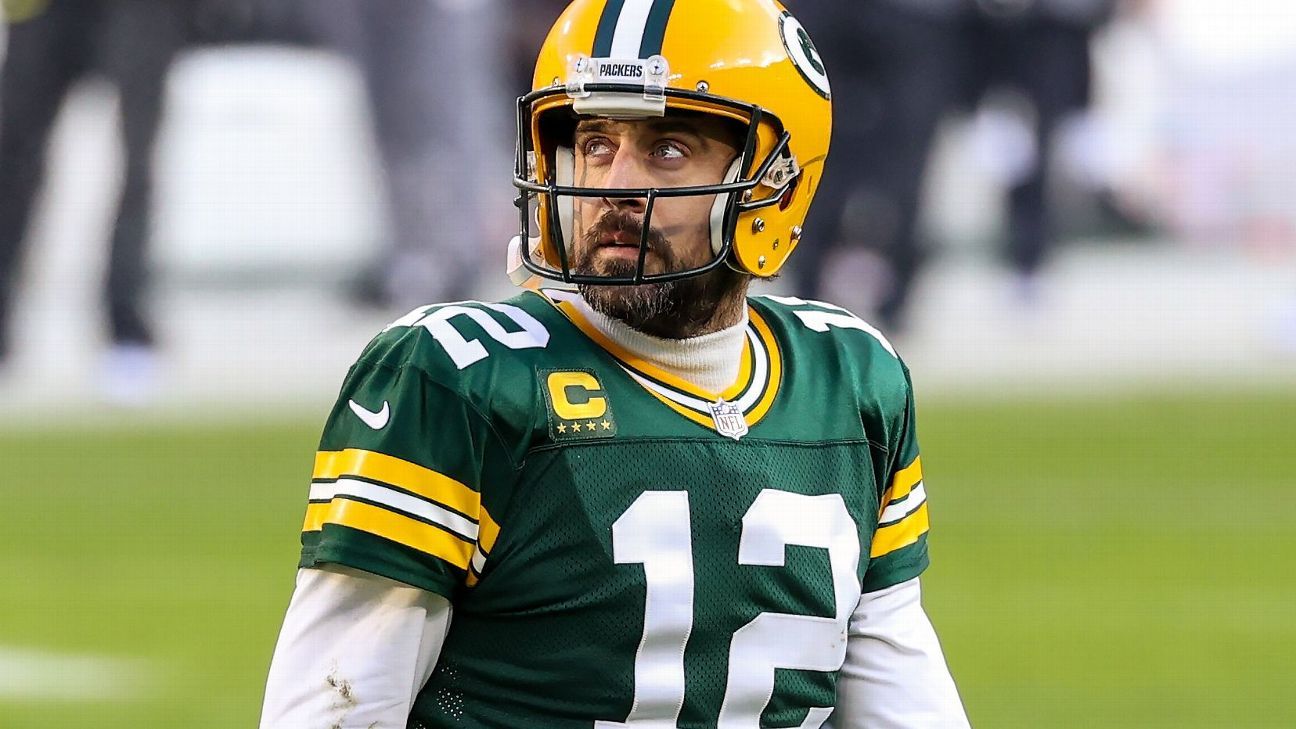 GREEN BAY, Wis. — Two days after Aaron Rodgers opened up speculation about his future with the Green Bay Packers, the presumptive NFL MVP said Tuesday that he has reason to think he will be back with the only team he's ever played for during his 16-year NFL career.
However, he put an emphasis on the word "think" during an appearance on The Pat McAfee Show and SiriusXM Radio.
"I don't think that there is any reason why I wouldn't be back," Rodgers said. "But look, there's not many absolutes in this business. So to make an absolute statement about something that is not an absolute, I didn't do it. And I guess that's why it went kind of nuts."
Rodgers included himself in a group of players with uncertain futures in his comments after Sunday's loss to the Tampa Bay Buccaneers in the NFC Championship Game. Leading into the game, he called his future "a beautiful mystery."
On Monday, Packers president Mark Murphy said on WTAQ-WNFL radio in Green Bay: "I'll say this, there's no way in heck that Aaron is not going to be on the Packers. He is going to be the MVP of league. He might have had his best year ever. He's our unquestioned leader, and we're not idiots."
But the Packers are the team that drafted Jordan Love in the first round as Rodgers' possible replacement last year.
"I don't feel like I said anything that I hadn't said before," Rodgers said on the show. "I said it the first time I talked to the media (after the draft). It just, it was more a realization I think that ultimately my future is not necessarily in my control. That was what just kind of hit me in the moment. I was just thinking of Aaron Jones, Corey Linsley, other guys we have under contract, Big Dog [Marcedes Lewis], guys who I don't know what their future is going to be, and myself included."
Rodgers, 37, has said he wants to play into his 40s much like Tom Brady has but acknowledged after the draft that Love's arrival meant he might not be able to do that with the Packers.
"Naturally, there's time when you let your mind go to maybe, 'I'm going to be a Packer for life,'" Rodgers said Tuesday. "Or, 'I'm going to be like a Tim Duncan or (Derek) Jeter or Kobe (Bryant) and play with one team my entire career.' Naturally, you dream about that. That's kind of like a dream scenario. I've talked about that for much of my career.
"When they drafted Jordan, it was more the reality kicking in. Like, hey, that's actually never the case. There are no absolutes in this business. I think it's a beautiful thing to sit with and to wrap your head around. And I did. I got to a beautiful place about it. It doesn't mean that that's not still a reality. I think that's the only reality, is that there is no absolutes in this business. I just reiterated that after the game. I get it, some people were like, 'You just threw 48 touchdowns and probably going to win MVP.' Yeah, I understand that, but, again, there's no absolutes in this business. I gave a real answer in the moment."
Rodgers still has three more seasons left on his current contract, but the deal has reached the point where the Packers could now move on and gain salary-cap space. If Rodgers does not want his status to become year-to-year and wants assurances that he's in their long-term plans, he could ask for a contract extension or for his deal to be restructured to include more guaranteed money in the remaining years.
He indicated that he would meet with Murphy and general manager Brian Gutekunst at some point soon but stopped short of saying he would give any ultimatums.
"There's conversation to be had; I'm going to have them with the right people," Rodgers said. "It's the same conversation we have every single year. There's no big, 'I'm going to the table with I need this and this and this.' Look, we have honest conversations about where we're at every single year, whether that's with Brian, Matt, Mark. I've had these conversations for years. That's part of being a leader on the squad and having a pulse of the team and a direction that we're going, and we'll have the same conversation we do every year. I always look forward to those conversations."