10 NFL rookies ready to break out in Year 2
In 12 starts as a rookie last season, Bears quarterback Mitchell Trubisky tossed just seven touchdown passes and registered a 29.2 Total QBR, which ranked 29th in the NFL. It was a severely limited offense under former coordinator Dowell Loggains, and Chicago had one of the league's worst passing offenses.
With new coach Matt Nagy and coordinator Mark Helfrich installing a system that will cater more to the modern quarterback and the Bears adding weapons in free agency, however, Trubisky is in a position to take a major step forward in 2018.
Let's break down why the Bears' new system and personnel upgrades are a boost for Trubisky while also discussing nine more second-year players who can make the leap in 2018.
Here is my list of potential breakout studs — not rookies who already had stellar 2017 seasons, such as the Saints' Marshon Lattimore and Alvin Kamara — to keep an eye on:
---
Five who could make significant jumps
That 2017 Bears offense didn't scare teams, and Chicago didn't have the targets in the passing game to create stress for opposing secondaries. Load the box and play man coverage. Defenses could keep it simple.
Despite passing for more than 200 yards in just three of those 12 starts, however, Trubisky showed flashes of his athleticism and arm talent. He showed the ability to anticipate throwing windows. And with Nagy & Co. installing a system that will better cater to Trubisky's talent, the arrow is pointing up on the former No. 2 overall pick.
During free agency, the Bears added a top target for Trubisky in wide receiver Allen Robinson, who's a technician in the route tree with the ability to make plays over the top and produce in the red zone. The former Jaguar, who tore an ACL in Week 1 last season, racked up 18 red zone touchdowns from 2015 to 2016. Tight end Trey Burton is the new "move" guy in Nagy's offense, a matchup piece who can align in multiple spots. And wide receiver Taylor Gabriel brings some real speed to Chicago with the change-of-direction skills to break down defenses in the open field.
These are major upgrades for Trubisky compared to the lineup he worked with last season, and Nagy's offense — a modern twist on the West Coast passing game — should jump-start Trubisky's development. Just look at Jared Goff and the Rams hiring Sean McVay as a potential blueprint.
Mixon entered the league with the most raw talent of the 2017 running back class, in my opinion, with the power, speed and ability to impact the passing game. And we saw those traits pop on the film at times as Mixon rushed for 626 yards and added 287 yards receiving while sharing touches. With veteran Jeremy Hill leaving via free agency and the Bengals making a move to land offensive tackle Cordy Glenn in a trade with Buffalo, Mixon is in line to see an increased workload behind a better offensive line.
Mixon carried the ball 15 times or more in six games and had more than 20 carries in two games. He can handle high-volume touches, and he has the ability to rip off chunk gains on the ground or as a receiving target on screens and underneath throws. After showing some hesitation early in the season when working through the wash to find daylight, he hit the hole with more speed as the season progressed. The upside is there if the Bengals can develop more consistency up front in 2018.
McKinley's energy level jumps out on tape. This guy plays hard on the edge. He's s a relentless pass-rusher who produced six sacks while playing 381 snaps in a rotational role on the Falcons' defensive line.
But when we look ahead to 2018 and the uptick in snaps McKinley should see after defensive end Adrian Clayborn left in free agency, I expect the former UCLA star to elevate his game as a pass-rusher with more technique at the point of attack.
For the majority of edge rushers in the league, that developmental jump comes in their second seasons. With tape to study, and game reps to lean on as teaching tools, this is when we see real growth in counter moves and the ability to set up offensive tackles. McKinley already has displayed the burst to get off the ball — and his motor never stops. Now, add in the core fundamentals to pair with that 4.59-second 40 speed on the edge? Look out. McKinley is in a spot to boost his profile as one of the top young edge defenders in the NFL.
Limited to just 11 games due to injury, Davis caught 34 passes for 375 yards and didn't reach the end zone during the regular season. If you watch the Week 16 tape against the Rams or take a look at his two touchdown grabs in the divisional-round playoff loss to the Patriots, however, Davis looked much improved. He has the frame (6-foot-3, 209 pounds), body control and big-play talent to produce consistent numbers in 2018 as the Titans transition to new coordinator Matt LaFleur's system.
Davis can run deep in-cuts and win on isolation routes, and he has the footwork to set up defensive backs, as he displayed on this double move to beat Patriots cornerback Malcolm Butler for six points. Plus, Tennessee's 2018 offensive system will create more opportunities for Davis, with LaFleur putting quarterback Marcus Mariota in a better position to attack throwing windows. Lots of movement, stack and bunch to get receivers open in the route tree. And with that size at the catch point, Davis should become one of Mariota's top red zone targets.
When free agency opened, the Chiefs surprisingly paid a premium price to land wide receiver Sammy Watkins. But when we look at the Kansas City offensive system under coach Andy Reid, Watkins is yet another weapon — in an offense loaded at the skill positions — to build around Mahomes. And the young quarterback brings the big-time arm, the ability to make off-schedule plays and the movement skills that mesh with Reid's playcalling.
Mahomes got one start as a rookie, in Week 17 against the Broncos, completing 22 of 35 passes for 284 yards and an interception. But this is much more about projecting Mahomes' talent base while he's surrounded by a core group of weapons in Watkins, Tyreek Hill, Travis Kelce and Kareem Hunt. The Chiefs' creative system will feature the West Coast route tree, play-action, run-pass options and even some QB-designed runs for Mahomes, and he has players around him who will get open.
When the Chiefs traded up to get Mahomes in the 2017 draft and then traded away veteran Alex Smith this offseason, it was easy to see they were going all-in on the Texas Tech product. And the skill set is there, along with the system fit, for Mahomes to play big on the pro stage in his first year as an NFL starter.
The next five
After snatching two touchdown catches in Week 1, Golladay battled through injuries and was limited to 11 games as a rookie, finishing with 28 receptions for 477 yards and 3 scores. The NIU product averaged 17.0 yards per catch and produced six receptions of more than 30 yards.
He has the frame (6-4), speed (4.50 40 at the combine) and ball skills to get into the end zone. With new coach Matt Patricia retaining offensive coordinator Jim Bob Cooter, look for Golladay to settle in as the No. 3 option behind Golden Tate and Marvin Jones in the Lions' three-wide receiver personnel.
King had some up-and-down moments as a rookie. But he has the size/length/speed combo (6-3, 200 pounds) to elevate under new defensive coordinator Mike Pettine, and he already has shown the ability to play press-man coverage and the physicality to challenge routes.
Think more man coverage where King can get up in the grill of opposing wide receivers and track the ball like he did on his college tape at Washington. The talent is there. And so is the toughness. King will play hurt and tackle, and he's a solid fit for Pettine and a Green Bay defensive identity that needs to change after Dom Capers, who had been in charge of the unit since 2009, was fired.
Cohen checked in with 723 yards from scrimmage and three scores in 2017, coming on 87 rushes and 53 catches. But Cohen's electric talent wasn't fully exploited — he didn't see the consistent touches or scripted matchups I expected to see.
Look for that to change in Nagy's system. Cohen can be the joker in the offensive game plan, a chess piece to expose opposing defenses. Along with his ability as a zone runner, Cohen can be featured on jet sweeps, misdirection plays and screens. He can be flexed out from the formation as a receiver. With a 5-6, 181-pound frame, Cohen can put defenders on skates in the open field.
Due to a Lisfranc injury, Allen played in only five games and had 10 total tackles and a sack. But the former Alabama star showed us glimpses of his athleticism and plus-technique.
Allen has the traits of a veteran when he rushes, showing lane discipline and the hands to win on contact. Plus, as a base defender, he has the strength to battle in the run game. Healthy again, I see a high ceiling for the former No. 17 overall pick heading into his second season as a key piece of the defensive front in Washington.

The fifth-round pick caught 43 passes for 515 yards with two scores as a rookie, but I expect improvement from the former Hawkeye in Year 2. Due to his fit in Kyle Shanahan's offense as a versatile pass-catcher, Kittle could near the 60-catch mark in 2018.
With 4.5 speed, and the formation flexibility to bump into the slot, Kittle has the ability to work the middle of the field, catch the ball off play-action and serve as an inside matchup piece for quarterback Jimmy Garoppolo. Think of Kittle as a "move" tight end/H-back who can block in the run game and also slip out of the backfield to give Garoppolo a high-percentage target underneath.
Browns duo of Nick Chubb and Kareem Hunt punishing NFL defenses – Cleveland Browns Blog
BEREA, Ohio — To cap off the Cleveland Browns' opening drive Thursday, Nick Chubb bounced off two Cincinnati Bengals defenders before carrying a third into the end zone for an 11-yard touchdown.
In the second quarter, it was Kareem Hunt's turn. On a key third-and-4, Hunt barreled through an arm tackle for the first down. Then, he finished off the possession with a touchdown grab from Baker Mayfield.
• Power Rankings, plus early fantasy finds
• Inside Gronk's ultimate Florida road trip
• Browns' Chubb, Hunt punishing defenses
• What Falcons' 0-2 start means for Quinn
• Injury and baby on way: Mostert's wild week
The Browns have big names attached to their passing attack, most notably Mayfield and wide receiver Odell Beckham Jr., who each shined in the Browns' 35-30 victory over the Bengals. Yet through the first two weeks of the season, Chubb and Hunt — and their prowess for running through tackles — are proving to be the backbone of the Cleveland attack.
"We ask them to make some dirty runs," coach Kevin Stefanski said of his two runners. "If there's a guy unblocked or there's an arm hanging out there, they've got to run through it. When (the blocking) is perfect these guys can make some big-time plays. But even when it's not perfect, I feel confident in their abilities to gain yards on dirty runs."
The duo, which combined for 210 yards rushing against the Bengals, is achieving that as well as any backs in the league. Chubb, in fact, tops the NFL with 116 yards after contact, and Hunt is tied for second with the Dallas Cowboys' Ezekiel Elliott with 99 yards. Hunt, however, is leading the NFL averaging 4.3 yards per rush after contact. Chubb is third with 3.6 yards per, which trails only Hunt and the Tampa Bay Buccaneers' Leonard Fournette (4.0 yards).
Though the sample size is small, those would be the highest averages after contact since at least 2009, when ESPN Stats & Information began tracking the data. In 2010, LeGarrette Blount averaged 2.94 yards after contact; Adrian Peterson posted the next-best average with 2.93 yards in 2012.
In turn, 23% of Cleveland's rushes this season have gone for at least 10 yards, by far the highest rate in the league. The Baltimore Ravens and Green Bay Packers are tied for second in rate of such runs at 18%.
"Those guys are really special," Mayfield said Thursday of Chubb and Hunt. "The offensive line played great. Those were some big holes, and those guys were not going down by just one single guy."
A revamped offensive line certainly has been part of Cleveland's early but enviable success running the ball. The Browns are fifth in run block win rate, a new metric ESPN utilizes to measure run-blocking success. That includes Austin Hooper, who ranks fifth among tight ends in run block win rate. Fullback Andy Janovich, who had a monster kick-out block on Chubb's opening-drive touchdown run, has brought physicality to the Cleveland ground game, as well.
But the ability of Chubb and Hunt to break tackles is what stands to elevate the Browns' rushing attack from good to potentially elite, and sustain drives in critical moments. Hunt is fourth league-wide with 10 rushing conversions on third down. Chubb is tied for fifth with nine third-down conversion runs.
"We both have some special talents," Hunt said, "and we both can do some great things with the ball in our hands."
That might not be changing in Cleveland any time soon, either.
Before the opener, Hunt, 25, signed a two-year extension worth $13.25 million, including $8.5 million guaranteed. That puts him under contract with the Browns for the next three seasons. Chubb, 24, will be extension-eligible, as well, after this season, though he still has another year left on his rookie deal.
Given how seamlessly Chubb and Hunt have operated together, the Browns figure to still be just as incentivized to extend Chubb, even with Hunt on such a reasonable deal for a running back. After Thursday's win, Chubb actually clamored for Hunt to be more involved in the game plan early, underscoring their chemistry off the field.
"You see what he can do," Chubb said. "He's a great back."
The Browns boast two of them. Special talents, who break through tackles and reel off dirty runs. Giving Cleveland a backfield tandem primed to be the envy of the entire league.
Fantasy football intel for all 32 NFL teams ahead of Week 3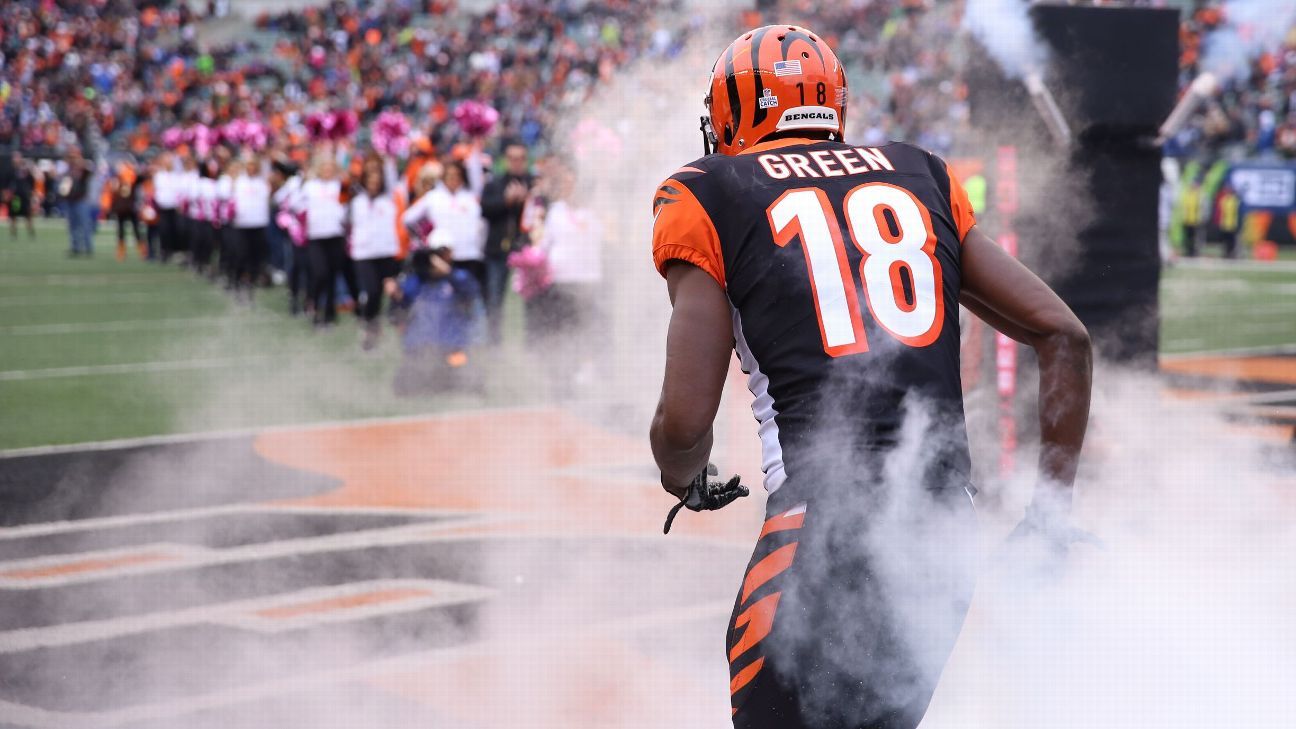 The Fantasy 32 analyzes the NFL from a fantasy perspective, with at least one mention of each of the league's 32 teams. Though efficiency will be discussed plenty, the column will lean heavily on usage data, as volume is king (by far) in fantasy football. Use these tidbits to make the best waiver-wire, trade and lineup decisions for the upcoming week and beyond. Be sure to check back each week of the season for a new version of the Fantasy 32.
Note that data from Monday Night Football may not immediately be reflected in charts.
Opportunity Alert
Throughout the below team-by-team rundowns, I'll be referencing "OFP" and "OTD". OFP stands for opportunity-adjusted fantasy points. Imagine a league in which players are created equal. OFP is a statistic that weighs every pass/carry/target and converts the data into one number that indicates a player's opportunity to score fantasy points, or his "expected" fantasy point total. For example, if a player has an OFP of 14.5, it means that a league average player who saw the same workload in the same location on the field would have scored 14.5 fantasy points. FORP is the difference between a player's actual fantasy point total and his OFP. OTD works the same way, except instead of fantasy points, it's touchdowns. Volume is king in fantasy football, so this is not information you want to overlook.
That said, here is the post-Week 2 OFP Leaderboard:
*Complete OTD and OFP positional leaderboards will be posted at ESPN+ this week
Next, here are the players who exceeded their OFP by the largest margin this past week and are thus candidates to see a dip in fantasy production moving forward, assuming they see a similar workload:
And these players who fell short of their OFP by the largest margin last week and thus you shouldn't be too quick to overreact to their performance when making lineup, trade or waiver decisions:
Team-by-team rundowns
Arizona Cardinals — Kyler Murray appears to be well on his way to a breakout season. The 2019 first-overall pick impressed with 230 pass yards, 91 rush yards and a pair of TDs against a good 49ers defense in Week 1. He followed that up with 286 pass yards, 67 rush yards and three scores against Washington in Week 2. Murray is fantasy's No. 4 scoring quarterback thus far, and his combination of passing and rushing production locks him in as a top-five weekly fantasy play. He's an elite option this week against a Detroit defense that struggled against Mitchell Trubisky and Aaron Rodgers.
Atlanta Falcons — Atlanta's high-volume pass offense made slot man Russell Gage an intriguing deep sleeper during the offseason. So far, he's been even better than expected. Gage has been targeted at least nine times in three consecutive games tracing back to last season. The 2018 sixth-round pick posted a 9-114-0 receiving line on 12 targets in Week 1 and a 6-46-1 line on nine targets in Week 2. Gage has been on the field for 73% of Atlanta's offense snaps and sits 11th among wide receivers in fantasy points (believe it or not, Atlanta has two top-11 fantasy receivers and one is not Julio Jones). Gage's OFP ranks fifth among wide receivers and suggests that his production has matched his opportunity. Still, we know Jones, Calvin Ridley and Hayden Hurst will remain focal points of the offense, so Gage figures to settle in as more of a flex option. Atlanta faces a much tougher Chicago defense this week, so while Gage should be on rosters, he's not yet a must start.
Baltimore Ravens — One week after pacing the Baltimore RB room in snaps, J.K. Dobbins tied Gus Edwards (20 each) behind Mark Ingram II (27) in Week 2. Dobbins led the group with a 40% snap share in the opener and Ingram played 42% on Sunday, which speaks to the fact that the Ravens are, in fact, utilizing a full-on committee. The plan has worked well for Baltimore — the trio combined for 182 yards on 21 carries on Sunday — but not in fantasy. Ingram (21 touches for the season) sits 36th in fantasy points, with Dobbins (10) 28th and Edwards (14) 58th. None of these players are recommended starts right now, though Ingram is your best bet.
Buffalo Bills — Granted he was beating up on weak Dolphins and Jets defenses, but Josh Allen is on a roll. The third-year QB has completed 57 of 81 passes for 729 yards, 6 TDs and 0 INTs. He also has 75 yards and a score on 18 carries. At least through two weeks, Allen has drastically increased his efficiency compared to years past (70% completion percentage, 9.0 YPA) and sits second among quarterbacks in fantasy points. The good news is that Buffalo is operating the league's pass-heaviest offense (seriously), and the team's schedule isn't very intimidating in the coming weeks, which makes Allen a strong QB1 option. The bad news is that Allen may not be your best play come playoff time. Buffalo exits its Week 11 bye with games against the Chargers, 49ers, Steelers, Broncos and Patriots. It doesn't get much tougher than that.
Carolina Panthers — Christian McCaffrey went down with an injury after playing 64% of the Panthers' snaps on Sunday. In his place, Mike Davis out-snapped Trenton Cannon 23-to-0. Davis carried the ball only once but caught all eight of his targets for 74 yards. Curtis Samuel was involved in the backfield, as well, matching a career high with four carries. McCaffrey is expected to miss four to six weeks, so it's worth noting that Davis has the size to handle the bulk of the carries, and we obviously saw his passing-game chops on Sunday. Davis should be considered a flex option against the Chargers in Week 3.
Chicago Bears –– Ted Ginn Jr. was a healthy scratch on Sunday, which opened the door for fifth-round pick Darnell Mooney to step into No. 2 duties opposite Allen Robinson. Robinson, of course, led the unit with 52 snaps played (81%), but Mooney (39) worked ahead of Javon Wims (28) and Anthony Miller (26). The rookie was targeted only three times but did his job with a 3-36-1 receiving line. Mooney is a long shot for consistent production in a low-volume, low-scoring pass game that spread its targets around to 12 different players on Sunday. Mooney is worth rostering only in deep and/or dynasty leagues.
Cincinnati Bengals — A.J. Green's return to the lineup hasn't gone as planned, with the veteran receiver totaling eight catches for 80 yards through two weeks. The lack of production is a bit of a concern, but the good news is that Green has received a ton of volume. He played 66% of the team's snaps in Week 1 and handled nine targets. On Thursday, he played 61% of the snaps and was targeted 13 times. Green is Joe Burrow's favorite target, and it's not particularly close. He sits 61st among wide receivers in fantasy points but second in OFP. Volume is king in fantasy football, and you can expect it to convert into production over time. Green isn't a bad player to target in trades this week.
Cleveland Browns — Austin Hooper hasn't seen much action in the Cleveland passing game during the first two weeks of the season. Hooper has played a hefty 108 (or 86.4%) of a possible 125 snaps but has only four catches for 37 yards to show for it. Hooper's playing time will lead to better days, but he appears to be a long shot for consistent fantasy production in a Browns run-first offense that leans heavily on its running backs and top two wide receivers. Hooper does not need to be on rosters in most formats.
Dallas Cowboys — Blake Jarwin was a popular tight end sleeper during the summer, but if Sunday is any indication, his season-ending injury will instead lead to a breakout for teammate Dalton Schultz. The 2018 fourth-round pick exploded for a 9-88-1 receiving line on a team-high 10 targets during the comeback win against Atlanta. Schultz played 70% of the snaps, and his heavy usage vaulted him to seventh among tight ends in OFP and 13th in fantasy points this season. Schultz figures to settle in as a TE2 in what is developing into a fairly deep tight end position.
Denver Broncos — Noah Fant appears well on his way to a breakout second season. The 2019 first-round pick followed up a 5-81-1 receiving line in Week 1 with a 4-57-1 showing against Pittsburgh on Sunday. Fant has been on the field for 98 (or 75%) of Denver's 130 offensive snaps this season and sits third at tight end in fantasy points. Drew Lock's injury is an obvious concern, but Fant did most of his damage with Jeff Driskel under center against a tough Steelers' defense on Sunday. If there's one concern, it's that we need to see more targets (he has 10 in two games). Consider Fant a fringe TE1 against Tampa Bay this week.
Detroit Lions –– It may not seem like it, but rookie D'Andre Swift has led the Lions' backfield in snaps during each of his first two NFL games. Of course, that's not really saying a ton, considering he played 30 of 72 snaps (42%) in Week 1 and 20 of 58 (35%) in Week 2. The usage hasn't allowed much rushing production (eight carries, 20 yards, 1 TD), but it has helped him to decent receiving numbers (10 targets, 8 receptions, 75 yards). The latter includes a 5-60-0 receiving line on Sunday. Swift needs more work to become a weekly fantasy starter and, while that may happen later this season, it doesn't appear imminent. He should be on benches. Kerryon Johnson (18 snaps on Sunday) and Adrian Peterson (15) also shouldn't be close to lineups.
Green Bay Packers — No surprise here, but Allen Lazard has settled in as the No. 2 wide receiver behind Davante Adams. Lazard was on the field for 87% of the offensive snaps in Week 1 and played 83% in Week 2. Despite the generous playing time, Lazard has been limited to exactly four targets in both games (that despite Adams missing half of Week 2 with an injury). Lazard's receiving lines (4-63-1, 3-45-0) are clearly not enough to make him worthy of flex consideration, but the young receiver will be in for better days when Green Bay has to throw more often. He's a fine bench/depth option.
Houston Texans — One week after producing eight catches for 112 yards on 10 targets, Will Fuller V was not targeted against Baltimore in Week 2 (he totaled one carry for zero yards). The dud is obviously disappointing, though a down game was expected against one of the league's best cornerback rooms. Fuller played 36 snaps in the game (63%), which was below his 79% rate in Week 1, but also not enough to panic. Fuller's schedule gets much lighter after this week's showdown with Pittsburgh, so consider trying to trade for Deshaun Watson's top target over the next week or so.
Indianapolis Colts — Jonathan Taylor emerged as the Colts' clear lead back in the team's first full game without Marlon Mack on Sunday. Taylor racked up 26 carries for 101 yards and one TD while playing 44 (66%) of the offensive snaps. Taylor was targeted only twice, however, with Jordan Wilkins (17 snaps) and Nyheim Hines (eight) also involved in the comfortable win over Minnesota. Surprisingly, Hines was targeted only once and had zero carries in the game. Underrated Wilkins was effective as usual with 40 yards on nine carries. Taylor is a fringe RB1, Hines a bench player in PPR leagues and Wilkins is Taylor's insurance.
Jacksonville Jaguars — After completing 95% of his passes and tossing three touchdowns in Week 1, Gardner Minshew II threw for 339 yards and three more scores in Week 2. Minshew, who also has 39 yards on nine carries, sits 11th in fantasy points. Minshew appears to be the real deal, and his rushing ability only adds to his fantasy appeal. He shouldn't yet be considered a must-start, but he'll be on the weekly streaming radar moving forward. That includes this week, as the second-year quarterback should be in lineups in a plus matchup against Miami.
Kansas City Chiefs — Clyde Edwards-Helaire played 67% of the offensive snaps and carried the ball 25 times but was targeted only twice in the Chiefs' season opener. On Sunday, he carried the ball 10 times and saw eight targets while playing 63% of the snaps. The rookie wasn't quite as effective this week (70 yards on 16 touches), but the combination of the strong snap share and increase in targets suggests he'll remain a weekly RB1 option. As for his insurance, note that Darwin Thompson (15 snaps) appears to have leapt Darrel Williams (eight) on the depth chart.
Las Vegas Raiders — Reaction coming Tuesday.
Los Angeles Chargers — Austin Ekeler might be the lead back in Los Angeles, but it's become evident that rookie Joshua Kelley won't be too far behind in usage. Or, in Sunday's case, ahead in usage. Kelley (41 snaps) was three behind Ekeler (44) in playing time but handled 23 carries and three targets (113 total yards). That's compared to 16 carries and four targets for Ekeler (148 yards). Ekeler is still in the weekly RB1 discussion, and Kelley, who ranks fifth in the NFL with 35 carries, is in the flex conversation in a light matchup against Carolina in Week 3.
Los Angeles Rams –– Cam Akers went down with an injury on his third snap during Sunday's win. Both Malcolm Brown (36 snaps) and Darrell Henderson Jr. (28) were busy in his place, with Henderson enjoying what very well could be his breakout game. The second-year back exploded for 81 yards and a score on 12 carries, adding 40 additional yards on three targets. Brown took a step back from his big Week 1 performance, producing 47 yards on 11 carries (he wasn't targeted). The Rams appear committed to a "hot hand" committee attack, so it's going to be hard to recommend any of these backs as weekly starts. Of course, Brown and Henderson will be more appealing flex fliers if Akers misses time.
Miami Dolphins — Despite playing only 57% of the offensive snaps, Mike Gesicki exploded for an 8-130-1 receiving line on a team-high 11 targets. Tracing back to last season, Gesicki has now been targeted at least five times in four of his past five and six of his past eight games. Even in tight end-unfriendly Chan Gailey's offense, Gesicki appears to be secure as one of Ryan Fitzpatrick's top targets. He'll be on the TE1 radar weekly, and that's especially the case this weekend against a Jaguars' defense that allowed a 4-84-2 receiving line to Titans' TE Jonnu Smith in Week 2.
Minnesota Vikings — Irv Smith Jr.'s second season is off to a very slow start, as the 2019 second-round pick has managed only two catches for 14 yards on five targets through two games. Smith has played 61% of the offensive snaps, which is barely above his 60% rookie-season rate. That's compared to 65% of the snaps for Kyle Rudolph. Smith may break out at some point this season, but he certainly doesn't need to be rostered except in leagues that start multiple tight ends.
New England Patriots — I think it's fair to say Cam Newton is healthy. The former league MVP is on fire out of the gate this season, especially after a Sunday Night Football effort in which he threw for 397 yards, ran for 47 yards and put three touchdowns on the board. Newton is off to a career-best start as a passer, but he's also on his way to one of his most-productive rushing seasons. He currently leads all quarterbacks in carries (26), rushing touchdowns (four) and carries inside the 5-yard line (five). In fact, Newton's 4.6 OTD is easily the highest in the entire NFL. Newton sits third at the position in fantasy points and second in OFP. He's worked his way right back into the every-week QB1 mix and should obviously be lineups against Las Vegas in Week 3.
New Orleans Saints — Reaction coming Tuesday.
New York Giants — Saquon Barkley went down with a torn ACL on his eighth snap during Sunday's loss. Dion Lewis was the clear next man up, playing 54 (87%) snaps and producing 56 yards and one touchdown on 14 touches. Lewis played so much because No. 3 RB Wayne Gallman was a healthy scratch. Both Lewis and Gallman are worth adding to your bench until this backfield sorts itself out, but it's very possible neither emerges as a reliable RB2 (the team could also sign a free agent like Devonta Freeman). At least for now, Lewis is the better receiver and the preferred add. Consider him a shaky flex against a beat up 49ers' defense in Week 3.
New York Jets — With Le'Veon Bell sidelined on Sunday, it was Frank Gore who unsurprisingly (but still kind of surprisingly, right?) handled the bulk of the backfield workload for the Jets. The 37-year-old played 58% of the snaps and inexplicably carried the ball 21 times for 63 yards in a 31-13 loss. Rookie La'Mical Perine played eight snaps in his NFL debut, with Kalen Ballage (seven snaps) and Josh Adams (five) also involved. The trio of backups combined for 34 yards on seven touches. Gore is obviously the best fantasy play here, but "best" is a relative term, as he should be nowhere close to lineups. Perine has the most upside of the group but is worth stashing only in deeper leagues with Bell due back in a few weeks.
Philadelphia Eagles — Indications were that Miles Sanders would be a feature back this season and that was, in fact, the case in Week 2. Sanders was on the field for 53 offensive snaps (77%) and converted 20 carries and seven targets into 131 yards and one touchdown. That snap share was the fifth highest of Sanders' young career and was well ahead of Boston Scott (19%) and Corey Clement (4%) on Sunday. Sanders was fantasy's No. 3 running back once he took on a feature back role down the stretch last season, and it seems clear he'll have the touches to produce consistent RB1 numbers throughout 2020.
Pittsburgh Steelers — James Conner returned from injury on Sunday, and there was zero question that he was the team's featured back. Conner played 49 (or 77%) of the offensive snaps, compared to 10 for Benny Snell Jr. and five for Jaylen Samuels. Granted, most of it game on a late 59-yard run, but Conner's numbers were solid with 106 yards and one score on 16 carries and 15 yards on a pair of targets. Conner will be a weekly RB2 (at worst) as long as he's playing such a significant role in a good Steelers offense. He should be locked into lineups this week against a Houston defense that has already been gashed by both Clyde Edwards-Helaire and the Ravens' backfield committee.
San Francisco 49ers — Brandon Aiyuk and Mohamed Sanu Sr. made their 49ers' debuts on Sunday. Aiyuk played 42 (or 71%) of 59 snaps, whereas Sanu was on the field for 13 plays. Kendrick Bourne (43 snaps), Trent Taylor (27) and Dante Pettis (10) were also in the mix. Though the generous playing time suggests better days ahead for Aiyuk, he was limited to only 21 yards on three targets in the game. In fact, Bourne was the only 49ers' receiver to clear 21 yards in a game that saw Jimmy Garoppolo go down with an injury at the midway point. George Kittle is expected back in Week 3 and Deebo Samuel in Week 4, so while Aiyuk figures to hit for the occasional big play this season, he's unlikely to provide consistent fantasy production in the 49ers' run-first scheme.
Seattle Seahawks — DK Metcalf's second NFL season is off to a hot start. Fantasy's No. 7 scoring wide receiver has posted receiving lines of 4-95-1 and 4-92-1 while playing all but one of the team's offensive snaps. Metcalf is unlikely to put up consistently high target numbers (he has 14 in two games), but that is mostly offset by his vertical role (his 14.8 aDOT ranks seventh among wide receivers targeted more than 10 times this season) and Seattle's high-scoring and suddenly pass-heavy offense. Metcalf is a borderline top-10 play against Dallas in Week 3.
Tampa Bay Buccaneers — Coach Bruce Arians claimed Ronald Jones II would remain the team's lead back even after the addition of Leonard Fournette. Well, that lasted a week. Fournette played 25 snaps (44%) on Sunday, compared to 20 for Jones and 10 for LeSean McCoy. Fournette produced 12 carries for 103 yards and a pair of TDs, as well as 13 yards on five targets. Jones stumbled to 27 yards and one score on nine touches. McCoy was targeted seven times and hauled in five for 26 yards. Jones' days as a featured back appear numbered, and it would be an upset if Fournette isn't the main man moving forward. Consider Fournette a strong flex play against Denver this week, with Jones best left on benches.
Tennessee Titans — Jonnu Smith exploded for 84 yards and a pair of touchdowns on five targets against Jacksonville on Sunday. Smith was on the field for 88% of the team's offensive snaps, which is actually higher than his 74% rate during a Week 1 game in which he was targeted seven times and scored a touchdown. Smith sits second among tight ends in fantasy points, and his OFP ranks 10th. Granted A.J. Brown was out on Sunday, but it's clear Smith is going to remain one of Ryan Tannehill's top targets. Smith is a borderline TE1.
Washington Football Team — Logan Thomas has played 79% of the Football Team's offensive snaps this season, racking up 17 targets during the span, which is tied with Terry McLaurin for most on the team. The heavy usage has helped Thomas to the second-highest OFP among tight ends, but hasn't been met with good efficiency, as he's been limited to receiving lines of 4-37-1 and 4-26-0. The volume is enticing, but Washington's underwhelming offense may not lead to many big days. Consider Thomas a solid TE2.
Rob Gronkowski's ultimate Florida road trip
We know Florida Man as a popular meme that mocks the bizarre, at times inconceivable behavior that seems to epitomize the state. But human beings are so much more complex than that. So what, exactly, is a Florida Man? We think a Florida Man is adventurous. Zany. Unencumbered.
We think a Florida Man is a 6-foot-6, 268-pound force of nature who vibes so hard.
We think a Florida Man is Rob Gronkowski — which is perfect, because Rob Gronkowski is now, well, a Florida man. The New York product, Arizona alum and former New England Patriots star has joined the Tampa Bay Buccaneers, giving the All-Pro tight end some new terrain to explore.
Sometimes it takes a while to find one's ideal path, and Gronk — with two catches and one recovered onside kick through the Bucs' first two games — has seemingly discovered his perfect state at the age of 31. To prove it, we hand-selected 10 Gronk-tastic things for him to do in Florida and asked the authority figures for each of these places to submit their pitches.
This — the continuation of a very serious public health crisis that requires considerable precaution — is not the time, of course. But eventually — one would think — civilization will return to normal, at which point Gronk can take a real tour through an eclectic state befitting his larger-than-life personality. His road map awaits.

Gronk And The Sea Cows
Location: Snorkeling with Manatees (Citrus County)
Distance from Raymond James Stadium: 70 miles N
The average manatee weighs up to 1,200 pounds. That's 4 1/2 Gronks. Captain Parker has spent nearly two decades leading expeditions out to Crystal River and Homosassa Springs, one of few places where up-close interactions with these gigantic mammals are possible. Immediately people are blown away by their sheer size. Then they get into the water and are usually struck by fear. But then they notice that the manatees are gentle, playful, sometimes even a little shy. It's an experience that has inspired many of today's marine biologists and can at times feel life-changing.
"It's the magic of interacting with a wild animal, and when that wild animal chooses to interact with you," said Captain Parker, whose website notes that manatees are "the most enduring animal in the state of Florida." Gronk, a 10th-year tight end returning from retirement, can relate.
The pitch for Gronk: "I've had people come out here that have gone through all walks of life. You're a tough guy, you play a tough sport, and you're up against some pretty big ol' boys here, but wait 'til this ol' animal comes up to you. I've had guys that have been in Desert Storm, that actually are dodging bullets, that when they get in the water and the manatee comes up and nudges them on the bum, all of a sudden they're crawling back on the boat. And I've seen this. You spend a lot of time tackling these guys in the front line and running from the big guys, but wait 'til this manatee chases you down. This manatee will chase you at times back to the boat because it doesn't want you to leave. Your other opponents want you to leave. Manatees don't." — Captain Parker, owner, Snorkeling with Manatees, LLC
---
Gronk Does Spring Break
Location: Beach Bash Music Fest (Panama City Beach)
Distance from Ray Jay: 350 miles NW
Shirtless Gronk on a parade float catching Bud Lights and trying to keep up with Ludacris lyrics is a sight to behold. And the fine people of Tampa shouldn't require a Buccaneers championship in order to experience it. Introducing the Beach Bash Music Fest, which began 20-plus years ago with a lonesome DJ in the sand and has since morphed into an epic spring break party drawing some of music's most popular acts and 15,000-plus college kids without a care in the world. MTV has staged spring break here. Steve Aoki, Kaskade, Pit Bull, Lil Wayne and Pauly D have all come through here. This is Gronk's scene. And it takes place in March, giving him plenty of time to get over a massive hangover.
The pitch for Gronk: "You know what, man, he went down to Florida, and Florida is where spring break originated. A little fun fact — back in 1938 was the first spring break [he's actually right about this]. This is American spring break. Warmer weather, which he'll see now that he's in Florida, feet in the sand, co-eds from across the country, good-looking people left and right, all ethnicities. Just a big party. Everybody's having a good time. Nobody's there to violate or anything. It's a must-see experience. If you Google 'spring break,' that's it — Beach Bash Music Fest [we got a 1983 movie starring two men named David Knell and Perry Lang]." — Arnie Jimenez, co-founder, StudentEscape (the exclusive tour operating partner for the festival)
---
'Not All Treasure Is Silver And Gold, Mate'
Location: Gasparilla Pirate Festival (Tampa)
Distance from Ray Jay: 5 miles S
Almost every year since 1904, upward of 500,000 people from all over the world have descended upon Tampa to take part in this festival, which has grown to include more than 100 floats in celebration of a mythical pirate named Jose Gaspar. The event begins with a pirate "invasion." Hundreds of dressed-up pirates aboard the Jose Gasparilla, considered the only fully rigged pirate ship in the world, capture the mayor and take the key to the city, igniting a massive party in the streets that might only be rivaled by Mardi Gras.
The Buccaneers have a float in the parade, but active players don't usually take part. Gronk can change that. This year's event — if it's safe enough to be held — is scheduled for Jan. 30, the weekend of the Pro Bowl. This is so much better than the Pro Bowl.
The pitch for Gronk: "What do we call our team here? We call 'em the Buccaneers for crying out loud. So clearly, if you wanna be a real guy from Tampa, you gotta put on that pirate outfit. The sun is out, the shirts are small, and everyone's screaming and yelling for beads, and everyone's got a cocktail. That's a hard party to pass up." — Peter Blackman, captain, Gasparilla Pirate Festival
---
Big Guy In A Little Bar
Location: Smallest Bar (Key West)
Distance from Ray Jay: 430 miles S
The Smallest Bar in Key West — probably not the most creative name but certainly a descriptive one — is a 72-square-foot dive bar connected to a quaint hotel and residing right in the thick of a bustling Duval Street. Gronk's energy can fill a room. Here, his energy will quickly overflow it. Smallest Bar is laid back and great for people watching, the type of place where one can wear a flowered shirt and sip blended drinks from a coconut with no judgement — a Floridian's dream, really.
We suggest Gronk make the trip out here in December for SantaCon, a jolly bar-hopping event throughout Key West. The patrons usually end up here and try to pack the place with as many people as possible, just for the visual. The record, by the way, is 43 1/2. They counted a small child as half a person. Maybe Gronk can count as two.
The pitch for Gronk: "Everybody says it's on their little list when they come to Key West. You gotta go to the Smallest Bar and have a drink, try the key-lime pie shot that we're famous for, and you just never know who you're gonna meet in there. I mean we used to have Dale Earnhardt come in a lot because he liked the place, he thought it was fun. Good guy. They sit around sometimes, they buy people drinks, they have a good time. You just never know who you're gonna meet. It's just lighthearted in there." — Josh Dix, owner, Smallest Bar in Key West
---
Catching Pelotas With A Cesta
Location: Casino Miami Jai-Alai (Miami)
Distance from Ray Jay: 280 miles SE
These days, Casino Miami stages Jai-Alai only to maintain its casino license. Its 4,000-seat arena doesn't draw more than 100 people for most matches. But back in the '70s and '80s, Jai-Alai — basically a racquetball game with woven cestas instead of rackets and firmer balls that travel as fast as 186 mph — was it in Miami.
Casino Miami, which opened in 1926, had the high-end restaurants and the fancy bars and was the place to be. Its Jai-Alai matches took on the ambiance of a major heavyweight fight. Those days might be gone, but the game is still fun and exceedingly challenging. Gronk would get a kick out of it.
The pitch for Gronk: "It's the fastest sport in the world. The ball, the pelotas they play with, move faster than anything else in sports. It's hard. It's not an easy game to play. I think it'd be a great challenge for him to strap on a cesta and give it a roll." — Steve Rinaldi, marketing director, Casino Miami
---
Mer-Man Gronk
Location: Weeki Wachee Springs mermaid show (Spring Hill)
Distance from Ray Jay: 50 miles N
Before theme parks became so prominent throughout Florida, roadside attractions like the mermaid show at Weeki Wachee Springs State Park were the place to be. I mean, Elvis came here for goodness sake. In a normal year, the show still draws somewhere in the neighborhood of 400,000 people to its underwater, 400-seat auditorium. There, visitors watch half a dozen mermaids perform 30-minute shows in a first-magnitude spring with a 5 mph current in the middle of an open waterway, which means fish, turtles and manatees can always appear in one of their "Little Mermaid" renditions.
Every year, Weeki Wachee Springs hosts around 60 prospective mermaids for a three-part tryout. It begins with an endurance test that requires a timed, 400-yard swim. Two-thirds of them will usually drop out after that, which is why the current mermaids want nothing more than to challenge Gronk to an athletic competition. They just need to find a tail big enough.
The pitch for Gronk: "We've always had so many different people — celebrities, newscasters — try to see what it's like to be a Weeki Wachee mermaid, and I think people would find that it's a lot more difficult than they're made to believe. So to Rob — come see what it's like to be a Weeki Wachee mermaid and see if you've got what it takes to become one of us. And plus, to see a part of old Florida, especially now that you're a Floridian — people wanna go see Disney, they wanna go see Universal. Those are great places to go and visit, don't get me wrong, but you can't visit Florida, even be a resident, and not come see a place like Weeki Wachee springs. It holds so much tradition, so much nostalgia. It's definitely a place he has to visit." — John Athanason, developmental rep, Weeki Wachee Springs State Park
---
The New Gator Boy
Location: Everglades Holiday Park (Fort Lauderdale)
Distance from Ray Jay: 250 miles SE
You can't live in Florida and not make a trip out to the Everglades to see some gators. For Gronk, we thought the best place might be the one that employs the Gator Boys, who teamed up for a hit reality show on Animal Planet and are, as you might expect, pretty wild. He can start with an hour-long airboat ride — they're open to letting Gronk drive the airboat — then take in a 20-minute alligator show and move on to a 45-minute animal encounter to get familiar with snakes, skunks, raccoons, possums, tortoises and all the other creatures that help make up the ecosystem of Gronk's new home. We recommend lots of bug repellant.
The pitch for Gronk: "There really is nothing more Floridian than getting up close to the gators and venturing out deep into the everglades." — Ashley Correa, director of sales and marketing, Everglades Holiday Park
---
Gronk Cruise Practice
Location: Shuffleboard Club (St. Petersburg)
Distance from Ray Jay: 20 miles SW
[Extreme Stephen A. Smith voice] Rob! You playin' shuffleboard again?! Shuffleboard has deep roots in Florida, and the tired joke is that of course it does because Florida is America's retirement community and the game is for old people. Well, it isn't. At least not at St. Pete's Shuffleboard Club, which was founded in 1924 (OK, ignore that part) and revived itself from near-extinction around 2005 by opening its doors to non-members on Friday nights and making the atmosphere more festive, with music, lights and BYOB. It helped start a national craze.
The Shuffleboard Club, which got air conditioning in its clubhouse two years ago, bills itself as the oldest and largest in the world and maintains most of its old look. But on the right day — with no pandemic, of course — it can be a happening place. Gronk needs to play here. You know, to get ready for the Gronk Cruise.
The pitch for Gronk: "He should come out on a Friday night. There'll be 250 people playing shuffleboard — the music, the twinkly lights, and really, I can't stress this enough, it is pure magic. Because of our history in St. Pete, and shuffleboard in general, playing shuffleboard at the St. Petersburg Shuffleboard Club is the quintessential St. Petersburg, Florida, thing to do. I understand he's a big guy. We'd have to work with him to not fling the disc down at full strength, but I also know he can be a very elegant player — that's what a friend told me — and so he'd really appreciate the little nuances of the sport." — Christine Page, executive director, St. Petersburg Shuffleboard Club
---
Goofy With Your Omelette
Location: Disney character breakfast (Orlando)
Distance from Ray Jay: 75 miles NE
Where did Gronk spend Valentine's Day? At Disney World, of course. He rode all the rides — surely that included "It's A Small World" — but did he eat waffles with Mickey Mouse? Gronk needs a character dining experience. There are usually several of them sprinkled throughout Disney World, but the only one functioning at the moment is Topolino's Terrace at Disney's Riviera Resort. They're staging "Breakfast a la Art," which features Mickey as a painter, Minnie Mouse as a poet, Donald Duck as a sculptor and Daisy Duck as a dancer, which means Gronk can also take in some culture. Kids love this stuff, as you might expect. But the adults have been found to be just as passionate about dressing up and engaging with the characters.
The pitch for Gronk: "There's nothing like our character dining restaurants. They're fun, they're vibrant, they're colorful. They're alive with energy. Just walking by one, you feel that energy coming from these restaurants, and it's mostly coming from our characters. They're a great source of creativity and energy and just being alive and having fun." — Robert Gilbert, culinary director, Magic Kingdom
---
Chillax, Bro
Location: Ichetucknee Springs lazy river (Fort White)
Distance from Ray Jay: 165 miles N
Back in the glory days at the University of Arizona, Gronk and his buddies installed a Slip 'N Slide at his college residence that became a staple of his epic parties. Now Gronk is a little older, maybe a little wiser, so perhaps he might want to slow it down a notch and float around the lazy river at Ichetucknee Springs — a pristine waterway that stretches more than three miles and attracts people from the Northeast, Europe, the Carolinas, Georgia and, most noticeably, nearby college campuses of the University of Florida and Florida State University.
The park manager, Bob Soderholm, stresses that this is a quiet, family environment, and not a place for alcohol or loud music. But he has had a hard time corralling the party scene. Gronk would up the ante tremendously.
The pitch for Gronk: "This park is 50 years old, under the management of the division of recreational parks. It's been around a lot longer than that. We have a local resident around here that's also a member of our citizen support organization. His dad brought him down to the spring to take him swimming when he was just a little tyke. He's in his 80s now, and he still comes down and swims. People have been doing this, swimming in the river — we know this for a fact — for over 80 years." — Bob Soderholm, park manager, Ichetucknee Springs State Park