Nelson Cruz of Seattle Mariners to get MRI after spraining ankle
Seattle Mariners designated hitter Nelson Cruz will get an MRI on Sunday after he sustained a sprained right ankle in Saturday's 6-5 loss to the Indians.
Cruz, who earlier in the game hit his second home run of the season, injured the ankle when he slipped on the dugout steps.
Guillermo Heredia pinch hit for Cruz in the eighth inning with none out and a runner on second. He flied out.
World Series Daily — Can Rays seize series lead over Dodgers in Game 5?
After all the oddities of the MLB regular season and postseason, the 2020 World Series pits baseball's top two teams against each other. While we've grown accustomed to seeing the Dodgers playing for the championship, this is the first Fall Classic for the Rays since 2008 and only the second in franchise history.
Here's what you need to know for Game 5 on Sunday, including a look at the pitching matchup, predictions, odds, other key numbers and more.
Key links: Viewers guide | Schedule | Playoff Baseball Classic
What's on tap

World Series Game 5: Tampa Bay Rays (Tyler Glasnow) vs. Los Angeles Dodgers (Clayton Kershaw), 8:08 p.m. ET in Arlington, Texas
ARLINGTON, Texas — Now that the series is tied 2-2, Clayton Kershaw won't get the chance to pitch the Los Angeles Dodgers to a World Series championship after his team's Game 4 collapse, but his importance in Game 5 on Sunday can't be overstated. He'll need to be the stopper the Dodgers always expect him to be — because all of a sudden, the Rays have grabbed some momentum.
Kershaw has a career 4.68 ERA in the World Series, though he pitched well in Game 1. He'll take on Tyler Glasnow for a second time in this Series, and the wild and wacky finish to Game 4 will undoubtedly still be fresh on everyone's mind.
Meanwhile, Glasnow could use some redemption after a Game 1 collapse. He walked six batters in less than five innings pitched and hasn't completed a full six innings all season. After using their top relievers in Game 4, the Rays will take as many innings as they can get out of Glasnow in Game 5.
In a season that has been unexpectedly defined by a pandemic, followed by labor strife and a shortened, 60-game regular season, the World Series is down to a best-of-three. After the drama of Game 4, what kind of encore do the best two teams in baseball have in store? Stay tuned. — Jesse Rogers
---
Running World Series odds
Dodgers 66.1%; Rays 33.9%
---
Game 5 predictions
David Schoenfield: You want a prediction after THAT game? LOL. The Dodgers have been tested many times in the playoffs over the past eight years, but I don't know if they've ever faced a tougher mental test than coming back from maybe the most shocking, heartbreaking playoff defeat since the infamous Pedro game for the Red Sox in the 2003 ALCS. What will happen? I have no idea, but I really, really want Clayton Kershaw to pitch a good game. Rays 5, Dodgers 4.
Dan Mullen: Did you see what happened last night? How is anyone supposed to pick against the Rays after that display of just-won't-go-away magic? Throw in the fact that, as Dave writes today, the second time around in a postseason series has been the real issue for Clayton Kershaw in October, and I'm going to pick Tampa Bay to take a 3-2 series lead and send Dodgers fans into even more despair heading into another "travel" day. Rays 5, Dodgers 4.
Rogers: Kerhsaw will exorcise his World Series demons once and for all after throwing a solid effort in Game 1. We've seen him out-pitch Glasnow once, and he'll do it again in Game 5, knowing the Dodgers need to get their swagger back after their Game 4 ninth-inning collapse. The Rays got their dramatic win in the series, so it's the Dodgers' turn to pull off a close one. Glasnow will be better than he was in Game 1, but Los Angeles wins. Dodgers 5, Rays 4.
---
Stat of the day
Game 4 was the third walk-off win by a team that trailed entering the bottom of the ninth in the past 15 World Series. The other two? Game 6 in 2011, the "David Freese" game for the Cardinals, and Game 1 in 2015, which ended on an Eric Hosmer sac fly in the bottom of the 14th after Alex Gordon hit a game-tying home run in the ninth. The Rays are the first team to win a nine-inning World Series game in which they trailed entering the bottom of the ninth since the Diamondbacks won Game 7 of the 2001 World Series.
---
Social media post of the day
A walk-off like you've literally never experienced before.#WorldSeries pic.twitter.com/1AfRQvJPnw

— MLB (@MLB) October 25, 2020
---
Best moment of the MLB playoffs to date
Brett Phillips' bloop single is bobbled by Chris Taylor in center, and then Will Smith drops the ball at home, allowing two Rays runs to score and win the game.
If you were watching Game 4, you just saw it, when Rays journeyman Brett Phillips' two-out hit off Dodgers closer Kenley Jansen — Phillips' first hit since the regular season after Jansen walked Randy Arozarena — in the ninth scored Kevin Kiermaier from second for a 7-7 tie and then, improbably, plated Arozarena as well when catcher Will Smith lost the ball at home plate for a Rays walk-off win. Just like that, the World Series was evened up, making it a best-of-three showdown between L.A. and Tampa Bay.
Arozarena tripped and fell before scoring 😳😳😳 #WorldSeries pic.twitter.com/mt71CJLF2D

— ESPN (@espn) October 25, 2020
Brett Phillips' bloop single is bobbled by Chris Taylor in center, and then Will Smith drops the ball at home, allowing two Rays runs to score and win the game.
---
The running MLB playoffs MVP
Randy Arozarena has gone from an unknown outfielder to this October's breakout star. Going into the playoffs, you might have been asking, "Who is this guy?" But the Rays' trade for him has been a huge factor in their postseason run. Arozarena is now a living, breathing postseason record book in cleats, having set MLB records for home runs (nine) and total bases (58), and he's tied for the all-time record for postseason hits (26). What's more, he has been flashing some leather in the outfield and some sweet celebration dance moves on the field.
World Series 2020 – Why the second start of a series is Clayton Kershaw's real postseason problem
The narrative winds itself through every October, the constant that connects each postseason to the previous one for the past eight years, with many of the horrifying twists and turns of a Stephen King novel. Will Clayton Kershaw, the best pitcher of his generation, finally get to celebrate a World Series title with his teammates?
Kershaw is back on the mound for Sunday's Game 5 with a chance to put the Los Angeles Dodgers back on top after the ultimate gut-punch of a loss Saturday night. He has been effective this postseason, with a 13-strikeout game against the Brewers in the wild-card round and a 2.88 ERA over four starts. His one rough outing was a crucial one, though; in Game 4 of the National League Championship Series, he gave up four runs over five innings as L.A. fell to the brink of elimination before rallying to win the final three games. It is perhaps notable that Kershaw did not pitch in any of those three victories. Walker Buehler is now regarded as the Dodgers' ace, and Kershaw doesn't have to win every game, as was expected — unfairly — for so many years. He is still one of the most valuable players on the roster, but the Dodgers have many valuable players.
That doesn't make a Kershaw start any less full of intrigue, however. I suspect even if you're not a Dodgers fan, you find yourself pulling for Kershaw this time of year. In his career in the regular season, he's 175-76 with a 2.43 ERA. In his career in the postseason, he's 12-12 with a 4.22 ERA. I saw a list similar to the one below on a recent broadcast. Since the advent of the wild card in 1995, Kershaw has the fifth-worst postseason ERA among pitchers with at least 70 innings:
David Price: 4.62
Charles Nagy: 4.46
Al Leiter: 4.38
CC Sabathia: 4.28
Clayton Kershaw: 4.22
Zack Greinke: 4.22
That's out of 36 pitchers. Mariano Rivera tops the list, with Madison Bumgarner second and Curt Schilling third. What makes the above ranking stand out even more, of course, is the difference between that postseason ERA and the player's career ERA:
Price: +1.31
Nagy: -0.05
Leiter: +0.58
Sabathia: +0.54
Kershaw: +1.79
Greinke: +0.85
Kershaw has been so dominant in the regular season, which has made his results in the playoffs only more frustrating. On top of that, he is held to an impossible standard. He is expected to duplicate the heroic performances of World Series legends such as Sandy Koufax and Bob Gibson — who cares if they pitched in a different era and had to pitch in only one series per year — or to match an October run like his contemporary and rival Bumgarner had for the Giants in 2014.
Sunday night's start will be a big test for Kershaw for another key reason: It's the first time this postseason he'll make a second start in a series. I had a theory that most of Kershaw's postseason struggles have come the second time he faced a team in a series. Before putting theory to paper, I checked the numbers. I went back to 2013, the first postseason Kershaw pitched in after he had become the best pitcher in the game.
First game in a series: 102⅔ IP, 78 H, 44 R, 42 ER, 23 BB, 118 SO, 14 HR, 3.15 ERA
Subsequent appearances: 65⅓ IP, 55 H, 37 R, 34 ER, 16 BB, 72 SO, 11 HR, 5.44 ERA
So the theory holds. Kershaw's major issues mostly have come the second time around. One thing I've heard people say is Kershaw has been pushed hard in the postseason, pitching on three days' rest at times earlier in this run, plus making several relief appearances along the way. That's true; he was pushed hard by Don Mattingly and then Dave Roberts. The trouble with that theory is Kershaw actually pitched well on short rest. He has made four starts on three days' rest, all in Game 4 of a division series and his second start of a series:
2013 NLDS vs. Braves: 6 IP, 0 ER, 6 SO
2014 NLDS vs. Cardinals: 6 IP, 3 ER, 9 SO
2015 NLDS vs. Mets: 7 IP, 1 ER, 8 SO
2016 NLDS vs. Nationals: 6.2 IP, 5 ER, 11 SO
That's a 3.16 ERA, and even the game against the Nationals is a little misleading. He left in the seventh inning with two outs and the bases loaded, but the bullpen allowed all three runners to score. That was the year he came on to get the final two outs in Game 5 for the save. He then started Game 2 of the NLCS on two days of rest (or four days of rest after his Game 4 start). You know what? He pitched seven scoreless innings against the Cubs. It was his second start of the series, in Game 6, when the Cubs knocked him around for two home runs and five runs in five innings.
So it doesn't really hold that short rest has hurt Kershaw. Now, sure, maybe there's a cumulative effect here. Maybe he was gassed by the time he faced the Cubs in Game 6. I keep wondering if seeing Kershaw a second time in short order helps opponents. Part of the mystery of facing Kershaw is he doesn't look like any other pitcher with that hesitation and his windup and the over-top delivery. Maybe the familiarity of seeing him again a few days later helps — similar to how offensive numbers jump the third time through the order (part of that is pitcher fatigue, but part of that is hitters have seen the pitcher for two at-bats already).
I went back to the 2015 postseason and checked the numbers on starters for their first start in a series and then their second start. This gave a list of 80 pitchers (and 81 second starts, as Corey Kluber started three times in the 2016 World Series).
First start: 444⅓ IP, 344 H, 160 R, 153 ER, 148 BB, 454 SO, 51 HR, 3.12 ERA
Second start: 399⅓ IP, 338 H, 181 R, 168 ER, 138 BB, 434 SO, 61 HR, 3.79 ERA
So, yes, pitchers don't fare as well the second time in a series. Their average innings pitched goes from 5.6 to 4.9. Their home runs per nine innings goes from 1.03 to 1.37. Their ERA rises 0.67 runs — but Kershaw's ERA rises 2.29 runs.
It should be noted that Kershaw hasn't pitched as badly as his ERA suggests. Compare his second-start numbers to the other 81 starts per nine innings:
Kershaw: 7.6 H, 2.2 BB, 9.9 SO, 1.52 HR, 5.44 ERA
Others: 7.6 H, 3.1 BB, 9.8 SO, 1.37 HR, 3.79 ERA
His raw numbers are basically the same as the control group — except the ERA. For whatever reason, his runs in the postseason too often come in crooked numbers or one bad inning.
Anyway, the Dodgers know this. Roberts won't allow him to go too long, and the Dodgers have plenty of arms in the bullpen. In his four starts this postseason, Kershaw has thrown 93, 87, 87 and 78 pitches. He'll be pitching on four days of rest. He gave up only two hits in six innings in the Game 1 victory over the Rays. All the signs point to another good start. I hope so.
World Series 2020 – Is L.A.'s latest bullpen meltdown the start of an all-time October disappointment?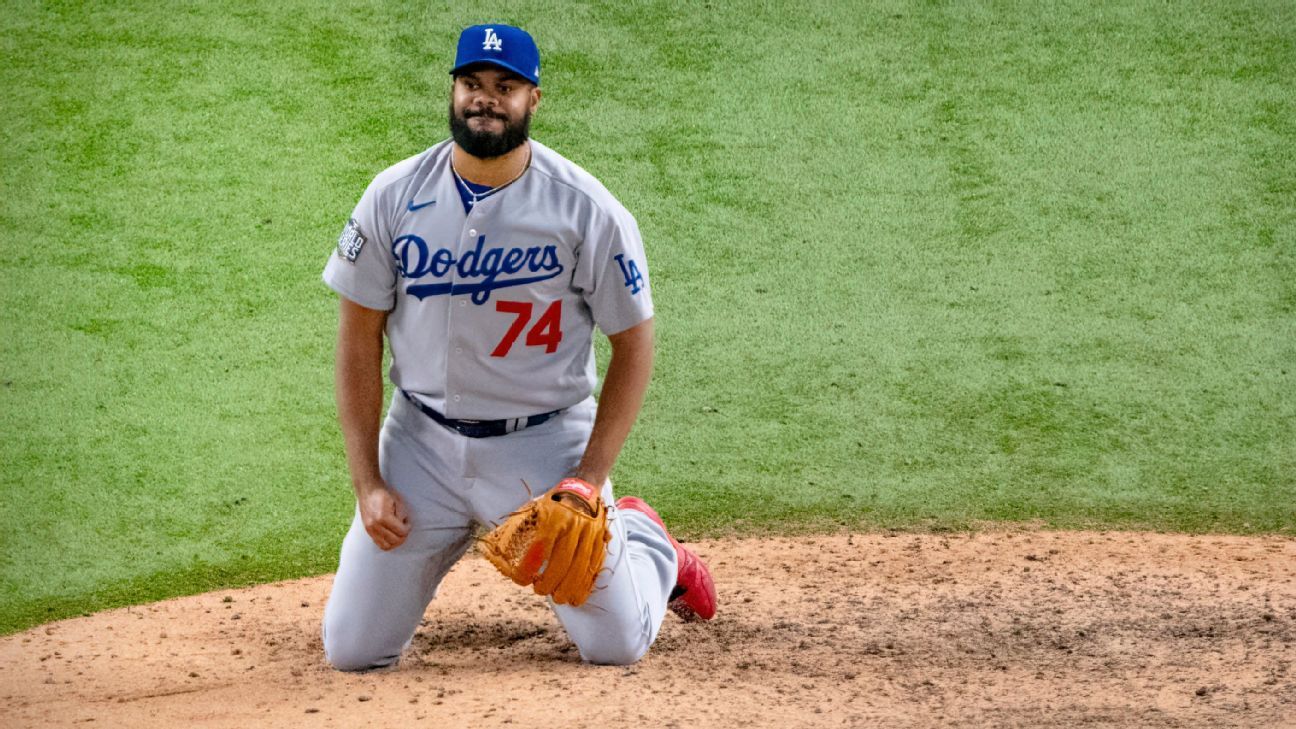 ARLINGTON, Texas — Both the allure of and the disgust for this time of year can be captured in how the minute details profoundly impact what resonates. If Kevin Kiermaier's shattered-bat, ninth-inning blooper is hit an inch or two more shallow, Enrique Hernandez probably pulls off a diving catch, and maybe we're talking about how Justin Turner — the local kid who watched Kirk Gibson from his grandmother's living room — has his childhood team one win away from a championship.
If home plate umpire Chris Guccione pulls the trigger on a 1-2 cutter that tailed slightly outside on Randy Arozarena, the final out is recorded, and maybe we're talking about how Kenley Jansen — the demoted longtime closer who earned his way back at the perfect time — recorded the most important save of his life.
If Pedro Baez throws his dominant changeup to Brandon Lowe in a crucial sixth-inning at-bat and doesn't give up the home run that spiraled everything out of control, maybe we're talking about how Clayton Kershaw — of all people — can pitch the Los Angeles Dodgers to a World Series title on Sunday.
Instead, it's manager Dave Roberts' bullpen management. It's Chris Taylor's bobble. It's Will Smith's drop. It's Jansen's mental lapse. It's an 8-7 loss to the Tampa Bay Rays and a Series suddenly, shockingly, tied at 2. It's the Dodgers, reeling after the most improbable of ninth-inning comebacks, and how they somehow bounce back from this.
"We can't let this beat us," Jansen said late Saturday night. "We have to let it go."
Jansen, who worked to simplify his delivery earlier this month, was unquestionably sharp when he took the mound hoping to protect a one-run lead. The one-out single he allowed to the No. 9-hitting Kiermaier, which fell just beyond Hernandez in shallow center field, was hit 64 mph. The two-out, game-winning single by Brett Phillips, hit to nearly the exact same spot, traveled 83 mph. Both were flares.
"I didn't give up one hard hit," Jansen said. "What can I do?"
Taylor — playing center field as part of the ripple effect that began with Cody Bellinger having to move to designated hitter because of a stiff lower back — lifted his head to watch the speedy Randy Arozarena as he began his turn of third base and briefly lost sight of the baseball, prompting an aggressive send by Rays third-base coach Rodney Linares.
Taylor retrieved the ball quickly and threw to Dodgers first baseman Max Muncy. Arozarena tumbled. He was primed for a rundown. But Smith, the Dodgers' 25-year-old catcher, wasn't aware. He attempted to field the throw and make a quick swipe with his glove, but the baseball squirted away. If Smith knows where Arozarena is, maybe he takes his time and secures the ball first. And if Jansen is backing up the play, rather than standing directly in front of it, maybe the game extends into extra innings.
"Yeah," Turner said afterward, "that was uncharacteristic of us."
Game 4 began to turn in the bottom of the sixth, when Baez replaced Blake Treinen with two on, one out and Lowe up to bat. Opposing left-handed hitters slugged .111 off Baez's changeup this season. But with the count at 2-2, Baez shook off a sign for the changeup, threw a four-seam fastball instead and watched it travel 399 feet for a go-ahead, three-run homer.
After Baez recorded the next two outs, Roberts greeted him in the dugout and told him he was finished. Then the Dodgers got a two-out, pinch-hit, two-run single by Joc Pederson in the top of the seventh and retook the lead. Then Roberts asked Baez to come back out for the bottom half.
"I take blame for having him go back out," Roberts said. "We were down, I told him he was finished, and so to ask him to go back out and to see how he felt — he said he felt good — but I shouldn't have [told him he was finished after the sixth] and just kinda kept him burning a little bit."
Baez gave up a game-tying home run to Kiermaier. Then the Dodgers retook the lead on an eighth-inning, two-out single by Corey Seager, and the Rays somehow walked it off against Jansen, who suffered the fourth blown save of his postseason career — all of which have come in the World Series. The Dodgers became the second team to lose a World Series game despite accumulating 15 hits and the eighth team to lose a World Series game in the bottom of a ninth inning they originally led.
The Dodgers steamrollered through the regular season, swept through the first two rounds of these expanded playoffs, fought all the way back from a 3-1 deficit in the National League Championship Series and clearly hit their stride offensively through the first four games of this series, setting an assortment of records for home runs and two-out hits. Their best players were thriving. Their pitching was in order. After so many great teams came up just short this time of year, it seemed like everything was lining up for them to finally win it all.
Then it all unraveled.
Before the Rays' walk-off, Baseball-Reference's championship win probability added gave the Dodgers an 81% chance to win the World Series. After 13 seconds of madness, their chances were down to 52%, representing the second-highest single-play shift in a non-clinching World Series game.
The question now: Can the Dodgers recover?
"It's tough," Roberts said. "We have to digest it, but we have to move on."