Chicago Cubs keep faith in Yu Darvish despite disappointing debut – Chicago Cubs Blog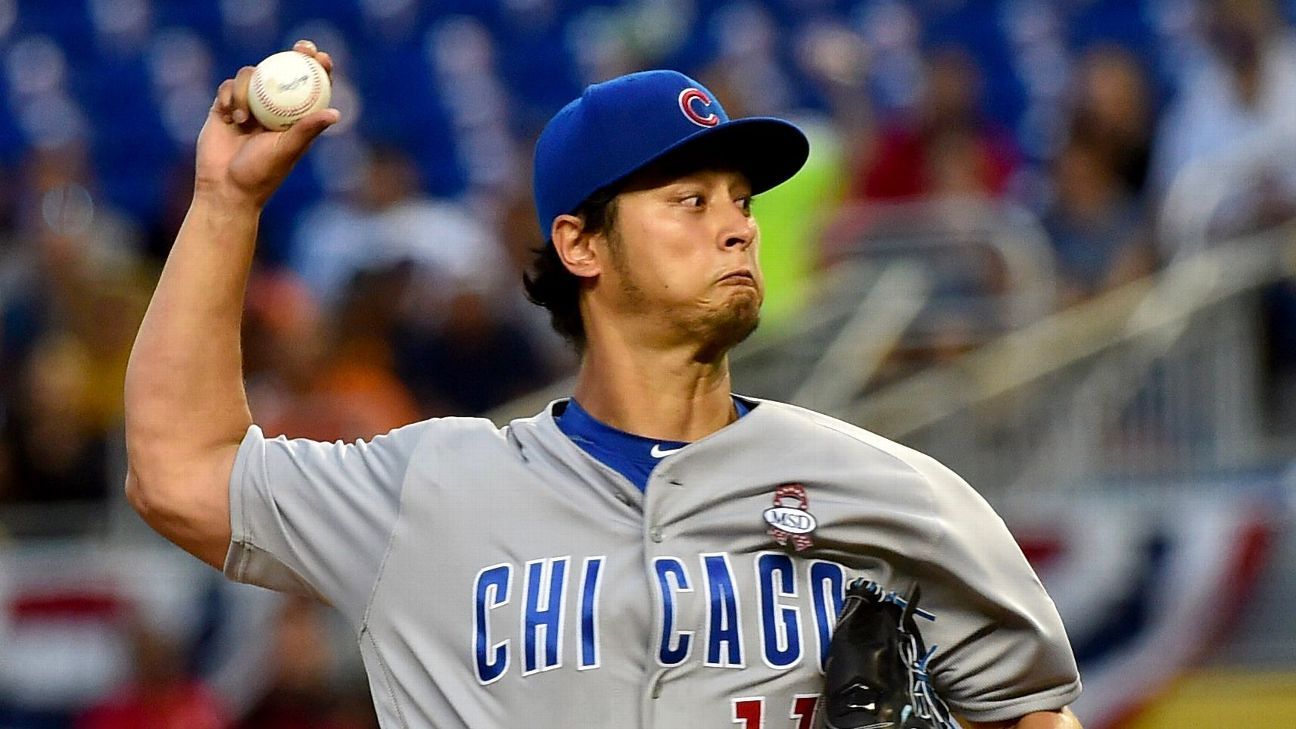 MIAMI — Unfair as it is to question a pitcher after only one start, critics of Chicago Cubs righty Yu Darvish will point to his World Series performance — combined with his season debut for his new team on Saturday — and declare he wasn't worth the $126 million the team will pay him over the next six years.
Darvish wasn't able to complete five innings against the lowly Miami Marlins on a night when the Cubs desperately needed innings out of him after losing a 17-inning affair the night before. Instead, according to ESPN Stats & Information, Darvish threw at least 100 pitches without finishing five innings for only the second time in his career.
"A lot of pitches for 4.1 innings," manager Joe Maddon said after the Cubs' 10-6 win in 10 innings. "Overall, he just didn't have his best stuff tonight."
Darvish gave up five runs and five hits, two walks and two hit batters. The best strikeout pitcher per nine innings in baseball history didn't whiff a Marlin until the pitcher came to bat in the third inning. The problem was simple: He had no command of his fastball.
"It seems like every time I pitched the first game in Japan things went not so well," Darvish said through his interpreter. "I don't know why that happened. … It could have been a location problem with my pitches. I don't think I was able to command whatever I wanted to, in terms of fastball."
Darvish indicated it was the same in Texas, where he compiled a 3.65 ERA in his first starts of a season, slightly higher than his career mark. He also had great stuff in his warm-up in the bullpen Saturday, according to those that saw it.
So maybe he had some first-game jitters once he took the mound, which isn't unheard of — even for elite arms in the game. But combined with his World Series performance last fall, he has now given up 13 runs in his past 7⅔ innings pitched. Just as it might be unfair to judge a pitcher after one game, it's just as unfair to judge him with five months in between.
It won't matter to some. Darvish is going to have to shed the reputation of an underachiever. It's not that he has had a bad career — it's that his stuff screams he should be better.
None of that mattered Saturday because Darvish had nowhere near his best stuff. To wit: Miami hitters were 3-for-9 in at-bats that ended on his fastball while he generated only one swing-and-miss out of 22 swings on that pitch. That tied for the fewest swings-and-misses on his fastball since the beginning of last season, while the 4.5 percent miss rate was the second lowest for him over the past two seasons. Bottom line: His fastball was a mess.
"They made me throw more pitches than I expected, so the rhythm got inconsistent there," Darvish said.
This is a Marlins team not exactly full of fully developed major league hitters, so it's hard to see the opponent as the big obstacle.
"Was probably too anxious to have a great debut," catcher Willson Contreras said. "He missed a lot of spots with his fastball, even with a slider too. He didn't have it today. He didn't get them to chase a lot. That's something we need from him."
And it came on a night the Cubs needed it. Not the same way the Dodgers needed him last fall, of course, but nonetheless he wasn't able to eat the innings that were needed.
"Nothing was absolutely right today," Maddon said.
A ball hit off Darvish's right leg in his final inning didn't help matters, though he stayed in the game and said he was fine. That was followed by a possible cramp in his arm that "went away" quickly.
Fair or unfair, the jury will be out on Darvish until he proves he can be a consistent, dominant pitcher for his new team — and earn that big paycheck.
"He's going to have a great year," Contreras said. "The first one wasn't as good as he is."
Byron Buxton not 100% so not in Twins' starting lineup
Center fielder Byron Buxton is not in the Minnesota Twins' lineup Wednesday because "he's not at 100%," manager Rocco Baldelli told reporters before Game 2.
Baldelli said Buxton could be available off the bench if his condition improves. He would not elaborate more on Buxton's condition. Buxton was hit in the helmet by a pitch on Friday and had "mild" concussion symptoms. He was cleared for Game 1 on Tuesday and played the entire game.
Max Kepler is starting in center in Game 2. Rookie Alex Kirilloff, who has yet to make his MLB debut, is starting in right field.
The Twins trail the best-of-3 wild-card series against the Houston Astros 1-0 after losing 4-1 Tuesday, their 17th straight postseason defeat.
Former World Series MVP Pablo Sandoval on Atlanta Braves roster
ATLANTA — Pablo Sandoval is on the Atlanta Braves' roster for the NL wild-card series against the Cincinnati Reds.
The 2012 World Series MVP joined the Braves after being released by the San Francisco Giants a couple of weeks ago.
He started at third base in the final game of the regular season, going 0 for 2 with two walks in a 9-1 loss to the Boston Red Sox. Sandoval played 33 games for the Giants, hitting .220 with one homer and six RBI.
The Braves also brought back infielder Charlie Culberson to the big league roster and released left-handed pitcher Tommy Milone, who was acquired at the trade deadline but posted a 14.90 ERA in three starts.
The 28-player rosters for the best-of-three series between the Reds and the Braves:
CINCINNATI
Pitchers (12): RH Tejay Antone, RH Trevor Bauer, RH Archie Bradley, RH Luis Castillo, LH Amir Garrett, RH Sonny Gray, RH Raisel Iglesias, RH Michael Lorenzen, RH Tyler Mahle, LH Wade Miley, RH Lucas Sims, RH Robert Stephenson
Catchers (2): Tucker Barnhart, Curt Casali
Infielders (7): Matt Davidson, Kyle Farmer, Freddy Galvis, Jose Garcia, Mike Moustakas, Eugenio Suarez, Joey Votto
Outfielders (7): Shogo Akiyama, Aristides Aquino, Nick Castellanos, Brian Goodwin, Travis Jankowski, Nick Senzel, Jesse Winker
ATLANTA
Pitchers (13): RH Ian Anderson, LH Grant Dayton, LH Max Fried, RH Shane Greene, RH Chris Martin, LH Tyler Matzek, RH Mark Melancon, LH A.J. Minter, RH Darren O'Day, LH Will Smith, RH Josh Tomlin, RH Jacob Webb, RH Kyle Wright
Catchers (3): William Contreras, Travis d'Arnaud, Tyler Flowers
Infielders (7): Ozzie Albies, Johan Camargo, Charlie Culberson, Freddie Freeman, Austin Riley, Pablo Sandoval, Dansby Swanson
Outfielders (5): Ronald Acuna Jr., Adam Duvall, Nick Markakis, Marcell Ozuna, Cristian Pache.
Mike Clevinger still out; San Diego Padres concerned
San Diego Padres right-hander Mike Clevinger is unlikely to pitch in the wild-card series and could miss the remainder of the postseason with an arm injury that did not resolve itself during a bullpen session Tuesday, sources told ESPN.
The Padres acquired Clevinger, 29, from the Cleveland Indians at the trade deadline and expected him to lead their playoff rotation. Clevinger left a Sept. 23 start after one inning, and while he has attempted to throw in the week since, concerns about his short- and long-term health persist, according to sources.
Clevinger is not the only Padres starter with health issues. The status of Dinelson Lamet, who finished the season with a 2.09 ERA and was expected to be their No. 2 starter, remains in question for their three-game opening-round series against the St. Louis Cardinals.
San Diego named Chris Paddack its Game 1 starter and in lieu of Clevinger and Lamet could turn to right-hander Zach Davies for Game 2. Right-hander Garrett Richards and left-hander Adrian Morejon also have started games for the Padres this year.
Rotation depth, while not vital in the wild-card round, will become paramount in the division series and championship series, during which there will be no off-days.
The Padres acquired Clevinger, outfielder Greg Allen and a player to be named later for a six-player package. Clevinger had fallen out of favor with the Indians after he and teammate Zach Plesac broke curfew during a trip in Chicago. Teammates accused Clevinger of lying to them and aired him out during a meeting, following which he and Plesac were demoted.
Beyond this year, the concerns about Clevinger's arm are acute. He has two years before he reaches free agency, and the Padres spent significant prospect capital at the deadline in hopes of him anchoring the rotation over the next few years as they try to capture the franchise's first championship.