Los Angeles Angels phenomenon Shohei Ohtani takes the mound
Shohei Ohtani is doing this, and when Sunday dawns, the magnitude of this moment should not be minimized. Strip away all the angst about his spring training and remember those four words: He is doing this. He was the Angels' designated hitter on Thursday against the Athletics, and he will be their starting pitcher on Sunday. That's nothing short of crazy. As the season wears on, he is expected to hit two or three times a week and be the starting pitcher once. In the modern game, it is unprecedented, and yet as the moment approaches, it still somehow feels underappreciated.
Maybe the hype was too strong too early. Maybe the mere idea of a two-way player in major league baseball was enough to divert our attention from the sheer amount of talent — and guts — it takes for Ohtani to put himself out there and try to do something everyone had forgotten was possible. It was unprecedented six years ago, when the Nippon Ham Fighters decided to give him the chance to do this out of high school. Fighters manager Hideki Kuriyama cut through dissenting voices in the organization when he told Ohtani, "Let's do something nobody else has done." And whatever was behind that decision — genius or vision or hubris — led to the moment on Sunday afternoon at 1:05 p.m. PDT, when Ohtani takes the mound at the Oakland Coliseum in the biggest league in the world as the starting pitcher for the Los Angeles Angels. Honestly, and it can't be repeated enough, it's quite a thing.
Yes, he had a 27.00 ERA in a few awful innings against big-league competition this spring. His command was horrible, and his body language worse, and his confidence level somewhere below that. He struggled against the Tijuana Toros, and as poorly as you might think of the Oakland Athletics, we can all agree they don't have 36-year-old Jorge Cantu hitting third. But Opening Day, as the poems tell us, heralds a new season, and Ohtani's first start in the big leagues should reign as a cause for wonder and speculation.
The talent is undeniable, regardless of how any of this turns out. Every single big-league team wanted this guy, and they wanted him because he can throw 102 to go along with a wipeout slider and a disappearing splitter and — oh, yeah — light-tower power with a bat in his hands. (His batting practice before Opening Day in Oakland included a howling liner that rose above the playing surface, beyond the center field fence, over the first section of seats and smack into a club-suite window. In keeping with his brand, Ohtani didn't seem to notice or care.) Besides, there's something automatically endearing about a guy who created the most meta moment in the illustrious history of Japanese TV game shows: Can Ohtani hit Ohtani? The results, as anyone worth his sequel would tell you, were inconclusive.
Ohtani, knowingly or not, is ushering in a newfound acknowledgment of Babe Ruth, which is all fine and good — tip your cap to the Babe, if you're so inclined — but the segregated game the Babe played when he pitched and hit in 1918 and the one Ohtani is playing in 2018 bear minimal resemblance.
For one, we are three or four years away from entering the second generation of youth-sports specialization in this country. Kids are encouraged — often by those who stand to profit from it — to pick one sport early and focus on it. And in baseball, especially with pitchers, there is specialization within the specialization. Many kids who show an aptitude for pitching stop hitting in high school. For some, it's even sooner. Travel-ball coaches who face the daunting task of making sure parents get something for their money — and don't stuff their inbox or their ears with gripes over playing time — will DH for their pitchers just to give an extra kid an at-bat (and keep his family happy). If you've got 14 11-year-olds and you can only play 10 every game, life is easier if you tell the pitcher his talent is so unique that he'd be stupid to pick up a bat. Easy money produces unexpected results. Watch the National League; starters who can lay down a bunt are lauded in the way astronauts once were.
It's impossible to predict what might happen when Ohtani takes the mound against the A's, and that's what makes it so riveting. His poor spring might have been the result of a Japanese system that's far more focused on the process. For one, pitchers rarely let loose in spring training. The epic 300-pitch bullpens are exercises in routine, with pitchers concentrating on repeating their deliveries without concern for velocity or command. It might have been a reliance on routine, or he might have been overwhelmed by the enormity of the task at hand. The mystery will reveal itself in due time.
Ohtani's high school coach taught him to think of his body as a whip, flexible and explosive. (The language, if not the form, is similar to how Tim Lincecum's father taught his son.) This spring, though, Ohtani's form looked more like the path of a long-handled ax: slow and heavy. He struggled to find his release point. He shortened his stride. Without getting too deep into the weeds, there's a long list of reasons for this. The major league ball is slicker and smoother, the Japanese baseball softer, with higher seams. Every Japanese pitcher has had to adjust to a mound that is harder and — they say — steeper. In Japan, the looseness of the dirt allows pitchers to dig out a landing spot that gives them the confidence to repeat their delivery. Ohtani's ability to get down the mound gave him the downward tilt that made his splitter vicious and his fastball appear to be rising as it approached the plate. This spring, in contrast, his release point varied, leading him to both spike and sail fastballs. It's rare for big-league pitchers to bounce fastballs, and Ohtani bounced a ton of them in Arizona.
(Start at the 0:20 mark of this video to see how loose and fluid his motion was in Japan. And then watch the fastball that starts at 2:40 here to see the difference.)
Those in Japan who know Ohtani best have noticed a reluctance to stride out as far as he did on the softer mounds. They wonder if he will adjust his mechanics, and how soon. Their worst fear is that he'll hurt an elbow or a shoulder before he figures it out.
And so he takes the mound as a curiosity. He's a 23-year-old trying to tackle two full-time jobs in a new country with a different baseball culture and a tendency to dismiss first and assess later. It would have been fascinating enough without the bad spring, but it's worth remembering he couldn't hit in spring training, either. But on the first pitch of his first at-bat Thursday afternoon, with his parents in the stands and his heart rate up, he pulled a semi-sharp single into right field. It wasn't epic by any means, but it was a start. Now comes another one.
Corey Kluber becomes free agent after Texas Rangers pass on $18M option
ARLINGTON, Texas — The Texas Rangers on Friday declined the $18 million contract option on right-hander Corey Kluber, who lasted just one inning in his only start before a shoulder injury ended his season.
Kluber gets a $1 million buyout, and the club has said it is interested in re-signing Kluber to a less expensive deal.
The Rangers acquired the two-time Cy Young Award winner from Cleveland last offseason in exchange for hard-throwing reliever Emmanuel Clase, who was suspended 80 games after testing positive for a banned performance-enhancing substance.
Kluber threw 18 pitches in his only inning for the Rangers, leaving with shoulder tightness in a 5-2 loss to Colorado in the third game of the season. The 34-year-old was diagnosed with a small tear in his shoulder muscle the next day.
It was Kluber's first appearance with a team other than Cleveland, and his first start in almost 15 months after his right forearm was broken by a line drive in what ended up being his final start for the Indians on May 1, 2019. Kluber was close to returning later that season when an oblique injury sidelined him again.
Kluber's five-year run as an Opening Day starter ended this past season. He was 98-58 with a 3.16 ERA for the Indians and pitched at least 200 innings five straight seasons before breaking his forearm.
The Rangers planned to have Lance Lynn, Mike Minor and Kluber as their top three starters this past season. Lynn is all that remains for now. Texas hung on to its best pitcher despite being out of contention at the trading deadline in the pandemic-shortened season. Minor was traded to Oakland for two minor leaguers.
Texas also assigned right-hander Luke Farrell to the minor leagues, and right-handed reliever Ian Gibaut was sent to Minnesota on a waiver claim.
Major League Baseball cancels owners meetings, winter meetings due to COVID-19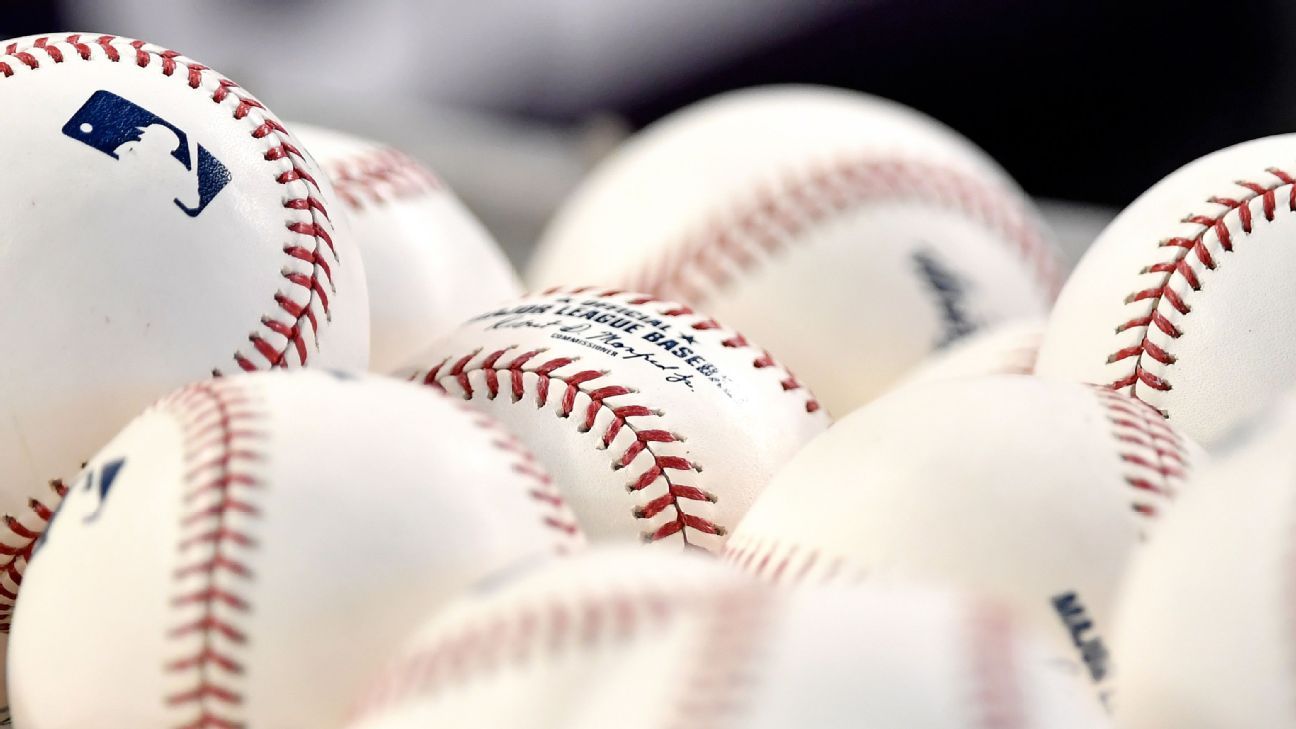 After shortening the 2020 Major League Baseball regular season, the COVID-19 pandemic is already impacting the offseason, as the league announced Friday the cancellation of both the owners meetings in November and the winter meetings in December. Instead, agendas will be conducted virtually as needed.
The cancellation of the winter meetings is a big blow to the sport because it's the annual time for organizations — both on the major league and minor league side — to come together in one place. Job fairs, trade shows and award announcements are normal winter meetings events, along with trade talks. None will take place in person in 2020.
The general managers meetings, held in early November, had already been canceled. The owners meetings were scheduled for Nov. 17-19 in Arlington, Texas, while the winter meetings were to be held Dec. 7-10 in nearby Dallas.
Baseball has not announced any changes to the schedule for spring training, but it's possible it won't start on time, according to sources familiar with the situation.
Milwaukee Brewers decline 2021 options on Jedd Gyorko, Eric Sogard, Ben Gamel
MILWAUKEE — The Brewers have declined 2021 options on infielders Jedd Gyorko and Eric Sogard as well as outfielder Ben Gamel.
Gyorko and Sogard each had $4.5 million options and now instead become eligible for free agency. Gamel remains under team control after the Brewers declined a $2.55 million option on him.
The moves come one day after the Brewers declined a $15 million option on 2011 National League MVP Ryan Braun, whose 352 career homers make him the franchise's all-time leader in that category. Braun, who is due a $4 million buyout, said during the season he was contemplating retirement.
Gyorko, 32, batted .248 with nine homers and 17 RBIs in 43 games and 117 at-bats this season. His .838 OPS was the highest of any Brewers player with at least 60 at-bats. He played mostly against left-handers but became the Brewers' primary first baseman by the end of the season.
Sogard, 34, hit .209 with one homer, 10 RBIs and a .560 OPS in 44 games. He had a .281 on-base percentage and .278 slugging percentage.
Gamel, 28, batted .237 with three homers, 10 RBIs and a .718 OPS in 40 games.