How baseball reached a tipping point on fan protection
Six months after a terrifying scene, Major League Baseball's parks have extended the netting to protect more fans than before.
It was the fifth inning of an afternoon game in the Bronx between the Twins and the Yankees last Sept. 20. A toddler, soon to turn 2, was sitting on her grandfather's lap behind the third-base dugout. Then-Yankee Todd Frazier ripped a 105 mph line drive that struck her in the head.
The girl's father, Geoff Jacobson, told ESPN.com that her six days in intensive care were the longest in the lives of the Jacobson family. He said his daughter had skull fractures, bleeding on the brain, both eyes swollen shut and the impression of the baseball's stitching on her forehead. She had a feeding tube and was hooked up to machines monitoring her for seizures.
In the moments after his foul ball hit her, Frazier and both teams were silent — some players were crying. Play was stopped for more than five minutes as emergency personnel tended to the girl.
The accident and the aftermath became national news.
"I'm in my family room and my son says, 'Turn on the TV,'" said Jay Loos, who was hit by a foul liner past first base at Wrigley Field less than a month before. Loos was permanently blinded in one eye and suffered broken facial bones in the accident.
"I said, 'Oh my god' and had tears running down my good eye."
Loos, who has now had three eye operations, said that when he was in the hospital, he was consumed with fear that it would happen to someone else.
When it happened to Jacobson's daughter, it immediately intensified the scrutiny and the pressure to extend safety netting at all ballparks.
"That was the tipping point — unfortunately, it took that," said Rick Cusick, who also lost sight in one eye after a foul liner struck him in 2016 at Busch Stadium in St. Louis.
Two months before the injuries to Jacobson's daughter, the Yankees said they were "seriously exploring" extending protective netting after a series of events, including:
New York City council member Rafael Espinal proposed a law mandating netting from behind home plate to both foul poles

The Mets extended their netting beyond the far ends of both dugouts

An Aaron Judge foul line drive bloodied a man at Yankee Stadium
During the 11 days between the Frazier liner and the season's end, there were a flurry of safety-related announcements from teams. Several, including the Yankees, said they would extend protective netting at their ballparks.
"The public outcry was so galvanizing, and teams snapped into place," said Andy Zlotnick, a vocal advocate for increased protection since he endured multiple fractures and surgeries, as well as retinal damage, after he was hit in the face by a liner at Yankee Stadium in 2011. "Her [Jacobson's daughter's] injury was what many of us warned about for years."
In January, the Yankees released the new details: They would extend netting beyond the far edges of both dugouts for 2018.
On Feb. 1, Major League Baseball said all 30 teams would now have netting extending to at least the far edges of both dugouts — triple the number that had it for 2017.
"The injury to my daughter, I guess, was the straw that broke the camel's back," Jacobson said.
"Sadly, it often takes great tragedy and suffering to cause change. I think, without question, these actions of extending the netting will help countless people never having to endure what my daughter went through, and all the people injured before her," Jacobson added.
A league official familiar with the issue said on condition of anonymity that MLB knew last summer of several teams that were already planning to extend netting for 2018 and it is unclear whether the Sept. 20 accident in New York influenced other teams to do so.
"I think they did the right thing, which is commendable," Jacobson said. "There was nothing they could do to undo the past, but there is no better time than the present to make a better future."
Said Cusick: "The question is whether that [the 2018 changes] will be enough. All we want is for nobody to get hurt again."
Four years ago, a Bloomberg News report estimated 1,750 fans a year are struck by foul balls or bats at MLB games.
"The injury to my daughter, I guess, was the straw that broke the camel's back."

Geoff Jacobson, on MLB teams extending safety netting
The official who declined to be named said the league has not logged or maintained data on foul balls entering the stands, or on how the extensions of netting the past two seasons have affected the numbers.
Jacobson, who has not made his daughter's first name public, said she might eventually require surgery on her nose and orbital bones and continues to wear an eye patch for five hours a day, as she has for the past three months, to improve her vision and strengthen the injured eye, but the extent of the damage to her optic nerve is not yet known.
"We are very fortunate in the grand scheme of things," he added. "The truth is my daughter could have been killed, give or take an inch."
There was once a fatality caused by a foul ball hit into the stands at a big league game. Alan Fish, 14, died after a liner struck him in the head at Dodger Stadium in 1970.
But for 45 years, there hadn't been a significant, league-wide push to extend netting beyond the area behind home plate. Then, on June 5, 2015, at Boston's Fenway Park, a shard from a broken bat slammed into a woman's head. Tonya Carpenter suffered life-threatening injuries and underwent emergency brain surgery.
Commissioner Rob Manfred had MLB begin a study.
A month later at Fenway, another woman, Stephanie Wapenski, needed 40 stitches to close facial wounds inflicted by a foul line drive.
In December 2015, as Manfred approached his first anniversary on the job, he publicly issued a recommendation that teams extend protection to at least the near edges of the dugouts. All 30 did so for the start of the 2016 season.
But there hasn't been a league mandate or uniformity on extended netting, say MLB and team officials, because of the varied configurations of the ballparks and the contention of some fans that netting detracts from experiences they enjoy in seats close to the field.
"Core fans who pay the top dollar for the best seats have been opposed to netting," said Dave St. Peter, president and CEO of the Minnesota Twins, who added that all teams covet good relationships with those fans.
But the Twins, a leader among teams in extending netting, were pushed early by owner Jim Pohlad to analyze the problem, St. Peter said. "He was more than willing to take the risk of alienating some of the best fans. Most rewarding is that the fans most opposed decided to give it a try; they felt relaxed, and it didn't inhibit their enjoyment."
Minnesota is extending netting it already had to the far ends of the dugouts last year at Target Field, which features seating that is especially close to the action. And the team, like others, is adopting a camouflage-like color for netting to better blend with the greens and browns of the fields.
St. Peter said that while "it's hard to gauge and we don't have firm data [on the blocking effects of the Twins' netting so far], there's no question anecdotally that balls and even bats would've been in the stands."
The Yankees, who declined to comment for this story, offered to pay Jacobson's daughter's medical expenses and have already done so for bills insurance didn't cover, Jacobson said. He expressed appreciation for the team and for Frazier, who called every day while his daughter was in the hospital and remains in touch.
Jacobson, an attorney, said he hasn't initiated any litigation over his daughter's accident and doesn't know whether he will.
Historically, when injured fans have sued, the defense for MLB and teams has been the longstanding "Baseball Rule," whereby fans assume the risk, as noted on the back of tickets. But there are current, ongoing challenges in the courts.
As for the health challenges ahead for Jacobson's daughter, he said she'll have periodic appointments with a neurologist for years, and the hope is she won't have long-term issues from the head trauma.
"My daughter is the toughest person I ever met," Jacobson said. "She has met every challenge and endured all the pain and discomfort without much complaint. I am in awe of her every day. It's really a miracle and nothing short of a blessing to watch my daughter laugh and play and be a 2-year-old seemingly without a care in the world.
"One day, my daughter will be old enough to process all of this, and maybe she'll even write her college application essay about it. I hope 15 years from now, when she writes it, that the story is about how she was the last person to be seriously hurt at a baseball game, or at the very least, it was a turning point for taking fan safety seriously. Many teams extended netting after her injury, so there is definitely some good that has come of it. We just want the story to finish with a positive outcome."
How Dodgers phenom Gavin Lux wants to make a difference in Kenosha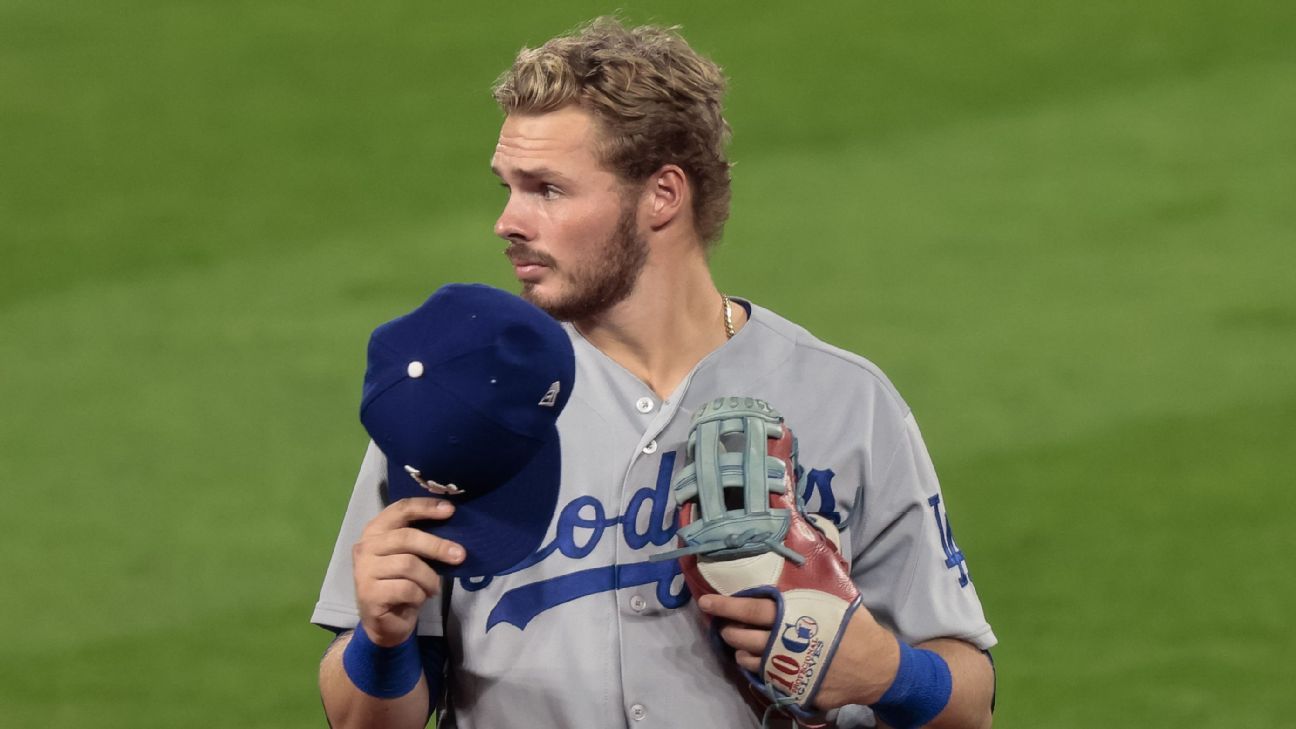 Gavin Lux is only 22 years old, still technically navigating through his rookie season. He's trying to figure out his swing, trying to learn the pitching in Major League Baseball, trying to live up to the lofty expectations of being a highly rated prospect and trying to carve out a role on a Los Angeles Dodgers team that stands among the most talented in recent memory.
Lately, though, Lux has found himself consumed by his hometown of Kenosha, Wisconsin, a lakeside community of around 100,000 people that has become embroiled in the racial tension that has risen across the nation over the last four months.
Jacob Blake, a 29-year-old Black man, was shot seven times in the back by a white police officer with his three children in the car on Aug. 23, sparking several nights of protests that escalated into violence and led to the shooting death of two demonstrators.
Lux has spent a lot of these past few weeks thinking about his family and friends back home, particularly his brother-in-law, a cousin of Pro Bowl running back Melvin Gordon, and his nephew, both of whom are Black.
It helped spur him into action.
"I can't look at my nephew in the eye and say, 'Hey man, I didn't fight for you,'" Lux said. "Naw, I can't do that."
Lux has been in touch with business owners and community leaders to gather intel on the best ways to help. The details are still hazy, but he has vowed to be proactive. He wants to set up a fundraiser for the businesses that have been impacted, and he wants to get back into the community as soon as the Dodgers' postseason run is over. The hope is to put together some sort of charitable event, perhaps a softball game or a 3-on-3 basketball tournament, to raise money and help bring the community back together.
"I feel like anybody can just write a check," Lux said, "but this is where I grew up."
Gordon is also from Kenosha. So is Minnesota Vikings cornerback Trae Waynes and social media influencer Tristan Jass. Lux is hoping to recruit all three in an effort to slowly pick up the pieces. Before a recent game against the Colorado Rockies, Lux spoke to ESPN about the dynamics of his hometown and the challenges it faces. (This conversation was edited for brevity and clarity.)
How quickly did you realize you needed to do something?
Lux: It took a couple of days just to sit and talk to some family members and some friends and some other people in the community that were affected. I was like, "Man, there's gotta be something I could do to use my platform to be able to help."
What were you hearing from your friends and family members about what it was like over there during that time?
Lux: It was a crazy time. A lot of different people were affected, businesswise, a lot of families were affected. They just said a lot of the city was struggling and that it was definitely just a completely different vibe from what it usually was. The community, for me, feels like it's a tight-knit community. It's not a super small city, but everybody kind of knows everybody, it feels like. Just to see everybody go through it a little bit, it kind of hurt me.
You've spent the vast majority of your life immersed in being a baseball player, and so much of your mindset has been set on what it's going to take to get to the major leagues and stay there. Had you gotten to a point where you thought far enough ahead about how you would ultimately use your platform, or did this event trigger that for the first time?
Lux: It's always in the back of my mind, but for it to hit so close to home, it caused a trigger where I was like, "Man, I do have a little bit of a platform, I can help. How can I help? What is the best way to help?" Those were kind of the thoughts that went through my head. Having it happen in my hometown definitely triggered it. But you see guys on our team like [Justin Turner] and [Clayton Kershaw] doing so many good things in the community, Mookie [Betts]. Pretty much everybody on our team is doing something good. Just being around those guys and seeing what they're doing — it rubs off on me where it makes you want to help people and do good. That's how it happens, you know?
How would you describe what it was like to grow up in Kenosha?
Lux: Everyone supports each other, and it really does feel like a tight-knit community. It's right next to the water, you're always going to the beach in the summer, stuff like that. I love the city. People might have the wrong [impression] about it, but it's a really good city. And to grow up there, I feel lucky.
This can be difficult to pick up on while you're still growing up, but did you ever consider it to be a racially divided city?
Lux: No, I don't think so. Honestly I don't. I don't know if what happened triggered that. But I honestly don't think it is. I really don't. You see these protests and you see people doing these gatherings and stuff like that, and there's people from all different walks of life. To say it's racially divided — I don't think it's accurate at all.
What was Aug. 26 like for you? Your hometown NBA team [the Milwaukee Bucks] decides to boycott a playoff game, and then later that night you're in the clubhouse in San Francisco where your teammates ultimately decide not to play against the Giants.
Lux: I support our whole team, obviously. I support equality and all that. For me it was emotional. Kenosha was affected, obviously. And if you have conversations with your teammates and other African-American people, you really understand what is going on. People just have to have these conversations to understand what is going on. To hear from some of my teammates and other people — I'm all in. I support the hell out of whatever we're gonna do here.
Mookie has been very proactive in the fight against social injustice, and Kershaw has gone out of his way to educate himself on the topic. What have you learned about the Black Lives Matter movement while sharing a clubhouse with them?
Lux: You gotta put yourself in a guy like Mookie's shoes and really understand what he's saying and his real-life experiences. Not just Mookie, either. There's a lot of other people, other family members and friends that I've talked to. You have to try to put yourself in their shoes and realize what's going on and try to get an understanding. I keep saying this, but you just have to have these conversations. They might not be the most comfortable conversations ever, but to understand, you have to have them.
What have your conversations with your brother-in-law and your nephew been like in recent weeks?
Lux: Pretty emotional, actually. These are people that I really care about and love, and hearing them get emotional about it, it really hits home. It's emotional. I want to see my nephew grow up and have the same opportunities that other people do.
MLB Sunday Spotlight – Will Twins or Cubs last longer in playoffs?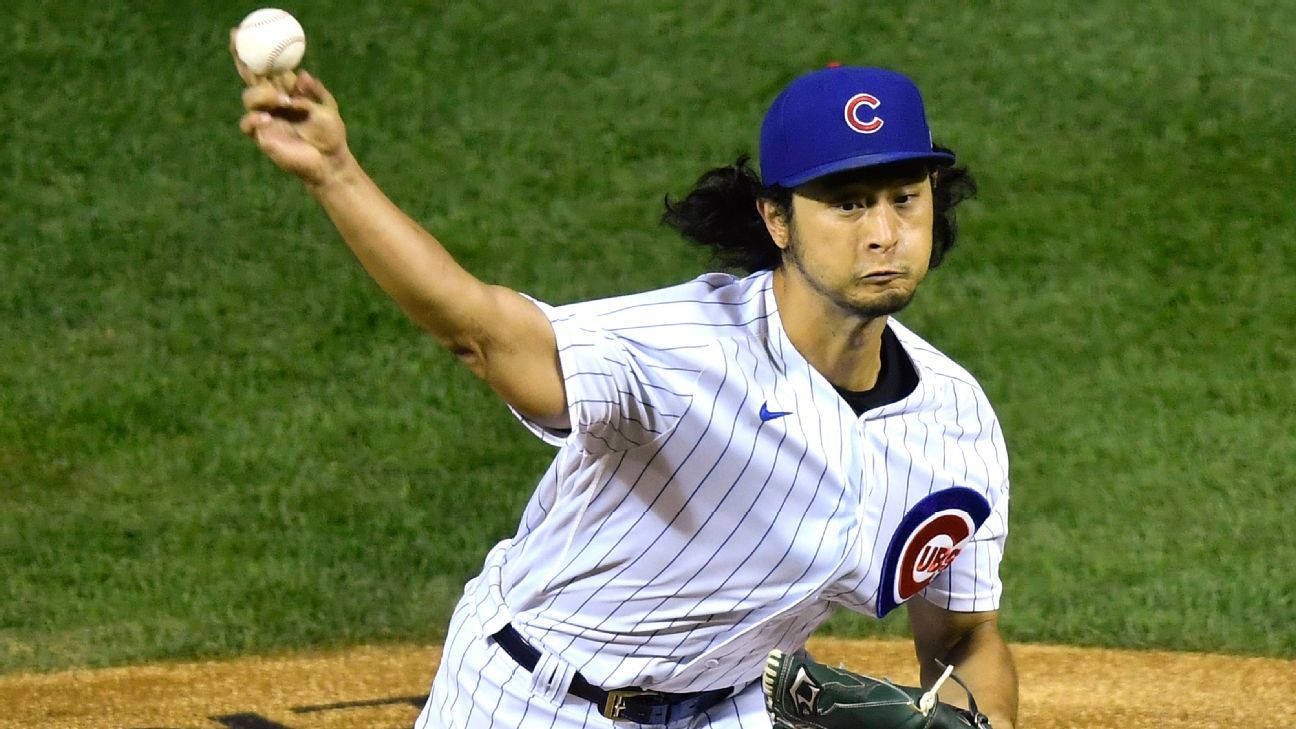 With the 2020 MLB season hitting the home stretch (already!), ESPN has a Sunday doubleheader with four teams hoping to make some noise in October. The Giants and A's get things going at 4 p.m. ET, followed by Twins-Cubs at 7 p.m. ET.
To get you ready for the twin bill, we asked national baseball reporters David Schoenfield and Jesse Rogers some key questions about the teams.
The Oakland Athletics haven't advanced in the playoffs since 2006. Will they break that slump this year?
Jesse Rogers: Not if they play the Cleveland Indians in the first round. The A's starters are good but none give you that scare the Indians can throw at you. Cleveland has its own issues, which might show up in a longer series. But shutting down an offense for two games? That should be Cleveland's specialty this postseason.
David Schoenfield: The good news is that after three straight losses in the wild-card game (2014, 2018, 2019) the A's will at least get a best-of-three opportunity this time. The strength of the team is the bullpen, which isn't the worst thing to have going for you in a short series. Manager Bob Melvin would have quick hooks for his starters and rely on his relievers. As of now, the A's would actually play the Astros in the first round and they've gone 7-3 against Houston. Those games have been extremely low scoring, with the A's averaging just 3.8 runs per game and Houston 2.5.
I'll say A's over Astros, but I'm with Jesse if they meet Cleveland, I'll go with the Indians shutting an Oakland offense that will be without Matt Chapman and has seen Marcus Semien and Matt Olson fail to replicate their 2019 production.
Rogers: Pitching. Just like the Indians, the Cubs have been fueled by the top end of their rotation as well as an improving bullpen. There isn't a need to look deeper than Yu Darvish (Whose return to dominance I profiled here), Kyle Hendricks and 'no-hit' Alec Mills as a good part of the reason the Cubs are in first place despite some down years by their stars.
Schoenfield: The Cubs haven't hit — but nobody has in the NL Central. Are they using balls left over from 2014 in that division or something? Entering the weekend, the Cubs actually rank 17th in the majors in wOBA, which isn't great, but is still the best in the division. Ian Happ, Jason Heyward and Jason Kipnis have helped to make the offense respectable and the pitching/defense entered the weekend allowing the second fewest runs per game in the NL, behind only the Dodgers.
Which of the two teams — the Twins or the Cubs — will last longer in the playoffs?
Schoenfield: Well, it looks like the Twins are pretty much locked in to face the Yankees in the first round, it's just a matter of where that series will be played. The Twins, of course, are riding a seemingly impossible streak of 16 consecutive postseason defeats going back to the 2004 Division Series. Thirteen of those losses have come against the Yankees. You can't really say the Yankees are in their heads because these have been different groups of Minnesota players, but it's fair to venture that the Twins would probably rather face anybody else in the first round. When they met last season, the Twins' rotation was on fumes because of injuries and they're in better shape this year with Kenta Maeda having a terrific season. In fact, dare I suggest the Twins do this: Skip Maeda in Game 1 and use Randy Dobnak or a bullpen game against Gerrit Cole and then go Maeda in Game 2 and Jose Berrios in Game 3?
(So my answer is the Cubs will last longer.)
Rogers: Neither. They'll both go out after the first round.
Schoenfield: Ahh, Jesse, you underrated the Cubs. The bottom of the NL is terrible. They're going to play the Giants or Marlins or Reds or Phillies; I'll take the Cubs over any of those teams, although Darvish's postseason history is, umm, a pause for concern.
Yankees tie franchise record with 12th straight win vs. Red Sox
BOSTON — The New York Yankees–Boston Red Sox rivalry is considered one of the greatest in all sports.
But in the past two years, it has certainly turned into a one-sided affair.
The Yankees pummeled the Red Sox 8-0 on Saturday night for their 12th consecutive victory over their AL East rivals, tying a franchise record. The Yankees have won 12 straight games vs. Boston and 17 of the last 18 games between the clubs since July 28, 2019.
"It's probably a little bit fluky, a little aberration," said manager Aaron Boone when addressing the franchise's record-tying streak. "Obviously, [the Red Sox] haven't quite been the same team this year with some of the guys they've lost and some of the guys in their pitching staff that they've lost due to injury.
"And this year I know we've played them at some times when we've been playing really well. We've stolen a couple wins from them, like late last night. Last year, we caught them at a good time at the end of the year. Look, it's always fun beating those guys. We obviously respect who they are and all the great games we've had to play against them, but … enjoy it while it lasts."
The Yankees' current win streak against Boston is their longest since winning 12 straight from Aug. 16, 1952 to April 23, 1953. It's only the third time in franchise history that the Yankees have won 12 straight games against the Red Sox (also May 27-Aug 23, 1936).
J.A. Happ, who worked eight scoreless innings to earn his second win of the season, said the Yankees were mindful of the winning streak and hoped to set a new record on Sunday when they play their last game of the season at Fenway Park.
"I know we have a good team and we're playing well," Happ said. "We are aware of that number [12 straight], excited to get out there tomorrow and try to take the nod [set the record] there. We recognized it tonight that we could tie it."
"We're focused on trying to put ourselves in a really good position for the playoffs, and winning [Sunday] would set the record — and that's going to be really cool thing if we do," added outfielder Clint Frazier, who went 3-for-4 with a home run and three RBIs.
The Yankees have now won a season-high 10 straight games, matching their longest winning streak since June 2012. During their current streak, the Bronx Bombers have hit 29 home runs and have outscored opponents 85-25.
At 31-21, the Yankees clinched their 28th consecutive winning record since 1993, the second-longest stretch in MLB history behind only their own streak of 39 straight winning seasons from 1926-64. The Yankees' "magic number" to clinch a postseason berth currently stands at one.