The NFL player movement started by Colin Kaepernick is entering a new phase, led in large part by Philadelphia Eagles safety Malcolm Jenkins and the Players Coalition he co-founded.
As the owners gather in Orlando, Florida, for their annual meetings, issues related to player activism are on the agenda. They enter divided on how best to address protests during the national anthem. Serious debate is expected this week in front of a potential resolution at the May meetings in Atlanta.
Owners also are set to vote this week on a key part of their pact with the Players Coalition worth millions of dollars. If it passes, each team would create a fund of about $250,000 for community-specific causes in conjunction with the efforts of the national campaign. Per league sources, around $73 million of the original $89 million agreement in October has been approved, and the rest is on the line over the next couple of days.
The Players Coalition demonstrated its growth in numbers and coordination this past week. Over four days in four states, members were involved with advocacy and education work around issues including bail reform, police conduct and juvenile criminal justice. A social justice summit at Harvard Law School capped the week with participation from key criminal justice advocates along with Jenkins, co-founder Anquan Boldin and the New England Patriots' Devin McCourty, among others.
At the event's conclusion, Jenkins spoke with ESPN about the state of the coalition, moving past the protests and what's next:
What is the significance of this week and what you were able to accomplish?
Jenkins: It was a big week for us because we had a lot of guys active in a lot of different areas. We had guys on a tour in Baltimore dealing with policing, police accountability. We had Devin McCourty in Boston [Thursday] lobbying to raise the age [of the juvenile jurisdiction]. And all the feedback is that guys showing up is making a difference in some of those things getting moved and passed. And then we show up here at Harvard to have this summit, talking with experts and people in the field about how we move the needle forward, talking about the justice system, juvenile sentencing, mass incarceration, changing our bail system. All of it, I think, is significant and it's encouraging because everywhere we go we hear that as long as we continue to show up, we bring eyes and light to these important issues that are not only plaguing our communities but the country.
The owners are going to be voting in Orlando about funding on a team level for the agreement you came into with the league. What's the importance of that?
Jenkins: It's very significant, something that we hope the league upholds their commitment to because it allows players in every market to engage in their own specific communities. Each team would create a fund for grants that players would be able to issue to causes in their community that deal around police accountability, community-police relations, criminal justice reform broadly as well as economical and educational advancement. It's not only the money that is already committed from a national standpoint, but it's a way for every team to have that kind of footprint in their market, with players kind of leading that drive. Hopefully they vote yes on that because I think it's a great opportunity for the league to do something that is unprecedented for the NFL to really kind of carve out its space in making our communities better.
You personally are moving past the protest during the national anthem and other players have as well. The demonstrations helped bring attention to the overall movement. Going forward, how are you going to make sure what you're doing stays in the social consciousness without the lighting rod issue that goes along with it?
Jenkins: We continue to use our voices. And the other part that the league is committed to is giving us a platform similar to what they've done for breast cancer awareness and Salute to Service and all these other causes. There's kind of a replacement platform, so instead of using the anthem to highlight what we're doing, we're able to talk about the issues in a real way that people can digest and kind of move aside from the distractions of whether or not we're choosing the right gesture or the right time to discuss these types of issues. We anticipate continuing to keep that loud presence and have the focus go more on the work than to us.
What do you think about the fact that [safety] Eric Reid is still a free agent? Do you believe that is tied into his stances and his actions related to social activism?
Jenkins: Absolutely. It would be hard to say that he's not getting any calls just on talent alone. I think any team that is considering him is going to weigh his political views and the strong stance that he's taken the last couple years, and that's unfortunate, but it's just kind of what it is. So hopefully, teams will look past that and evaluate him as a player, and I think as a player he deserves a spot in this league. But I'd be kidding myself if I said that his stance isn't playing a role in him not having a call yet.
Do you feel like it hasn't impacted you like that because you're under contract and with an organization that's understanding in that way?
Jenkins: Well, I feel I have more responsibility to continue the conversation. Me having a little bit more security on my team and being in a situation that we are in Philly. … I think we have the opportunity to get the most done.
I also think we have to recognize that this work shouldn't stop whether you're on a team or not. We've committed to our communities, to social justice and these issues, not contingent on if we have a job; these are things that we've committed to. And so for me, I'll continue to speak up and do what I need to do. If that at some point runs the risk of not having a job, then so be it. But right now, being in Philadelphia and having Mr. [Jeffrey] Lurie support my efforts and the efforts of my teammates and kind of what we've been able to build, I feel like it's my responsibility to take it as far as I can.
What's next on the agenda for the Players Coalition?
Jenkins: We continue to build. We're coming up with our plans for this year. We're focused on specific cities and specific issues that we can mobilize players and organize guys to get activated with, most around sentencing, bail reform, specifically drawing attention to the district attorney races across the country that can have significant impact in the criminal justice reform. Some of that is just going to continue to organize and equip players with the right information and the right platforms and the right situations to be able to use their leverage. So that's where we are moving forward.
Los Angeles Rams GM also won't speculate on future of QB Jared Goff
THOUSAND OAKS, Calif. — Los Angeles Rams general manager Les Snead on Tuesday echoed coach Sean McVay when it comes to the future of quarterback Jared Goff.
"Jared Goff is a Ram at this moment," Snead said when asked whether Goff would be on the roster in 2021. "It's way too early to speculate the future. That's a beautiful mystery."
McVay on Jan. 17 — one day after the Rams' loss to the Green Bay Packers in the divisional playoff — wouldn't commit to Goff's future with the team.
"Jared Goff, he's a Ram right now," said Snead, who was asked repeatedly about Goff's status moving forward during an hourlong videoconference with reporters Tuesday. "So what's the date? January 26th. That's a fact. That's obvious."
Snead pointed out Goff's win total — 42 — since he partnered with McVay in 2017. That is tied with Seattle Seahawks quarterback Russell Wilson and second only to Tom Brady (47) over that span.
However, Goff, the No. 1 draft pick in 2016, has been plagued by turnover issues the past two seasons as the Rams' offense has faded from a juggernaut in McVay's first two seasons to an average unit.
This season, the Rams finished 10-6 and in second place in the NFC West.
In 15 games, Goff passed for 3,952 yards and 20 touchdowns with 13 interceptions.
Since 2019, Goff ranks second in the NFL with 38 turnovers.
After a run to Super Bowl LIII and before the 2019 season, the Rams signed Goff to a four-year, $134 million contract that included $110 million guaranteed. Four seasons remain on the deal.
The Rams would face significant dead-money charges — $65.2 million — if they were to move on from Goff this offseason. Trading him would result in a $22.2 million dead-money charge, according to OverTheCap.com.
"Moving on from Jared Goff, that's … the money we've invested in him, that's not easy to overcome," said Snead, who added later that "anything can be done" in a cap-based system.
Sean McDermott says 'there is still a gap' between Buffalo Bills, Kansas City Chiefs
BUFFALO, N.Y. — Two days after the Buffalo Bills were knocked out of the postseason by the Kansas City Chiefs, coach Sean McDermott reflected on what work his team has left to do before it's ready to beat the two-time defending AFC champions.
Sunday night's 38-24 loss was the Bills' second loss to Kansas City this season after falling 26-17 in Week 6. The Chiefs controlled a majority of that AFC Championship Game and McDermott admitted after the game that Kansas City will be Buffalo's "measuring stick" heading into the offseason.
"There is still a gap in terms of where we are and where we are. It's not just one answer that solves that problem," McDermott said. "We all have to, starting with me, we all have to continue asking ourselves the hard questions of the what ifs, and the whys and the hows. We as a staff have to get better and improve, we have to improve our roster, we have to improve our operation and what we do."
The Bills went 13-3 and won the AFC East this season for the first time since 1995, and won their first playoff games since the turn of the century, beating the Indianapolis Colts and Baltimore Ravens in the wild card and divisional rounds, respectively.
It was the best of McDermott's four seasons with the Bills, three of which have resulted in playoff berths after the franchise spent 17 straight seasons without one.
But it still didn't match his former mentor, Andy Reid, who led the Chiefs to a 14-2 record in his 8th season with the team.
"They're in year 8 and we're in year 4," McDermott said. "But that's a little bit of a feel for how long they've been building their program and where we are. There's a lot that we've improved on in terms of what's gotten us to where we are."
McDermott said it's too early to pinpoint exactly which areas the Bills need to improve this offseason but that he and his staff are already working on finding them. He did say Buffalo needs to run the ball better after finishing 20th in the NFL in rushing this season, and also that it "absolutely" needs to improve defensively. After finishing the 2018 and 2019 season as the league's second and third-best defense in terms of yards allowed per game, the Bills dipped to 14th in 2020.
There will also likely be an emphasis on adding more overall team speed — especially after witnessing what the Chiefs were able to do Sunday night. Kansas City had plays of 50 and 71 yards against the Bills, which did not go unnoticed by McDermott.
"I think the speed element showed up on the field the other night," he said. "I don't think it takes a coach to realize that. Speed and size, that's what this game is — speed, size and physicality."
One area the Bills won't have to worry much about this offseason is at quarterback, where Josh Allen looks like one of the league's brightest young stars. Allen set single-season franchise records in every major passing category and was selected to his first Pro Bowl this season.
Allen said he believes he's proven that the Bills made the right decision to trade up to select him in the 2018 draft and McDermott said his development is a reflection of the franchise's current standing.
"It's certainly a benchmark or landmark to where we've gotten beyond now, right," he said. "I think that speaks well for the future of this organization moving forward. There's not a lot of teams that can answer that question and say 'yes we have our quarterback' and I can tell you, and you've watched it, Josh Allen is a very good quarterback and one we can win with for years to come."
Aaron Rodgers — Think I'll be back with Green Bay Packers but there are no absolutes in NFL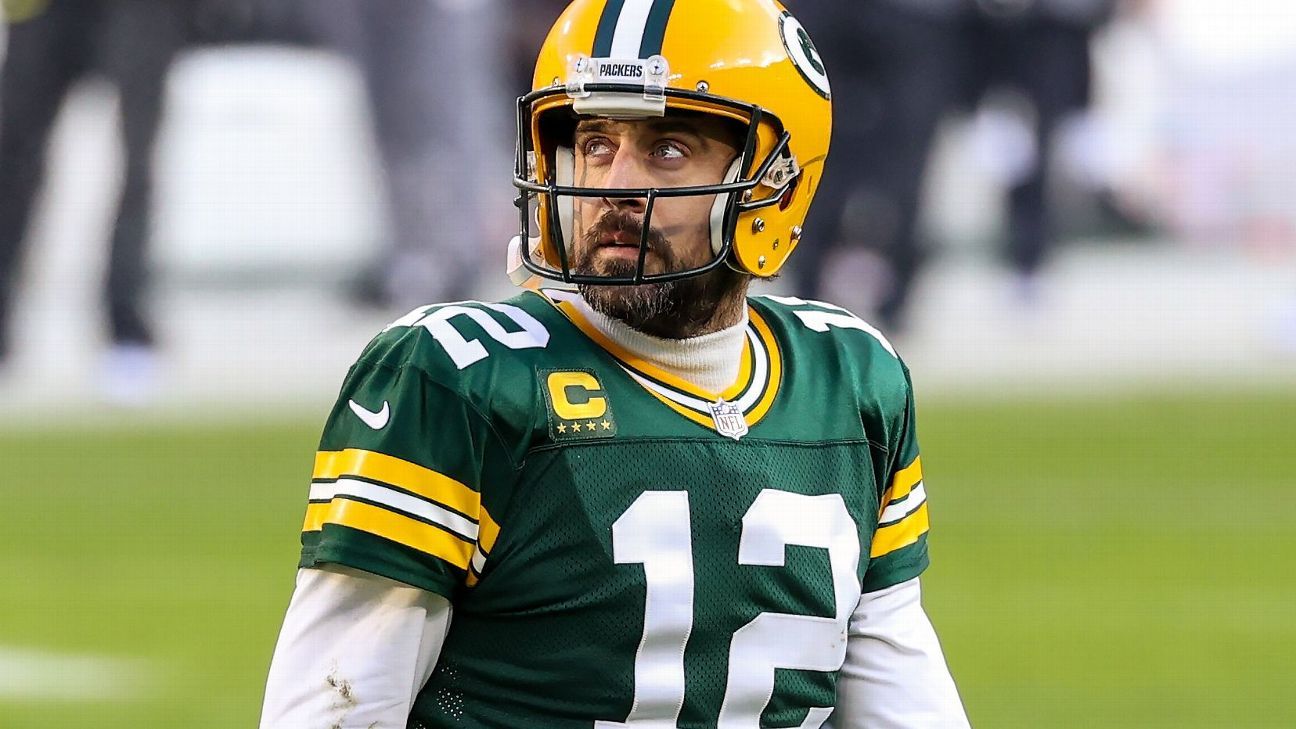 GREEN BAY, Wis. — Two days after Aaron Rodgers opened up speculation about his future with the Green Bay Packers, the presumptive NFL MVP said Tuesday that he has reason to think he will be back with the only team he's ever played for during his 16-year NFL career.
However, he put an emphasis on the word "think" during an appearance on The Pat McAfee Show and SiriusXM Radio.
"I don't think that there is any reason why I wouldn't be back," Rodgers said. "But look, there's not many absolutes in this business. So to make an absolute statement about something that is not an absolute, I didn't do it. And I guess that's why it went kind of nuts."
Rodgers included himself in a group of players with uncertain futures in his comments after Sunday's loss to the Tampa Bay Buccaneers in the NFC Championship Game. Leading into the game, he called his future "a beautiful mystery."
On Monday, Packers president Mark Murphy said on WTAQ-WNFL radio in Green Bay: "I'll say this, there's no way in heck that Aaron is not going to be on the Packers. He is going to be the MVP of league. He might have had his best year ever. He's our unquestioned leader, and we're not idiots."
But the Packers are the team that drafted Jordan Love in the first round as Rodgers' possible replacement last year.
"I don't feel like I said anything that I hadn't said before," Rodgers said on the show. "I said it the first time I talked to the media (after the draft). It just, it was more a realization I think that ultimately my future is not necessarily in my control. That was what just kind of hit me in the moment. I was just thinking of Aaron Jones, Corey Linsley, other guys we have under contract, Big Dog [Marcedes Lewis], guys who I don't know what their future is going to be, and myself included."
Rodgers, 37, has said he wants to play into his 40s much like Tom Brady has but acknowledged after the draft that Love's arrival meant he might not be able to do that with the Packers.
"Naturally, there's time when you let your mind go to maybe, 'I'm going to be a Packer for life,'" Rodgers said Tuesday. "Or, 'I'm going to be like a Tim Duncan or (Derek) Jeter or Kobe (Bryant) and play with one team my entire career.' Naturally, you dream about that. That's kind of like a dream scenario. I've talked about that for much of my career.
"When they drafted Jordan, it was more the reality kicking in. Like, hey, that's actually never the case. There are no absolutes in this business. I think it's a beautiful thing to sit with and to wrap your head around. And I did. I got to a beautiful place about it. It doesn't mean that that's not still a reality. I think that's the only reality, is that there is no absolutes in this business. I just reiterated that after the game. I get it, some people were like, 'You just threw 48 touchdowns and probably going to win MVP.' Yeah, I understand that, but, again, there's no absolutes in this business. I gave a real answer in the moment."
Rodgers still has three more seasons left on his current contract, but the deal has reached the point where the Packers could now move on and gain salary-cap space. If Rodgers does not want his status to become year-to-year and wants assurances that he's in their long-term plans, he could ask for a contract extension or for his deal to be restructured to include more guaranteed money in the remaining years.
He indicated that he would meet with Murphy and general manager Brian Gutekunst at some point soon but stopped short of saying he would give any ultimatums.
"There's conversation to be had; I'm going to have them with the right people," Rodgers said. "It's the same conversation we have every single year. There's no big, 'I'm going to the table with I need this and this and this.' Look, we have honest conversations about where we're at every single year, whether that's with Brian, Matt, Mark. I've had these conversations for years. That's part of being a leader on the squad and having a pulse of the team and a direction that we're going, and we'll have the same conversation we do every year. I always look forward to those conversations."