'Mad at the world': David Price has put adversity of 2017 behind him – Boston Red Sox Blog
ST. PETERSBURG, Fla. – As David Price left Vanderbilt in 2007, lured by a $5.6 million signing bonus after being drafted first overall by Tampa Bay, his college pitching coach offered a few parting words.
"The thing I said to him that I really meant was, 'You never need to change the way that you play this game,'" Derek Johnson recalled recently. "He played it like a little kid, and it was easily, by far and away, the most beautiful thing about him."
For the better part of the next nine years, Price heeded that advice. He boiled over with glove-smacking joy after hurling high-90s heat past helpless hitters. He challenged fellow pitchers to goofy contests such as the "perfect sit," in which they found a spot on the bench and tried not to get up, not even to use the bathroom, for nine innings. When he played for the Detroit Tigers, Price rode an electric scooter to and from home games. With the Toronto Blue Jays, he gifted monogrammed blue bathrobes to his teammates.
And through it all, he smiled. A lot.
Then came last year. In his second season with the Boston Red Sox after signing a $217 million contract, Price's behavior changed. He berated a reporter after a game at Yankee Stadium, stopped talking to the Boston media except after he pitched, and confronted Dennis Eckersley on the team plane over an innocuous comment made by the Hall of Famer as part of his job as a television analyst.
Price's perma-smile turned into a frozen scowl, his personality morphed from childlike to churlish, setting a negative tone for a young Red Sox team seeking veteran leadership in the aftermath of David Ortiz's retirement.
Looking back, Price traces most of what happened to a spring-training elbow injury. He didn't make his first start until Memorial Day, returned to the disabled list in July and made only 11 starts. For the first time in his career, he was scared for his health, and the anxiety seemed to get the best of him.
But as he prepares to make his first start of the season Friday night at Tropicana Field, Price says his elbow is pain-free and his mind is clear. And the Red Sox's chances of defending back-to-back American League East titles from the advances of the power-packed Yankees will depend largely on the well-being of their co-ace, the highest-paid pitcher in baseball who will help shape the mood within the clubhouse by the sheer force of his personality.
"I could've handled things better last year, absolutely," Price said. "But I didn't and I've moved on. I feel like I've gotten better from it. I've learned from it."
---
AS ACCOUNTS OF Price's blowups began leaking out last summer, many of his friends struggled to reconcile such erratic behavior with a player who is often regarded as "the ultimate teammate," according to White Sox pitcher James Shields.
"To me, the game has always had this Little League feel to it with him, and watching from afar, I can tell when a sense of that leaves him," Vanderbilt coach Tim Corbin said. "When he's at his very best, it's when he's moving around the field and smiling and he's in the dugout screwing around with his teammates. I'm sure the injuries were tough on him. He's not a sitter. That's not easy for a guy like him."
"Knowing him the way I know him," added Johnson, now the Milwaukee Brewers' pitching coach, "the injury thing had to take a toll on him. It was obvious that he was frustrated. Because he's a great teammate and a really good person, and I believe that with all my heart."
Price prefers to focus on the season ahead rather than looking back. But the 32-year-old does acknowledge that he was "mad at the world" as he attempted to cope with the first serious arm injury of his career.
It all began 13 months ago. Building his arm strength, as usual, in preparation for his first spring training start, he experienced forearm pain after a two-inning simulated game. And although he insisted he felt similar discomfort in previous springs, this was different, so much so he underwent an MRI and traveled to the NFL combine in Indianapolis to meet with orthopedic surgeons Dr. James Andrews and Neal ElAttrache.
According to Price at the time, the doctors said they likely would have recommended surgery if he were younger. But because his elbow had been so resilient over the years, they were confident he could recover with rest. As relieved as Price felt, his mind still raced.
What if the doctors were wrong?
"You could definitely see the frustration and hear it in his voice," said Shields, Price's former teammate in Tampa Bay. "When you have injuries, it's definitely frustrating when you haven't been hurt your whole entire career. You've got to deal with that adversity."
And when you're making $30 million a year and coming off a 2016 season that wasn't up to your impossibly high standards, the stress can pile even higher.
Price's influence can be seen in pitchers across baseball. His disciples include Rays ace Chris Archer, Blue Jays right-hander Marcus Stroman and New York Yankees right-hander Sonny Gray, who regards Price as a "mentor" and a "guy that I've leaned on for a long time."
But where does the mentor turn for help? Johnson guessed Price's support system includes his parents, agent Bo McKinnis and Corbin, but also described Price as "a fairly private person." Price also listed former Rays pitching coach Jim Hickey and ex-Tigers manager Brad Ausmus as close confidants. Corbin, meanwhile, said Price "prides himself on figuring out a lot of things himself."
"Growing up, my dad put a good emphasis on, whenever you're going to do something, make sure you do it right so you only have to do it one time. Make sure you take the time and pay attention to detail and do it the right way," Price said. "That's what I've tried. But it was tough last year."
Corbin's most frequent advice to Price is to stay positive in all aspects of his life. But as Price internalized his injury, it became increasingly difficult for him to block out the negativity. He gave up six earned runs in 5 2/3 innings over two rehab starts at Triple-A Pawtucket and left one of those starts without speaking to reporters after previously telling a media relations staffer he would.
"This is a game I fell in love with at a very early age," Price said. "I put a lot of time and a lot of hard work into the game of baseball. To not be able to go out there and compete and pitch every fifth day at a time where I wanted to have my best season, that was tough. That was tough to deal with."
If the state of his elbow caused Price to toss and turn at night, he only grew more sleep-deprived in May after his wife gave birth to their first son. He returned to the mound May 29 in Chicago, gave up three runs in five innings and took a no-decision in a 5-4 loss to the White Sox. Later, Price hung out with Shields, who offered his best advice.
"We always bounce stuff off each other," Shields said. "I definitely was a guy that thought of mentoring him when he first came into the league, but he was already at that leadership level. If there's anybody in the league that I knew could get through something mentally, it's David Price."
Over the next two months, Price posted a 3.82 ERA and 63 strikeouts in 66 innings. He completed at least six innings in seven of 11 starts and allowed three runs or fewer in all but two of them.
But when Price was scratched from a July 28 start at Fenway Park, his worst fears came flooding back.
Not the elbow again.
The latest injury, diagnosed as inflammation, was located closer to the forearm than the elbow, and would improve with rest. But Price's mood only seemed to darken.
---
THE WAY PRICE saw it, his publicized tirades were launched in defense of a teammate or staff member.
Price's airplane incident before a June 30 flight to Toronto was in response to Eckersley's one-word critique — "Yuck" — of Eduardo Rodriguez's performance in a minor-league rehab start. Three weeks earlier, Price's screaming match in New York was directed at a reporter who made a snide comment on Twitter about the Red Sox's training staff.
Going back on the disabled list in August left Price with more free time to see and hear criticism on talk radio and social media, cesspools for the negativity Corbin always taught him to avoid.
"Some days were better than others, but overall, the DL, it's not for me," Price said. "I just go stir-crazy. I think I missed 40-45 days in 2013 [with a strained left triceps]. That was tough to handle, but it wasn't nearly what I did with last year. I'm hoping to never go through that again."
Price returned as a reliever late in the season and didn't allow a run in 15 1/3 innings, including 6 2/3 scoreless frames in the playoffs. For the second year in a row, the Red Sox were KO'd in the Division Series. But at least Price went into the offseason with a more positive outlook.
Spring training went smoothly for Price, who emerged healthy. He never apologized for what happened last year, although he admitted he behaved badly and reiterated he's willing to clear the air if Eckersley wants to talk. Price often walked through the clubhouse wearing a hoodie with the slogan "We Need Leaders." He's determined to be a better one.
"I feel like I've always been one to lead with my actions, and I didn't do that very well last year," Price said. "And I know that and understand that. I look forward to getting back to being that faucet and not being a drain."
If Price is truly unhappy in Boston, he can opt out of his contract after this season. But based on the recent free-agent experiences of pitchers Yu Darvish and Jake Arrieta, it seems unlikely Price will be able to top the four years and $127 million that will remain on his Red Sox deal.
And so, the folks who know Price best hope he can rediscover his unbridled joy for the game amid the pressures that accompany pitching with an enormous contract in a sports-crazed town.
"I definitely don't need to remind David Price about having fun, man," Shields said, laughing.
Said Johnson: "It's his best self. The game has a tendency to kind of wear that stuff down a little bit. But for me, being able to have fun is the best part of him and it's what makes him great. If he can recapture that, [Red Sox fans] are in for a great ride."
How Dodgers phenom Gavin Lux wants to make a difference in Kenosha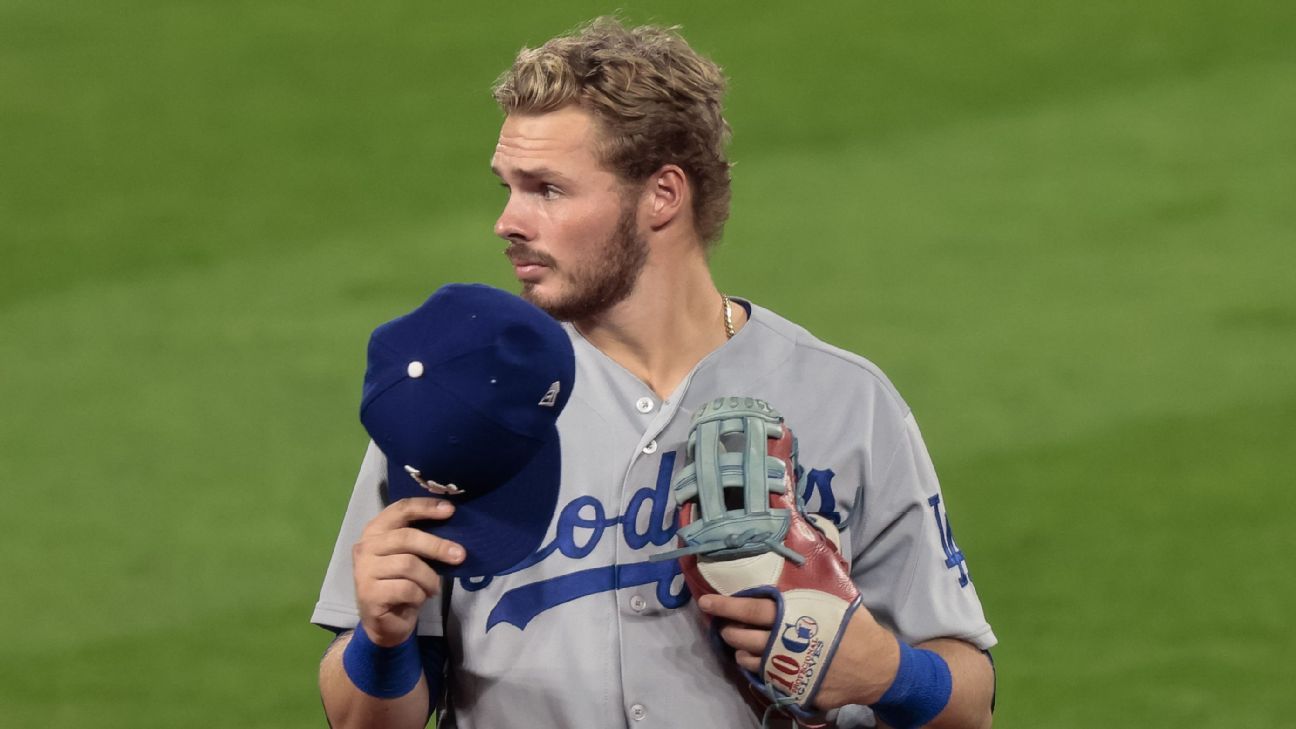 Gavin Lux is only 22 years old, still technically navigating through his rookie season. He's trying to figure out his swing, trying to learn the pitching in Major League Baseball, trying to live up to the lofty expectations of being a highly rated prospect and trying to carve out a role on a Los Angeles Dodgers team that stands among the most talented in recent memory.
Lately, though, Lux has found himself consumed by his hometown of Kenosha, Wisconsin, a lakeside community of around 100,000 people that has become embroiled in the racial tension that has risen across the nation over the last four months.
Jacob Blake, a 29-year-old Black man, was shot seven times in the back by a white police officer with his three children in the car on Aug. 23, sparking several nights of protests that escalated into violence and led to the shooting death of two demonstrators.
Lux has spent a lot of these past few weeks thinking about his family and friends back home, particularly his brother-in-law, a cousin of Pro Bowl running back Melvin Gordon, and his nephew, both of whom are Black.
It helped spur him into action.
"I can't look at my nephew in the eye and say, 'Hey man, I didn't fight for you,'" Lux said. "Naw, I can't do that."
Lux has been in touch with business owners and community leaders to gather intel on the best ways to help. The details are still hazy, but he has vowed to be proactive. He wants to set up a fundraiser for the businesses that have been impacted, and he wants to get back into the community as soon as the Dodgers' postseason run is over. The hope is to put together some sort of charitable event, perhaps a softball game or a 3-on-3 basketball tournament, to raise money and help bring the community back together.
"I feel like anybody can just write a check," Lux said, "but this is where I grew up."
Gordon is also from Kenosha. So is Minnesota Vikings cornerback Trae Waynes and social media influencer Tristan Jass. Lux is hoping to recruit all three in an effort to slowly pick up the pieces. Before a recent game against the Colorado Rockies, Lux spoke to ESPN about the dynamics of his hometown and the challenges it faces. (This conversation was edited for brevity and clarity.)
How quickly did you realize you needed to do something?
Lux: It took a couple of days just to sit and talk to some family members and some friends and some other people in the community that were affected. I was like, "Man, there's gotta be something I could do to use my platform to be able to help."
What were you hearing from your friends and family members about what it was like over there during that time?
Lux: It was a crazy time. A lot of different people were affected, businesswise, a lot of families were affected. They just said a lot of the city was struggling and that it was definitely just a completely different vibe from what it usually was. The community, for me, feels like it's a tight-knit community. It's not a super small city, but everybody kind of knows everybody, it feels like. Just to see everybody go through it a little bit, it kind of hurt me.
You've spent the vast majority of your life immersed in being a baseball player, and so much of your mindset has been set on what it's going to take to get to the major leagues and stay there. Had you gotten to a point where you thought far enough ahead about how you would ultimately use your platform, or did this event trigger that for the first time?
Lux: It's always in the back of my mind, but for it to hit so close to home, it caused a trigger where I was like, "Man, I do have a little bit of a platform, I can help. How can I help? What is the best way to help?" Those were kind of the thoughts that went through my head. Having it happen in my hometown definitely triggered it. But you see guys on our team like [Justin Turner] and [Clayton Kershaw] doing so many good things in the community, Mookie [Betts]. Pretty much everybody on our team is doing something good. Just being around those guys and seeing what they're doing — it rubs off on me where it makes you want to help people and do good. That's how it happens, you know?
How would you describe what it was like to grow up in Kenosha?
Lux: Everyone supports each other, and it really does feel like a tight-knit community. It's right next to the water, you're always going to the beach in the summer, stuff like that. I love the city. People might have the wrong [impression] about it, but it's a really good city. And to grow up there, I feel lucky.
This can be difficult to pick up on while you're still growing up, but did you ever consider it to be a racially divided city?
Lux: No, I don't think so. Honestly I don't. I don't know if what happened triggered that. But I honestly don't think it is. I really don't. You see these protests and you see people doing these gatherings and stuff like that, and there's people from all different walks of life. To say it's racially divided — I don't think it's accurate at all.
What was Aug. 26 like for you? Your hometown NBA team [the Milwaukee Bucks] decides to boycott a playoff game, and then later that night you're in the clubhouse in San Francisco where your teammates ultimately decide not to play against the Giants.
Lux: I support our whole team, obviously. I support equality and all that. For me it was emotional. Kenosha was affected, obviously. And if you have conversations with your teammates and other African-American people, you really understand what is going on. People just have to have these conversations to understand what is going on. To hear from some of my teammates and other people — I'm all in. I support the hell out of whatever we're gonna do here.
Mookie has been very proactive in the fight against social injustice, and Kershaw has gone out of his way to educate himself on the topic. What have you learned about the Black Lives Matter movement while sharing a clubhouse with them?
Lux: You gotta put yourself in a guy like Mookie's shoes and really understand what he's saying and his real-life experiences. Not just Mookie, either. There's a lot of other people, other family members and friends that I've talked to. You have to try to put yourself in their shoes and realize what's going on and try to get an understanding. I keep saying this, but you just have to have these conversations. They might not be the most comfortable conversations ever, but to understand, you have to have them.
What have your conversations with your brother-in-law and your nephew been like in recent weeks?
Lux: Pretty emotional, actually. These are people that I really care about and love, and hearing them get emotional about it, it really hits home. It's emotional. I want to see my nephew grow up and have the same opportunities that other people do.
MLB Sunday Spotlight – Will Twins or Cubs last longer in playoffs?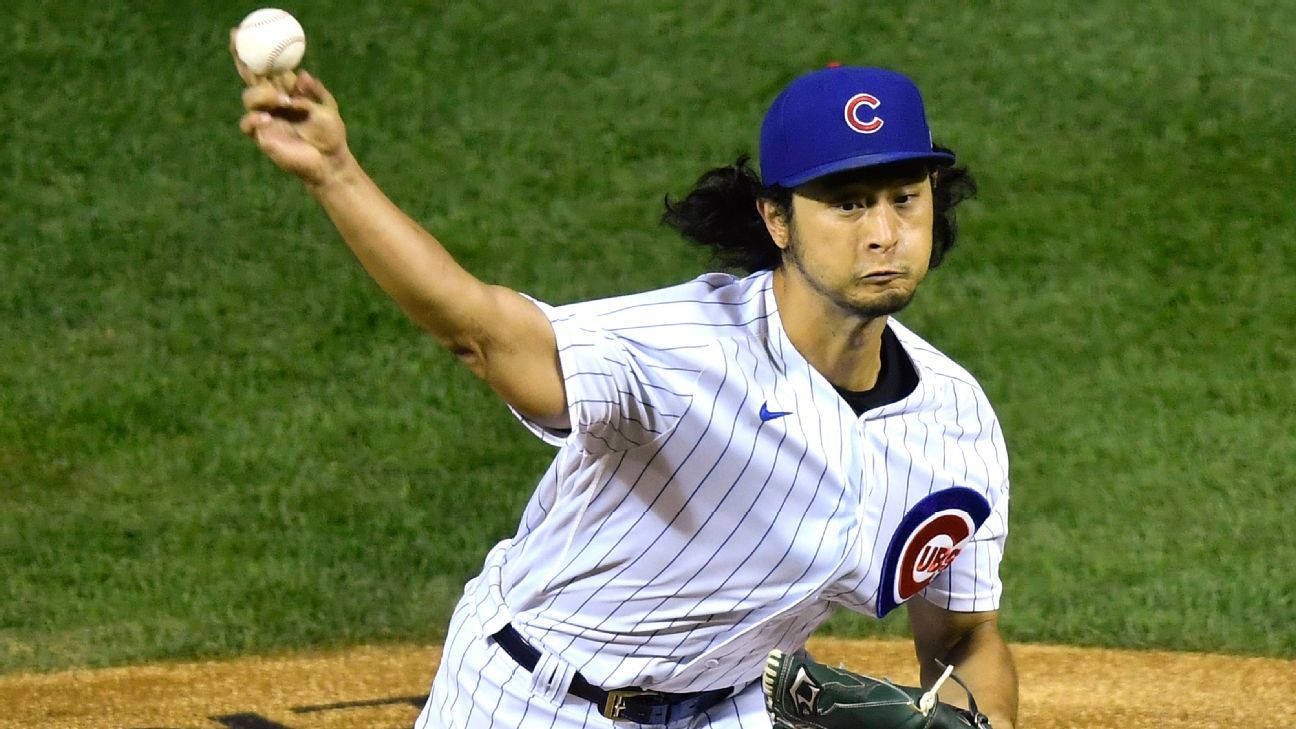 With the 2020 MLB season hitting the home stretch (already!), ESPN has a Sunday doubleheader with four teams hoping to make some noise in October. The Giants and A's get things going at 4 p.m. ET, followed by Twins-Cubs at 7 p.m. ET.
To get you ready for the twin bill, we asked national baseball reporters David Schoenfield and Jesse Rogers some key questions about the teams.
The Oakland Athletics haven't advanced in the playoffs since 2006. Will they break that slump this year?
Jesse Rogers: Not if they play the Cleveland Indians in the first round. The A's starters are good but none give you that scare the Indians can throw at you. Cleveland has its own issues, which might show up in a longer series. But shutting down an offense for two games? That should be Cleveland's specialty this postseason.
David Schoenfield: The good news is that after three straight losses in the wild-card game (2014, 2018, 2019) the A's will at least get a best-of-three opportunity this time. The strength of the team is the bullpen, which isn't the worst thing to have going for you in a short series. Manager Bob Melvin would have quick hooks for his starters and rely on his relievers. As of now, the A's would actually play the Astros in the first round and they've gone 7-3 against Houston. Those games have been extremely low scoring, with the A's averaging just 3.8 runs per game and Houston 2.5.
I'll say A's over Astros, but I'm with Jesse if they meet Cleveland, I'll go with the Indians shutting an Oakland offense that will be without Matt Chapman and has seen Marcus Semien and Matt Olson fail to replicate their 2019 production.
Rogers: Pitching. Just like the Indians, the Cubs have been fueled by the top end of their rotation as well as an improving bullpen. There isn't a need to look deeper than Yu Darvish (Whose return to dominance I profiled here), Kyle Hendricks and 'no-hit' Alec Mills as a good part of the reason the Cubs are in first place despite some down years by their stars.
Schoenfield: The Cubs haven't hit — but nobody has in the NL Central. Are they using balls left over from 2014 in that division or something? Entering the weekend, the Cubs actually rank 17th in the majors in wOBA, which isn't great, but is still the best in the division. Ian Happ, Jason Heyward and Jason Kipnis have helped to make the offense respectable and the pitching/defense entered the weekend allowing the second fewest runs per game in the NL, behind only the Dodgers.
Which of the two teams — the Twins or the Cubs — will last longer in the playoffs?
Schoenfield: Well, it looks like the Twins are pretty much locked in to face the Yankees in the first round, it's just a matter of where that series will be played. The Twins, of course, are riding a seemingly impossible streak of 16 consecutive postseason defeats going back to the 2004 Division Series. Thirteen of those losses have come against the Yankees. You can't really say the Yankees are in their heads because these have been different groups of Minnesota players, but it's fair to venture that the Twins would probably rather face anybody else in the first round. When they met last season, the Twins' rotation was on fumes because of injuries and they're in better shape this year with Kenta Maeda having a terrific season. In fact, dare I suggest the Twins do this: Skip Maeda in Game 1 and use Randy Dobnak or a bullpen game against Gerrit Cole and then go Maeda in Game 2 and Jose Berrios in Game 3?
(So my answer is the Cubs will last longer.)
Rogers: Neither. They'll both go out after the first round.
Schoenfield: Ahh, Jesse, you underrated the Cubs. The bottom of the NL is terrible. They're going to play the Giants or Marlins or Reds or Phillies; I'll take the Cubs over any of those teams, although Darvish's postseason history is, umm, a pause for concern.
Yankees tie franchise record with 12th straight win vs. Red Sox
BOSTON — The New York Yankees–Boston Red Sox rivalry is considered one of the greatest in all sports.
But in the past two years, it has certainly turned into a one-sided affair.
The Yankees pummeled the Red Sox 8-0 on Saturday night for their 12th consecutive victory over their AL East rivals, tying a franchise record. The Yankees have won 12 straight games vs. Boston and 17 of the last 18 games between the clubs since July 28, 2019.
"It's probably a little bit fluky, a little aberration," said manager Aaron Boone when addressing the franchise's record-tying streak. "Obviously, [the Red Sox] haven't quite been the same team this year with some of the guys they've lost and some of the guys in their pitching staff that they've lost due to injury.
"And this year I know we've played them at some times when we've been playing really well. We've stolen a couple wins from them, like late last night. Last year, we caught them at a good time at the end of the year. Look, it's always fun beating those guys. We obviously respect who they are and all the great games we've had to play against them, but … enjoy it while it lasts."
The Yankees' current win streak against Boston is their longest since winning 12 straight from Aug. 16, 1952 to April 23, 1953. It's only the third time in franchise history that the Yankees have won 12 straight games against the Red Sox (also May 27-Aug 23, 1936).
J.A. Happ, who worked eight scoreless innings to earn his second win of the season, said the Yankees were mindful of the winning streak and hoped to set a new record on Sunday when they play their last game of the season at Fenway Park.
"I know we have a good team and we're playing well," Happ said. "We are aware of that number [12 straight], excited to get out there tomorrow and try to take the nod [set the record] there. We recognized it tonight that we could tie it."
"We're focused on trying to put ourselves in a really good position for the playoffs, and winning [Sunday] would set the record — and that's going to be really cool thing if we do," added outfielder Clint Frazier, who went 3-for-4 with a home run and three RBIs.
The Yankees have now won a season-high 10 straight games, matching their longest winning streak since June 2012. During their current streak, the Bronx Bombers have hit 29 home runs and have outscored opponents 85-25.
At 31-21, the Yankees clinched their 28th consecutive winning record since 1993, the second-longest stretch in MLB history behind only their own streak of 39 straight winning seasons from 1926-64. The Yankees' "magic number" to clinch a postseason berth currently stands at one.