How Opening Day unfolded — Game-by-game scores, updates and more
For the first time in 50 years, every major league team was scheduled to start the season on the same day — before rain got in the way of Nationals-Reds and Pirates-Tigers. Still, one Opening Day is reason to celebrate, and that's exactly what we plan to do.
To welcome back baseball, ESPN's David Schoenfield lays out what to watch for and makes a prediction for every game. As the day plays out, our team of reporters will provide live updates from every ballpark to take you inside the moments, the optimism and the atmosphere that make Opening Day the best day of the baseball year.
Jump to: CHC-MIA | PIT-DET (PPD) | STL-NYM | MIN-BAL
HOU-TEX | NYY-TOR | BOS-TB | LAA-OAK | WAS-CIN (PPD)
PHI-ATL | MIL-SD | CHW-KC | SF-LAD | CLE-SEA | COL-ARI

.@kschwarb12 connects.

Ball travels far. pic.twitter.com/PaqlfJmwQt

— Chicago Cubs (@Cubs) March 29, 2018
A special homecoming for @ARizzo44. #MSDStrong pic.twitter.com/rNoAVuVKiD

— MLB (@MLB) March 29, 2018
Ian Happ (23 years, 229 days old) is the 4th-youngest Cubs player to hit an Opening Day HR and the youngest to do so since 1955 according to Elias Sports Bureau research.
This was the first pitch of the season 😱 #OpeningDay pic.twitter.com/UmLJoIk6Ww

— ESPN (@espn) March 29, 2018
---
Watch Anthony Rizzo react to being back in S.Florida for Opening Day while wearing a Majory Stoneman Douglas t-shirt. The Cubs and Marlins will host victims families and the baseball team on Friday night.

The Mets have taken firm command on Opening Day, scoring five runs in the 5th off Carlos Martinez and two Cardinals relievers to take an 8-3 lead. Biggest hit was an Amed Rosario two-run single.
Noah Syndergaard has 10 Ks through 5 IP today.

That's already the 2nd-most Ks by a @Mets pitcher in a game on Opening Day. Pedro Martínez had 12 in 2005. pic.twitter.com/Tr7BdvR5wx

— ESPN Stats & Info (@ESPNStatsInfo) March 29, 2018
Yoenis Cespedes put the Mets ahead with a two-run single in the second inning off Cardinals starter Carlos Martinez. Yesterday, the slugger made headlines when he said this year's team is "way better" than the 2015 Mets squad that won the NL pennant.
Mets fans are lined up in right-center field to dunk a dude in a Cardinals jersey. Here's the moment one toss hit the mark; but don't feel too bad for the guy. It's 50 degrees here at Citi Field, but there's no water in the tank today — just pieces of soft, cushy foam to break his fall.
Noah Syndergaard will start for the Mets on Opening Day, and the Viking helmets have been dusted off here at Citi Field.

Adam Jones hit a walkoff homer in the 11th inning to give the Orioles a 3-2 win over the Twins. It's Baltimore's eighth straight victory on Opening Day, the longest active streak in MLB.
#Walkoff + #OpeningDay + @SimplyAJ10 = this was bound to happen. #Birdland pic.twitter.com/gtREVNfxp1

— Baltimore Orioles (@Orioles) March 29, 2018
Go up and GET IT. #OpeningDay pic.twitter.com/DvjoT51yGa

— MLB (@MLB) March 29, 2018
Manny Machado picking up right where he left off in spring training: On the very first pitch he saw, the Orioles slugger – who posted a 1.015 OPS in Grapefruit League action – laced an opposite field double.
Among those on hand to witness the beginning of the Manny Machado Shortstop Era? Former Orioles SS Cal Ripken. If the Hall of Famer were still playing, and if he hadn't missed a day of work, The Streak – which ended 20 years ago – would currently stand at 5,717 games.

W. 1-0.#NeverSettle pic.twitter.com/RncibFnNAw

— Houston Astros (@astros) March 29, 2018
The first player in MLB history to homer on #OpeningDay in back-to-back seasons. UNREAL. #SpringerDinger | #NeverSettle pic.twitter.com/4H1d5p43JV

— Houston Astros (@astros) March 29, 2018
Via @EliasSports, @Astros RF George Springer is the 1st player in MLB history to hit a leadoff HR on Opening Day in consecutive seasons.

— ESPN Stats & Info (@ESPNStatsInfo) March 29, 2018

Giancarlo Stanton has a multi-homer Opening Day. Lofts a homer to center that lands amid rows of bunting. He had an MLB-best 10 multi-homer games last year with the Marlins.
Of course @Giancarlo818 homered on #OpeningDay … in his first at-bat.

UNREAL. pic.twitter.com/ypnmSeyaD8

— MLB (@MLB) March 29, 2018
According to @statcast, Giancarlo Stanton's homer to right went 426 feet. He had one in Atlanta earlier this week that traveled 434 feet (to left).

— Coley Harvey (@ColeyHarvey) March 29, 2018
Check out this list of four MLB players to homer on Opening Day the year after they led the majors in homers, per Elias: Barry Bonds (2002), Mark McGwire (1999), Roger Maris (1962), Giancarlo Stanton (2018).
An inspiration to everyone around him. #DocForever pic.twitter.com/hsWezsj1C7

— Toronto Blue Jays (@BlueJays) March 29, 2018

What a disastrous eighth inning for the Red Sox bullpen, ruining Chris Sale's outing and possibly Alex Cora's first game as manager. Joe Kelly and Carson Smith walked four batters and Denard Span cleared the bases with a triple for a 5-4 Tampa Bay lead (now 6-4). Craig Kimbrel will be rested for Friday's game.
First homer of 2018, just the way you drew it up. 😉 pic.twitter.com/8QawD06uwe

— Red Sox (@RedSox) March 29, 2018
One pitch and the @KKiermaier39 2018 Gold Glove campaign is underway.#RaysUp pic.twitter.com/4RSlUZrknu

— Tampa Bay Rays (@RaysBaseball) March 29, 2018
Beautiful day outside. Inside? Same old Tropicana Field, where a small grease fire in the 300 level of the ballpark has left it a bit hazier than usual, at least for now. The fire is out, and the Rays don't expect gameday operations to be impacted.

Mike Trout is 0-for-6. The Angels' two-time MVP had never had at least six ABs in a game and not had a hit in his career. He just struck out swinging with runners at first and second to end the top of the 11th inning.
Albert Pujols' 615th career home run, a solo blast to left field to start the sixth inning, chased A's starter Kendall Graveman. Pujols is seventh on the all-time home run list, behind Barry Bonds (762), Hank Aaron (755), Babe Ruth (714), Alex Rodriguez (696), Willie Mays (660) and Ken Griffey, Jr. (630). Graveman, meanwhile, went 5-plus innings Thursday, giving up five runs on seven hits, including three home runs, and struck out one in 71 pitches, 53 strikes.
And on the first MLB pitch he sees, Shohei Ohtani singles sharply through the infield to right field. Yes, they kept the ball. https://t.co/AZLsRJeJMl

— Paul Gutierrez (@PGutierrezESPN) March 29, 2018
"Welcome to the Sho!"

Ohtani logs his first Major League hit in his first career AB! #OpeningDay pic.twitter.com/I3hGREqjrE

— Angels (@Angels) March 29, 2018
Yes, Shohei Ohtani's every move (every step?) will be chronicled by the Japanese media.

#OpeningDay. Tie ballgame. Bottom of the 9th.

Take it away Nick! #ChopOn pic.twitter.com/7Hr1Y7I7b5

— Atlanta Braves (@Braves) March 29, 2018
Braves legend Hank Aaron takes a ride around the ballpark before the opening day first pitch between the Braves and Phillies. The Hall of Famer was an All-Star 25 times and set the previous record with 755 career home runs.
New Hall of Famer Chipper Jones throwing out the first pitch for Braves opening day.


"And for my next trick, I will escape this bases loaded jam in the 11th!" pic.twitter.com/gj5wO5iR1b

— Milwaukee Brewers (@Brewers) March 30, 2018
Beautiful #SDOpeningDay. Beautiful double play!#HangAStar🌟 pic.twitter.com/aXq4TUQmLc

— San Diego Padres (@Padres) March 29, 2018
Ryan Braun will be playing his first official game at first base today. Should be an interesting process. pic.twitter.com/qLYnZ4AmOR

— Alden Gonzalez (@Alden_Gonzalez) March 29, 2018


.@matt_davidson24, AGAIN! MERCY!

Matty D. is the 15th #WhiteSox player with 3 HR in one game (last Dan Johnson on 10/3/12 at CLE); club record is 4 (Pat Seerey, 7/18/48 at PHI). #SoxStats pic.twitter.com/pa6NVPFyeD

— Chicago White Sox (@whitesox) March 29, 2018
Neither third baseman Mike Moustakas nor first baseman Lucas Duda was with the Royals when spring training began. But they're the early stars as Kansas City built a 4-0 lead over the White Sox in the first inning. Moustakas had an RBI single and Duda a three-run home run.
This was Good. #RaisedRoyal #Royals50 pic.twitter.com/DCzXHOQlJk

— Kansas City Royals (@Royals) March 29, 2018

The Giants spoil the home opener of the rival Dodgers, winning 1-0 on Joe Panik's fifth-inning homer off Clayton Kershaw. Kershaw, making his eighth opening day start, went six innings, allowing eight hits and striking out seven. Lefty Ty Blach kept the Dodgers off balance for five shutout innings to get the win. It was San Francisco's first shutout season-opening win since 1994. The Dodgers had not been whitewashed in an opener since 1998.
Clayton Kershaw is finished after six innings. The Dodgers ace allowed one run on Joe Panik's solo homer and eight hits while striking out seven. Hard-throwing righty J.T. Chargois is on to make his L.A. debut.
Perfection. #OpeningDayLA pic.twitter.com/hXZNr3tlCc

— Los Angeles Dodgers (@Dodgers) March 29, 2018
Kirk Gibson autographed his famous home run seat in a ceremony yesterday at Dodger Stadium. He is throwing out the first pitch before today's season opener against the Giants.
Ready to go #OpeningDay #OpeningDayLA @Dodgers @MLB pic.twitter.com/FTYdNxKGFd

— Kenley Jansen (@kenleyjansen74) March 29, 2018


Felix Hernandez exits to a standing ovation and a massive roar from the Safeco Field crowd. He allowed no runs on two hits with four strikeouts and two walks over 5 1/3 innings and 83 pitches. The Mariners will take that. Dan Altavilla got an inning-ending double play after taking over, so the book on Felix is closed.
Punished. 💥#OpeningNight pic.twitter.com/cfsTjzPCl3

— Mariners (@Mariners) March 30, 2018
Welcome home, Ichiro.#OpeningNight pic.twitter.com/qBK6mPQHRm

— Mariners (@Mariners) March 30, 2018

Smooth sliding. #DbacksOpeningDay #GenerationDbacks pic.twitter.com/AXpDthYPse

— Arizona Diamondbacks (@Dbacks) March 30, 2018
First homer of the season? Everyone knew it would be @DJLeMahieu!#ThatsMyDJ 💿 pic.twitter.com/50pLpWFdFN

— Colorado Rockies (@Rockies) March 30, 2018
The Diamondbacks' 20th anniversary season is about to get underway with a rematch of last year's NL Wild Card game against the Colorado Rockies.
And here it is…the now-famous Diamondback bullpen cart.

Postponed to Friday
For the first time since 2009, Andrew McCutchen will not be in the Opening Day lineup. Gerrit Cole, last year's Opening Day starter, is with the Astros. A couple of the most interesting young Pirates to watch are first baseman Josh Bell, who is coming off a 26-homer rookie campaign, and rookie third baseman Colin Moran, who was part of the haul for Cole. Moran is a former first-round pick who re-tooled his swing in Triple-A last season and finally hit for some power, although he didn't homer in spring training. He'll get his first extended look in the majors.
I used to keep a list of bad Opening Day starters. Zimmermann has obviously had some great seasons in his career, but 2017 was not one of them as he posted a 6.08 ERA. His career has gone south signing a mega-deal with the Tigers for 2016. He's owed $74 million the next three seasons and if he doesn't turn things he'll end up on the waiver wire before the contract mercifully ends.
Prediction: Pirates 7, Tigers 4. Gregory Polanco begins his breakout season with two hits.
@ Mother Nature: Why? pic.twitter.com/duxvVfndjZ

— Detroit Tigers (@tigers) March 29, 2018
Tigers fans commiserate after opening day being postponed early Thursday morning. They, based on the face paint and gear, had been ready for baseball.

Postponed to Friday
I know Bailey has a long history with the Reds, but he also had a 6.43 ERA in 2017 and spent most of the previous two seasons on the disabled list. He got hammered in spring training (seven home runs and 26 hits in 18 innings). I hope this ends better than what I'm imagining right now.
Scherzer has won more Cy Young Awards (three) than he's made Opening Day starts (two). This will be just his third Opening Day start (Verlander always got the call when both were with the Tigers).
Bryce Harper has homered in four of his five previous Opening Day games, including two in 2013.
Prediction: Nationals 9, Reds 2. Harper homers off Bailey. Twice.
Tampa Bay Rays include rookie LHP Shane McClanahan, Ji-Man Choi on first-round roster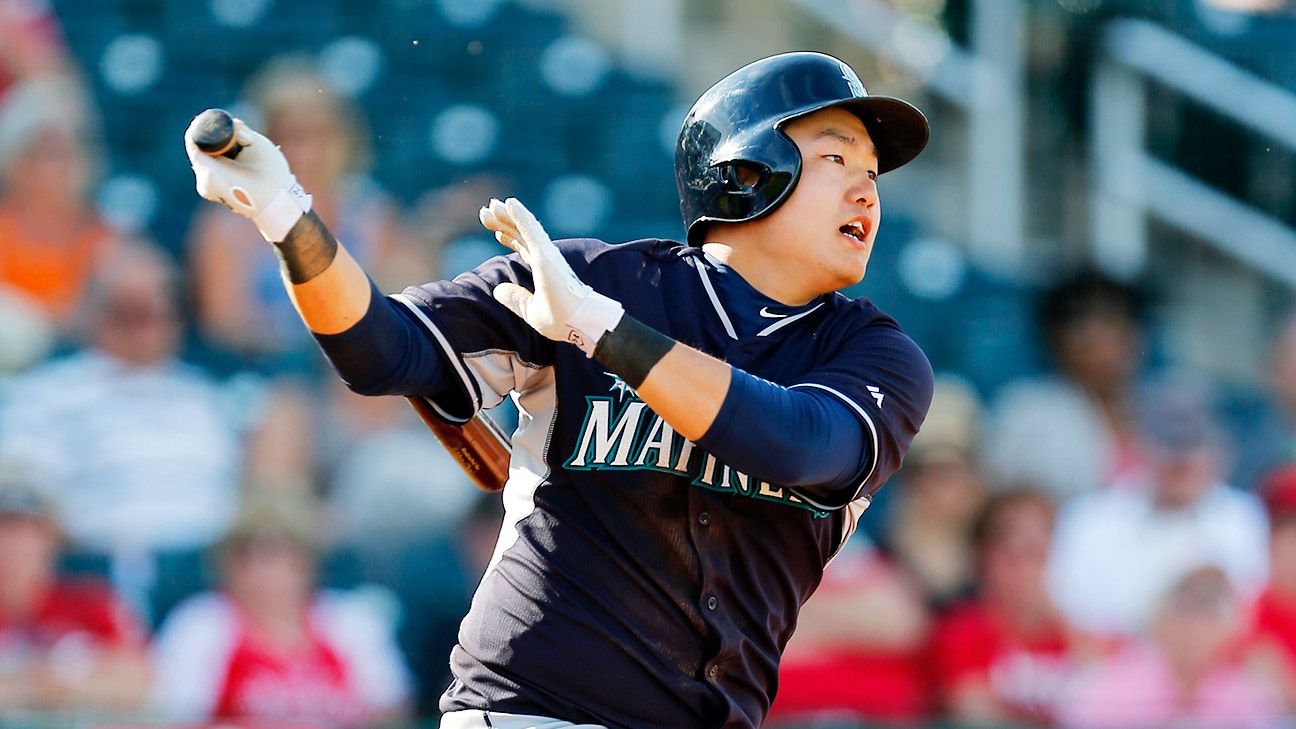 ST. PETERSBURG, Fla. — Rookie left-hander Shane McClanahan was a surprise addition to the 28-man roster the Tampa Bay Rays announced for the AL first-round series against the Toronto Blue Jays on Tuesday.
McClanahan was a first-round pick in the amateur draft two years ago who pitched at Class A and Double-A in 2019. He joined first baseman Ji-Man Choi and infielder Yandy Diaz, who have been on the injured list, in being added to the active roster before Game 1 of the best-of-three series.
To make room on the 40-man roster for McClanahan, lefty reliever Sean Gilmartin was designated for assignment. Gilmartin is the husband of White House press secretary Kayleigh McEnany.
Three players who were on the regular season-ending roster — catcher Kevan Smith, left-handed starter Josh Fleming and lefty reliever Ryan Sherriff — were not included on the roster against Toronto. They remain in the 60-man postseason eligible player pool and can be added in future rounds.
Tampa Bay's 28-man roster includes 13 pitchers, two catchers, seven infielders and six outfielders.
In addition to McClanahan, the pitchers are Nick Anderson, Diego Castillo, John Curtiss, Oliver Drake, Pete Fairbanks, Tyler Glasnow, Aaron Loup, Charlie Morton, Aaron Slegers, Blake Snell, Ryan Thompson and Ryan Yarbrough.
Catchers Michael Perez and Mike Zunino; infielders Choi, Diaz, Willy Adames, Mike Brosseau, Brandon Lowe, Nate Lowe and Joey Wendle, and outfielders Randy Arozarena, Kevin Kiermaier, Manuel Margot, Brett Phillips, Hunter Renfroe and Yoshi Tsutsugo complete the roster.
Houston Astros' Yuli Gurriel takes pay cut to $7 million to stay with team
HOUSTON — First baseman Yuli Gurriel and the Houston Astros have agreed to a one-year contract with an option for 2022 that guarantees $7 million, a cut of nearly 20% from his 2020 deal.
The agreement was announced hours before the defending AL champions started their first-round playoff matchup against at Minnesota on Tuesday, an odd time to reach a contract for a future season.
Gurriel's 2020 contract called for an $8.3 million salary and wound up being worth $3,074,074 prorated.
His new deal includes a $6.5 million salary for 2021 and an $8 million club option for 2021 with a $500,000 buyout. Gurriel can earn $2 million in performance bonuses each year based on plate appearances: $250,000 each for 300 and 350 $350,000 apiece for 400 and 450 and $400,000 each for 500 and 550.
He also would get $50,000 for becoming an All-Star, $50,000 for League Championship Series MVP, $100,000 for Word Series MVP, $200,000 for league MVP, $100,000 for second and $50,000 for third. There is a $50,000 bonus for Gold Glove and another $50,000 for Silver slugger.
Gurriel would have been eligible for free agency under a provision in his 2020 contract, even though he does not have the six years of major league service usually required. His new deal includes the same provision.
He hit .232 with six homers, 12 and 22 RBI in 57 games during the pandemic-shortened season, down from a career-best .298 with 31 homers and 104 RBI in 2019. He helped Houston reach the playoffs for the fourth straight year.
In five seasons in Houston that followed a stellar career in Cuba, the 36-year-old has hit .287 with 71 homers and 301 RBI.
Josh Donaldson (calf) not on Minnesota Twins roster for AL Wild Card Series
Minnesota Twins third baseman Josh Donaldson is not on the club's roster for the American League Wild Card Series against the Houston Astros because of a calf injury.
The reigning AL Central champion Twins released their 28-man roster Tuesday, hours before their series opener in Minnesota against the defending league champion Astros.
Donaldson missed Minnesota's last two games of the regular season this past weekend because of cramping in his right calf. But the former AL MVP took batting practice Monday at Target Field, providing optimism that he would be in the lineup for Tuesday afternoon's game.
Donaldson, 34, is listed on Minnesota's taxi squad, meaning he could rejoin the Twins for this best-of-three series as a replacement for an injured player.
Twins utility man Marwin Gonzalez will start at third base Tuesday and bat ninth against his former club.
Donaldson struggled through an injury-plagued first season with the Twins, batting .222 with six home runs and 11 RBIs in just 28 games. The three-time All-Star is in the first year of a four-year, $92 million deal with Minnesota.