New York Giants made message to Odell Beckham Jr. loud and clear – New York Giants Blog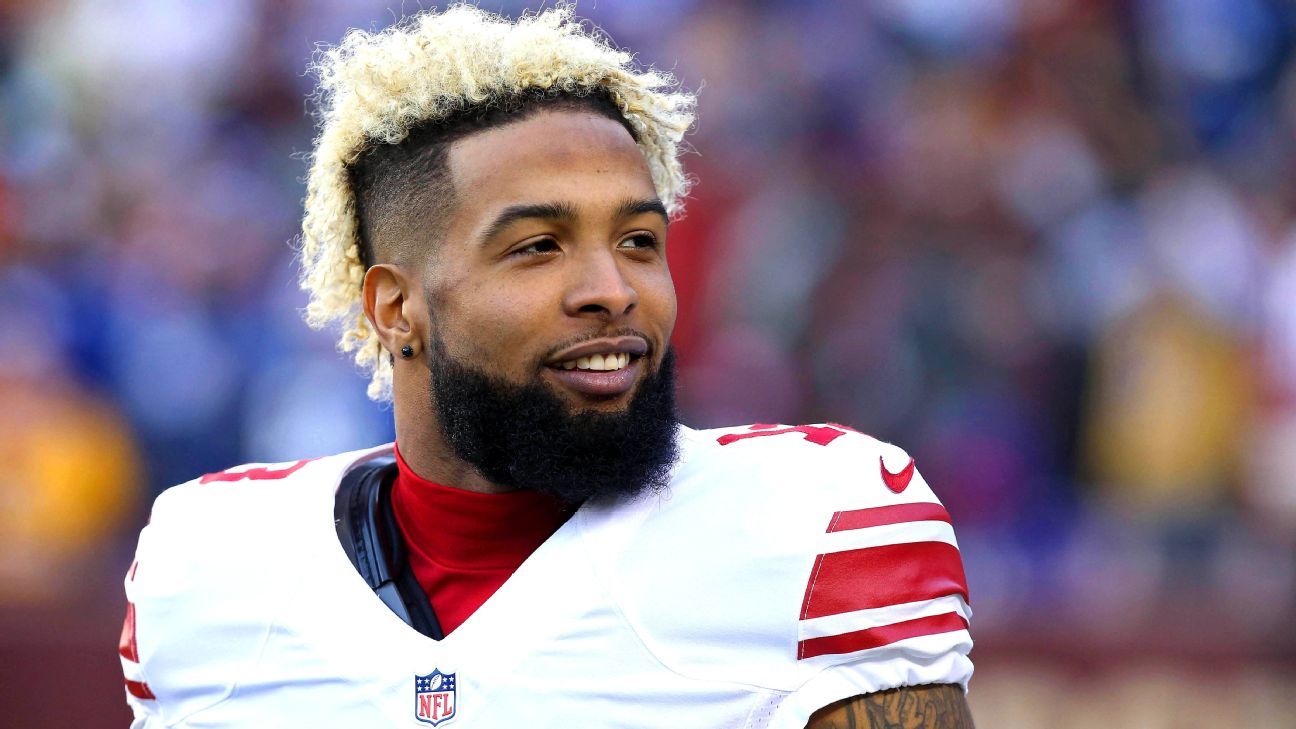 It has been a wild few days of Odell Beckham Jr. rhetoric and speculation. The ride through another day in the life of the most electric New York Giants personality of the 21st century dominated the NFL's annual meetings.
After all that unfolded, it appears we're back where we started Sunday, when co-owner John Mara first spoke publicly about being "tired" of questions about Beckham's behavior and said his star player wasn't untouchable. The Giants don't want to trade Beckham. They don't have him on the block, but they are at least willing to listen to offers. If a team happens to blow them away, anything can happen.
Mara and co-owner Steve Tisch, general manager Dave Gettleman and coach Pat Shurmur wouldn't guarantee Beckham will be on their roster this season, despite more than a few opportunities to do so. But they also wouldn't guarantee that anybody (aside from maybe Nate Solder) will be on the roster.
This is relevant because Beckham is the team's best player and biggest star but has been the subject of some controversy of late (see: video from France). He is looking for a new contract.
If this were the Atlanta Falcons or Pittsburgh Steelers, they wouldn't be saying publicly Julio Jones or Antonio Brown weren't untouchable. That's because those teams have already committed to their star receivers.
The Giants haven't committed to Beckham long term. They want him on their roster. They just don't really want to pay him, and their actions to date illustrate this point. Tisch conceded Monday talks were in the "premature stages," which means they haven't really begun negotiations.
All these vagaries the past few days from the Giants brass ultimately (unintended or not) served a purpose.
1. It invited teams to come with offers. Big offers. The Giants aren't desperate to trade Beckham, but they would consider it if the price were right. The thinking, according to multiple executives, is this is real. The Giants under Gettleman and Shurmur would move on from the enigmatic wide receiver, and there are teams that are interested and will undoubtedly come with proposals. It appears unlikely anything will happen at this point, but the Giants starting 2018 season without Beckham on their roster is plausible.
2. At worst, the Giants put Beckham on notice. Nothing else had really worked to date. Maybe this does? They've talked to him, expressed their desires … and the incidents keep occurring. Well, now he knows they really mean business. Trust me, Beckham has taken notice of the fact the Giants are willing to contemplate LAB (Life After Beckham). They are going to vet whatever trade offers come their way. Any slip, trouble or peep from Beckham in the next few weeks could be his last straw.
Both sides know what they want. The Giants want a healthy Beckham on board with the new regime and willing to show them he's ready to be a team player by showing up for the offseason workout program as they try to rebuild the culture. Maybe then the Giants will sit down and begin contract negotiations.
It would be a sign of goodwill from both parties, which seems necessary given the current situation. Beckham is returning from a broken ankle. The Giants need assurance he's back to his previous form.
Beckham wants to be wanted. He has seen that just about all the other wide receivers from his draft class — aside from Kelvin Benjamin and Brandin Cooks — are on their second contracts. Mike Evans, Sammy Watkins, Marquis Lee, Paul Richardson, Allen Robinson and Jarvis Landry — all of whom were drafted in 2014 along with Beckham — will pocket more from their teams in 2018 (salaries plus signing bonuses) than Beckham if he plays this season on the $8.5 million fifth-year option from his rookie contract.
That will not sit well with the three-time Pro Bowl receiver. His play when healthy warrants more. It can easily be argued Beckham is the best wide receiver from his draft class. The Giants know it. They just aren't sure if he can be trusted or if he's worth the price tag that a player of his caliber would command.
It has all led us to this point, where the Giants will at least look at offers for Beckham's services and won't guarantee he will be on the roster this coming season.
Fantasy football rankings – NFL Week 4
Chiefs added 'wrinkles' on Monday that impress Patrick Mahomes and Bill Belichick – Kansas City Chiefs Blog
Patrick Mahomes found a lot to like last week when he got his first look at the Kansas City Chiefs' offensive plan for their upcoming game against the Baltimore Ravens. It featured a red zone underhanded screen pass to seldom used fullback Anthony Sherman, a goal-line pass to offensive tackle Eric Fisher and even a reverse pass out of the wildcat formation.
The Chiefs were effective with all of it in their 34-20 win over the Ravens.
"Coach [Andy] Reid is never going to be stagnant," said Mahomes, who threw for 385 yards and four touchdowns. "He's going to keep putting in more and more plays. He's going to keep challenging us every single day. You get in here and it's not the same game plan every single week. We honestly have a new game plan from top down every single week."
Reid went deep into the playbook against the Ravens, the result being the Chiefs' first game of the season with more than 500 yards. It happened after two games in which their offense didn't look quite right. They went into the Baltimore game with just one pass play of more than 22 yards.
They had four such plays against the Ravens to four different receivers.
The Chiefs play against New England on Sunday at Arrowhead Stadium (4:25 p.m. ET, CBS), so Monday night's game received the attention of Patriots coach Bill Belichick as he watched on TV
"Andy's always got a couple of new wrinkles," Belichick said Tuesday morning. "I don't think you see too many games where he doesn't have something [new]. You've got to be ready for that. He does a good job of doing things you haven't practiced [against], things you haven't seen before and getting them called at the right time and getting them executed well.
"You don't know what they're going to be but you know they're going to show up somewhere along the line and you just have to be alert for them."
The pass to Fisher covered only 2 yards, but made him the first overall No. 1 pick to catch a touchdown pass since Keyshawn Johnson last did it in 2006.
The Chiefs run a drill in Friday practice each week when the offensive linemen run short routes and catch passes. Fisher even had to go up so he could grab Mahomes' pass.
"Fish is always bragging about how good his hands are, so he did a pretty good job," Reid said. "I have to give him credit. I was a little nervous when he had to jump, but he did a nice job."
Mahomes said the Ravens covered Fisher better on the play than the Chiefs ever did on the times they worked on it in practice. But he said he tossed it high once to Fisher in practice so he could get an idea whether the offensive tackle could catch such a pass.
"I thought he did a great job," Mahomes said. "The dude is an athlete. That's the reason he's been playing the position so well for so long. I'm sure he'll be talking about it for years to come, so I'm glad he got in the end zone."
Belichick might have recognized the shovel pass to Sherman that went for 5 yards and a touchdown. Mahomes said the Chiefs called the play in a game two years ago against New England. The Patriots had Sherman covered so Mahomes went elsewhere with the ball. Reid and offensive coordinator Eric Bieniemy then put the play back into their book and waited for the right time to use it again.
The Chiefs also unveiled Monday night a double reverse pass from the wildcat formation. Mecole Hardman took the shotgun snap and handed off to Clyde Edwards-Helaire, who had been lined up as a receiver. He tossed it back to Mahomes, who had been lined up as a receiver opposite from Edwards-Helaire.
Mahomes then threw to Edwards-Helaire down the left sideline for a 7-yard gain.
Ex-Seattle Seahawks WR Jermaine Kearse announces retirement
Wide receiver Jermaine Kearse announced his retirement from the NFL on Tuesday, writing on Instagram that he was "leaving the game feeling extremely grateful and content with what I was able to accomplish."
Kearse, who grew up in Washington and scored a touchdown in the Seattle Seahawks' Super Bowl XLVIII victory over the Denver Broncos, wrote that it was a "complete honor" to play for the team and that he was "grateful I was able to help bring our first Super Bowl home!"
The 30-year-old Kearse, who signed with the Lions last season as a veteran who knew offensive coordinator Darrell Bevell's offense, broke his left leg and injured his left ankle in Detroit's preseason opener against New England in 2019. The Lions then placed him on injured reserve, ending his season.
The 6-foot-1 Kearse spent the first five seasons of his career with Seattle before being traded to the Jets on Sept. 1, 2017 as part of a deal for Sheldon Richardson. He had signed with Detroit last season to try and resurrect his career after a down year with New York in 2018, where he had 37 catches for 371 yards and a touchdown.
Kearse was a productive receiver in Seattle, playing 69 games (starting 51), while catching 153 passes for 2,109 yards and 11 touchdowns.
In his career, he had 255 catches for 3,290 yards and 17 touchdowns. He also had 31 catches for 493 yards and six touchdowns in the postseason.
ESPN's Michael Rothstein contributed to this report.