Video shows Vernon Hargreaves III smoking unknown substance
ORLANDO, Fla. — The Tampa Bay Buccaneers are aware of a video that surfaced on social media Wednesday showing cornerback Vernon Hargreaves III smoking an unknown substance and blowing smoke into the camera, but the team declined to comment.
The video was not posted on Hargreaves' official Instagram account, but a fake one with a similar name. The account was deleted later Wednesday morning, but not before Instagram users had posted it to Twitter.
It is not clear when the video was shot, but it appears that it was recorded off a Snapchat or Instagram story. Bucs officials were made aware of the video at NFL owners meetings, and Hargreaves was also made aware of the video.
NFL spokesman Brian McCarthy said the league is aware of the video but had no further comment.
Hargreaves, the 11th overall pick in the 2016 NFL draft, struggled in 2017. He was demoted from his outside cornerback position to nickelback and was hindered by a hamstring injury.
New Orleans Saints' Michael Thomas ruled out vs. Green Bay Packers with ankle injury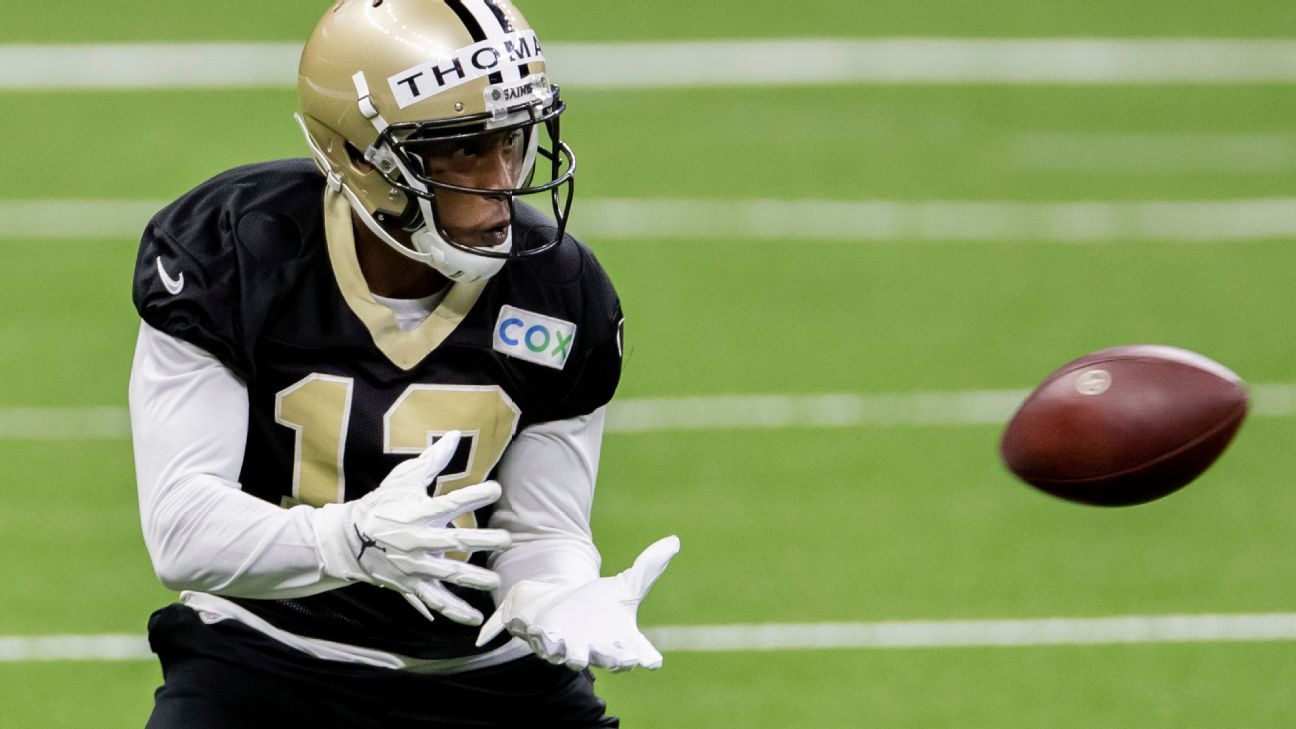 METAIRIE, La. — New Orleans Saints receiver Michael Thomas won't play in Sunday night's game against the Green Bay Packers after he was ruled out for the second straight week with his high ankle sprain.
Thomas has not practiced since he suffered the ankle injury during the final minutes of New Orleans' Week 1 victory over the Tampa Bay Buccaneers. However, the team chose not to place him on injured reserve — which would have required him to miss at least three games. So there is still hope that he could potentially return as soon as next week.
The Saints' offense struggled without Thomas in Monday night's 34-24 loss to the Las Vegas Raiders, which led to scrutiny over Drew Brees' lack of downfield passes.
Brees completed 26 of 38 passes for 312 yards with one touchdown and one interception. Third-year receiver Tre'Quan Smith caught five passes for 86 yards, but newly signed veteran receiver Emmanuel Sanders had just once catch for 18 yards.
"Obviously with the loss of Mike Thomas last week, we're having to fit some guys in new roles, get some guys some significant playing time, maybe in different situations that they haven't been in before," Brees said earlier this week. "I think there definitely is that element of just getting everybody on the same page, everybody in sync. And man, I'm confident with the guys that we have, with the system that we have and everything that we're gonna be able to get back on track."
Thomas is obviously vital to New Orleans' offense. He won the NFL's Offensive Player of the Year award last season after setting the NFL record with 149 catches in a season.
Thomas isn't the only star receiver who might be missing from Sunday night's marquee matchup, however. Packers receiver Davante Adams is listed as doubtful after missing practice all week with a hamstring injury.
Detroit Lions' Kenny Golladay (hamstring) hopes to make debut vs. Arizona Cardinals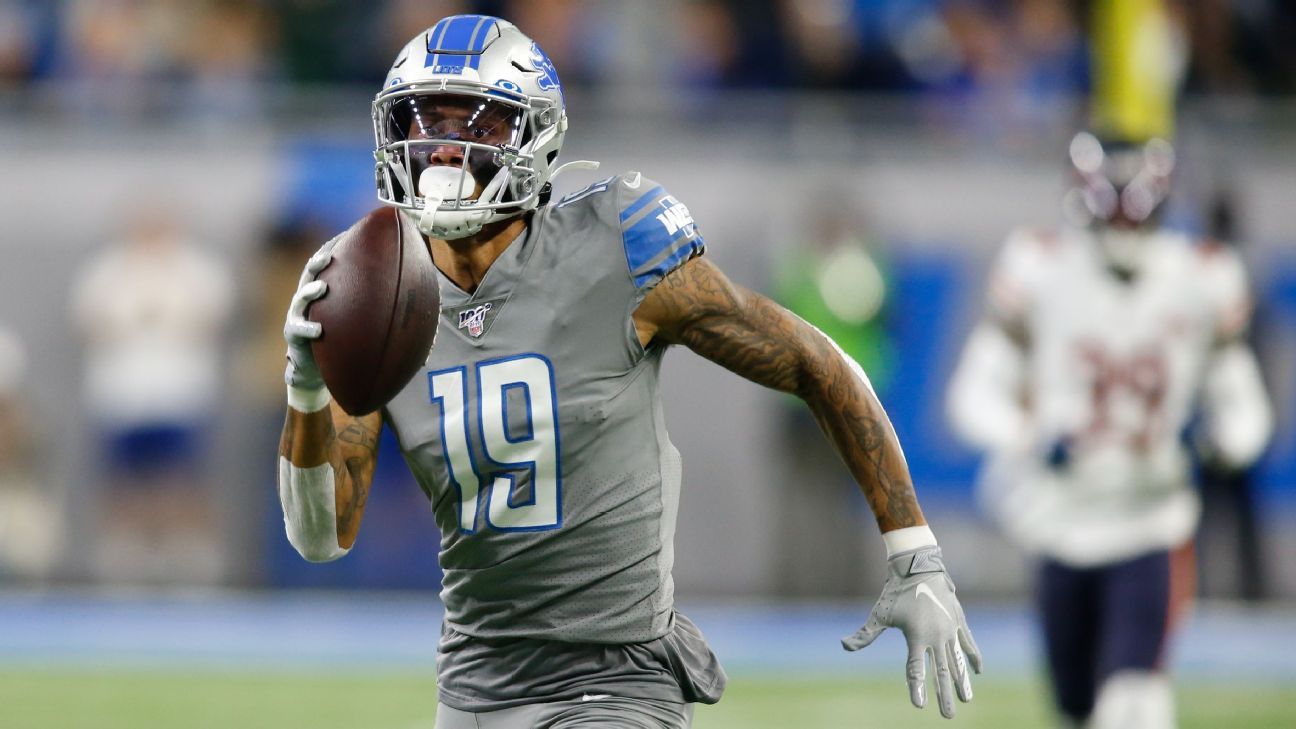 The Detroit Lions seem to be closer to getting back their top wide receiver.
Kenny Golladay said he hopes to make his season debut against the Arizona Cardinals on Sunday after missing the first two games with a hamstring injury. "God-willing, I'm going to try everything in my power to be out there with the guys," Golladay said.
The Pro Bowl wide receiver practiced on a limited basis Wednesday, Thursday and Friday and said while he doesn't feel 100 percent — he wouldn't put a percentage on how healthy he is — he's going to do everything he can and show enough to play against Arizona.
In three career games, Golladay has three touchdowns against Arizona.
Golladay, 26, said the injury has been frustrating, but that unlike his rookie year when he also had a hamstring injury, he listened to his body more this time around. He also said he understood his body more and wanted to make sure there wouldn't be any setbacks. So he listened to his trainers and didn't push anything.
"Me missing a couple of games to try and be back hopefully for Week 3," Golladay said. "That's better than me missing six games."
Detroit is getting healthier. In addition to Golladay, right tackle Halapoulivaati Vaitai (foot) is questionable but practiced all week. Cornerback Desmond Trufant (hamstring) is doubtful, safety C.J. Moore (calf) is questionable and tight end Hunter Bryant (hamstring) is out.
Tennessee Titans LB Vic Beasley finally set for season debut
NASHVILLE, Tenn. — Outside linebacker Vic Beasley will make his debut for the Tennessee Titans on Sunday when they travel to Minnesota to face the Vikings.
Beasley has been dealing with a knee injury that limited him in practice for most of the previous two weeks. After working on a separate field with head coach Mike Vrabel, Beasley has been a full participant at practice since Thursday of last week.
The sixth-year linebacker signed a one-year, $9.5 million deal with the Titans in March and took part in virtual meetings with the team during the offseason. But Beasley reported to camp 10 days late, an unexcused absence that resulted in a $500,000 fine.
"There was a little disagreement here and there, but those things are behind us. I have moved on and let bygones be bygones," Beasley said Friday. "That's something that we'll keep confidential between me and the other party. What's understood is understood. We came to an agreement, settled our differences and are both understanding of the situation. It's all smiles on both ends, and we are happy to work together."
Once Beasley got to camp he was placed on the non-football injury list. The Titans listed Beasley on the practice report with a knee injury. Beasley complimented the Titans' training staff, calling it "amazing" and saying "they have been nothing but good" for him.
As a member of the Atlanta Falcons, Beasley led the NFL with 15.5 sacks in 2015. He finished with 8.5 sacks for the Falcons last season. A questionable work ethic and passion for the game reportedly led to Beasley becoming a free agent. But he feels he's in the right place with the Titans.
"I'm excited getting to work with Vrabes, a guy who has the defensive perspective and actually played the same position that I did. That can only benefit me," Beasley said. "I love the game. I wouldn't waste nobody's time if I didn't love the game. I'm not going to give nobody half-hearted effort."
Now that he is on the field, the Titans hope to get a boost in their pass rush that can help them reach the ultimate goal. Said Beasley, "Here, we are all on the same mission — that's to win the Super Bowl."
Wide receiver A.J. Brown was ruled out for Sunday's game with a knee injury, while rookie running back Darrynton Evans is set to make his NFL debut.