Six keys for Chicago Cubs' World Series-or-bust season in 2018 – Chicago Cubs Blog
MIAMI — There will be no hangover this season, at least not for the Chicago Cubs.
The Cubs vow they'll begin the 2018 season differently from 2017, when the then-defending champs fell behind the Milwaukee Brewers and had to play catch-up most of the year.
There might be no better place in baseball to start this season with a winning record than South Florida. The rebuilding Derek Jeter-led Miami Marlins provide an opportunity for the Cubs to grab three or four victories before heading north for the spring and summer. And anything less might be a failure. To wit: According to Elias Sports Bureau, Miami is the first squad in baseball history to field a team after losing four players who played at least 150 games the previous season.
The departed Giancarlo Stanton, Dee Gordon, Christian Yelich and Marcell Ozuna accounted for 49 percent of Marlins hits last season, 50 percent of their runs driven in, 55 percent of runs scored and 60 percent of their home runs, according to ESPN Stats & Information. That's a lot of offense to lose, and the Cubs will look to take advantage.
Winning the series — which starts Thursday at 12:30 p.m. ET (ESPN/WatchESPN) — is about more than getting on a plane with a 4-0 or 3-1 record. It could help Chicago head into the regular season with that 2016 championship vibe back. Or just maybe set the Cubs up to be even better.
Here are six more storylines that will make (or break) a crossroads season for Chicago. You'll know it's time to get excited on the North Side if …
The offense takes another step
Despite scoring the second-most runs in the league last season, the Cubs changed hitting coaches and brought in situational guru Chili Davis. His job is to help round out an offense that has plenty of power but lacked a finer touch at times last season, particularly against the better pitching staffs in the league.
Bringing home a runner from third with fewer than two outs might be a challenge, but hitting the ball out of the park should not be. The Cubs could be the first National League team to boast seven 20-home-run hitters in the same season. They had six in 2017, tied with the Dodgers and Reds for the most. Considering that nine Cubs players have hit 20 in a season at least once, it's not far-fetched to think seven could do it this year.
"I got goose bumps driving home [from a spring training game]," former MVP Kris Bryant said recently. "Whoever is hitting leadoff, there could be a 30-homer leadoff guy. That would be pretty dang impressive. Hopefully we all kind of translate what we're doing here in spring training to the regular season, and if we do that I think we're going to be even better than we were when we won a World Series."
The Cubs saw six regulars hit .300 or better this spring, with perhaps no one more locked in than Anthony Rizzo (.354). Some of that is bound to carry over against the hapless Marlins.
You can't tell which Cub is the ace
Jon Lester is the Opening Day pitcher, but that doesn't mean the guys behind him aren't just as good, particularly Kyle Hendricks and newcomer Yu Darvish. Here's a bold prediction: Hendricks will flirt with — and maybe even throw — a no-hitter, while Darvish should impress his first time through the NL Central, and then some. The Cardinals have never faced Darvish, while the other Central teams have limited at-bats against him. Considering his wide repertoire of pitches and his arm strength — the right-hander was throwing 95-98 mph in the spring — there's no reason Darvish can't dominate.
Hendricks, meanwhile, didn't walk a batter until his final Cactus League start, and it's as simple as this: Whenever he's been healthy in his career, he's been dominant — and he's healthy now.
"On paper, we could be as good as we were in 2016," Lester said. "But we don't play the game on paper."
In reality, the 2018 rotation — which also includes Jose Quintana and Tyler Chatwood — might get even better results because of the players standing behind them.
The Cubs' infield defense is the best in baseball
Chicago might not have the best player at each position — hello, Nolan Arenado — but collectively there might not be a foursome that's better this season. Rizzo, Javy Baez, Addison Russell and Bryant will be a huge benefit to any pitcher on the mound. The difference between this defense and the one that was historically good in 2016 is Baez. He's entrenched at second base now and might be the best of the group. If Baez can make the routine plays, he should win a Gold Glove.
"We need to make the plays we're supposed to make," Rizzo said. "I know we'll make the flashy ones."
That most definitely applies to Baez. And Russell's offseason throwing program should help eliminate some of his bad errors, but as a player annually at the top of the leaderboard in defensive runs saved, he's already one of the best. Meanwhile, Rizzo ended last season on a 137-game errorless streak, and Bryant has consistently improved at third base since he broke into the league.
"I didn't think he would be a third baseman long term," one NL scout said recently. "But he got rid of some throwing issues, and now he's no liability over there, especially considering his size."
The new-look bullpen avoids an early hiccup
It's no secret that Chicago's bullpen struggled late last season and in the playoffs. So how will things go now that relief corps will be anchored by a new face? First-time closer Brandon Morrow will have a spotlight on him after the team was spoiled in recent years by elite ninth-inning arms in Aroldis Chapman and Wade Davis. But the Cubs are adamant about their late-inning philosophy: Closers can be found anywhere.
"Closers aren't born; they're made," general manager Jed Hoyer said. "We've had success with guys like Davis, who are experienced World Series closers, and we've had success with guys like Hector Rondon who was a Rule 5 pick.
"You're paying boutique prices when always looking for the guy with tons of saves on their résumé. I think it's a mistake."
If Morrow falters or is injured, the Cubs say Justin Wilson, Carl Edwards or Steve Cishek can step in. And remember, there is no easier position to fill at the trade deadline than closer. About 20 out-of-contention teams have no need for theirs at that point in the season. Of course, the Cubs might not have many save opportunities if things are going their way.
Maddon magic returns
There might not be a manager who knows the pulse of his team better than Joe Maddon, who should start to generate Hall of Fame buzz as he winds his way through the second half of his managerial career.
This spring he combined art with baseball, introducing his players to various famous paintings while tying the art to the game itself. It all helped provide a distraction; spring training is long, and the Cubs had very few roster decisions to make in Arizona.
Maddon's toughest test — if his players are healthy — is finding playing time for all of his outfielders. There are five (Ian Happ, Kyle Schwarber, Albert Almora, Jason Heyward and Ben Zobrist) for three spots.
"I want to stay open-minded," Maddon said. "I feel good about everyone out there. Not every manager can say that. … I don't think anyone will bellyache if someone is playing more than they are. They know we're here to win, and if they stay ready they'll have their opportunity as well."
Hoyer is even less worried, because having more good players than positions is rarely a concern over the course of 162 games. Before he switched offices recently, Hoyer kept a reminder of just that thought.
"I still had this on my whiteboard [from 2015] as a reminder how fast things can change," Hoyer recalled. "I wrote on the board, 'How are we going to divide the at -bats with Heyward, [Dexter] Fowler, Schwarber and [Jorge] Soler?' Three games in, Kyle blows out his knee and you realize the best-laid plans — things will work out over the course of the season."
Schwarber and Happ find consistency
All eyes will be on the comeback season for Schwarber, who followed his winter weight loss with a monster spring, during which he reconfigured his strike zone, started taking his walks and then proceeded to rip balls all over the field.
"I'm glad we stopped talking about his weight loss and started talking about his hitting," Hoyer said. "He's been locked in the last two or three weeks."
Maddon will mostly bat Schwarber fifth after leading him off last season. That didn't work out, and the Cubs might have found their leadoff hitter this spring anyway.
Happ came to camp to win a job, but it wasn't in the crowded outfield. In sort of a backward way of getting more playing time, Happ took the reins at the leadoff spot and ran with it. He hit five home runs to lead off games in the Cactus League, and now Maddon and the Cubs are talking as though it will be hard to take Happ out of the lineup — as long as his productivity carries into the regular season.
"He was smart," Hoyer said. "He saw an opportunity and expressed a willingness to bat there. Not everyone does."
Overall, the Cubs believe their experiences over the past three years will benefit them now. They won a World Series with a position-player group that hadn't reached its peak and now are relying on those same players to take them back to the Fall Classic.
"We know what it's like to play from the front," Maddon said. "We know what it's like to play from behind now. There is no reason to get over-amped or overconfident, and there is no reason to get down on yourselves. The last three years provided a lot of lessons learned on how to do this.
"I've been around a lot of good spots. This spot, now, regarding how the players are going about their business, is about as good as I've seen."
New York Yankees hit 5 homers in inning for first time in franchise history
NEW YORK — The Yankees hit five home runs in an inning for the first time in their history.
Brett Gardner, DJ LeMahieu and Luke Voit homered on consecutive pitches in the fourth inning from Toronto's Chase Anderson on Thursday night. Voit's home run was his major league-leading 20th.
Aaron Hicks struck out, and Giancarlo Stanton and Gleyber Torres followed with home runs that gave the Yankees a 9-2 lead and chased Anderson. They went on to win 10-7.
The Yankees are the seventh team in MLB history to hit five home runs in an inning. According to ESPN Stats & Information research, they're the second team to do it off one pitcher — the Washington Nationals did it in 2017 against Michael Blazek and the Brewers.
Gary Sanchez hit a solo shot in the seventh to give the Yankees six homers on the night and 19 homers in the three-game series. According to Elias Sports Bureau, that's the most in a series of any length in MLB history, passing the 1963 Twins, who hit 17 homers in a four-game series against the Washington Senators.
The 19 homers also are the most in any three-game span in MLB history, according to Elias.
The Associated Press contributed to this report.
Chicago White Sox beat Minnesota Twins to clinch American League playoff spot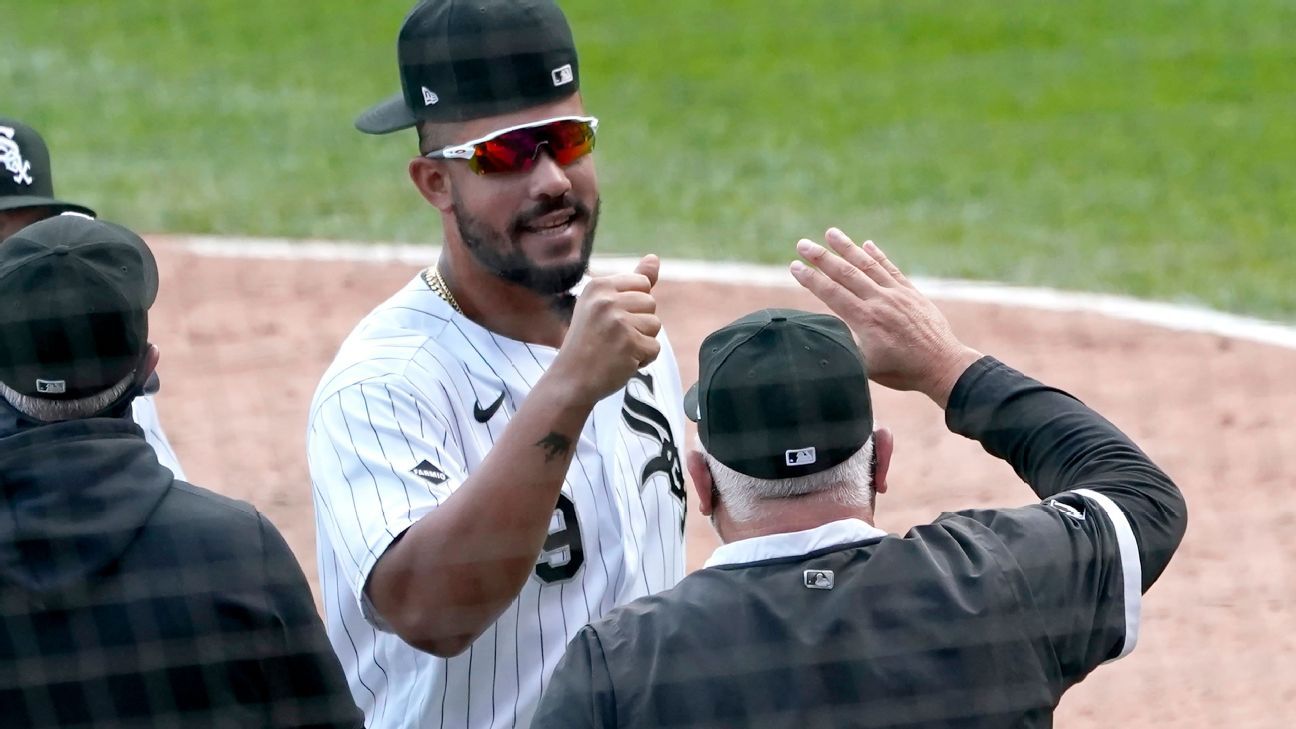 CHICAGO — If the Chicago White Sox thought ahead to the day their rebuilding plan would come together, they could not have envisioned what the scene looked like. But they will take it.
Riding the mix of power and athleticism that has fueled Chicago's sudden rise to the top of the American League, the White Sox came from behind to beat the Minnesota Twins 4-3 on a chilly day on the South Side on Thursday. In doing so, Chicago became the American League's first team to clinch a spot in this season's expanded playoff field. The Los Angeles Dodgers clinched a spot in the National League bracket on Wednesday.
Fittingly, it was Jose Abreu who fueled the win, further adding to his burgeoning case for AL MVP consideration. His 17th homer to left field in the fourth tied the game at 1-apiece and sparked a roar from the White Sox's dugout that echoed through empty Guaranteed Rate Field before synthetic crowd noise joined the celebration.
The homer gave Abreu 50 RBIs in Chicago's 50 games, as he became the first player in the majors to reach 50 and the first player to do it in 50 games since Detroit's Miguel Cabrera in 2013. Abreu tied the game again in the seventh, this time legging out an infield single to plate Jarrod Dyson from third. That set up the winner, a line drive double to left by Eloy Jimenez to score pinch runner Yolmer Sanchez.
"For me, that was a really special moment," Jimenez said. "It's really fun, you know. At the beginning of the year, I would have been disappointed if we didn't make the playoffs. Now, we've made it, and we have to continue to play hard and win our division."
From there, the Chicago bullpen took it to the finish line, with Alex Colome retiring pinch hitter Williams Astudillo on a fly to center to end it. With the last out, the White Sox had made the playoffs for the first time since 2008.
"Everybody in there is extremely happy," White Sox manager Rick Renteria said. "It's the culmination of a lot of hard work over the years. Hopefully, it's just a first step, and we continue to move forward."
But like so many things with this odd 2020 season, it didn't feel like the White Sox had clinched anything. They lined up and shook hands after the game, not unlike how they would after a normal win. There was a minor bout of celebrating in the dugout. The cardboard cutouts in the stands wavered in the stiff breeze. The, everyone adjourned to clubhouse for showers and Zoom calls conducted with interviewers and interviewees alike clad in face masks.
"Trust me," Renteria said. "Behind the mask, I'm smiling ear to ear."
Still, while they could not have foreseen that the circumstances would be so odd, this was the day the White Sox hoped for when, led by general manager Rick Hahn, they embarked on a full-on reset of the organization, starting with the blockbuster trade that sent former Chicago ace Chris Sale to the Red Sox.
What was already a four-year streak of losing seasons stretched to seven, including the franchise's first 100-loss season in nearly 50 years in 2018. But this season, the White Sox have emerged as one of baseball's most potent offensive teams and head into the stretch run with the AL's best record (33-17).
There through it all has been Abreu, who signed with Chicago out of Cuba in 2014. He led the AL in RBIs last season and on Thursday became the third White Sox player to drive in at least 50 in each of his first seven seasons with the club, joining Ray Durham and Willie Kamm.
Still, in the first season of Chicago's window of contention, the players know better than anyone that Thursday was but a first step.
"It was just a big hug [when I saw Abreu]," said shortstop Tim Anderson, who has also been with the White Sox for the bulk of the rebuild. "He's been here longer than me, but we've been here, and our hard work paid off. We're headed in right direction, but we've got to keep going."
There were no fans at Guaranteed Rate Field to see it. Only the players and coaches, a smattering of ballpark officials and stadium employees, a few members of the media. In a pandemic-free universe, the park would have been packed, but then again, the White Sox would have 150 games behind them and but five playoff spots to pursue. There is plenty left to prove.
"We're not done," Renteria said. "This is just one phase of it. Hopefully, we're continuing to be better."
Still, the destination is the one the organization aimed for: The White Sox are returning to October baseball.
Minnesota Twins' Josh Donaldson ejected for kicking dirt at plate after homer
CHICAGO — Minnesota's Josh Donaldson managed to get ejected while hitting a home run.
Donaldson barked at plate umpire Dan Bellino for the second time in the sixth inning of a 4-3 loss to the Chicago White Sox on Thursday.
With Minnesota trailing 3-2, Bellino called a strike when the 2015 AL MVP checked his swing on a 2-0 pitch from Reynaldo Lopez.
Manager Rocco Baldelli came out to speak with Bellino, and Donaldson homered down the left-field line on the next offering. After rounding the bases, Donaldson kicked dirt at home plate as he crossed it.
Bellino ejected him immediately, and Donaldson, realizing he had missed home plate, returned to the plate to touch it and then argued as he kicked more dirt on it.
Donaldson also had argued with Bellino on a 1-1 breaking ball in the first inning that appeared to be high but was called a strike, leading to a strikeout.
"We need Josh on the field, out there playing, and at third base," Baldelli said. "That's when we're at our best. And so that's really the end of it. I think we can move past it at his point, and go from here."